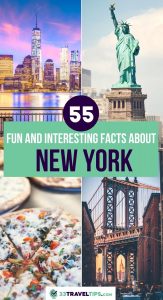 Busy, buzzing, and bustling.
Cozy, crazy, and cosmopolitan.
Exciting, energetic, and enthralling.
All of these is New York City.
But did you know it was the first capital of the United States? Or that locals speak more than 800 languages? Or even more peculiar – that walking around topless is not illegal?
If you think these are cool, we'd like to show you the rest of the 55 fun and interesting facts about New York we've gathered for you.
Ready to discover New York City's most intimate secrets?
Let's go!
Start Planning Your Trip to New York City with Our BEST Recommendations:
⭐ Top Tours in New York City ⭐
📍 Statue of Liberty & Ellis Island Tour – our top recommendation to see some of the most iconic sights of NYC is during this amazing, affordable boat tour.
📍 Manhattan Helicopter Tour – the best way to admire the most stunning skyline on the planet is from above. Join this unforgettable helicopter flight before it's full.
⭐ Best Accommodations in New York City ⭐
🏨 Riu Plaza Manhattan Times Square – ideally located next to all major attractions.
🏨 Roxy Hotel New York – funky lodging in the heart of the artsy TriBeCa.
⭐ Easiest Transportation Options in New York City ⭐
🚍 New York CityPass – enjoy discounts, free travel, and entrances to museums.
🚍 Discover Cars – compare and find the best rates for car rentals.
Note: This article contains affiliate links. In case you purchase something through one of these links, we may receive a small commission at no extra cost for you. Thank you for helping us keep creating the free content on this website!
Crazy Facts About New York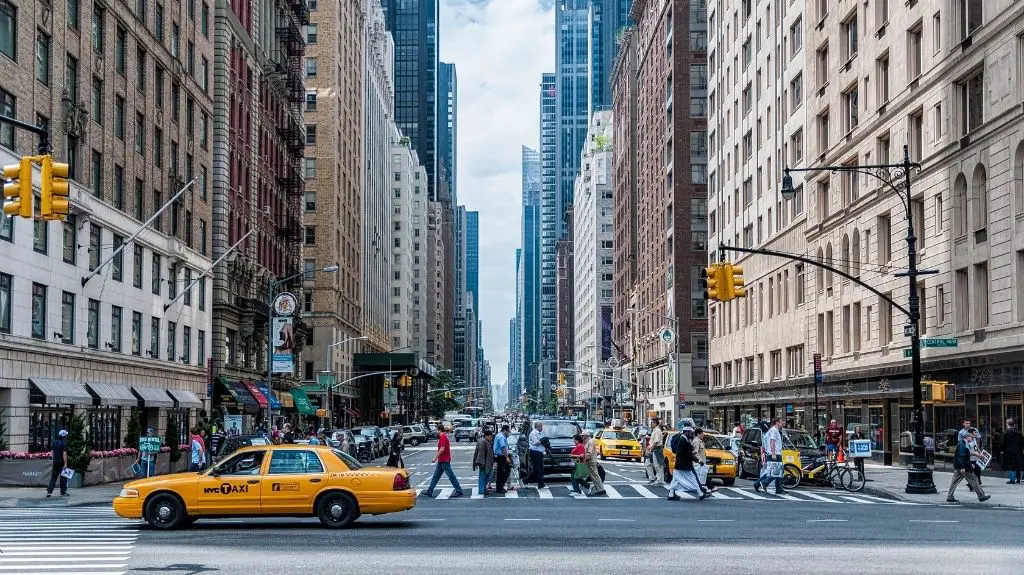 When traveling to New York for the first time, you'll be amazed by how multicultural the city is. In fact, it is the world's most cosmopolitan city. As such, it comes with its fair share of madness. Let's take a look at these crazy facts about New York.
New York is known for having many nicknames. These include The Big Apple, The City That Never Sleeps, Gotham, The City So Nice They Named It Twice, The Capital of The World, Empire City, The City of Dreams, Fun City, and The Five Boroughs. For the sake of a better write-up, we'll be using some of NYC's nicknames throughout this guide.
Going topless in New York is not illegal. Like showing off your beautifully chiseled breasts? Well, in the City That Never Sleeps, you can do so without getting into trouble. Still, locals prefer walking with their clothes on.
Go topless, but don't fart in or near a church, please. Releasing gas in a noisy manner inside or close to a church could result in a misdemeanor. This is according to a new law. It states that a person is guilty of disruption or disturbance of a religious service, funeral, burial, or memorial service if he/she farts.
Albert Einstein's brain and eyeballs are kept in a safe box in New York City. Strange? Sure. True? You bet! We might know the exact location of the safe box, but we won't share it (unless you bribe us with something) 😉
You could move house only on one day in the year. Until the early 1920s, every person in New York City moved apartments on May 1st. As you can imagine, this wreaked chaos and horrible traffic jams because of all the furniture and horse-drawn moving fans. Luckily, this peculiar custom began to fade away in the 1920s. While today New Yorkers can move whenever they want, this is certainly one of the craziest facts about NYC.
Want a major in Cosmetics and Fragrance Marketing? Well, there's only one place in the world where you can do that, and it's in Manhattan. The Fashion Institute of Technology (FIT) is the only college worldwide that offers a Bachelor of Science in Cosmetics and Fragrance Marketing. The average annual cost of $12,000 is nothing to sneeze at, but it might be worth it.
Cowboys had a 'job' on Manhattan's west side at the beginning of the 20th century. Their main duty was to push people out of the way of incoming freight trains to avoid accidents. By 1941, the legit cowboys were phased out, but this still remains one of the most interesting facts about New York City.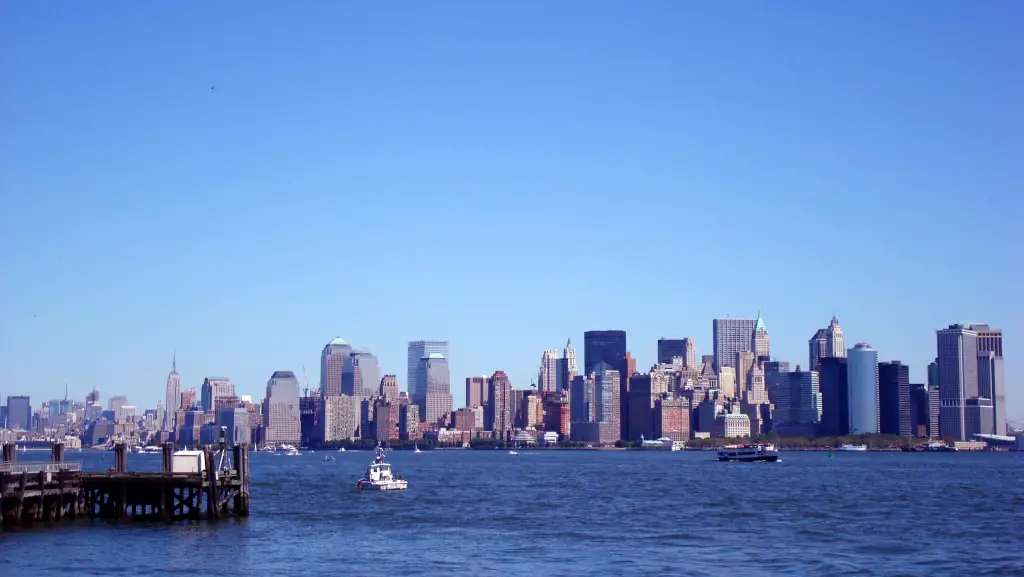 One winter, the entire harbor froze. In 1780, the winter in New York City was so fierce, the water froze all over. If you were there at the time, you could walk all the way from Manhattan to Staten Island – on ice!
Like whispering? Head to Grand Central Terminal where you'll find the 'Whispering Gallery'. Get a friend and stand at the opposite diagonal corners of the gallery. The architectural masterpiece that Grand Central Terminal is allows you to hear your friend even if he/she is whispering.
The Statue of Liberty is not American. It was France that gifted the Statue of Liberty to the United States in 1886 for its centennial celebration. And it was Gustave Eiffel – the architect who designed the Eiffel Tower – who also contributed to the design of the Statue of Liberty, along with Frédéric Bartholdi. The statue is a UNESCO Heritage Site. By the way, you can still see Lady Liberty's original torch and it's one of the most unusual things to do in New York.
More than 22 million people live in New York City's metro area. That makes it the largest city in the U.S. Los Angeles and Chicago take the second and third places with 17.7 million and 9.75 million respectively. However, the city proper population of Gotham is 'just' 8.5 million.
With over 27,000 people living per square mile, New York is the most densely populated U.S. city. And if that's not enough to blow your mind, here's one more crazy fact about New York. Its population is greater than that of 46 states! Only CA, TX, and FL have more people than NYC.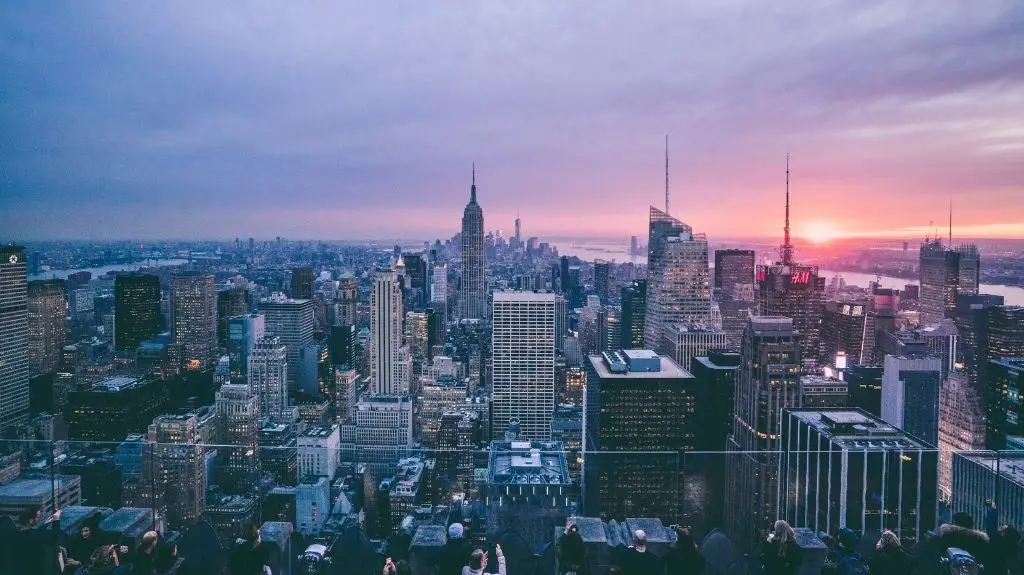 The Big Apple hosts the world's largest marathon. The first New York City Marathon took place in 1970. Today, the course runs through every single of the five boroughs and serves as a qualifying championship for the famous Boston Marathon. The race happens on the first Sunday of November. Since 1970, it has been canceled twice – in 2012 due to Hurricane Sandy, and in 2020 – because of the COVID-19 pandemic.
The New York City Subway system is the busiest in the United States. With 36 lines and 472 stops, it has the highest number of stations in the world. However, by annual ridership, New York takes ninth place. Beijing tops the ranking with more than twice as many riders per year as The Big Apple.
New York is home to some of the largest minority groups in the world. The Big Apple houses the largest Chinese population outside of Asia; the largest Puerto Rican population outside of Puerto Rico; and the largest Jewish population outside of Israel. This is among the most fun facts about New York.
New York is the city with the highest number of skyscrapers in the U.S. Chicago and Miami take the second and third positions. New York City is home to 274 skyscrapers towering over 492 ft. (150 m) in height. The total number of NYC's high-rise buildings is more than 6,000, and you can marvel at most of them in Manhattan.
Cool Facts About New York City's Landmarks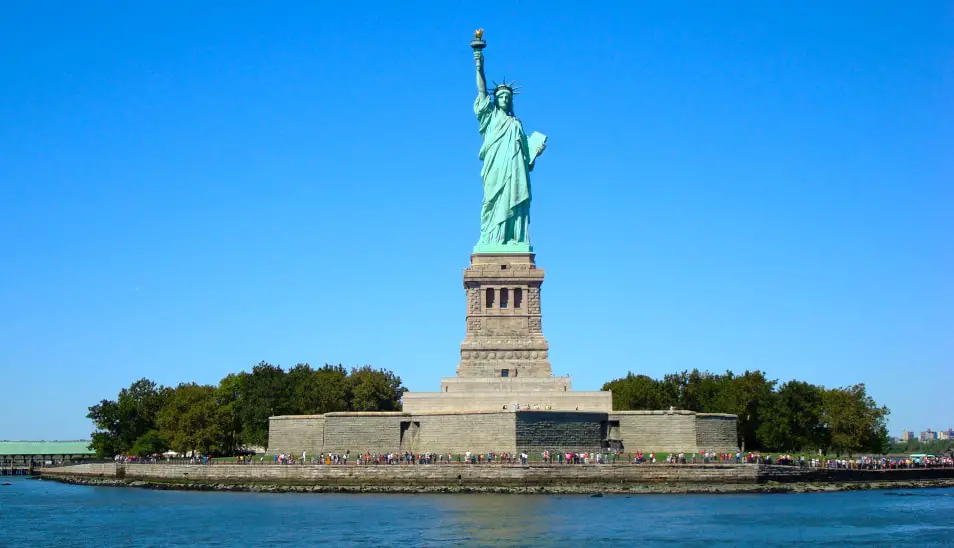 The Big Apple is chock-full of landmarks. In this section, you'll discover some cool facts about New York's landmarks.
The world's first underground park sits under New York City's streets. Named the Lowline, you can find it on the West Side of Manhattan. But don't rush to go there as it's still not completed. Once they finish the park in 2021, it'll be the first green space in the world that's entirely underground. If this is not among the most interesting facts about New York, we don't know what is.
You can get free access to 100+ top NYC attractions with the New York City pass. If you're spending a few days in the most cosmopolitan city in the world, you might want to save time and money on landmarks. Well, with the New York City pass, you can do both. It gives you a chance to skip the lines and saves you a ton of money.
The world's most famous park is in central Manhattan. Central Park is the most visited urban park in the United States with 38 million guests per year. Worldwide, it's the most filmed location. Peculiarly, by area, Central Park is almost four times smaller than Pelham Bay Park in the Bronx. There are many landmarks in the park, but don't miss the Strawberry Fields (tribute to John Lennon), The Bethesda Fountain, and The Bow Bridge.
Central Park is home to more than just pigeons. In fact, it's home to 275 of the 800 (~35%) bird species that are known in North America. Locals call Central Park "The Green Lungs of New York", and birds seem to agree with that. 🙂
Times Square took its name from the New York Times. Before one of the largest American newspapers moved to Times Square, the place was known as Longacre Square. That's probably one of numerous interesting facts about New York that you didn't know before reading our guide.
Some of the world's best museums call New York home. Like art? Visit the Metropolitan Museum of Art. Dig natural history? Go to the American Museum of Natural History. Fancy something fancier? Head to The Skyscraper Museum where you'll find the world's tallest buildings in a 1:500 3D scale.
New York is home to the United Nations' headquarters. It was founded in the Big Apple in 1952, a few years after World War II ended. You'll find the 505-ft. (154-m) building overlooking the East River, in Manhattan's Turtle Bay neighborhood. There are three other regional headquarters of the UN in Geneva, Vienna, and Nairobi.
Mind-Blowing New York City Facts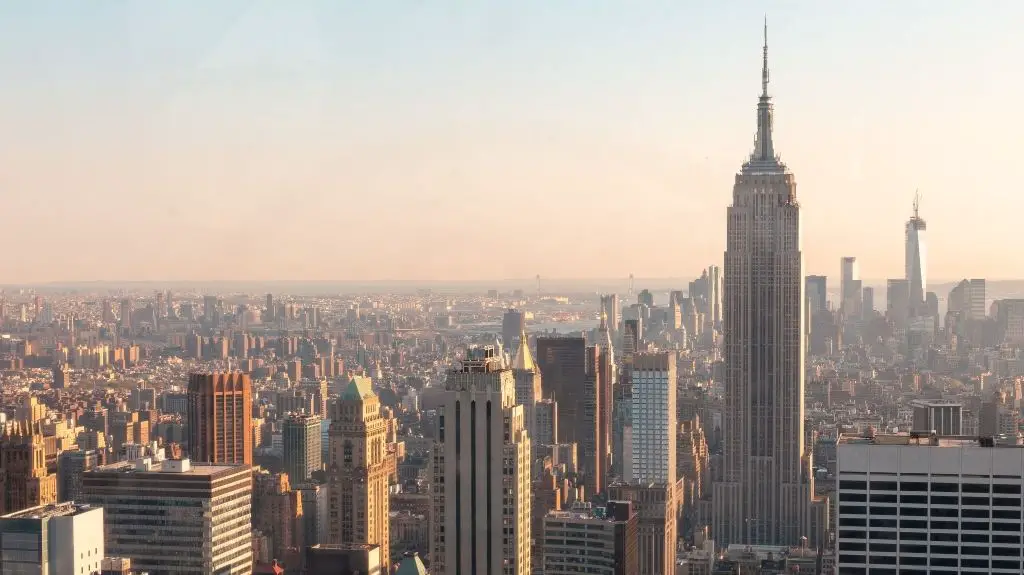 In this section, you'll find facts about New York that will blow your mind. Don't forget to share the best ones with your friends.
92 billionaires call New York City home. This makes The Big Apple the city with the most billionaires in the world. According to a 2020 Forbes report, the combined net worth of NYC's billionaires is more than $424 billion. Strangely, this mind-boggling amount is down by $45.7 billion from a year ago. The richest resident is Michael Bloomberg with an estimated net worth of $48 billion.
Living in USA's largest city is tear-jerkingly expensive. While we're on the topic of money, you'll need a substantial amount of it if you aspire to live in The Big Apple. For starters, a 2-bedroom apartment will set you back $3,500 per month, and that price goes up to $6,250 if you want to splurge on a place on Lincoln Square.
A one-year hot-dog stand permit in Central Park can cost up to $290,000. That's $795 per day. If you're selling hot dogs for $5 per piece… to break even, you'll need to sell at least 159 hot dogs every single day, including holidays. This must be one of the craziest New York facts.
New York welcomed a whopping 65.2 million visitors in 2018. These include 13.5 million international and 51.6 domestic tourists. They spent $623 million on hotels and other accommodations. The top 5 countries were the United Kingdom, China, Canada, Brazil, and France, which brought more than 5 million visitors.
Like books? In the New York Public Library, you'll find more than 50 million. This makes it the third-largest library globally, and the second-largest library system in the U.S. after the Library of Congress. If you read one book per day, you'll need almost 137,000 years to read them all.
The largest gold storage worldwide is in New York. New York City's Federal Reserve Bank is home to the world's largest gold storage. The vault contains 7,000 tons of gold bars worth more than $90 billion. And if you're planning on robbing it, we'll have to disappoint you. Getting there is next to impossible as the treasury is 80 ft. (24 m) below street level.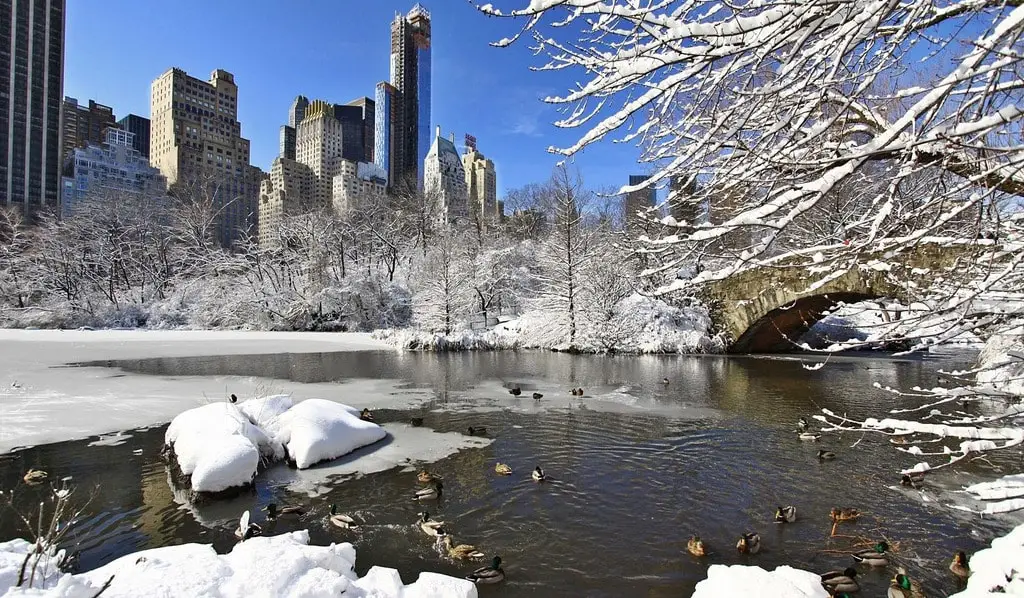 New York receives 15x more snow than the South Pole. The Big Apple might not be the first spot you think of when dreaming of a white Christmas, but maybe it should be. That's because records show the largest city in America gets as much as 15 times more snow than the South Pole. If you're visiting New York in winter, pack warm. Tip: Grab our handy Travel Checklist and know exactly what to prep for your trip.
The world's most expensive train station is in NYC. The Oculus building might be one of the most futuristic buildings worldwide. But that comes at a mind-boggling price – $4 billion. The world-famous Spanish architect Santiago Calatrava designed the 350-ft-long masterpiece. It features over 75,000 sq. ft. (6,968 sq. m) of retail space. Calatrava also created many world-famous buildings in Spain, including the Montjuïc Communications Tower in Barcelona, and The City of Arts and Sciences in Valencia, among others.
New Yorkers converse in more than 800 languages. These include Garifuna and Quechua – languages so rare they're dying out even in their native countries – Honduras, Guatemala, Belize, and Peru. The number of different languages makes the Big Apple the most linguistically diverse city worldwide. This means that finding someone who speaks your native tongue is close to 100%. To put this into perspective, in two of Europe's most diverse cities – London and Brussels – you can hear approximately 300 and 110 different languages.
New York boasts a gigantic 520-miles coastline. That's more than the coastlines of Boston, Los Angeles, Miami, and San Francisco combined. NYC's coasts border the Atlantic Ocean, as well as bays, rivers, and inlets. The current coastline of the city is the result of a humongous glacier that moved over the territory of today's NYC 20,000+ years ago.
New York is one of the two Alpha++ global cities. A global city, known also as alpha city, world city, power city, or world center, is a city that's a primary node in the global economic network. The other Alpha++ global city is London. There are seven Alpha+ global cities – Beijing, Dubai, Hong Kong, Paris, Shanghai, Singapore, and Tokyo.
Interesting Facts About New York's History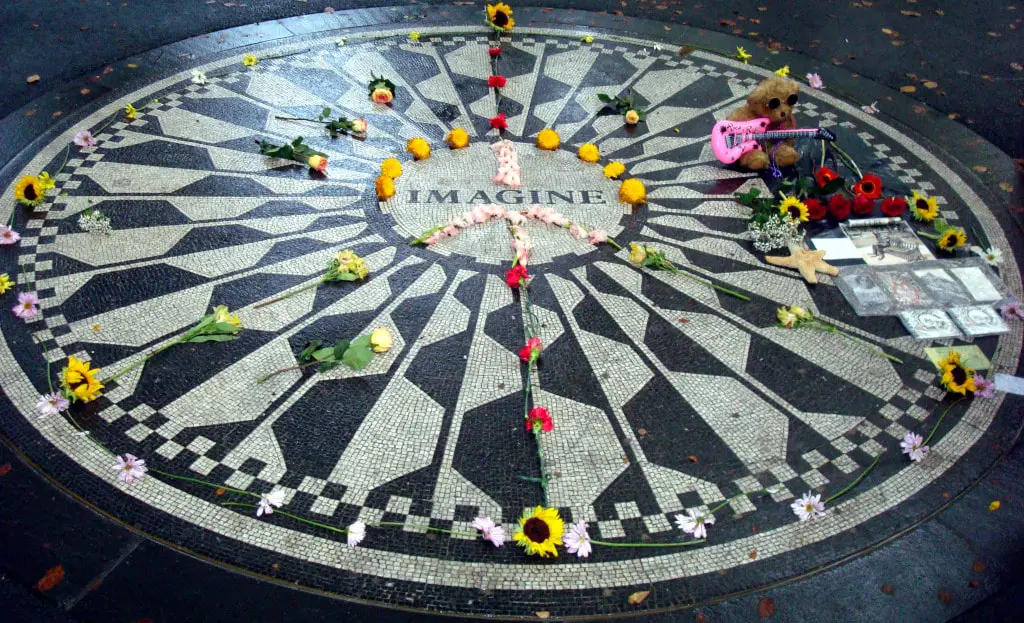 New York might be younger than London, Paris, or Rome, but that doesn't mean its history is not fascinating. In this section, you'll find the most interesting facts about NYC's history.
The first European settlers in NYC were the Dutch. They named the city New Amsterdam in 1626. The English took control in 1664 and renamed the city to New York after the Duke of York. For a brief period of time – between 1673 and 1674 – the Dutch regained control over New York and renamed it New Orange. Since 1674, the city has remained as New York.
The first capital of the United States of America was New York. George Washington swore as the first American president at New York's Federal Hall in 1789. Strangely enough, New York has never been the capital of the state of New York. Today, the capital city is Albany.
The first taxis in New York were red and green. Today, the streets of Gotham City are crisscrossed by a fleet of black and yellow cabs. But from 1907 till 1912, the first gasoline-powered taxi company painted their cars in red and green. What's even more peculiar – many other U.S. cities had yellow-colored cabs much earlier than New York.
New York's oldest building dates from the 15th century. Wyckoff Farm was erected as a house in 1642 and served as such until 1901. Today, it's a museum devoted to the Dutch heritage of the city. In 1965, it became an official city landmark. You can find it in Brooklyn.
Oyster street? In the 18th and 19th centuries, oysters were a big hit in New York City. In fact, they were so crucial to the history of the city, local authorities used the shells to pave Pearl Street. That's where the street got its name in the first place. When the first Dutch settlers arrived in New Amsterdam (currently New York), there were close to 350 sq. mi (906 sq. km) of oyster reefs in the harbor.
Toilet paper traces its origins to New York. The 1850s saw the creation of the machine gun, the safety elevator, the modern sewing machine, and commercial toilet paper. Joseph Gayetty invented the last one in NYC in 1857. He claimed "his new paper could cure piles". For that reason, the inventor marketed it as a "Medicated Paper, for the Water-Closet".
John Lennon was shot dead in New York City. Mark Chapman murdered the most famous Beatles member on December 8th, 1980 in the archway of The Dakota building. You can find a John Lennon Memorial in Central Park.
Food Facts About New York
No fact guide about Gotham would be complete without a section on the food facts about New York. Make sure to have a napkin around because you might start salivating.
Three food items are must-tries in New York. These are the three P-s – pizza, pretzels, and pastrami. Pizza is virtually everywhere. Pretzels are available at almost every hot dog stand. Pastrami is trickier to find and might set you back a few dozen dollars. But it's definitely worth the foodgasm.
The first pizzeria in the U.S. opened its doors in New York City. When you think of food in NYC, pizza probably comes to mind. Well, that's no wonder. Gennaro Lombardi welcomed Lombardi's first visitors back in 1895. Despite that nowadays there over 1,600 pizza restaurants, Lombardi's still makes some of the best pizzas in New York, and the whole country.
The ice cream cone is a NYC invention. Italo Marchiony produced the first ice cream cone in 1896. In the second half of the 19th century, Italo emigrated from Italy to New York. A few years later, he invented the sweet delicacy, for which he got a patent in 1903.
You have close to 24,000 restaurant establishments at your disposal in New York City. The restaurant industry is vital to Gotham's social and economic fabric. From tiny, family-owned restaurants to world-class Michelin establishments, the city overflows with eateries that offer food from every single part of the globe. In 2019, the number of restaurants in New York was 23,650, which provided 317,800 jobs. Since March 2020, this sector suffered a catastrophic blow because of the COVID-19 pandemic.
You can find small shellfish in the drinking water. The reason? New York City's water is clean enough to drink, so local authorities don't filter it. The tiny crustaceans are 100% harmless, and you won't notice them unless you're a vegan. If that's the case, we highly suggest filtering the potable water or just buying bottled water.
One of the most famous nicknames of New York City is "The Big Apple". The term traces its roots to a horse racing column in a local paper. In the 1920s, the columnist John J. Fitz Gerald used The Big Apple to refer to New York. Reportedly, he first heard it used to describe the horse racetracks of New York City.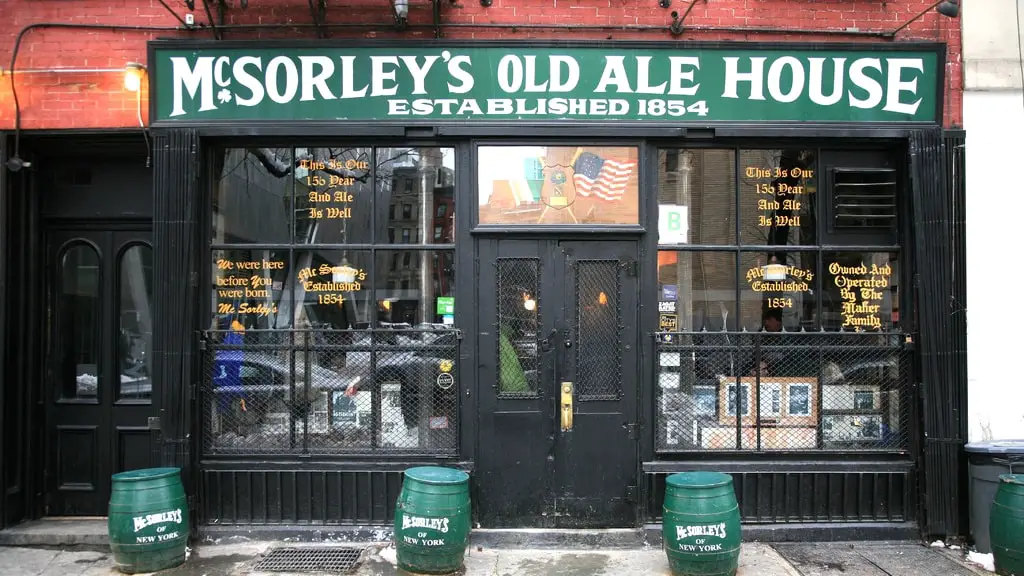 One of NYC's oldest bars didn't allow women inside before 1970. McSorley's Old Ale House, also known as McSorley's, opened its doors in the mid-19th century. Despite it being the oldest "Irish" bar – from 1854 until 1970 – it wasn't admitting women until a law forced it to. Prior to 1970, the bar's motto was, "Good Ale, Raw Onions, and No Ladies". From the long list of New York facts, this must be the most outrageous one.
Pizza and the subway have a lot in common in New York City. And no, it's not that you're allowed to eat pizza in the subway. There's an economic principle that authorities seem to follow in the city – they call it the New York Pizza Connection. In short, it states that pizza's average price must match the cost of one subway trip. If the price of one of the two goes up, the other follows suit almost immediately. This has to be one of the strangest New York facts.
Facts About New York's Districts and Neighborhoods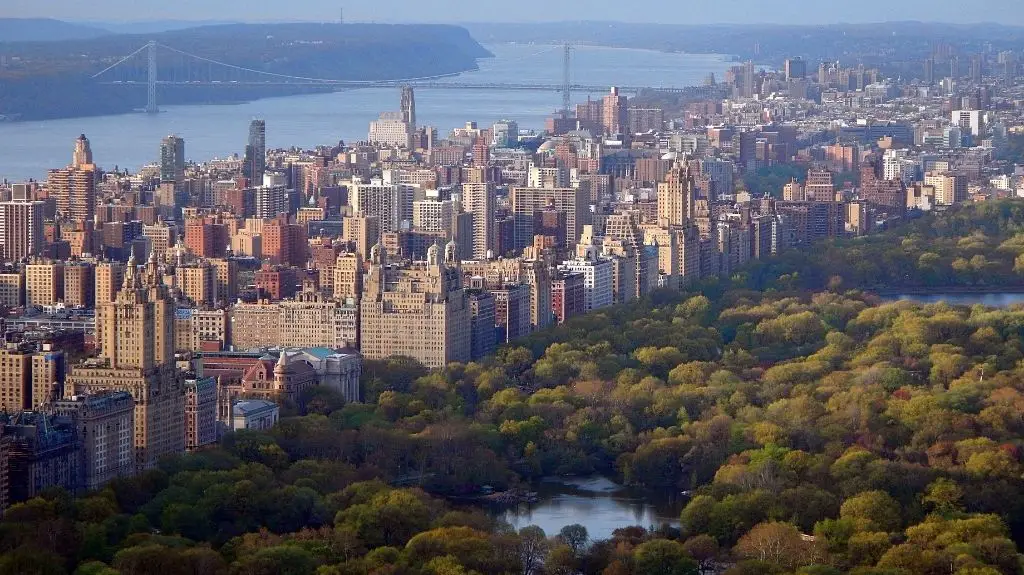 New York's districts have their unique charisma. In fact, they're so diverse that it'll feel like you're exploring different cities without leaving the limits of NYC.
Tip: don't miss our article with the best areas to stay in New York City before booking.
New York has five boroughs. These include Manhattan, Queens, The Bronx, Brooklyn, and Staten Island. However, you'll find most of the city's main attractions in Manhattan. They include Central Park, Times Square, the Empire State Building, the Oculus, Rockefeller Center, and many more. Ferries to the Statue of Liberty depart from Lower Manhattan.
The other four boroughs have their share of landmarks, too. In the Bronx, you'll find the Bronx Museum and Yankee Stadium. On Staten Island, you can explore the Staten Island Museum. Brooklyn is home to Brighton Beach, Coney Island, and the Brooklyn Promenade in Brooklyn Heights. In Queens, you can get lost in its colorful ethnic districts like the Greek Astoria, for instance.
New York is full of villages. Gotham might be a big city that never sleeps, but it also boasts many small villages. The most famous are:
East Village. The most alternative village of all three. Head to St Mark's Place, which is East Village's pulsating heart.
Greenwich Village. It prides itself on being the coolest because of its posh bars, peculiar cafés, and bizarre shops.
West Village. Like "Friends" and "Sex and the City"? Well, in West Village, you'll find the famous landmarks from both shows.
West Village is home to the narrowest NYC house. It measures just 9 ft. 6 in (2.9 m) in width. You can find the 3-story house on 75 ½ Bedford Street. The house was erected amid a smallpox epidemic in 1873. Despite its tiny dimensions, the house has three fireplaces, two bathrooms, and an arched doorway leading to a shared garden.
The Bronx borough took its name from a European. Jonas Bronck was the first European settler in the region. He arrived there in 1639. Bronck gave the name not only to one of NYC's boroughs. The county and the Bronx River are both named after him, too. There are theories about Bronck's origins, but most of them believe he's Danish from the Faroe Islands.
Staten Island tried to secede from NYC once. In the 1980s, Staten Island politicians began a campaign to separate from New York City. The reason? They were frustrated with the limited representation they had in the City Council. And while most Staten Islanders supported the rally, NYC ultimately voted against the separation.
55 Fun and Interesting Facts About New York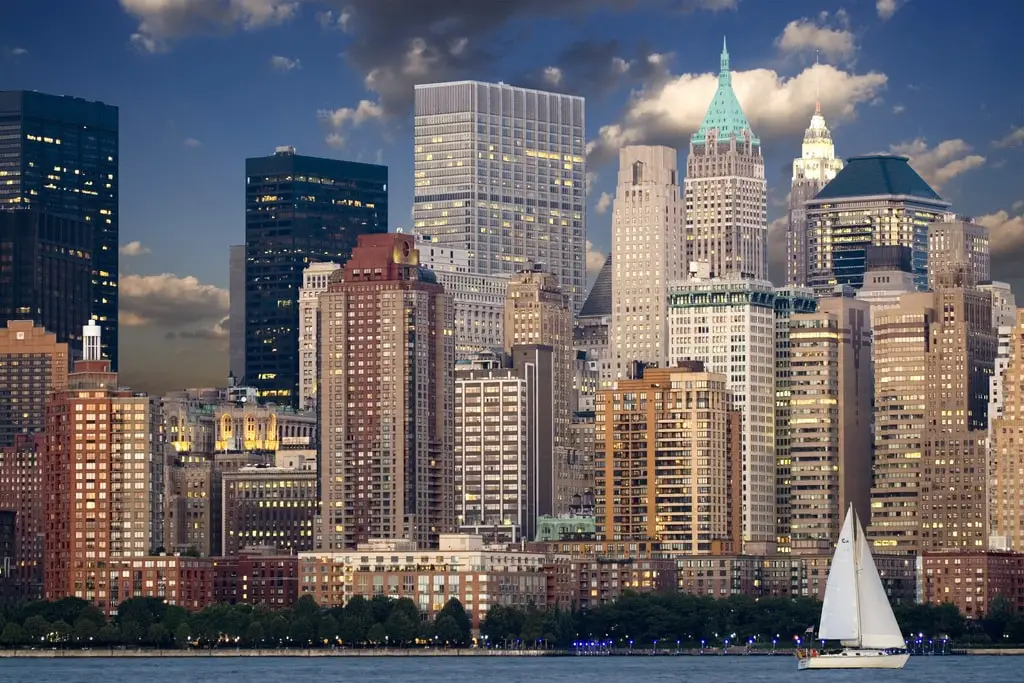 If you don't like bustling cities, New York definitely won't be your oyster.
But if you do, you'll have the time of your life in The Big Apple.
One thing is for sure – these 55 fun and interesting facts about New York prove that you won't ever get bored in the City of Dreams.
Start Planning Your Trip to New York City with Our BEST Recommendations:
⭐ Top Tours in New York City ⭐
📍 Statue of Liberty & Ellis Island Tour – our top recommendation to see some of the most iconic sights of NYC is during this amazing, affordable boat tour.
📍 Manhattan Helicopter Tour – the best way to admire the most stunning skyline on the planet is from above. Join this unforgettable helicopter flight before it's full.
⭐ Best Accommodations in New York City ⭐
🏨 Riu Plaza Manhattan Times Square – ideally located next to all major attractions.
🏨 Roxy Hotel New York – funky lodging in the heart of the artsy TriBeCa.
⭐ Easiest Transportation Options in New York City ⭐
🚍 New York CityPass – enjoy discounts, free travel, and entrances to museums.
🚍 Discover Cars – compare and find the best rates for car rentals.
Now, tell us:
How many of these facts did you know?