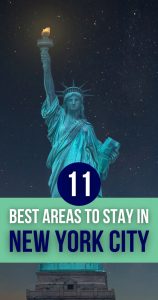 Traveling to New York City soon? You'll fall in love with the Big Apple!
The city packs an astounding collection of world-famous landmarks, huge lush parks, top-notch museums, and eateries for any taste. Add to that the fantastic location hugging the Hudson, the East, and the Harlem rivers, and you'll see why it attracts 20+ million visitors each year.
However, finding the best places to stay in Manhattan, New York, and the city's other districts can be challenging. Especially if it's your first time traveling to New York.
But don't worry. We're here to help you enjoy Gotham in the best way possible. In this guide, you'll discover the 11 best areas to stay in New York City. With it, you'll be able to navigate The City That Never Sleeps like a pro.
Ready to explore? Let's dig in!
Note: This article contains affiliate links. In case you purchase something through one of these links, we may receive a small commission at no extra cost for you. Thank you for helping us keep creating the free content on this website!
1. West Village – the Best Area to Stay in Manhattan, New York, for a Low-Key Visit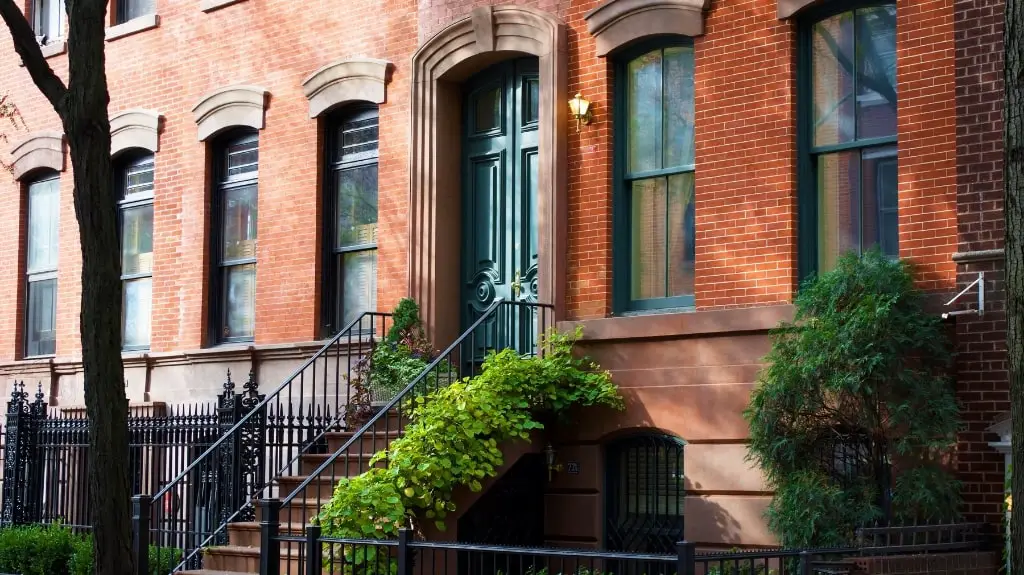 West Village prides itself on a well-off, celebrity-packed demographic and a range of trendy restaurants and high-end boutiques. Despite all that glamor, the area is pretty low-key.
This makes it great for a relaxed stay in a quiet, residential neighborhood. It feels like you're both in and not in the city. The area is charming and one of the best places to stay in NYC.
Cobblestone streets take you to sidewalk coffee shops and quaint eateries, contributing to the neighborhood's tranquility. During the day, it's a bit busy. But at night, it quiets down a lot, making West Village a fantastic spot to sleep.
The should-visit venues comprise the Village Vanguard jazz club and the Stonewall Inn bar. The latter saw riots launch the gay rights movement in 1969, which is one of the most interesting facts about New York.
Our recommendations: With their perfect location and all the amenities you need, West Village Cozy 30 Day Rentals will provide for a great stay in New York City.
2. East Village – the Best Neighborhood to Stay in New York for Food and Nightlife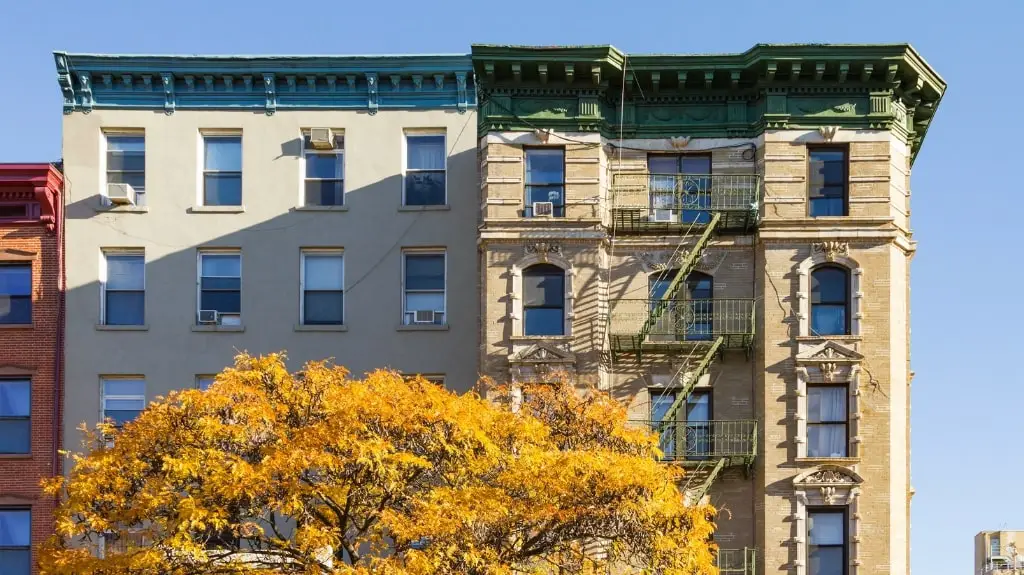 If you'd like to feel the pulsating heart of the Big Apple, especially at night, East Village is the place to stay in New York.
The area packs an abundant punch of dive bars, cocktail lounges, and speakeasies. Hip restaurants share the streets with music venues, karaoke bars, barcades, and performance spaces.
The central location of the neighborhood, combined with its affordability and its laid-back mix of people make East Village a preferred option for many.
An interesting fact about the area is that in the early 19th century, it was home to many of NYC's most lavish estates.
When you grow tired of browsing souvenir shops, posh boutiques, and tattoo parlors, head to Tompkins Square Park for a chilled stroll. Alternatively, you can kill some time by marveling art in some of the district's many avant-garde museums and galleries like the Ukrainian Museum.
When you find yourself hungry, visit St. Mark's Place for a quick bite.
Our recommendations: The 4* Moxy NYC East Village pampers visitors with a bar, a restaurant, a fitness center, and a shared lounge for a relaxing evening after exploring the Big Apple. Alternatively, NYC East Village Rentals will spoil you with 3 bedrooms, a living room, a fully-equipped kitchen, and 2 bathrooms.
3. Chelsea – the Best Area to Stay in NYC for Art, Markets, and LGBT Life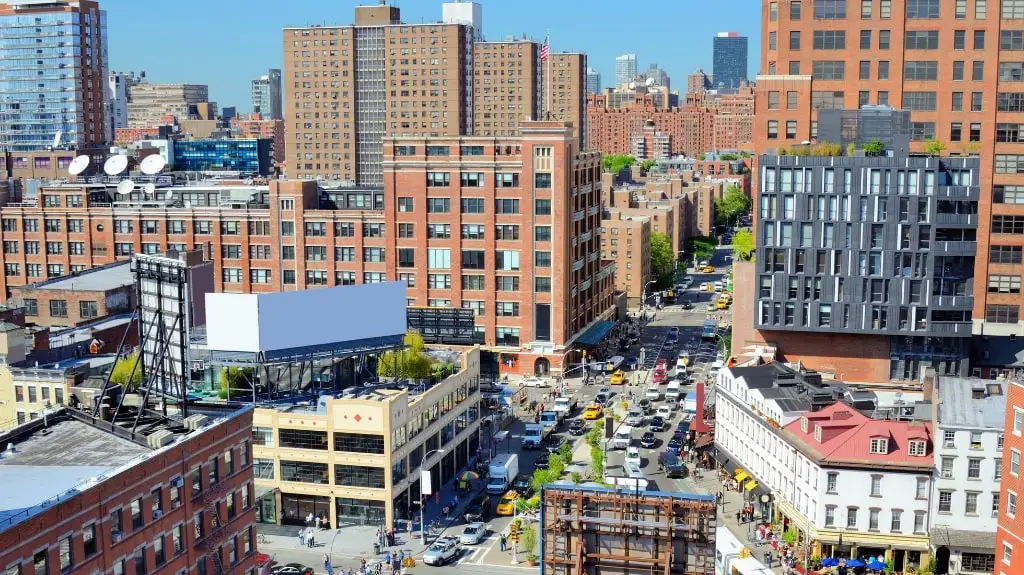 Chelsea is hands-down one of the best neighborhoods to stay in New York. Art galleries, posh lounges, cool restaurants, and an active LGBT life are some of the highlights of the area.
Don't miss the High Line – an old yet gorgeous train track turned into an elevated pedestrian park. It runs from the 13th to the 34th streets. Alternatively, you can go on a mission to discover all of the area's flea markets and antique stores.
Before you call it a day, have dinner at one of the many eateries in the area and finish with a drink at a dive bar or a speakeasy.
Chelsea is the right place for your stay in New York if you've already been to the Big Apple, have already visited the main landmarks, and now you want to experience the New York City life deeper.
Our recommendations: Within a few minutes away from several landmarks, SpringHill Suites by Marriott will make sure your stay in New York is unforgettable. If you want to overnight in one of Travel Weekly's best midscale hotels, we recommend Moxy NYC Chelsea for its ideal location and sweeping views over NYC.
4. Midtown – the Best Area to Stay in New York City for First Timers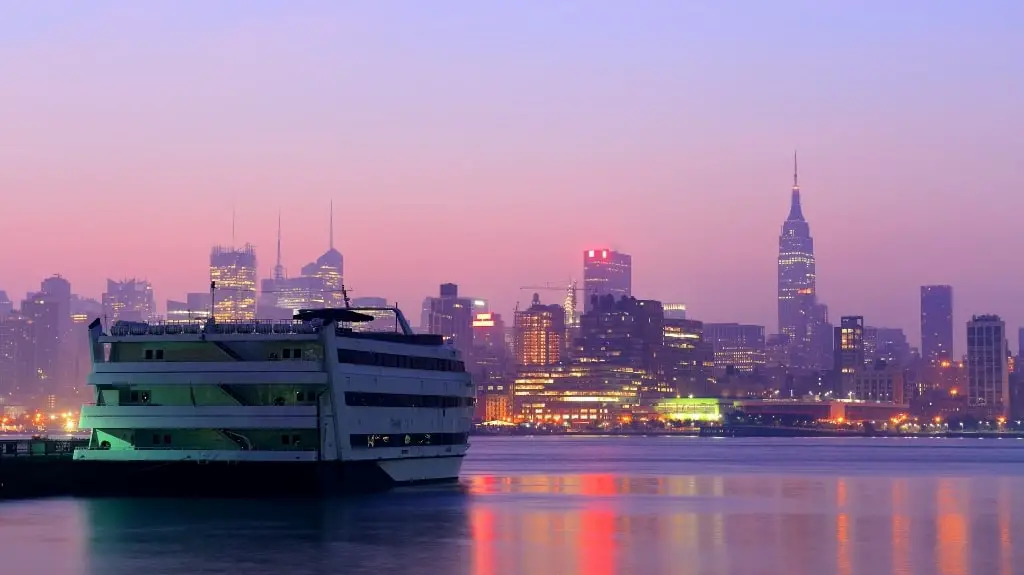 Right in the pulsating heart of Manhattan, Midtown is the place to be if this is your first time in New York. Why? Because it packs most of Big Apple's landmarks.
This neighborhood is perfect for most visitors to NYC. It not only attracts the majority of hotel searches. It also boasts the richest assortment of hotels in every price range.
If you stay there, you'll be within a walking distance from NYC's most popular attractions and observation decks:
Times Square,
Fifth Avenue,
Central Park,
Rockefeller Center,
The Museum of Modern Art (MoMA),
The Empire State Building,
St. Patrick's Cathedral,
and the world-famous Broadway theaters.
You'll find dining choices that satisfy every wallet – from budget to gourmet cuisine. And to top it off – all major subway lines pass through Midtown. In short, Midtown is an ideal location.
Our recommendations: The 4* Riu Plaza Manhattan Times Square is ideally located in the heart of NYC, and has a 24-hour front desk and a concierge. If you prefer to be only a few steps from Central Park or the luxury stores on 5th Avenue, stay at West 57th Street by Hilton Club.
5. Upper East Side – the Best Neighborhood in New York for Luxury Lovers and Museum Exploration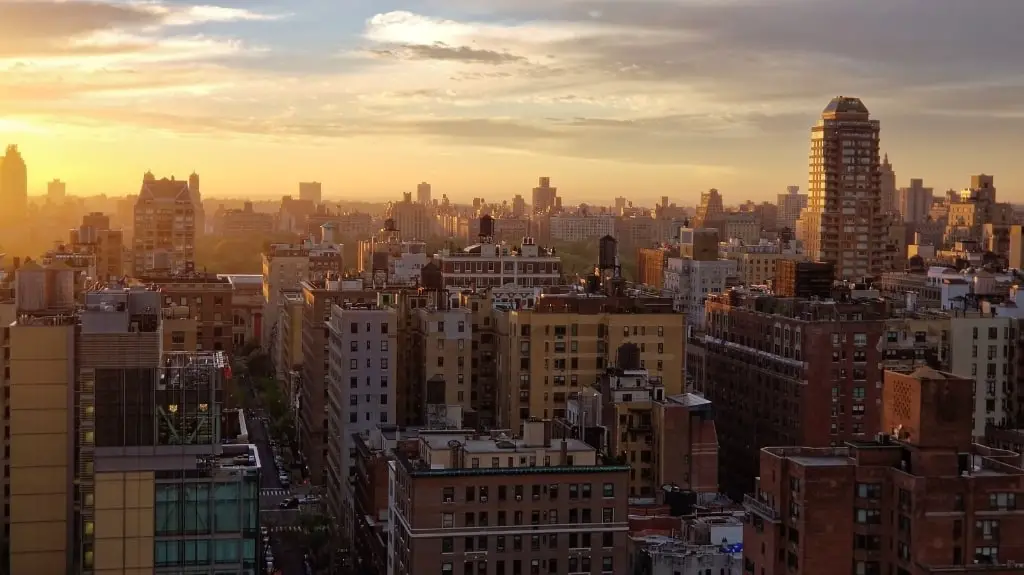 If you're a museum buff, you'll fall head over heels in love with Upper East Side. The area is home to the Museum Mile, where you'll discover Frick, Guggenheim, the Metropolitan Museum of Art, and the Museum of the City of New York, among many others.
If museums don't tickle your fancy, don't worry. The young crowds that reside in Upper East Side have made the neighborhood chock-full of great restaurants and incredible bars.
The district also teems with gorgeous buildings and high-end boutiques, with Central Park as a charming background. The latter is perfect for early-morning jogs or for a leisurely stroll while The City That Never Sleeps actually sleeps.
Petite dogs in handbags are not an uncommon scene in Upper East Side, which is yet another reason you should explore this area even if you don't want to overnight there.
Our recommendations: The family-friendly Loews Regency New York Hotel is just two blocks away from Central Park and features on-site dining. For a more luxurious experience, pamper yourself at The Pierre, A Taj Hotel, which is in the immediate vicinity of the high-end boutiques on Fifth and Madison Avenues.
6. Lower East Side – the Best Place to Stay in Manhattan, New York for Eating and Drinking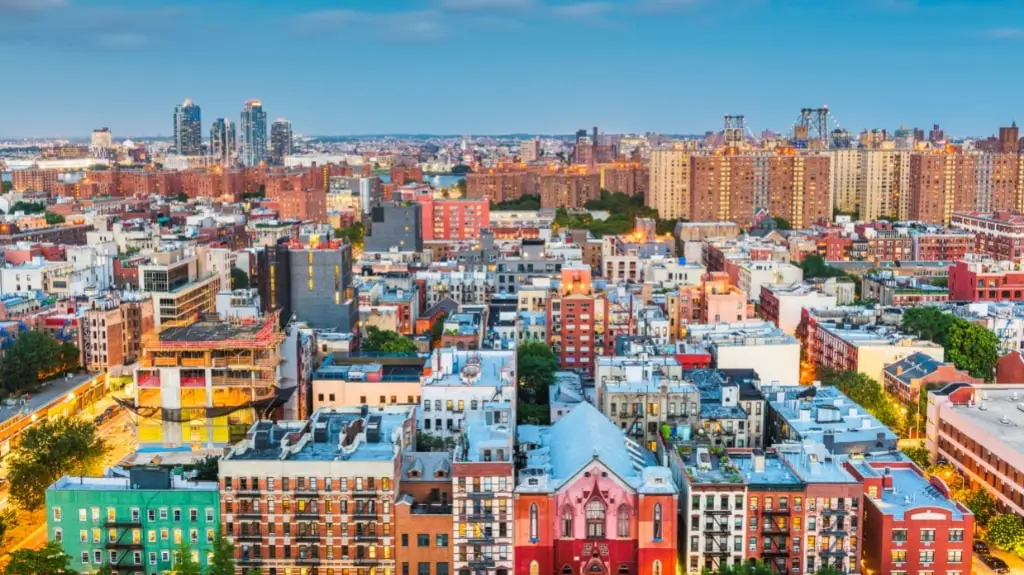 Love eating your heart out? Then, Lower East Side is the best area to stay in New York for you.
Traditional delis, posh restaurants, resolute bars and pubs, as well as late-night comedy clubs will make your visit worthwhile.
When you're full to the brim with delectable dishes, kill some calories by checking out the countless art galleries in the neighborhood.
If you want the full New York City experience, staying in Lower East Side is a fantastic choice for its diverse street scene, fancy eateries, and boutiques living up to the expectations of all visitors.
Gritty alleys and tenement-style buildings line the area. In that regard, if you'd like to explore one of the most unusual things to do in New York, don't miss the Tenement Museum.
And the best part about this neighborhood?  Its location makes it easy to walk to many parts of the city from there.
Our recommendations: If you like art, stay at Hotel Indigo for its rotating art installations. You can also relax in the outdoor, heated pool, too. Alternatively, choose The Ludlow Hotel for its heart-stopping views of NYC's bridges and skyscrapers.
7. Upper West Side – the Best Area to Stay in NYC for Families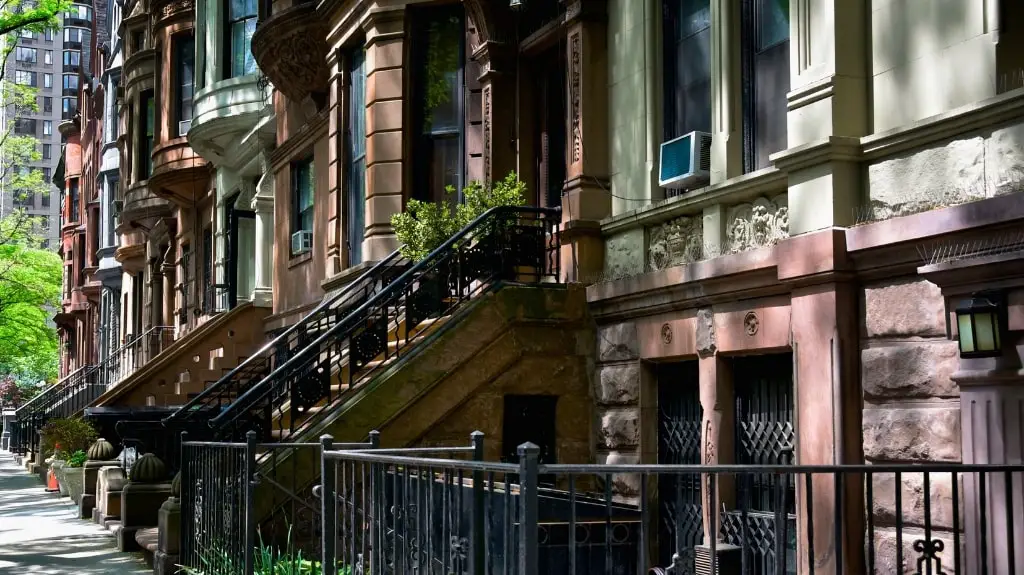 Upper West Side is posh and expensive. But it's worth stretching your wallet a bit because of its great location and excellent surroundings.
One of the area's most famous landmarks are the iconic brownstones. These are traditional residential houses beloved by locals, which give the neighborhood its typical vibe.
If you like museums, you can kill plenty of time in the American Museum of Natural History (AMNH). We bet your kids will love to check out the spot where the "Night in the Museum" was shot. Inside the exhibition halls, you'll also find the first human – Lucy.
When you've had enough of natural history, just head to Central Park, which is in the museum's proximity.
Upper West Side is one of NYC's most attractive neighborhoods for family fun. So, if you're traveling with kids, or you just want to stay in a quiet, laid-back place, this is your best option.
Our recommendations: The 5* Trump International and Mandarin Oriental will live up to your wildest expectations. Huge flat-screen TVs, indoor pools, full-service spa centers, and sweeping vistas of the Big Apple make them two of the best places to stay in New York City.
8. The Financial District – the Best Neighborhood in NYC for History Buffs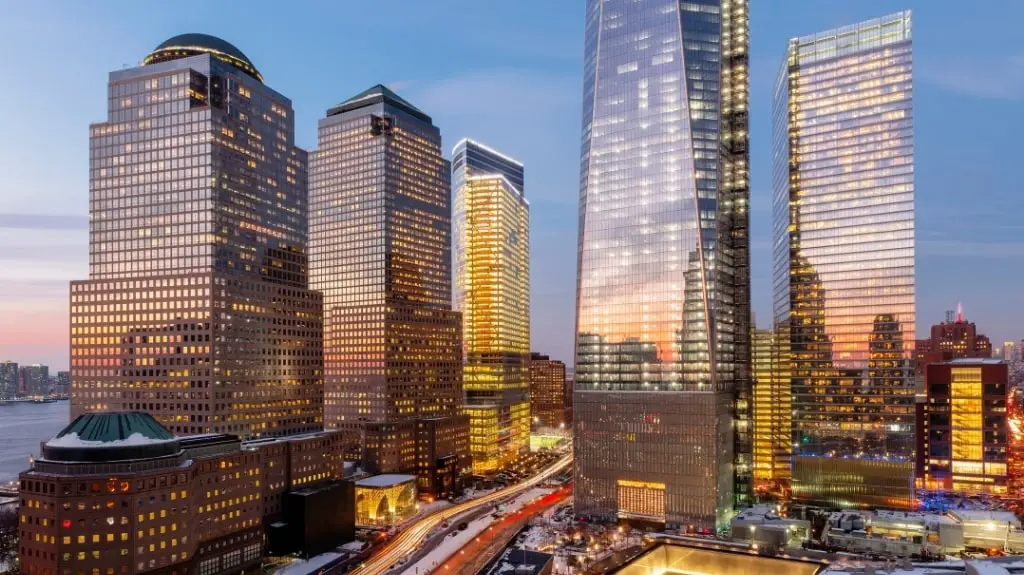 New York City boasts a huge Financial District area to the lower side of Manhattan. During the day, it caters to business employees. But in recent years, it's become a very cool neighborhood. And nowadays, many people choose to live there.
If you're a history fan, the old city of the Financial District will enchant you. Within it, you'll discover historic churches, imposing buildings, and rusty yet cool taverns that trace their origins back to the 1700s.
This area is also home to most of the landmarks New York is known for, including:
Wall Street
Battery Park
The Federal Hall
The Statue of Liberty
The 9/11 Memorial + Museum
Basing yourself in the Financial District is a great strategy if you want to cover a lot of ground quickly.
The narrow, meandering streets are proof this used to be the city's oldest part. However, today, skyscrapers have been mushrooming at an increased pace, dwarfing the few historic sites.
Much like the European District in Brussels, hotels in the Financial District have attractive rates on weekends when business travelers are away.
Our recommendations: A couple of minutes away from Trinity Church, Fairfield Inn by Marriott is perfect for exploring Wall Street and its surroundings. If you're seeking fancier lodging, Millennium Hilton New York Downtown will make sure you sleep like a baby after a long day of exploration.
9. Tribeca – the Best Area to Stay in New York for Arts and Culture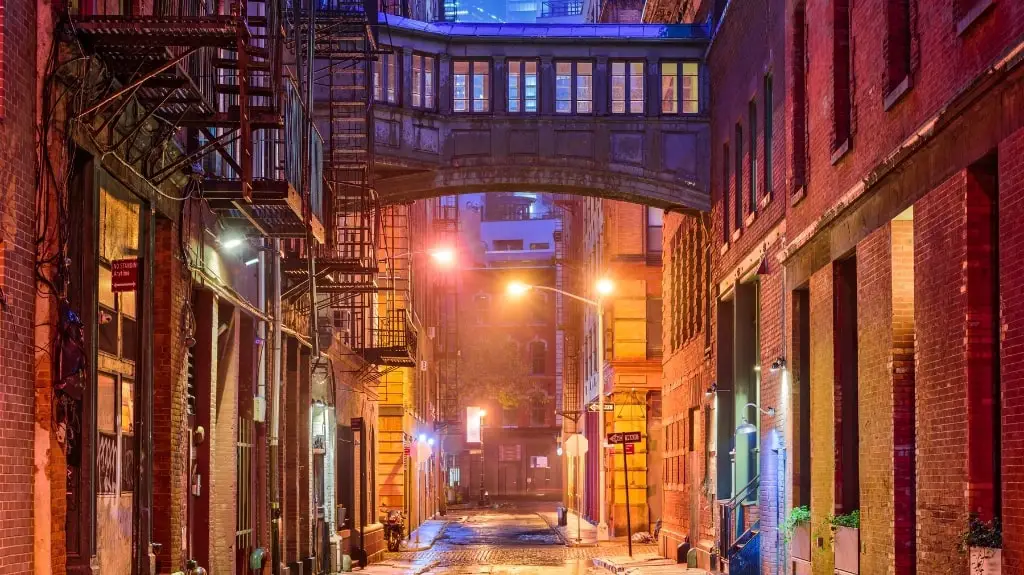 TriBeCa, also known as Triangle Below Canal, is a hip area in Lower Manhattan. Old industrial buildings and warehouses have turned into residential lofts, art galleries, and performance spaces.
In the 1970s, painters, sculptors, and photographers flocked to the district to take over the gigantic abandoned lofts.
Today, trendy boutiques and notable restaurants (like the world-class Odeon) line the cobblestone streets in the neighborhood. The Tribeca Film Festival happens in the area every spring.
Things become quiet on weekends save for the Hudson River Park and Washington Market Park, which attract families with children.
Don't miss the New York Mercantile Exchange – a great example of a historic commercial building from 1884.
Also, look out for New York City's official tourism ambassador, Taylor Swift. She's been living in the area since 2014.
If you like exploring hidden elegance, you'll fall in love with Tribeca.
Our recommendations: The 4* Sheraton Tribeca New York Hotel offers modern rooms, a 24-hour gym, and a great location just across the street from SoHo shopping. The Roxy Hotel New York offers weekend guests a complimentary glass of champagne. In addition, it features an 8-story atrium, bar & lounge with live entertainment, and a 118-seat private screening room for movies.
10. Harlem – the Best Up-and-Coming Area to Stay in New York City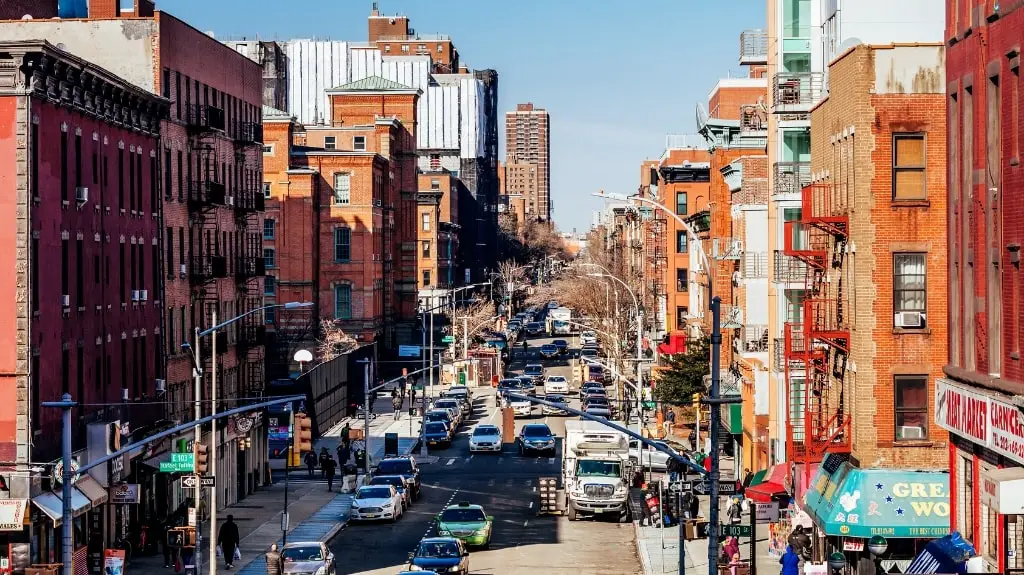 The Harlem neighborhood often gets a bad rap. However, recently, it's become one of the coolest, up-and-coming areas in New York City.
In the 1920s, it rose to prominence as the birthplace of the renaissance movement. Today, it's an eclectic mix of cultural traditions and modern creativity. The area is also home to the popular Apollo Theater.
Harlem is for you if you like live music performances and pulsating nightlife. Many of the residents have African-American origins, which creates a very versatile foodie scene, too.
If this is your cup of tea, don't miss the food tour and the cultural walking tour. This way, you'll explore Harlem in the best way possible.
You'll fall in love with the neighborhood's abundant history and widespread sense of community.
Our recommendations: The stylish Aloft Harlem is just a few minutes away from Apollo Theater and features a bar, a gym, and a gaming room. West 119th B&B is for you if you like spacious gardens and American-style breakfasts. You can rent a bike, too.
11. Astoria – the Best Neighborhood to Stay in Queens, New York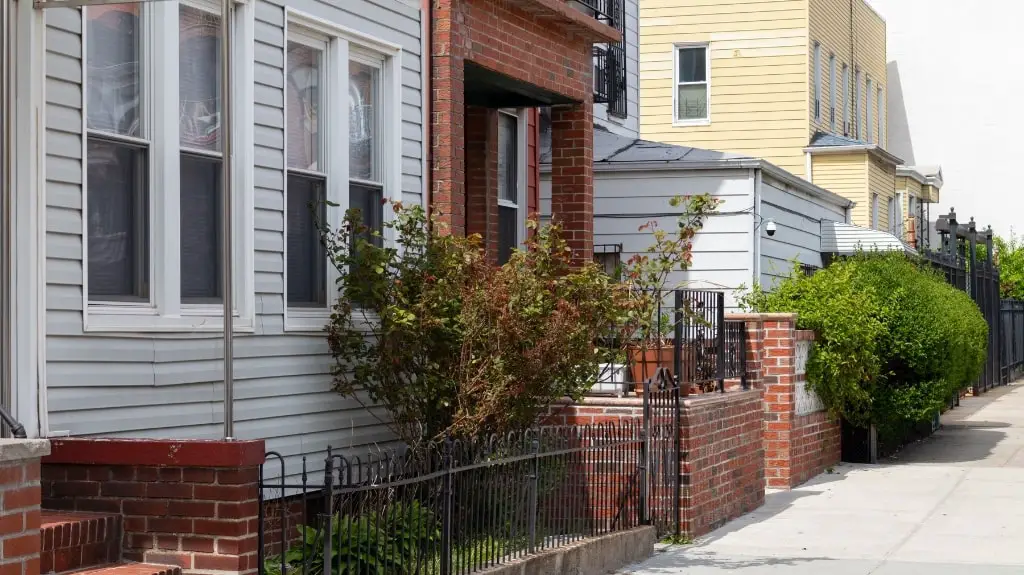 Astoria in Queens used to be a traditional Greek area. Today, though, it attracts people from every part of the globe
You can rub shoulders with Brazilians, Egyptians, Irish, and Italians in the area. This makes it one of the most culturally diverse districts of NYC, especially in terms of art and food.
Astoria is a bit far from the vibrant Manhattan, but it's much cheaper while offering tons of great cultural things to do. In other words, it's a totally different New York than what you might have imagined.
In fact, you should visit it even if you won't overnight in the area.
If you want more bang for your buck, and you don't mind hopping on the subway from Queens to Manhattan every day, then Astoria is the right place for you.
Our recommendations: Every room in Astoria Delancy Inn & Suites comes with a big flat-screen TV and air conditioning. Guests can also benefit from a fitness center and a 24-hour front desk. La Guardia airport is less than 4 mi away.
Is Airbnb in New York Legal?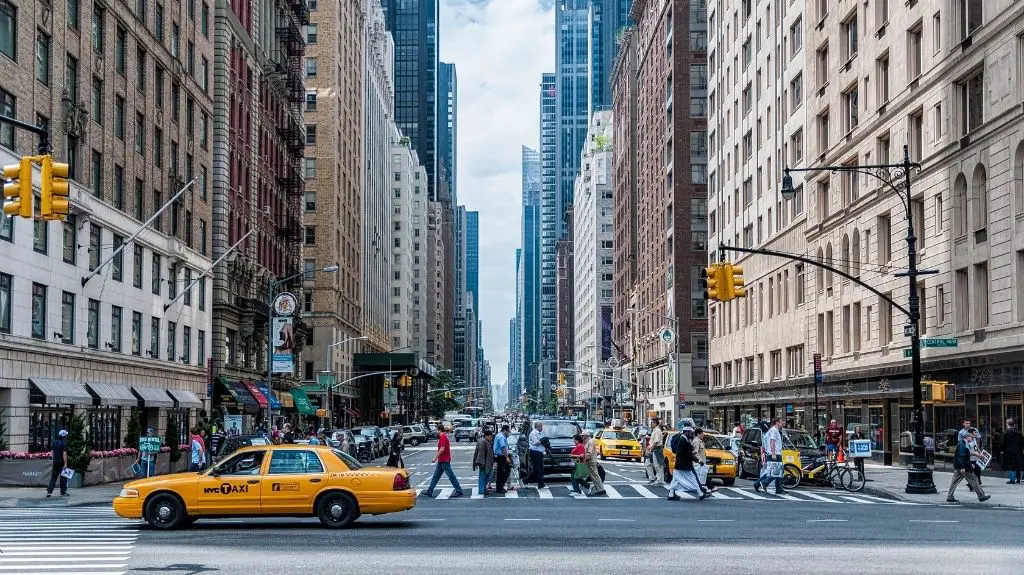 Before we wrap up this post with the 11 best areas to stay in New York, we need to address something else.
Short-term rentals in the Big Apple have been restricted since 2016.
According to the latest NYC laws, renting an apartment for less than 30 days requires the host to share data with the NYC council.
Many hosts are not okay with this, which drives the prices on Airbnb up.
Another cheaper option is to share the apartment with your hosts, which we certainly don't recommend if you're seeking comfort and privacy.
So, if you want decent rates and "no hosts around", you'll have to book for 30+ days.
No More Wondering Where to Stay in New York City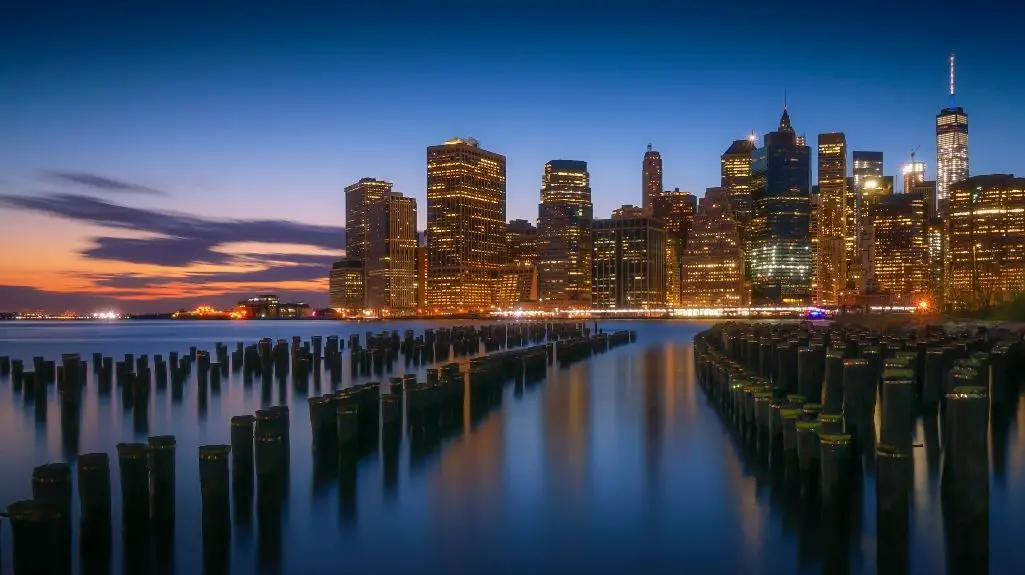 There you have it – the 11 best areas to stay in New York City on your trip to the Big Apple.
No matter whether you want to explore art and culture, go on a shopping spree, or wake up to the view of world-famous landmarks, you'll find the right accommodation for you.
And if you need inspiration on what to see and do during your visit, check out our New York travel tips.
Now, we'd love to know:
Which area would you stay in next time you travel to New York?