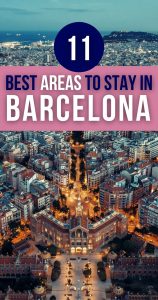 Choosing where to stay in Barcelona depends on how you plan to spend your time. The second-largest city in Spain boasts an eclectic mix of old and new districts that will live up to anyone's fancy.
If you want to visit the most popular landmarks, you'll want to stay in the center of Barcelona near La Rambla.
For gourmet delicacies and high-end shopping experience, choose the Eixample District.
Poblenou is for you if you like modern neighborhoods where you can feel the unique Catalan vibe.
No matter your preference, this guide with the 11 best areas to stay in Barcelona will help you select the most appropriate option for you.
Let's dig in, shall we?
Note: This article contains affiliate links. In case you purchase something through one of these links, we may receive a small commission at no extra cost for you. Thank you for helping us keep creating the free content on this website!
1. The Gothic Quarter (Barri Gòtic) – Picturesque Streets and Medieval Charm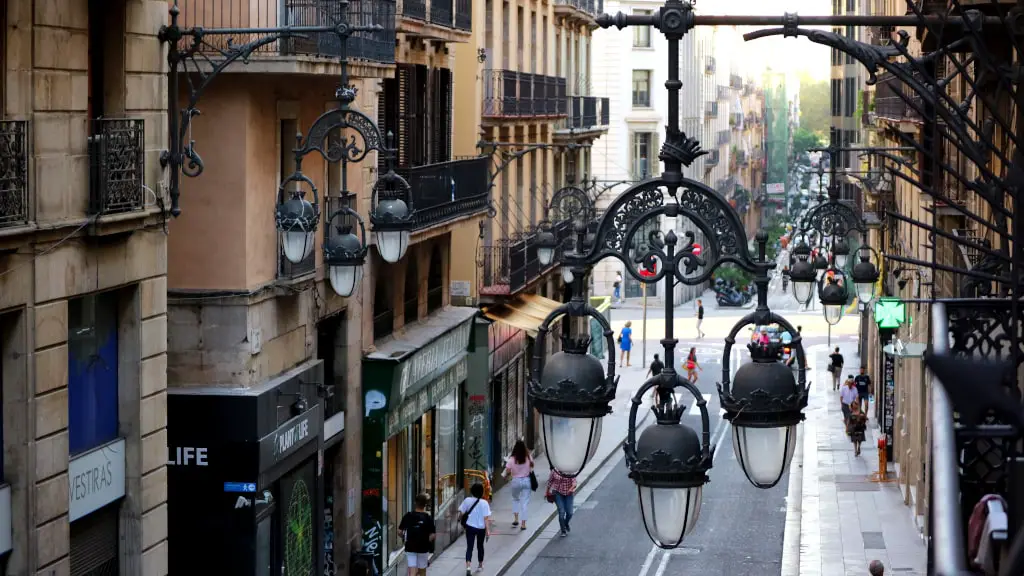 If you'd like to be in the heart of Barcelona, it doesn't get more central than the Gothic Quarter. This is also one of the best areas to stay in Barcelona for first-time visitors.
Barri Gòtic's labyrinth-like, narrow streets are not only incredibly picturesque. Amidst them, you'll find:
Enchanting squares (Plaça Reial is a must).
Dozens of posh bars and tapas restaurants.
Remnants of ancient Roman walls (near the cathedral of Barcelona).
Breathtaking landmarks, including the Barcelona Cathedral and the Basílica de Santa Maria del Pi. The latter holds a copy of the Black Madonna of Montserrat.
Peculiar museums, such as the Picasso Museum, the Museum of the History of Barcelona, and the Erotic Museum Barcelona, one of the most unusual things to do in Barcelona.
The Gothic Quarter is the place to stay if you like quirky neighborhoods and stumbling upon small boutiques while wandering in a maze of streets. It's especially good in summer because the narrow alleys provide a fantastic shelter from the scorching sun.
From aparthotels to high-end boutique establishments, Barri Gòtic offers plenty of options for almost every traveler.
Our recommendations: The four-star jewels Gran Hotel Barcino and Aparthotel Arai Superior both can compete for the title best location to stay in Barcelona for sightseeing.
2. El Raval – The Former Red-Light District of the Catalan Capital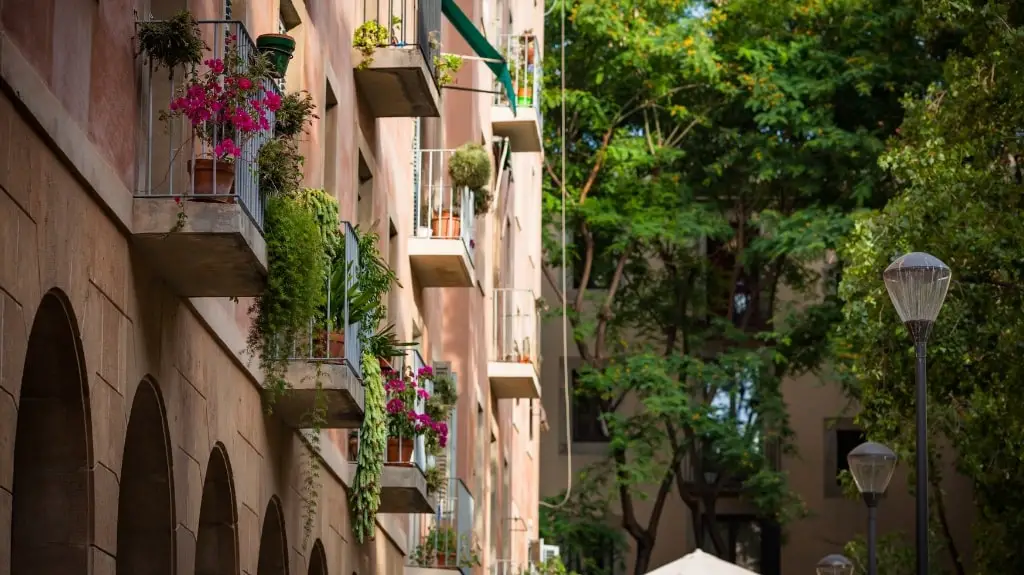 Next to the Gothic Quarter, you'll find El Raval. Previously famous as a red-light district, locals have done a lot to fix its reputation and turn it into a great place to stay in Barcelona.
Nowadays, the neighborhood welcomes artists, foodies, and everyone bohemian. El Raval is home to a few great attractions, including one of Antoni Gaudí's less-visited buildings – Palau Güell (a UNESCO World Heritage Site) – and Barcelona Museum of Contemporary Art – MACBA.
The district houses La Boqueria – the city's most famous food market. Speaking of food, El Raval hosts hundreds of veggie restaurants, tapas bars, and international cuisine options. The food establishments take turns with artsy boutiques, crafts shops, and vintage souvenir stores.
El Raval offers some of the best accommodations in central Barcelona, ranging from luxury selections through unique boutique hotels to budget and bang-for-your-buck options. This is one of the best areas to stay in Barcelona for food lovers and night owls.
Our recommendations: The four-star gems Catalonia Ramblas 4* Sup and Hotel Midmost, both featuring breathtaking vistas over Barcelona from their sun-roof terraces with relaxing pools, will make sure your stay in Barcelona is unforgettable.
3. Eixample – Elegance, Luxury, and UNESCO Buildings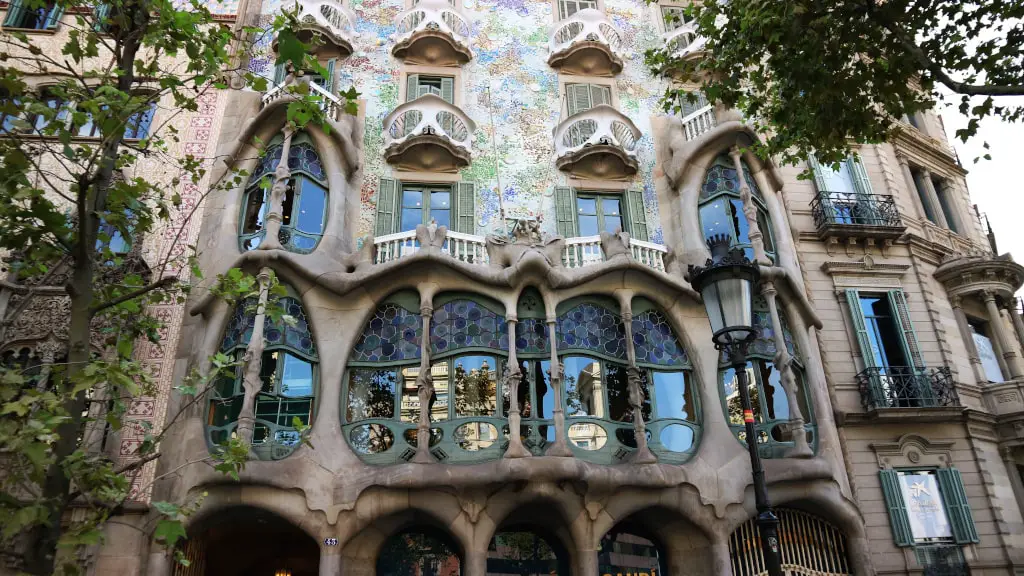 If you don't mind stretching your wallet, Eixample is a fantastic area to stay in Barcelona. North of El Raval and the Gothic Quarter, the district is home to the city's most famous street – Passeig de Gràcia.
On it, you'll not only find expensive boutiques and world-class diamonds. You'll also discover two of Gaudi's most iconic buildings in Barcelona – Casa Battló and Casa Milà (La Pedrera).
Barcelona's most popular attraction – Sagrada Familia – is a few blocks north of Avinguda Diagonal. Other landmarks in Eixample include the Castle with Three Dragons (Castell Dels Tres Dragons) and the Triumphal Arch (Arc de Triomf), which you can find near the Parc de la Ciutadella.
Most accommodations are boutique hotels and luxury apartments, but there a few budget options, too.
Our recommendations: The four-star establishments El Avenida Palace and Room Mate Anna combine deluxe design with affordable prices.
4. Poblenou – Modern High-Risers, Relaxed Vibe, and Tons of Shopping Choices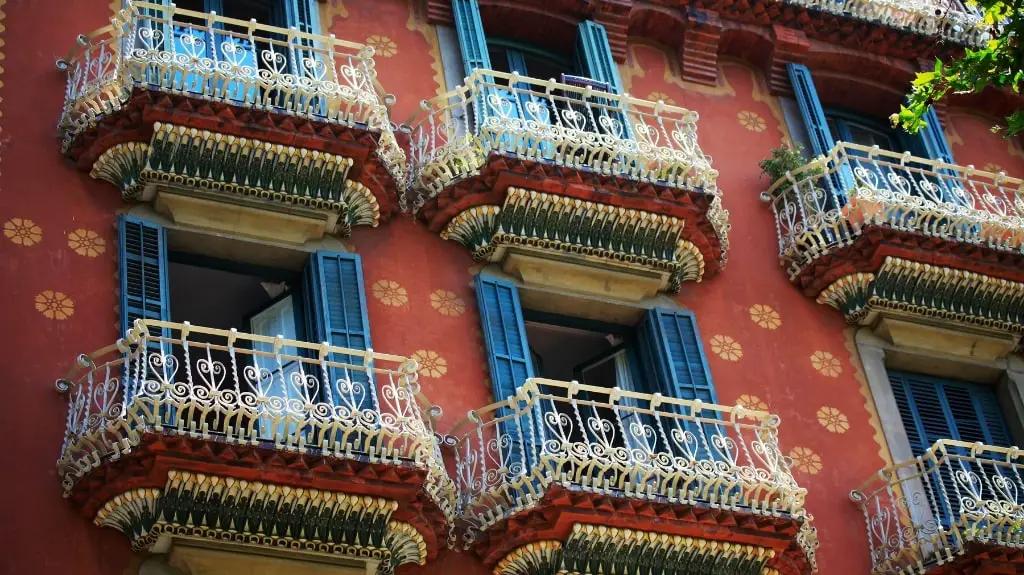 Poblenou is a vibrant neighborhood in the Sant Martí district of the Catalan capital. The area packs a powerful punch of business buildings, attracting a trendy crowd. But don't let the high-risers mislead you. It's still one of the best neighborhoods in Barcelona for tourists.
Served by metro line #3, busses, and trams, Poblenou is at an almost equal walking distance from the beach, Sagrada Familia, and Arc de Triomf.
If you fancy shopping, you'll absolutely love the Glòries Market. The shopping mall area is one of the best places to spend some money on clothing and souvenirs. You can eat your heart out in one of the numerous restaurants in the area, too.
Many of them have outside gardens. There's a gigantic Carrefour supermarket if you want to restock on water and food, or you'd like to explore some of the numerous cured meats and aged cheeses.
Here's what else you'll find in Poblenou:
Love vistas from the top floors of high-risers? Visit Torre Glòries (former Agbar Tower), a 38-storey skyscraper, 473.88 ft. (144.44 m) high.
Dig modern art? Check the Museu del Disseny de Barcelona.
Beach fan? Go to the seaside where you'll find Barcelona's cleanest beaches. Trendy bars seduce party animals there.
When you grow tired of the sun, take a walk on the pedestrianized Rambla de Poblenou. A mix of hip cocktail bars, traditional restaurants, modern fusion eateries, and local food markets awaits to satiate all your cravings.
Poblenou offers a good range of family-friendly, mid-range and high-end hotels. Together with the Gothic District, it is one of the best areas to stay in Barcelona for first-time visitors.
Our recommendation: The 12-story Four Points Diagonal by Sheraton with exceptional staff and sublime panoramas offers everything for a great stay.
5. Montjuïc – Fountains, Museums, and Stunning Vistas of the Sea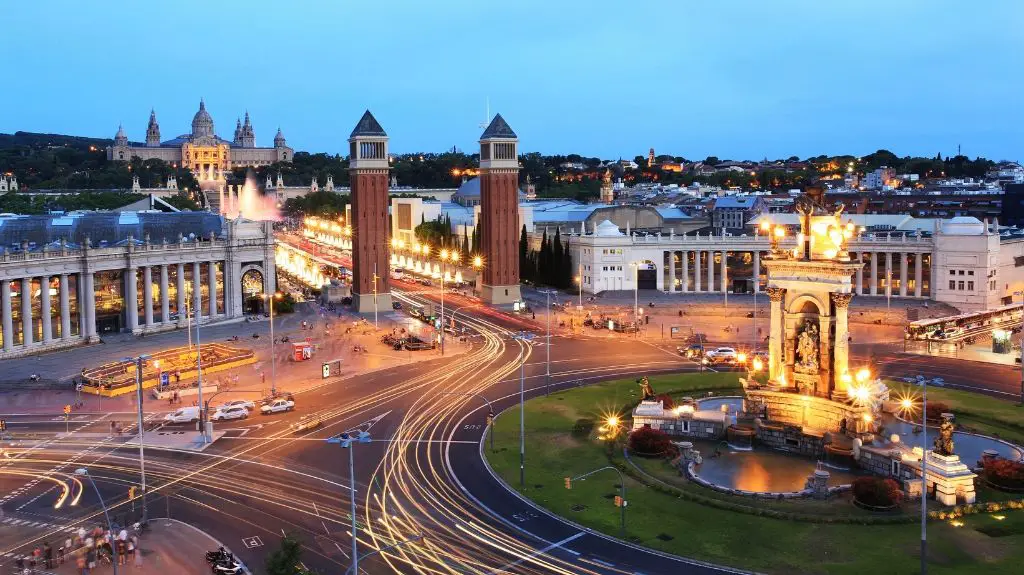 Montjuïc or "Jewish Mountain" offers gorgeous bird's-eye views over Barcelona port and the Mediterranean Sea.
The castle at the top once served as a fortress. It's worth exploring not only for the panoramas but also for the history surrounding it.
The landscaped parks and gardens on the hill are perfect for sightseeing. Montjuïc is much more than just a beautiful 'mountain', though. In the area, you can also marvel at:
The Olympic village. Pay special attention to the communications tower designed by Santiago Calatrava. You'll find it inside the village.
Two art museums – Fundació Miró and Museu Nacional d'Art de Catalunya (MNAC).
Jaw-dropping fountains. Just below the Palau Nacional and MNAC, you can admire the jaw-dropping light show of the Magic Fountain of Montjuïc. The highest water spout is 170 ft. (51.8 m).
An open-air museum. Poble Espanyol is five minutes on foot from the Magic Fountain. Literally meaning "Spanish Village", it's home to 117 full-scale buildings, representing 15 of the 17 regions of Spain.
It is the best area to stay in Barcelona for museum lovers and families with children.
Our recommendation: The slick Hotel Brick Barcelona is close to the Magic Fountain, making it great for seeing the light show at night.
6. Gràcia – Relaxed Vibes and Quirky Shopping Areas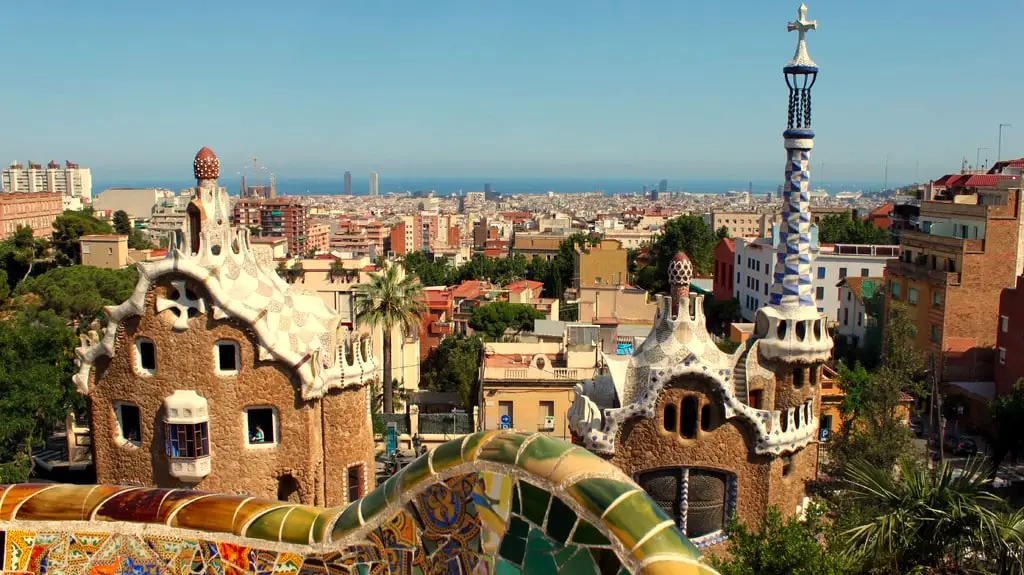 In the past, Gràcia was a separate village. Despite being a Barcelona neighborhood, it still retains a low-profile, bohemian vibe. You'll find Gràcia between Eixample and the city's hills to the north. The quaint locality is home to artists, young families, and new arrivals in Barcelona.
Gràcia's most famous landmark is Parc Güell. Designed by the genius architect Gaudí, it's a hilly, landscaped park with gorgeous gardens and vibrant architectural elements. The views over Barcelona from the park are to die for.
If you like shopping, you'll enjoy the neighborhood's independent fashion stores and outlets. Carrer del Torrent de l'Olla and Carrer de Asturies are dotted with hip bars, traditional restaurants, and peculiar shops.
If you're seeking budget-friendly hotels and hostels, then Gràcia is the place to stay in Barcelona.
Our recommendation: The 4* Catalonia Park Putxet which offers stupendous views over Barcelona from its roof-top terrace with a pool.
7. Barceloneta – Colorful Streets, Narrow Buildings, and Beach Vibes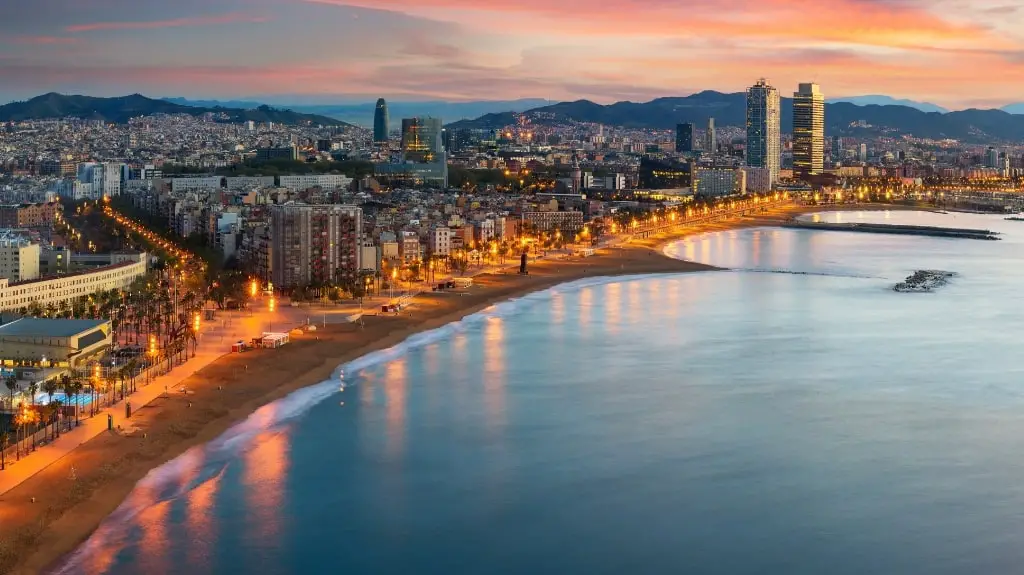 Nowadays, Barceloneta is home to Barcelona's most popular beach. However, the area was once a fishermen's district. So, it might not be surprising that the beach is artificial (all Barcelona beaches are artificial, for that matter).
One of the most surprising facts about Barcelona is that the city imported sand from abroad to build its beaches. Authorities top it up regularly as erosion and weather eat it away.
Despite the crazy beach crowds that crisscross the area every day, the mainly working-class district maintains its low-key vibe. In Barceloneta, every corner unveils relaxing tapa bars, bodegas, and some of the city's best seafood restaurants (Salamanca is a must).
The big attraction of the neighborhood is without a doubt the wide, sandy beach. But in Barceloneta, you can also:
Marvel at its world-class marina full of luxurious yachts.
Walk its bustling promenade where roller skaters, bikers, and joggers mingle with couples and families.
Explore the Barcelona Aquarium, which awaits you next to the marina.
Take the cable car that connects Barceloneta with Montjuïc and goes over Barcelona's harbor.
Our recommendations: Barceloneta is not teeming with accommodation options like other districts. But there's enough to suit your taste – from a few budget and mid-range places to stay to the extraordinary W Hotel at the beach's south end. You can even overnight on a boat, too.
8. Poble Sec – Quirky Vibes and Trendy Bars
The compact district of Poble Sec prides itself on shady squares and brilliant 19th-century architecture. The crowd is young and trendy, and it's an excellent starting point for visiting the next-door Montjuïc.
El Poble-sec is perfect for both party animals and gourmet lovers because of the area's fantastic nightlife and dining scene. If you fancy music events and tapas, head to the leafy Carrer de Blai. Opt for the busy Paral·lel avenue if you'd like to experience musicals and cabaret shows. If you prefer quaint and charming squares with alfresco cafés, you can't go wrong with Plaça del Sortidor and Plaça de las Navas.
Landmarks include the Portal de Santa Madrona, the statue of Dona Pescadora, and the Caixa Forum – a refurbished, former textiles factory that hosts various exhibitions.
Hotel options consist of several budget places, along with numerous mid-range accommodations.
Our recommendations: The boutique Hotel Brummell with stunning design and roof-top pool and the elegant Casa Vaganto with vibrant decors and large, bright rooms will live up to your wildest expectations.
9. El Born – Tiny Streets and Amazing Museums
El Born is part of Barcelona's Old City (Ciutat Vella). Via Laietana separates it from the Gothic Quarter. El Born is similar to its neighboring area by the maze of narrow streets. They're less crowded but nonetheless exciting.
In the district, you'll discover some of Barcelona's most interesting museums:
The Picasso Museum
The Museum of World Cultures
The European Museum of Modern Art
The Chocolate Museum (Museu Xocolata)
The gorgeous modernist work of art – Palau de la Música Catalana
El Born is closer to the beach than the Gothic Quarter. On your way to the sea, you'll find tons of restaurants, coffee shops, tapas bars, and high-end fashion shops.
Stroll along Passeig del Born and Plaça de Santa Maria for the traditional bars and restaurants. Wander on Plaça Comercial if you're looking for more modern dining options.
The expansive Parc de la Ciutadella, along with the Barcelona Zoo, borders El Born on the northeast side.
On the low end, accommodations include good cheap hotels and mid-range options that are perfect for families. On the high-end of the spectrum, you can stay at creative boutique hotels.
Our recommendations: The trendy H10 Port Vell 4* Sup and the budget-friendly Hotel Oasis will both pamper you greatly.
10. El Clot – Medieval Architecture and FC Barça Flags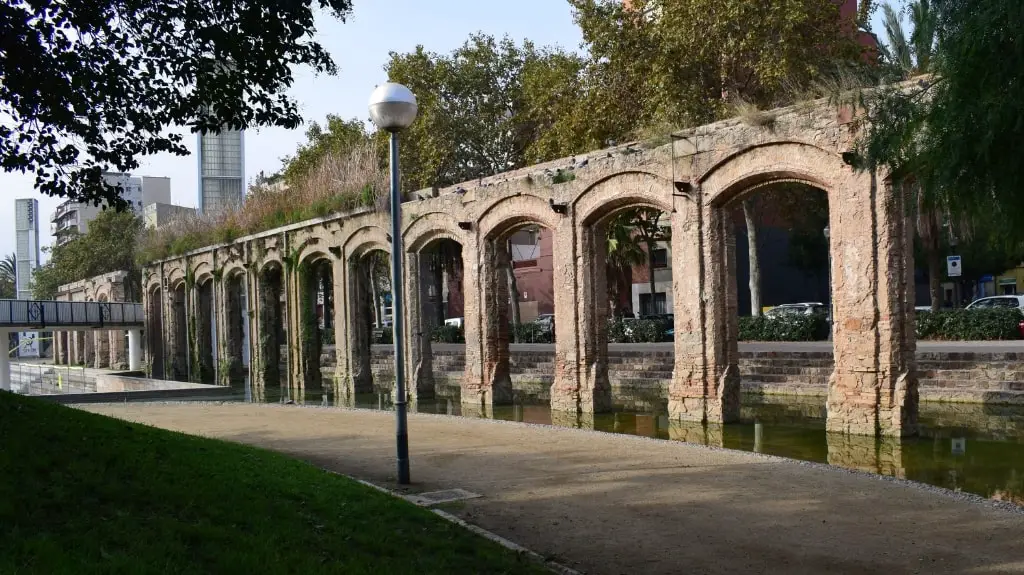 Part of the vast Sant Martí district, El Clot attracts with its medieval vibe and countless FC Barcelona flags flapping in the wind.
Since it doesn't offer a ton of landmarks, the neighborhood is often overlooked. But that makes it ideal if you're seeking a break from the crowds. Add to that the plenty of public transportation options, and its vicinity to Barcelona's iconic Sagrada Familia, and you might find yourself booking a hotel there.
It's a typical Catalan area, and locals are incredibly friendly. A particularly sociable spot is Park del Clot, which is also ideal if you're traveling with children.
Shopping fan? Head to the Carrer de Rogent, a smaller and quieter version of the Ramblas. It's fully pedestrianized with plenty of lunch and dining options.
Our recommendation: The modern and cozy Apartamentos Navas will give you a feel for the local everyday life.
11. The Fòrum – Leisure, Culture, and Party Squares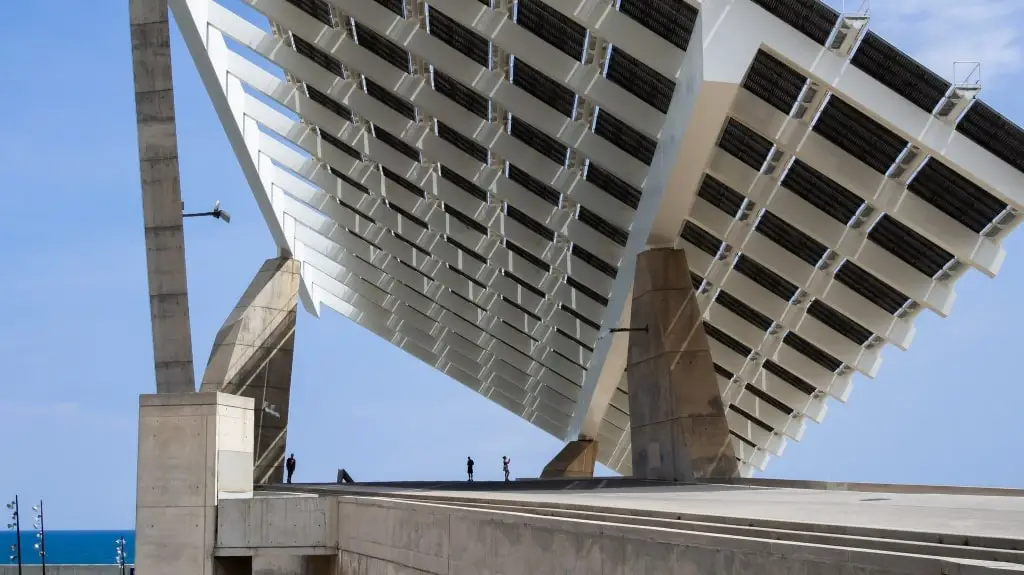 If you'd like to visit one of Barcelona's most modern neighborhoods, choose The Fòrum. This once industrialized area has now one of the city's best spots for both culture and recreation.
If you're a party animal, you should know that Parc del Fòrum hosts Barcelona's largest events, including mega music festivals like La Mercè, Primavera Sound, and Feria de Abril.
In Parc del Fòrum, you'll also discover:
Museu Blau, the 82-ft. (25-m) high Museum of Natural Sciences of Barcelona.
Esplanade, the world's second-largest square, covering 904,170 sq. ft. (84,000 sq. m).
Zona de Banys, a bathing zone with a rare set of sea-water swimming pools.
Parc dels Auditoris, a gigantic outdoor area that combines two halls connected by a passageway.
Our recommendation: The neighborhood is also home to Port Fòrum, the largest dry marina in Catalonia. If you fancy an unusual, luxurious accommodation, book a night on a yacht.
The Best Areas to Stay in Barcelona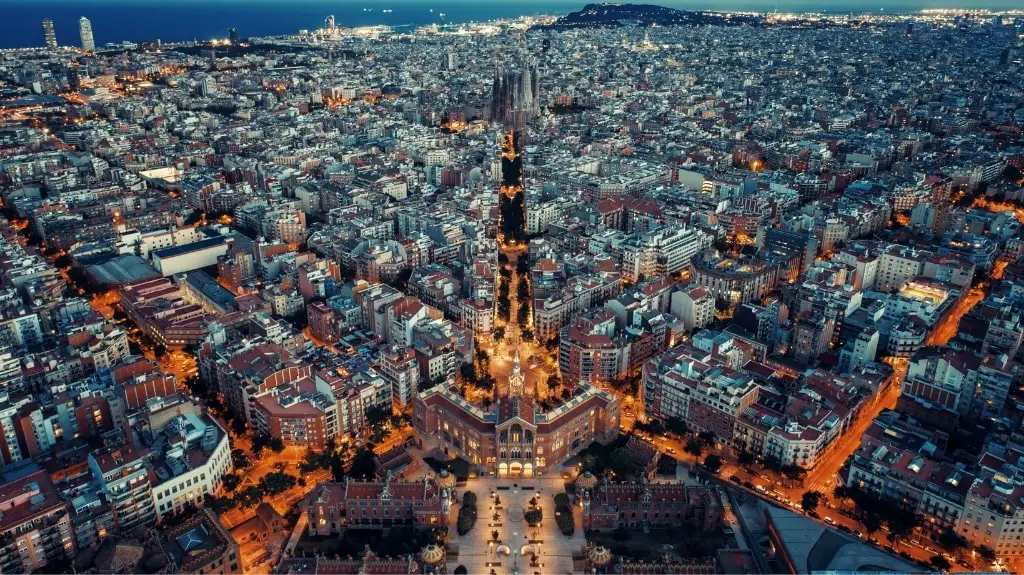 As you see, Barcelona is full of great neighborhoods to choose from.
Whether you're a beach lover, a gourmet food enthusiast, or traveling with kids, the Catalan capital will live up to your accommodation needs.
We believe you'll find the room you're looking for in one of the best areas to stay in Barcelona. And don't worry if it's a little far from the city center.
One of our top Barcelona travel tips is to make use of the extensive public transportation system to explore the Catalan capital.
Now, we're curious:
Which Barcelona neighborhood will you stay at when you go there?
Let us know by leaving a comment below.