A place of outstanding individuality and unrivaled beauty stands just a short ride away from Barcelona.
Its name is Montserrat. The otherworldly rock formations make the place unique not only for Catalonia but also for the whole territory of Spain.
A day trip from Barcelona to Montserrat gives you enough time to admire the place's natural allure, as well as visit the monastery that sits just below the cliffs.
Do you want to know how to plan your day trip and explore Montserrat at your own pace?
Then dive right in!
How to Get from Barcelona to Montserrat
Montserrat's proximity to the Catalan capital makes it ideal for a day trip from Barcelona.
Below, you'll find several options to travel from Barcelona to Montserrat:
By Train
Despite being the easiest option, we must admit: we needed some time to decipher the different tickets available.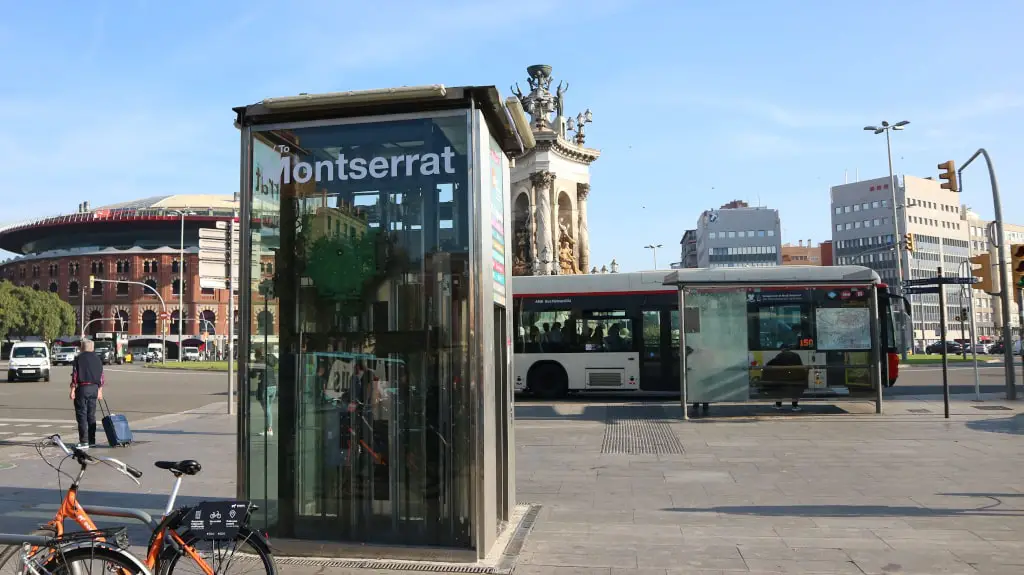 Warning: You can only buy your ticket on the day of your day trip from Barcelona to Montserrat. Purchasing in advance is not possible. Hence, arrive at the Plaça Catalunya station at least 15 minutes prior your departure time.
Trans Montserrat: Train, Rack Railway, and Funicular
Price: 33.45€ (~$38)
What's included:
Return train ticket from Barcelona to Monistrol de Montserrat station;
Rack railway from Monistrol de Montserrat to Montserrat;
Ride on the Sant Joan Funicular;
Free access to the Aula de Natura, Espai Audiovisual, and Ancient Rack Railway Vehicle Museum exhibition areas. Note: the latter is located at the old Monistrol-Vila station.
Montserrat Express: Train, Rack Railway, and Audioguide
Price: 36.85€ (~$42)
What's included:
Return train ticket from Barcelona to Monistrol de Montserrat;
Rack railway from Monistrol de Montserrat to Montserrat;
Audio guide and map;
Welcome Pack with local products;
Free access to the Aula de Natura, Espai Audiovisual, and Ancient Rack Railway Vehicle Museum exhibition areas. Note: the latter is located at the old Monistrol-Vila station.
Tot Montserrat: The All-Inclusive Montserrat Experience
Price: 52.90€ (~60$)
What's included:
Everything from Trans Montserrat (train, rack railway, funicular, free access to exhibitions);
Lunch;
Montserrat Museum ticket.
Insider Tip: Buy your ticket from the vending machines at the Plaça Catalunya station. It is faster and easier than queueing at the cashier. Check our guide for more Barcelona travel tips.
Timetable:
The trains from Barcelona to Montserrat run every hour.
The first one leaves at 8:36 AM and arrives at 10:08 AM.
The last one is at 4:36 PM and will get you to Monistrol de Montserrat at 6:08 PM.
There are two additional trains leaving Barcelona at 5:36 PM and 6:36 PM but they only run on certain days.
The trains from Montserrat to Barcelona also run every hour.
The first one leaves at 9:15 AM and reaches Barcelona at 10:45 AM.
The last train from Monistrol de Montserrat is at 6:15 PM and arrives at 7:45 PM.
Two additional trains leave at 7:15 PM and 8:15 PM but again they don't run every day.
For the additional trains, you need to ask the FGC train company's staff or consult the information boards.
The rack railway ride between Monistrol de Montserrat and Montserrat takes approximately 20 minutes. The schedule matches the FGC's train timetable with about 5 minutes of connecting times.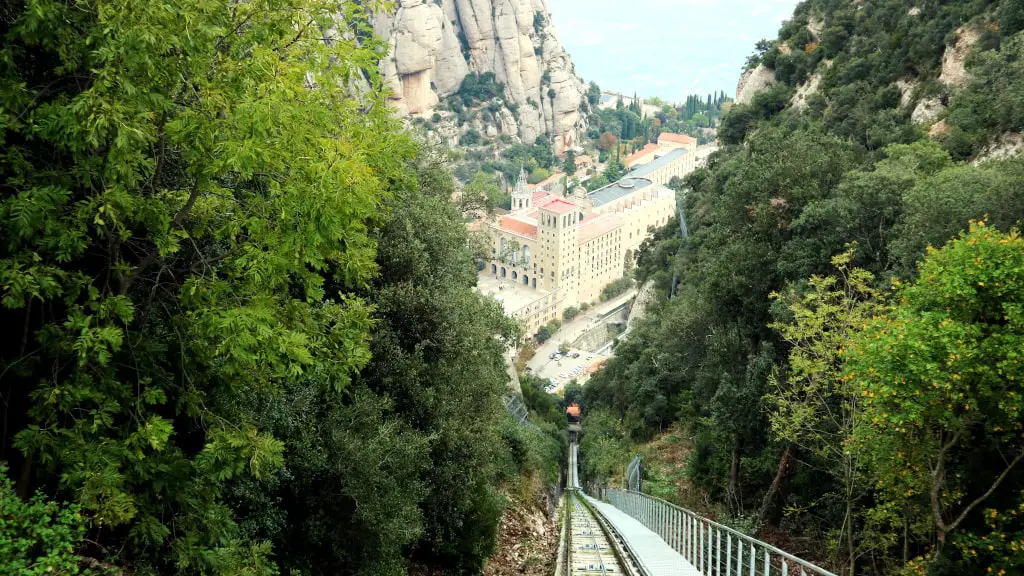 By Car
You have two options for reaching Montserrat from Barcelona by car.
If you leave Barcelona in south-east direction using B-10, get on A-2 and continue for about 31 mi (50 km). Then, change to BP-1103. The ride takes just over one hour.
If you take C-31 to the north-east, continue driving on C-58, and then switch to BP-1121. The whole journey is around 38 mi (62 km), and takes about the same time as the previous route.
Of course, you can also take one of the roads, driving from Barcelona to Montserrat, and the other route, returning back to Barcelona. This way, you'll see more of Catalonia.
There's free parking at the Abbey of Montserrat. However, the spaces are limited. More parking options are available on BP-1121.
By Car and Train
Alternatively, you can drive to Monistrol-Vila, and then take the train to Montserrat.
A huge, FREE parking house is available to all who choose this transportation option. The train ride takes about 15 minutes.
Tip: the tickets cost less if you buy them at the train station. Also, the first two trains for the day – at 8:35 AM and 8:55 AM – have a lower ticket price.  
By Bus
The bus company Autocares Julia has a direct line once a day, every day of the week. It starts at the bus station Sants in Barcelona. The ride takes less than 90 minutes.
The bus leaves from Barcelona to Montserrat at 9:40 AM all year round.
From Montserrat to Barcelona, you can catch it at 5:00 PM in the winter months, and at 6:00 PM in summer.
Etymology of the Name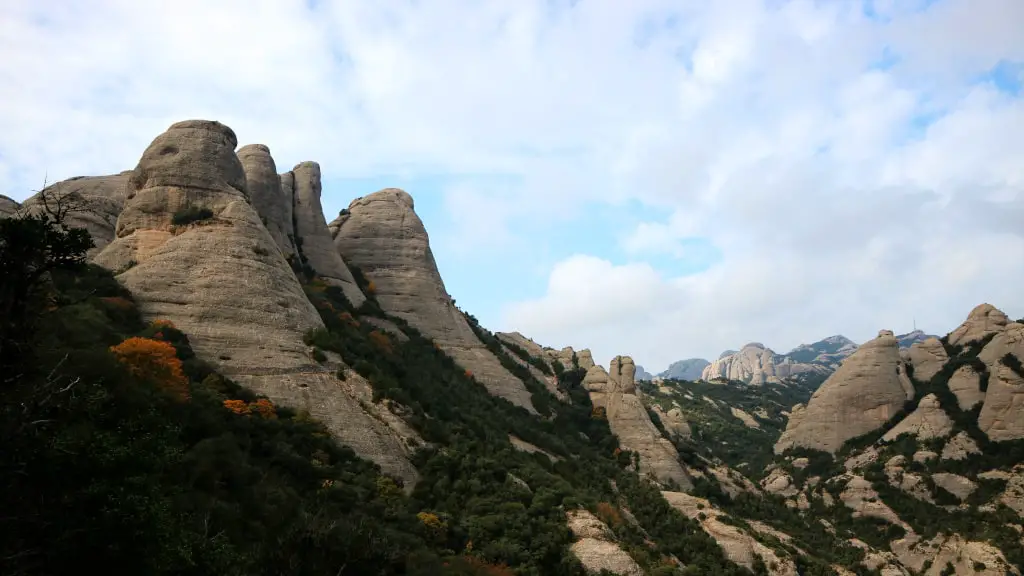 Now that you know how to get from Barcelona to Montserrat, let's see what makes it so special.
Montserrat is a stunning mountain, with a jagged outline, full of incisions – like a row of teeth or a saw. That's where the natural phenomenon gets its name from. Montserrat from Catalan means "serrated mountains".
What Created the Stunning Forms of Montserrat
Montserrat's geology is very unusual. Its forms are not a result of a volcanic eruption. Rather, they originate from the atmospheric agents found in the area.
More than 50 million years ago, the vast majority of what is now Catalonia was under water. This interior sea was fed by great volumes of water, originating from the Catalan-Balearic massif.
They left abundant deposits on the banks of the sea. These deposits – some very hard, others much softer – began to solidify, forming different layers of strata. The sea started to shrink until it dried up, and the first shapes of Montserrat's outline began to emerge.
The conglomerate created by the hardest deposits (sand, pebbles, and extremely hard concrete) was able to withstand the effects of erosion thanks to its sturdy foundations.
Rain, wind, and ice swept all other, weaker sediments.
Tectonic movements, together with erosion, reshaped the outline of the mountain and sculptured its unique shapes that millions admire every year.
Peculiar Facts about Montserrat
Sitting right in the heart of Catalonia, Montserrat is a protected area of over 3,600 hectares. In 1987, to ensure its conversation, Catalan authorities pronounced it a National Park.
It's part of the Catalan Prelittoral Mountain Range. Montserrat's ridge measures 6 mi (10 km), and is 3 mi (5km) wide. It's the highest mountain in the Catalan hinterland.
Since the last century, the massif has become a true school for Catalan mountaineering. Nowadays, the three most-widely-practiced pastime activities in Montserrat are trekking, climbing, and potholing.
The highest summit is Sant Jeroni, standing at 4,055 ft. (1,236 m). You can access it via hiking trails that start from either the monastery, the base of the mountain, or the top entrance of the Sant Joan funicular.
What to Do in Montserrat
Here's what you can do on a day trip from Barcelona to Montserrat:
Visit the Benedictine Abbey – Santa Maria de Montserrat
The Montserrat Monastery functions since the 11th century. It is still home to more than 70 monks.
The abbey is the most important religious retreat in Catalonia. At least once in their lives, young people from Barcelona and other parts of the region hike overnight to observe the magical sunrise from the heights of Montserrat.
The monastery is also famous for one of the oldest boys' choirs in Europe, the Escolania. It performs during communal prayers and religious ceremonies in the basilica.
However, the highlight of the Montserrat Monastery is the Black Madonna. If you want to see The Virgin of Montserrat – Catalonia's favorite saint – you have two options:
Queue in line for an hour in Mare de Déu de Montserrat for a quick gaze of the Black Madonna. When Svet visited Montserrat for the second time, he waited in line to see the icon. He only had 10 seconds to take a quick look, so it wasn't really worth the wait.
If you don't want to queue, you can see a replica of the Madonna in Barcelona's Sant del Mar Cathedral. You're better off spending your time exploring the monastery.
Do Some Hiking
The area around the monastery is a great starting point for numerous hikes and treks as some of the serrated mountains reach a height of more than 4,000 ft (~1,215 m). Just make sure you're wearing comfortable shoes.
If you want to save some energy, you can take one of the two funiculars:
The first one goes down a bit to the Santa Cova cave. The place is an important pilgrimage site, also known as "The Holy Grotto".
The second one ascends to Sant Joan. Once there, you can marvel at a stupefying view of Montserrat from above.
The variety of routes with different lengths are well marked and maintained.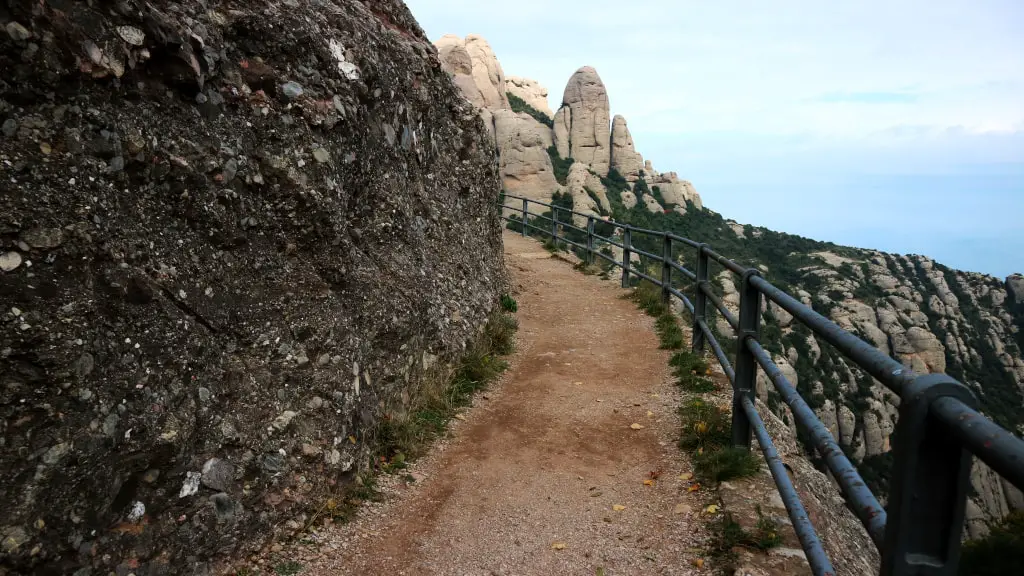 Here's a list of the hikes you can do around Montserrat:
The Sanctuary – this route takes you to the basilica where you can learn more about the history of Montserrat. From there, you have several options to continue exploring further (see below).
Via Crucis – Sant Miquel – Fra Garí – the path starts near the Sanctuary. This is the way pilgrims used to reach Montserrat Monastery.
From the entrance of the monastery to Els degotalls – the easy walk leads north and provides a magnificent panoramic view of Pla del Bages and the Pyrenees.
From the Sanctuary to Pla de les Taràntules (Sant Joan funicular top station) – the path is comfortable to walk and is part of several long-distance routes. It takes about an hour.
From the Sanctuary to Placeta de Santa Anna – this walk takes only 20 minutes but features 800 cement steps.
From the Sanctuary to Pla de Trinitat – the route goes around some of the chapels and ruins in Tebaida. You'll need approximately one hour.
From the Sanctuary to Santa Cecília – you'll have to climb the steep steps up to Pla de la Trinitat and continue with a constant descent to Santa Cecília. This route will take you about 1:40 h.
From the Sanctuary to Sant Jeroni – the route to the summit of Sant Jeroni (4,055 ft. / 1,236 m) passes to the right of the top station of Sant Joan funicular. If you use the funicular, you'll need 2:30 hours to reach the summit. Add an extra hour if you walk the whole route.
Santa Cova – the winding path features fantastic panoramas and leads you to the cave chapel. There – according to the legend – shepherds found the image of Mare de Déu de Montserrat. Take the funicular if you want to avoid the steep climb.
From Pla de les Taràntules to Sant Joan Chapel – from the end station of Sant Joan funicular, walk for about 15 min to reach the chapel. Next to it, you'll find a viewpoint with heart-stopping vistas.
From Pla de les Taràntules to Santa Magdalena Chapel – two things will fascinate you on this hike – the remains of the chapel and the lookout at one of the highest parts of the mountain. From the top station of the Sant Joan funicular, you'll only need 20 min to reach it.
Engage in Rock Climbing
The Cavall Bernat at 3,645 ft. (1,111 m) is an important rock feature, attracting many climbing enthusiasts.
If you love rock climbing, then you're in for a treat. Catalonia is a heaven for such activities. And Montserrat will surely put your climbing skills to a test.
The rocks are composed of high-quality cobblestone conglomerate. Couple that with numerous sinker pockets and protruding knobs, and you'll end up with topnotch conditions for a first-class climbing experience.
There's something for everyone – from via ferratas and 3rd class scrambles to 5.14c. For more information, check out this website.
Go Around the Area of The Monastery
If you don't feel like doing strenuous hikes or climbing rocks, you can spend your time by walking around the monastery.
Or, if it's one of those lazy days at the end of your vacation, you can always just do people watching or admire Montserrat's beauty from the comfort of a bench.
Visit the Montserrat Museums
Museums usually suck in a lot of time. But we have some good news for you if you're a museum aficionado. You'll have enough time to explore both museums on a day trip from Barcelona to Montserrat.
In the Montserrat Museum, you'll marvel at the masterpieces of Dalí, Miró, Degas, Picasso, and El Greco. Some of the works date back to the 13th century.
In Espai Audio Visual, you can explore Montserrat's rich history. The museum is housed in the Monastery's bookshop. There, you'll discover peculiar facts about the printing press of the monastery, as well as have a look at the daily lives of the monks that reside in Santa Maria de Montserrat.
If you came from Barcelona to Montserrat by train, check if the entrance tickets to both exhibitions are included in your ticket. Currently, some are included in the Trans Montserrat, Montserrat Express, and Tot Montserrat combo tickets.
Reward Your Palate at One of the Restaurants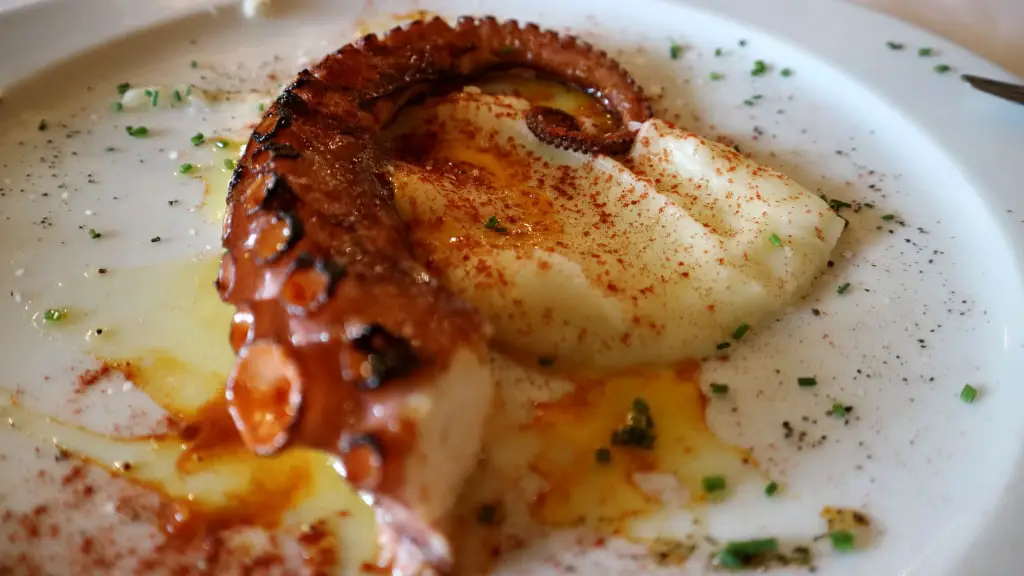 When you grow tired of exploring, you can recharge your batteries by treating yourself to a delicious meal at one of the few restaurants in the area.
A café, two formal restaurants, and two canteen-style restaurants will suit all tastes and budgets.
If you want to try traditional Catalan cuisine and exquisite wines in a historic setting, we recommend you dine at Restaurant Abat Cisneros.
Restaurant Montserrat is located on the road just below the monastery building and will tease your palate with outstanding Mediterranean dishes.
Montserrat Buffet, Bar De La Plaça, and La Cafeteria offer buffet-style lunch, as well as fast food options. We have to warn you that these budget options are the preferred choice of most tourists, so waiting times at lunch can be quite long.
Buy Souvenirs or Local Delicacies
Several shops offer you the opportunity to fill your bag with a souvenir, a gift, or a book. There are artisan products crafted by the local monks, including delectable chocolate bars and Catalan olive oil. A small market sells cheese, nuts, and dried fruit.
Insider Tip: We absolutely loved the white chocolate with coconut hints. What we didn't like so much was the fact that most things were a bit overpriced.
Go Crazy with The Camera
Montserrat is incredibly picturesque. So, if you like taking photos, you'll be in for a treat.
The panoramas from the rocks are jaw-dropping! Just be careful, watch your step, and don't take any unnecessary risks.
Where to Stay in Montserrat
A day trip from Barcelona to Montserrat will be enough for most people. But if you have more time, and you'd like to take it slowly with the hikes, monastery visit, and admiring the gorgeous scenery, consider staying for a night.
You have three options in Montserrat Abbey:
Alberg Abat Oliba
Hotel Abat Cisneros
Apartamentos Abat Marcet
You can find further accommodations in nearby Monistrol.
A Day Trip from Barcelona to Montserrat – A Journey Through Art, History, and Mind-blowing Rock Formations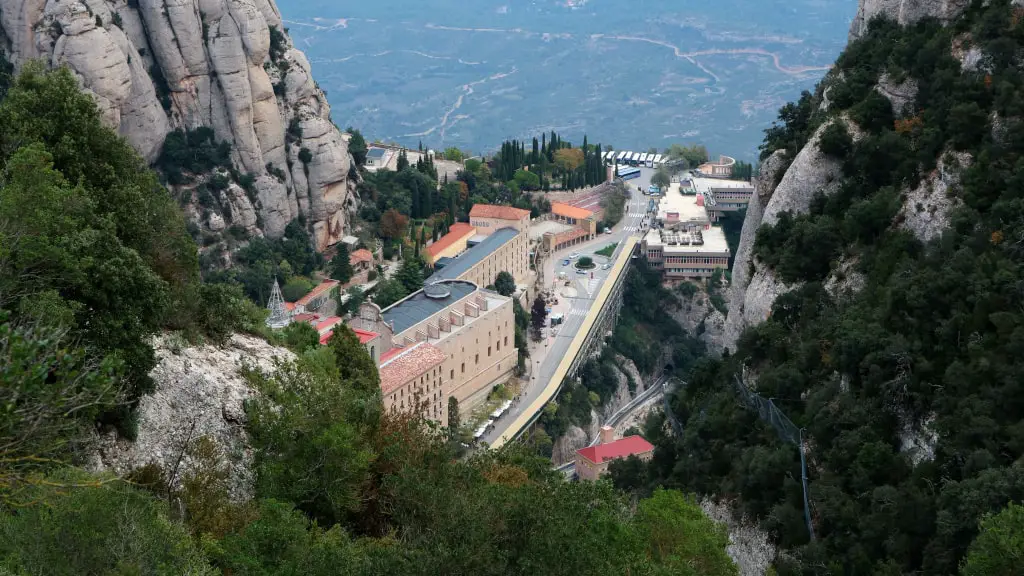 Interest in nature, together with the cultural and historical importance of the monastery – the main spiritual religious center of Catalonia – has come to symbolize the identity of an entire nation.
Montserrat is a center of pilgrimage that welcomes 3+ million visitors from across the globe every year.
One thing is certain: the spellbinding beauty of the serrated mountains will make a day trip from Barcelona to Montserrat an experience you'll never ever forget.
Now, tell us – have you been to Montserrat before? Did you hike, climb rocks, or devour monastery treats?