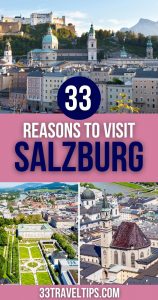 If you're wondering whether the birthplace of Mozart should be on your bucket list, consider this:
Salzburg is worth visiting for its staggering scenery, magnetic museums, and royal palaces. Architecture fans will love the historic Old Town; culture vultures – the classical music events; sweet tooths – the lip-smacking Mozartkugeln; and nature worshippers – the gorgeous Mirabell Gardens.
In this guide, you'll find the top 33 reasons why you should travel to Salzburg.
From mesmerizing festivals to majestic palaces, and from stunning gardens to breathtaking fortresses, this article will provide you with an answer to why you should visit Salzburg.
Fasten your digital seat belts and let's discover.
Note: This article contains affiliate links. In case you purchase something through one of these links, we may receive a small commission at no extra cost for you. Thank you for helping us keep creating the free content on this website!
The Landmarks Salzburg Is Worth Visiting For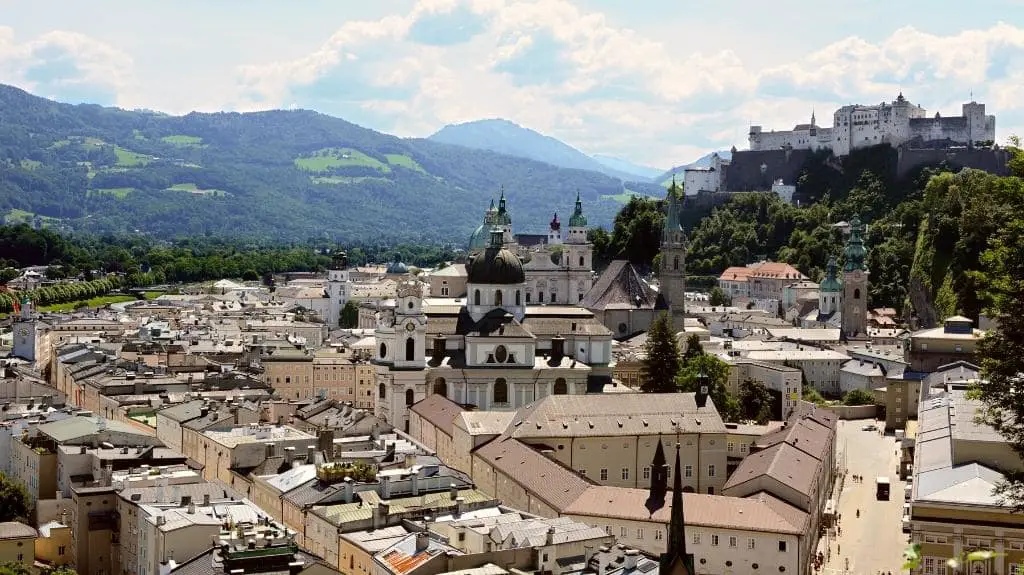 Mozart's birthplace teems with must-discover attractions. From mighty strongholds to Baroque cathedrals, let's explore the landmarks Salzburg is worth visiting for.
Hellbrunn Palace & Trick Fountains. For more than 400 years, the trick fountains of Hellbrunn Palace have delighted both tourists and Salzburg residents. Constructed in just four years from 1612 to 1615, this summer retreat offers unexpected wonders. Hundreds of people have chosen the palace as the backdrop for their wedding celebrations. The main attraction is the one-of-a-kind Mannerist "Trick Fountains". They combine hidden sprays and water-driven figures to amaze all who see them.
Salzburg Cathedral. A remarkable 17th-century Baroque edifice is the second most iconic landmark in Salzburg. Towering twin spires and a majestic dome accentuate the beauty of the Salzburg Cathedral (Salzburger Dom). Crafted from gray stone, the building's façade is further enhanced by a distinctive type of white marble. Svet loved walking inside the Salzburg Cathedral so much that he believes it's one of the things that make Salzburg worth visiting.
Hotel Goldener Hirsch. Housed in a building that's over 600 years old, the resplendent 5-star Hotel Goldener Hirsch graces the renowned Getreidegasse in Salzburg's Old Town. Just a stone's throw from Mozart's Birthplace and directly across from the Festival Hall, this hotel will spoil you with its unmatched hospitality, hunting lodge heritage, and lavish interior. The best part? Gardener Hirsch is pet-friendly.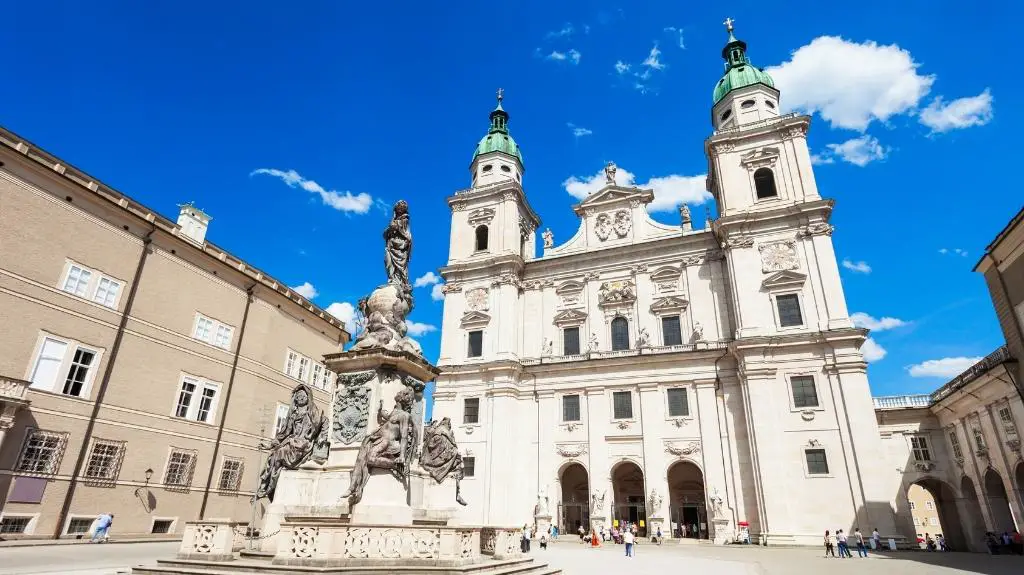 Hohensalzburg Fortress. Dominating Salzburg's skyline, the mighty Hohensalzburg Fortress is Central Europe's largest preserved castle. From its vantage point, you can marvel at breathtaking 360-degree vistas of both the city and the majestic Alps. Historically, the fortress acted as a protective barrier for the Salzburg principality and its archbishops against potential invasions. Today, it is home to various museums.
Salzburg Zoo. Located in the southern part of the city, Salzburg Zoo captivates families with its wide array of wildlife. Home to over 1,500 animals and 150+ species, you can observe creatures ranging from the petite pygmy mouse to the impressive white rhinoceros. The Eurasian zone showcases animals like brown bears, red pandas, and Alpine ibexes, while the American area introduces visitors to sloths and tapirs. Do not miss the lion-filled African savannah and the delightful parma wallabies in the Australian section.
Getreidegasse. The renowned Getreidegasse, with its distinctive signs, is the pulsating heart of Salzburg's Old Town. The captivating entrances of the houses along this shopping street will catch your eye with their intricate details. Observe how the windows progressively shrink in size from the ground floor upwards. Of all the remarkable buildings on this street, Mozart's Birthhouse at No. 9 is the most important.
The world-class restaurants. One of the things that make Salzburg worth a visit is its fine-concept restaurants. They can easily live up to the most fastidious palates. If you're arriving at the airport, do NOT miss the Michelin-star restaurant Ikarus where a new chef presents their creations each month. Downtown, you should check out The Blue Goose in the Goldener Hirsch Hotel. Another icon in the Salzburg culinary scene is the Sacher Grill restaurant, where Tafelspitz and Salzburger should be your must-tries.
The Natural Spots That Make Salzburg Worth Visiting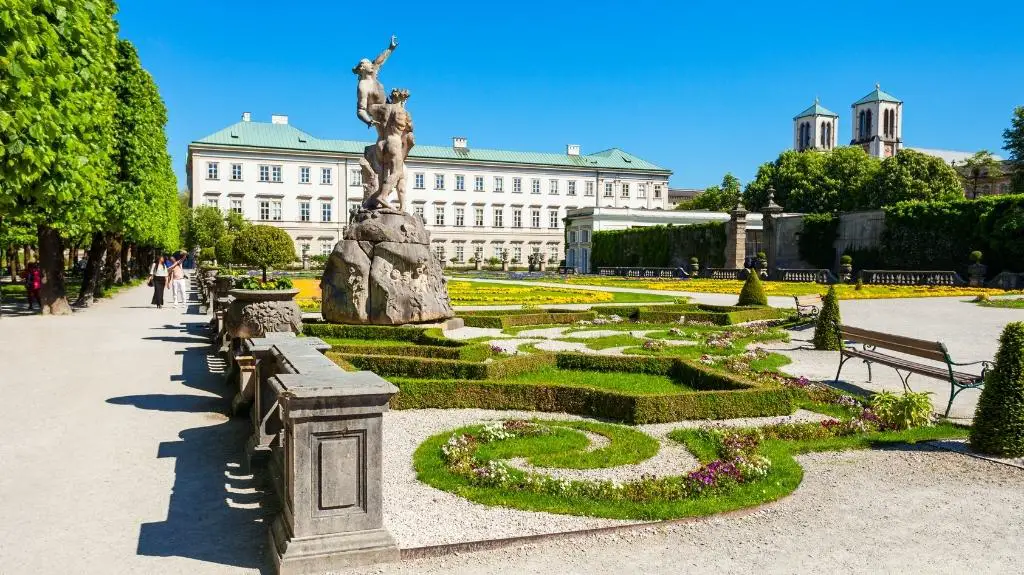 Local Salzburg people are lucky folks. Why? Because the city is surrounded by resplendent beauty. Let's explore the gorgeous scenic spots that make Salzburg worth a visit.
Mirabell Palace and Gardens. During his walk in the Mirabell Gardens, Svet was enthralled by the surroundings. Gorgeous fountains complemented the lush greenery, while marble statues seemed to quietly watch the passersby. The terraces conjured images of grand balls held beneath twinkling stars. Fans of the romantic musical, The Sound of Music, would recognize this opulent garden from the film. Just as impressive is the Mirabell Palace itself. Its Marble Hall is one of the world's most sought-after wedding venues.
The drop-dead beautiful Alpine landscapes. Salzburg's location in close vicinity to the mighty embrace of the Alps adds several layers of gorgeousness to its beauty. The best vantage point to admire the jaw-dropping Alpine landscapes is the Hohensalzburg Fortress. Svet suggests that you take your time slowly as there's a lot to marvel at from the stronghold.
The Salzach River. The picturesque Salzach River divides Salzburg into two parts. Scenic bridges gracefully connect the sides. While enhancing the city's aesthetic, the river also carries historical importance. The term "Salzach" is rooted in the German word "Salz", meaning salt. This river was a vital route for transporting salt until the late 19th century. The meandering Salzach River is among the top things that make Salzburg worth a stop.
Leopoldskroner Weiher. Part of the park Leopoldskron Palace, Leopoldskroner Weiher is a protected landscape and a major area for local recreation. Its history dates back to around 1500 when authorities created the 13-hectare lake as a retention area for water overflowing from the Alm Canal. The 2,133 ft. (650 m) long and 722 ft. (220 m) wide pond acts as home to numerous animal species, including fish, frogs, swans, ducks, grey geese, and great crested grebes.
Untersberg. Most of Salzburg gets its drinking water from the Untersberg. His Holiness, the Dalai Lama, describes this table-top mountain as "the heart chakra of Mother Earth and brother of holy Kailash". You can get to Untersberg from Salzburg via the Untersberg cable car (UBB), open daily from 8:00 AM until 5:00 PM. The top station, Geiereck is at 5,827 ft. (1,776 m). Thus, if you decide to visit, pack appropriate clothes and footwear.
Kapuzinerberg. Rising 2,100 ft. (640 m) to the right of the River Salzach is Kapuzinerberg. This verdant peak, blanketed in dense forest, attracts city hikers and outdoor enthusiasts. Along its winding hiking trails, you can discover several churches and an abbey. And if you're lucky, you might even spot a unique colony of chamois amidst the foliage.
Gaisberg. Just a stone's throw from Salzburg's Old Town, you'll find a breathtaking mountain with an elevation of 4,222 ft. (1,287 m). A haven for outdoor enthusiasts, hikers, and nature lovers, Gaisberg is accessible all year round. Whether you're seeking games, outdoor exercise, or a cool spot to have a bite, the mountain is friendly for both kids and adults.
Mönchsberg. Situated in the heart of Salzburg, Mönchsberg offers something for everyone. From lush green spaces to forest trails dotted with gorgeous shrubs, it's a magnet for nature enthusiasts and sports buffs. And if you're a sucker for breathtaking vistas, its scenic viewpoints offer unparalleled panoramic views over Salzburg's rooftops.
The Museums That Make Salzburg Worth a Stop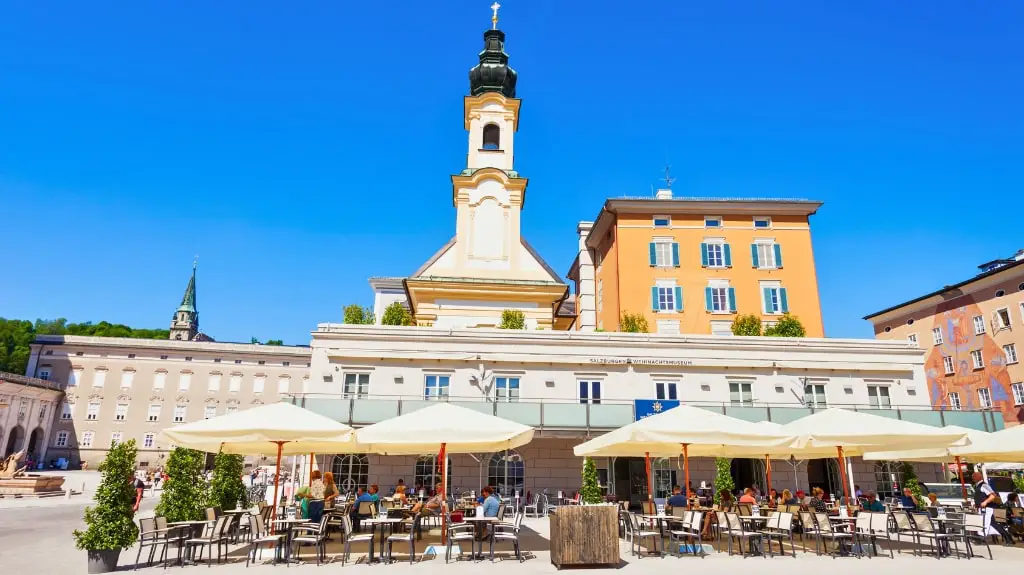 The small Austrian city abounds with exhibition halls. In this section, we'll walk you around the museums that make Salzburg worth visiting.
Hagenauer Haus Museum. Better known as Mozart's Birthplace, the Hagenauer Haus Museum is the historic site where W. A. Mozart was born in 1756. Nowadays, it's one of the most frequented museums in Austria, drawing Mozart enthusiasts from all over the world. Many even view it as a sacred "pilgrimage site".
Christmas Museum. For those with a fondness for Christmas, the museum situated above Café Glockenspiel on Mozartplatz is an absolute treat. Open throughout the year, the Christmas Museum invites you to explore a private collection filled with festive wonders. Whether it's the detailed advent calendars, handcrafted cribs, glittering ornaments, traditional nutcrackers, or incense smokers, the essence of the holiday season permeates every corner.
Museum der Moderne. Perched atop the cliffs of Mönchsberg and accessible by an elevator, the Museum der Moderne is a stark, contemporary contrast to Salzburg's historical charm. This sleek, oblong structure made of glass and white marble showcases brilliant exhibitions from the 20th and 21st centuries, standing in deliberate juxtaposition to the nearby Hohensalzburg Fortress. The museum's ever-changing exhibitions have spotlighted a range of talents – from the evocative photographs of Cameroonian–Nigerian Samuel Fosso to the innovative media art of Austrian Richard Kriesche.
Rupertinum. Situated amidst the captivating Baroque arcades of the Old Town, Rupertinum is a counterpart to the Museum der Moderne. It champions the world of modern art, with a special emphasis on graphic arts and photography. You can expect to be both intrigued and challenged by its often avant-garde and thought-provoking exhibitions. According to Svet, Rupertinum is among the best things that make Salzburg worth seeing.
DomQuartier Salzburg. In the heart of Salzburg lies DomQuartier, a beacon of cultural and historical significance. Start your journey in the Baroque chambers of Alte Residenz and continue to the Residenz Gallery on the next floor. There, you'll experience a rich tapestry of European art spanning the 16th to 19th centuries. Conclude your exploration on the terrace above the Cathedral Arches, where majestic mountains and panoramic vistas of Salzburg's historic heart await you.
Haus der Natur. This interactive museum is a paradise for young curious minds. Haus der Natur dives deep into nature's wonders, from the mysteries of dinosaurs and alpine crystals to the intrigue of reptiles like bearded dragons and green mambas. The science section ignites the imagination with hands-on experiments, allowing children to launch rockets, play with water dynamics, and delve into human anatomy. A highlight is the immersive experience of stepping inside a giant violin case, and feeling the vibrations of Mozart's music.
The Cultural Heritage That Makes Salzburg Worth a Visit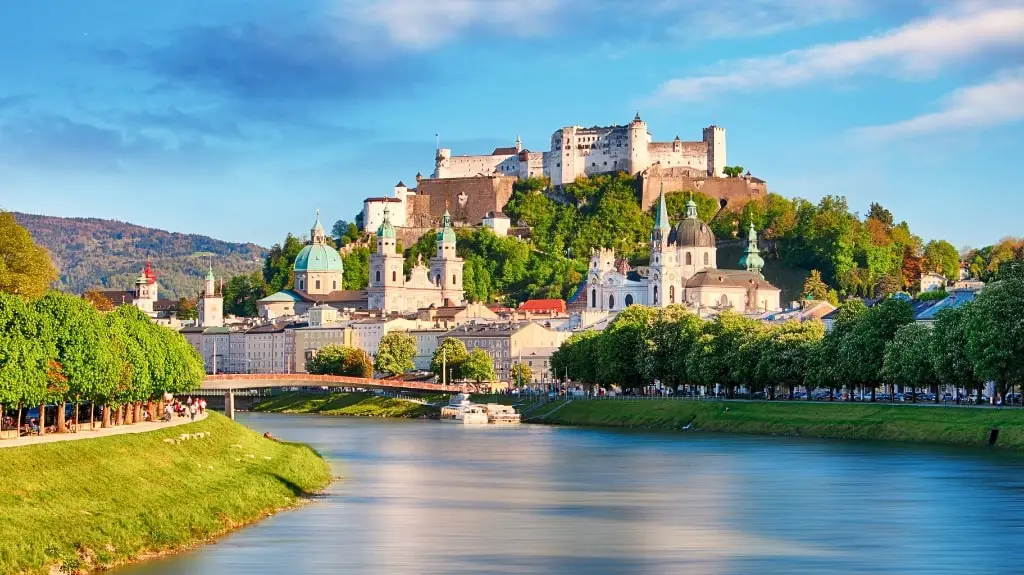 While Salzburg is 10x smaller than Vienna by population, it boasts an astounding array of art and culture. Let's dive into the cultural heritage that makes Salzburg worth visiting.
Salzburg Festival. Founded in 1920, the Salzburg Festival is a prestigious annual celebration of music and drama. Famous for being among the leading classical music events worldwide, it attracts top-tier musicians, conductors, and opera vocalists to grace the beautiful stages of Salzburg.
Baroque architecture. Salzburg's Baroque architecture is a direct heritage from the Italian architects Vincenzo Scamozzi and Santino Solari. Set against mountainous horizons, the city's skyline is marked by an abundance of spires and domes. The prominent Hohensalzburg Fortress takes center stage.
Christmas market. The Salzburg Christkindlmarkt is one of the oldest Advent markets on the planet. The origins of this Christmas market date back to the end of the 15th century. In its current form, the market has existed since 1974. Over 100 market stands and gorgeous daily events will keep you busy and warm during the cold winter days. This Christmas market is one of the top things that make Salzburg worth visiting in winter.
Music. People flock to Salzburg to watch the countless classical music concerts happening year-round in the Austrian city. From Mozart to Bach and Strauss, the whole town is a stage. Don't miss Festival District's historic concert halls where you'll experience the joys of music in the best way possible. Although if you choose a castle, a church, or a palace, you'll have no less fun and entertainment.
Salzburg's Old Town (Altstadt). The Old Town of Salzburg is a UNESCO World Heritage Site, celebrated for its stunning Baroque architecture. Some argue that in terms of size, Salzburg's Altstadt surpasses other UNESCO sites, even dwarfing Prague's Old Town. While verifying this claim is challenging, the area of the Old Town is indeed massive.
The Foods That Make Salzburg Worth Visiting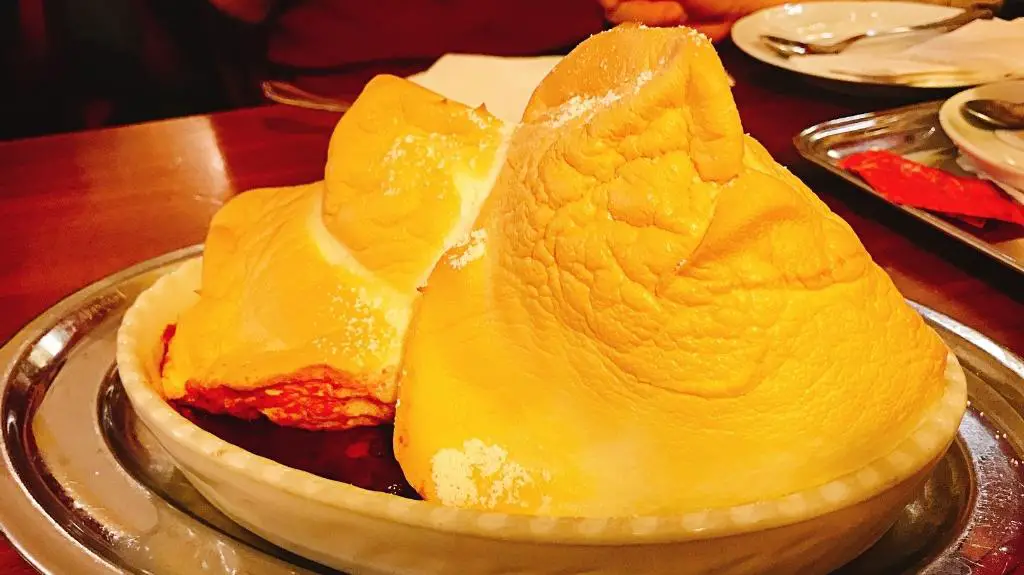 Salzburg might be much smaller than Vienna, but it sure packs a powerful foodie scene. In this section, you'll discover the foods that make Salzburg worth a stop.
Mozartkugeln. Love sweets? Then, the Mozartkugeln is a must-try. Salzburg is very well known for these globally renowned pralines that blend nougat, marzipan, and pistachio, all generously enveloped in dark chocolate. The resulting delight is simply irresistible. These irresistible chocolate balls are among the best things that make Salzburg worth seeing.
Salzburger Nockerl. Savor the heavenly Salzburger Nockerl – a rich soufflé infused with a raspberry heart. Café Mozart is often touted as serving the best Nockerl version in Salzburg. Mention "S'nockerl" to any resident, and they'll instantly recognize your sweet desire.
Kasnocken. Delve into the rich flavors of Kasnocken, a traditional Austrian dish. These bite-sized dumplings are garnished with caramelized onions and generously coated in melted Pinzgauer Bierkäse – a cheese with a distinct aroma yet mild flavor. Originating from the Pinzgau region, this dish is a culinary representation of its heritage. And given its sumptuous nature, make sure to help your digestion with a follow-up shot of schnapps.
Salzburger Bierfleisch. People in Salzburg love beer. So, it's not surprising a dish epitomizing beer and braised beef is a local favorite. Salzburger Bierfleisch is an embodiment of the city's deep-rooted culinary culture and beer appreciation. And it's a meal that is quintessentially Salzburg.
Schnitzel. Though Vienna often takes the spotlight for its schnitzel, sampling one in Salzburg is a must. The traditional recipe remains unchanged. Thin slices of veal are dipped in eggs, coated in flour and breadcrumbs, and then deep-fried to golden perfection. The final result will catapult your palate into the seventh food heaven.
Bosna. Discover Bosna, Salzburg's signature street food similar to the American hot dog. Bosna features two thin pork bratwursts in a lightly toasted white bread bun. The secret to its incredible taste is the toppings: a mix of onions, parsley, and a proprietary blend of spices that adds an irresistible touch.
Heumilch. Literally "hay milk", Heumilch is considered among the finest milk varieties available. Its unique name is attributed to the diet of the cows producing it, consisting of clean water, fresh air, and sun-dried hay. The abundant vegetation of the region significantly influences the exceptional taste and quality of the milk. Rich in Omega-3 fatty acids, Heumilch is a preferred ingredient in the production of hard cheeses and exquisite chocolates.
Is Salzburg Worth Visiting? You Know the Answer Already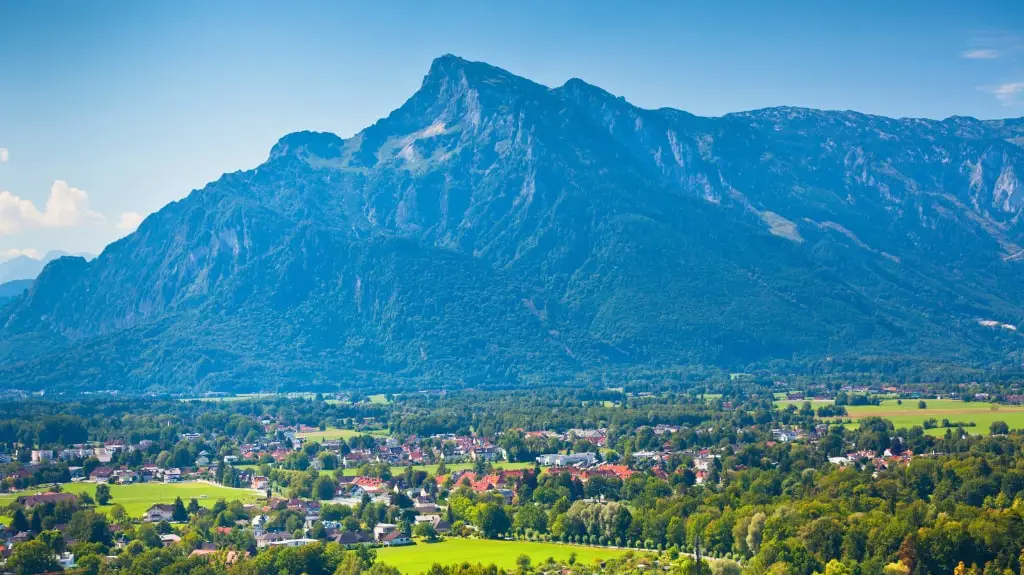 There you have it – the 33 best reasons to visit Salzburg.
Mozart's Birthplace will enchant you with its Baroque architecture, fascinating museums, scrumptious food, and jaw-dropping scenery.
So, if you've been wondering is Salzburg worth a stop, we bet this guide has already given you an answer.
Now, we're curious:
In your opinion, is Salzburg worth visiting?
Share your comments below.