Look Forward to Traveling Again with…
PackZilla: The Ultimate Travel Checklist for Smart Explorers
A Handy Checklist and a Detailed Description of EVERYTHING You Need to Do to Have a Fantastic Vacation
Whether you're heading on a weekend getaway, a 2-week vacation, or a 3-month round the world trip, having our comprehensive, battle-tested travel checklist means you can confidently leave your home and have the trip of a lifetime, knowing you're prepared for ANYTHING.
Picture the following:
You're at the airport, about to fly to an exotic island. You're full of energy and can't wait to reach your destination.
The world is looking beautiful, and you're smiling.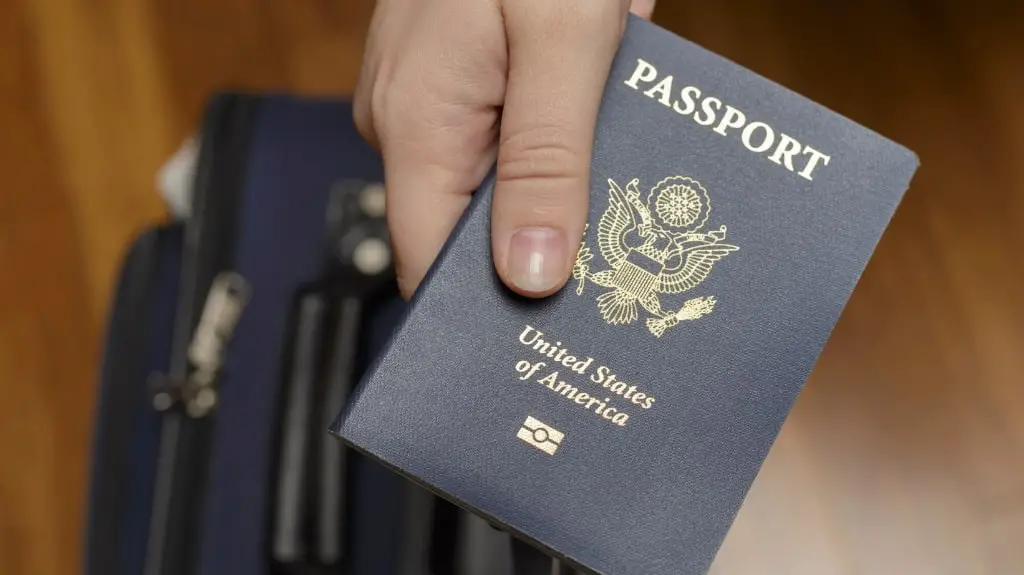 But then… the check-in counter informs you that your passport is about to expire.
And because international travel requires your passport to have at least 6 months left, you can't board the plane.
Which means, you'll have to kiss your long-awaited vacation goodbye…
The truth is, most people don't check their passports' validity often.
Now, you might think –
"Yeah, but that'd never happen to me…"
The trouble is, it DOES.
In fact, we know 10+ people who've been through this.
Their long-awaited holiday was ruined…
Instead of laying on the beach sipping cocktails, ziplining over the Dominican jungles, or marveling at jaw-dropping mountain crags…
They had to deal with bureaucracy…
Apply for new passports…
Fill out forms…
And we all know how tedious and time-consuming the process can be.
Not to mention having to pay a TON of money for rebooking flights and accommodations.
Now, imagine another scenario:
You get to your destination and realize an item you absolutely need is sitting in the drawer at home.
For example, forgetting to pack prescription medications, your most comfortable walking shoes, or informing your bank of your travels…
Can cause a lot of headaches, ultimately ruining your trip.
Or how about the following situation: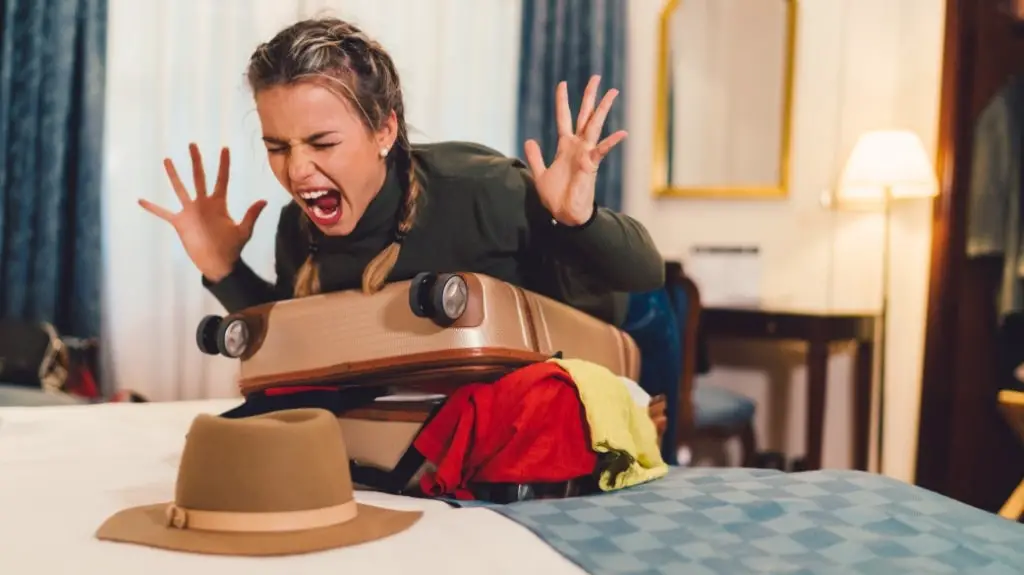 You start packing your luggage and you constantly wonder…
"Do I need to take this, too – just in case?"
Then, before you know it, there's no more space in your bag, and it weighs double what you're allowed to carry on a plane.
And the excess baggage fees aren't even the worst part of overpacking…
Imagine dragging that heavy bag with you!
In fact, Naddya's father hurt his back while carrying his suitcase up a flight of stairs in Barcelona…
The pain was so excruciating, his whole vacation was a struggle.
We know how you're feeling. Although we wouldn't easily admit it, we've been there ourselves.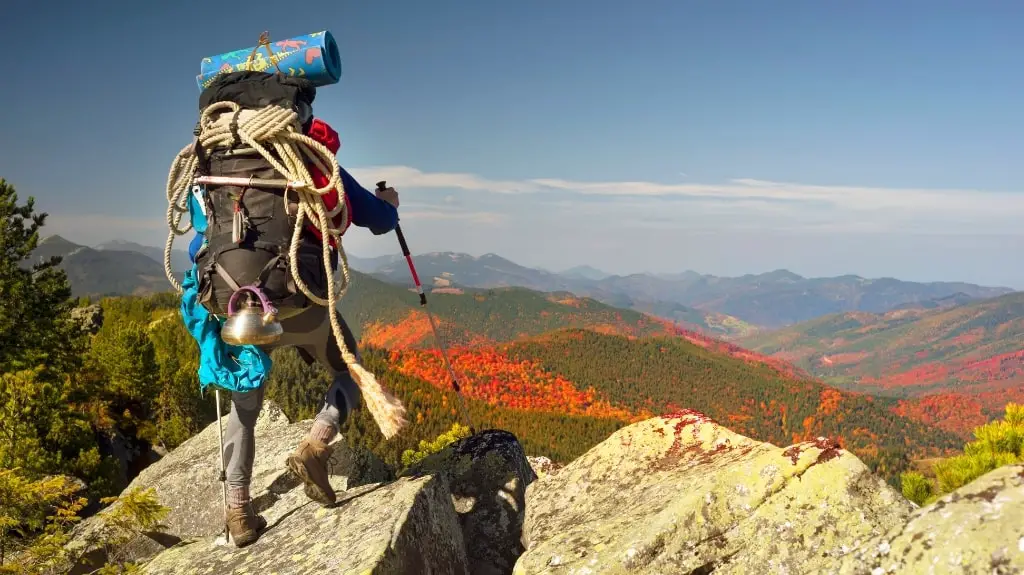 All these situations can stress us out and completely ruin our travel experience.
We were supposed to spend a wonderful time basking in the generous Florida sun, hiking the drop-dead gorgeous Alps, or marveling at the heart-stopping Machu Picchu…
Instead, now we're worried, frustrated, and not looking forward to our holiday.
Thankfully, there's a neat solution to all these problems.
Something small and powerful that provides total peace of mind when planning our travels.
We're proud to present to you:
PackZilla: The Ultimate Travel Checklist for Adventure-Thirsty Explorers
The most comprehensive checklist you'll ever need for your trips – regardless of whether you're traveling domestically or abroad.
Do you want to:
Save a TON of precious time when packing for your next destination?
Be 100% SURE you won't forget anything at home – whether these are important documents, prescription medications, or the right functional clothes that will make your travels more comfortable and stress-free?
Say GOODBYE to wasting hundreds or even thousands of dollars on replacing items you've forgotten to take?
Avoid paying EXORBITANT excess baggage fees because you decided to pack all those "just in case" items?
Make SURE you don't hurt yourself by carrying an overpacked bag?
Now, you can harness the power of PackZilla – the ULTIMATE, battle-tested checklist created after living abroad in 12 countries, traveling to 56 countries, and exploring over 1,270 cities.
Experience the difference between a mediocre and a GREAT trip. 
Why Should You Trust Us?
You might be wondering:
From all the people online, why you should trust us exactly.
Take a look at these smiling faces.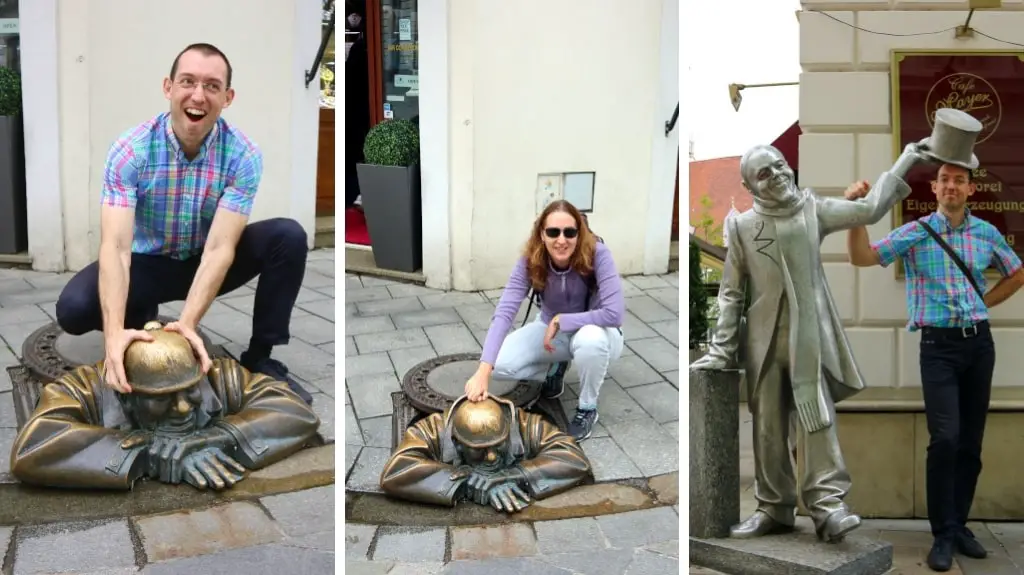 We seem trustworthy, right?
Jokes aside, here's what makes us confident we – and our ultimate travel checklist – can help you have amazing trips across the globe:
Benefit from our rich experience and mileage. Naddya has spent 15+ years living and traveling in the U.S., Germany, Mexico, and Central America. Svet has lived in and explored 25+ countries on 3 continents.
We've engaged in every type of travel and we've experienced most situations a traveler can get himself/herself into. We've moved across continents for our jobs and studies; hiked mountains for weeks; stayed on luxurious ships and sailboats; traversed countries on endless road trips; lazied around on tropical islands and sandy beaches; explored the oldest cities on the planet.
We've even had to visit doctors and stay in hospitals because of unexpected injuries. We've also renewed visas and passports, dealt with delayed and canceled flights, rebooked accommodations, and changed plans on the go. And we've survived it all!
In all these situations, we have never paid excess baggage fees, forgotten an irreplaceable item, or failed to extend visas and passports. We've learned how to best estimate what clothes, toiletries, and meds to take so that we're prepared for most situations without overpacking.
We love deep, immersive travel. This gives us a chance to discover the different aspects of any destination. That's why the checklist we created works for almost any climate, travel style, and vacation activity.
Our expertise has been recognized by leading publications. Our travel advice has been featured on Huffington Post, World Nomads, Entrepreneur, Thrive Global, The Good Men Project, Xinhua.net, Nomadic Matt, and dozens of other travel websites, blogs, and magazines.
We've gathered other people's feedback as well. We've collected not only ours but also the vast experience of other frequent travelers. We listened to their worst packing fails. We noted down what most of them tend to overlook. And we listed items that most people forget to take care of.
But, don't just take our word for it. Instead, see what others think of PackZilla:
Now, if all this sounds good to you (and it should because there's no other checklist like this online)…
Here comes the best news:
The checklist's price is a complete no-brainer.
We'll come to that in a minute.
But first, let us ask you:
How much is complete peace of mind when traveling worth to you?
How Much Would You Pay to Save:
5+ hours every time you pack.
A TON of stress and frustration.
Hundreds of dollars for replacing forgotten items or paying excess luggage fees.
$100?
$200?
$500?
Replacing a simple phone charger or travel adapter you forgot to pack will cost $20+ each.
We believe travel should be enjoyable from the minute you start packing.
But for a lot of people, it's just stress.
So, instead of experiencing the heart-in-mouth moment when you're trying to remember whether you've left something at home…
Now, you can have complete harmony in your mind, knowing everything about your trip is taken care of and you can lay back and enjoy!
And for this, you don't need to pay thousands of dollars.
Or $500.
Or $200.
Or even $100.
We decided to sell the Ultimate Checklist for the total price of $7.
(We told you it's a no-brainer price, didn't we?)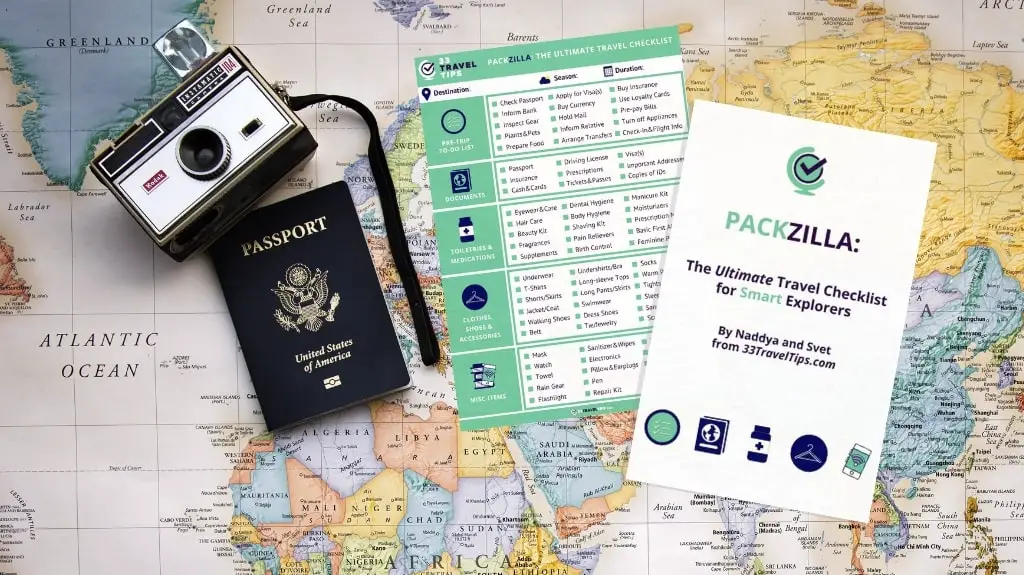 Now, we have some good and some bad news.
Let's start with the good news first.
By investing $7…
You'll never need to dig through dozens of different websites again, trying to find what you need for your vacation.
You'll never wonder whether you need to pack an item or leave it at home.
You'll never experience the frustration of not having enough clothes or dragging a gigantic bag in the scorching sun.
Instead,
You'll not only get a printable checklist you can refer to anytime you want,
You'll also receive a very detailed breakdown of every single step to prepare for a perfect trip.
That detailed breakdown contains more than 3,500 words, and is worth hundreds of dollars alone. 
But we decided to include it as a gift because we'd hate it if you miss something important which can ruin your travels.
Now, here's the bad news.
Despite that we'd love every single traveler on the planet to get the list and use it…
To keep updating PackZilla and 33TravelTips.com, we have running costs.
So, we can't keep the $7 price forever.
Which means if you don't act now…
Next time you're around, the price might be 2x, 3x, or even 10x higher.
Which will still be a steal if you ask us.
But for now, it's just $7.
If $7 doesn't sound like a bargain, then this checklist is not for you.
But if it sounds like the deal of the year (and it is), then just click on the green button below.
The link will take you to a 100% secure webpage where you just need to fill in your name and email, and select a payment option.
Then once you pay, you can download the checklist along with the detailed breakdown.
And you can start planning your next trip without any hesitation, doubt, or the uneasy feeling you're forgetting something.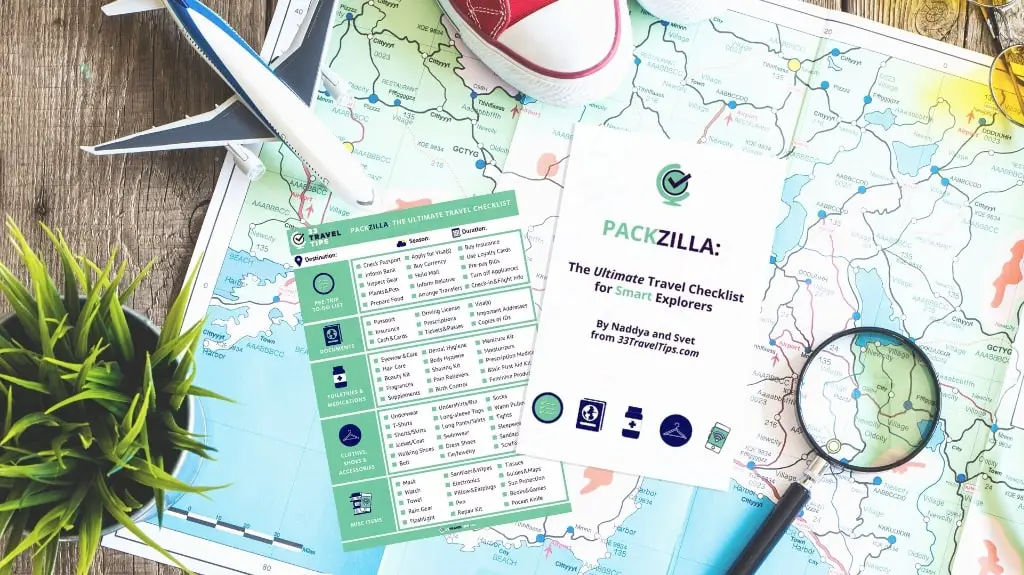 Now, You Have Two Options:
Do nothing, leave this website, and be anxious every time you go on a trip, knowing you might forget something that CAN ruin your entire travel experience.
Get the checklist, execute each step, and know that every time you plan a vacation, you won't forget anything. Instead, you'll ALWAYS make the most of every destination you visit because you won't need to worry about anything.
You're Backed by Our 14-Day 100% Money Back Guarantee
We know $7 is less than two beers at your favorite bar…
But since we're confident our product will help you (the way it has helped many others as you've just seen above)…
We'd like to offer you an iron-clad 14-day money-back guarantee.
If you're not mind-blown by our checklist…
We'll issue a prompt refund.
And we won't get offended.
Frequently Asked Questions
Can I use the checklist on my mobile phone?
Yes. But for best results, we recommend printing it out. It's just one page.
Do you offer a money-back guarantee?
Yes. If you're not 100% satisfied with our checklist (although we highly doubt that), we'll issue a quick refund. All you have to do is contact us within 14 days of purchasing and provide a valid reason why our product hasn't lived up to your expectations.
Why can't I just find stuff for free online?
You can. But most of it is either incomplete or misleading. Besides, it might take you forever to find exactly what you're looking for.
How is the travel checklist delivered?
If your payment is successful, you'll be redirected to a page where you can download PackZilla as a PDF, together with the detailed breakdown of every single item on the list. If there's a problem with your payment or with the download, please contact us.
Is there anything in here I won't already know?
Maybe not. But the checklist doesn't aim to show you something you didn't already know. Its goal is to save you time, money, and stress. Because it combines everything you'll need in one place. So, you won't be second-guessing how to prepare or what to pack for your travels.
I'm going to a very specific destination, and I need more specific advice. Do you provide that?
The checklist covers 97% of all travel situations. And for most people, that's more than enough.
However, if you're visiting an off-the-beaten-path place, or plan on doing activities most travelers wouldn't engage in, we can provide a custom-made travel checklist tailored to your needs.
You can find out more about PackZilla Ultra – Your Personal Travel Checklist here.
I want my travel itinerary planned as well. Do you offer this kind of service?
Yes, we do. TravelZilla is your personal travel itinerary and we'll be more than happy to create it for you.