Make the Most of Your Trip with…
PackZilla Ultra: Your Personal Tailor-Made Travel Checklist
A Customized Checklist and a Detailed Description of EVERYTHING You Need to Do to Have a Fantastic Vacation
Whether you're heading on a weekend getaway, a 2-week vacation, or a 3-month round the world trip, having your personalized travel checklist means you can confidently leave your home and have the trip of a lifetime, knowing you're prepared for ANYTHING.
You might have used travel checklists before.
And you might have loved them – most of the time.
See, checklists cover at best 97% of travel situations…
However, your travel plans might require you to research specific items and restrictions for your trip.
Let us save your precious time by doing this for you!
We'll find out the entry regulations, documents, and vaccinations required for your trip.
We'll compile a list of the items you need to pack according to the climate of your destination, the duration of your stay, your travel companions, and your preferred activities.
We'll send you your customized checklist and a breakdown that includes every single thing you need for your trip.
Introducing PackZilla Ultra: The Customized Travel Checklist, tailored 100% to your needs!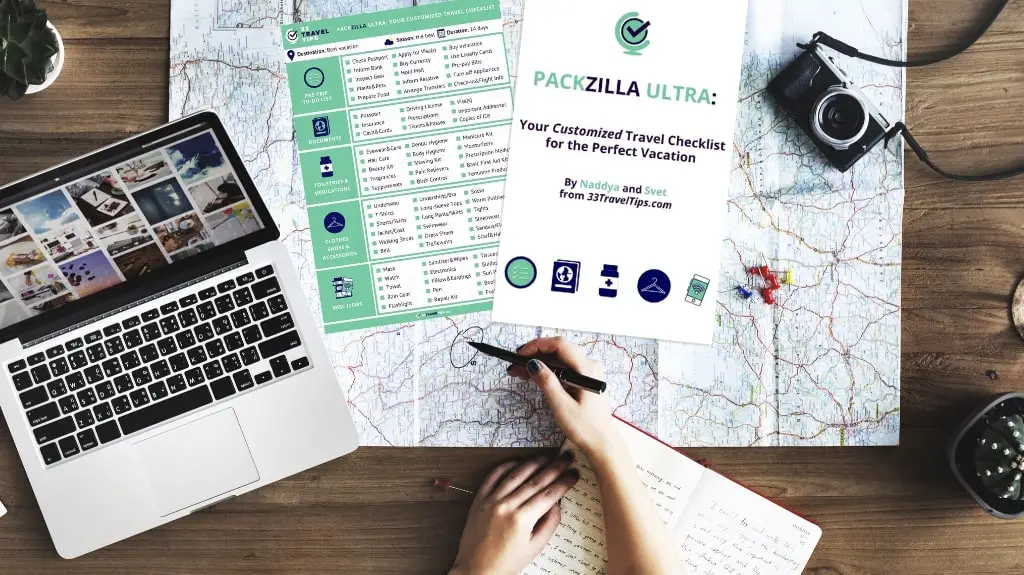 You're three easy steps away from getting your personalized travel checklist, which will cover 100% of your travel planning process.
How Does PackZilla Ultra Work?
Step #1: After completing the payment, you only have to fill in a short questionnaire with your trip's details and submit it.
Step #2: We'll prepare your customized travel checklist and breakdown, and email them to you – all within 72 hours of receiving the payment.
Step #3: Then, all you have to do is follow them and enjoy your stress-free vacation.
This offer is only valid here on this page.
It's covered by our 14-day, 100% money-back guarantee.
Why Should You Trust Us?
You might be wondering:
From all the people online, why you should trust us exactly.
Take a look at these smiling faces.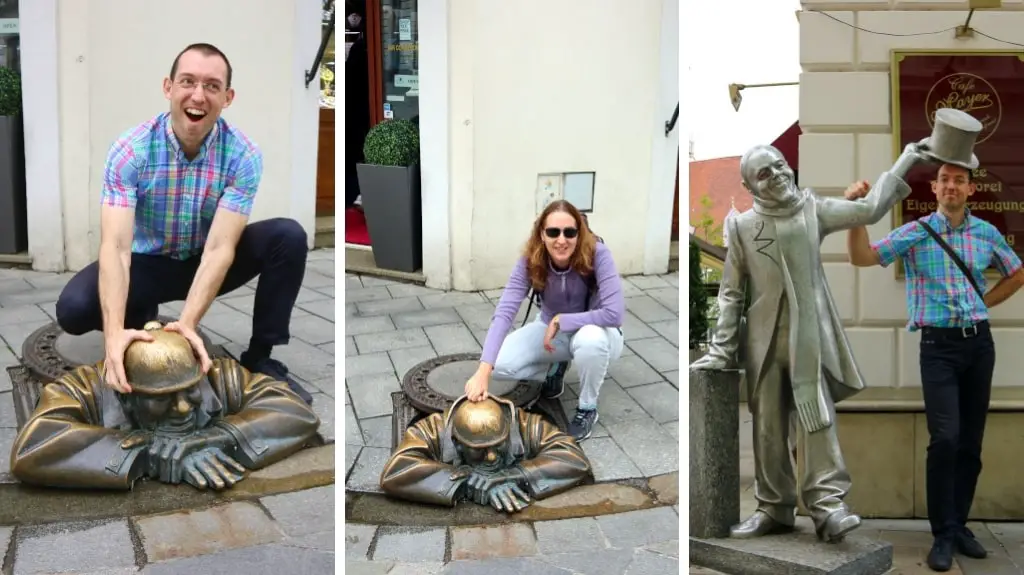 We seem trustworthy, right?
Jokes aside, here's what makes us confident we – and our ultimate travel checklist – can help you have amazing trips across the globe:
Benefit from our rich experience and mileage. Naddya has spent 20+ years living and traveling in the U.S., Europe, Mexico, and Central America. Svet has lived in and explored 30+ countries on 3 continents.
We've engaged in every type of travel and we've experienced most situations a traveler can get himself/herself into. We've moved across continents for our jobs and studies; hiked mountains for weeks; stayed on luxurious ships and sailboats; traversed countries on endless road trips; lazied around on tropical islands and sandy beaches; explored the oldest cities on the planet.
We've even had to visit doctors and stay in hospitals because of unexpected injuries. We've also renewed visas and passports, dealt with delayed and canceled flights, rebooked accommodations, and changed plans on the go. And we've survived it all!
In all these situations, we have never paid excess baggage fees, forgotten an irreplaceable item, or failed to extend visas and passports. We've learned how to best estimate what clothes, toiletries, and meds to take so that we're prepared for most situations without overpacking.
We love deep, immersive travel. This gives us a chance to discover the different aspects of any destination. That's why the checklists we create work for any climate, travel style, and vacation activity.
Our expertise has been recognized by leading publications. Our travel advice has been featured on Huffington Post, World Nomads, Entrepreneur, Thrive Global, The Good Men Project, Xinhua.net, Nomadic Matt, and dozens of other travel websites, blogs, and magazines.
We've gathered other people's feedback as well. We've collected not only ours but also the vast experience of other frequent travelers. We listened to their worst packing fails. We noted down what most of them tend to overlook. And we list items that most people forget to take care of.
But, don't just take our word for it. Instead, see what others think of PackZilla: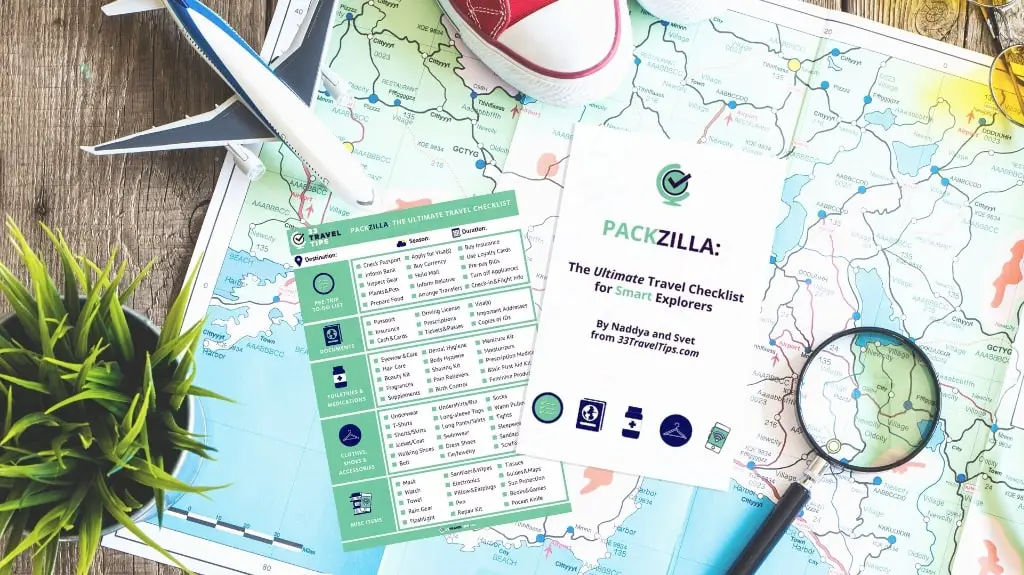 Now, You Have Two Options:
Do nothing, leave this website, and spend hours preparing for your trip, knowing you might forget something that CAN ruin your entire travel experience.
Get the checklist, execute each step, and know that you won't forget anything. Instead, you'll make the MOST of your destination because you won't need to worry about anything.
You're Backed by Our 14-Day 100% Money Back Guarantee
We know $47 is about the price of a nice meal at your favorite restaurant…
But since we're confident our product will help you (the way it has helped many others as you've just seen above)…
We'd like to offer you an iron-clad, 14-day money-back guarantee.
If you're not mind-blown by our checklist…
We'll issue a prompt refund.
And we won't get offended.
Frequently Asked Questions
Can I use the checklist on my mobile phone?
Yes. But for best results, we recommend printing it out. It's usually just one page.
Do you offer a money-back guarantee?
Yes. If you're not 100% satisfied with your checklist (although we highly doubt that), we'll issue a quick refund. All you have to do is contact us within 14 days of purchasing and provide a valid reason why our product hasn't lived up to your expectations.
Why can't I just find stuff for free online?
You can. But most of it is either incomplete or misleading. Besides, it might take you forever to find exactly what you're looking for.
How is the customized travel checklist delivered?
After a successful payment, you'll be redirected to a page where you can find the questionnaire.
Please fill in your trip's details and submit it. We'll review it and compile your customized travel checklist and breakdown.
Within 72 hours of receiving the payment, we'll email them to you in PDF format.
If there's a problem with your payment, the questionnaire, or the delivery, please contact us.
I want my travel itinerary planned as well. Do you offer this kind of service?
Yes, we do. TravelZilla is your personal travel itinerary and we'll be more than happy to create it for you.