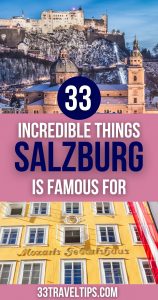 Salzburg is best known for being the birthplace of Mozart and the setting for the movie "The Sound of Music". Salzburg is also famous for its jaw-dropping Alpine scenery, spectacular Baroque architecture, the magnificent Hohensalzburg Fotress, and the Old Town, which is a UNESCO Heritage site.
Salzburg attracts millions of visitors every year. Its top-notch museums and world-class attractions make Mozart's birthplace a must-visit stop on your visit to Austria.
In this guide, you'll discover 33 top things Salzburg is known for.
From staggering mountain peaks to picturesque gardens, and from stunning cathedrals to lip-smacking foods, discover what is Salzburg famous for.
Note: This article contains affiliate links. In case you purchase something through one of these links, we may receive a small commission at no extra cost for you. Thank you for helping us keep creating the free content on this website!
Amazing Attractions Salzburg Is Best Known For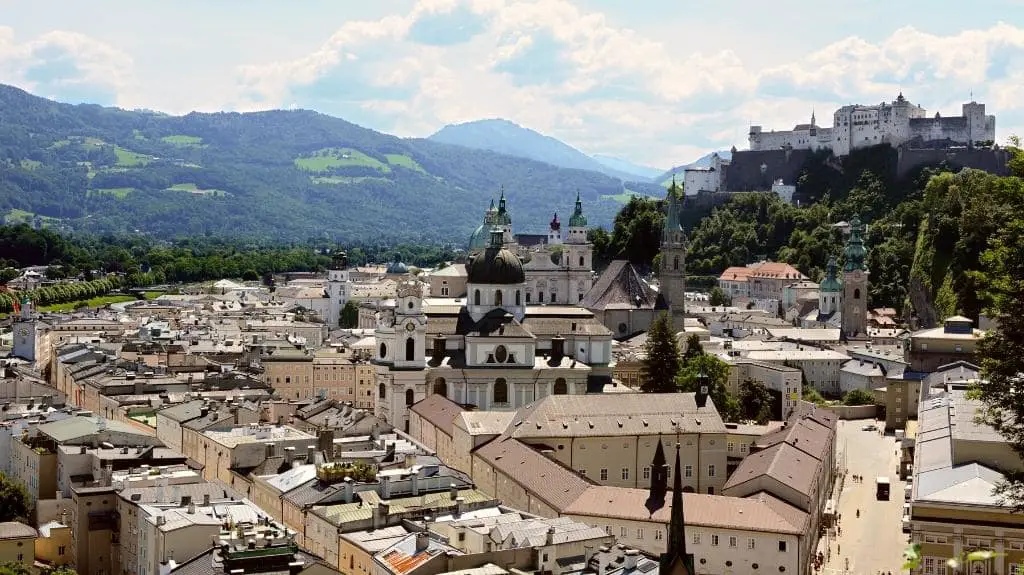 This section will show you the landmarks Salzburg is known for. From fabulous palaces to cultural heritage spots, let's explore!
Salzburg's Old Town (Altstadt). The city's Old Town is a UNESCO World Heritage Site because of its gorgeous Baroque architecture. Some sources state that the Old Town of Salzburg is the world's largest UNESCO site in size, much bigger than the Old Town in Prague. While this claim is hard to prove, the area on which the Altstadt extends in indeed gigantic.
Hotel Goldener Hirsch. A 600-year-old building houses this luxurious 5-star hotel. You can find Hotel Goldener Hirsch on the famous Getreidegasse in the Old Town of Salzburg. It's a few steps away from Mozart's Birthplace and exactly opposite the Festival Hall. The hotel will spoil you with its well-preserved antiques and lavishly decorated rooms.
Hohensalzburg Fortress. As Central Europe's largest preserved castle, this Salzburg icon provides jaw-dropping 360-degree panoramic views of the city and the Alps. The stronghold served the Salzburg principality and its archbishops as a shield against invasions. The mighty Hohensalzburg Fortress houses several museums and dominates the city's skyline.
Old Town Hall. Known for its Rococo façade and symbolic tower, the Old Town Hall is one of the city's most attractive landmarks. Historically, the town hall served a few purposes – from marking curfews to keeping public time. Nowadays, it introduces tourists to local culture and houses administrative offices. The City Gallery on the first floor showcases works from local artists. The second floor is mainly used for city council meetings. But it also features Franz Kulstrunk's renowned painting "The Town of Salzburg in 1916".
Salzburg Cathedral. The second most captivating construction on the city's skyline is the Salzburg Cathedral (Salzburger Dom). This stunning 17th-century Baroque structure boasts a majestic dome and imposing twin towers. The cathedral's building features grey stone, highlighted by a façade crafted from a unique marble.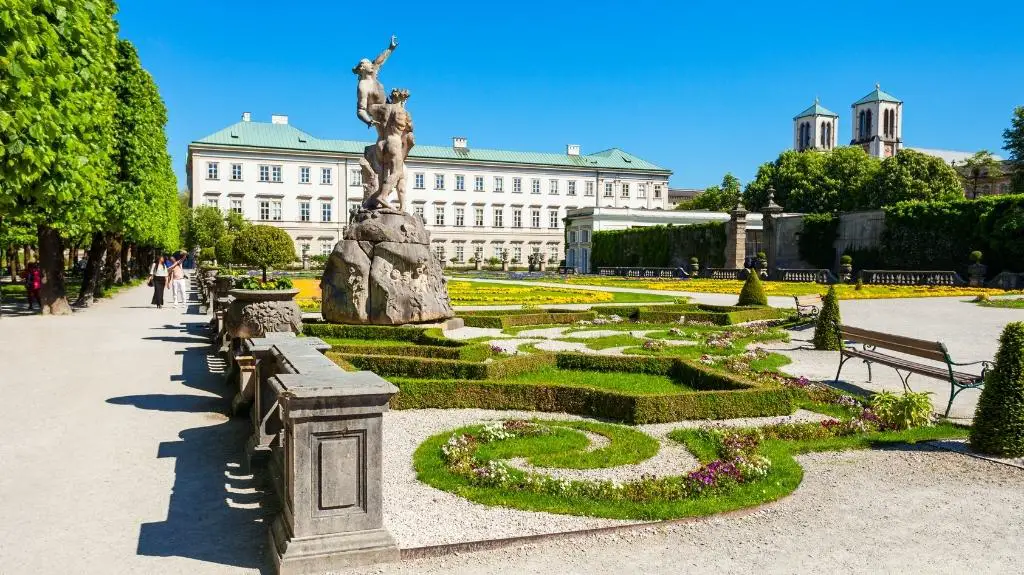 Mirabell Palace and Gardens. When Svet strolled through the Mirabell's gardens, their allure completely captivated him. Vibrant greenery met breathtaking fountains. Marble sculptures seemed to observe visitors. Several terraces evoked memories of opulent balls under starry skies. This garden was a filming location for the romantic musical, The Sound of Music. The Mirabell Palace (Schloss Mirabell) isn't less magnificent than the grounds. Take the Marble Hall, for instance – it's among the world's most stunning wedding venues.
Hellbrunn Palace & Trick Fountains. For over four centuries, Hellbrunn Palace's trick fountains have enchanted tourists and locals alike. Built in record time between 1612 and 1615, this summer residence offers a unique and surprising experience. Many couples find it the ideal setting for their big day. Its core attraction is the world-unique Mannerist "Trick Fountains". These hidden fountains and water-powered figures leave every visitor in a delightful admiration.
The Salzach River. The gorgeous Salzach River splits Salzburg in two, with scenic bridges connecting the sides. Beyond adding beauty to the cityscape, the river holds historical significance. The name "Salzach" derives from "Salz," the German word for salt, which was transported along this river until the late 19th century.
Getreidegasse. This famous shopping street with unique signage is the vibrant core of Salzburg's Old Town. The houses on Getreidegasse will hypnotize you with their gorgeous doorways. Note how the windows become steadily tinier from the first floor up. The most important building on the street is Mozart's Birthplace, which you'll find on No. 9.
Salzburg Zoo. Nestled in the city's south, Salzburg Zoo is a family favorite that showcases a rich diversity of creatures. With 150 species and approximately 1,500 animals, you can marvel at animals from the tiniest pygmy mouse to the majestic white rhino. The zoo's African savannah with lions is a crowd-pleaser. Meanwhile, Eurasia features red pandas, Alpine ibexes, and bears. The Americas bring sloths and tapirs into view, and the Australian section boasts parma wallabies.
Residenzplatz. In the heart of Salzburg's Old Town lies the Residenzplatz, a prime spot to start your city exploration. This spacious square is home to the Residenzbrunnen, a marble marvel created in 1661 by an Italian sculptor. With its 49 ft. (15 m) in height, it's the biggest and finest Baroque fountain on this side of the Alps. Part of its embellishments include magnificent horses, playful dolphins, and the god Atlas holding discs. Apart from its architectural significance, the Residenzplatz hosts concerts, New Year's festivities, and the beloved Salzburg Christmas Market.
Cool Facts Salzburg Is Famous For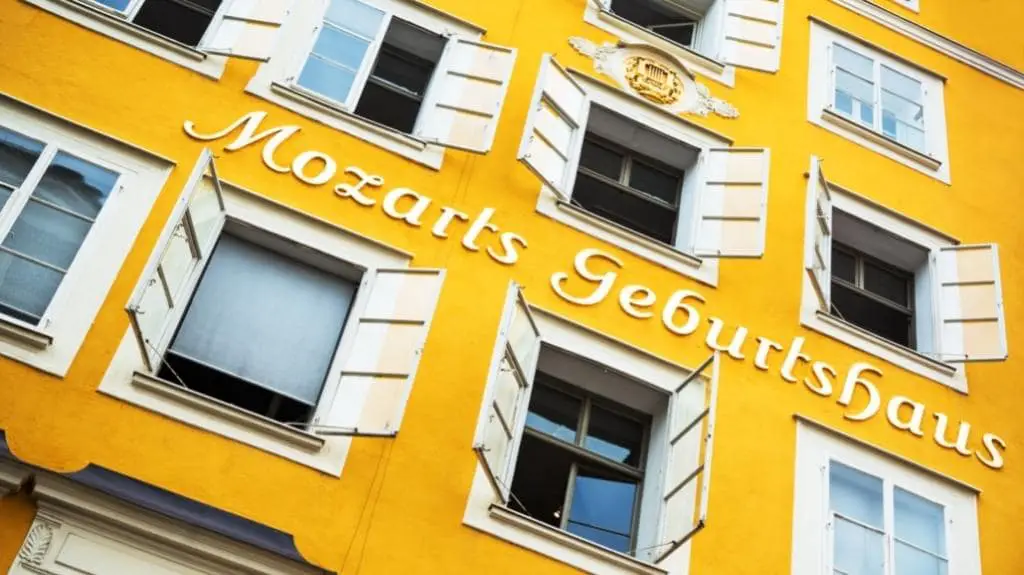 If you'd like to beat your friends during trivia nights, let's explore the following facts Salzburg is known for.
Birthplace of Mozart. Salzburg is famously known for being the birthplace of Wolfgang Amadeus Mozart, one of the most popular composers in the world. He was born in the Austrian city on 27 January 1756 as the seventh child of Leopold Mozart. His father was a musician for the Salzburg Royal Chamber.
Mozart wasn't Austrian. During Svet's recent trip to Salzburg, he stumbled upon a fascinating fact about W. A. Mozart. Contrary to popular belief, Mozart wasn't Austrian. But he wasn't German either. During his life, Salzburg wasn't part of Austria. At the time, the settlement was called the Prince-Archbishopric of Salzburg – an ecclesiastical principality within the Holy Roman Empire. However, Mozart was still a citizen of Salzburg. This is among our favorite fun facts about Salzburg.
Salzburg is known for its staggering Alpine scenery. Set against the backdrop of the Alps, the city will enchant you with its mesmerizing views of snowy peaks, serene lakes, and verdant meadows. If you appreciate natural beauty, prepare to be spellbound.
Salzburg prides itself on a unique profession. For over 350 years, a professional group of mountain "janitors" has been taking care of the security of Salzburg's citizens. The inception of this profession was after a tragic rockfall in 1669, which claimed 230 lives. Today, 12 dedicated mountain cleaners meticulously inspect over 3,229,000 sq. ft. (300,000 sq. m) across areas like Mönchsberg, Rainberg, Nonnberg, Festungsberg, Kapuzinerberg, and Hellbrunnerberg. Their job is to make sure that no loose rock poses a threat to the inhabitants.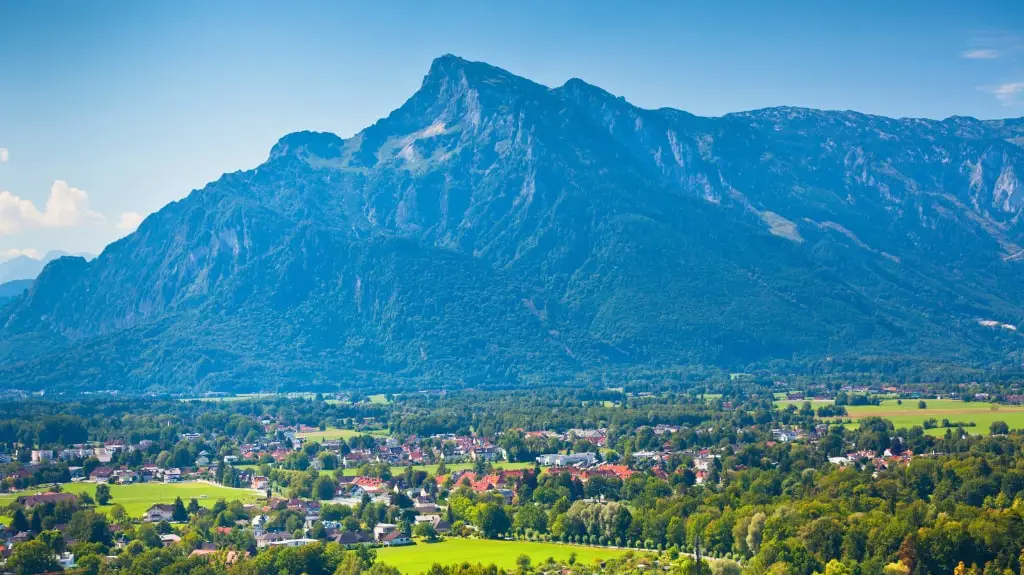 Salzburg is home to Europe's oldest restaurant. St. Peter Stiftskulinarium, established in 803 AD, is the oldest restaurant in Europe. For over 1,200 years, St. Peter has been serving delectable dishes. Today, you can expect a combo of music, wine, good vibes, and gourmet cuisine.
Salzburg Festival is among the world's top musical events. Established in 1920, the Salzburg Festival is a renowned annual music and drama event. Recognized as one of the world's premier classical music festivals, it draws elite musicians, conductors, and opera singers to perform in Salzburg's exquisite venues.
The city has a unique Michelin-star restaurant. The extraordinary restaurant Ikarus hosts a different guest chef each month. This innovative approach attracts master cooks from across the globe. Each of them crafts their own menu, which consists of 8 to 12 courses. Ikarus offers a one-of-a-kind experience. The craziest part? The Michelin-starred restaurant is located at Salzburg airport.
Many scenes of the Sound of Music were shot in Salzburg. The Sound of Music is a musical drama movie from 1965. Filming happened from March to September 1964 in two cities – Los Angeles and Salzburg. Many scenes from the popular movie were shot in the birthplace of Mozart.
The original Mozart balls have a nipple. Here's another cool fact about Salzburg for you. Even today, the original Mozart balls from the Fürst confectionery are handmade. The process involves molding pistachios and nougat into a sphere, then dipping it into dark chocolate using a wooden stick. Once the chocolate hardens, the stick is pulled out, and the resultant hole is filled back with chocolate. This process leaves the Mozart ball with a unique unevenness, reminiscent of a nipple or a navel.
The Best Museums Salzburg Is Known For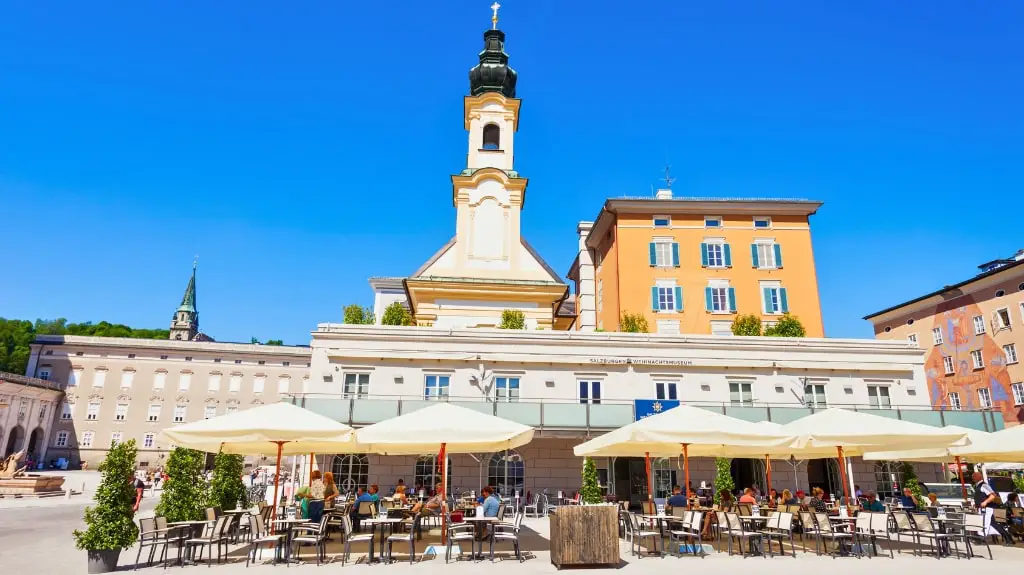 From the house where Mozart was born to an exhibition hall dedicated to Christmas, let's find out the most popular museums Salzburg is known for.
Hagenauer Haus Museum. Also known as the Mozart's Birthplace, the Hagenauer Haus Museum is where W. A. Mozart was born in 1756. Today, this place is one of Austria's most visited museums and, unsurprisingly, it's a highlight for all Mozart aficionados. In fact, some regard it as a "pilgrimage site". Constantly under development and expansion, this year-round exhibition hall is a must-visit museum in Salzburg.
DomQuartier Salzburg. A cultural gem in Salzburg's heart, DomQuartier brings history to life in its splendid state rooms. Beginning in the Baroque chambers of the Alte Residenz, you can explore the Residenz Gallery on the upper floor. This gallery walks you around stunning European artworks from the 16th to 19th centuries. End your visit with a terrace walk above the Cathedral Arches, which offers sweeping views of Salzburg's historic district and its surrounding mountains.
Museum der Moderne. This contemporary museum offers a refreshing break from Salzburg's traditional vibe with outstanding exhibitions of 20th and 21st-century art. Set atop Mönchsberg's cliffs and accessed by an elevator, this modern, oblong-shaped glass and white marble gallery contrasts sharply with the nearby historic Hohensalzburg Fortress. The rotating exhibitions of Museum der Moderne have featured diverse artists, from Cameroonian–Nigerian photographer Samuel Fosso to Austrian media artist Richard Kriesche.
Rupertinum. Nestled around a stunning Baroque arcade in the Old Town, Rupertinum serves as the sibling gallery to the Museum der Moderne. Here, you'll marvel at modern art exhibitions, emphasizing graphic pieces and photography. Some displays can be surprisingly avant-garde and provocative.
Haus der Natur. Salzburg's most kid-friendly museum is Haus der Natur. It offers an interactive study of nature in its many astonishing facets. Children can learn about dinosaurs and alpine crystals, observe bearded dragons and green mambas in the reptile section, and delve into hands-on experiments in the science area. Your kids can launch rockets, interact with water systems, explore human biology, and even experience Mozart's music by entering a massive violin case.
Christmas Museum. If you love Christmas, this cool museum above Café Glockenspiel on Mozartplatz is a must-visit. Open year-round, the Christmas Museum offers a glimpse into a personal collection of festive treasures. From intricately designed advent calendars and hand-carved cribs to shimmering ornaments, nutcrackers, and incense smokers, the spirit of Christmas is ever-present here.
The Delicious Foods Salzburg Is Famous For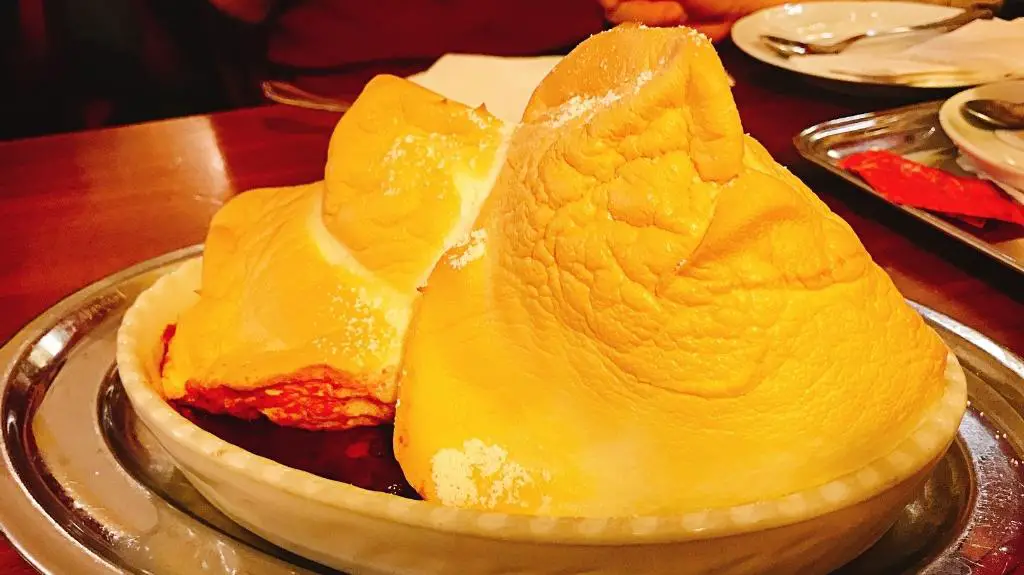 Various delicious treats originate in Mozart's birthplace and make Salzburg worth visiting. In this section, you'll find the culinary delights Salzburg is famous for.
Mozartkugeln. If you're a sweet tooth, you mustn't miss the Mozartkugeln. The world-famous tiny balls combine nougat, marzipan, and pistachio. These ingredients are generously covered with dark chocolate. The final fusion is to die for.
Salzburger Nockerl. Indulge in a delightful dessert known as Salzburger Nockerl – a sumptuous soufflé with a raspberry core. Many believe Café Mozart offers the finest rendition in Salzburg. Just say "S'nockerl" to any local, and they'll know exactly what you're craving.
Bosna. Meet Bosna, Salzburg's premier street food. Think of it as the Austrian counterpart to the American hot dog. Bosna consists of two long thin pork bratwursts nestled in a slightly toasted white bread bun, typically half-wrapped in paper for easy handling. The magic of this "hot dog" lies in its toppings: onions, parsley, and a special spice blend that remains a well-guarded secret.
Kasnocken. This hearty Austrian delight features bite-sized dumplings smothered in melted cheese and topped with caramelized onions. Kasnocken traces its roots back to the Pinzgau region, specifically the Zell am See district. True to its origins, it's made using the distinctive Pinzgauer Bierkäse, a cheese known for its potent aroma yet mild taste. Given the rich nature of Kasnocken, it's customary to follow it up with a shot of schnapps to aid digestion. Definitely a must-try on your visit to Salzburg.
Salzburger Bierfleisch. In Salzburg, beer is a cherished beverage. So, it's no surprise that a dish combining beer with braised beef holds a dear spot for the locals. This beloved meal, called Salzburger Bierfleisch, is a testament to the city's rich culinary heritage intertwined with its fondness for beer.
Schnitzel. While the most popular schnitzel variety is from Vienna, don't miss a chance to try one in Salzburg, too. The traditional schnitzel recipe hasn't changed at all. Chefs dip thin-sliced veal cutlets in eggs, flour, and breadcrumbs. Then, they deep-fry them. The result? An amazing delight for your taste buds.
Heumilch. Literally meaning "hay milk", Heumilch is probably the best type of milk you can try. The name comes from the cows' diet, which consists of fresh air, clean water, and particularly sun-dried hay. The region's rich plant life is vital for the excellent flavor and quality of the milk. It's packed with healthy Omega-3 fatty acids. Heumilch is used in making hard cheeses and chocolate.
How Many of the Things Salzburg Is Known for Did You Already Know?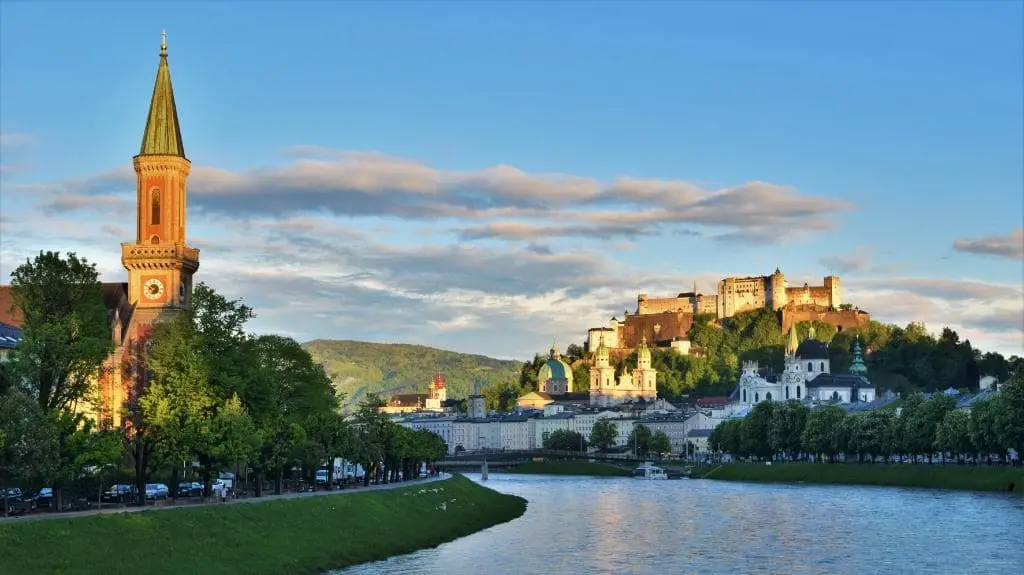 This wraps up our list with the top 33 things Salzburg is famous for.
Mozart's birthplace will enchant you with its astounding Alpine scenery, fascinating royal palaces, drop-dead gorgeous gardens, lip-smacking cuisine, and world-class museums.
If you're visiting the Austrian capital, make sure to check our day trip from Vienna to Salzburg guide.
Now, we're curious:
When you hear Salzburg, what do you associate it with?
Tell us in the comment section below.