Are you going to the capital of Austria on your next trip?
Vienna is famous for its imperial palaces, mouthwatering cuisine, rich cultural heritage, and for being the Capital of Waltz.
While there, we recommend a day trip to Salzburg, the birthplace of Mozart.
Yes, that's 100% possible. You can do a day trip from Vienna to Salzburg and explore the beauty of both cities.
This comprehensive guide will show you the most hands-on tips and hacks on how to plan one of the best day trips from Vienna, so you can make the most of your visit.
Fasten your travel belts, and let's discover!
Note: This article contains affiliate links. In case you purchase something through one of these links, we may receive a small commission at no extra cost for you. Thank you for helping us keep creating the free content on this website!
Visa, Currency, and Language Tips for Salzburg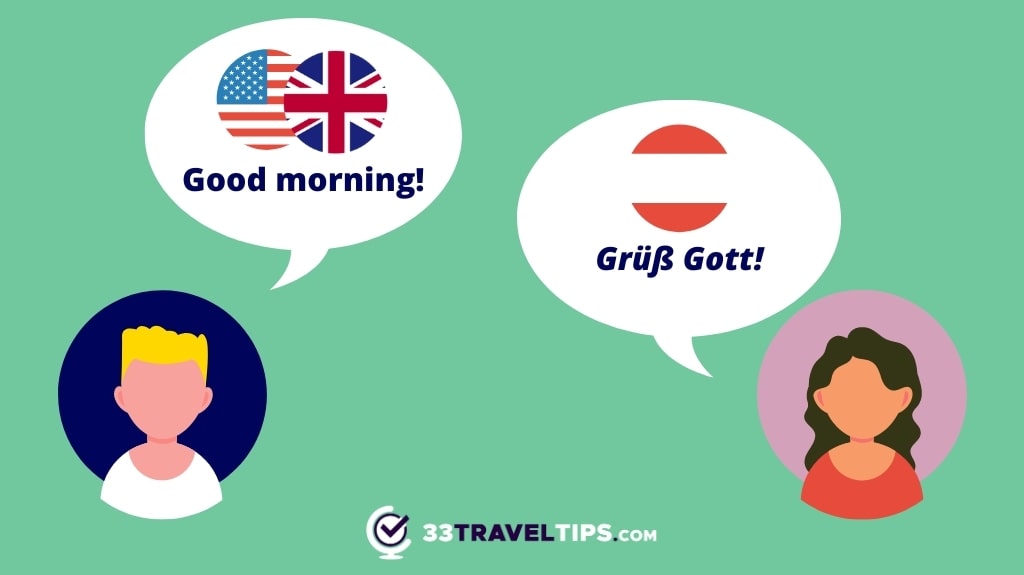 Austria is both a part of the European Union (EU) and the Schengen Area.
In other words, if you hold a U.S. passport that expires in more than 6 months, you don't need a visa to stay in Austria for up to 90 days.
Please check the official website of the European Union for a full list of entry requirements.
Next to being a member of the Schengen Area and the EU, Austria also belongs to the Eurozone. This geography lesson means that the country uses the euro as its currency.
If you need cash, you won't have a problem because Salzburg is packed with ATM machines.
However, if cashless payments are your go-to, no worries. You can use your credit card almost everywhere.
The birthplace of Mozart is international, so you won't have any issues conversing in English in hotels, shopping malls, or restaurants.
But if you'd like to impress locals with your German language skills, here are five of the most common words and phrases:
| | |
| --- | --- |
| Good morning! | Grüß Gott! |
| Goodbye! | Aufwiedersehen! |
| Thank you! / Thank you very much! | Danke! / Vielen Dank! |
| Excuse me! / I'm sorry! | Entschuldigung! / Tut mir leid! |
| Yes / No | Ja / Nein |
How to Get from Vienna to Salzburg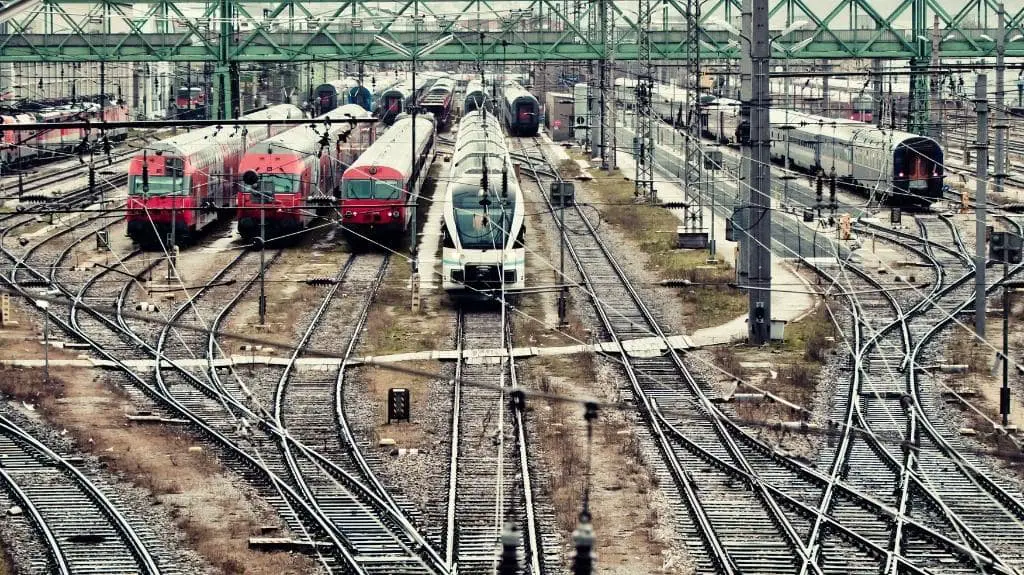 You can travel to Salzburg from Vienna in several ways. Let's see each in more detail below:
By Train
Our recommended way of traveling from Vienna to Salzburg is by train.
The trains depart from Wien Hbf and arrive at Salzburg Hbf. In the list below, you'll find everything else you should know about this transportation mode:
The train ride from Vienna to Salzburg lasts between 2:24 hours and 2:53 hours.
Over 50 trains per day travel in both directions, every day of the week, even on Sundays.
The first train from Vienna to Salzburg leaves from Wien Hbf at 4:55 AM – Monday through Friday, at 5:30 AM on Saturday and Sunday. The last one leaves at 11:27 PM every day without exceptions.
The first train from Salzburg to Vienna departs from Salzburg Hbf station at 3:21 AM – Monday through Sunday. However, it takes 3:37 hours, so we recommend the next one at 3:45 AM because it takes 2:49 hours. The last one leaves at 10:08 PM every day without exceptions.
To ensure you grab the best price deals, purchase your tickets beforehand. Sometimes, you can stumble upon great weekend offers.
Important: It's good to be at the train station about 20 minutes before leaving, so you have enough time to find your train and board without problems.
By Plane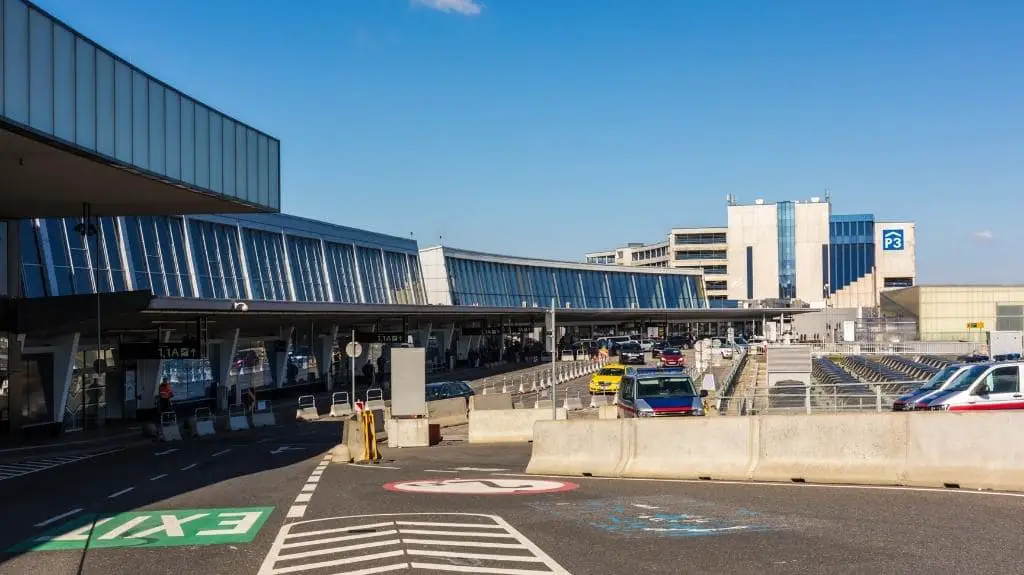 The distance between Vienna and Salzburg is 183 mi (295 km). For that reason, there are no direct flights between the two Austrian cities.
Connection flights exist, but they take a lot of time and are quite expensive.
That's why we don't recommend flying from Vienna to Salzburg.
By Car
The driving distance between the Austrian capital and Mozart's birthplace is around 183 mi (295 km).
It'll take you about 3:05 hours to get from Vienna to Salzburg.
This makes driving a little slower than catching a train.
If you're traveling in a group, renting a car is a good option. However, if you're traveling alone, we recommend catching the train because rental and parking costs quickly add up when you're a solo traveler.
By Bus
There are no direct buses from Vienna to Salzburg, so we suggest you either rent a car or catch a train.
By Tour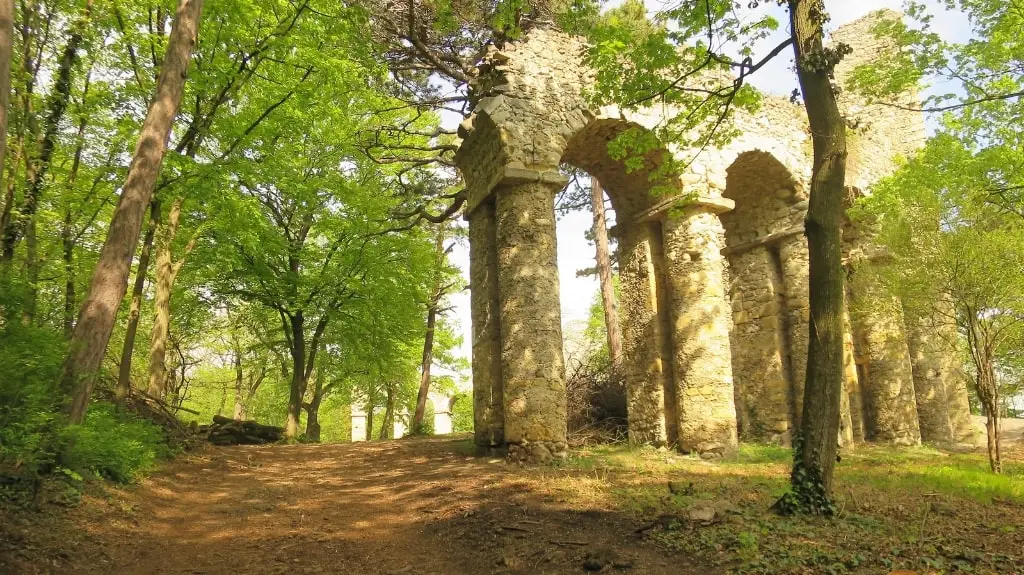 If you don't love making transportation plans, no worries.
You can instead hop on a full-day, guided tour from Vienna to Salzburg.
Avoid the fixed timetables of trains, and enjoy the luxury of a deluxe Mercedes Sprinter Minibus that gives you extra head and legroom.
The best part about this day trip is that you'll be traveling in small groups of no more than eight people.
The tour not only takes you to sightsee Salzburg's attractions; it also includes visiting the Vienna Woods and the heart-pumping Austrian lake district.
The driver will pick you up and return you to your accommodation in Vienna, so you don't need to wake up early and find your way to the train station.
If you like how this sounds, and are not opposed to spending a little more than when organizing everything on your own, click on this link to book your full-day tour from Vienna to Salzburg.
What to Do on a Full-Day Trip from Vienna to Salzburg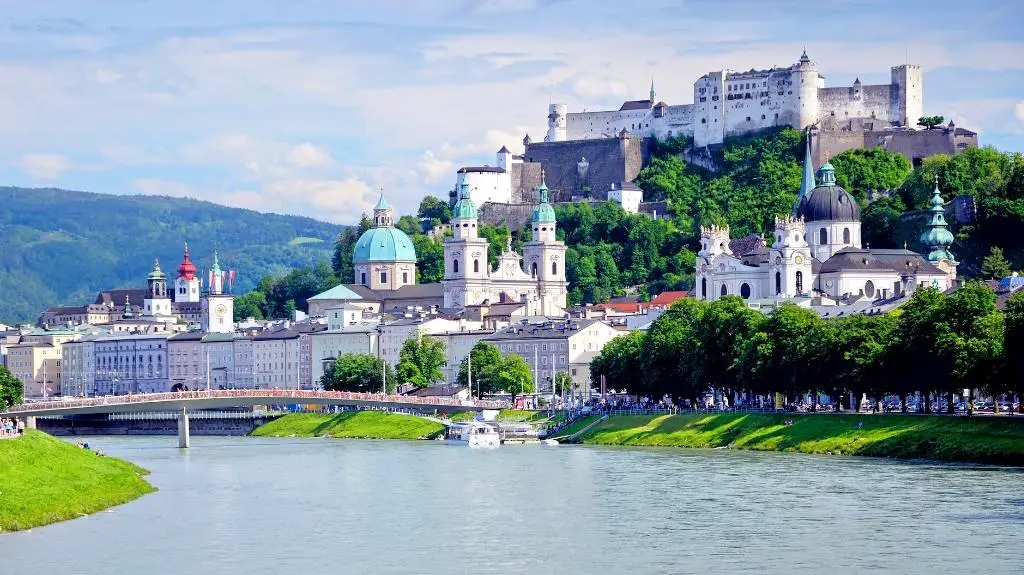 We've covered the essentials. Now, let's focus on the exciting stuff!
Mozart's hometown packs a great punch of things to do and see. Our next section will help you discover the must-visit spots on a day trip.
Note: You might be able to cover each spot on the list below. However, by doing that, you won't give each landmark the time it deserves. That's why we recommend you focus only on what tickles your interest the most. In the end, if you like Salzburg on a day trip from Vienna, you can always come back.
Mirabell Palace and Gardens – Dumbfounding Grandeur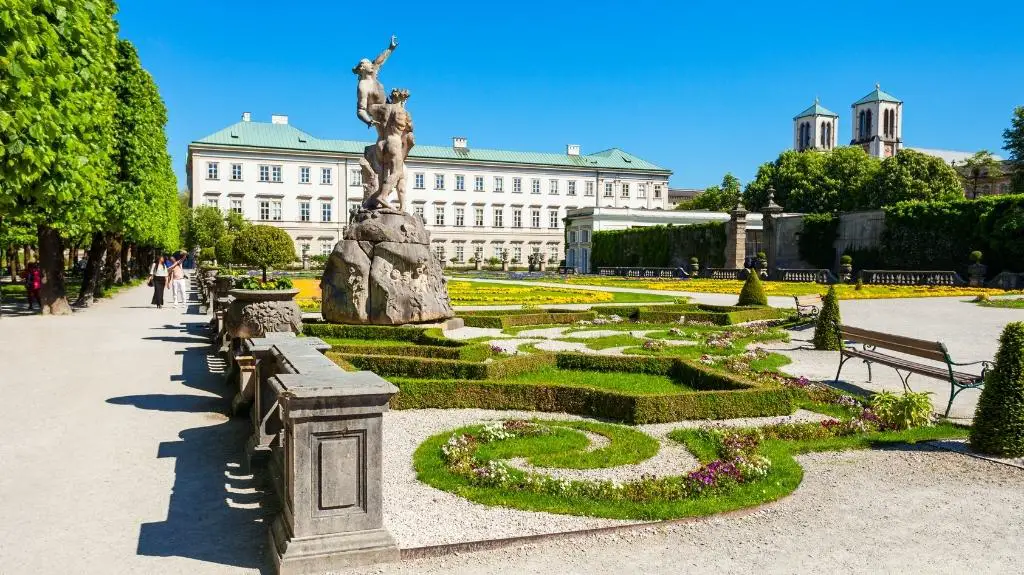 If you only want to visit one thing in Salzburg, we highly recommend you pick the Mirabell Palace and Gardens.
When Svet had a chance to march in the gardens, he was completely spellbound by their beauty.
Lush vegetation took turns with heart-stopping fountains. Marble statues peeked at passers-by. Numerous terraces were carrying the spirit of grand evening balls happening under a canopy of stars.
The garden served as a shooting spot for the romantic musical The Sound of Music.
The Mirabell Palace (Schloss Mirabell) isn't less impressive than the grounds. For example, the Marble Hall is generally considered one of the most gorgeous wedding halls in the world.
Leopold Mozart and his children – Nannerl and Wolfgang – composed music in this hall. Today, it hosts conferences, weddings, and various award ceremonies.
Built in 1606, the Mirabell Palace nowadays houses numerous municipal offices, including that of Salzburg's mayor.
If you have time, pay the Schloss Mirabell Baroque Museum a visit. The museum showcases European art from the 17th and 18th centuries, and is part of the estate's Orangery.
Note: If you intend on visiting more than one landmark in Salzburg, we highly recommend grabbing this combo ticket from our partners from GetYourGuide. It includes a 1.5-hour guided tour around the city by bus, gratis public transportation for 24 hours, and free entry to various museums and all major city sights.
Salzburg's Old Town – A Must-Check UNESCO World Heritage Site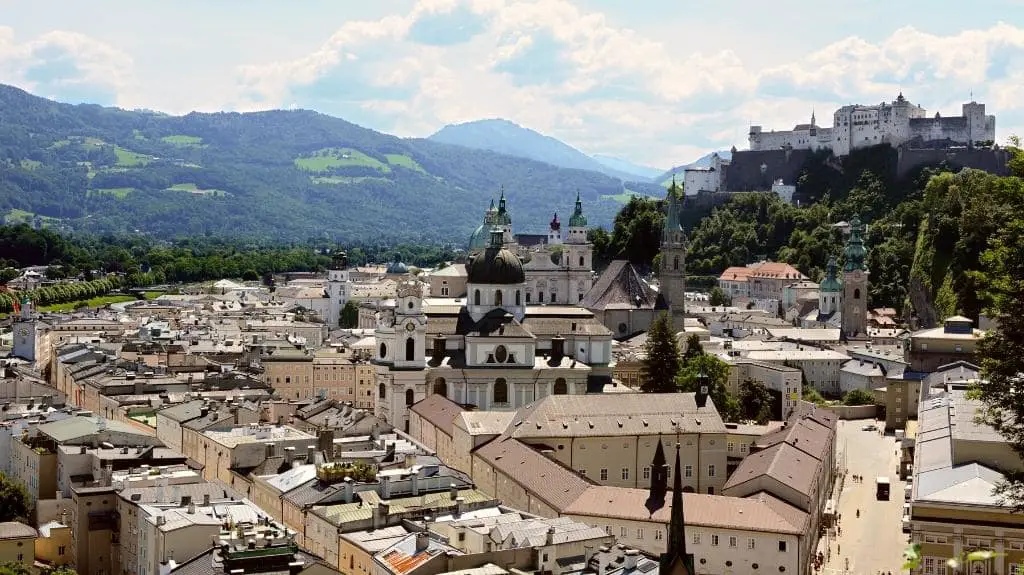 Since 1996, the Historic Center of Salzburg (Altstadt) has been part of the UNESCO list of World Heritage Sites.
The listed zone covers a territory of 236 ha (580 ac). In the area, you'll find many sites and monuments. The most noteworthy include:
Getreidegasse – a busy yet narrow shopping street with lined high townhouses.
Hohensalzburg Fortress – one of Europe's largest castles that overlooks the Old Town.
Felsenreitschule – an open-air theater erected in the quarry that locals used to construct the Salzburg Cathedral
Franziskanerkirche – dating from 1208, this Franciscan church is among the oldest buildings in Salzburg.
Hotel Goldener Hirsch – this 5-star hotel is located in a building that's more than 600 years old.
Mirabell Palace and Gardens – the magnificent palace with lush gardens and marble hall we just covered in the previous section.
When you're in the historic center, pay attention to the original wrought-iron shop and inn signs. They're ubiquitous in the area.
If you feel tired, kick back at some of the numerous cafés and restaurants with street-front patios that dot the Old Town.
Salzburg Fortress – the Best View of the Alps and the City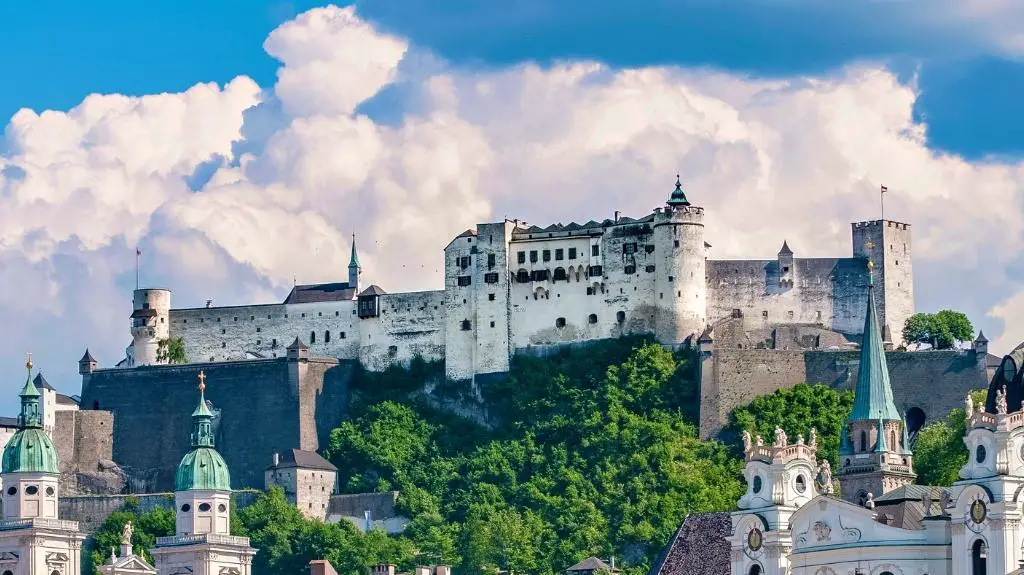 The mighty Salzburg Fortress (Festung Hohensalzburg) dominates the city's skyline. The castle dates back to 1077 and offers a heart-pumping 360-degree view of Salzburg and its surroundings.
The fortress served the principality and its archbishops as a shield from hostile attacks. Since its construction, no foreign troops have managed to capture it.
Inside the castle, you'll find several museums, including the Fortress Museum, the Museum of the Rainer Regiment, and the Marionette Museum.
Festung Hohensalzburg is open all-year-round. Since 1892, besides the pleasant 20-minute walk to the top, you can also reach it by the castle's funicular on Festungsgasse.
If you don't mind climbing, we recommend going all the way up on foot as the approach to Hohensalzburg passes through stunning arched defensive gateways.
You can marvel at the most scenic vistas of the city from the viewing platform of the Reckturm tower.
Note: If you'd like to take a guided tour of Salzburg when you arrive, we recommend grabbing this combo ticket. It includes a 1.5-hour guided tour around the city by bus and free entry to museums, public transport, and all major city sights. The ticket even grants you a free ride on the funicular that goes to the castle.
Salzburg Cathedral – Baroque Brilliance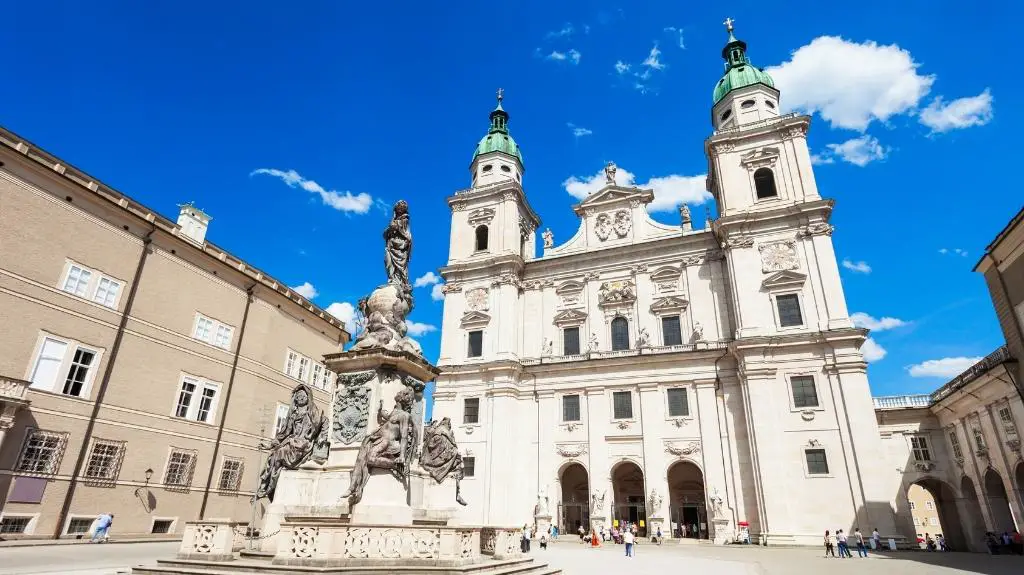 The second most impressive building on the city's skyline is the Salzburg Cathedral (Salzburger Dom).
A mighty dome and two imposing twin towers adorn the gorgeous 17th-century Baroque cathedral. The body of the cathedral consists of grey stone with embellishments and a façade made of special kind of marble.
Some of the most striking features of the Salzburg Cathedral include three gigantic bronze gates that symbolize the three divine virtues of Hope, Love, and Faith.
The Cathedral Museum holds a collection of art and liturgical objects from the archdiocese of Salzburg. The most prominent of them is the Carolingian Cross of St. Rupert from the 8th century.
The church still contains the baptismal font, where the genius composer Wolfgang Mozart was baptized in. That happened on 28 January 1756 – just a day after his birth.
In 1944, during the Second World War, a bomb damaged the central dome over the crossing. Repair works took some time to finish, but by 1959, the restoration was complete.
Love listening to organs? At Midday, you can be a witness to a magnificent organ spectacle at the Salzburg Cathedral. The magical show lasts for 30 minutes, so you'll have plenty of time left to sightsee the rest of the city. Get your ticket in advance via this link.
Mozart's Birthplace – One of Austria's Most Visited Museums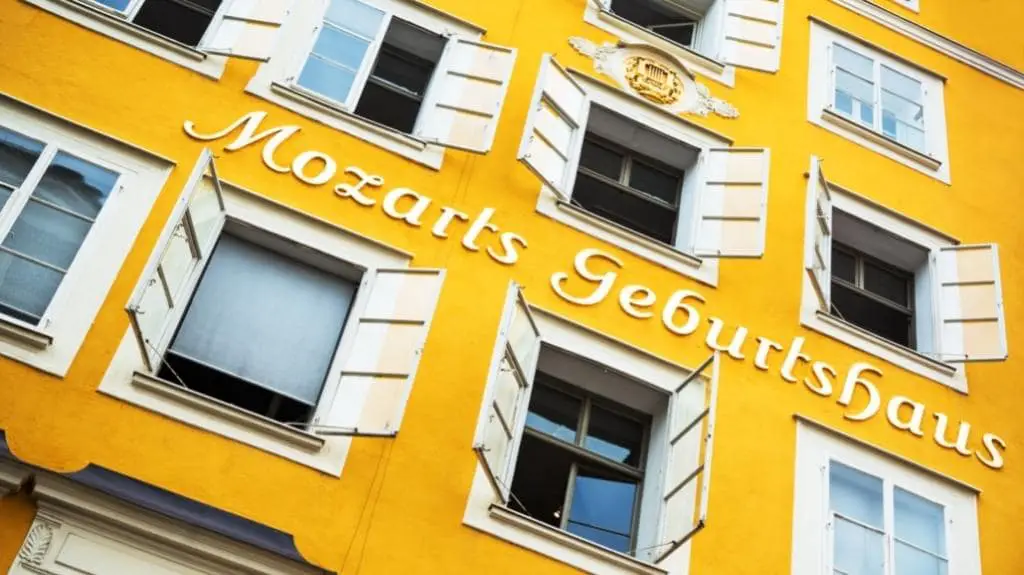 Last but certainly not least on our list of Salzburg landmarks is Mozart's House.
Also known as Mozart's Birthplace, the Hagenauer Haus is among the most visited museums in the whole country nowadays.
Some of the most popular residents of the house include the Mozarts, especially Wolfgang Amadeus Mozart – Salzburg's most famous son. His family resided at the Hagenauer House for 26 years. In 1773, Mozart and his family moved to what we know today as the "Mozart Residence".
The museum-house invites you to take a 1-hour tour through the original rooms. Inside, you can admire items, everyday objects, and furniture from the 18th century.
If you're a Mozart fan, you'll love the fact that you can marvel at historical instruments, including the very own violin and clavichord of the genius composer.
Local authorities constantly develop and expand this year-round museum, which acts as a "pilgrimage site" for the wunderkind fans.
Tip: Grab your tickets for Mozart's House in advance. Same-day tickets might not be available. We recommend this 2.5-hour tour around the enthralling Salzburg that includes tickets to Mozart's birthplace, too.
Food Tips for Your Day Trip from Vienna to Salzburg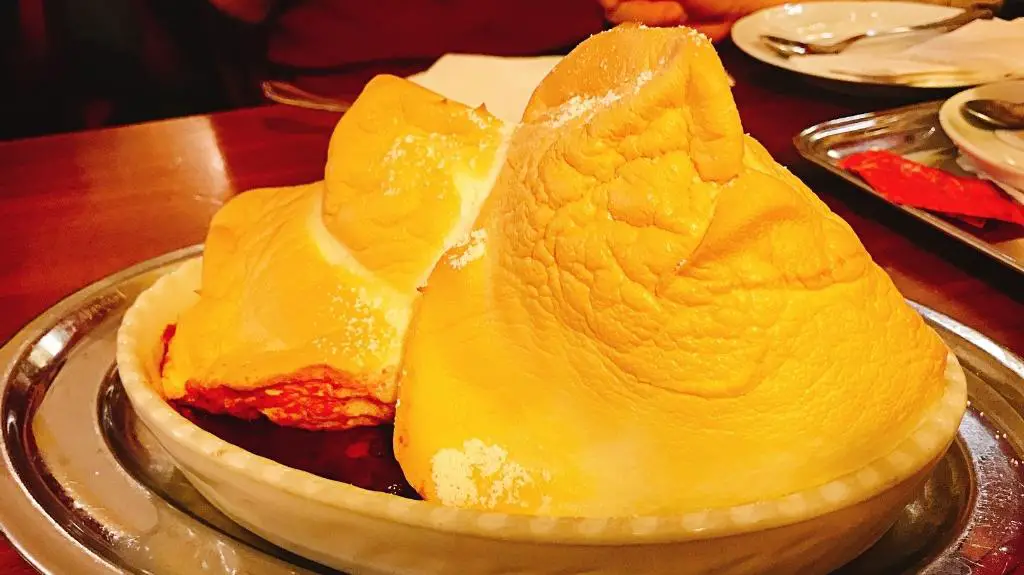 Here's what we'll do if we were doing a day tour from Vienna to Salzburg: prepare a couple of sandwiches, throw in a few protein bars, and pack some water. In this way, you can make the most of your time in the birthplace of Mozart.
However, if you prefer to travel slowly, visit just a landmark or two, and enjoy a mouthwatering meal in the meantime, take these special food tips into consideration:
Don't miss the Mozart balls. If you're a sweet tooth, you must try the Mozartkugeln. The small, circular confection consists of nougat, marzipan, and pistachio generously covered with dark chocolate.
Try Salzburger Nockerl, a sweet soufflé specialty with raspberry filling. Café Mozart serves arguably the best one in town.
If you'd like a quick snack, kebab houses, food trucks, and bakeries are your go-to spots. They'll save you precious time for exploring the city.
While the most famous schnitzel is from Vienna, make sure to taste one in Salzburg, too. Alternatively, you can try Tafelspitz – a goulash-like dish with beef that simmers in beer and comes with apples and horseradish.
A Day Trip from Vienna to Salzburg – Alpine Views, Jaw-Dropping Gardens, and Baroque Splendor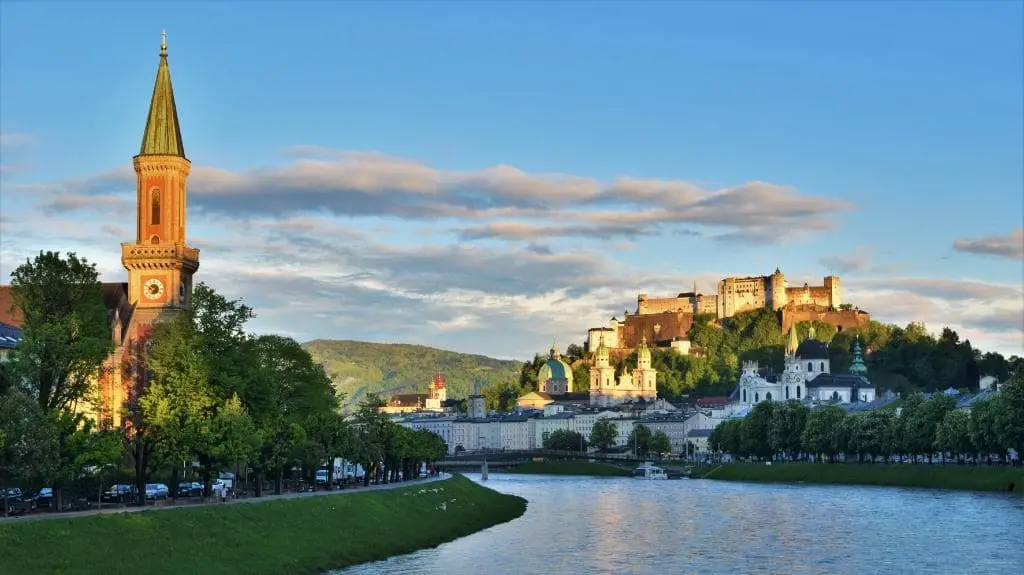 From magnificent gardens to Baroque palaces, and from staggering mountain views to decadent confectionery, Salzburg is chock-full of things to do and see.
A day trip from Vienna to Salzburg probably won't be enough to discover everything the birthplace of Mozart offers. But you'll manage to feel the one-of-a-kind atmosphere of the city.
And with some careful planning, we bet you'll maximize your time and explore both places.
Now, we'd like to know:
Have you been to Salzburg before?
If not, what will you do first when there?