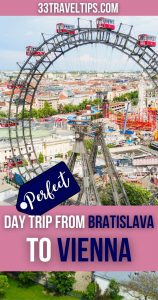 Are you traveling to the Little Big City, Bratislava?
The Slovak capital is fantastic for getting lost in its timeless Old Town, admiring the Danube River, and quenching your beer thirst at its countless pubs.
While there, it's a great idea to do a day tour to Vienna, the Capital of Waltz.
Yes, this is entirely possible. You can do a day trip from Bratislava to Vienna and explore the best of both cities.
Even better, Vienna is so close to the Slovak capital, you won't have to wake up at 5:00 in the morning to have enough time to walk around the city's most famous landmarks.
This thorough guide will share with you our most practical tips and tricks on how to plan a day tour to the Austrian capital, so you can make the most of your visit.
Without further ado, let's explore!
Note: This article contains affiliate links. In case you purchase something through one of these links, we may receive a small commission at no extra cost for you. Thank you for helping us keep creating the free content on this website!
How to Get from Bratislava to Vienna
You can travel to Vienna from Bratislava in a few ways. Find a description of each below:
| | | |
| --- | --- | --- |
| Mode of Transport | Duration | Book via |
| Train | From 1 hour 7 minutes (in each direction) | Omio |
| Bus | From 45 minutes (in each direction) | Flixbus |
| Car | From 45 minutes (in each direction) | Discover Cars |
| Tour | Approximately 10 hours | Viator |
| Airplane | N/A | N/A |
By Train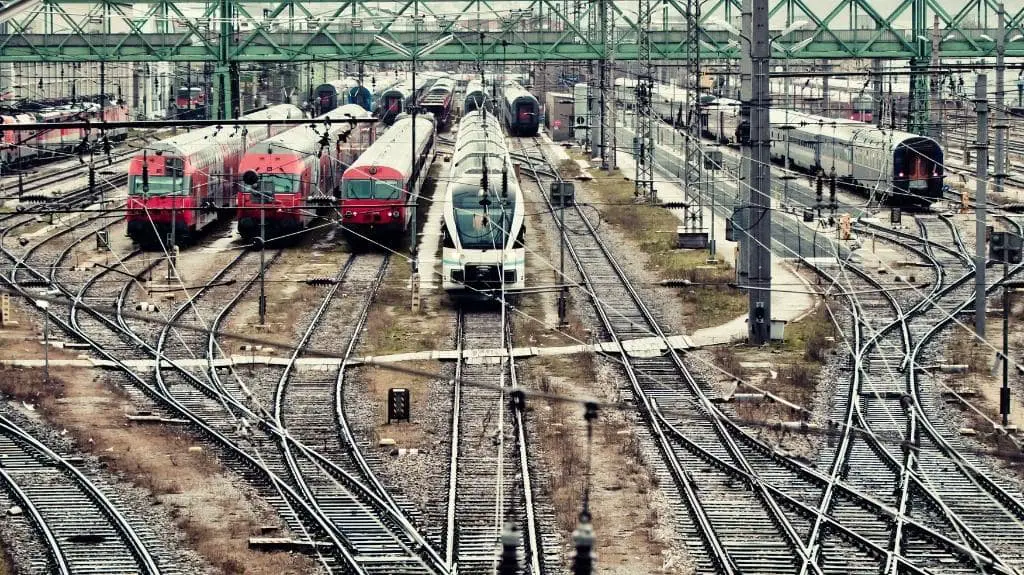 We recommend traveling from Bratislava to Vienna by train.
All trains depart from Bratislava hl.st and arrive at Wien Hbf. Here's what else you should know about this type of transport:
The train ride from Bratislava to Vienna takes between 1:07 and 1:16 hours.
Over 20 trains per day travel in both directions. They depart approximately once every hour, every day of the week.
The first train from Bratislava to Vienna departs from Bratislava hl.st. at 5:37 AM – Monday through Sunday. The last one leaves at 10:37 PM every day without exceptions.
The first train from Vienna to Bratislava departs from Wien Hbf station at 5:16 AM – Monday through Sunday. The last one leaves at 10:16 PM every day without exceptions.
The lowest price we've seen is €22.00 ($24.40) for the round trip. To make sure you get the best deals, buy your tickets in advance.
Important: Be at the train station about 20 minutes before departure, so you have enough time to locate your train and board without problems.
Tip: You can easily visit Vienna on a day tour by train from Budapest as well. The ride takes around 2:40 hours.
By Bus
Buses from Bratislava to Vienna are direct and take between 0:45 and 1:25 hours.
The earliest bus departs at 3:00 AM from Bratislava Mlýnské Nivy and goes to the Vienna Airport. The first bus that goes to Vienna's Central Station is at 6:00 AM. The former takes 50 minutes. The latter – 1:25 hours.
Most buses depart from Bratislava Mlýnské Nivy or Bratislava Most SNP and arrive at the Vienna Central Station.
The prices start from €5.95 ($6.60) per leg.
Although there are other options, we recommend FlixBus for its convenient online booking, great service, and low prices. Book in advance via this link to secure the best rates.
By Car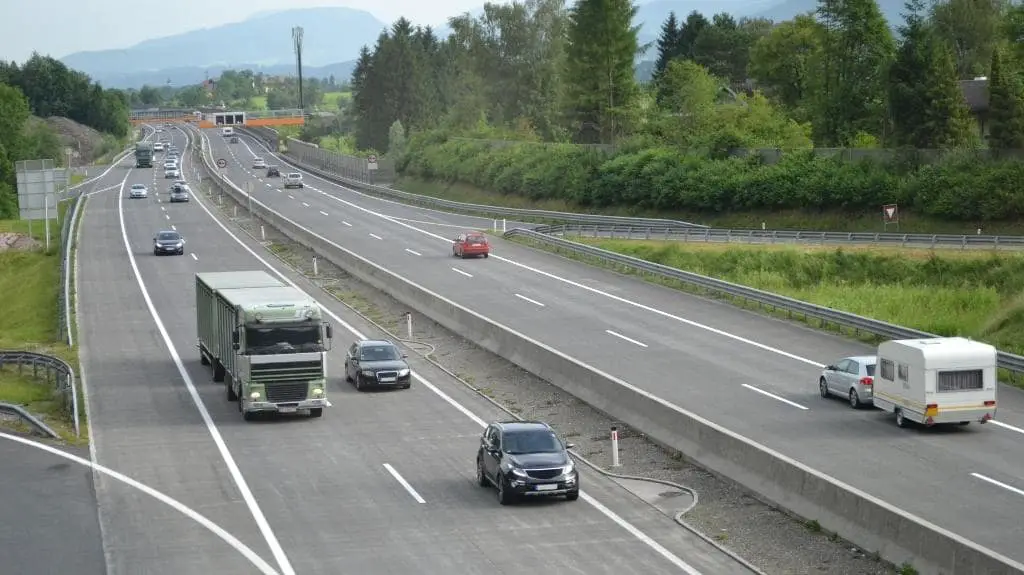 The driving distance between the Slovak capital and the Austrian capital is 50 mi (80 km).
It'll take you between 55 and 60 minutes to get from Bratislava to Vienna, depending on the traffic.
This makes driving between the two capitals one of the best means of transportation.
Don't forget to calculate parking, gas, and insurance costs, when deciding to rent a car.
For solo travelers, this option might be too expensive. However, if you're traveling in a group, renting a car is the best option.
By Tour
If you're not a fan of planning your transportation, don't worry.
You can benefit from a full-day, guided tour from Bratislava to Vienna. Avoid the fixed timetables of trains and buses, and take it easy in an air-conditioned car.
The best part about this day trip is that you'll be sightseeing privately. The driver will pick you up and drop you off at your hotel in Bratislava, so you won't need to wake up early or navigate to the stations.
If this offer tickles your fancy, and you don't mind spending a little more than when organizing everything on your own, use this link to book your full-day tour by car.
By Plane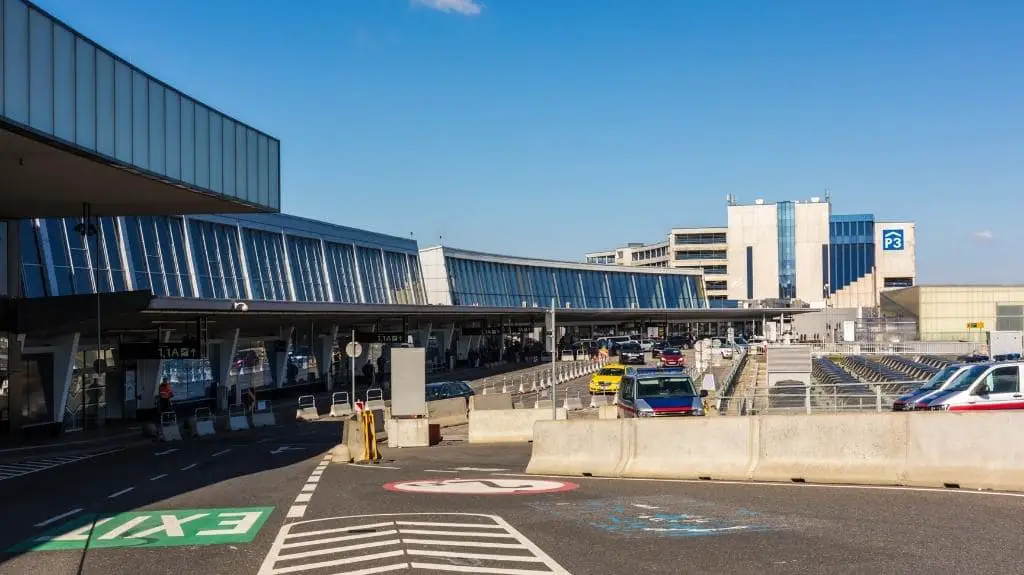 The distance between Bratislava and Vienna is around 50 mi (80 km). That's why there are no direct flights between the two cities.
Connection flights exist, but they are neither cheap nor worth the time.
For these reasons, flying from Bratislava to Vienna is not a good option.
What to Do on a Full-Day Trip from Bratislava to Vienna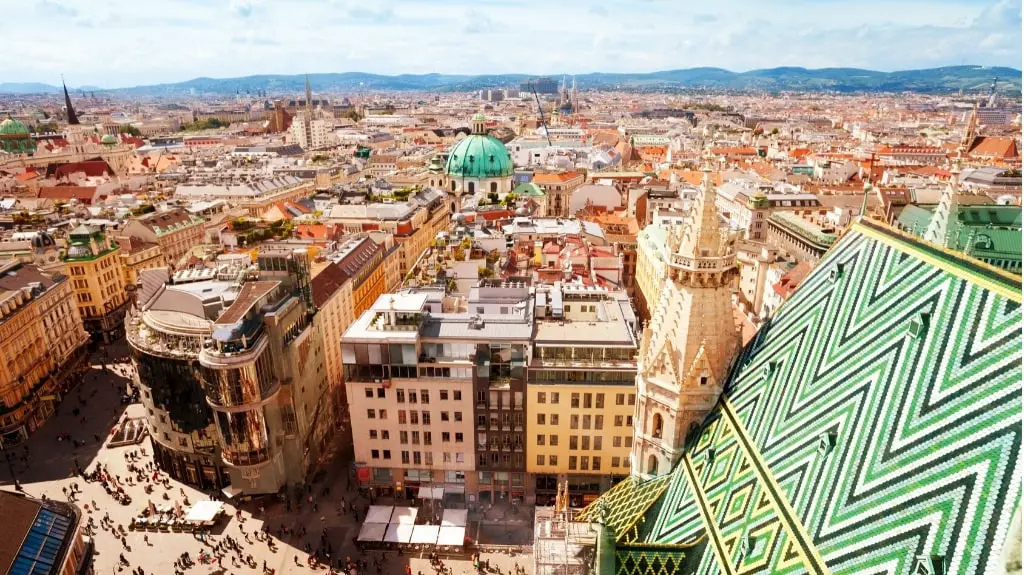 Now that we have the practicalities out of the way, let's explore the exciting stuff!
The Capital of Waltz is jam-packed with great things to do and see. The next section of this guide will show you our best recommendations for a day trip.
Note: Despite being possible to visit each spot on the list below, you won't be able to spend the time each attraction deserves. For that reason, we suggest you explore only what interests you the most. After all, if you enjoy Vienna on a day trip from Bratislava, you can always revisit.
The Wurstelprater (Vienna Prater) – the World's Oldest Amusement Park
The Vienna Prater is the oldest amusement park in the world. As such, it offers unbeatable energy, heart-pumping rollercoasters, and unparalleled views of the Austrian capital.
By far the most popular landmark in the Prater is the iconic Wiener Riesenrad. The gigantic 212.5-ft (64.75-m) tall Ferris wheel allows you to marvel at jaw-dropping vistas over the city, the Vienna Woods, the Marchfeld, the Danube River, and the Pannonian Basin.
Don't enjoy waiting in queues? Use this link to get your skip-the-line tickets.
The magical Planetarium Prater is another must-visit attraction in the park. The Prater's website describes the Planetarium as a state-of-the-art "window to the stars". Inside the building, you can admire breathtaking views of the stars and the planets.
When you grow weary of star exploration and adrenaline-pumping rollercoaster rides, we suggest you hop on the Liliputbahn – a narrow railway that crisscrosses the entire park.
St. Stephen's Cathedral – the Gothic Beauty of Vienna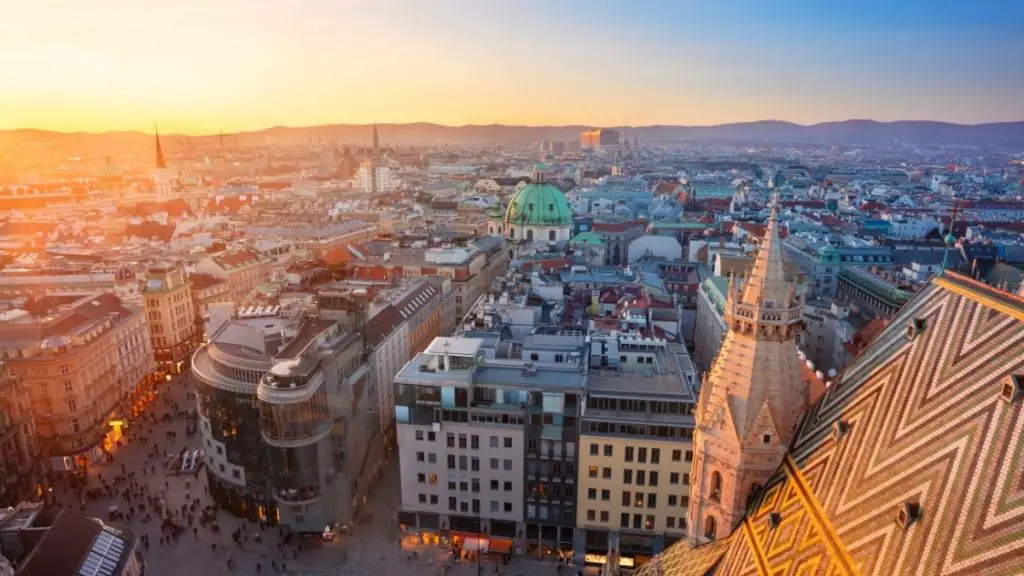 The sheer size and the eye-catching Gothic architecture of this magnificent cathedral is a view you won't forget for years to come. St. Stephen's Cathedral (Stephansdom) is one of the top things Vienna is known for, and for a good reason.
Besides the striking exterior, the interior is like a balm for the eyes. When inside, pay special attention to the incredible Baroque ornate nave. That alone is worth the entrance.
If you like to work your legs, we suggest you take the stairs all the way to the top. Don't forget to bring your best camera as the panorama from 400+ ft. above the ground is to die for.
Note: Entrance to the 12th-century Stephansdom is free of charge, but some areas might require you to purchase a ticket.
Stephansplatz – The Pulsating Heart of the Austrian Capital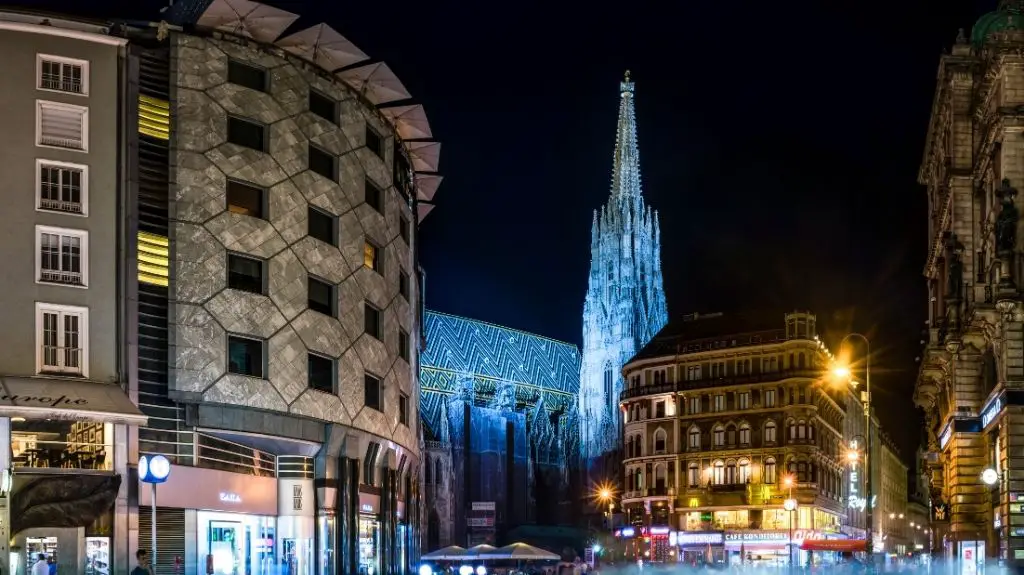 St. Stephen's Cathedral stands in the middle of Vienna's main square – Stephansplatz. As the name suggests, the square is called after the church.
If you decide to climb your way to the top of the church, you might need to replenish your energy.
There's no better way to do that than the charming coffee shops on the Stephansplatz that serve mouthwatering beverages. Enjoy your drink while listening to street musicians whose scene is the plaza.
When you've refueled, stroll the remarkable streets Graben and Kärntner Straße, where you can engage in high-end shopping.
Svet really enjoyed sitting on a bench on Stephansplatz and people-watching.
Schönbrunn Palace – Vienna's Majestic Symbol
Schönbrunn Palace served as the main residence of the Habsburg dynasty in the 18th and 19th centuries. Nowadays, the palace is open to tourists.
With 1,441 rooms in Rococo style, Schönbrunn is both enormous and gorgeous. The name of the palace means "beautiful spring" because of an artesian well, which the court used to get water.
While it's possible to sightsee on your own, we highly suggest you book a guided tour of the palace. The ticket also includes skipping the lines, which can get very long regardless of the season. Use this website to reserve your tickets in advance.
The tour also shows you around the jaw-dropping gardens of the palace, which are incredibly lush in spring.
Discover not only the fascinating history of the royal Habsburg family and the popular Empress Sissi but also how Schönbrunn has evolved in contemporary times.
Belvedere Palace – Baroque Architecture at Its Finest
Another gorgeous example of Baroque architecture is the magnificent Belvedere Palace. It consists of two Baroque palaces, an Orangery, and stables. All the buildings were erected in a Baroque park landscape.
Because of its beauty and grandeur, Belvedere became a UNESCO World Heritage Site in 2001. It's also among the leading museums in the world.
The art collections encompass creations from the Middle Ages to modern times. Marvel at various artworks, such as paintings, sculptures, and Gothic-winged altars. If you're an art aficionado, we suggest grabbing this ticket, which allows you to explore the art collections in 3 different yet amazing venues – Upper, Lower, and Belvedere 21.
Two royal celebrities once resided in the palace – Prince Eugene of Savoy and Archduke Franz Ferdinand.
When you've had enough art, get some fresh air in the breathtaking gardens of Belvedere.
The Hundertwasser Buildings – Extravagant Vibrant Creations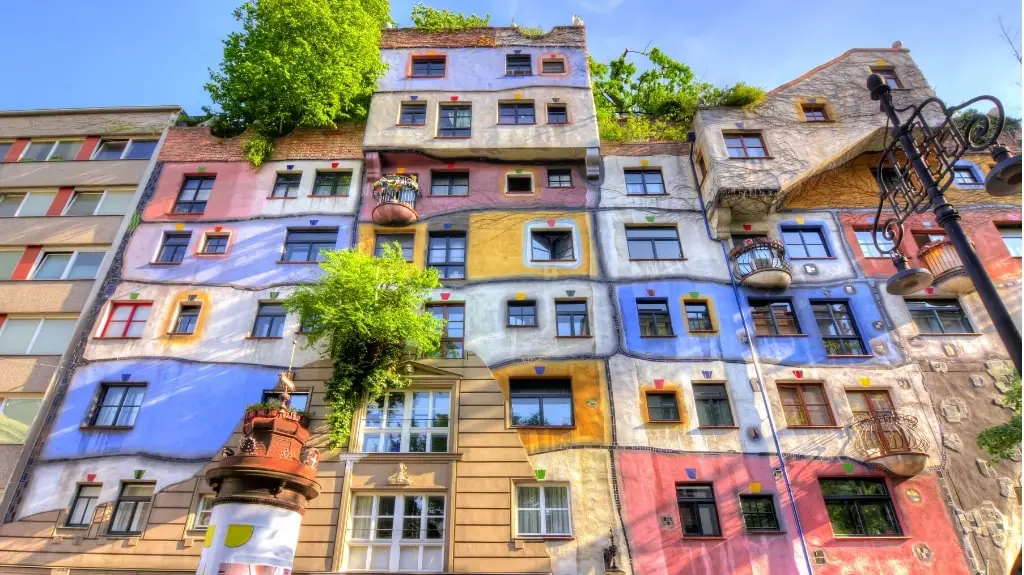 If you'd like to try one of the best unusual things to do in Vienna, we suggest you explore the Hundertwasser buildings.
Friedensreich Regentag Dunkelbunt Hundertwasser is one heck of a long name. But the famous eccentric architect worked his magic all over Europe, Japan, and New Zealand.
His most popular work is the Hundertwasserhaus. You can find the peculiar-looking residential edifice on 36-38 Kegelgasse.
While in the area, we also suggest visiting the Hundertwasser Museum, which is just across the street.
Another noteworthy creation of Hundertwasser is the Müllverbrennungsanlage Spittelau. That's an incineration plant, featuring colorful and contemporary architecture, which you can spot from afar.
No matter what Hundertwasser construction you decide to admire, you'll have a blast.
Food Tips for Your Day Trip from Bratislava to Vienna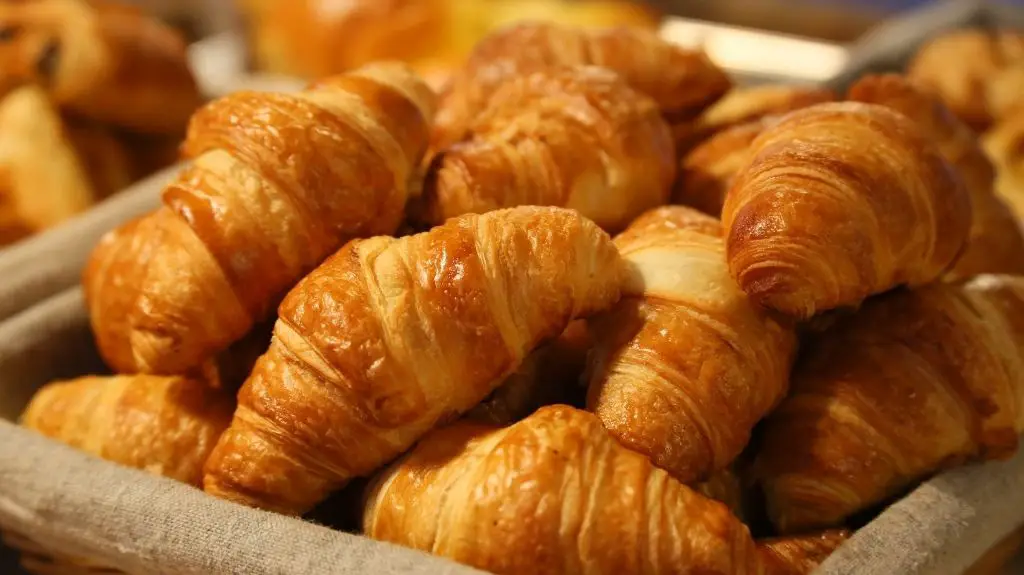 If we were doing a day tour from Bratislava to Vienna, we'd pack some water, a few protein bars, and a couple of sandwiches. In this way, we can maximize our time and see as much as possible.
However, if you don't want to rush yourself, visit a couple of attractions, and have a delicious lunch in between, we've prepared these special food tips for you:
Try the croissants. One of the craziest facts about Vienna is that it's the birthplace of croissants. That's why we highly recommend you try the famous pastry in the Austrian capital.
If you'd like to quench your hunger with a quick bite, bakeries, food trucks, and kebab houses are a great idea. They'll save you precious time for exploring the city.
Are you a chocolate worshipper? Then, you mustn't miss the decadent Sacher Torte. Most Vienna eateries serve this finger-licking traditional dessert. The original recipe dates back to 1832 when an apprentice chef created the sweet temptation.
Visa, Currency, and Language Tips for Vienna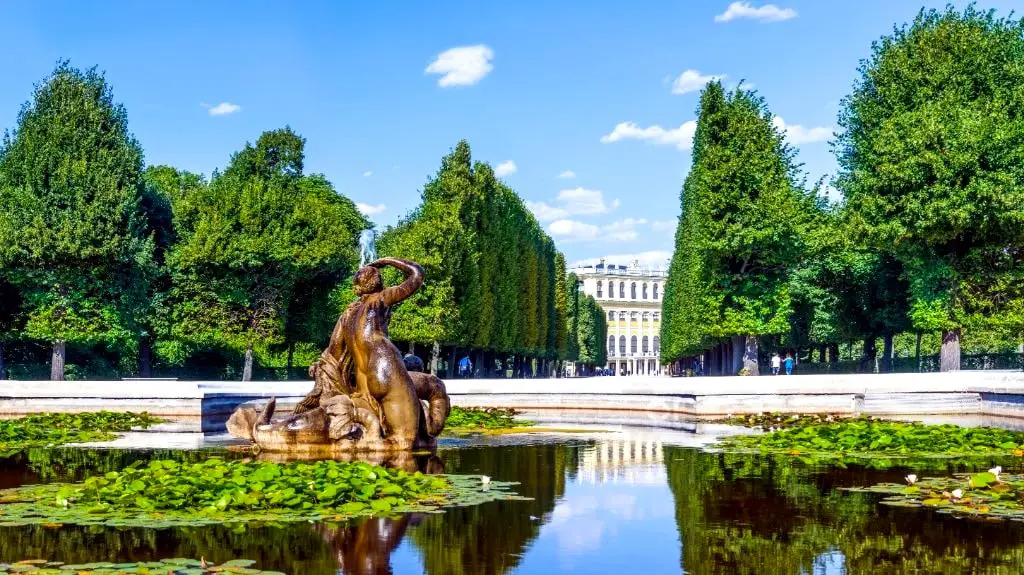 Austria belongs to both the Schengen Area and the European Union.
This geography trivia means one thing: if you have a U.S. passport, expiring in more than six months, you won't need a visa to visit Austria for up to 90 days.
For the entire list of visa requirements, please consult the official website of the European Union.
Besides an EU and a Schengen area member, Austria is also a part of the Eurozone. In other words, the euro is the country's currency.
If you need to withdraw cash, Vienna teems with ATM machines, so you won't have a problem. But if you prefer keeping your payments cashless, don't worry. You can pay with a credit card basically everywhere.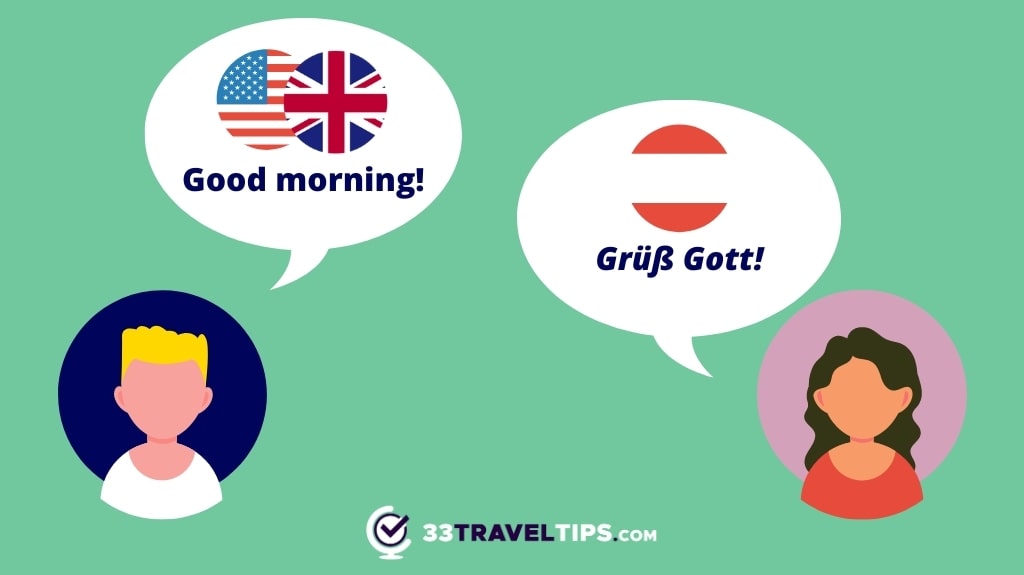 Many people speak English in the Capital of Waltz, so you won't face any issues in hotels, restaurants, and shopping malls.
But if you'd like to flex your language skills to impress locals, we've prepared a small table with five basic words and phrases in the country's official language – German:
| | |
| --- | --- |
| Good morning! | Grüß Gott! |
| Goodbye! | Aufwiedersehen! |
| Thank you! / Thank you very much! | Danke! / Vielen Dank! |
| Excuse me! / I'm sorry! | Entschuldigung! / Tut mir leid! |
| Yes / No | Ja / Nein |
Now You Know How to Plan the Perfect Day Trip from Bratislava to Vienna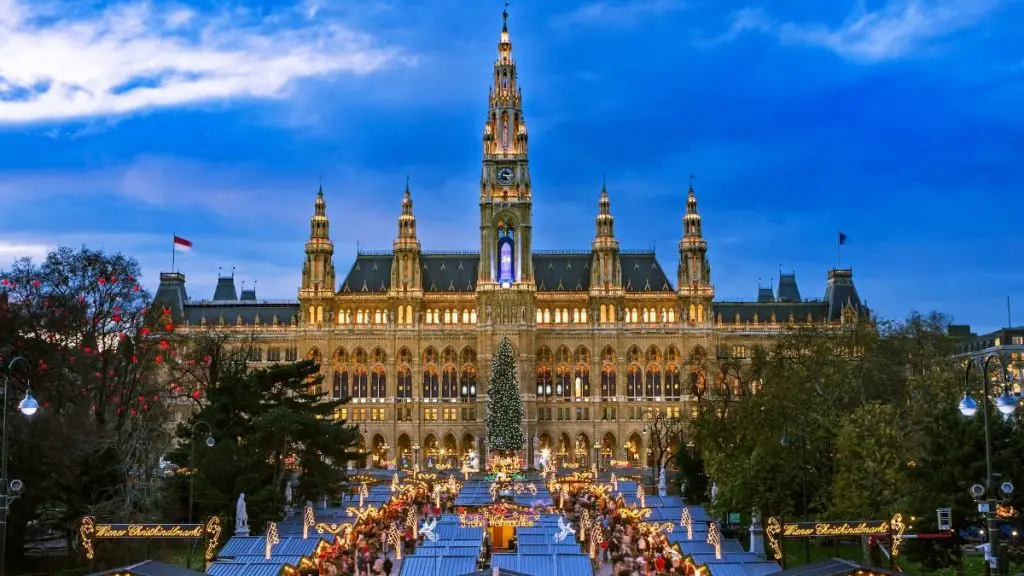 From Gothic churches to Baroque palaces, and from awe-inspiring rollercoasters to mouthwatering desserts, Vienna is chock-full of things to do and see.
A day trip from Bratislava to Vienna probably won't be enough to discover everything the Austrian capital offers. But you'll manage to feel the one-of-a-kind atmosphere of the city.
Plus, with some careful planning and our Vienna travel tips, we're sure you'll make the most of your time and sightsee both capitals.
Now, please share with us:
Have you visited Vienna before?
If not, what will be the first thing you'll do there?