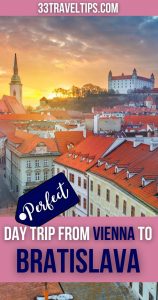 Is your next vacation in the Capital of Waltz, Vienna?
While there, why not go to Bratislava, the gorgeous capital of Slovakia?
Yes, this is absolutely possible. Doing a day trip from Vienna to Bratislava is easy and totally worth it.
One day in Bratislava is enough to visit the major sights. You can roam the charming Old Town, discover the majestic Bratislava Castle, explore the incredible St. Elizabeth's Church, and sample delectable dishes. The Slovak capital is perfect for a day trip from Vienna and is reachable by road, rail, and water.
To maximize your visit, follow this detailed guide. It'll show you our most practical tips on how to plan the perfect day tour of the Slovak capital.
Let's jump right in!
Note: This article contains affiliate links. In case you purchase something through one of these links, we may receive a small commission at no extra cost for you. Thank you for helping us keep creating the free content on this website!
How to Get from Vienna to Bratislava
You can travel to Bratislava from Vienna in a few ways. We've described each of them below:
| | | |
| --- | --- | --- |
| Mode of Transport | Duration | Book via |
| Train | From 1 hour 7 minutes (in each direction) | Omio |
| Bus | From 45 minutes (in each direction) | Omio |
| Car | From 45 minutes (in each direction) | Discover Cars |
| Boat | From 1 hour 15 minutes (in each direction) | Twin City Liner |
| Tour | Approximately 11 hours 30 minutes | Get Your Guide |
| Airplane | N/A | N/A |
By Train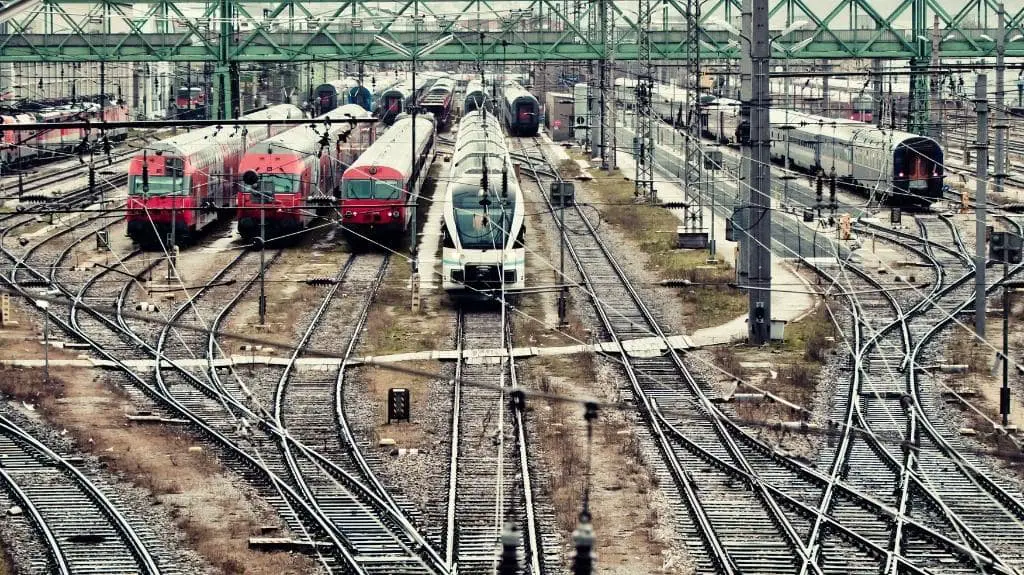 Our recommended way of traveling from Vienna to Bratislava is by train.
The trains depart from Wien Hbf and arrive at Bratislava hl.st.
Here are all the details about this transport mode:
The train ride from Vienna to Bratislava takes between 1:07 hours and 1:14 hours.
More than 20 trains travel daily in both directions, every day of the week, even on Sundays.
The first train from Vienna to Bratislava leaves Wien Hbf station at 5:16 AM Monday through Sunday. The last one departs at 10:16 PM every day without exceptions.
The first train from Bratislava to Vienna leaves Bratislava hl.st. at 5:37 AM Monday through Sunday. The last one departs at 10:37 PM every day without exceptions.
To secure the best rates, get your tickets in advance. Weekend prices are sometimes cheaper.
Important: Arrive at the train station about 20 minutes before departure, so you have enough time to find your train and board without problems.
Tip: You can also visit Bratislava easily on a day tour by train from Budapest. The ride is around 2:20 hours.
By Bus
The cheapest option for getting to Bratislava from Vienna is by bus.
Buses from Vienna to Bratislava are direct and take between 0:45 hours (during the night) and 1:45 hours (during peak hours).
The earliest bus departs at 3:55 AM from Vienna Airport. The first bus that leaves the city is at 8:00 AM – from the Vienna Central Station. The former takes 45 minutes. The latter – 1:20 hours. Both options will give you enough time to explore.
Buses depart from either Vienna Erdberg (VIB) or Vienna Central Station. Their final destination is either Bratislava Mlýnské Nivy or Bratislava Most SNP.
Several bus companies operate on this route. You can book your tickets for the Slovak Lines via Omio.
Alternatively, use FlixBus for its great service and convenient booking process. Purchase your ticket in advance via this link to get the best available prices.
By Car
The most convenient way of traveling between Vienna and Bratislava is by car.
The fastest way to get between the two cities is via A4 and A6. Note that these are toll roads.
The driving distance between the Austrian capital and the Slovak capital is 50 mi (80 km).
It takes between 45 minutes and 1 hour and 5 minutes to get from Vienna to Bratislava, depending on the time of day and the amount of construction work on the road.
We recommend this transport mode especially if you're traveling in a group. If you'd like to venture out to Devin Castle, which is a bit far from the city center, renting a car will be your best option.
Make sure to calculate the parking costs and the fuel prices when deciding to rent a car for the day trip to Bratislava.
To find the best available rates, compare prices from Discover Cars.
By Boat
The most romantic way to get to Bratislava from Vienna is by boat on the mighty Danube River.
The modern, comfortable catamarans of Twin City Liner travel between the two capital cities four times per day in each direction.
The journey takes approximately one and a half hours. The ticket prices start at €25.00 ($27.20) per leg.
The first boat leaves Vienna at 8:30 AM, the last one is at 4:30 PM.
On the way back from Bratislava, the first boat is at 10:30 AM, and the last one – at 6:30 PM.
Make sure to calculate an extra 15 minutes for embarkment and disembarkment.
This means that if you take the first boat from Vienna to Bratislava, and the last boat from Bratislava to Vienna, you can spend around eight hours exploring the Slovak capital.
While not the cheapest way to visit Bratislava on a day trip, we definitely recommend this transport option if you love magnificent rivers.
By Tour
Don't want to plan your transportation? No worries.
The most fun way to visit Bratislava on a day trip from Vienna is by joining a tour.
Benefit from a full-day, guided tour from Vienna to Bratislava. Everything is organized in advance, so the only thing you need to do is get to the meeting location on time.
The best part about this day tour is that you'll go to Bratislava by bus and return to Vienna by boat.
In this way, you'll enjoy the majestic meanders of the Danube River while regaining your energy after a day of exploring the Slovak capital.
If that tickles your fancy, use this link to book your full-day tour by bus and boat.
By Plane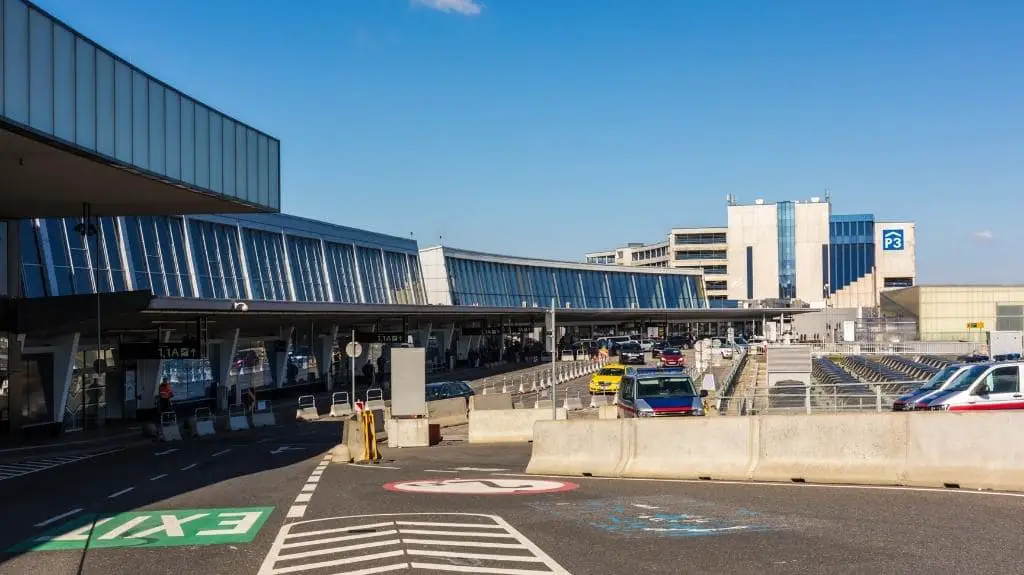 Since the distance between Vienna and Bratislava is around 50 mi (80 km), there are no direct flights between the two capitals.
Connection flights aren't cheap, and they'll take you 5+ hours in each direction.
That's why we don't recommend flying from Vienna to Bratislava.
What to Do on a Full-Day Trip from Vienna to Bratislava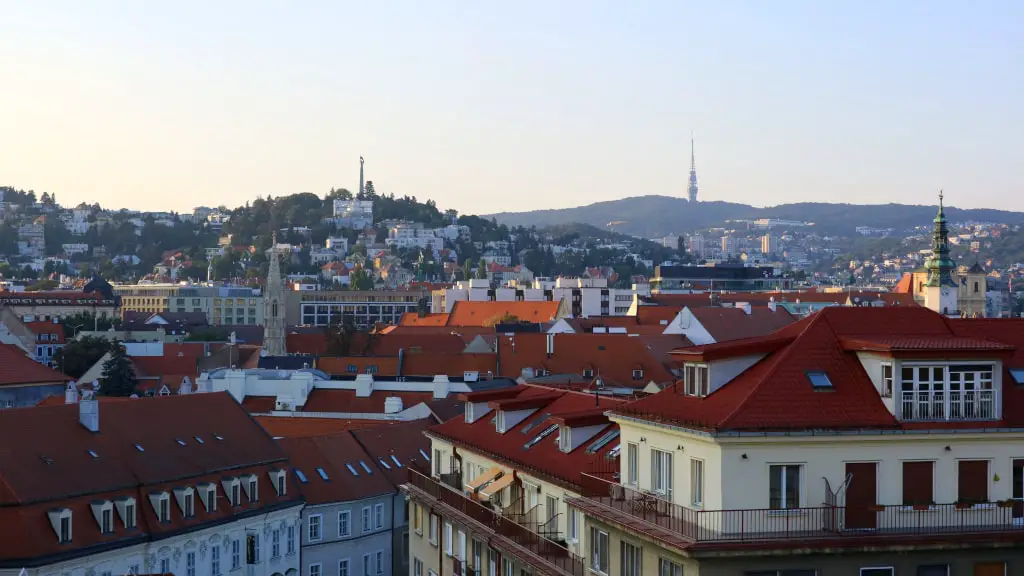 Now that the practical stuff is out of the way, let's discover what to do in Bratislava!
A common misconception about Bratislava exists among travelers. It goes along the lines of, "You can see everything in the city in less than half a day."
While it's true that the Slovak capital is a rather small city, there are lots of things you can do and see in Bratislava. The following sections will give you our best recommendations for a day trip.
Note: Although you can visit every spot on the list below, you won't be able to give each attraction enough time to explore them properly. That's why we suggest you discover only what interests you the most. At the end of the day, if you like Bratislava on a day trip from Vienna, you can always come back.
The Old Town – Bratislava's Historic Center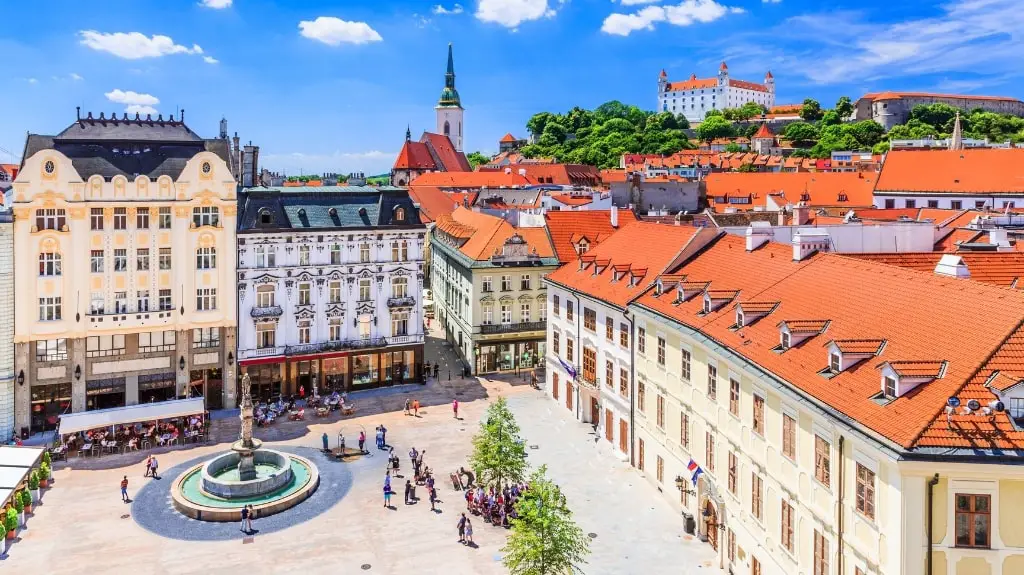 The very heart of the Slovak capital is home to the Old Town. Inside, you'll find peculiar attractions and sights.
One such attraction is Cumil, the Sewer Worker, a bronze figure everyone stops to take photos with. The curious statue has been peeking at passers-by from the sewer since 1997.
St. Martin's Cathedral is also within the walls of the Old Town. It is the city's largest and one of its oldest churches. Historically, it served as the coronation site of the Kingdom of Hungary for more than three centuries – between 1563 and 1830.
If you don't feel like strolling, no worries. The Old Town is chock-full of eateries, ice cream parlors, and traditional restaurants. Once you replenish your energy, check out the numerous souvenir shops that dot the area.
The UFO Bridge – A Sweeping Panorama over Bratislava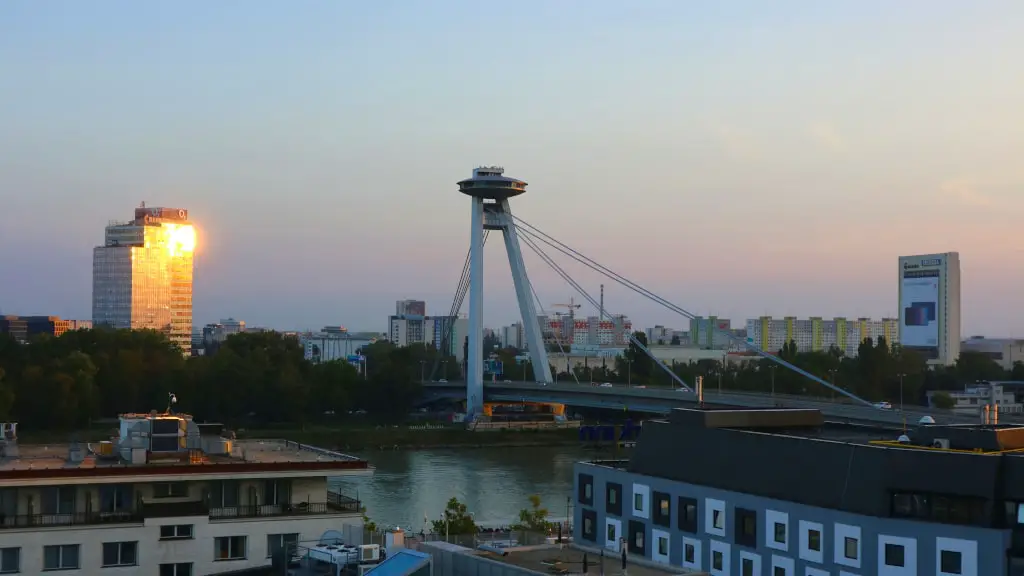 Want to check out a peculiar attraction and admire a gorgeous vista over the city at the same time? Head to the popular Most SNP (UFO Bridge).
Several interesting facts characterize the bridge:
It is the longest bridge in the world that has one pylon and one cable-stayed plane.
It has two levels. The upper level serves motor traffic with its four lanes. The lower level is for cyclers and pedestrians.
UFO Bridge owes its name to a special attraction on top of the bridge that has a flying saucer shape.
Standing at 278 ft (84.6 m), the structure atop features a restaurant and an observation deck, which offer heart-stopping views of Bratislava.
The observation deck is open daily from 10:00 AM until 11:00 PM. The entrance fee is 100% deductible when you order at least one main course from the restaurant menu.
Devín Castle – the Medieval Gem of the Slovak Capital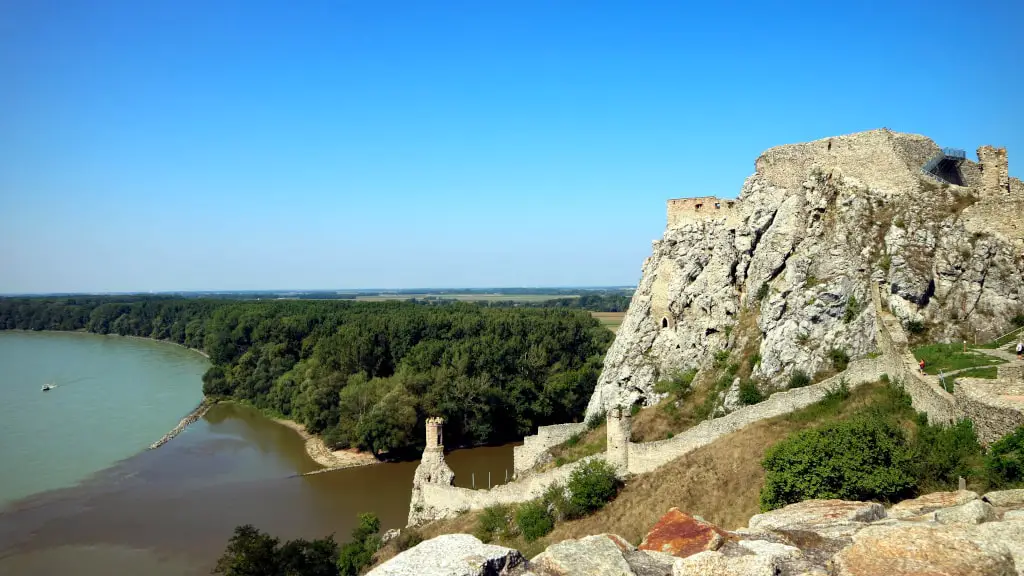 Less than 5 mi (8 km) from the city center, you'll find a jaw-dropping ruin atop a steep cliff. One of the most interesting facts about Bratislava not many people know is that the city stands on two rivers.
You probably know one of them – the Danube River – but in the northwestern part of Bratislava, in the Devín District, you can also marvel at the Morava River.
That's where the medieval Devín Castle is located. And what adds even more beauty to the sight is the fact that both the Danube and the Morava confluence north of the castle.
A few centuries ago, the castle controlled all trade on the Danube River.
The €5 ($5) entrance gives you so much more than a chance to explore Devin Castle. You can also do a bunch of cool things like jousting, archery, or sporting a sword.
The castle dates back to the 5th century. King Napoleon's troops destroyed most of it in the early years of the 19th century.
Exploring Devin Castle is best via a private guided tour. We highly recommend this one, which includes a transfer as well.
Bratislava Castle – Gorgeous Views of the Danube River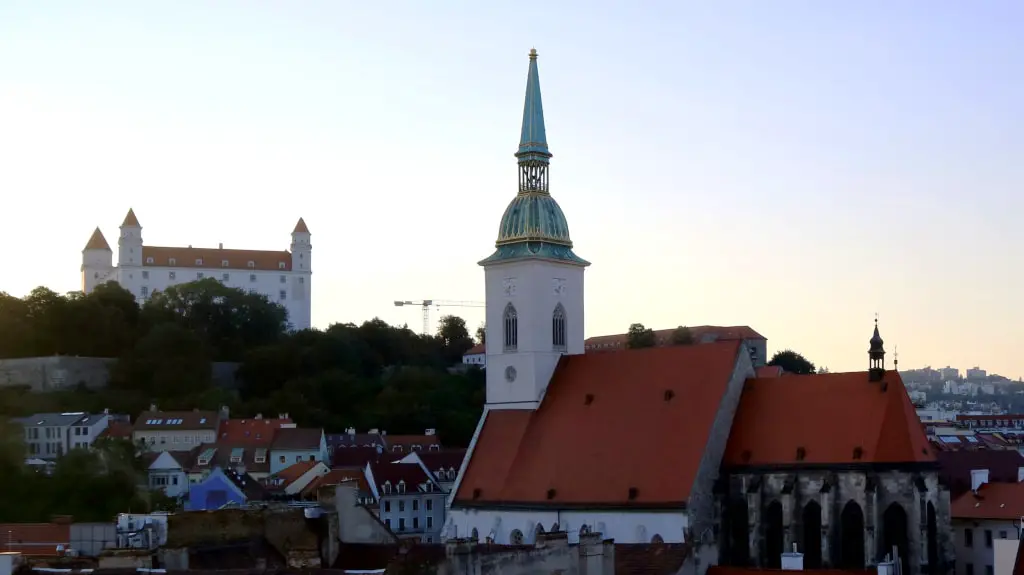 If you prefer to stay within the city center, we suggest you visit Bratislava Castle.
The castle dominates the city skyline, sitting on a hill just above the Old Town. The huge building has four corner towers and exploring the area around it is free of charge.
The Bratislava Castle was erected in the 9th century. This is where the authorities stored the Hungarian crown jewels for over two centuries.
During World War I, the castle suffered substantial damage, so it underwent a major reconstruction. Today, you can explore exhibitions devoted to the rich Slovak history.
When you're on the terrace, facing the river, look to your right. You'll spot a circular, concrete building that serves as the Slovak parliament.
St. Elizabeth's Church – the Eye-Catching Blue Church of Bratislava
Near the east part of the Old Town, you can marvel at a wonderful Art Nouveau church.
Originally, St. Elizabeth's Church was supposed to be the grammar school's chapel. Eventually, it turned into one of the most iconic landmarks of Bratislava and Slovakia as a whole.
The genius behind the heart-pumping design of the church is Ödön Lechner. Known as the "Hungarian Gaudi", he masterfully blended Baroque with Oriental elements and placed glazed blue tiles to create a fairy tale scene.
Visiting the interior is not always possible, but we highly suggest you carve some time out to marvel at its striking exterior. You won't regret it.
Primate's Palace – the Neoclassical Seat of Bratislava's Mayor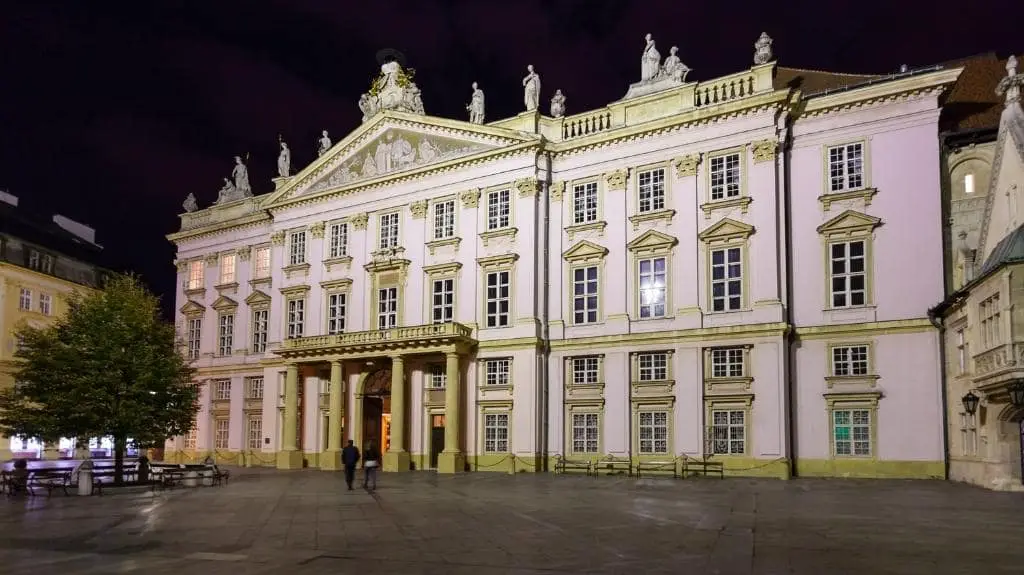 Archbishop József Batthyány built the Primate's Palace between 1778 and 1781. The palace offers you a chance to peek at a rare collection of English tapestries that date from the 17th century.
Besides admiring the gorgeous embroideries, you must visit the Hall of Mirrors. It consists of five salons with period furniture. Each of their walls is painted in different colors – red, blue, green, gold, and brown.
The Hall of Mirrors saw the signing of the Treaty of Bratislava between Austria and France in December 1805. Today, the palace serves as the seat of the Mayor of Bratislava, and the Hall of Mirrors hosts various concerts.
Food Tips for Your Day Trip from Vienna to Bratislava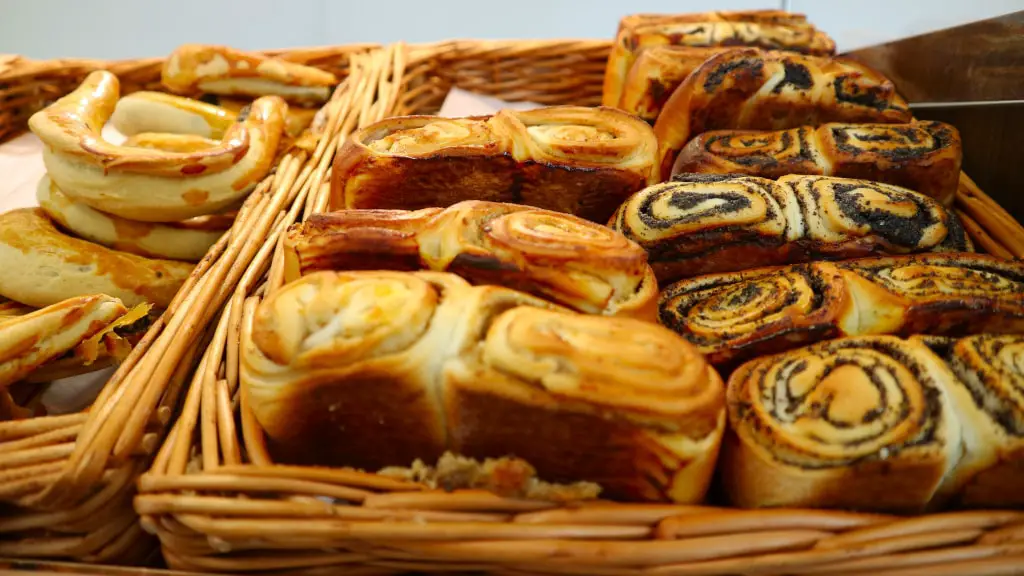 If we were doing a day tour from Vienna to Bratislava, we'd pack a couple of sandwiches, a few protein bars, and some water. This is how you can make the most of your time and cover more ground.
But if you'd like to take it slowly, visit a landmark or two, and have a tasty meal in between, we've prepared the following battle-tested tips for you:
Don't miss tasting the beer. Prague is world-famous for its mouthwatering beer. Well, Bratislava has its fair share of delectable beers, too. So, when you find some time to relax, accompany your food with a beer or two.
If you want to have a quick snack, crêperies, kebab houses, and sandwich delis are a great bang for your buck. These spots will save you valuable time for exploring the city.
If you're a sweet tooth, you'll regret not sampling the Bratislava poppy seed pastries. This is among the most decadent desserts both Naddya and Svet have ever tasted. And the best part is that you can find them in every supermarket for less than $1.
Visa, Currency, and Language Tips for Bratislava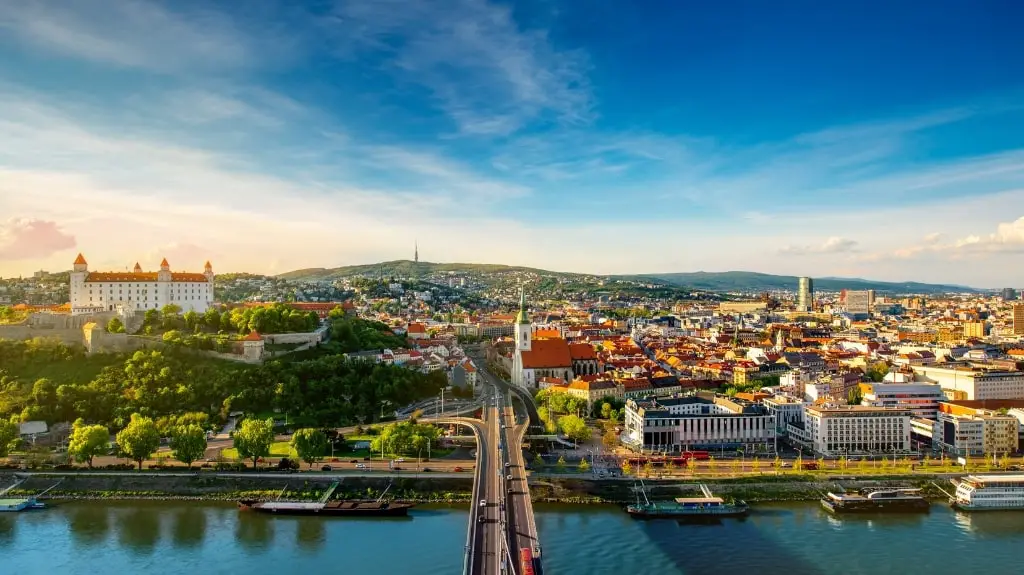 Slovakia is a member of both the European Union and the Schengen Area.
This means that if you have a U.S. passport, which expires in more than 6 months, you can travel to Slovakia for up to 90 days without a visa.
Please make sure to visit the official website of the European Union for the full list of visa requirements.
Next to being a Schengen and an EU member state, Slovakia also belongs to the Eurozone. This means the euro is the country's currency.
Bratislava is jam-packed with ATM machines if you need to withdraw cash. But if you love cashless payments, don't worry. Credit card payments are possible basically everywhere.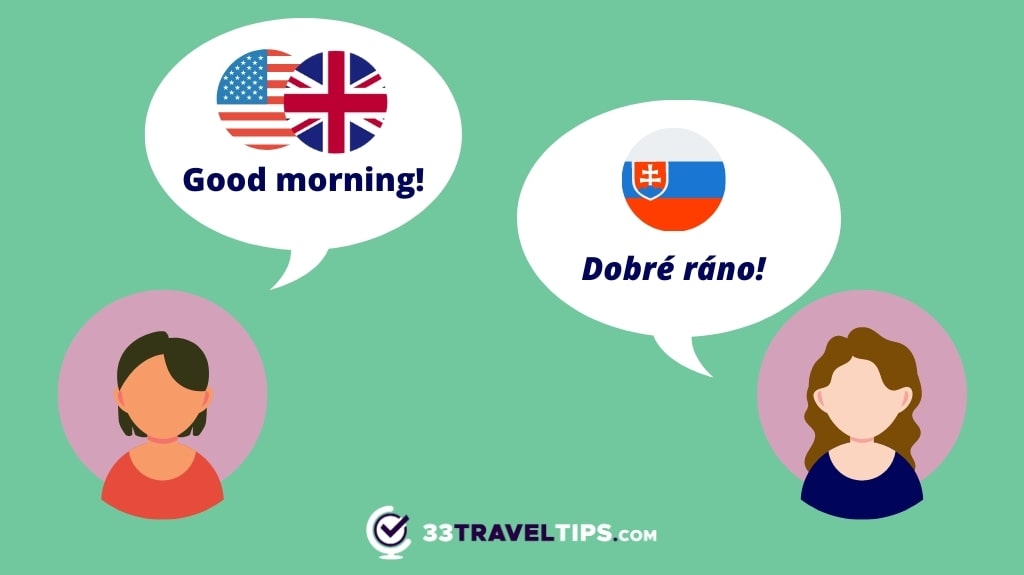 In the Slovak capital, a lot of people speak English. So, you won't have any issues in hotels, restaurants, and shopping malls.
However, if you'd like to impress locals, here's a small table with five basic words and phrases in Slovak:
| | |
| --- | --- |
| Good morning | Dobré ráno |
| Goodbye | Do videnia |
| Thank you / Thank you very much | Ďakujem / Ďakujem mnohokrát |
| Excuse me / I'm sorry | Ospravedlňte / Prepáčte |
| Yes / No | Áno / Nie |
A Day Trip from Vienna to Bratislava – Medieval Castles, Peculiar Constructions, and Jaw-Dropping Vistas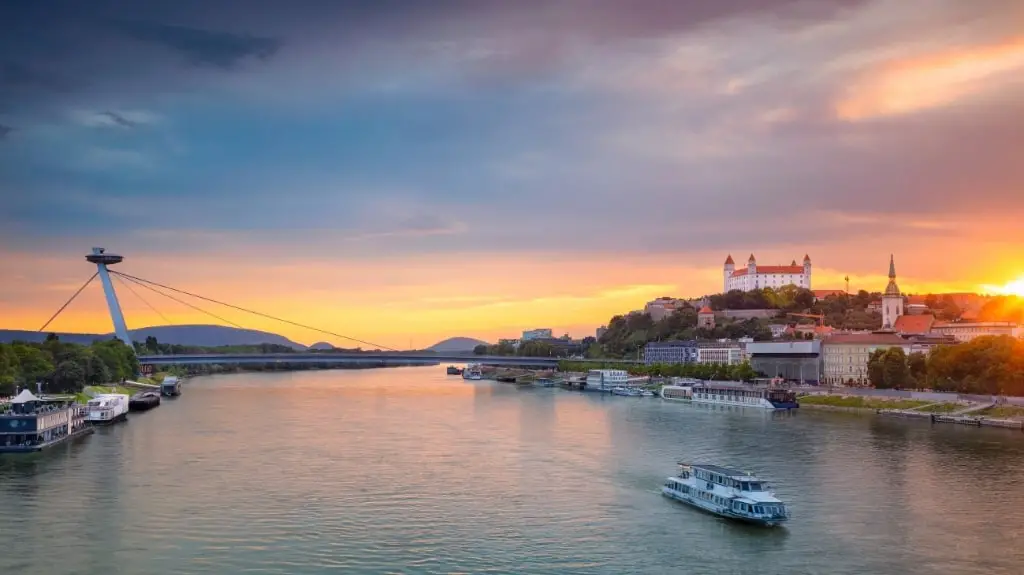 Most people we know either skip Bratislava or spend just a couple of hours there. That's a huge mistake as the Slovak capital is one of Europe's most gorgeous smaller capitals.
And as you've seen in this article, you'll have tons of things to do and see there. A day trip from Vienna to Bratislava probably won't be enough to explore everything. But you'll be able to feel the exceptional atmosphere of the city.
Plus, with some planning and our Bratislava travel tips, we're sure you'll maximize your time and discover both capitals.
Now, we're curious:
Have you been to Bratislava before?
If not, what attraction you'll visit first?