Barcelona is chock-full of uncommon surprises.
From a museum of erotica to the sewers below the city, and from bunkers to supercomputing centers… there's a ton of quirky activities you can engage in.
This guide with 33 unusual things to do in Barcelona will show you the city's peculiar side. A side not many people discover when they're in the capital of Catalonia. By doing that, though, they're missing out.
Ready to see why? Let's go!
Explore Barcelona's Quirky Museums
What do chocolate, erotica, funerals, and European art have in common? Well, you can find all of them in Barcelona's unusual museums.
Face mortality at the Museum of Funeral Carriages of Barcelona. This intriguing museum will introduce you to the Spanish funeral ceremonies typical for the 1870-1940 period. You'll find funerary and horse-drawn carriages on display. The hearses inside Museu de Carrosses Fúnebres de Barcelona feature the Rococo details typical for funeral ceremonies back in the day.
Blush at the Barcelona Erotic Museum. The Museu de l'Eròtica de Barcelona offers a peculiar collection of artifacts that will spark your curiosity and make you blush, too. Japanese Shinga-themed exhibits and pieces related to Kama Sutra are only a small part of what's on display at this archive of ancient erotic and sexual desires.
Raise your dopamine at the Chocolate Museum. Learn more about the history of chocolate, beginning from the times conquistadors brought cocoa to the Spanish shore more than 500 years ago. The insanely cool chocolate statues will make your visit there worthwhile. Many of Gaudi's most famous works are recreated in chocolate, such as the Sagrada Familia and Park Güell.
Appreciate beauty at the European Museum of Modern Art. Located in an 18th-century palace, Museu Europeu d'Art Modern (MEAM) houses many works of art created by contemporary artists from the 20th century until the present day. The place is captivating and art geeks would fall in love with its exclusive exhibits. Find it next to the Picasso Museum.
Check out Barcelona's Unusual Landmarks
Barcelona is much more than Camp Nou, Sagrada Familia, and the Gothic Quarter. This section will show you its more unusual attractions.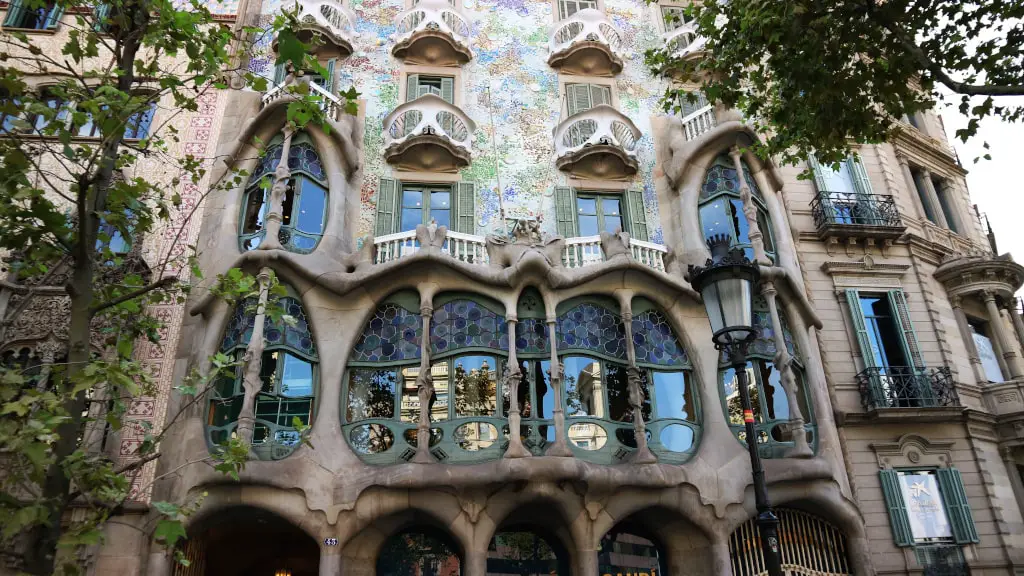 Let the House of Bones steal your breath away. Casa Batlló is a popular attraction, but its quirky architecture makes it a fantastic, unusual spot to visit. It's among the best Gaudi buildings in Barcelona. The wealthy Batlló family bought the house in 1900 and commissioned the eccentric architect to overhaul it. The result? A façade featuring abstract depictions of blood vessels, bones, and tissue, not to mention the dragon-like roof!
Explore the secrets of Barcelona's Baby Drop-off. There is a hardly noticeable wooden opening in the middle of El Raval that hides many secrets. Anonymous people left church donations and even orphans via the inlet, hence the name. Hundreds of infants have passed through that hole between 1853 and 1931.
Find the FC Barcelona Coat of Arms. Santa María del Mar is a 14th-century church that suffered fire damage in 1936 during the Spanish Civil War. The renovation took more than two decades. FC Barcelona's management agreed to donate funds if the club's coat of arms was featured on one of the stained-glass windows. Try to spot it among the other geometrical figures.
Compare sizes with the Giants of Santa Maria del Pi. The Els Gegants at Santa Maria del Pi church are lurking from behind a floor-to-ceiling glass case. What's curious about them is that they're actually puppets that highlight different parades and celebrations. The bigger giants are more than 400 years old while the petit gegants (the smaller ones) were introduced in 1780. The giants were restored in 1951 and are used to this day.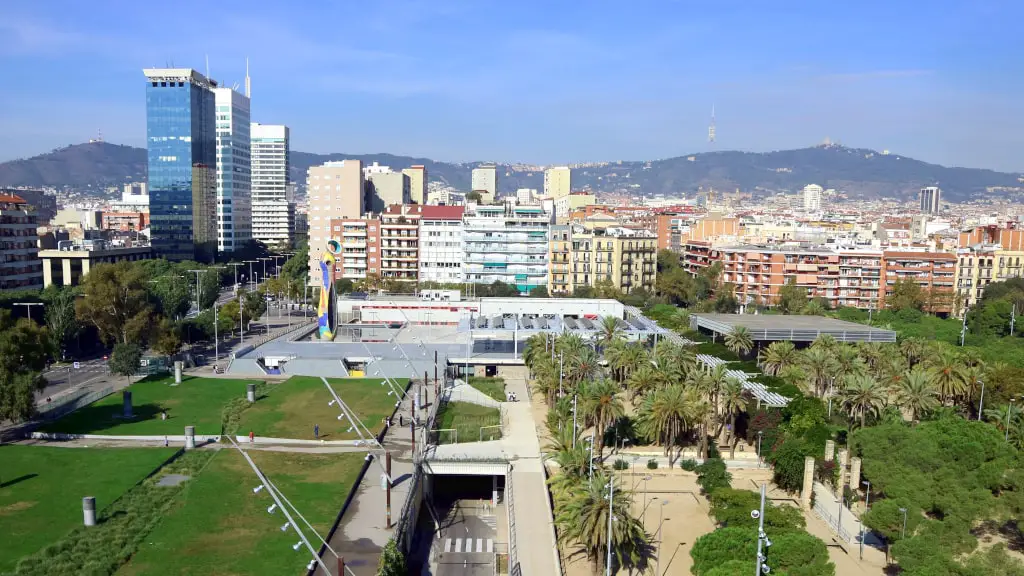 Gaze at the extravagance of the Woman and Bird statue. The gorgeous 72-foot Dona i Ocell statue is mounted in the heart of a park named after its sculptor, the world-famous Joan Miró. He teamed up with Joan Gardy Artigas to finish the small details of the work of art. The curious statue is surrounded by eucalyptus and pine trees. An artificial lake compliments the beautiful scenery.
Discover the Tibidabo Mountain. The 1,680-ft. (512-m) Tibidabo Mountain towers over Barcelona. The area accommodates a theme park and a Catholic church named Sagrat Cor, which took six decades to complete. The top of the church nests a statue by Josep Miret Llopart called Sacred Heart. You can access Tibidabo by a railway built in 1901. Don't miss visiting some of the original amusement park attractions, such as the Mechanical Museum (Museu d'Autòmates).
Dare to stroll through the Sewers of Barcelona. These sewers have quite a history. An aqueduct supplied the water to the ancient Roman colony of Barcino. Barcino later became Barcelona. The city council introduced sewers in the mid-14th century. Today, some of the preserved tunnels are accessible. You can join one of the several guided tours.
Experience the panorama at Bunkers of Carmel. There's hardly a better place to admire the beauty of Barcelona from above than Bunkers del Carmel. The area is a former military facility on top of Turó de la Rovira. It's situated on a hill and offers a bird's eye view of the entire city. Tip: Visit at sunset for a mesmerizing panorama.
Explore the Labyrinth Park of Horta. Here's your chance to roam around a hedge maze. The Parc del Laberint d'Horta is the heart of Barcelona's oldest garden. The Neoclassical part of the park is over 200 years old. The maze offers a challenging 2,000 ft. (610 m) of pathways leading toward a lovely pond and a collection of statues.
Lose yourself in the Gardens of Ca n'Altimira. Josep Altimira was an eccentric millionaire known as the "Count of Monte Cristo" for his gigantic wealth. The Jardins de Ca n'Altimira are no regular gardens. They feature a zoo, a hypostyle room, subterranean galleries, and a pillared hall with mysterious symbolism. The hall's columns remind of those in ancient temples and are similar to another hall in Park Güell.
Enter the future at Barcelona Supercomputing Center. The former church Torre Girona now houses this high-tech hub. The facility's main attraction is MareNostrum, one of the most powerful supercomputers in Europe. When researchers need to solve complex problems and calculations, they use this mighty machine. Seeing the equipment behind glass panes in the middle of a 19th-century church is like a glimpse into the future.
Admire the incredible design of Recinte Modernista de Sant Pau. Catalan architect Lluís Domènech i Montaner created an Art Nouveau mix of statues, arches, and stained glass. The architect redesigned the building after its former owner Paul Gil i Serra died. Serra's will stated that his estate had to serve as a hospital. The result of that request still stands today, although it is no longer a hospital. Since 1997, Recinte Modernista de Sant Pau has been a UNESCO World Heritage Site.
Dive into Barcelona's Rich Culture and Soak up the Street Atmosphere
The Catalan capital brims with cultural activities and festivals. In this section, you'll discover what not to miss while exploring its cultural aspects.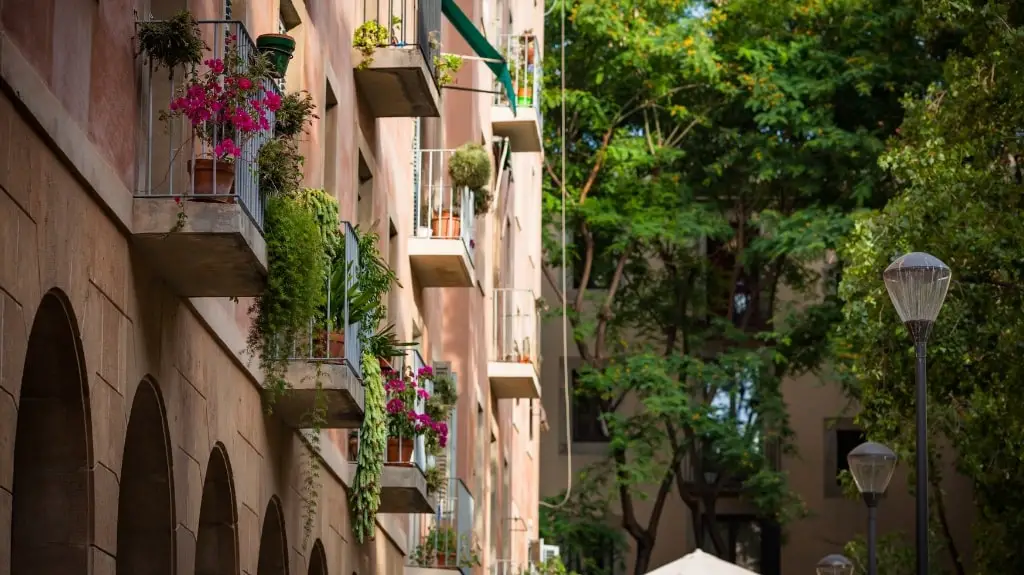 Explore the culture of El Raval. The Raval area was anything but a popular tourist attraction until a couple of decades ago. The area was full of cabarets until 1988. It was Barcelona's only red-light district. The 1992 Olympic Games changed that, and Raval became an important cultural and social hub full of cafés and bars. Today, there's no sign of the Raval's past nightlife preferred by some locals. Once in the area, make sure you have a drink at the 23 Robadors bar.
Become part of the Festa Major de Gràcia festival. The Gràcia district offers one of the best and most unusual things to do and see in Barcelona in August – the Festa Major de Gràcia. The festival involves a lot of celebrations, but the Street Decorating Competition literally transforms the area. The vibrant colors and music, as well as the social events, performances, and other cultural activities, provide an unforgettable atmosphere.
Witness the talent of the Street Performers of Las Ramblas. Don't be puzzled if you see a levitating Satan or a skeleton riding a bike while you walk down Las Ramblas. The busy city area serves as an arena for many talented street performers. All of them gather crowds regularly. The boulevard offers more than a few shows daily. Once you set foot on Las Ramblas, pay attention to the street mosaic created by Joan Miro. Tip: As a further Barcelona travel tip, please be aware of your belongings. The street is notorious for pickpockets.
Admire the authenticity of Sants. Although Sants is an ancient district, it doesn't host popular tourist attractions. In fact, its vibe is what makes it unique. Diving into the everyday hustle and bustle of Sants will make you feel as if you've become Catalan yourself. If you're visiting Barcelona in August, you'll witness the Fiesta Major de Sants, a fun blend of music, dances, and fireworks.
Experience the eco-friendly life at the Can Masdeu social center. Can Masdeu is part of Collserola Park. It is the perfect place for healthy lifestyle lovers. You'll find an organic garden there, as well as several workshops dedicated to ecology and eco-life activism. You can attend them on Sundays.
Discover Barcelona's Peculiar Urban Lifestyle
If you'd like to sightsee through the city's unusual urban lifestyle, this section offers you ideas on what can tickle your travel fancy.
Take a ride on the Tramvia Blau. Hop on the beautiful blue cars at Plaça Kennedy (Kennedy Square) and enjoy the ride to the Tibidabo Mountain. The Tramvia Blau tram line is almost a century old. It's great for sightseeing, as the route passes near many Noucentista and Modernist façades.
Marvel at the miniatures traded at the Model Train Market. The timeless design of the Estació de França train station becomes the scene of a model train market. You can find it all here: tracks, figurines, accessories, and cargo. Train model enthusiasts are not the only ones who find this place special. Locals and travelers also enjoy visiting this market.
Discover the Gardens of the Three Chimneys. The graffiti park Jardins de les 3 Xemeneiesis an important place in Barcelona for its urban culture. You will find it near Montjuïc after you see the distinctive three chimneys standing in its middle. They're part of a former power station from the 1920s. Artists repaint graffiti murals several times a month using new patterns and designs.
Grab a souvenir at the Els Encants flea market. The Plaça de les Glòries Catalanes becomes a picturesque flea market every Monday, Wednesday, and Friday. Hundreds of vendors offer their goods at the oldest flea market in the city – Els Encants. Chances are you'll discover something you want to take home, and get a bargain for it, too.
Buy sheet music at Casa Beethoven. There's no other feeling like standing inside an 1880 sheet music store offering more than 125,000 titles. What the heck is sheet music, though? It is a notation that indicates the rhythm, pitch range, and expressivity of a musical piece. Casa Beethoven has it all – from the classic composers to the modern performers. Even if you're not entirely sure what to choose, the friendly staff will guide you through the large collection. If you happen to visit on a Saturday, you'll have a chance to see how locals gather at the shop to sing and have fun.
Devour Catalan Cuisine and Enjoy a Drink at Barcelona's Unexpected Bars
Ready for the most delicious part of the unusual things to do in Barcelona? Let's explore the city's exploding food scene.
Have a whopping 30-course meal at Disfrutar. Dining at this Michelin-star restaurant is one of the most unusual things to do in Barcelona due to its 30-course tasting menu. Such a culinary experience will transform your idea of fine cuisine. It takes about four hours to devour all the courses. It's not cheap but there is hardly a better way to tickle your senses and enjoy the local cuisine.
Enjoy an interactive dinner at Opera Samfaina. The Roca brothers are famous for making it to the top of the world's best restaurants list. Their establishment named Opera Samfaina will introduce you to the secrets of Catalan food traditions in an interactive way. The combination of food, colors, and atmosphere will turn your dinner into an unforgettable experience.
Taste the oldest hot choco recipe at Chocolate Amatller. This is your chance to have an artisan hot drink at a chocolate shop founded in 1797. Located inside Casa Amatller, the family-run cafeteria has a long and impressive history. The modernist place has always been open to innovation, so brace yourself for an amazing experience.
Grab a bite or hit the sack at the unique Mercer Hotel. A curious story surrounds the Mercer Hotel. During its construction, workers discovered parts of an ancient Roman wall. This caused a 10-year delay in the original plan. The wait was worth it as it turned the establishment into a national monument. Mercer Hotel's restaurant is nested around a former Roman defense tower, offering a unique dining experience. The accommodations at the hotel are unparalleled as well. You can book your stay here.
Learn how to prepare sangria or paella. One of the most unusual things to do in Barcelona is to join a culinary class. The city offers a huge variety of cooking classes and courses. Spending a few hours discovering the secrets of making the perfect sangria or paella the Catalan way is something you would likely never forget.
Discover a different kind of "cool" at the Barcelona Ice Bar. The bar is the perfect place to escape the scorching summer heat. Icebarcelona is close to Barceloneta Beach, but the inside temperature is constantly maintained below 23°F (-5°C). You'll receive a warm coat and gloves upon entry, of course. Once inside, the marvelous interior with numerous ice statues will captivate you while you enjoy your drink at this extraordinary location.
Sip on a refreshing drink at The Fairies' Forest (Bosc de las Fades). The wacky design of this bar makes it one of the quirkiest places to visit in Barcelona. As the name suggests, the spot will make you feel as if you've entered an enchanted forest full of fairies and gnomes. Enjoying a beverage while admiring the unique atmosphere will make you never want to leave Bosc de las Fades.
33 Unusual Things to Do in Barcelona – Weird, Quirky, and Unbelievable
Jaw-dropping architecture, incredible museums, exploding food and drink scene. The majestic capital of Catalonia offers surprising activities for every taste.
We bet you've already chosen a few unusual things to do in Barcelona next time you're there. A word of advice: don't rush to do them all. Much like most other cities, the Mediterranean pearl is meant to be explored slowly.
Before you hurry to book your flights and tours, we'd like to know:
Which will be the first unusual thing you'll do in Barcelona?