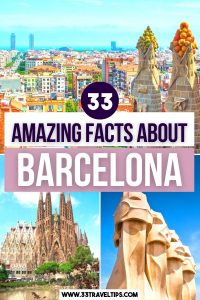 Gorgeous weather, mind-blowing architecture, and delectable food. Barcelona is famous for all these.
But did you know it's also home to 9 UNESCO Heritage Sites? Or that the city had no beaches until 1992?
This list will show you 33 amazing and interesting facts about Barcelona.
Some will astound you, others will scare you, and third will make you laugh.
Ready? Let's dive right in.
Crazy Facts About Barcelona's Landmarks
Catalonia's capital teems with world-class attractions. This section will enlist the craziest facts about Barcelona's top landmarks.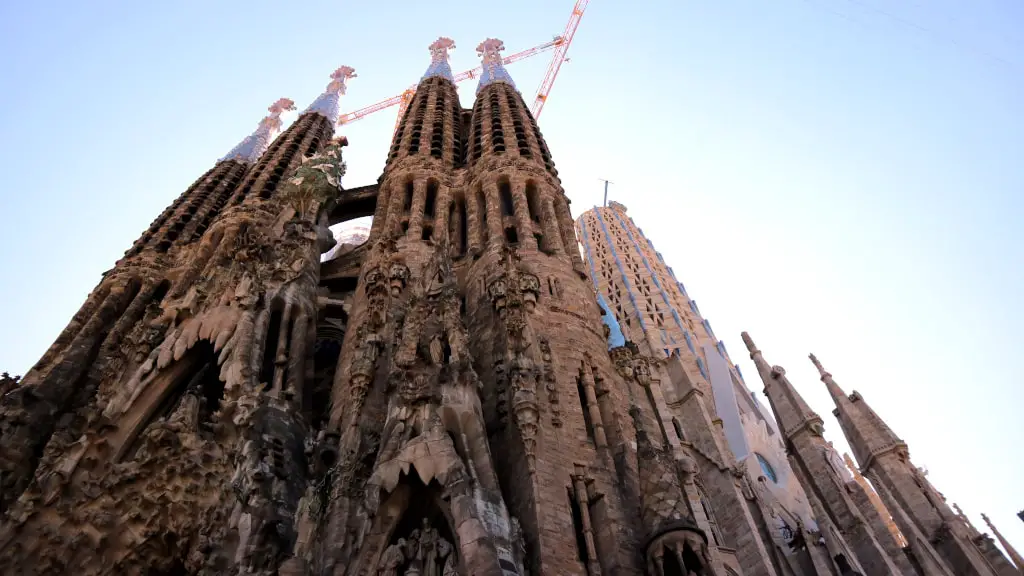 The Sagrada Familia will take 7x more time to build than the Great Pyramids. Construction on the world's most famous Basilica – La Sagrada Familia – began in 1882. Its projected completion is 2026, for the centenary of Gaudí's death. That's over 140 years. In comparison, the Egyptian Great Pyramids of Giza took just 20 years and "only" 100,000 slaves to build. Still, it's nothing compared to the 579 years it took to finish the Duomo in Milan!
Barcelona prides itself on 9 UNESCO World Heritage Sites. Two of them – Hospital de Sant Pau and Palau de la Música Catalana – owe their beauty to the hands of Modernist architect, Lluis Domenech i Montaner. The other seven – to the genius, Antoni Gaudí. They belong to the list "Works of Antoni Gaudí" and count Casa Batlló, Casa Milà, Casa Vicens, the Crypt of the Church at Colonia Güell, La Sagrada Família, Palau Güell, and Park Güell.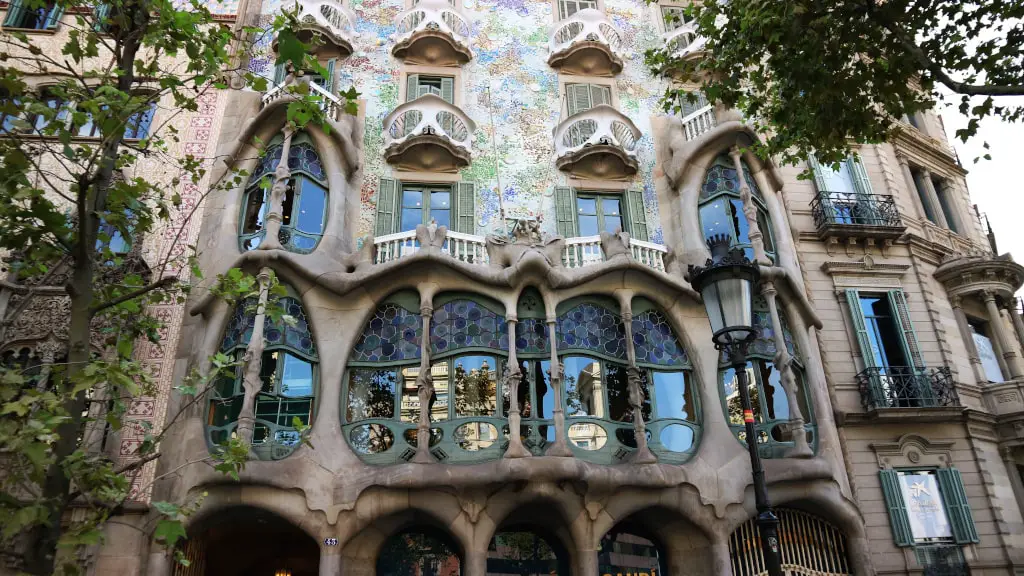 The Columbus Monument is not pointing toward America. The Columbus Monument is one of Barcelona's most popular landmarks. The 197-ft. (60-m) tall monument that depicts Christopher Columbus stands at the lower end of La Rambla, on Passeig de Colom. Erected for the 1888 Barcelona Universal Exposition, the landmark is mistakenly considered to be pointing towards the New World. In reality, Columbus is stretching his finger toward Africa.
FC Barcelona Museum welcomes the most visitors. Out of 60+ museums, the FC Barcelona Museum, or Barça, is the most visited in the Mediterranean city. Annually, more than 1.6 million people explore the exhibition halls of Barcelona's most prestigious sports club. The museum is housed in FC Barcelona's stadium – Camp Nou.
Barcelona is home to the largest stadium in Europe. Speaking of Camp Nou, with a capacity of 99,354 spectators, it's Europe's largest stadium and the 12th largest in the world. The Maracanã Stadium in Rio de Janeiro was the world's biggest (199,854) from 1950 until 2014 when it was renovated and its capacity was reduced to 78,838.
Gaudí didn't work alone. Many people believe all those fantastic masterworks were created only by Gaudi. Well, that's partially true. Josep Maria Jojol, Gaudi's partner, helped with the design of some of the brilliant masterpieces that give Barcelona the modernist feel today. For instance, Casa Batlló, Park Güell's mosaic benches, and the chimney sculptures of La Pedrera are all Jojol's works.
The Catalan capital is home to Spain's busiest pedestrian street. Portal de l'Àngel is not only a tear-jerkingly expensive street in Barcelona's Old Town (Ciutat Vella). It's also Spain's busiest street. The daily average is north of 150,000 people.
Unbelievable Facts About the City of Barcelona
The Catalan capital has its fair share of incredible facts. In this section, you'll find the most unbelievable facts about Barcelona.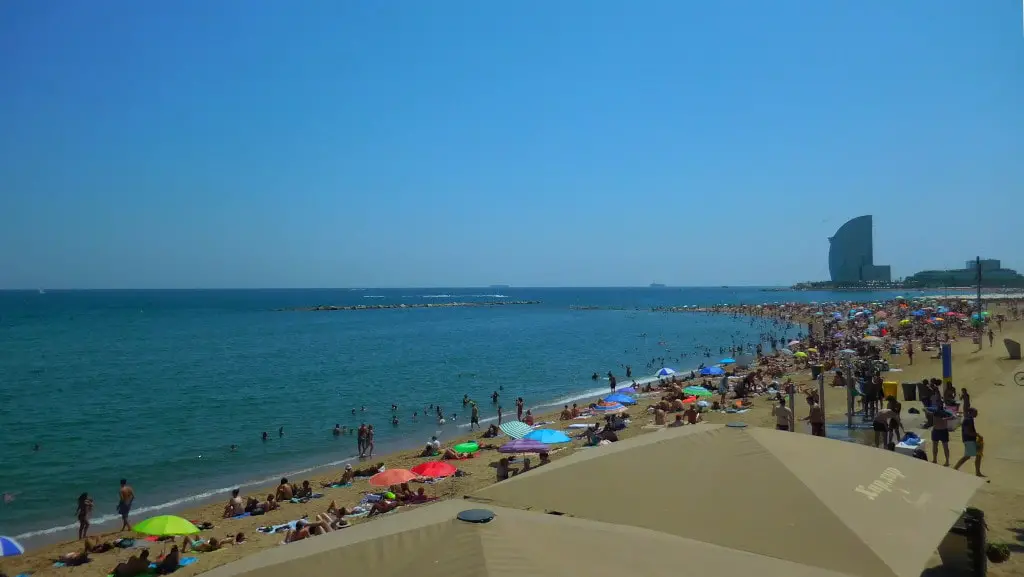 Barcelona had no beaches until the 1990s. This might be one of the most surprising facts about Barcelona, but it's absolutely true. Recently voted as "The Best Beach City" by Discovery Channel and National Geographic, until the 1992 Olympics, there were no beaches in the Catalan capital. By then, the seaside was chock-full of industries. Today, Barcelona's waterfront prides itself on 7 blue-flagged beaches that dot the city's 2.8-mi (4.5-km) coastline. All of them are man-made, with sand imported all the way from Egypt.
Barcelona is the only world city to get a Royal Gold Medal for architecture. The medal usually goes to an individual or a group of architects by the Royal Institute of British Architects. Barcelona's architecture had such an enormous influence on many modern architects around the globe that the Institute decided to award the medal to the Mediterranean city in 1999.
Catalonia banned bullfighting in 2010. If you'd like to see some crazy bull action, we'll have to disappoint you. In Barcelona, that's not possible. Catalonia banned bullfighting because it went against Catalan tradition. The province was the second one after the Canary Islands to impose such a ban. Local authorities turned the bull ring into an awesome shopping center.
You can legally smoke cannabis in Barcelona. However, you can only do it privately – in the so-called "cannabis clubs". These clubs are very different from the "coffee shops" in Amsterdam because they're private and require a membership. Spain is home to 700+ cannabis clubs, with over 300 in Barcelona. By smoking marijuana on the street, though, you can end up with a fine, a criminal offense, or possibly in jail. In other words, to be on the safe side – get an annual membership at a cannabis club.
Barcelonans aren't crazy about Flamenco. That's because locals have their own dance – the sardana – where dancers join hands and dance in circles. The dance itself has two versions: 1) sardana curta – with a duration of about 5 minutes; 2) sardana llarga – lasting around 12-13 minutes.
Note: This doesn't mean you can't find flamenco shows in the city. But if you want to see the real deal, go to Andalusia where flamenco originates from.
Unexpected Historical Facts About Barcelona
If you love filling your factbook with history facts, you're in for a treat. We've prepared several surprising historical facts about Barcelona in the section below.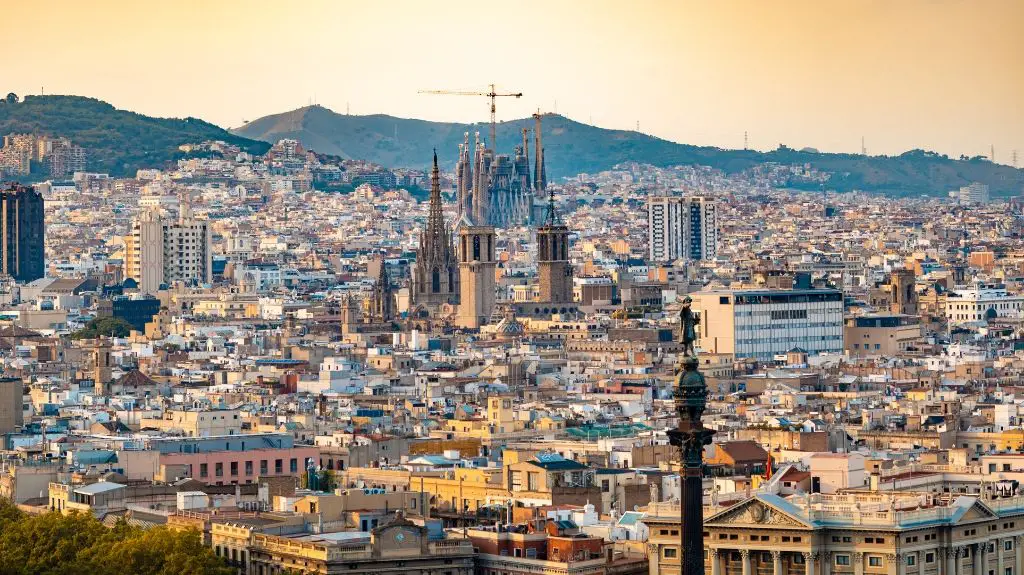 The Eiffel Tower could have been erected in Barcelona. That's one of the most fun facts about Barcelona by far. Gustave Eiffel initially pitched the monument proposal to Barcelona's authorities. Sadly, they rejected the project because it was too "radical" and didn't fit well into the city's architecture. Imagine what Barcelona would have looked like with the steel tower dominating its skyline. Or even better – how Paris would have looked without it?
Some theories argue that Barcelona is older than Rome. There's one in particular that says Hercules may have founded the Catalan city 400 years before Rome was incepted. While we can't claim anything for sure, that's certainly one of the most interesting facts about Barcelona.
Once upon a time, Barcelona was a Muslim region. Today, 94% of Barcelonians identify as Roman Catholic. It wasn't always like this, though. Back in the 8th century, the Moors took over the city. It was Muslim in its entirety for many centuries until Roman Catholicism seized power.
Barcelona is the birthplace of the international book celebration. April 23rd is a special day in Barcelona for a few reasons. If you happen to be in the city then, expect to see books and roses. On that day, Barcelona celebrates Catalonia's patron saint – Sant Jordi (St. George) – with roses and books. Since the date coincides with the deaths of both Cervantes and Shakespeare, UNESCO decided to start the World Book and Copyright Day in 1996.
Local authorities cut off the corners of buildings in Eixample. That wasn't a random act. They did so in the mid-19th century to let steam trams make better turns. Almost every single block in the Eixample district "got the cut," but the steam trams never saw the light of the day. The buildings look cool, nonetheless. The funky architecture makes the neighborhood one of the best areas to stay in Barcelona.
Peculiar Urban Facts About Barcelona
If we still haven't made you want to visit Catalonia's gorgeous capital, we bet these urban facts about Barcelona will do so. Let's see.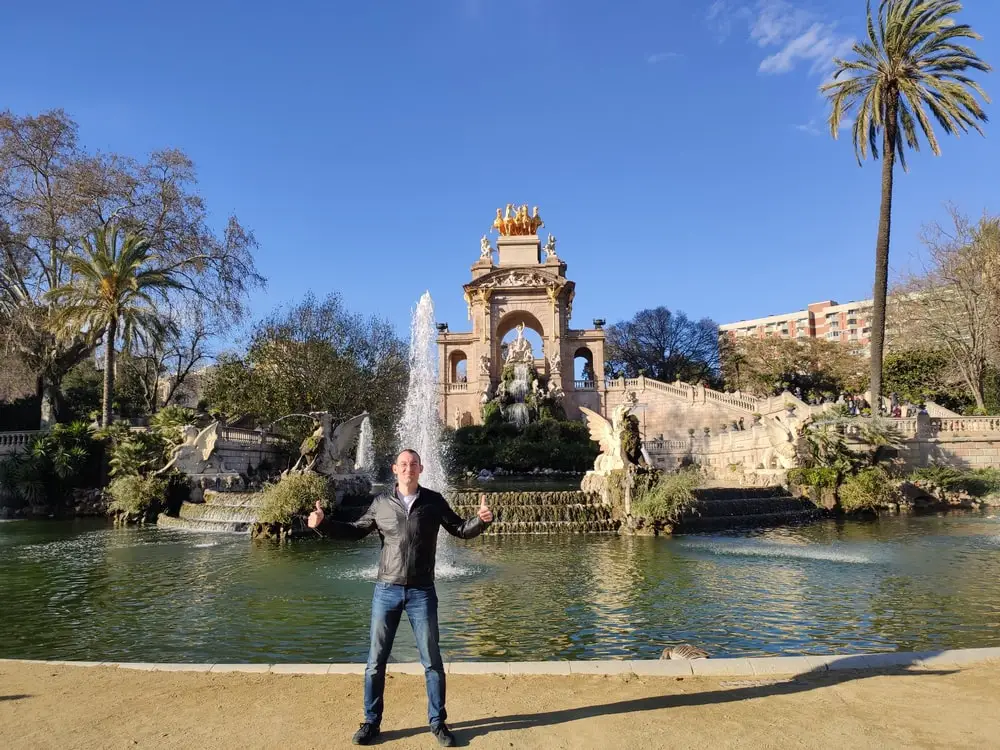 Barcelona is Spain's most visited city. With 9.09 million international visitors in 2019, the Catalan capital takes 4th place in Europe after Paris, London, and Milan. On the global scene, Barcelona is in 17th place. The most visited city in 2019 was Bangkok with 22.78 million tourists, according to Business Insider.
Insider Tip: Learn when is the best time to visit and avoid the crowds in our comprehensive Barcelona travel tips guide.
The "Biosphere World Class Destination" certification goes to Barcelona. This made it the first city globally to get such world-class recognition. It's also a testimony to Barcelona's commitment to sustainability in many areas, including food and drinks, transport, and accommodation.
Barcelona boasts a whopping 90 parks. This includes both parks and gardens, making the capital of Catalonia one of the greenest cities in Europe. Must-see spots include Park Güell, Parc de la Ciutadella, Parc de Cervantes, Parc de Montjuïc, and Park del Laberint. You can find the full list here.
The city takes great pride in housing the world's biggest metropolitan park. Parc de Collserola goes by the name of Barcelona's Great Green Lung. In the 8,000 ha of protected parkland lies a huge diversity of Mediterranean flora and fauna that provides the bustling metropolis with oxygen. How big is the park? "Just" 22 times bigger than Central Park in New York.
Barcelona is the largest European city on the Mediterranean Sea. With an urban agglomeration of 4.775 million people, Barcelona is the biggest European city on the Med, followed by Naples with 4.225 million. The largest settlement on the Mediterranean Sea is the port of Alexandria in Egypt whose population is 5.8 million.
Barcelona is home to Europe's busiest cruise port. Given the city's irresistible allure and fantastic weather conditions, it's no wonder Barcelona is the #1 cruise destination in Europe. The 2.6 million cruise passengers that went through it in 2019 made the 7-terminal cruise port the 4th busiest in the world. The only three others that top it are Cozumel, Mexico (4.7 million), Nassau, Bahamas (3.7 million), and Miami, U.S. (3.6 million). When Naddya passed through Barcelona on a cruise in 2018, she was flabbergasted by the size of the harbor. It took the shuttle bus about 20 minutes to take the passengers from their terminal to the exit of the port.
Love cycling? You're in for a bike treat. The Catalan capital boasts more than 112 mi (180 km) of bicycle lanes. Worldwide, Barcelona is among the top 10 bike-friendliest cities. The Bicing bike-share program is one of the most frequently used on a global scale. If you love biking, consider signing up for one of the city's different bike tours.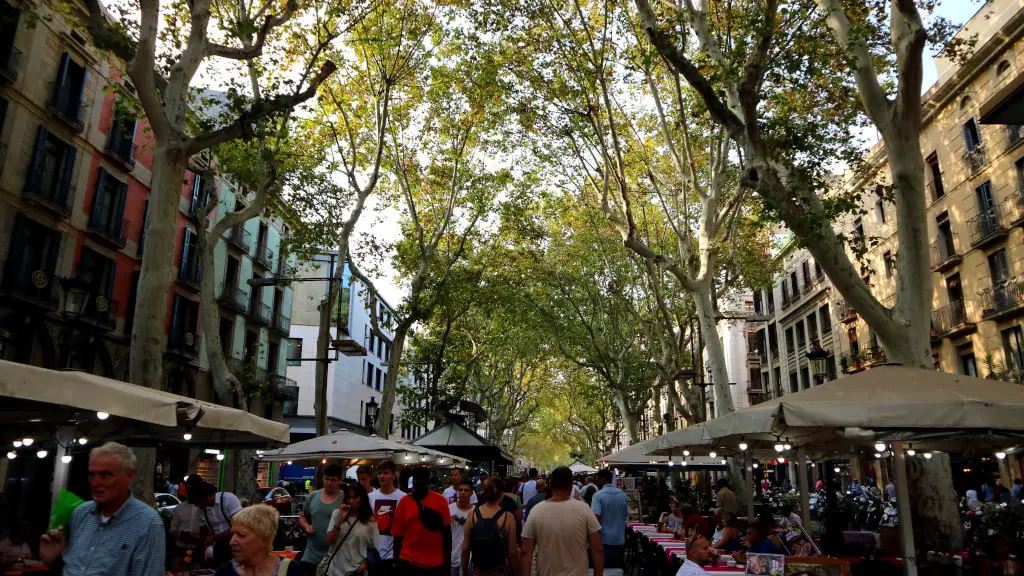 La Rambla consists of five different streets. Most people regard the infamous 1.25-mi (2-km) long boulevard La Rambla as one street. When in reality, there are five avenues that flow into each other smoothly. One of Barcelona's busiest walkways consists of:
Rambla de Canaletes (the site of a fountain),
Rambla de Sant Josep (an open-air flower market),
Rambla dels Caputxins (the site of Liceu Opera House),
Rambla de Santa Mònica (the site of an arts center), and
Rambla dels Estudis (an open-air market for small pets and caged birds – no longer exists).
Note: Be extra careful at La Rambla as it's notorious for pickpockets.
You can find one of the most powerful supercomputers in Europe in the Mediterranean city. That's among the most fun facts about Barcelona. But there's an even more amusing fact about it. The machine, whose name is MareNostrum, does its supercomputing in a former 19th-century chapel, which functions today as Barcelona Supercomputing Center. In Europe, the computer might be one of the fastest. But on a worldwide scale, it takes the 93rd place.
Barcelona is one of Europe's most LGBT-friendly spots. In 2014, the city adopted an anti-homophobia law. Couple that with a vibrant LGBT club scene, colorful festivals, and generous Mediterranean sun, and you'll see why Barcelona is becoming one of Europe's gay summer party cities. Plus, it stands just 22 mi (35km) northeast of Sitges, one of the world's top LGBTQ destinations and a great idea for a day trip from Barcelona.
Mind-Blowing Facts About Food and Drinks in Barcelona
Eating your heart out is not an option in Barcelona. It's a must. And here are a few very solid reasons why. Discover the most stunning food and drinks Barcelona facts below.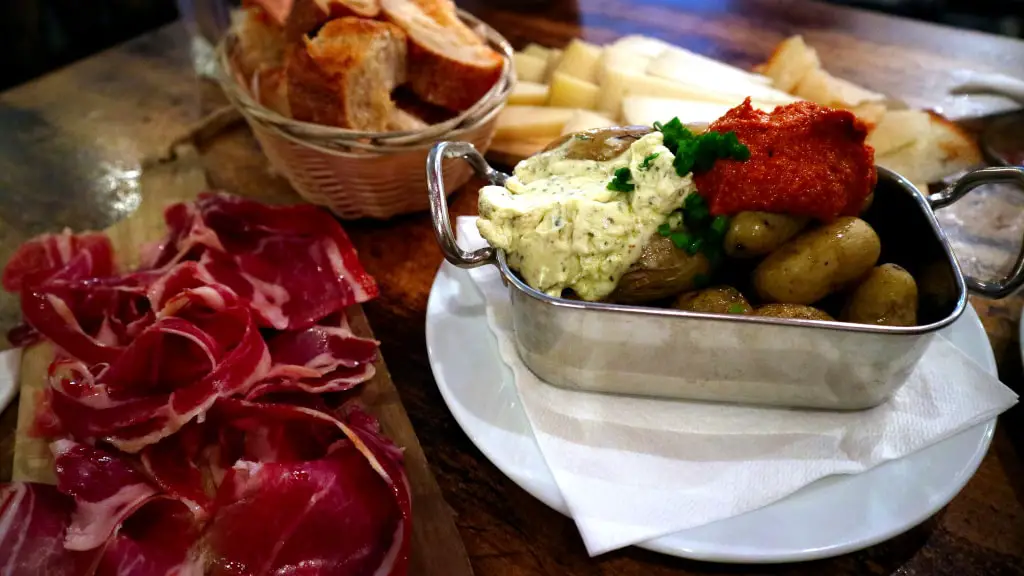 66 Michelin-star restaurants await to seduce you. If you want to treat your discerning palate when you're visiting Barcelona, you have at least 66 gourmet opportunities to do so. The city continues to pave a way for its trailblazing, globally-inspired cuisine. Some of these 66 restaurants even have two or three Michelin stars. Expect a gourmand take on tapas, insane chef creativity, and a fusion of old and new Catalan cuisine.
You can visit the world's first beach ice bar. Icebarcelona offers you the unique chance to go from Barcelona's splendid Mediterranean sunshine to below-zero temperatures in just a few seconds. The bar opened in 2007 on El Somorrostro beach. Icebarcelona was designed by popular ice artists who renew the bar's striking ice sculptures and interior every so often. If you get really cold, you can always venture out on the bar's shiny outdoor terrace for another sun session.
There's a "Paella de Barcelona". While paella originates in the sun-kissed Valencia, you can find thousands of places that serve the dish in the Catalan capital as well. But you'll be delighted to hear that Barcelona has its own version of paella – fideuà. The dish combines generous amounts of seafood with rice noodles! Yep, the dish uses noodles instead of rice.
Spooky Facts About Barcelona
If you'd like to satisfy the little daredevil in you, we have some good news! Barcelona prides itself on a few spooky facts that can easily curl your hair. Let's take a look.
Ghosts await the intrepid at Barcelona's 12 abandoned metro stations. Somewhere between the 189 stations and 12 lines of the city, there are 12 stations that haven't been in use for many years. 2011 marked the start of a Scary Metro Tour that takes courageous visitors between the La Pau and Sagrada Familia lines. Many participants swore they'd seen and felt metaphysical activity, in particular in the forsaken Gaudi Station.
The Catalan capital hosts a funeral carriage museum. This is among the weirdest facts about Barcelona. If you go to the Montjuïc Cemetery, you'll find the Museu de Carrosses Fúnebres where you can take a look at a public display of ornate funeral carriages. Visiting the museum is surely one of the most unusual things to do in Barcelona.
Magic first "happened" in Barcelona. Practicing magic was well and alive much before Barcelona made it official. However, the Catalan capital was the first city in the world to open a museum of magic and a targeted magic shop. Museu del Rei de la Màgia dates back to 1881. Today, it sits in the fascinating Born district in close vicinity to Plaça de Catalunya. The place consists of a small museum, an enchanting shop, and a theater room where magic shows occur on a regular basis.
33 Facts About Barcelona – The Crazy, the Unbelievable, and the Mind-Blowing
Here they are – 33 stunning facts about Barcelona.
We can bet our cute Bulgarian bottoms you didn't know all of them.
But we're super curious to hear which ones impressed you the most.
Tell us in the comments below.