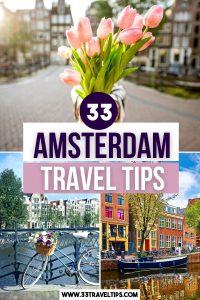 Are you looking for the best tricks and hacks for navigating the quirky Dutch capital as an independent traveler?
If you love exploring multicultural cities with vibrant traditions, this article with 33 Amsterdam travel tips will help you enjoy the city on canals in the best way possible.
From the gear you should bring to the transportation you could use, and from the money-saving tips to the best neighborhoods to stay in, here is our best battle-tested advice.
Use the navigation below for easy browsing.
Ready? Let's dive right in.
Note: This article contains affiliate links. In case you purchase something through one of these links, we may receive a small commission at no extra cost for you. Thank you for helping us keep creating the free content on this website!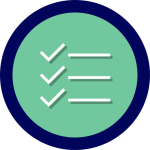 Preparation – Things to Do Before You Go to Amsterdam
The first section of our travel guide is all about the things to know before traveling to Amsterdam.
Do you need a visa to travel to Amsterdam? The Netherlands is a member of the European Union and the Schengen Area. If you possess a U.S. passport with at least 6 months validity, you can explore the country for up to 90 days without a visa. Find the complete list of visa requirements on the European Union's official website.
Dutch is the official language of the Netherlands. However, in Amsterdam virtually everybody speaks English. Want to impress the locals or show respect to their language? We've prepared 5 common phrases for you:
| | |
| --- | --- |
| Good morning | Goedemorgen |
| Goodbye | Tot ziens |
| Thank you | Dank u wel |
| Excuse me / I'm sorry | Sorry |
| Yes / No | Ja / Nee |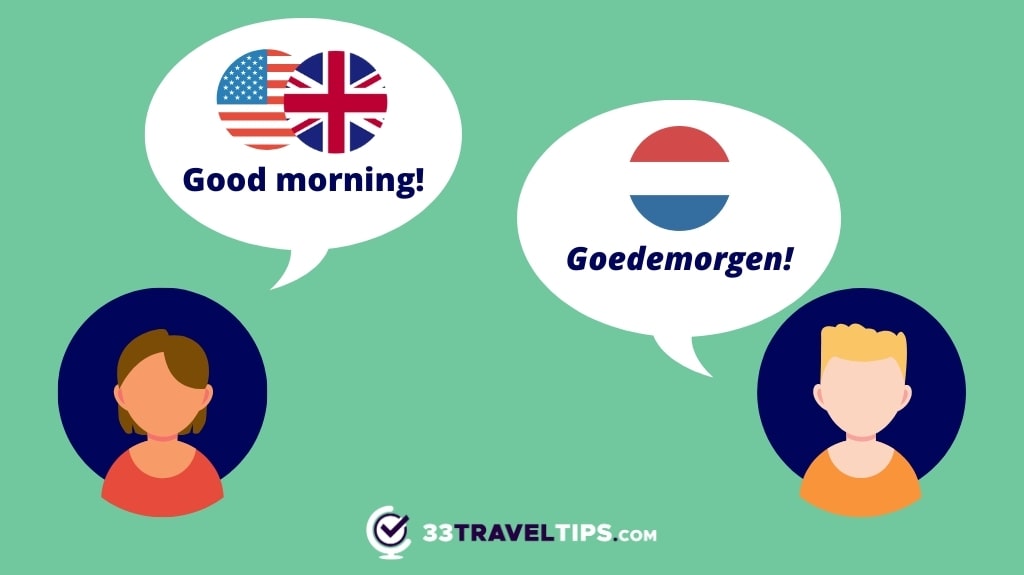 Bring your best rain gear. Rain features in several of our Amsterdam travel tips. But there's a good reason for this. On average, it rains 133 days per year in Amsterdam. Don't let a little bit of rainfall spoil your day in Amsterdam by not dressing up properly. And if you're wondering what else to pack, grab our handy Travel Checklist and never wonder again.
Is Amsterdam safe to visit? Often, travelers consider big cities to be more dangerous than smaller towns. And when they hear that drugs and sex are (kind of) legal in Amsterdam, the notion is that it must be dangerous. On the contrary. Except for pickpockets – the plague of every place frequented by tourists – Amsterdam is indeed one of the safest places to travel to. In fact, at Number 4, it's the highest-ranked European city in The Economist's Safe Cities Report for 2019. Still, two things you mustn't do: 1) don't photograph in the red-light districts, and 2) don't buy and/or consume drugs in the streets of Amsterdam.
Cyclists are everywhere in the Dutch capital. In order to comprehend this Amsterdam travel tip fully, keep in mind that there are more bicycles than there are residents of the Dutch capital. Don't walk in the bike lanes and always look twice before crossing the street.
Book your tickets in advance. Especially in high season, waiting to enter any of the museums and galleries in Amsterdam can eat up most of your precious travel time. Skip-the-line tickets are your best friend if you want to optimize your experience.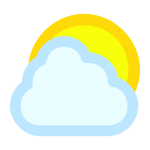 Weather – When Is the Best Time to Visit Amsterdam
It would be best to explore Amsterdam (or any other city) when the sun is shining but not burning.
However, approximately 30% more precipitation falls here than over "rainy" London.
Still, let's find out when exactly it's best to travel to Amsterdam.
It rains often in Amsterdam. We mentioned this travel tip earlier, but we can't stress it enough. The oceanic climate, influenced by the North Sea, is the main reason for the intense rainfall. However, with the multitudes of museums, galleries, and shops, you'll have plenty of fun things to do even if it's pouring outside.
Spring is drier than the rest of the year in Amsterdam. In April, you'll have less chance of rain than in other months. Also, on April 27th – the King's Day – all of Amsterdam dresses in orange, the Dutch royal color. Moreover, in April and May is the tulips' blossoming time! The best place to see them is Keukenhof Park just 25 mi (40 km) away from the capital. You won't want to miss these colorful explosions.
Note: Don't buy tulip bulbs in spring. They will not grow! That's one of the biggest tourist scams in Amsterdam. You should buy bulbs in autumn and plant them right away, but no seller will tell you that. In fact, Naddya and her friends bought tulip bulbs in May – needless to say, none of them grew.
Summer in Amsterdam is not as scorching hot as in South European cities, like Barcelona, for example. Also, there's a festival happening every weekend! Around 300 festivals take place in and around the Dutch capital. The majority of them happen in this season. In the summer months, you can chill out or have a picnic on one of the five city beaches or in the amazing parks in Amsterdam.  
Autumn is the rainiest season to visit Amsterdam. Which means fewer tourists. And with the numerous museums, (coffee) shops, concerts, and galleries around town, you won't even notice the gloomy weather. Besides, every tree in the city explodes in a magical golden crown. Plus, as we mentioned above – you can stock up on bulbs for your home garden in autumn!
Winters in the Dutch capital are barely snowy. On average, it snows on 26 days per year. In fact, there's a bigger chance of rain than snow in this time of the year. Let this not discourage you from traveling in this season. The Amsterdam Light Festival enchants you between December and mid-January. Ice-skate rinks invite you to try your best pirouettes. Christmas Markets seduce you with fashion, music, and scrumptious treats for the whole family. We suggest you sip at least one cup of the aromatic mulled wine. It will keep you warm, lift your holiday spirit, and boost your energy.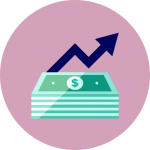 Money-Saving Travel Tips: How to Stretch Your Bucks in Amsterdam
The following travel tips are about how to save money in Amsterdam. Even if you're not traveling on a tight budget, we bet you wouldn't mind stretching your bucks.
Don't park your car anywhere near the city center. That's one of the best Amsterdam travel tips to save you money. If you arrive by car, leave it somewhere outside the center. Otherwise, you might end up paying more for your parking spot than for your accommodation.
Amsterdam is very walkable. You can trot from one end to the other in about 45 minutes. Still, if you don't want to use your feet everywhere, public transportation is affordable. Prices start from €3.20 ($3.75) for a single, 1-hour ticket. The day passes currently cost €8.00 ($9.40).
It's safe to drink the tap water in Amsterdam. If you don't want to pay every time you get thirsty, we have some good news! You can drink directly from one of the 500+ public drinking fountains or fill up your bottle from the tap. Amsterdam's water wasn't always safe to drink. However, since 1903, the city's authorities have made sure every resident has access to safe, drinkable water. (Read the next section of our Amsterdam travel tips to find out what was the solution to the unsafe drinking water back in the 17th century!) Many restaurants will also serve you tap water for free, but just as many will only sell expensive bottled water.
Do you tip in Amsterdam? We bet you've asked yourself if you need to leave 5, 10, or 15% on top of the bill. In our experience, people don't expect you to leave a tip. If you're happy with the service, you can round up the check and pay up to 10% more. However, your waiter will not give you a dirty look if you don't.
Pick the best-value canal cruise for your budget. Cruising through the Amsterdam canals is the best way to explore the city. The cheapest tickets at the time of writing this travel guide cost €12.50 ($14.70). Prices vary based on several conditions:
Starting point of the canal cruise. We've discovered that boats leaving the port right outside the Amsterdam Centraal Station are more expensive than the ones from other starting locations. Naddya has hopped on a boat from Herengracht and paid less than her friends for the same cruise.
Duration of the boat tour. The tours' duration starts from 60 minutes and can go up to half a day. Also, there are 24- and 48-hour hop-on/hop-off boats.
The type of the vessel. A tour in a tourist boat with a glass roof naturally costs less than an adventure in a historical wooden boat. It's up to you to decide which one you prefer.
What's included in the ticket. Most of the cruises only include the tour itself and a multilingual narration from the captain. Others offer all-you-can-eat buffets or romantic dinners.
You can do a ton of free or cheap activities in Amsterdam. Strolling the streets of the historic center and iconic neighborhoods is at no charge. Parks, markets, and churches are also free to explore. Amsterdam will also seduce you with free concerts and performances. Below are several ideas for not-so-obvious free activities and discount tips.
Schuttersgalerij Amsterdam (Civic Guards Gallery). The collection, managed by the Amsterdam Museum, contains portraits of wealthy citizens and contemporary stars. There's no admission fee to see the masterpieces, some of which are the works of Rembrandt or Hals. You'll find the gallery at Kalverstraat 92.
Free ferries. Departing behind Amsterdam Centraal, you'll find free connections across the River IJ (pronounced "eye"). The blue-and-white boats shuttle pedestrians, cyclists, and mopeds to different locations in Amsterdam Noord. The ferries are quick, easy, and free to use.
Heineken Experience. By buying your ticket online, you'll get a €3.00 ($3.50) discount.
Microbreweries. You can buy a couple of craft beers and tour a microbrewery for the price of the Heineken Experience. For example, try a glass of Flink or Zatte, included in the ticket price for touring Brouwerij 't IJ.
Invest in the IAMSTERDAM city card. If you're staying in Amsterdam for a couple of days and plan to visit several museums, the card will easily pay itself off. You'll get free admissions to 70+ museums and attractions, free public transportation, a canal cruise, and unlimited bike rentals. Prices start from €65.00 ($76.45) for the 24-hour pass and go all the way up to €130.00 ($152.90) for the 5-day card. We know it sounds like a lot, but museum tickets and tours add up quickly, so do your math before deciding. For example, at the time of writing, the entrance to the Rijksmuseum is €19.00 ($22.35). A visit to the Van Gogh Museum costs the same. The tickets to the Anne Frank House and the Rembrandt House are €12.50 ($14.70) and €14.00 ($16.45), respectively.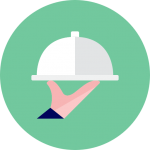 Food & Drinks in Amsterdam: What You Shouldn't Miss Tasting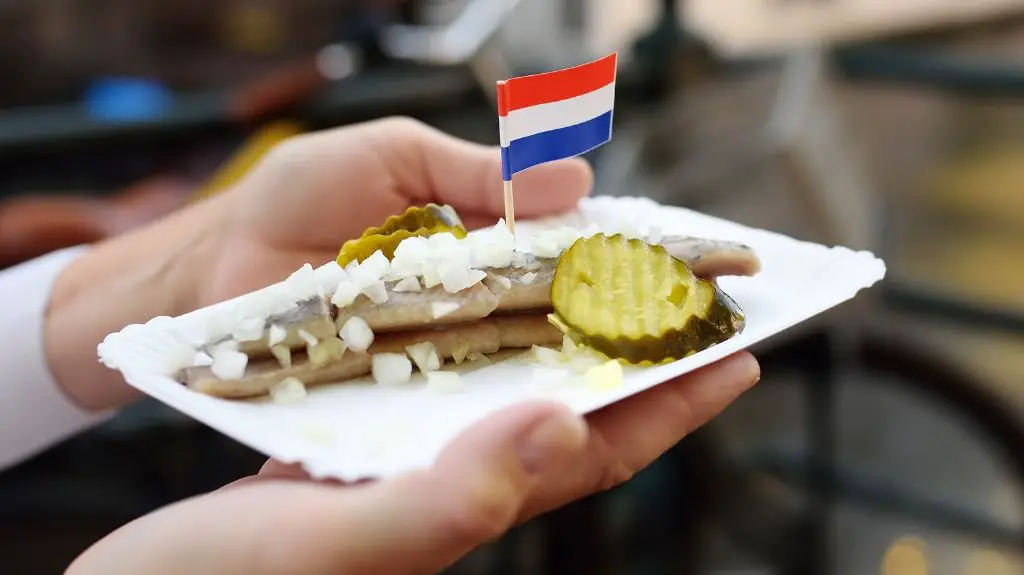 Even if you've never tried any Dutch dishes before, we bet you've at least had cheese and beer produced in the Netherlands. Find out what other foodgasms await you in Amsterdam.
If you're looking to try traditional Dutch foods, here are the most famous ones:
Cheese. The Netherlands is the #1 cheese-exporting nation. No wonder – they've been making the dairy product for over 16 centuries. Edam, Gouda, Leyden, Maasdam, and Limburger are all Dutch.
Patat. Locals call them also Friet, Vlaamse frieten, Fritjes, and eat them with different toppings – mayo, ketchup, curry, and minced onions. They're also thicker than the normal French fries.
Bitterballen. The fried meat balls are the perfect beer snack, along with Patat. You'll find them in almost every pub or café.
Kibbeling. Eat these deep-fried, battered chunks of fish with mayo-garlic or tartar sauce. Be sure to limit your portions, so you don't get addicted to the tasty Dutch snack.
Frikandel. This skinless, deep-fried sausage combines chicken, pork, and beef! You have multiple options for eating it: by itself, topped with mayo, in a roll (Broodje frikandel), or sliced and drowned in mayo, curry, ketchup, and chopped onions.
Harring Hollandse Nieuwe. The Dutch New Herring is probably the most famous food in the Netherlands. It consists of raw herring, gherkins, and chopped onions.
Stroopwafel. The Stroopwafel is the most popular Dutch pastry. The layers of baked batter are glued together by a mouth-watering syrup. You can buy the waffles in every supermarket and café.
Amsterdam's population consists of 180 nationalities, and this shows in the food scene. If you're not interested in tasting Dutch dishes and want to save time, have a quick bite at an Asian restaurant, a kebab house, or a sandwich deli. We also recommend Indonesian and Surinamese eateries, if you're up to trying ethnic food. And if you want to have a long, relaxed meal with several courses and multiple foodgasms, visit one of the 12 Michelin-starred restaurants in Amsterdam.
If you don't want to splurge on a restaurant meal, eat at one of the markets. Here are the marketplaces Amsterdam is famous for:
Albert Cuypmarkt. The largest outdoor market in Europe has a huge selection of street food stalls and delicacies.
Noordermarkt. Great place for grocery shopping and trying Dutch produce.
IJ-Hallen. The biggest flea market in Europe doesn't only offer second-hand items. It will also seduce you with a variety of street foods. Have in mind that there's a €5.00 ($5.90) entrance fee.
Amsterdam has been a major beer brewing center since the 16th century. At that time – unlike nowadays – water was unsafe to drink. Along with the world-famous Heineken, another excellent local brand you should order is Amstel. If you'd like to taste something stronger, try the Trappist La Trappe.
Heineken, founded in Amsterdam, is among the top 3 largest beer breweries in the world. Beer aficionados visit the Heineken Brewery for a few reasons:
To taste fresh Heineken beer straight from the tap.
To learn about the history of one of the world's most famous beer brands.
To stock up on handy souvenirs (just like Svet who has several glasses from the Heineken Experience shop).
Learn the difference between a coffee shop, a koffiehuis, and a café. Coffee shops don't serve coffee but sell cannabis and hash. Cafés are more similar to restaurants or bistros. A koffiehuis (literally coffee house from Dutch) is where you can get your caffeine kick in the Netherlands. We know, it's complicated. That's probably one of the craziest facts about Amsterdam.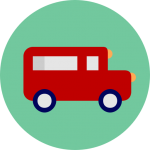 Traveling in Amsterdam: Types of Transportation and Getting Around the City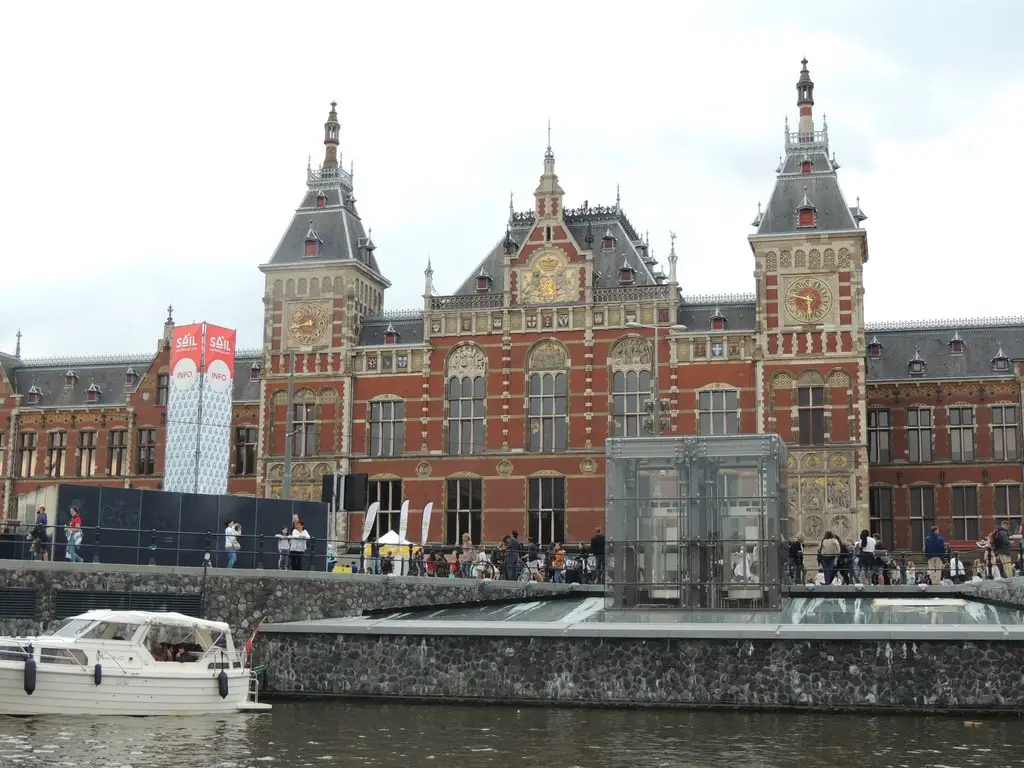 These Amsterdam travel tips about the different types of transportation in the Dutch capital are extremely important to follow. Why? Because the city has some unique travel modes which most of us are unfamiliar with. Let's find out more.
Getting from Schiphol to Amsterdam Centraal takes less than 20 minutes. The direct train stops in the heart of the city. From there, you can start sightseeing right away.
The best way to explore the city is on foot. We always recommend this way of transportation, especially for walkable cities like Amsterdam. This means that you should wear a sturdy pair of shoes. The best travel tip we can give you here is to be extra careful when crossing the street. Always look twice and don't stand or walk in the bike lanes (usually painted in red).
The public transportation system is convenient and easy to navigate. It consists of trains, metro, trams, buses, and something else (read our next travel tip about that something). You can buy your ticket in advance online, from a vending machine, or from the vehicle operator. Have in mind that you can't pay in cash. Tickets are valid from one hour up to 7 days. If you're staying longer in Amsterdam, consider purchasing a rechargeable chip card, the OV-Chipkaart. When using it, don't forget to check-in/-out at the card readers when entering or leaving a vehicle.
Use the free ferries to explore outside the city center. The blue-and-white boats shuttle pedestrians, cyclists, and mopeds to different locations in Amsterdam Noord. They depart behind Amsterdam Centraal and transport passengers across the River IJ. The ferries are quick, convenient, and free to use. Now, that's not something you can do in a lot of places, right?
Some of the canal cruises offer hop-on/hop-off boats. They stop at different tourist attractions, just like your usual hop-on/hop-off buses in other cities around the world.
Another very Dutch way to explore Amsterdam is on a bicycle. Amsterdam is a city of bikes. The prices start from €3.00/1 hour ($3.50/1 hour). You can find daily rentals for as low as €10.00 ($11.75) for a normal bicycle and €17.00-€27.00 ($19.99-$31.75) for an e-bike. Be sure to obey the traffic rules and wear a helmet.
Note: As mentioned earlier, unlimited bike rentals are included with the IAMSTERDAM card for the duration of its validity.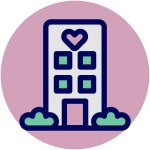 Where to Stay in Amsterdam: Best Neighborhoods and Accommodations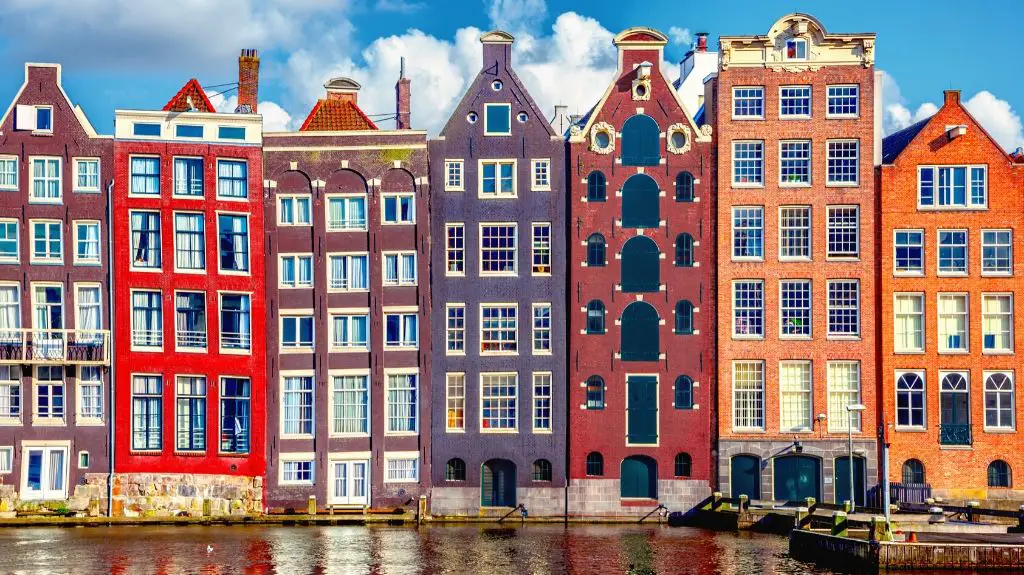 No travel guide would be complete without tips on how to save on accommodation and which are the best areas to stay in Amsterdam. So, below are our recommendations.
The night rates are quite unpredictable. Of course, accommodations are cheaper in the low season. Like in most European destinations, you can expect to find lower prices between October and March, except around the holiday season. Some travelers also claim that rooms are cheaper during the week. The latter makes sense, having in mind that Amsterdam is a nightlife mecca, especially during the weekend.
You can stay in some pretty unique accommodations in Amsterdam. From houses built in the 1600s to houseboats, the Dutch capital offers a variety of distinctive rooms. Don't forget that these come with certain limitations. For example, older houses have steep staircases and no elevators. And on houseboats, you'll feel every movement of the water around you. But if that doesn't bother you, go find your unique Amsterdam accommodation!
Unless you're visiting Amsterdam for the nightlife, choose an accommodation far from Dam Square and De Wallen. Instead, opt-in for some of the quieter neighborhoods:
Westerpark. The area is close to multiple attractions and at a walking distance from the heart of the Dutch capital. It also has its own park as the name suggests.
Jordaan. Many travelers consider this the coolest and most romantic area to stay in while in Amsterdam. It's closest to the city center than any of the other neighborhoods we recommend. Thus, it is the easiest to explore from here. You'll also have plenty of choice for trendy bars, charming restaurants, and quirky shops.
Amsterdam Oud-West. The "old west" part of Amsterdam – as the name translates – is separated from the city center only by Singelgracht. Yet, you won't get much of the parties and nightlife noise. The multicultural area promises dining at exquisite bars and restaurants.
Amsterdam Oud-Zuid. At the edge of the "old south" part of the city, you'll find Rijksmuseum, Heineken Experience, and Albert Cuypmarkt. From there, any other attraction is also a short walk away. Choose this area if you're traveling on a limited budget.
Plantage. This residential area with Jewish heritage is a great place for families to stay in Amsterdam. The Artis Royal Zoo – one of the oldest zoos in Europe – is located here. A lot of the other attractions in the area are dedicated to the Jewish people and the Holocaust.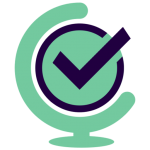 Which One is Your Favorite Amsterdam Travel Tip?
There you have it – all Amsterdam travel tips that you need for a memorable visit.
The city of canals and bicycles is a unique place to travel to. Unusual things to do in Amsterdam and quirky surprises lurk behind every corner.
In order to best prepare yourself for your trip, make sure you use these travel tricks and hacks.
Now, share with us:
When are you going there?
If you've already been to Amsterdam, what impressed you the most?