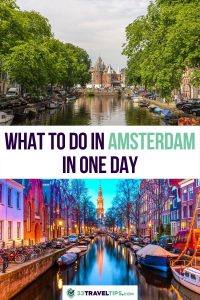 Planning to spend one day in Amsterdam?
If you get there early and prepare your itinerary in advance, you'll be able to check many things off your travel wish list.
Now, the question is what to do and see in Amsterdam in one day?
This guide will provide you with many ideas, and enlist tips on how to prepare for your trip to the Dutch capital, so you can have a blast.
Let's dive right in.
Note: This article contains affiliate links. In case you purchase something through one of these links, we may receive a small commission at no extra cost for you. Thank you for helping us keep creating the free content on this website!
Visa, Currency, and Language Tips for Amsterdam
The Netherlands is an EU member and a member of the Schengen Area. If you possess a U.S. passport with minimum 6 months validity, you don't need a visa to explore the country for up to 90 days.
Check all other visa requirements on the European Union's official website.
The Netherlands is not only an EU member but also a Eurozone member. This means that the country's currency is the euro. Amsterdam is full of ATMs and banks to withdraw cash. If you don't like carrying a lot of money on you, don't worry. You'll be able to make cashless payments almost everywhere.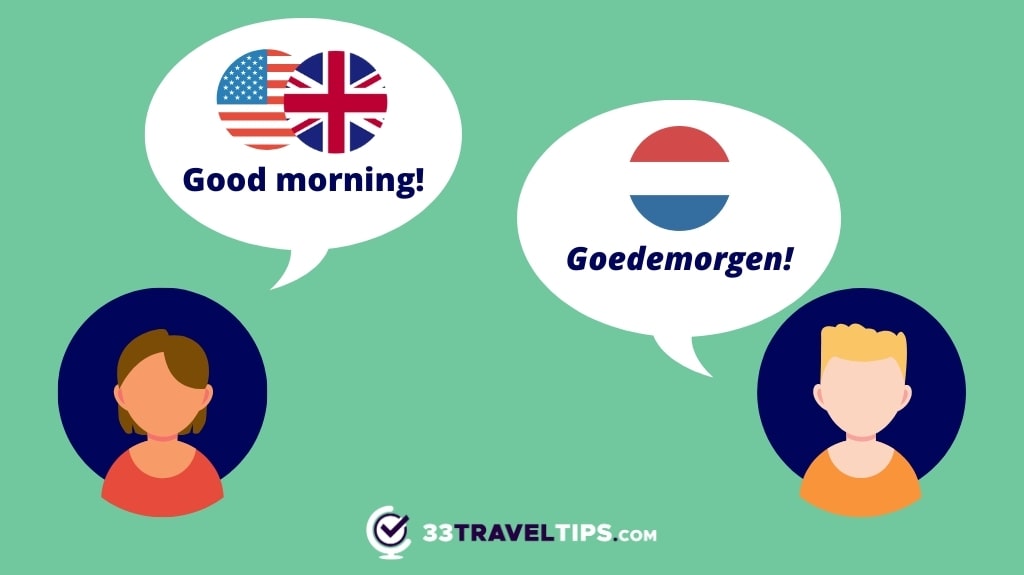 Dutch is the official language of the Netherlands. However, virtually everybody speaks English in Amsterdam. If you want to impress some locals or just to show respect for their language, we've prepared 5 common phrases for you:
| | |
| --- | --- |
| Good morning | Goedemorgen |
| Goodbye | Tot ziens |
| Thank you / Thank you very much | Dank u wel / Hartelijk bedankt |
| Excuse me / I'm sorry | Sorry |
| Yes / No | Ja / Nee |
How to Get to Amsterdam
By Plane
Amsterdam's international airport – Schiphol – is located about 9.3 mi (15 km) outside the Dutch capital. It is Europe's 3rd busiest and 11th in the world passenger airport.
Several airlines use Schiphol as their hub. Among them are KLM, Delta Airlines, and EasyJet. Direct flights from major cities around the globe land in Schiphol every day. These are just a few of the destinations:
Asia: Beijing, Dubai, Singapore;
North America: Mexico City, New York, Toronto;
South America: Aruba, Rio de Janeiro, Santiago de Chile;
Africa: Agadir, Johannesburg, Nairobi.
The fastest way to reach Amsterdam's center from the airport is by train. You'll arrive in the heart of the Dutch capital in under 20 minutes.
By Train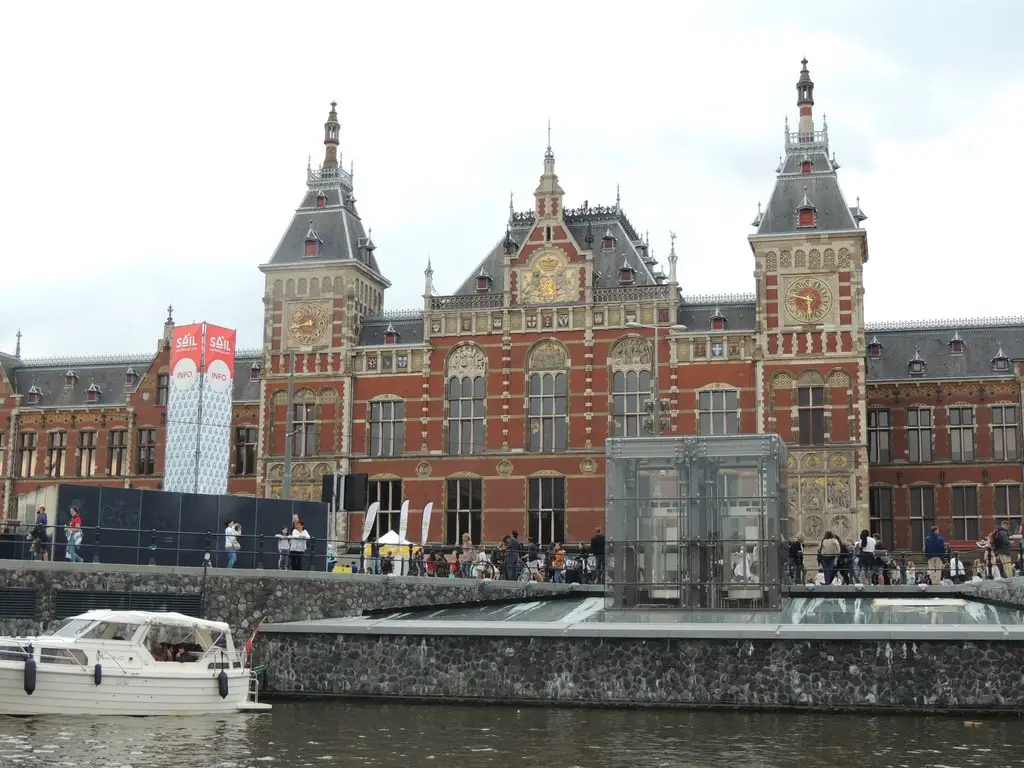 Amsterdam Centraal, the main train station of the city, is conveniently located within a short distance from most attractions in the city. You can start your walking tour of Amsterdam as soon as you exit the imposing building.
You can travel to Amsterdam using one of the fast trains arriving several times per day.
Here's a list of some of the lines and the major cities they serve:
Thalys: Paris – Brussels – Antwerp – Rotterdam – Amsterdam (10 times/day);
Eurostar: London – Brussels – Rotterdam – Amsterdam (3 times/day);
Intercity: Berlin – Amsterdam (8 times/day);
Intercity: Brussels – Antwerp – Rotterdam – Amsterdam (16 times/day);
Intercity Express: Basel – Freiburg – Frankfurt – Cologne – Dusseldorf – Amsterdam (once a day).
Note: not all stops are listed.
What to Do in One Day in Amsterdam
Amsterdam's urban population is less than 1 million, yet close to 20 million people visit the Dutch capital each year.
That's no wonder. The city packs a powerful punch of art galleries, windy canals, peculiar museums, and historical landmarks.
There are a ton of things to do and see in Amsterdam. In this section of our guide, you'll find the best places to visit on a day trip.
After learning the basics, time for the sexy stuff!
Note: Visiting all spots listed below is possible. However, you'll find yourself so exhausted and overwhelmed that we highly recommend you pick only the ones that fit your taste. After all, if you like Amsterdam on a day trip, you can always return to see more.
Tip: Check out the Brussels vs Amsterdam comparison of the European capitals.
De Wallen – Amsterdam's Best-known Red-Light District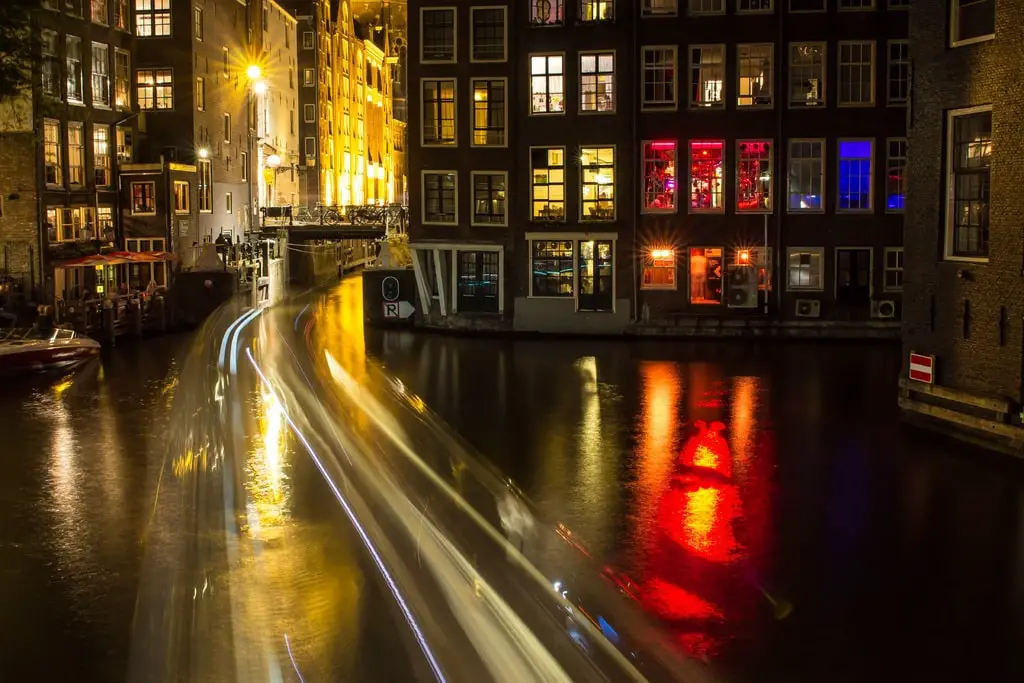 Amsterdam houses one of the most provocative red-light districts in the world – De Wallen. It's notorious for its window brothels.
Before we continue, two things to keep in mind:
De Wallen is located near the old port of Amsterdam. With the port came sailors and money. This often resulted in cathouses and women. Some claim that the neighborhood was familiar with prostitution since the 13th century.
Nowadays, prostitution in the Netherlands is legal. Probably safe, too.
The neighborhood consists of a chain of alleys, housing close to 300 one-room cabins. Ladies of the night rent these tiny spaces to offer their sexual services. You'll find them sitting or dancing behind a window that usually has red lights on it – hence the name.
In the district, you'll also find many sex shops, peep shows, sex theaters, numerous coffeeshops, as well as a sex and a cannabis museum.
In other words, if you want to experience something quirky in your one day in Amsterdam, head to De Wallen. It's home of some of the most unique and unusual things to do in Amsterdam.
The Dutch capital hosts another two red-light areas – Ruysdaelkade and Singelgebied. Out of all three, De Wallen is not only the largest but also the oldest. This makes it one of Amsterdam's main tourist attractions.
Boat Tour – Explore the Dutch Capital from the Water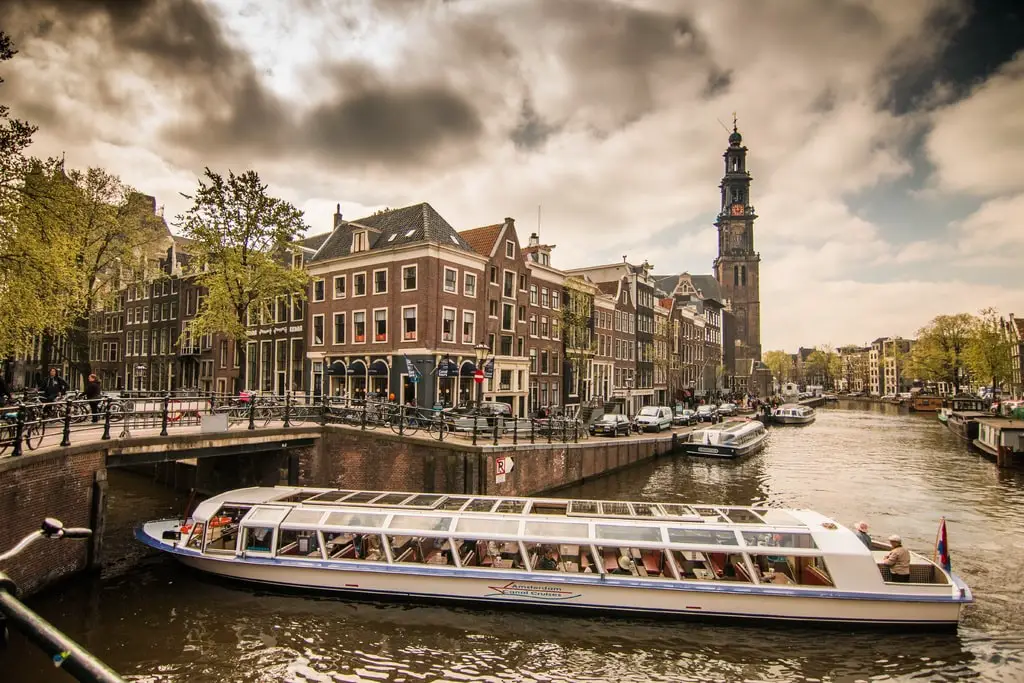 If there's just one thing we recommend you do in one day in Amsterdam, it's a canal cruise!
Want to see what it feels like to be a local? One of the best ways to do that is to hop on a boat tour. The so-called canal cruises give you the unique chance to experience Amsterdam from the water.
Amsterdam is known for its nickname The Venice of the North. Escape the city's hectic streets by touring its waterways.
165 canals with a total length of 60 miles crisscross the city and connect the resulting islands by 1,753 bridges! In comparison, Venice has just 150 canals and 391 bridges.
Maybe we should call the Italian town The Amsterdam of the South?
The canal cruises are packed with fun facts about Amsterdam and show the Dutch capital from a different perspective. They also take you to places that you can't otherwise reach.
Watch the city's scenery glide past while you take photos, shoot a video, or leisurely sip a drink. Learn the history of famous buildings, the houseboats regulations, and numerous peculiar details about the Dutch capital.
The canal cruises start from several piers in the city. The largest is near the central train station. It is also the busiest and most touristy one. The prices aren't great there either. We recommend you find another spot for your boat tour.
Tip: You can cruise Amsterdam's canals in style in Flagship's chic boats.
Address: Prinsengracht 267, 1016 GV Amsterdam, Netherlands
The Royal Palace – Amsterdam's Majestic Splendor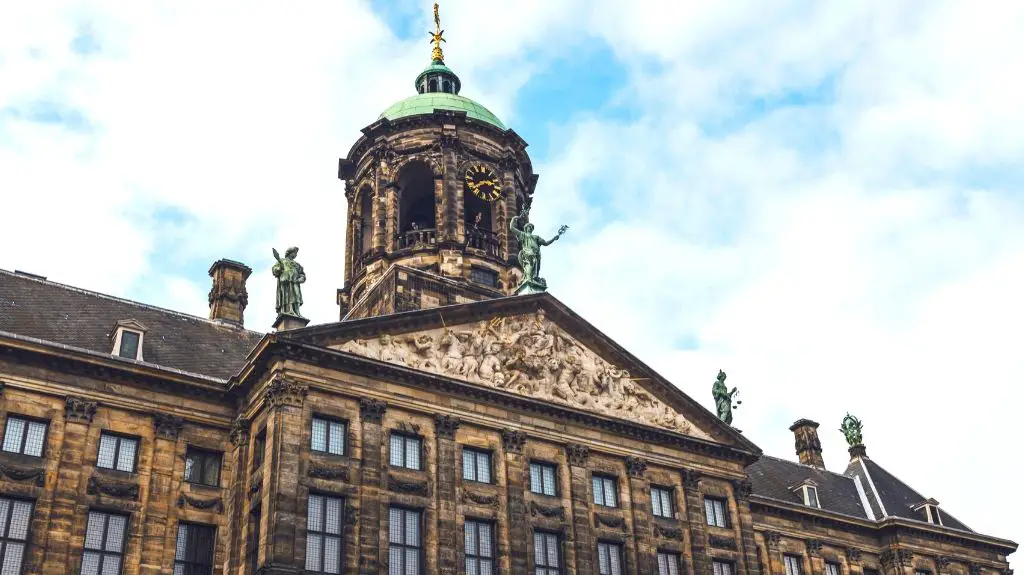 In the past, the Royal Palace served as a city hall for magistrates. Nowadays, the King and his entourage use the place for royal events.
Amsterdam's Royal Palace is the biggest and most prestigious building from the so-called Dutch Golden Age. That's a period of time in the 17th century when Amsterdam became Europe's most important city. The capital owed its riches to trading on the high seas.
Inside the palace, you can admire marble galleries, paintings, and sculptures by some of Rembrandt's students – Ferdinand Bol and Govert Flinck.
Don't miss King Louis Napoleon's bedroom, the Citizen's Hall, the Secretary's Office, the Magistrates' Chamber, and the balcony with medallions as railings.
The palace is public during the year but is closed for visits on days when royal proceedings take place. Thus, if you want to see it on your day trip in Amsterdam, ensure no such events are happening then. Check out the information on the palace's official site.
Address: Dam 1, 1012 JS Amsterdam
Rijksmuseum – Arguably Amsterdam's Best Museum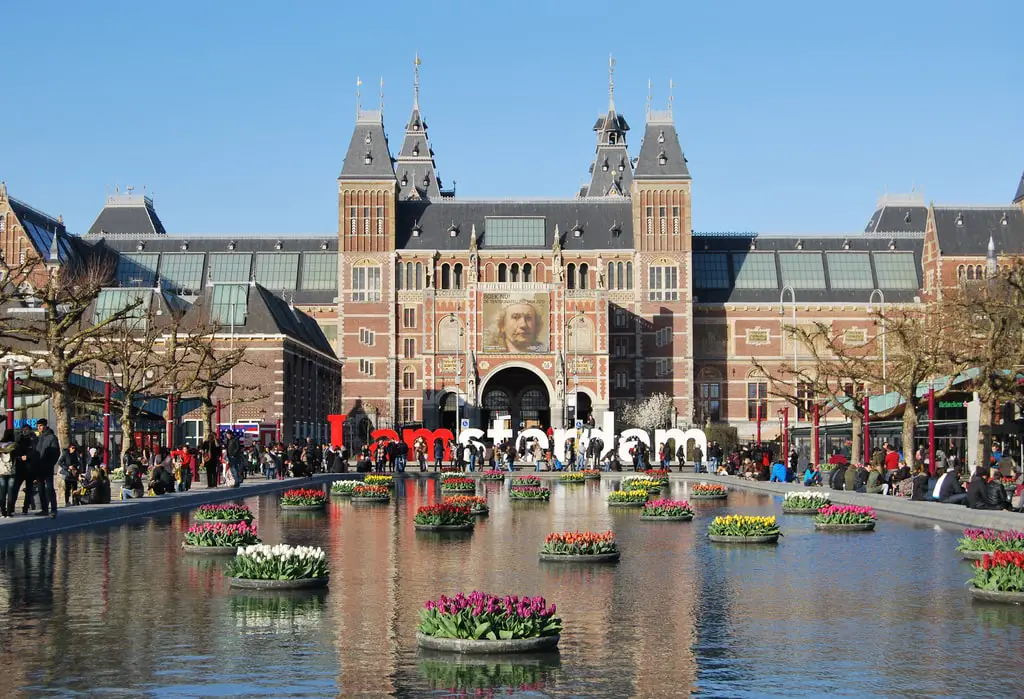 Dedicated to arts and history, the Rijksmuseum sits in the Amsterdam South borough, in close proximity to the Van Gogh Museum.
Peculiarly, it was founded in The Hague in November 1798. Ten years later, it moved to Amsterdam. Initially, the Royal Place housed the museum. Later, it moved to the Trippenhuis.
The museum underwent a massive 10-year renovation at the beginning of the 21st century. Queen Beatrix reopened the main building in April 2013.
Nowadays, 2+ million people explore it each year, making it the Netherlands' most visited museum. The Rijksmuseum holds more than 8,000 art and historical objects on display. Inside, you'll find the masterworks of Rembrandt, Frans Hals, as well as Johannes Vermeer.
By the way, if you decide to skip Rijksmuseum but still want to see Rembrandt's famous The Night Watch, check out the 3-D bronze statue version at Rembrandtplein. It's Naddya's favorite place in Amsterdam. It might become yours, too.
Address: Museumstraat 1, 1071 XX Amsterdam
Nieuwmarkt – Vibrant Markets and Pulsating Nightlife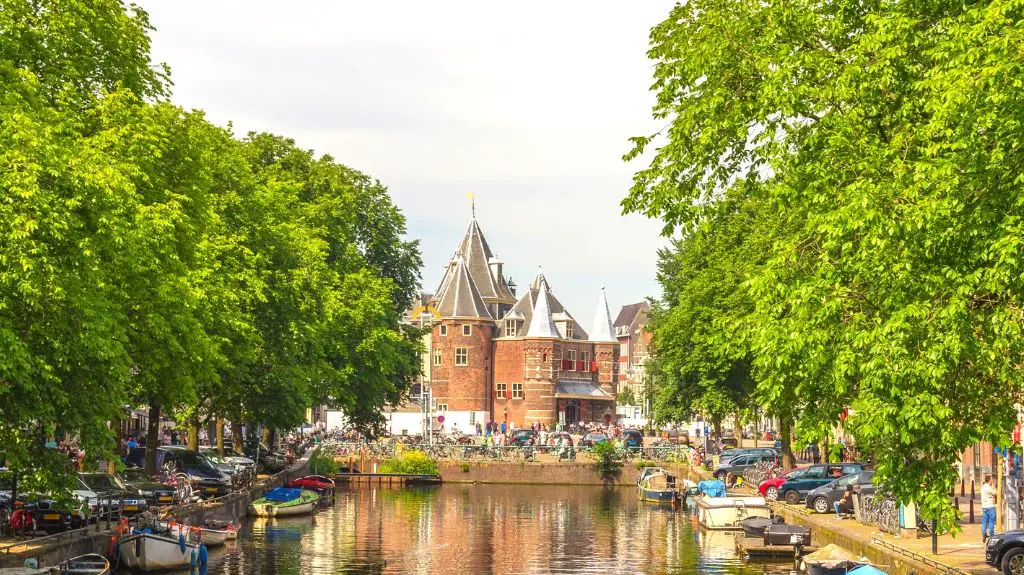 Niuewmarkt is a central district in Amsterdam where you'll find lively markets and stylish nightlife. Located in the city's old center, the area has been the Dutch capital's commercial and socializing hub since the 17th century.
Nieuwmarkt brims with life at any point in the day. Collect some sunrays at one of the terrace restaurants while enjoying a delicious meal, or just go on a shopping spree.
The district's daily markets attract tourists and locals alike. If you find yourself there on a Saturday, don't miss the special organic food market.
At night, Nieuwmarkt's bars and cafés become a hotspot for crowds that indulge in beer and cocktails, and dance the night away. The trendy ones are Café Cuba, Café Fonteyn, and the Irish Pub Temple Bar.
The Heineken Experience – Heineken's Historic Brewery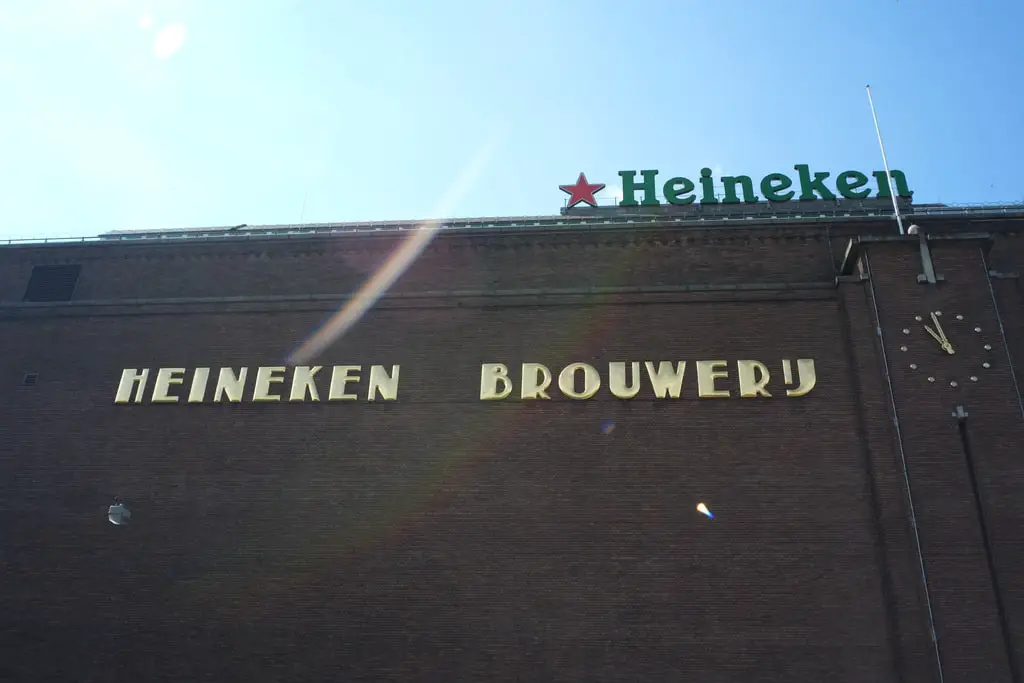 Beer aficionados visit the Heineken Brewery for a few reasons.
To taste fresh Heineken beer straight from the tap.
To learn about the history of one of the world's most famous beer brands.
To stock up on handy souvenirs like chains and beer glasses. Svet got a few glasses when he visited the brewery.
The industrial facility opened its doors in 1867. It served as Heineken's main brewery until 1988 when a larger, more modern building was erected on the outskirts of Amsterdam.
The place became available for public visits in 1991. From 2007 to 2008, it underwent massive expansion and innovation.
Nowadays, the Heineken Experience will entertain you with four levels of historical artifacts, product discovery, and sampling, as well as interactive exhibits. In other words, it's a perfect addition to your 1-day Amsterdam itinerary.
Tip: You get a €3 discount when you buy your tickets online. The entrance includes a self-guided tour and two perfectly chilled beers at the end. Use this link to purchase tickets.
Address: The Heineken Experience, 78 Stadhouderskade
A'DAM Lookout – Tilt Over the Edge on Europe's Highest Swing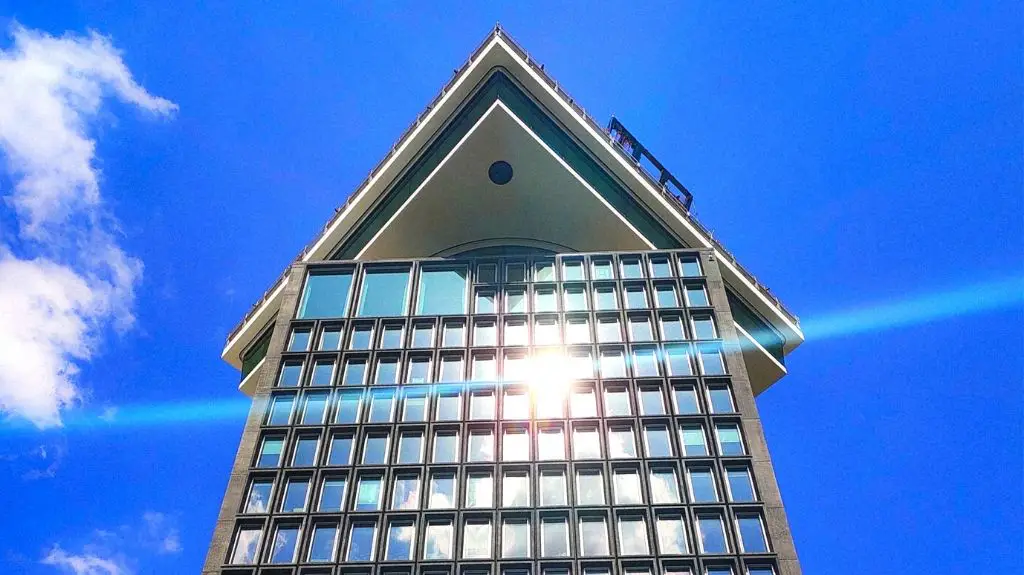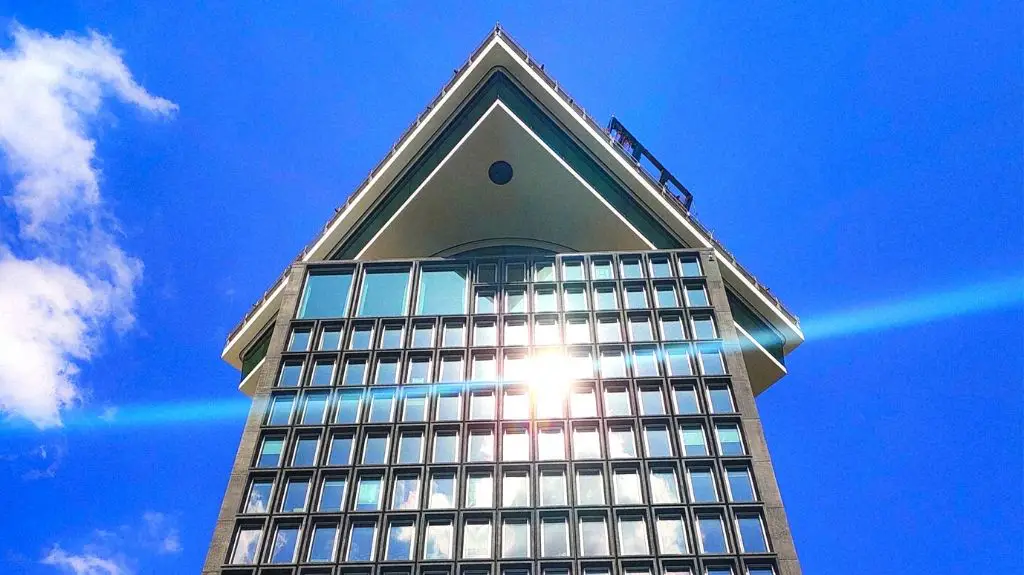 When you're tired of trotting the city's streets, head to the A'DAM Lookout to admire a jaw-dropping vista of Amsterdam.
The tower's 22 floors make it the tallest in the city. The observation deck at the top will reward you with a glorious panoramic vista of:
Amsterdam's historic center;
The polder landscape;
Its iconic canals;
The harbor.
Feeling a little more adventurous? Test the daredevil in you by trying the 300-ft-high swing that extends over the A'DAM Lookout.
If you don't feel like screaming your lungs out, just sit on a chair and enjoy the view in the tower's revolving restaurant, Moon.
Address: A'DAM Lookout, 5 Overhoeksplein
The Bridge of Bridges – Mind-Blowing Perspectives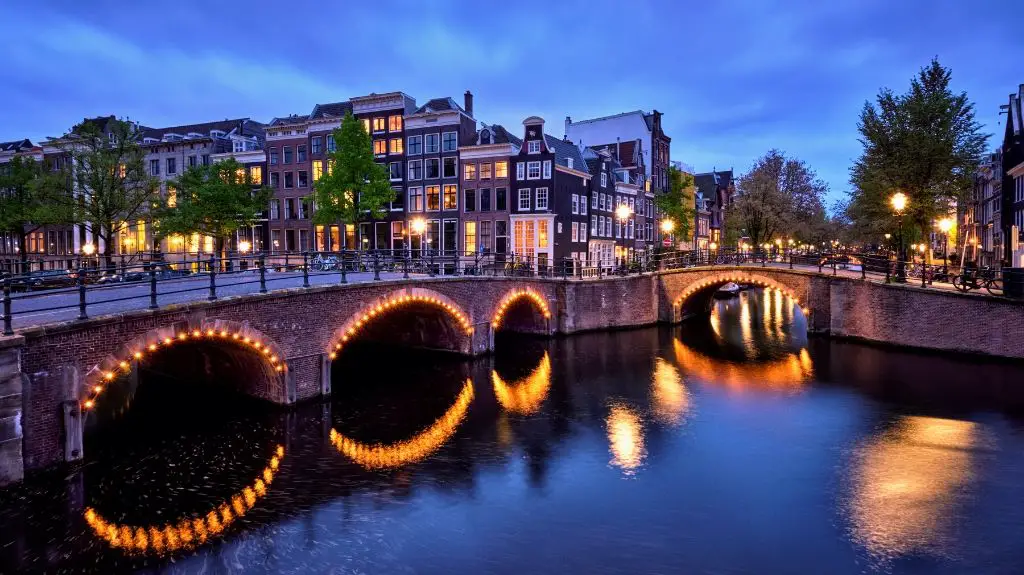 The Bridge of Bridges is a truly unique spot in Amsterdam. It's the only place in the city where you can marvel at so many bridges all at once.
If you're exploring the Dutch capital with your better half, there's nothing more romantic than this spot. Finish your unforgettable one day in Amsterdam by heading to the place at night. The illuminated bridges are a spectacle that will leave you speechless.
For the best view, go to the intersection of Herengracht and Reguliersgracht and take a place on the odd-numbered side. The best vantage point, however, is from the water onboard one of the canal cruises. 
Once at the intersection, look in every direction. There are seven visible bridges on the Herengracht, and seven down the Reguliersgracht.
Address: Herengracht 563, 1017 CS Amsterdam
Food Tips for Your Best Amsterdam Experience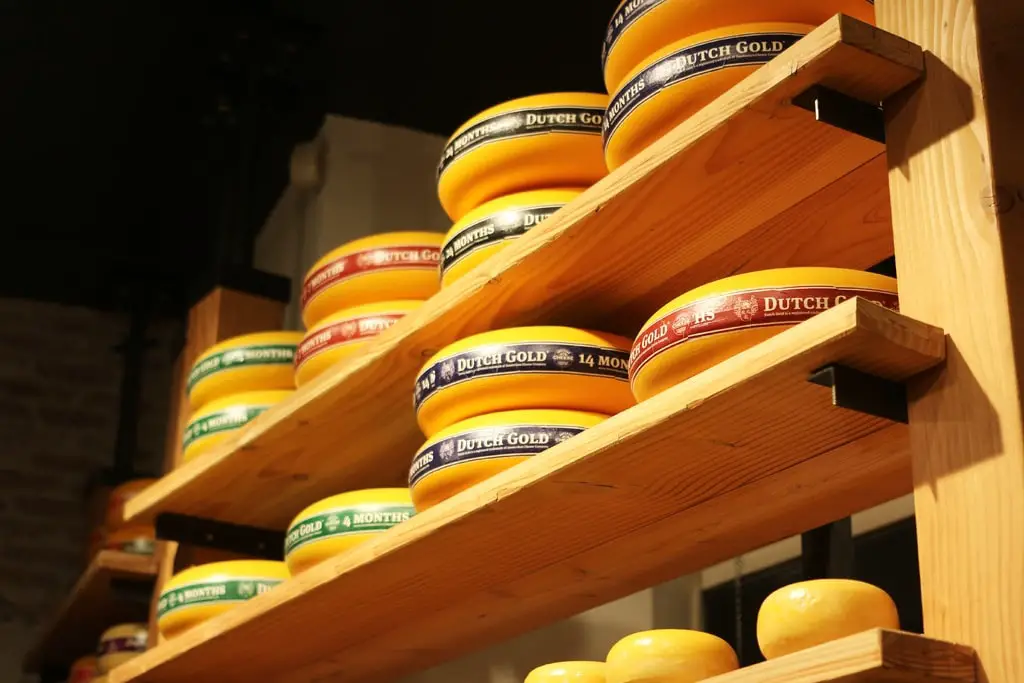 If we were you, we'd pack a few sandwiches, a couple of protein bars, and something to drink. That's how you can make the most of your time in Amsterdam and check more things off your list.
However, if you'd like to take it slowly, visit an attraction or two, and enjoy a good meal in between, below are our food tips.
If you'd like to try some traditional Dutch foods, here are the most famous ones:
Harring Hollandse Nieuwe. Literally Dutch New Herring, this is probably the most famous food in the Netherlands. The dish consists of raw herring, chopped onion, and gherkins.
Patat. These are upgraded French fries. Upgraded? Yes, because they're a tad thicker than normal French fries. Locals call them also Friet, Vlaamse frieten, Fritjes, and eat them with different toppings – mayo, ketchup, curry, or other sauces and minced onions.
Bitterballen. You can order these fried, meat-based balls in almost every bar or café. Along with Patat, Bitterballen are the perfect snack for beer. Make sure you don't burn yourself as the filling can be very hot.
Frikandel. A skinless, deep-fried sausage that combines chicken, pork, and beef? Yep, that's Frikandel! You can have one of the most popular Dutch street foods by itself, in a roll (Broodje frikandel), or sliced and soused with mayo, curry, ketchup, and chopped onion.
Cheese. Edam? Dutch. Gouda? Dutch. Leyden, Maasdam, and Limburger? Dutch, Dutch, Dutch. The Netherlands is the #1 cheese-exporting nation. You can trace the country's cheese-making traditions to 400 AD. In short – try the cheeses. You'll be in for a scrumptious treat!
Stroopwafel. Perfect for recharging the batteries, the stroopwafel is the most popular Dutch pastry. Locals prepare the waffle by cooking it in baked batter and then slicing it horizontally. The layers are glued together by a mouth-watering syrup. You can get the pastry in every supermarket and café. It also makes for a great souvenir or snack on your way back.
Not interested in tasting Dutch dishes? Save some precious time by having a quick bite at Asian restaurants, kebab houses, and sandwich spots.
Have a beer. The Dutch sure know how to brew beer. You can't go wrong with Heineken and Amstel. If you'd like to try something stronger, the Trappist La Trappe is your go-to option.
Safety Tips for Your One Day in Amsterdam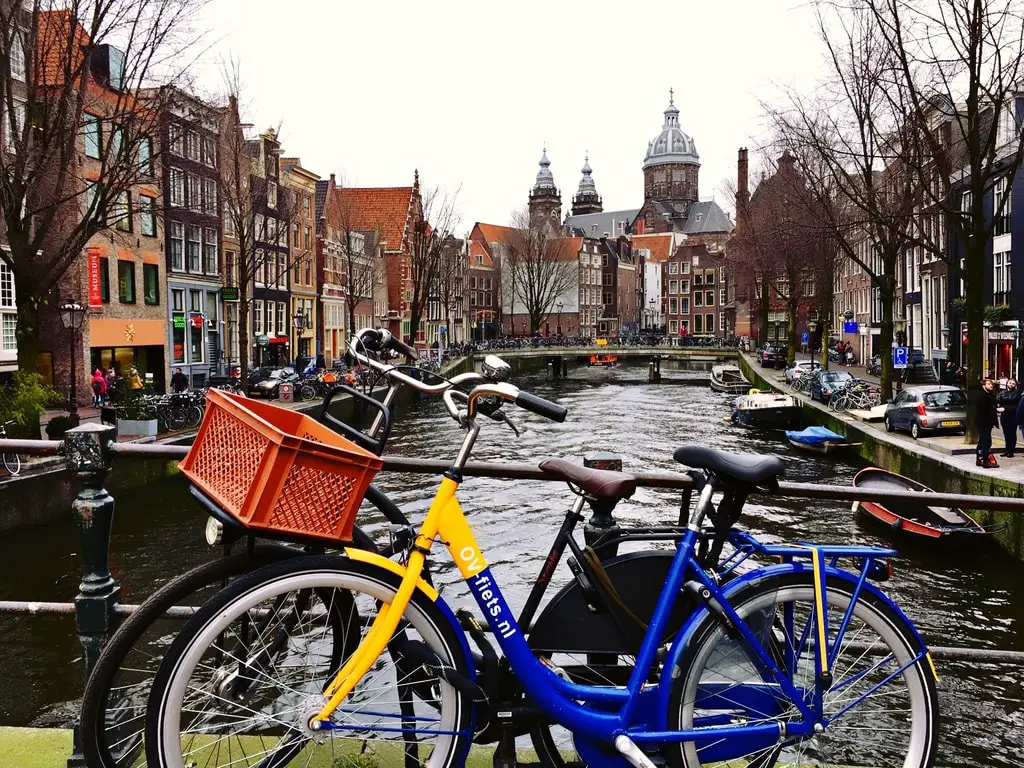 As a smart traveler, we know you already use your common sense. However, some things are better repeated one more time than none at all.
Amsterdam sure is gorgeous, but it might be quite dangerous as well. Don't worry, we don't mean street gangs and drug wars type of danger.
There are two types of safety tips about Amsterdam we want to share with you.
Warnings about Exploring the Streets and Canals
The fascinating narrow lanes and curving canals might present quite a challenge for your feet and balance.
You have to be careful where you step so you don't end up in the water or on the pavement. In addition to walking carefully, you have to be alert at all times of passing cyclists.
The Dutch love their bicycles. We're certain they learn to bike before they learn to walk. Cyclists are everywhere. In the narrow cobblestoned alleys, between the tram tracks, on the bridges, and even in the boats.
And guess what? They always have priority!
So even if you're extra careful where you step, there's always the possibility of a cyclist coming out of nowhere and swiping you off your feet – and not in a good way!
Sex, Drugs, and Alcohol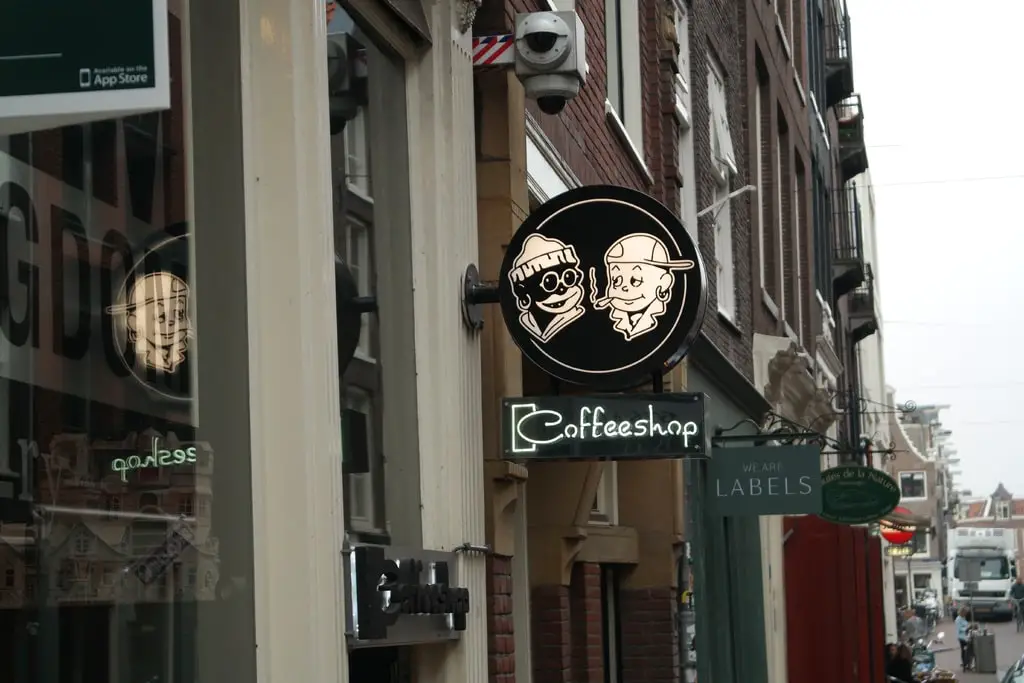 If you're coming from the U.S. or Canada, you'll be stunned by just how many people in Europe sit or walk in the streets with a beer in their hands. However, the Netherlands takes it a notch further.
Soft drugs are legal and widely sold.
Several years ago, the government decided drugs may be sold only to Dutch citizens, but Naddya has a different experience.
So, in case you didn't know, you shouldn't visit the coffeeshops in Amsterdam for their coffee selection. The establishments mainly sell different marijuana strains. You can pick your taste from a large menu, just like in any coffee shop around the world you would order your cup of Joe.
If you're uncertain what kind of café you're walking in, let your nose lead the way. We bet it can distinguish between the smell of freshly brewed coffee and a freshly lit joint.
While buying and smoking pot in the coffeeshops is legal, buying hard drugs on the streets is prohibited. Don't push your luck and end your day in Amsterdam in a Dutch prison cell.
Last but not least, prostitution is legal and regulated. So is owning a bordello.
The window brothels have a starting price of $55 for 15-minute sessions and the girls only do it with a condom.
If you decide to indulge in adult entertainment, go to an official place. Picking up a working girl from the streets is illegal – both parties will get a fine. Taking an escort to your hotel room is allowed, though.
Funny enough, drinking in public in the red-light district is forbidden. So is smoking cannabis on the streets of Amsterdam. You can also get into trouble by trying to photograph the ladies of the night.
One Day in Amsterdam – A Journey Through Canals, Museums, and Peculiar Districts
The Venice of the North – Amsterdam – is one of the most peculiar European capitals. Its weird museums, countless canals, and cosmopolitan atmosphere will make you want to revisit.
The Dutch capital offers dozens of things to do and see. One day in Amsterdam won't be enough to check everything out, but you'll able to get a taste of the city's truly mesmerizing charm.
Plus, with some preparation, and our thorough guide, we trust you'll make the most of your time.
Now, we're eager to know:
Have you been to Amsterdam before?
If not, which attractions and activities are you putting on your travel wish list?