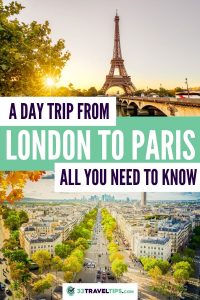 Are you planning to see the British capital on your next trip?
Why not combine it with a quick escapade to the charming French capital?
That's right, you can do a day trip from London to Paris and explore these two fascinating megapolises in one go!
And if you arrive early and plan a few things, you'll be able to cover a lot of ground.
The question now is what to see and do in Paris in just one day? This guide will suggest plenty of ideas and give you tips on how to prepare your journey to the French capital in the best possible way.
Let's dive right in.
Note: This article contains affiliate links. In case you purchase something through one of these links, we may receive a small commission at no extra cost for you. Thank you for helping us keep creating the free content on this website!
Visa, Currency, and Language Tips for Paris
France is a member of the Schengen Area. If you're holding a U.S. passport with at least 6 months of validity, you don't need to worry about a visa for up to 90 days. Check the official website of the European Union for all visa requirements here.
France is not only a member of the European Union but also of the Eurozone. This means that the country uses the euro as a currency. In Paris, you'll find plenty of banks and ATMs to withdraw euros from. In most places, though, you'll be able to make cashless payments.
Tip: We have more travel advice for you in this comprehensive guide of all the Paris travel tips you need.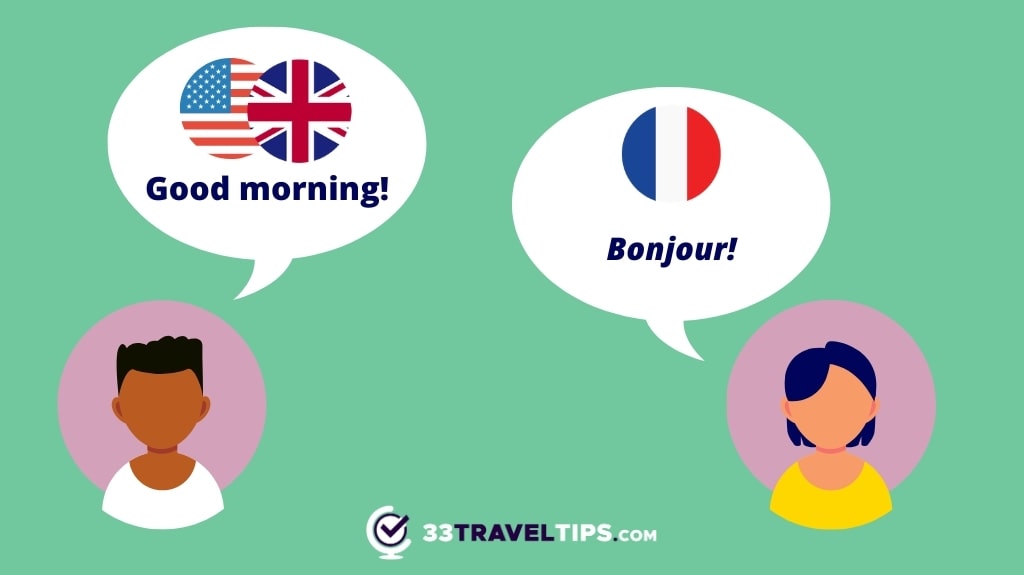 French is the official language of France. However, you'll be able to get around the tourist spots of Paris in English. Learning some basic French words will definitely come in handy, though. We've prepared 10 phrases for you:
| | |
| --- | --- |
| Hello / Good morning | Bonjour |
| Thank you / Thank you very much | Merci / Merci beaucoup |
| Can you please help me? | Pouvez-vous m'aider? |
| Excuse me | Excusez-moi |
| Please | S'il vous plaît |
| Yes | Oui |
| No | Non |
| Do you speak English? | Parlez-vous anglais? |
| You're welcome | De rien (inf.) / Je vous en prie (f.) |
| How much is this? | Combien ça coûte? |
How to Get from London to Paris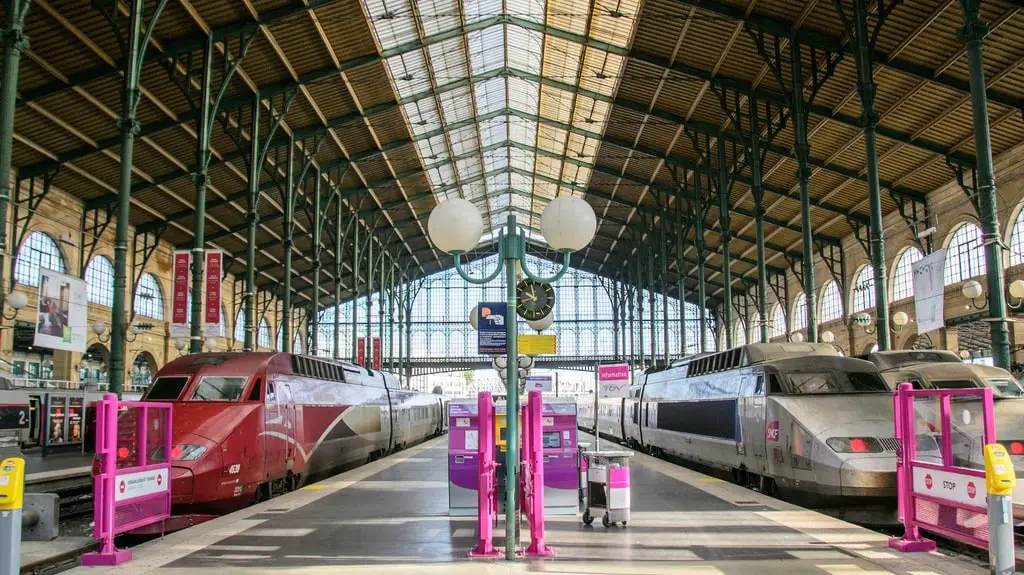 There are several ways to get from London to Paris. We'll enlist all of them below:
By Train
Taking the Eurostar train from St Pancras Station to Gare du Nord is your fastest (and probably only) option for a day trip from London to Paris.
Here's what you should know:
The ride takes 2:30 h on average and drops you in the heart of the French capital.
Trains run 14-16 times/day in both directions.
The earliest one from London to Paris leaves at 5:40 AM, the latest at 6:31 PM on weekdays. On Saturday, the trains run from 6:18 AM to 8:01 PM. On Sunday, 8:19 AM – 8:31 PM.
Trains from Paris to London start at 6:33 AM on Monday, 7:03 AM Tuesday through Friday, 8:03 AM on weekends. The last one leaves the French capital at 9:01 PM on weekdays and at 9:13 PM on weekends. Check the exact timetable on Eurostar's website.
The cheapest return ticket rates start at about €55 ($60). However, these rates are for bookings made at least a month in advance.
Important: You need to arrive at least 45 min prior to your train's departure time to go through the ticket gates, security, and passport control. Moreover, the ticket gates close 30 min before departure and if you're late, you won't be able to board your train.
Tip: You can also visit Paris easily on a day trip by train from these gorgeous European capitals:
Amsterdam: it takes approximately 2 hours by train.
Brussels: the travel time is about 1:40 h by train.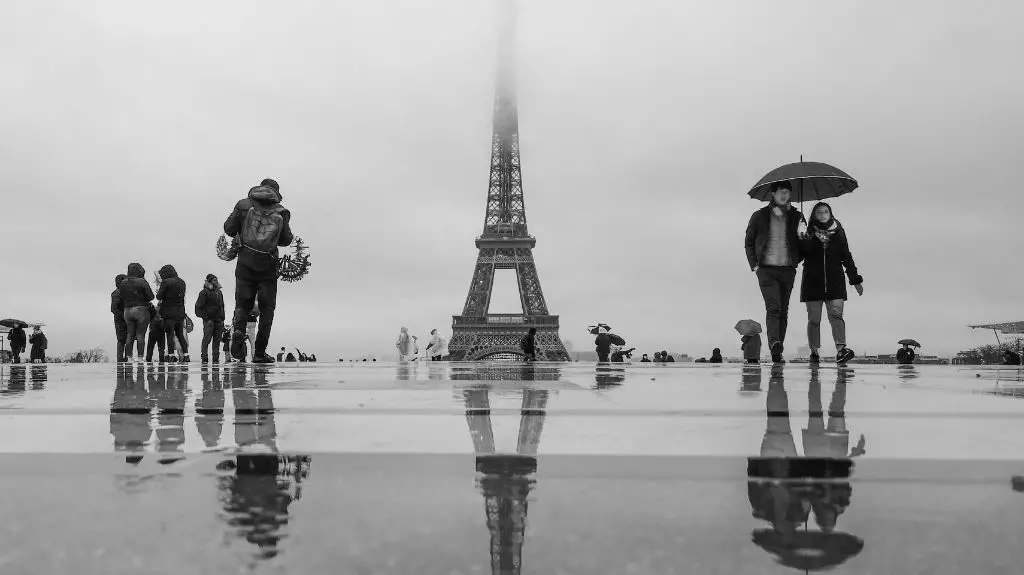 By Plane
Several airlines perform direct flights between London and Paris.
Have in mind that both cities have multiple airports. Therefore, be careful when you choose your connection – you'd want to pick the closest one to your accommodation, if possible.
Don't forget to add your transfer and waiting times to the flight duration before making a decision to fly from London to Paris for a day.
Easy Jet offers the cheapest tickets and operates several times a day from four of the London airports, every day of the week:

from London Southend Airport (SEN) to Paris – Charles De Gaulle (CDG), flight duration: 1:05 h, afternoon flights;
from London Gatwick (LGW) to Paris – Charles De Gaulle (CDG), flight duration: 1:15 h, three times a day;
from London Stansted Airport (STN) to Paris – Charles De Gaulle (CDG), flight duration: 1:20 h, morning or afternoon flights;
from London Luton Airport (LTN) to Paris – Charles De Gaulle (CDG), flight duration: 1:25 h, two to three times throughout the day.

British Airways: from Heathrow Airport (LHR) to Paris – Charles De Gaulle (CDG), flight duration: 1:15 h, four times a day.
Air France: from Heathrow Airport (LHR) to Paris – Charles De Gaulle (CDG), flight duration: 1:20 h, six times a day.
Vueling: from London Gatwick (LGW) to Paris – Charles De Gaulle (CDG), flight duration: 1:15 h, three to four times a day.
By Car
The distance via A1 from London to Paris is 286.6 mi (461.2 km) and takes close to 6 hours.
For that reason, we don't recommend it for a day trip as it'll eat most of your day.
Tip: keep in mind that traffic in the U.K. runs on the left side of the street, while in continental Europe driving is on the right side.
By Bus
The bus journey takes between 8 and 9 hours, depending on the company. Hence, going from London to Paris by bus for a day trip is not an option either.
By Tour
The most convenient and stress-free way to travel from London to Paris on a day trip is by booking a tour.
You'll catch the Eurostar train at 6:55 AM from London and have a full day of activities in Paris.
During the whole time – from the moment you arrive at St Pancras Station in London through the day trip in Paris, and back to London – an experienced tour guide will lead you.
If you're interested in reading all the details of the tour to Paris from London, check this website.
What to Do on a Full-day Trip from London to Paris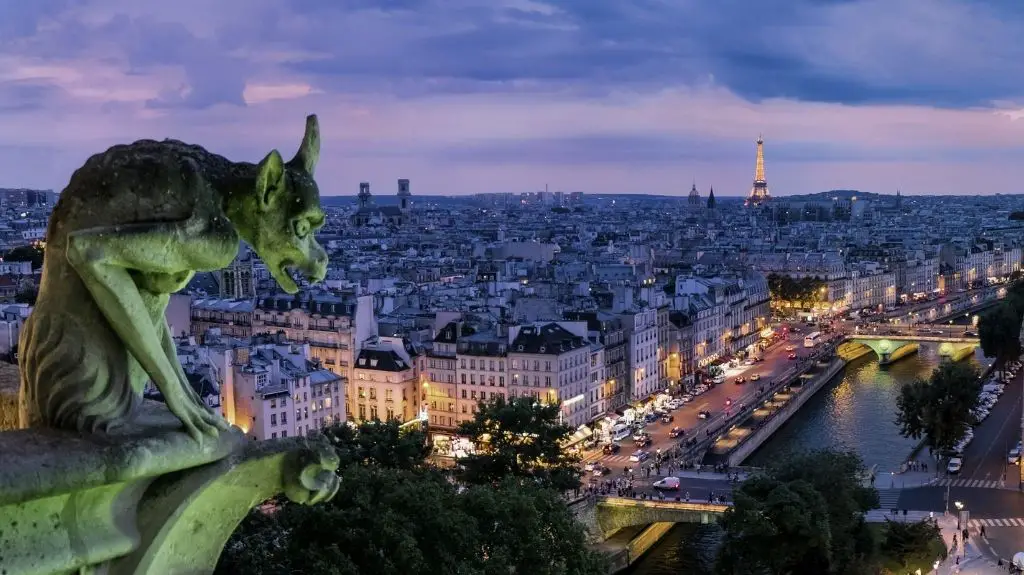 Now that you know the basics and how to get from London to Paris, let's dive into the sexy stuff.
The French capital is among the Top 3 most visited cities in the world. It goes without saying that there are a ton of things to do and see in Paris. In this section, we'll give you the best suggestions for a day trip.
Note: Although visiting all of these is possible, you'll be so exhausted and overwhelmed that we highly recommend you choose only the ones that fit your liking. After all, if you enjoy Paris on a day trip from London, you can always come back and explore some more.
Sacré-Cœur Basilica in Montmartre – One of the Best Panoramas of Paris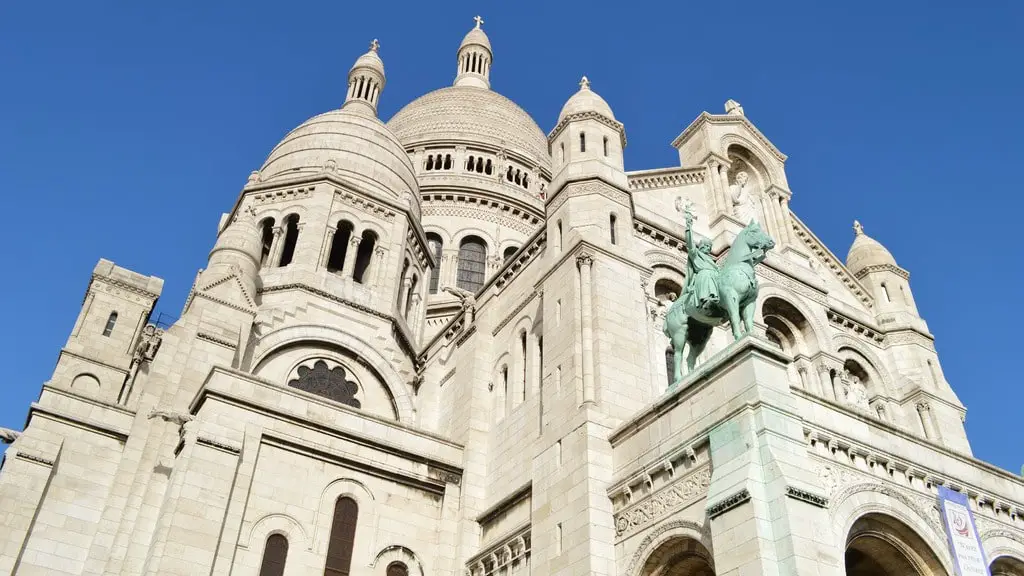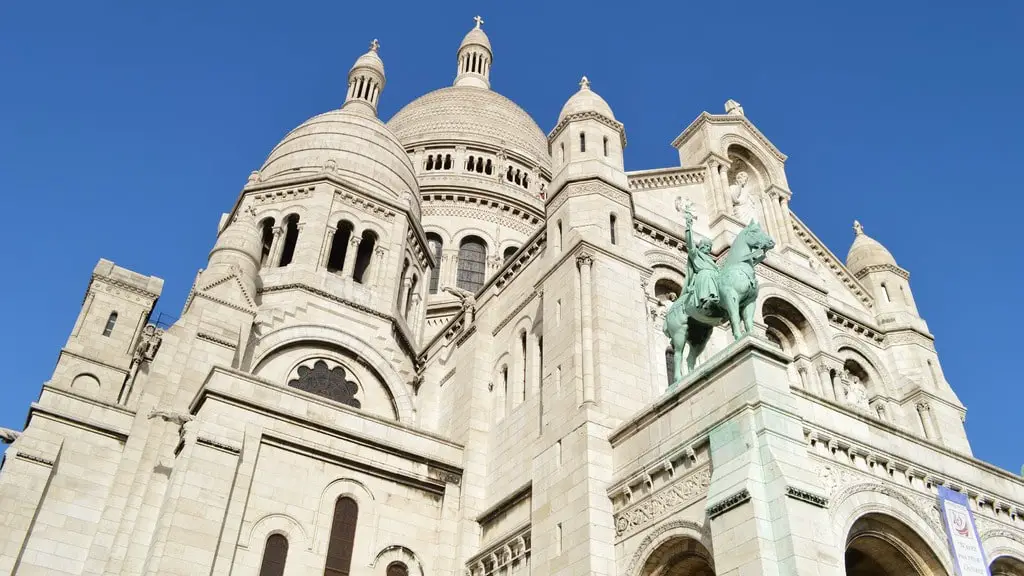 If you've arrived in Paris by train as we suggested, start your day trip from Sacré-Cœur Basilica. From Gare du Nord, you'll reach it in about 20 minutes on foot.
The Roman Catholic basilica sits on butte Montmartre, Paris's highest point. By going there, you'll kill two birds with one stone:
You'll admire the gorgeous unusual architectural appearance of the basilica.
You'll marvel at a jaw-dropping panorama over Paris.
Completed in 1914, the basilica is the second most visited monument in the French capital. Thus, plan your visit carefully to avoid the crowds.
After you're done admiring this stunning religious and architectural masterpiece, continue exploring Montmartre.
Get your portrait painted at Place du Tertre square, visit the Wall of Love – Le Mur des Je t'aime, or sit in one of the numerous charming outdoor cafés in the narrow, cobblestoned streets. Trust us, you'll need to catch your breath after going up and down the hill.
Alternatively, visit Montmartre Cemetery, one of the coolest and most unusual things to do in Paris.
The Louvre – The World's Largest Art Museum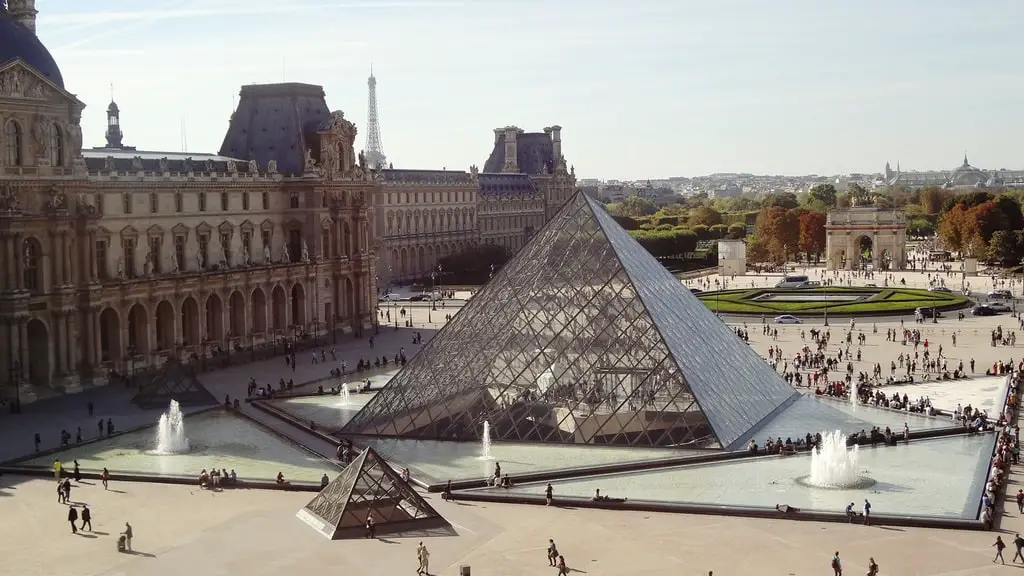 If you're a museum worshiper, you can't afford to miss the Louvre.
The total territory of the museum amounts to 782,910 square feet (72,735 square meters) or the equivalent of 280 tennis courts. This makes the Louvre the largest museum in the world. A peculiar Paris fact is that you'll need at least five weeks to admire every item on display!
As such, it packs a powerful blend of art, culture, and history. Some of the most famous works of art on display are The Mona Lisa, the Venus de Milo, and the Winged Victory of Samothrace.
We have to warn you that The Mona Lisa is not only quite small but also there's a huge crowd waiting to peek at it. We don't think it's worth waiting to have a picture with it, especially when you have just a day in Paris.
Tip: You can spend your whole day trip to Paris trying to explore the Louvre and it still won't be enough. We recommend you spend several minutes reading the map. Choose to see two to three collections and try to spend around two hours in there. Then, leave the rest for your next visit.
While it's true that buying tickets at the museum is €2 ($2.15) cheaper, waiting in line to purchase them is not worth the hassle. So, we highly suggest you get them online. The best option is the skip-the-line Louvre ticket.
Tuileries Garden – the Lungs of the French Capital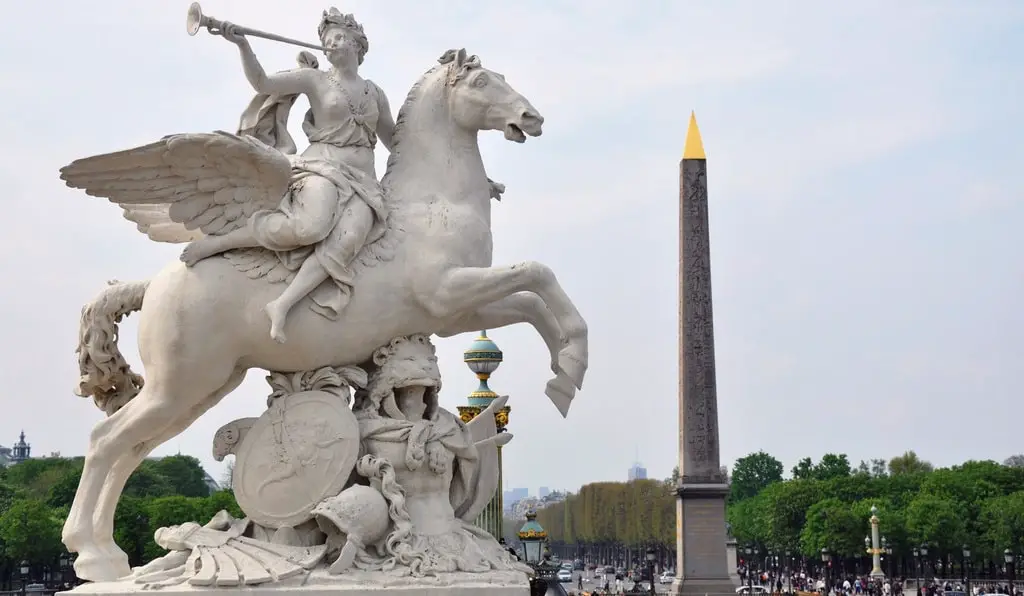 When you finish your tour through the majestic Louvre, get a well-deserved rest in the verdant Tuileries Garden.
Located just five minutes from the museum, Jardin des Tuileries stretches over 22.4 hectares between the Louvre and the Place de la Concorde. The garden is a UNESCO Heritage Site and attracts some 14 million visitors yearly.
Catherine de Médici, the widow of King Henri II, created the Tuileries Garden in the 16th century. Initially a royal garden, it turned into one of the first public gardens of Paris in the 17th century.
The garden derives its name from the Palais des Tuileries, which Queen Catherine built in 1564.
Access to the park is free. Make sure to visit the Jardin du Carrousel, the Terrasse, the Moat of Charles V, the Grand Carré (Large Square), and the Orangerie.
Champs Élysées – the Most Iconic Parisian Boulevard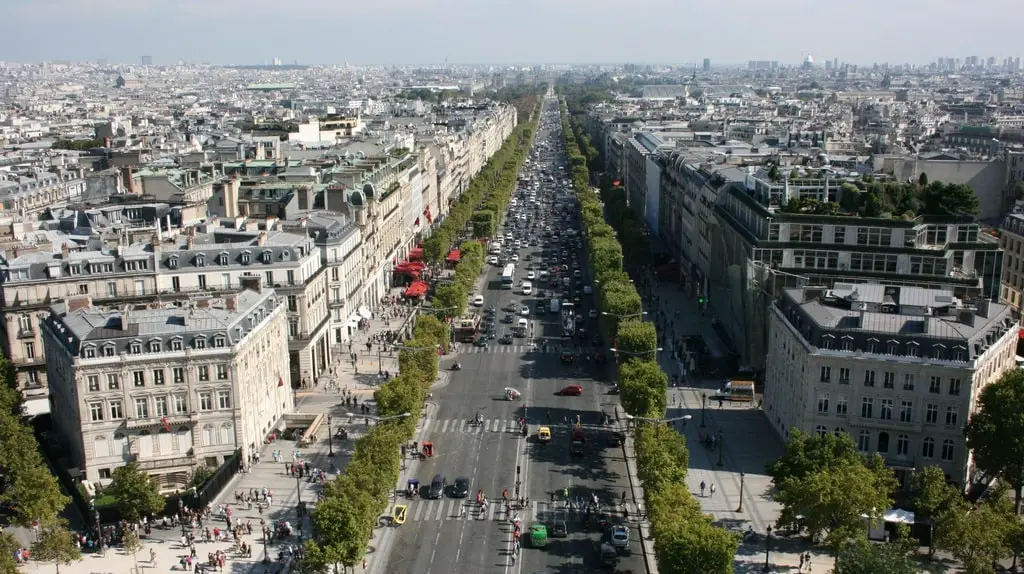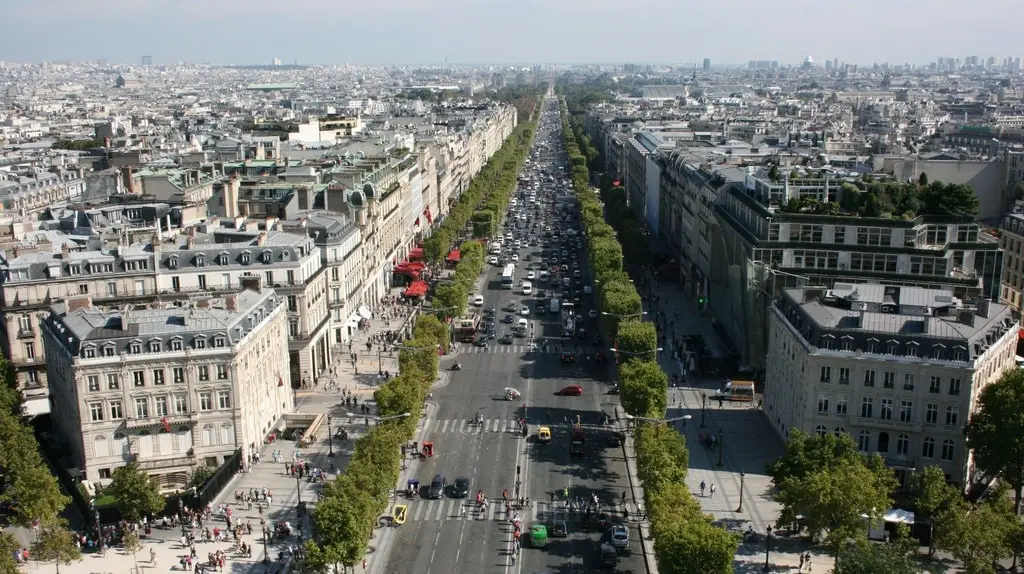 Exit Tuileries Garden at Place de la Concorde and continue strolling along the 1.5-mile-long iconic Avenue des Champs Élysées.
Along the way, you'll pass by boutique shops, fancy five-star hotels, exquisite restaurants, world-known cabarets, and many palaces and museums.
Depending on your pace and the number of stops you make, it might take you anywhere from half an hour to half a day to reach its opposite end at The Triumphal Arch.
The glamorous avenue serves as the site of Europe's largest military parade. It takes place on Bastille Day (July 14) – France's national holiday.
The Triumphal Arch (L'Arc de Triomphe) – A View over 12 Boulevards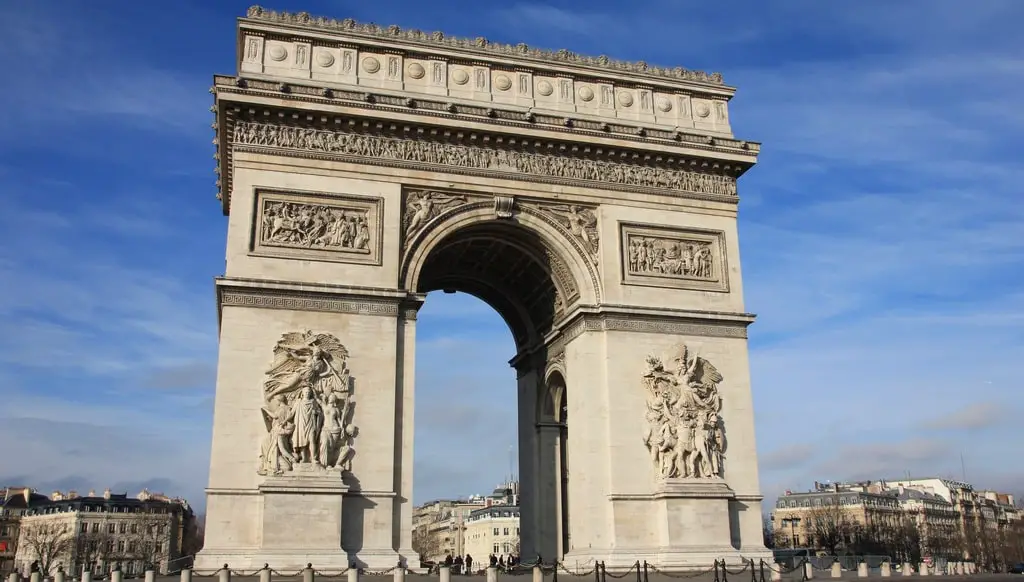 The full name of one of the top monuments Paris is known for is Arc de Triomphe de l'Étoile (Triumphal Arch of the Star). That's because the arch sits in a roundabout that looks like a star from above.
Standing at the very heart of Place Charles de Gaulle, the L'Arc de Triomphe honors all those who died in battle for France during the French Revolutionary and Napoleonic wars.
Even if you're not a history and war buff, take the lift to the attic. After that, only 40 steps divide you from reaching the terrace with a mind-blowing vista of Paris.
Tip: If you wish to avoid waiting in line, you can purchase your ticket from this link.
Warning: Since the Arch sits in the center of a huge roundabout, we highly recommend you use one of the underpasses – either at the Champs Élysées or at the Avenue de la Grande Armée.
The Eiffel Tower – The Iron Symbol of Paris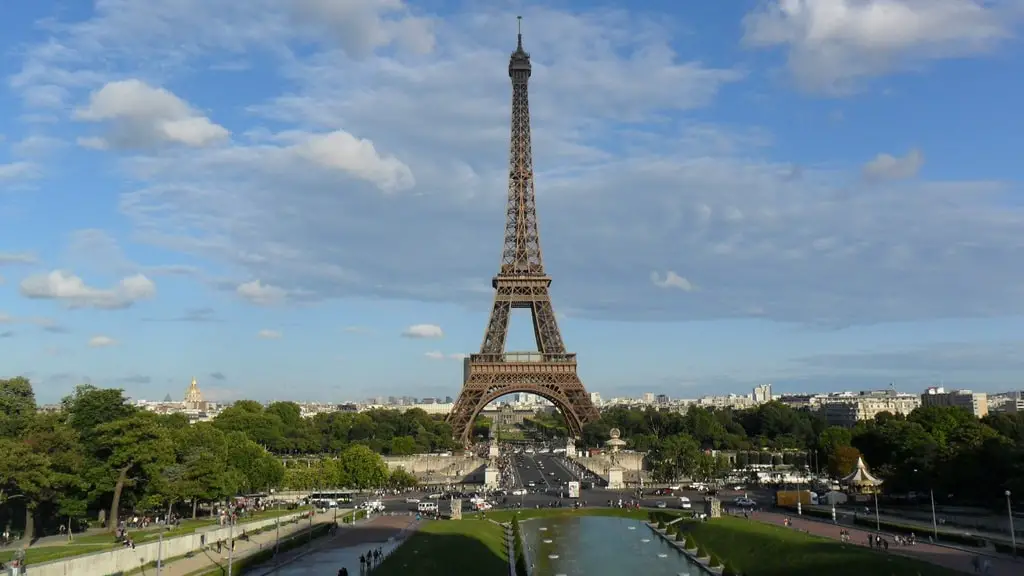 Only half an hour on foot away from The Arc stands The Eiffel Tower.
The 1,067ft- (324m-) wrought iron construction traces its roots back to 1889. Its designer and builder – Gustave Eiffel – also helped with the construction of the Statue of Liberty in New York.
Peculiar Fact: The top-level platform is at 906 ft. (276 m), making it the EU's highest observation spot. You can always go up and down via stairs, but we recommend using the lift as you won't have the time on a day trip from London to Paris.
The Eiffel Tower prides itself on being the world's most-visited paid monument. Yearly, more than 7 million people ascend it.
This means one thing. At whatever time you show up, there will be a queue. Plan at least two hours for waiting, ascending, and taking photos. Therefore, we recommend you buy your tickets in advance. Use this link to do so.
Tip: Try to visit the Eiffel Tower shortly before sunset. That way, you'll see Paris during the day and nighttime. If you're lucky, you'll catch a gorgeous sunset, too!
The River Seine – Explore the French Capital from the Water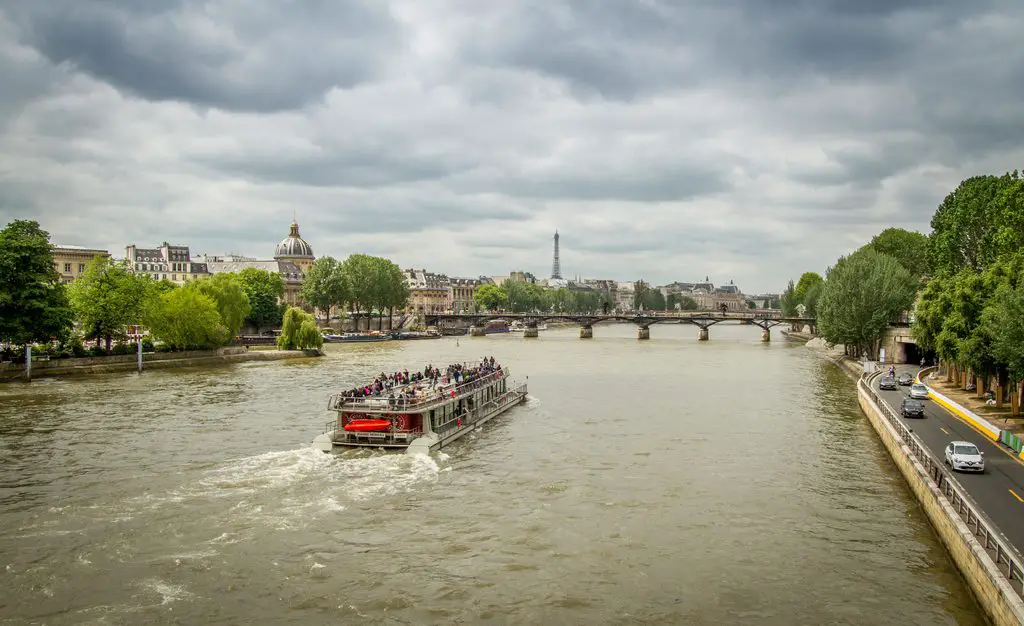 Near the Eiffel Tower is the starting point for most of the cruises on the River Seine.
After several miles of walking on your day trip from London to Paris, why not relax by taking a boat trip?
This way, you will not only rest your weary feet but also see some of the Parisian attractions that you won't otherwise have the chance to explore.
The best thing about the cruise is the numerous bridges that you'll pass under. 37 bridges connect the shores of the Seine within Paris. You'll see about half of them during the boat ride. The most famous of them are Pont des Arts, Pont Neuf, and Pont d'Alexandre.
You'll also pass the islands Île de la Cité and Île Saint-Louis. The first one is home to the most iconic cathedral of Paris, Notre-Dame de Paris.
One of the most gorgeous cathedrals in the world and the epitome of French Gothic architecture was partially destroyed on April 15th, 2019 by a fire.
Construction of Our Lady of Paris commenced in 1160. 100 years later – in 1260 – it was widely completed. Notre Dame's flying buttress, its gigantic and colorful rose windows, as well as one of the world's biggest organs make it stand out.
The French government plans to complete Notre-Dame de Paris's reconstruction in time for the opening of the Paris 2024 Summer Olympics.
La Défense – The Manhattan of Paris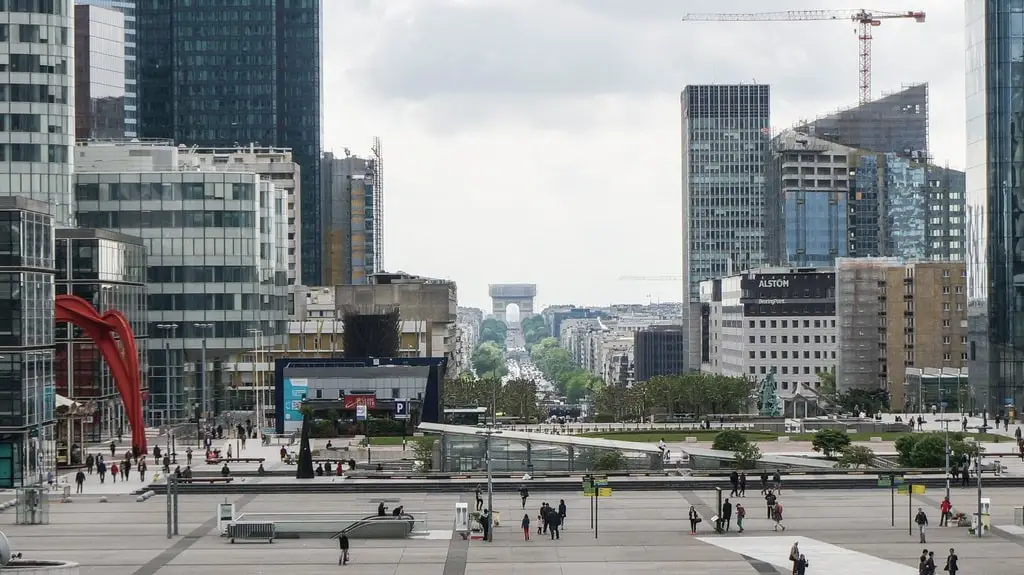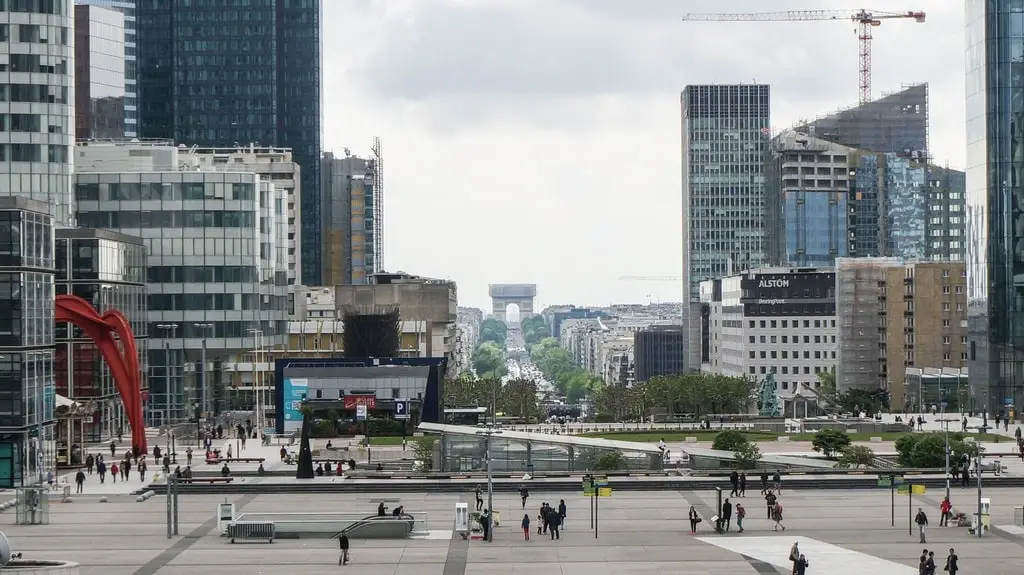 If you like skyscrapers, modern architecture, and wide-open spaces, head to La Défense. Known as the Manhattan of Paris, the neighborhood is home to the headquarters of numerous local and international companies. The business district hosts not only high risers, though.
There, you'll also find the La Grande Arche de la Défense (The Great Arc of the Defense), which is a building and a monument at the same time. The Arch is part of the perspective from the Louvre to the Triumphal Arch and measures 360 ft. (110 m) in height.
8 million tourists visit the neighborhood each year not only for its modern looks but also for its open-air museum, which is the largest in France. You can admire over 70 statues and art pieces by contemporary artists like César, Joan Miró, and François Morellet.
Food Tips for Your Day Trip from London to Paris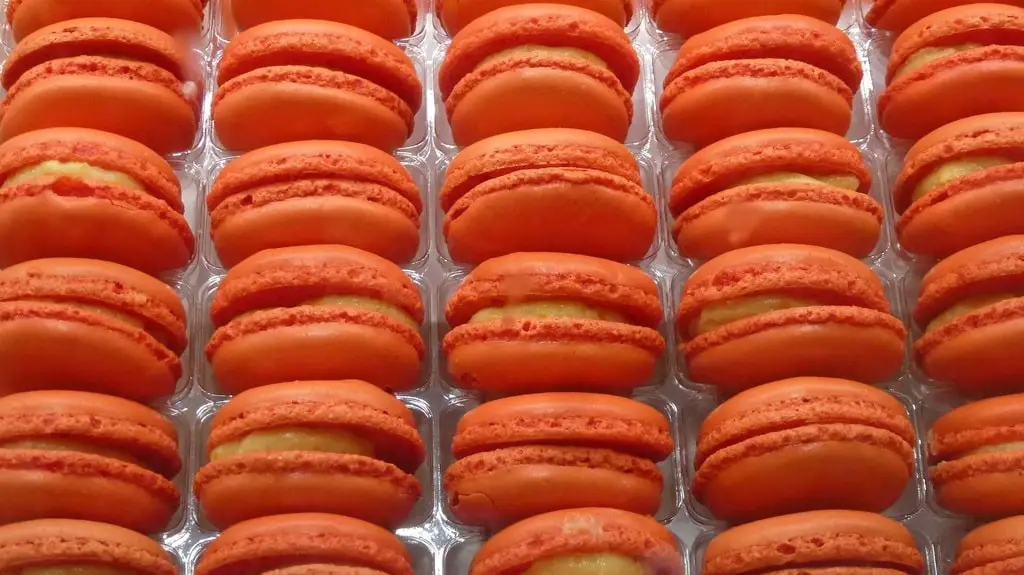 If we were you, we'd just pack a couple of sandwiches, a few protein bars, and some water. That's how you can maximize your time and check more things off your travel wish list.
However, if you'd like to visit just a landmark or two, and enjoy a nice meal in between, here are our tips:
Avoid the central spots – the areas around the Louvre, the Eiffel Tower, Champs Élysées, etc. Most of the restaurants there are incredibly overpriced. We're talking up to €10 ($11) for a beer and up to €30 or even 40 ($32-43) for a meal.
If you're not dead-set on trying French dishes, Asian restaurants, kebab houses, and sandwich delis are a great bang for your buck. Plus, due to the nature of their cuisines, they prepare the food much faster. This will save you some precious time for sightseeing.
You'll regret not trying French macaroons if you're a sugar worshipper. Even if you've tried them at home already, the ones in Paris are the real deal. Your sweet tooth self will be forever grateful for the decadent treat.
A Day Trip from London to Paris – A Journey That Will Make You Want to Come Again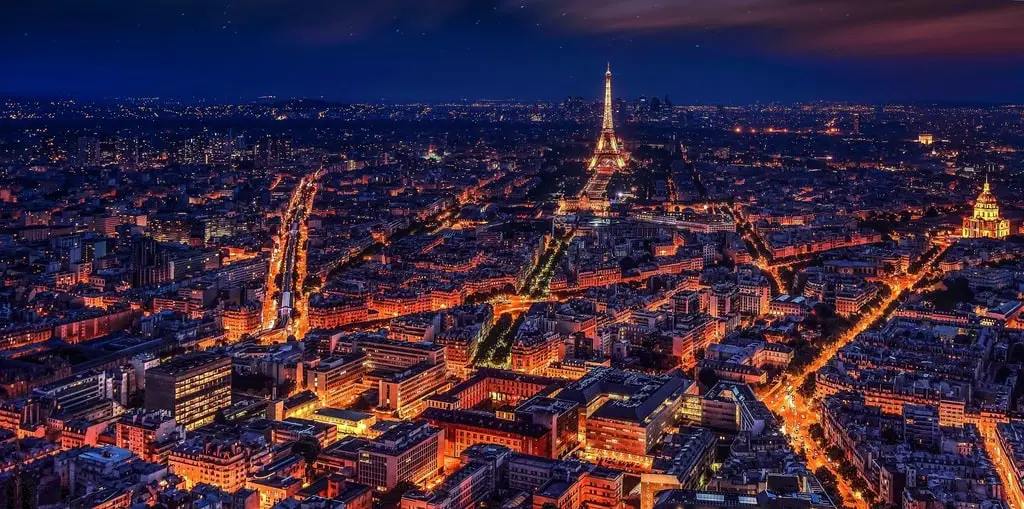 The City of Light – Paris – is one of the most charming capital cities in Europe and the world. Its unadulterated appeal, remarkable architecture, and cosmopolitan feel make visitors crave more and more.
There are a ton of things to do and see. A day trip from London to Paris won't be enough to cover everything, but you'll get to experience the unparalleled atmosphere of the city.
Plus, with some good planning, and our comprehensive guide, we believe you'll be able to make the most of your time and see both cities on one trip without having to choose London vs Paris.
Now, tell us.
Have you been to Paris before?
If not, what landmarks are you planning to visit?