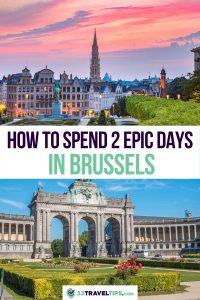 Wondering if 2 days in Brussels are enough?
2 days is enough time to explore Brussels' main attractions. You can visit the majestic Grand Place, find the city's quirky symbols, and sample the local cuisine. You'll have time to see the Atomium and Mini Europe, roam Mont des Arts and Park du Cinquantenaire, and explore the European District.
While longer stays will allow you to experience more, 2 days is a good starting point for getting to know the Belgian capital.
In this ultimate guide, you'll find everything you need to know to plan your Brussels itinerary and make the most of your time in the Capital of Europe.
Let's dive right in.
Start Planning Your Trip to Belgium with Our BEST Recommendations:
⭐ Top Tours in Belgium ⭐
📍 Brussels Highlights and Food Tasting – our top recommendation to see the most iconic sights of Belgium's capital and sample the flavors of the city.
📍 Ghent and Bruges Day Trip – explore two of the prettiest towns of Belgium on a day tour from Brussels. Join this unforgettable day trip before it's fully booked!
⭐ Best Accommodations in Belgium ⭐
🏨 Pillows City Hotel Brussels Center – great lodging with modern, luxurious rooms.
🏨 YAYS Antwerp Opera – fantastic hotel with funky designs in top location.
⭐ Easiest Transportation Options in Belgium ⭐
🚍 Brussels City Card – enjoy discounts, free travel, and entrances to museums.
🚍 Discover Cars – compare and find the best rates for car rentals.
Note: This article contains affiliate links. In case you purchase something through one of these links, we may receive a small commission at no extra cost for you. Thank you for helping us keep creating the free content on this website!
How to Get to Brussels
There are several ways to reach Belgium's capital. Find each below:
By Plane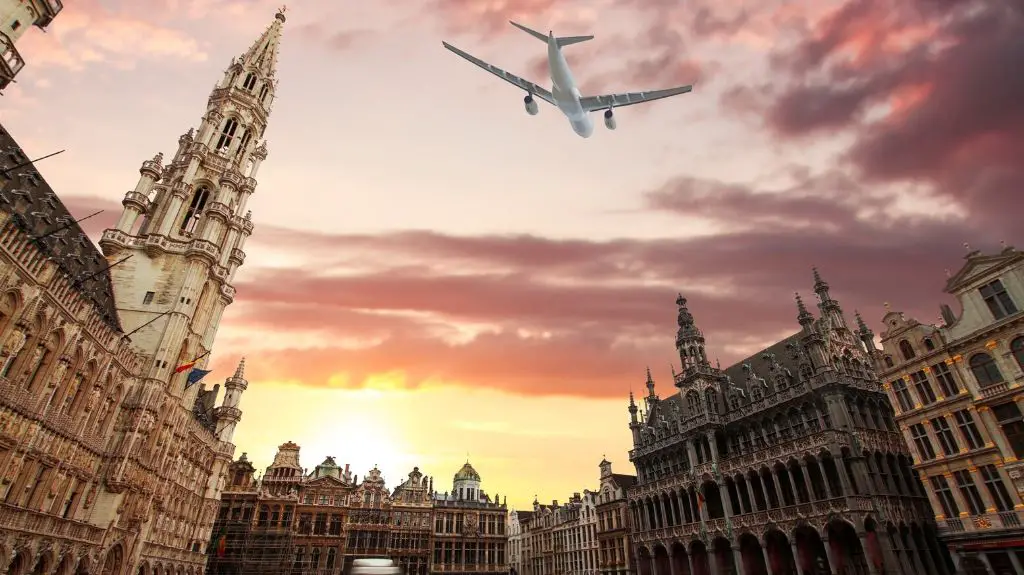 Two airports serve Brussels – the Brussels Airport (BRU) in Zaventem, and Brussels South Charleroi Airport (CRL) in Charleroi.
Brussels Airport is Belgium's national airport and is just 7.5 mi (11 km) northeast of Brussels. The Charleroi Airport serves mostly low-cost flights and stands 34 mi (55 km) south of Brussels.
How to get from Brussels Airport to Brussels
By train. A train goes from Brussels Zaventem Airport to Brussels Central Station every 10 minutes – from 5:00 AM until midnight, 7 days a week. The ride's duration is 18 minutes and costs €13.00 ($14.50). The train is the fastest and most convenient transport to get to Brussels.
By bus. Buses depart from the airport's Level 0. Two bus lines can take you from the airport to the European district:

Line 12 operates only on weekdays until 8:00 PM. It stops at two main stations – Schuman (the only metro station) and Luxemburg station.
Line 21 operates on weekdays after 8:00 PM and on weekends. It has more stops, including two metro stations – Trone and Schuman. Line 21's last stop is very close to the Royal Palace of Belgium and 10 minutes away from the city center.

By car. Getting from Zaventem to the center of Brussels by car takes a little less than 30 minutes.
By Uber pickup. Since January 2019, Uber is legal in Belgium again. Make sure to order one in advance to avoid waiting times. An UberX ride from Brussels Airport to Brussels costs around €30 ($33.70)
By taxi. Taxi rides from the airport to the city center cost around €50 ($55) and take anywhere from 30 to 60 minutes, depending on the traffic.
How to get from Charleroi to Brussels
By shuttle bus. Flibco runs a shuttle bus that takes travelers from Charleroi to the center of Brussels. The buses depart every 30 minutes and take around 50 minutes. A return ticket is €14.70 ($16.50).
By car. The driving distance between Charleroi to Brussels is 34 mi (55km), and it's quite easy as Charleroi is just south of the capital. The journey is around 45 minutes to the center.
By taxi. If you want to avoid public transportation and get to Brussels in the most convenient way, pick a taxi. The cost is about €90 ($101) or €22.50 ($25.20) per person if you share with three other people. Beware of unlicensed taxi cars and order your pick-up online.
By Uber pickup. Since January 2019, Belgium allowed Uber to operate legally again. Ensure you order a car from the app in advance to avoid waiting. An UberX ride from Charleroi to Brussels costs around €75 ($84.25)
By train. There are no direct trains from Charleroi Airport to Brussels, so we don't recommend using this means of transportation.
By Train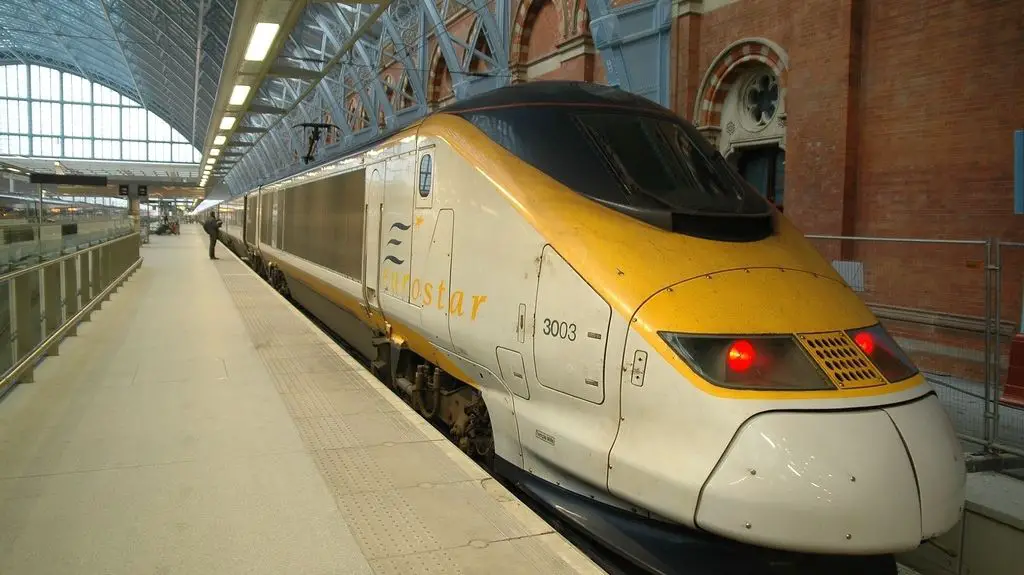 Getting to Brussels by train is fairly easy because the city is served by several train stations. High-speed or bullet trains only stop at Brussels-South (Bruxelles Midi / Brussel Zuid).
Here are some examples of train ride durations from major Belgian and European cities:
From Antwerp to Brussels: between 45 and 60 min.
From London to Brussels: approximately 2 hours, depending on what time of the day you leave.
From Paris to Brussels: takes about 1:40 h.
From Amsterdam to Brussels: the ride is around 2 hours.
From Aachen to Brussels: you'll travel a little over 1 hour.
Tip: To secure the lowest prices, buy your tickets in advance.
By Bus
Brussels has 4 bus terminals, with the two main ones being Brussels North and Brussels South. Each of them is within walking distance from the city center.
At each station, you can find ATMs, kiosks, restrooms, luggage storage spots, fast food chains, coffee bars, as well as exchange offices.
What to Do in Brussels in 2 Days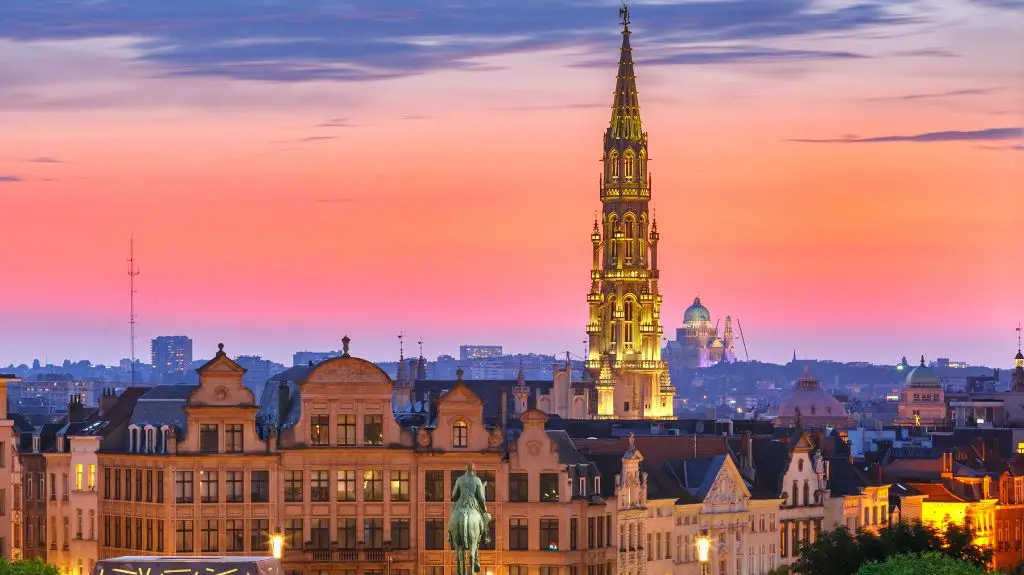 Now that we've covered the basics, let's dive into the sexy stuff!
Brussels is worth visiting for the irresistible combination of gorgeous landmarks, high-quality food and beer, and a host of European institutions.
So, are 2 days in Brussels enough?
There are tons of things to do and see in the Belgian capital in two days. This section will show you the best spots for your ultimate Brussels itinerary.
If you don't want to explore the city on your own, join this awesome walking tour around Brussels' main attractions.
Now, let's see the itinerary day by day.
Tip: Check out the Brussels vs Amsterdam comparison of the two gorgeous European capitals.
Day 1 – Things to Do in Brussels
On the first day, we suggest you focus on the landmarks in the central part of Brussels. Let's start at the very heart of the city:
The Grand Place – The Historical Heart of Brussels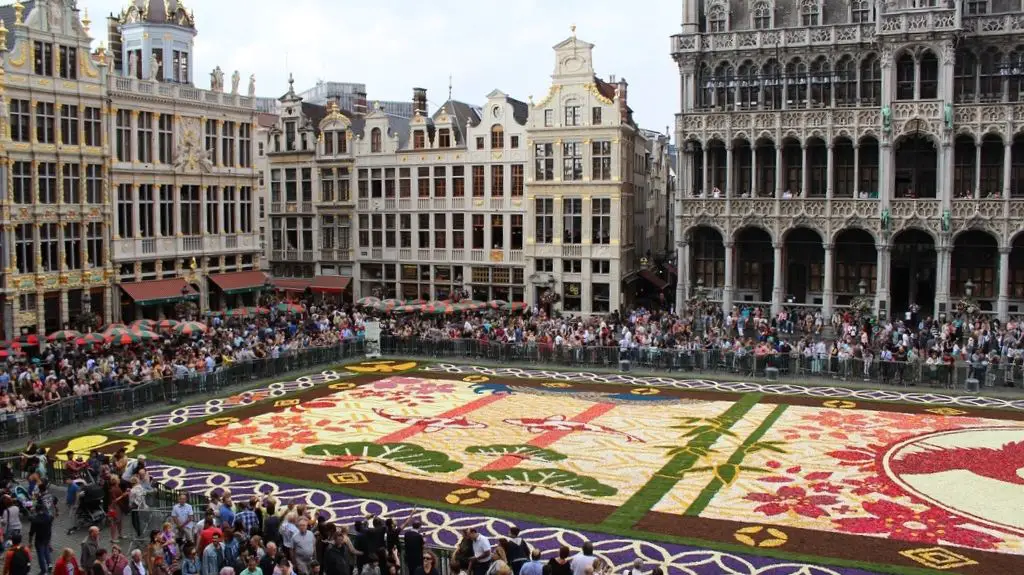 This is one of our favorite places in the city, and we bet our cute Bulgarian bottoms that it's going to become yours, too.
La Grand Place (Grote Markt) is a magnificent cobblestoned square in the epicenter of Brussels. Its large size allows for numerous events to occur on the square. The most remarkable one is the flower carpet. Locals arrange 500,000 flowers, including bark, begonias, dahlias, and grass, to form an enormous, otherworldly carpet.
Mesmerizing buildings surround La Grand Place, making it one of the world's most gorgeous squares. If you're a UNESCO sites lover, you'd be pleased to know that Grote Markt was added to the list in 1998.
Brussels City Museum – Fascinating Displays in Neo-Gothic Setting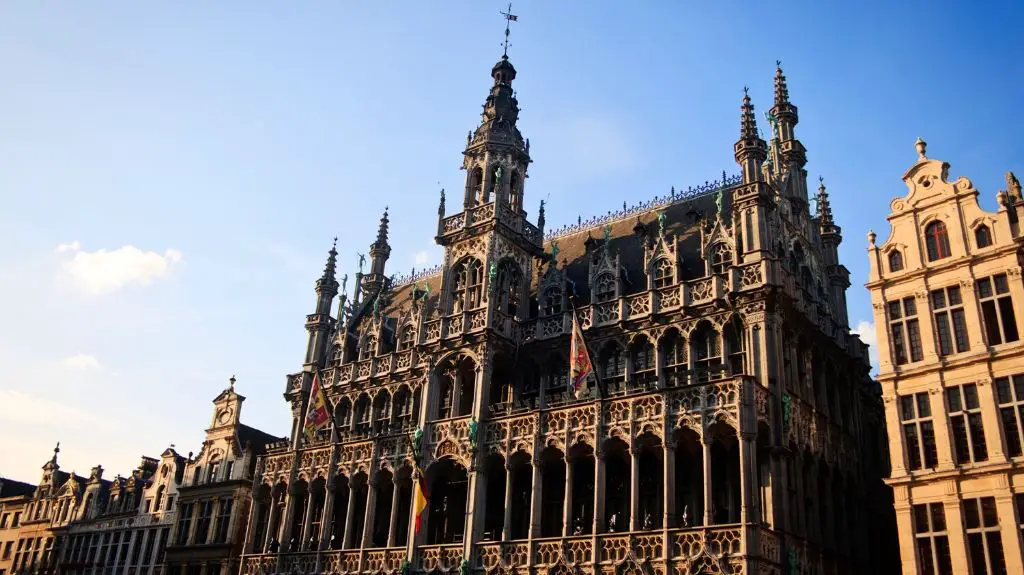 While you're at the square, you can pay the Brussels City Museum a visit. You'll find it on the Grand Place in the King's House (Maison du Roi) opposite the Town Hall. The building epitomizes the Gothic Revival style and is a UNESCO World Heritage site.
Inside the museum, you'll have the chance to explore north of 7,000 items from the history of Brussels. These include ancient artifacts, impressive paintings, and gorgeous tapestries. The original statue of Manneken-Pis (see below) is on display here as well. Find it on the top floor.
The Brussels City Museum works every day from 10:00 AM to 5:00 PM, save for Mondays. You can get inside for free on the first Sunday of every month.
Manneken Pis – Brussels' Bizarre Landmark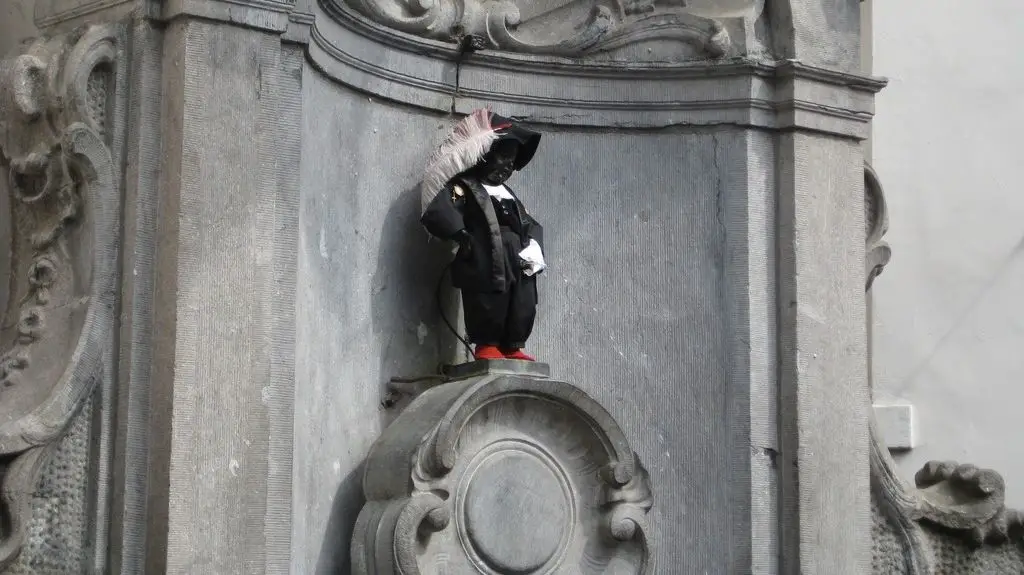 Ready to explore some peculiar attractions? We've prepared not just one but two. The first one is Manneken Pis, standing just five minutes on foot from La Grand Place.
Manneken Pis is a bronze fountain sculpture, measuring 24 in (61 cm). It portrays a naked little boy (Manneken Pis from Dutch) who is urinating in the basin of the fountain. The sculpture traces its roots to the 15th century.
If you've already visited the Brussels City Museum, you'll have seen the original. Despite this being a replica, it has its own dresser. He's responsible for clothing him every day. The little boy's wardrobe includes more than 1,000 different costumes.
The Manneken represents the unique sense of humor and independent minds of Belgians. Now, let's head to the second peculiar attraction.
Location: At the intersection of Rue de l'Étuve / Stoofstraat and Rue de Chêne / Eikstraat.
Jeanneke Pis – Another Peculiar Landmark of Brussels
Since there's a boy, there's got to be a girl, right? That's what Denis-Adrien Debouvrie thought, too. So, he commissioned the modern fountain sculpture in 1985, and locals built it in 1987.
Jeanneke Pis is a 20-in (50-cm) bronze statue portraying a little girl with short pigtails in a squatting pose, urinating on a limestone base.
You can marvel at the peculiar creation south of the Grand Square on Fidelity Alley's east side. Iron bars protect Jeanneke-Pis from vandalism.
Location: On the east side of Impasse de la Fidélité / Getrouwheidsgang.
Mont des Arts – A Gorgeous Park and Stunning Panoramas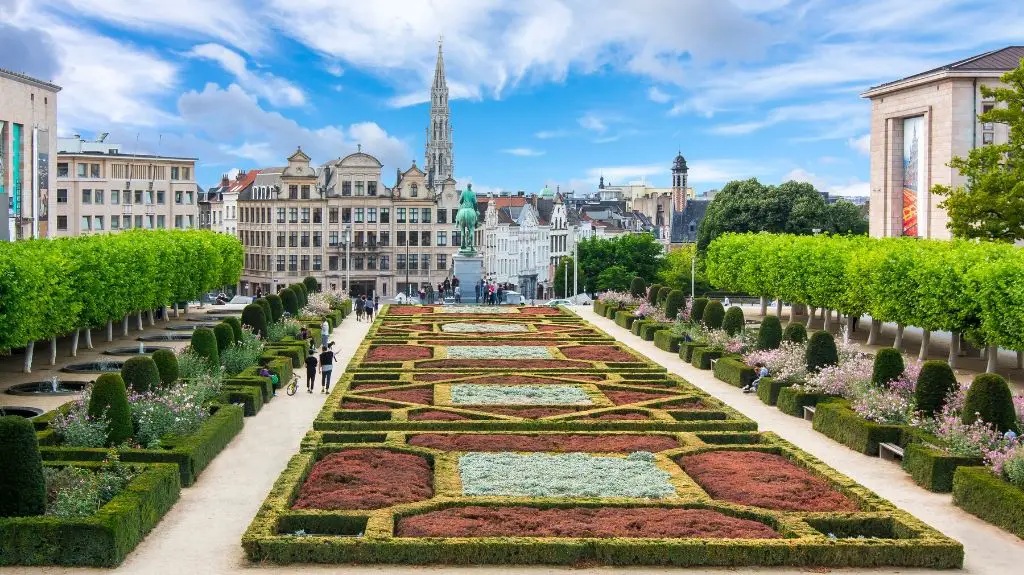 Want to admire the spire of the Brussels City Hall, a stunning public garden, and a bunch of other gorgeous buildings? Then, the next stop on your 2 days in Brussels itinerary should be Mont des Arts (Kunstberg in Dutch).
Get your camera ready for jaw-dropping vistas of plane trees, imposing museums and edifices, and the pointy spire of Brussels' City Hall.
Literally meaning "Hill of the Arts", the Mont des Arts is the cultural center of the Belgian capital. Besides the best views of Brussels, the area boasts a host of art and cultural institutions, including:
The Royal Library of Belgium;
The Royal Museum of Fine Arts;
The Musical Instrument Museum;
The Magritte Museum;
And more.
Now, let's head to another royal landmark of Brussels.
The Royal Palace of Belgium – The Majestic Splendor of Brussels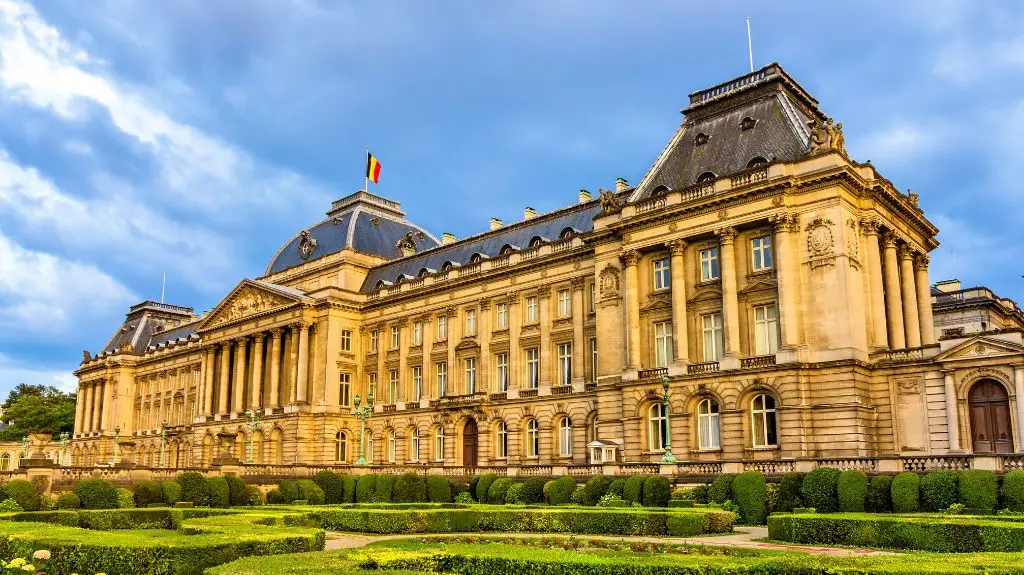 The Royal Palace of Brussels acts as the official palace of the King and Queen of Belgium. However, the King and his entourage reside in the Royal Palace of Laeken – sitting on the outskirts of Brussels.
The Royal Palace of Brussels serves as the administrative residence of the King. That's where he welcomes ambassadors, political representatives, heads of state, and various other domestic and foreign guests.
Belgium celebrates its National Holiday on July 21st. A day after that, local authorities open the Brussels Palace to the public. The landmark remains open until the end of August.
This means that if you'd like to visit the Royal Palace during your 2 days in Brussels, you need to arrive between July 21 and August 25.
Address: Rue Brederode 16, 1000 Brussels
St Michael and St Gudula Cathedral – Brabantic Gothic Architecture at Its Finest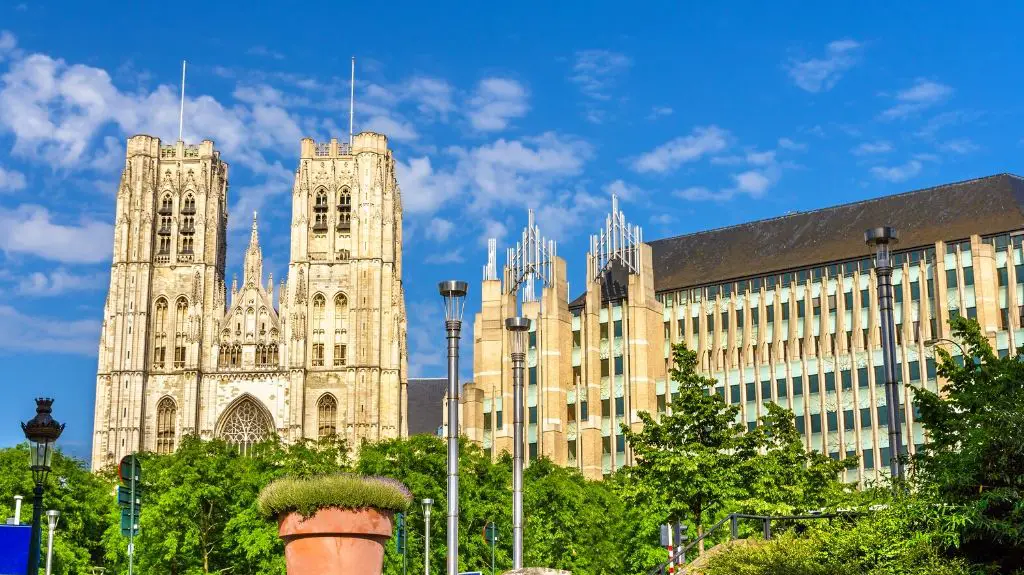 St Michael and St Gudula Cathedral should be next on your Brussels itinerary if you like exploring stunning religious temples.
Saints Michael and Gudula are the patrons of Brussels. For that reason, the Roman Catholic church bears their name. If you're a Gothic architecture aficionado, you'll fall in love with the distinctive Brabantine style of St Michael and St Gudula Cathedral.
When you're inside, don't miss peeking at the mind-blowing stained-glass windows. They date back to the 16th, 17th, and 19th centuries. Some of the windows represent scenes of the Legend of the Miraculous Statement.
Address: Place Sainte-Gudule, 1000 Brussels
Day 2 – Things to Do in Brussels
On the second day of your ultimate Brussels itinerary, we suggest you stroll through the contemporary European Quarter, admire the lush Parc du Cinquantenaire, and explore the mind-boggling Atomium.
The European Quarter – Mingle with Diplomats from Across the Globe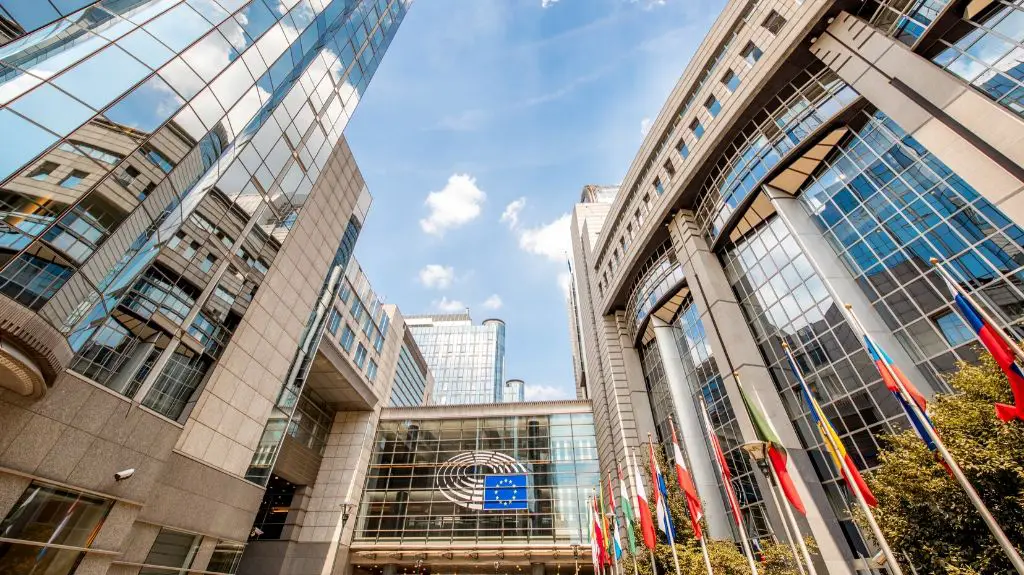 Would you like to rub shoulders with diplomats from around the world? And maybe admire the jaw-dropping architecture of the EU institutions?
Well, you can do both in the European Quarter of Brussels. Svet had the unique chance to work in the area for a while, and the contemporary architecture of the buildings there constantly amazed him.
The quarter is chock-full of EU institutions, including:
The European Parliament
The European Commission
The Committee of the Regions
The Council of the European Union
The European Economic and Social Committee
The presence of so many European institutions makes Brussels the unofficial Capital of Europe. However, the neighborhood teems with other things to see in Brussels, including peculiar museums, interesting shops, lush parks, and lively squares.
In fact, the district has four main squares that act as reference points for people living or visiting the capital. Find them in the next section of our guide on how to spend 2 days in Brussels.
The Square District – Beers, Fries, and Markets
Brussels abounds with beautiful squares. You'll find the best ones in the European Quarter. We recommend the following four:
Place du Luxembourg (Luxemburgplein). Besides the European Parliament that's just behind the station, you'll also have a chance to sip a beer or grab a bite at some of the many bars, terraces, and restaurants on Luxembourg Square.
Place Jourdan (Jourdanplein). The small square teems with quirky bars, cafés, and restaurants. Don't miss Maison Antoine. They serve the best Belgian fries in Brussels. Insider tip: You can bring the fries to some of the bars on the square. Just look for a sign allowing that.
Rond-point Schuman (Schumanplein). The Schuman roundabout gives you a fantastic viewpoint of the European Commission, The Council of the European Union, and Parc du Cinquntenaire's triumphal arch. Head to this square if you want to feel like an EU diplomat.
Place Jean Rey (Jean Reyplein). Jean Rey Square awaits you with trendy bars, quirky cafés, and a suspended market. The Committee of the Regions is in its vicinity.
Parc du Cinquantenaire – The Green Lungs of Brussels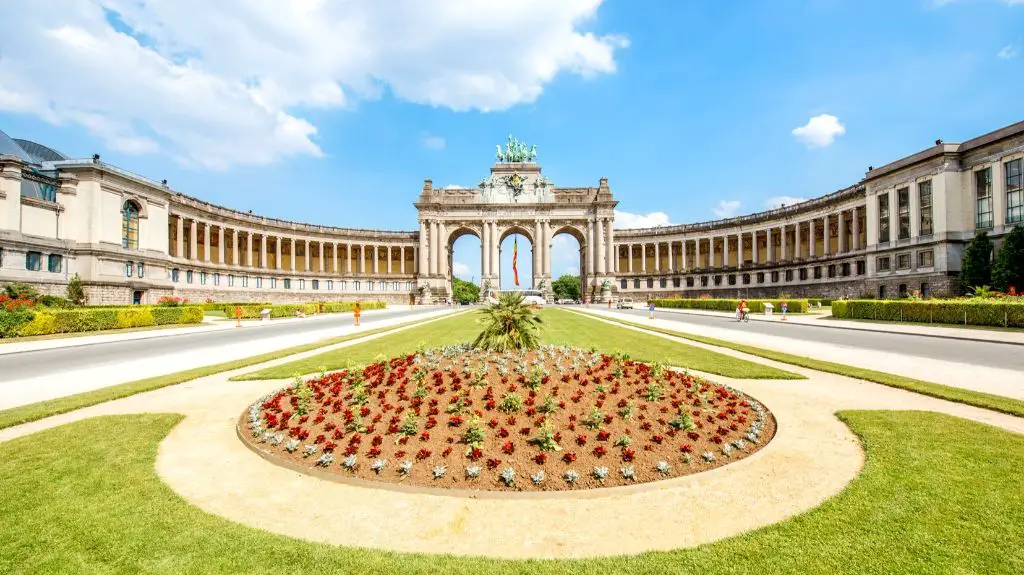 Parc du Cinquantenaire (Jubelpark in Dutch) is a gigantic public park adjacent to the European Quarter of Brussels. Besides being a park, it's also a national landmark. Translated into English, the name means "Park of the 50th anniversary".
King Leopold II constructed Jubelpark to commemorate fifty years of Belgian independence. This happened in 1880 for the National Exhibition. In the park's southeast end, you'll find many buildings that form a U-shaped complex. The King commissioned all of them.
The enormous triumphal arch that symbolizes the park dates back to 1905. It extends into two arms, which house three museums. The Royal Military Museum is in the northern part, while the Art & History Museum and the Autoworld Vintage Car Museum are in the southern part.
Insider Tip: An entrance in the military museum leads to the top of the arch. On a clear day, you'll be able to admire a stupendous view of Brussels and its European Quarter.
Address: Avenue de la Joyeuse Entrée 21A, 1000 Brussels
The Atomium – the Modern Symbol of Brussels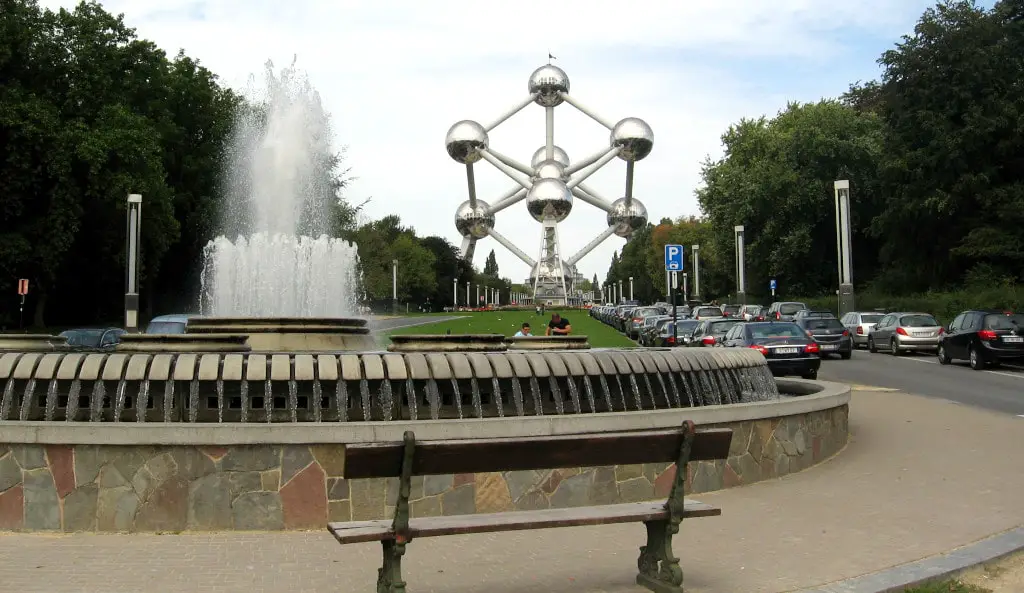 After exploring the European Quarter and some of Brussels' most jaw-dropping parks, we suggest you venture a bit outside the city to admire the contemporary symbol of the Belgian capital. You can get there either by metro or tram. The station for both is called Heysel.
The Atomium is to Brussels what the Big Ben is to London. Locals erected the Atomium for the World's Fair Expo that took place in Brussels in 1958. The building served as the main pavilion of the expo.
As the name suggests, the Atomium represents an atom magnified 165 billion times. The 335-ft (102-m) Atomium consists of nine spheres, each 59 ft. (18 m) in diameter. Tubes and escalators connect them together.
Inside the spheres, you'll find temporary and permanent exhibitions. The topmost sphere houses a restaurant that offers splendid panoramic views of the Belgian capital. To visit this incredible landmark, buy your tickets in advance here.
Peculiar fact: Initially, local authorities planned to dismantle the Atomium after the exhibition. However, due to its enormous popularity among Belgians and foreigners visiting the city, they left it standing. Soon, it turned into the modern symbol of Brussels, representing future ideas and universality.
Address: Square de l'Atomium, 1020 Brussels
Mini Europe – Miniatures from All Over the Old Continent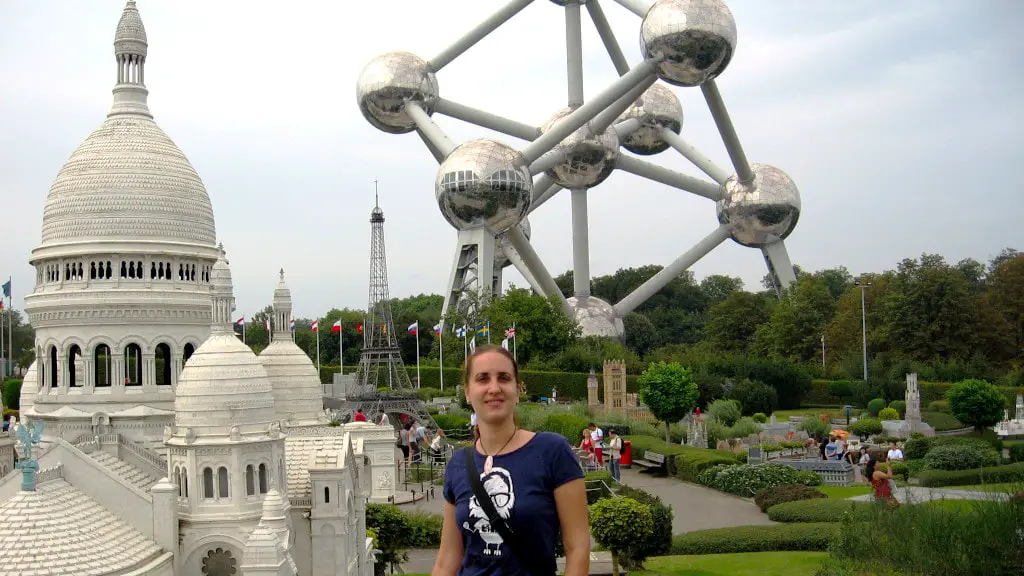 After checking out Atomium's mesmerizing architecture and marveling at Brussels from above, you can visit another unique landmark that's a few minutes away from it.
Mini Europe is a park where visitors can discover reproductions of European monuments that have been minified 25 times. Inside, you'll have a chance to explore 350+ buildings from 80 EU cities. Find the eye-catching miniatures of the Big Ben, the Grand Place, the Acropolis, the Eiffel Tower, and hundreds of others.
The miniature park is the only place worldwide where you can tour Europe in just an hour. Local authorities have made sure your experience is top-notch by installing live-action models like trains, mills, cable cars, and erupting volcanos.
Mini Europe attracts a lot of visitors every year, so we highly recommend you buy your tickets in advance. Get them online from this link.
Note: Make sure you pay attention to the entry hours of the park tickets.
Address: Avenue du Football 1, 1020 Brussels
Markets, Shopping, and Quirky Things to Do
In your 2 days in Brussels, you can also indulge in shopping, visit some of the city's many markets, or do something quirky. For your convenience, we've prepared a list of recommendations.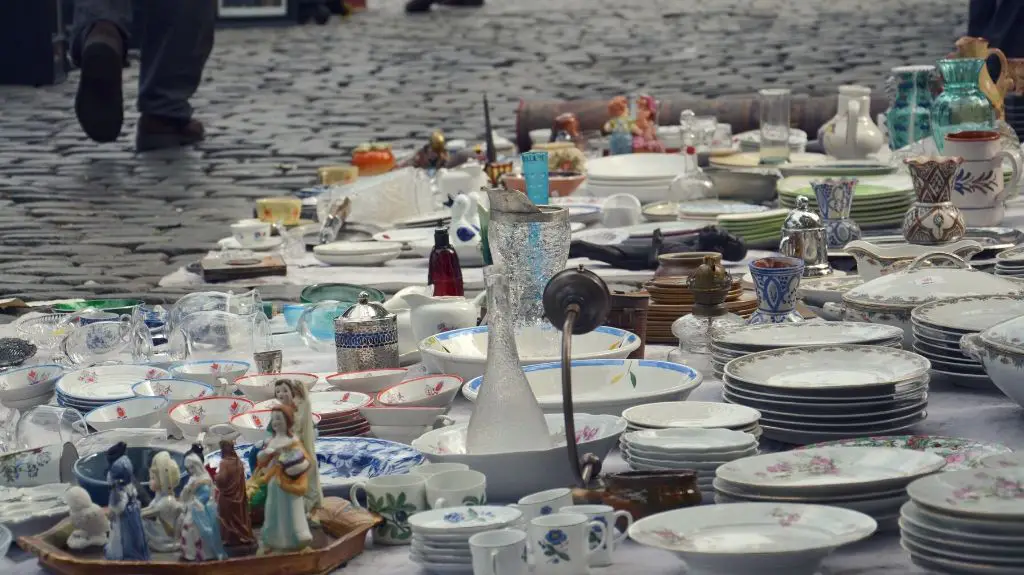 The Top Brussels Markets to Visit
The best way to dive into the unique charm of a city is to visit its pulsating markets. Brussels' street markets offer everything from antiques and clothes to flowers and food. Let's take a look at the top ones:
Grand Place
Besides the city's main square and pulsating heart, Grand Place is also a market. There, you'll find various plants and flowers from 8:00 AM to 8:00 PM. You can always admire the gorgeousness of the surrounding buildings with a beer in hand from one of the cafés if flowers don't interest you.
Place du Grand Sablon
The Market at Grand Sablon is rather new – it dates from 1960. Ironically, it's an Antiques Market. If you're in Brussels for a weekend, head to Place du Grand Sablon to time-travel through the various pavilions.
Marché du Midi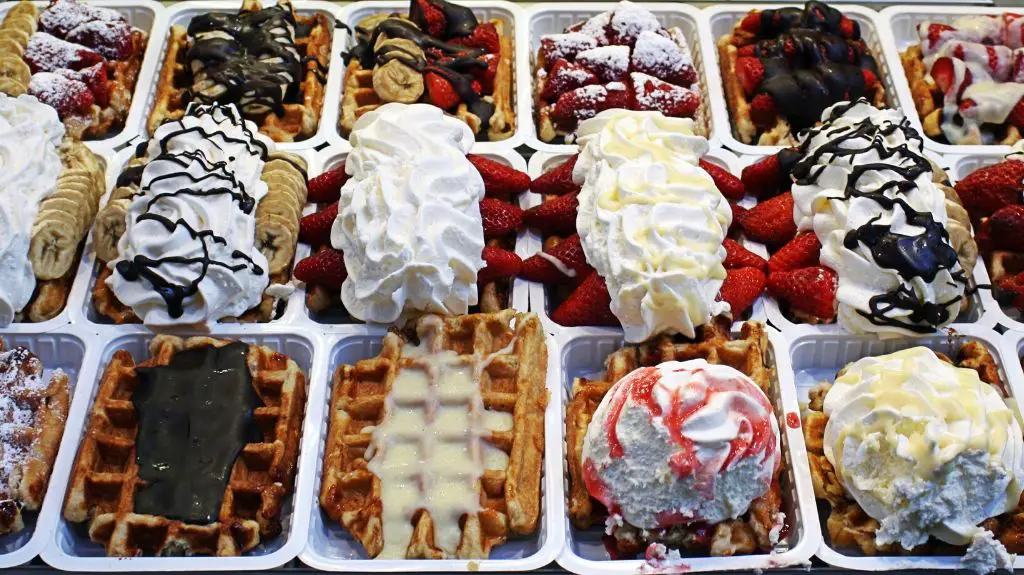 Smells, colors, and flavors are waiting to satiate your cravings at the largest Belgian market and the third largest in Europe – the Market of Midi. Explore local and international fish, herbs, spices, cheeses, and olives, as well as leather items and fabrics – all at unmatched prices at Marché du Midi.
Place Jourdan
Want to try the best fries in Brussels? Head to Maison Antoine on Place Jourdan. At the square, you'll also find cozy bars and terraces that serve local beers.
Insider Tip: Some places allow you to bring the fries (frites/fritjes) from Maison Antoine in. Just look for the sign on the window.
Place Sainte-Catherine
Place Sainte-Catherine is a food and flower market that runs every Thursday, Friday, and Saturday from 8:00 AM to 8:00 PM. Organic lover? Then, you should check it out on Wednesday (from 7:30 AM to 3:00 PM) when it becomes an all-organic food market.
Insider Tip: If you're spending 2 days in Brussels in December, you'd be pleased to find a Christmas market on the square at that time.
Place du Jeu de Balle
Are you a true bargain hunter? Well, we have some great news! Place du Jeu de Balle is a heaven for bargain worshippers. What's even better? The market is open every day as early as 6:00 AM.
Insider Tip: Locals told us the best days to visit the square are Thursdays and Fridays – before the hidden gems are gone.
Rue d'Aerschot – Brussels' Red-light District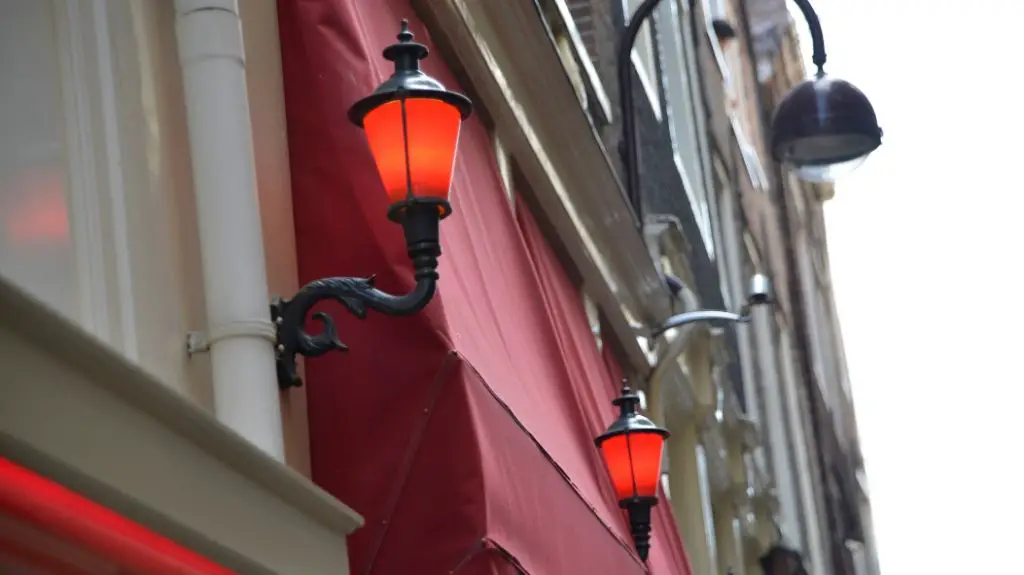 Much like Amsterdam, the Belgian capital also has its own red-light district. Svet lived in Brussels in 2009 and 2010. He commuted through Brussels' North Station (Gare du Nord).
Well, the red-light district is just behind that train station – on Rue d'Aerschot / Aarschotstraat. The street is famous for its brothels, and acts as the hotspot for the city's underground life.
Peculiarly, the street is very close to the city center and is adjacent to Brussels' business and financial district. Even more peculiarly, the rear entrance of the Saint John and Nicolas Church is also on the same street.
Prostitution is believed to have existed before the First World War on Aarschotstraat. Nowadays, the scantily clothed ladies of the night woo passersby from behind the "windows".
Tip: check our cool guide for more unusual things to do in Brussels.
What to Eat in Brussels – Emblematic Belgian Foods You Can't Afford to Miss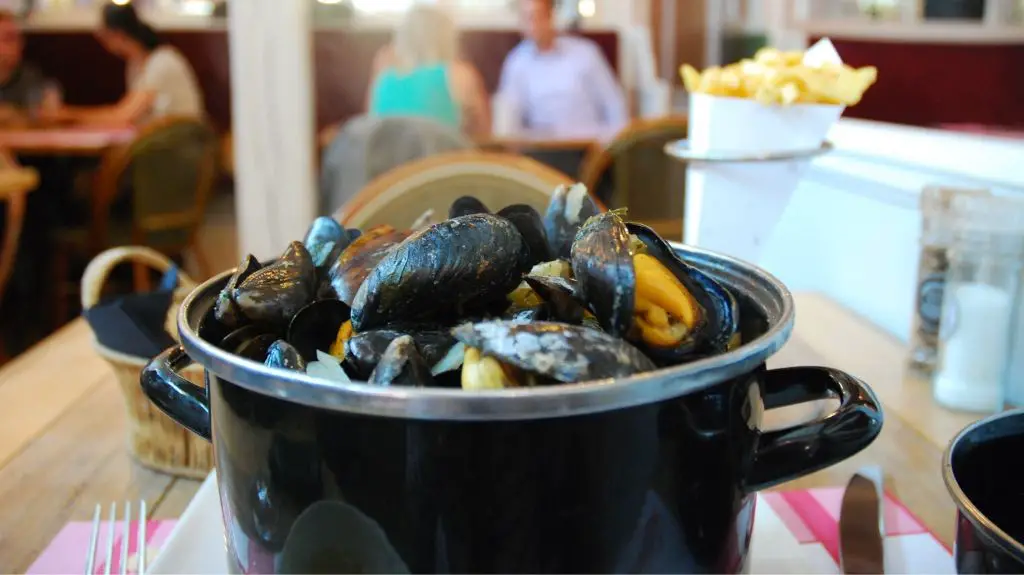 Internationally, Belgium is revered for its world-class beer, crunchy fries, scrumptious waffles, and decadent chocolate. But there are many other dishes and delicacies, which you'll have a chance to taste when spending your 2 days in Brussels.
Here are the most popular ones:
Moules-frites / Mosselen met friet. The literal translation means Mussels with fries. You'll find Belgium's national dish everywhere in Brussels. Belgians prepare the mussels either cooked or steamed, and accompany them with copious amounts of celery and onions, and fries on the side. Note: One dish can usually feed two people.
Carbonade flamande / Stoofvlees. This is by far Svet's favorite stew. And it might easily become yours, too. We'll let you in on the secret behind it. The beef simmers in dark Belgian beer for several hours until it becomes as tender as the night. The dish comes with fries or bread with mustard, and it's another one of Belgium's national dishes.
Gaufres / Wafels. Sweet connoisseurs would argue that Belgian waffles are among the best in the world. And we might support them 😊 You'll find them everywhere – in ice-cream vans, in supermarkets, or even in small shops. Don't miss the Liège waffle (Gaufre de Liège) and the Brussels waffle.
Chocolate. More than 2,000 small and large chocolatiers exist in Belgium. Every year, they produce over 172,000 tons of chocolate. To gift your gourmet palate, hunt for the following brands: Neuhaus, Leonidas, Guylian, and Côte d'or. And for the ultimate chocolate experience, we suggest participating in a chocolate-making workshop!
Cheese. Belgians started producing cheese in abbeys back in the Middle Ages. Even now, some cheese brands have the same name as the abbeys that produce them. Many of these abbeys (Chimay, Maredsous, Westmalle, etc.) manufacture both cheese and beer. That's because most Belgian beers are strong, and the fragrant cheeses are the perfect accompaniment to them.
What to Drink in Brussels – Typical Beverages You Must Try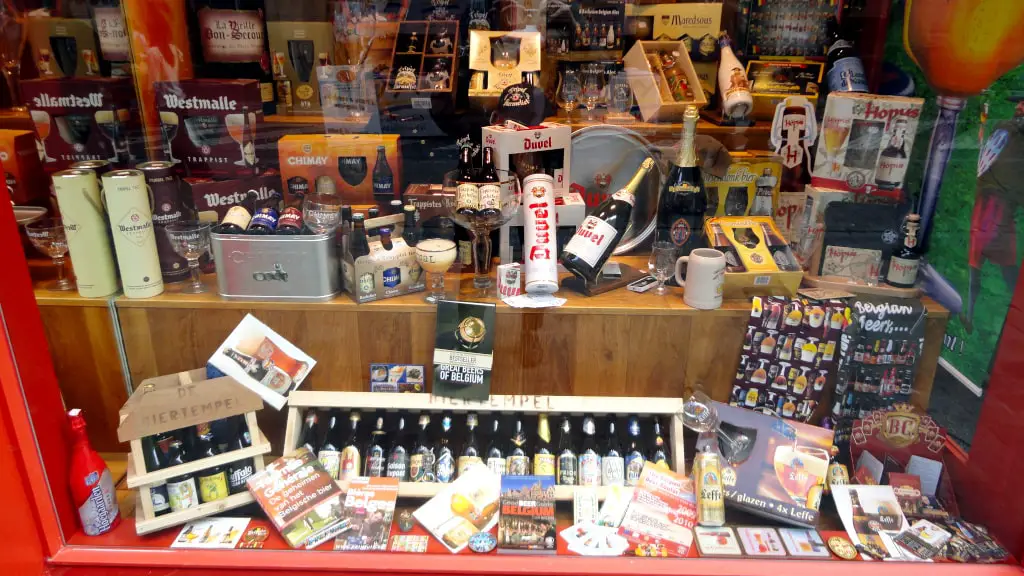 There are two main beverages you must try during your two days in Brussels, Belgium. These are beer and jenever:
Beer. Belgium's tiny size is comparable to the island of Hawaii. You'd be surprised to learn that on such a small territory, the country boasts a whopping selection of 2,000+ different beers. In fact, measured by capita, the country has more distinct beer kinds than any other nation in the world. The world-famous Stella Artois originates in Leuven, Belgium, and it's always a good idea. But if you want to experience something new, try the sour cherry beer (kriek) or the trappist beers like Achel, Orval, Chimay, and Westmalle. Note: Trappist monks brew trappist beer in monasteries or abbeys. Out of the 14 monasteries that produce this beer, six are in Belgium.
Jenever. How would your taste buds like to try something stronger? Jenever, which also goes by the name of peket, genever, genièvre, or Dutch gin, has been Belgium's national spirit for 500+ years. Locals serve jenever in shot glasses that they pull straight out of the freezer. "Why do they call it Dutch gin?" you might ask. Well, because it gets its flavor from juniper, and that's where gin evolved from.
Where to Stay in Brussels – the Best Neighborhoods and Districts
Now that you know what to do and see, as well as what to eat and drink, you need to learn where to stay in Brussels during your two-day trip.
Below, we'll enlist the best areas, districts, and neighborhoods for your 2 days in the Belgian capital.
Brussels Center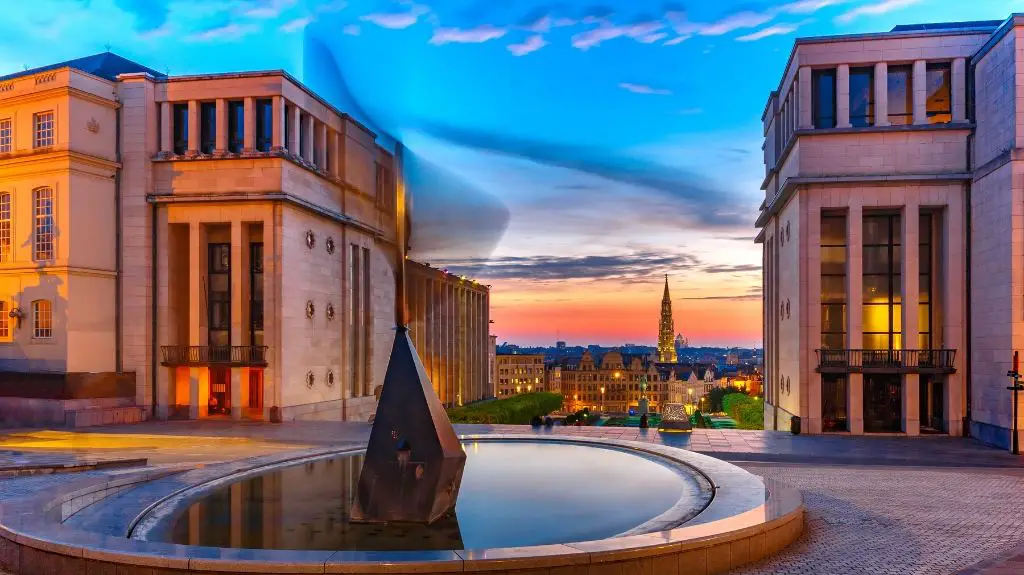 The highest concentration of landmarks is located in the historic center of Brussels. The Old Town consists of two parts – the Lower Town (Bas de la Ville) and the Upper Town (Haut de la Ville).
Pick your hotel in the Lower Town if you want to be closer to the Grand Place, the Manneken Pis, and St Michael and St Gudula Cathedral. In the area, you can benefit from the city's best shops and restaurants.
Go for an accommodation spot in Brussels' Upper Town if you want to be closer to Mont des Arts and the European District. The latter includes easy access to Parc du Cinquantenaire and Parc Leopold.
Tip: Accommodation rates in the European District drop during weekends and holidays because the institutions close.
Laeken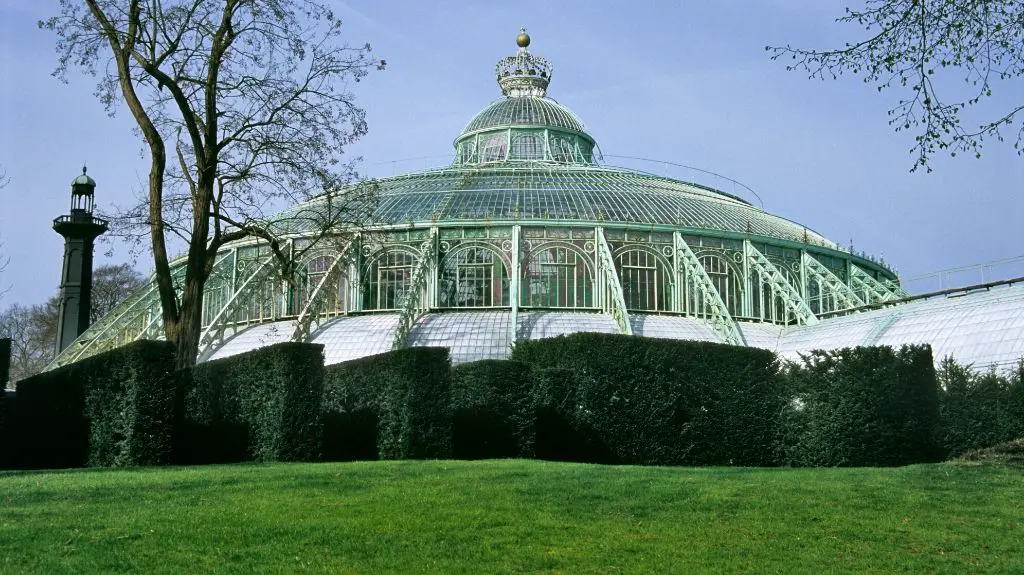 If you want to stay close to the Atomium and Mini Europe, book your lodging in the Laeken area.
In addition to these two attractions, you can also visit the magnificent Parc de Laeken. The Castle of Laeken (Château de Laeken), located in the park, is the official royal family's residence. The domain is also home to the outstanding Royal Greenhouses.
Spend your time exploring Bruparck Theme Park which hosts not only Mini Europe and the Atomium but also features 27 cinemas and a water park. Shops, restaurants, and bars line a reconstructed typical Brussels street in the theme park, offering you a wide variety of entertainment and souvenirs.
Visa, Currency, and Language Tips for Brussels
Most travelers won't need a visa to enter Belgium as tourists. Visit the European Union's official website for the complete list of requirements.
Since 1999, Belgium's currency is the euro. Brussels teems with ATM machines and banks to get cash from. If you prefer cashless payments, you can use a card virtually everywhere.
So, the visa and currency situation was pretty straightforward. However, with the language, things get a bit more complicated.
Belgium has three official languages – Dutch, French, and German. Usually, street signs are in both Dutch and French. In Brussels, most people speak, but you'll get along with English almost everywhere.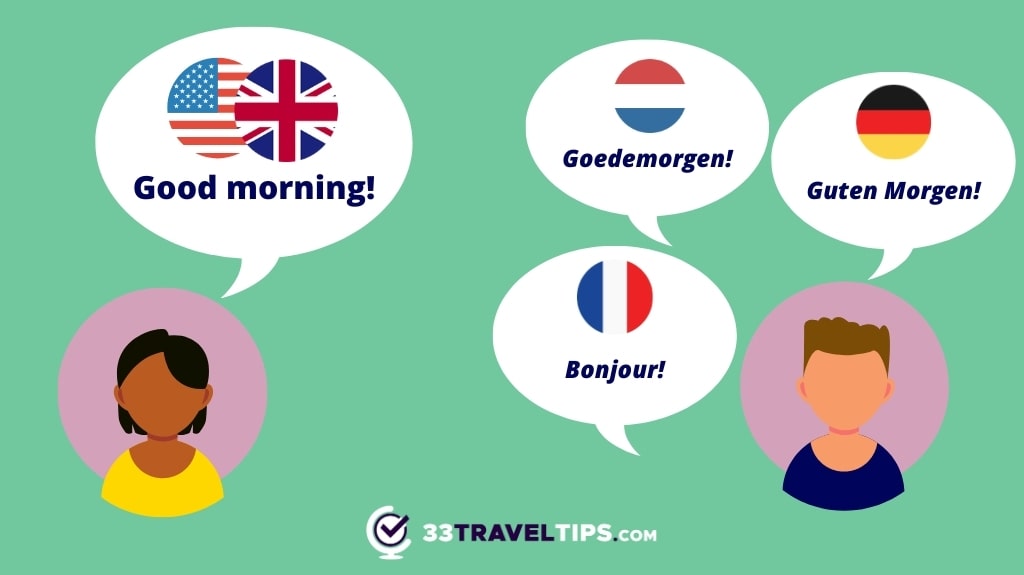 If you'd like to impress locals and show your respect for their culture, we've prepared a table with five basic words and phrases in each of the official languages:
| English | French | Dutch | German |
| --- | --- | --- | --- |
| Good morning | Bonjour | Goedemorgen | Guten Morgen |
| Goodbye | Au revoir | Tot ziens | Aufwiedersehen |
| Thank you / Thank you very much | Merci / Merci beaucoup | Dank u wel / Hartelijk bedankt | Danke / Vielen Dank |
| Excuse me / I'm sorry | Excusez-moi / Je suis désolé(e) | Sorry | Entschuldigung / Tut mir leid |
| Yes / No | Oui / Non | Ja / Nee | Ja / Nein |
2 Days in Brussels – Lavish Squares, Verdant Gardens, and Royal Splendor
Brussels is one of Europe's most diverse capitals. Its royal charm, fantastic squares, verdant parks, and quirky districts will leave you staggered.
The city offers a whole host of things to do and see. The good news is – with some planning, and our travel itinerary for the Belgian capital, 2 days in Brussels will be enough to cover everything.
What's more, you'll be able to get a good feel of the vivacious vibe of the city.
Start Planning Your Trip to Belgium with Our BEST Recommendations:
⭐ Top Tours in Belgium ⭐
📍 Brussels Highlights and Food Tasting – our top recommendation to see the most iconic sights of Belgium's capital and sample the flavors of the city.
📍 Ghent and Bruges Day Trip – explore two of the prettiest towns of Belgium on a day tour from Brussels. Join this unforgettable day trip before it's fully booked!
⭐ Best Accommodations in Belgium ⭐
🏨 Pillows City Hotel Brussels Center – great lodging with modern, luxurious rooms.
🏨 YAYS Antwerp Opera – fantastic hotel with funky designs in top location.
⭐ Easiest Transportation Options in Belgium ⭐
🚍 Brussels City Card – enjoy discounts, free travel, and entrances to museums.
🚍 Discover Cars – compare and find the best rates for car rentals.
Now, we're curious:
Have you been to Brussels before?
If not, what's the first thing you'll visit when there?