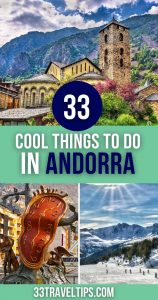 Looking for the best things to do in Andorra?
With a population of just 86,000, Andorra is one of the smallest countries in the world.
However, the principality sandwiched between Spain and France welcomes hundreds of thousands of tourists each year.
And the reason for that is it teems with great activities.
On this list, you'll find 33 cool things to do in Andorra.
From exploring its striking churches to marveling at jaw-dropping crags, and from spa treatments to endless shopping tours, let's see what to do in Andorra!
Start Planning Your Trip to Andorra with Our BEST Recommendations:
⭐ Top Tours in Andorra ⭐
📍 3 Countries in 1 Day – the best day trip from Barcelona to Andorra.
📍 Andorra Helicopter Tour – the most exhilarating aerial views of Andorra.
⭐ Best Accommodations in Andorra ⭐
🏨 Andorra Park Hotel – spoil yourself with a lux spa stay in the capital's center.
🏨 Grand Plaza Hotel & Wellness – relaxing spa and delectable gourmet offers.
⭐ Easiest Transportation Options in Andorra ⭐
🚍 Omio – check out the available buses and trains to and from Andorra la Vella.
🚍 Discover Cars – compare and find the best rates for car rentals in any destination.
Note: This article contains affiliate links. In case you purchase something through one of these links, we may receive a small commission at no extra cost for you. Thank you for helping us keep creating the free content on this website!
Explore Andorra's Enchanting Landmarks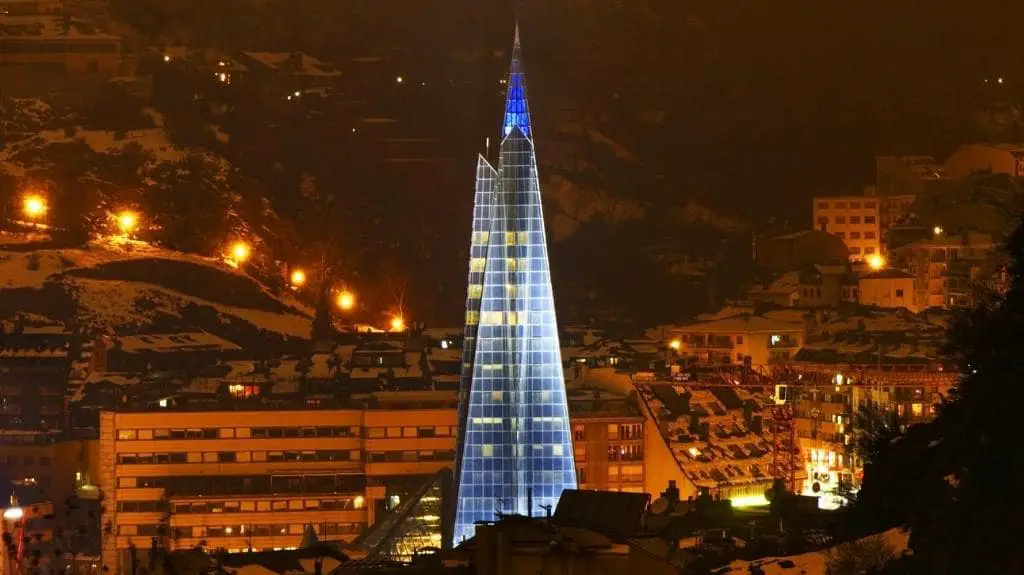 Among the best things to do in Andorra is discovering its captivating attractions. The following section will walk you around the most fascinating.
Rejuvenate at the Caldea Spa Complex. With its 18 floors, Caldea is the tallest building in Andorra and Europe's largest thermal spa complex. Plus, it has one of the most breathtaking designs in the world. The spa complex has numerous indoor and outdoor jacuzzis, swimming pools, and hydrotherapy sections. More than 400,000 people visit the spa each year. We don't know about you, but to us soaking in this gigantic spa complex is one of the top reasons to visit Andorra.
Check out La Casa de la Vall. One of the top landmarks in Andorra la Vella, the country's capital, is La Casa de la Vall. The historical house was erected in 1580 as a manor. From 1702 until 2011, it served as the headquarters of the General Council of Andorra. The Casa's first floor houses the spectacular Criminal Court with wooden decorations and furniture. The second floor is home to the Hall of Lost Steps – a noble room where you can marvel at 16th-century paintings.
Cross the Tibetan Bridge of Canillo. Pont Tibetà de Canillo is a mind-boggling hanging bridge. Its length is 1,978 ft. (603 m) and its maximum height – 518 ft. (158 m). If you're not afraid of heights and shaking knees, the spectacular views of the Pyrenees will reward you for your bravery of crossing the impressive steel structure.
Explore the country's national parks. Madriu-Perafita-Claror, Valls del Comapedrosa, and Valle de Sorteny cover a big portion of the territory of Andorra. The largest park – Madriu-Perafita-Claror – is also a UNESCO World Heritage Site. While trekking them, expect to see boars, eagles, roe deer, and bearded vultures.
Walk the Sola Irrigation Canal Trail. The trail is paved with rock and meanders along the canal. Heart-stopping views of the city and the valley await you on the Sola Irrigation Canal Trail. The hike is very pleasant and takes less than 1:30 hours.
Admire the buildings in Centro Historico. Andorra la Vella's Historical Center is a small neighborhood that prides itself on a few striking historical buildings. These include La Casa de la Vall, Casa Guillemó, Casa Felipó, and the old Vilanoca clinic. Most edifices date from the 16th and 17th centuries, so be prepared for gorgeous architecture.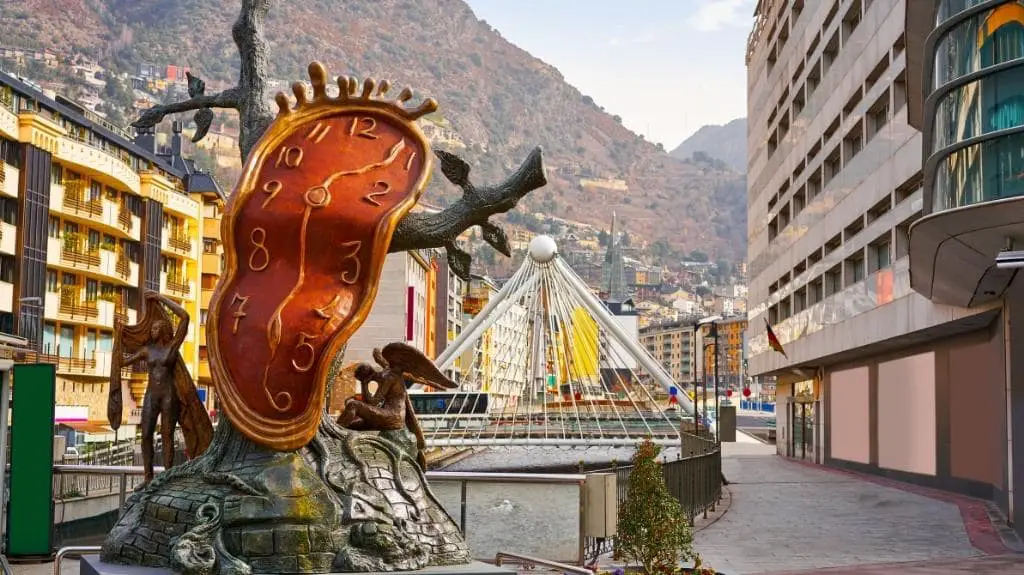 Marvel at La Noblesse du Temps. Weighing 1.4 tons and rising 16 ft. (4.9 m) above the ground, La Noblesse du Temps is a monumental bronze sculpture. The legendary artist Salvador Dalí constructed the monument that symbolizes the passing time (La Noblesse du Temps translates to The Nobility of Time). An interesting fact about Andorra is that Dalí made La Noblesse by hand.
Stop at Puente de Paris. This small yet picturesque bridge is a wonderful backdrop to the gorgeous Andorra la Vella. Puente de Paris has an attractive design and eye-catching architecture that blossoms at night as it's fully lit up. So, if your time allows it, visit it after sunset.
Satiate your shopping desires at the Shopping Mile. Since the country is a tax free haven, one of the best things to do in Andorra is to go on a shopping spree. The best place to meet your shopping needs is the Shopping Mile that cuts through Andorra la Vella. Countless outlets, hypermarkets, and boutiques will try to seduce you with their irresistible offers.
Tour the Valira D'Orient Valley. Andorra's Valira D'Orient Valley will charm you with its gorgeous little towns and villages, as well as edifices that seem to emerge out of nowhere. One of the most interesting is San Miquel Engloasters – a striking Pyrenean church erected in the Romanesque style. Near the church, you can explore Lake Engloasters. The lake might be artificial, but it offers various fishing and boating opportunities.
Explore Casa Felipó's granite architecture. Built in 1948, Casa Felipó is part of the Cultural Heritage of Andorra. The edifice uses granite stone and consists of seven floors. It has a conical roof and its façade peculiarly combines symmetrical and irregular elements.
Splash in hot springs at Les Escaldes. Just outside of Andorra la Vella, Les Escaldes is your spot if you love hot springs and thermal waters. The springs teem in nitrogen and sulphur, which can help heal a variety of health issues. The ancient Romans discovered the waters and built a bath that's worth exploring. In the vicinity, you can also find Roman ruins, Capilla Sant Roma Fortress, and the Pont dels Escalls Bridge.
Get Lost in Andorra's Picturesque Towns and Villages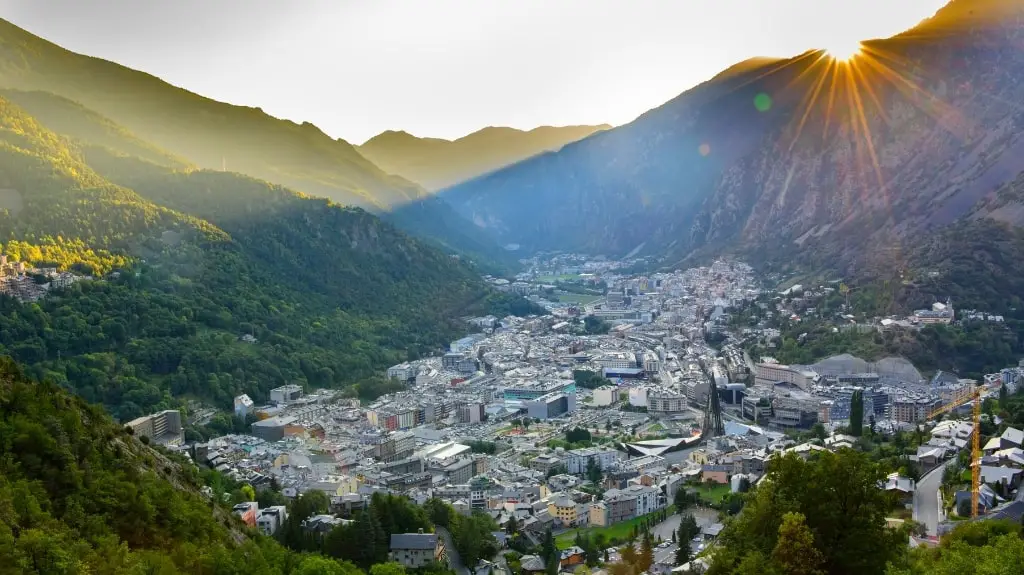 The country might be tiny, but it teems with gorgeous settlements. In this section, you'll find the best places to visit in Andorra.
Andorra la Vella. Andorra's capital – Andorra la Vella – is a captivating little town. Sitting at 3,356 ft. (1,023 m), it's the highest capital in Europe and one of the highest in the world. The city's population is just over 22,000 people, but there are tons of things to do there. It is a popular duty-free retail hub, and you'll find the main artery of stores along Meritxell Avenue. Next to shops, there are also galleries, restaurants, and handicraft stores. Don't miss the 12th-century Sant Esteve Church, which has eye-catching wooden decorations.
Encamp. The city will stun you with its picturesque views of the Valira d'Orient River. Pretty historical buildings, quaint cafés, boutiques, and restaurants that serve local fare dot the town. Encamp is home to the peculiar National Automobile Museum. Inside, you can discover a large collection of vintage vehicles, including motorcycles and steam-powered cars. If you're visiting in winter, take the lift to Grau Roig or Pas de la Casa to hit the ski slopes.
 La Cortinada. The pleasant village of La Cortinada sits among a drop-dead gorgeous combination of fields, flower meadows, and imposing mountain crags. Numerous ornate historical buildings further accentuate the town's beauty. If you're a fan of Romanesque architecture, head to Sant Martí de la Cortinada church to marvel at the vibrant frescos and impressive dovecot. Pay special attention to the wooden altar that dates from the 18th century.
Ordino. If you're looking to discover more of the Valira del Nord Valley, a must-stop is the town of Ordino. It lies at the foot of Casamanya Mountain and welcomes you with a rustic charm and a laid-back atmosphere. One of Ordino's top attractions is a 17th-century house that belonged to Baron de Senaller. Inside, you can admire a former armory with a barrel organ, an elaborate library, and a lavish iron balcony.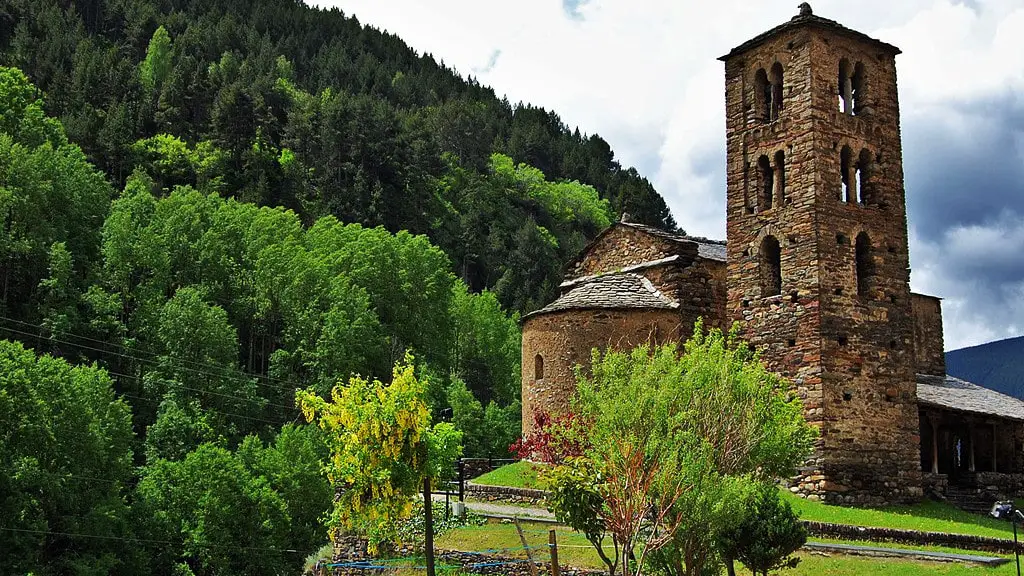 Canillo. Want to explore Andorra's roots? Head to the quaint village of Canillo where you can marvel at the Sant Joan de Caselles Chapel. The temple was erected in the 11th century in Romanesque style. You can combine the visit to the chapel with a stroll in the countryside to admire the spectacular scenery Andorra is famous for. The best views are from the breathtaking viewpoint Roc Del Quer.
Santa Coloma. The sleepy yet graceful village of Santa Coloma is known for its church. Also built in Romanesque style, the edifice is quite unusual as it's circular, not square in shape. The 9th-century church attracts visitors with its resplendent features, including a 12th-century statue of the Virgin of Coloma. Just a short walk from the church, you can discover the Sant Vicenç d'Enclar Castle which dates back to medieval times.
Anyós. The small village of Anyós offers great opportunities for a delightful afternoon of sightseeing. If you're visiting Andorra in July, you might witness the annual carnival of Anyós during which locals bless a carriage on the village square. The Church of Saint Christopher is also worth exploring. Venturing out in nature, bird watching, and fishing are the other activities you can do in the area around the village.
Meritxell. The crown in the jewel of attractions of Meritxell is the striking Basilica Sanctuary of Nostra Senyora de Meritxell. Built in Romanesque style in the 17th century, it will seduce you with its lavish statues of patron saints and a jaw-dropping mirror room. The old chapel also hosts a museum that displays artwork and historic objects.
Test Your Skills With Andorra's Winter Activities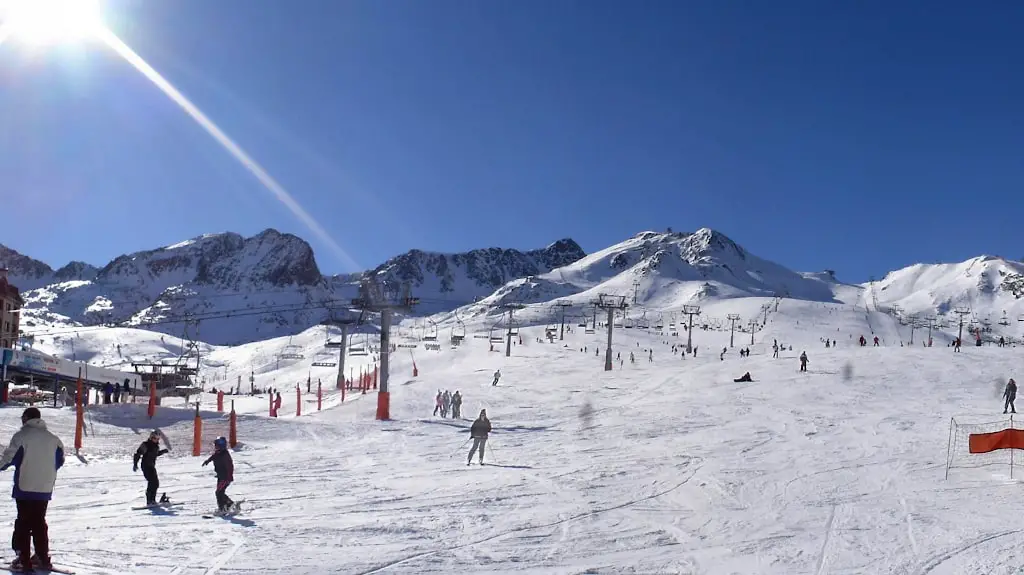 This list will show you the top spots to engage in winter sports. Skiing, snowboarding, and snowshoeing are among the best things to do in Andorra in winter.
Pas de la Casa. Right at the border with France, Pas de la Casa is one of Andorra's best ski resorts. Today, it has more than 30 ski lifts taking visitors to the areas below Pic d'Envalira. If you're an advanced skier, this is your spot to be as Pas de la Casa has several red pistes that span the surroundings. Nightlife is booming here as well, which makes the resort a popular place for young travelers.
Vallnord. Tourists from Europe and beyond flock to Vallnord for its crisp snow and unmatched skiing conditions. As a prime winter resort, it caters to all kinds of skiers – from complete beginners to seasoned pros. Traveling with family? You can benefit from the resort's ski school and various family activities like snowshoeing, tobogganing, or even driving a snowmobile.
La Massana. Top-notch outdoor sports and fun in the snow expect you in La Massana in the winter months. The resort is at an elevation of over 4,920 ft. (1,500 m), and its slopes reach up to 8,200 ft. (2,500 m). More than 55 mi (89 km) of downhill ski trails – including 41 marked pistes and 26 ski lifts – are there to keep you busy. Skiing, snowboarding, snowshoeing, and even paragliding are all available at La Massana.
Soldeu. The small village of Soldeu has a large appeal to skiers, snowboarders, and winter fans. Fantastic 4*- and 5*-star hotels will pamper you with their chic facilities and exquisite mountain spas. Here, you can find every ski slope imaginable – from the novice green and blue to the more advanced red and the expert black ones.
Grandvalira. 129 ski pistes, including 20 green, 49 blue, 41 red, and 19 black keep skiers challenged at Grandvalira. The total length of the pistes is 130 mi (210 km), with a maximum vertical drop of 2,800 ft. (850 m). If you're a fan of higher adrenaline and fewer crowds, you'll be delighted to hear that night skiing is possible here as well.
Check Out the Most Peculiar Museums of Andorra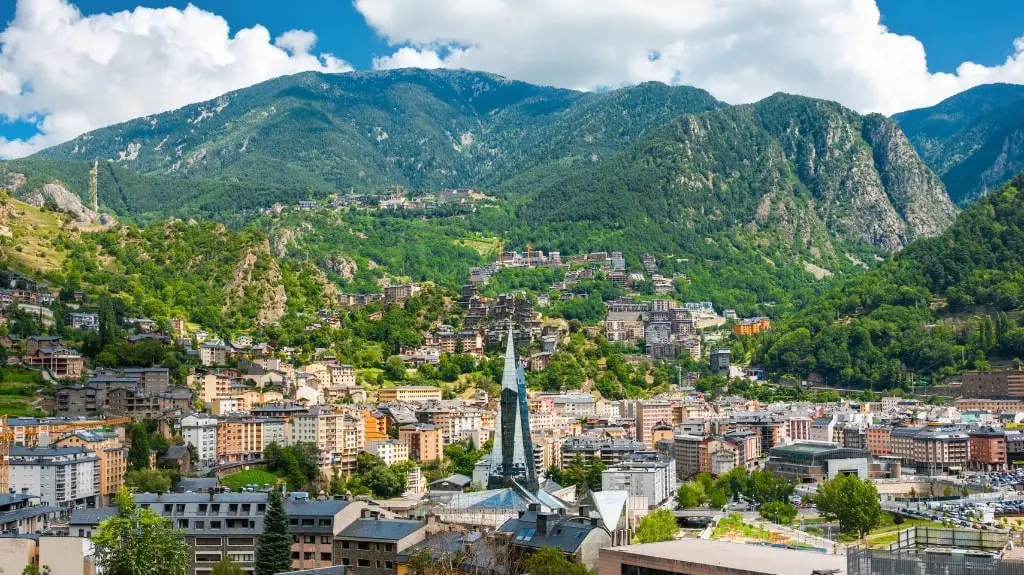 When you've had enough of hiking and Romanesque architecture, how about touring Andorra's unusual museums? The quirkiest ones include:
The Postal Museum. Discover how stamps were made and printed in the Postal Museum. The collection features over 50,000 stamps. The tour takes around 30 minutes, but you can also explore the museum on your own with an audio guide. The opening hours are from 10:00 AM to 2:00 PM, and from 3:00 PM to 6:00 PM Monday through Saturday. On Sunday, the museum is open only in the morning.
The Museum of Miniatures. The Museo de la Miniatura showcases a large diversity of works by Nicolai Siadristy, a Ukrainian who is widely regarded as one of the world's best miniature artists. Siadristy has created miniatures out of fine materials like gold and platinum, as well as common materials such as paper, grains of rice, or fruit seeds.
The Perfume Museum. This truly unique museum proves Andorra's special connection to scents. Inside the Perfume Museum, you'll discover 39,000+ units and thousands of fragrances in five different rooms. Don't miss the Olfactory Station area where you can experiment with mixing various scents with the help of two machines. Prices start at €3 ($3.25), and you can check the opening hours here.
The Comic Museum. If you're a fan of cartoons and caricatures, you'll love discovering the colorful Comic Museum. It hosts over 1,000 copies, and the oldest piece is Little Nemo in Slumberland which dates from 1904. VHS and DVD movies, as well as art books, are also on display in the museum's archive. Exploring this quirky collection is definitely one of the best things to do in Andorra.
The Electricity Museum. The MW Museum of Electricity is open all year round. From May till September, you can also observe the Engolasters hydroelectric route. The tour takes you to the dam on Engolasters Lake where you can unveil the secrets of electricity production. Plan around an hour for the museum and another for the hydroelectric route.
Charge Your Palate with the Mouthwatering Andorran Cuisine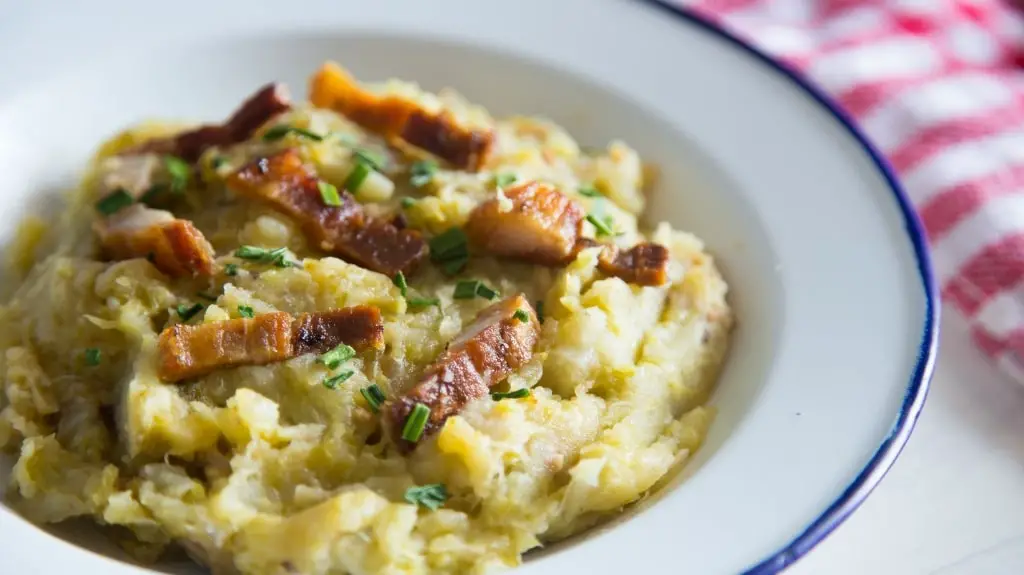 One of the best things to do in Andorra is quenching your hunger with scrumptious local dishes. Similar to neighboring France and Spain, Andorrans like escargots. Some of the mountain game delicacies you can expect to taste in the country include boar and hare. In this section, you'll find the most typical foods in Andorra.
Escudella. Andorra's national dish consists of meat and veggies that join forces in a soup or a stew. Escudella combines meat (chicken, veal, or sausage), pasta shells, and different seasonal vegetables, including celery, carrots, and cabbage.
Trinxat. Similar to the British Bubble and Squeak, Trinxat consists of leek, cabbage, potatoes, and pork meat. Fresh parsley and garlic cloves add a fragrant touch to the dish. Sometimes, locals serve it topped with a poached egg or chicory leaves.
Trucha a la Andorrana. Due to Andorra's location away from seashores, seafood isn't common in the country's cuisine. But the country has many rivers full of freshwater trout. Trucha a la Andorrana is Andorran-style trout, which is grilled and wrapped in ham. Delectable!
Which Are Your Favorite Things to Do in Andorra?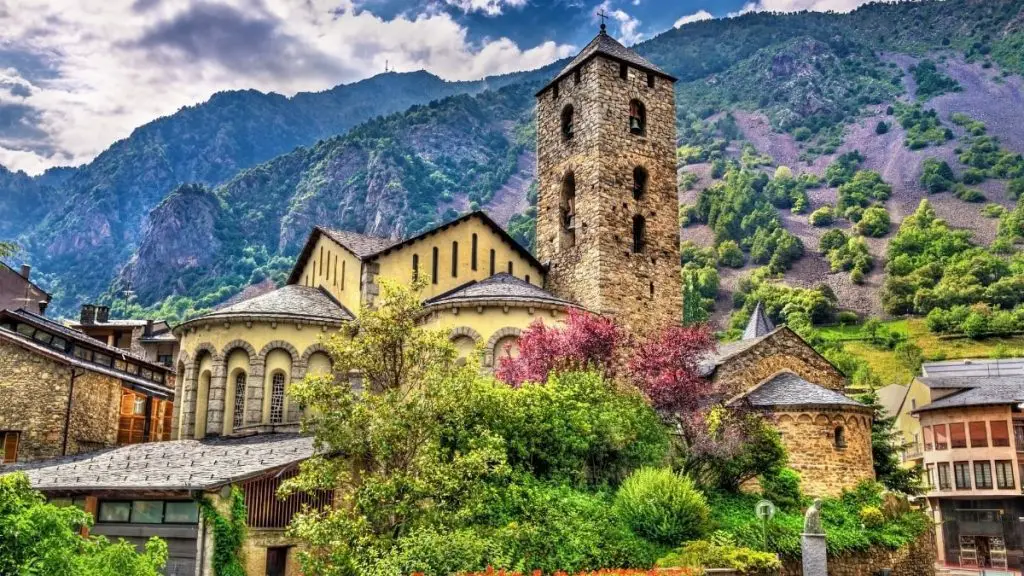 If you've thought Andorra is worth just a day trip from Barcelona, we hope this guide convinced you otherwise.
Armed with these 33 cool things to do in Andorra, we're sure you'll have a ton to explore in one of the smallest countries in the world.
From captivating landmarks to dainty towns and villages, and from breathtaking ski slopes to unusual museums, we bet you'll have a blast in Andorra.
Start Planning Your Trip to Andorra with Our BEST Recommendations:
⭐ Top Tours in Andorra ⭐
📍 3 Countries in 1 Day – the best day trip from Barcelona to Andorra.
📍 Andorra Helicopter Tour – the most exhilarating aerial views of Andorra.
⭐ Best Accommodations in Andorra ⭐
🏨 Andorra Park Hotel – spoil yourself with a lux spa stay in the capital's center.
🏨 Grand Plaza Hotel & Wellness – relaxing spa and delectable gourmet offers.
⭐ Easiest Transportation Options in Andorra ⭐
🚍 Omio – check out the available buses and trains to and from Andorra la Vella.
🚍 Discover Cars – compare and find the best rates for car rentals in any destination.
Now, we'd love to hear:
What would be the first thing you'd do when you visit Andorra?
Leave a comment below to share it with us.