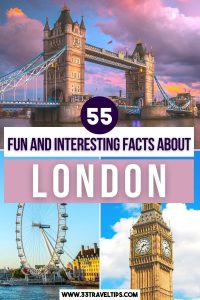 London is a mind-blowing city.
The lush parks, astounding landmarks, and world-class museums attract millions of visitors every year. Throw in diverse history, cosmopolitan feel, and architectural masterpieces, and you'll realize why everybody who visits the city falls in love with it.
To entice you even more to visit the British capital, we decided to do something different than the London travel tips we've already shared with you.
We prepared a list of 55 fun and interesting facts about London. If these don't convince you to book your flight, we don't know what will.
Ready? Let's dive right in.
Start Planning Your Trip to London with Our BEST Recommendations:
Top Tours in London
Best Accommodations in London
Easiest Transportation Options in London
Note: This article contains affiliate links. In case you purchase something through one of these links, we may receive a small commission at no extra cost for you. Thank you for helping us keep creating the free content on this website!
Fun Facts About London Which Will Bring a Smile on Your Face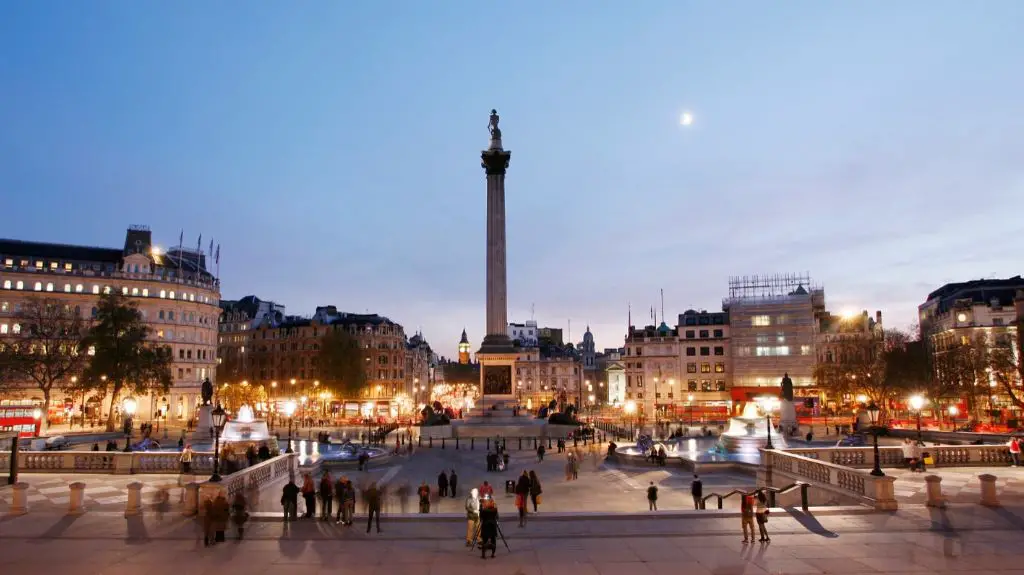 It's always a good idea to start with the fun facts about London first and get a good laugh at the expense of Londoners.
Funny street names await you in the British capital. Amsterdam might have the most notorious red-light districts, but London surprises with some pretty naughty street names. In Farringdon, you can still walk on Cock Lane. It used to be the only street in London where prostitution was legal and brothels thrived. Other amusing street names include Shiteburn Lane, Butts Wynd, Gropecunt Lane, and Pissing Alley.
London is a forest. Don't be fooled by the concrete jungle in the Square Mile. London teems with lush parks and greenery. In fact, it has so many trees per square mile that the United Nations has classified the city as a forest. There's even an official Forestry Conservator who takes care of the trees and green spaces.
You'll get a fine if you feed pigeons on Trafalgar Square. Once, Trafalgar Square was home to gigantic flocks of feral pigeons, which locals and tourists fed or took pictures with. In 2003, London's mayor imposed a ban on both feeding the pigeons and selling food anywhere near the square. If you're lucky, you can even spot the hawk which keeps the pigeons at bay.
London holds two records when it comes to the Olympics. First, it's the only world city that hosted them three times – in 1908, 1948, and 2012. Second, the first Olympics it hosted in 1908 was also the world's longest-lasting the incredible 187 days! That's like

six

modern Olympics.
A special flag signifies the Queen's residence. Queen Elizabeth's royal flag is flying from the flagpole of the Buckingham Palace when she's home. The flag bears the name The Royal Standard, and is placed on buildings where the Queen is present. However, if you notice the British Union Jack flag on the palace's flagpole, that means she's staying somewhere else. Tip: If you're wondering where you can stay on your visit to the British capital, check out the best areas to stay in London.
London has six major orchestras. While many big cities pride themselves on one or two orchestras, London takes it up a huge cultural notch with six! These include The Philharmonia, The London Philharmonic, The Royal Philharmonic, The BBC Symphony Orchestra, The London Symphony Orchestra, and The Orchestra of the Royal Opera House. It's safe to say you'll get your share of concerts when in London.
Strange Urban Facts About London That You Might Not Believe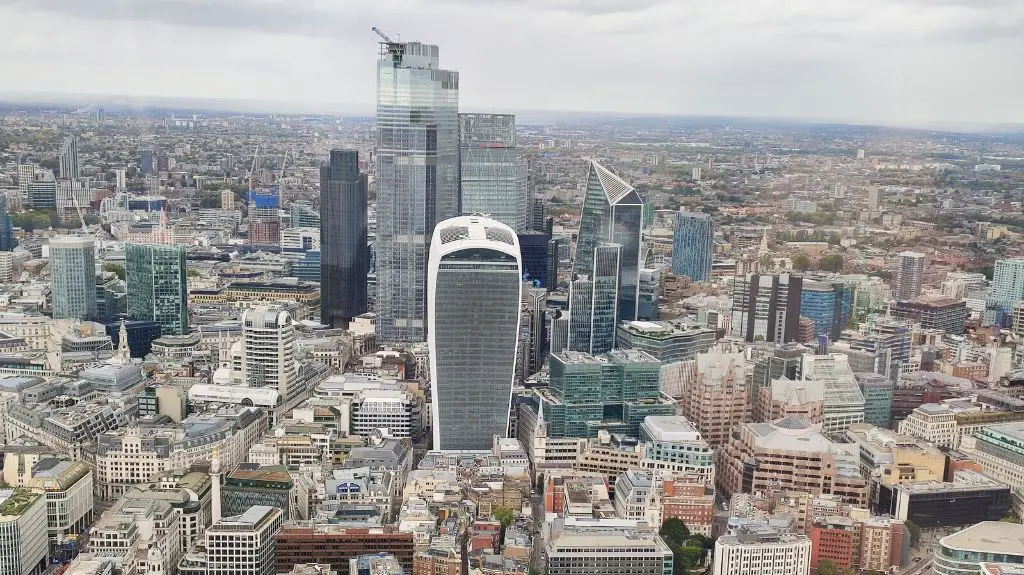 Some of this urban trivia is so unexpected that you might even think we're trying to fool you. We ourselves scratched our heads in disbelief while gathering the following strange facts about London.
Book your tickets to the right London. There are several cities worldwide that are called London. While Canada and France have just one, the United States has 10. London is also the name of an asteroid. Imagine saying, "Mom, London just hit us!"
London is the U.K.'s tiniest city. This is among the most interesting facts about London. When you think of London, that's in fact the City of London. Even though it covers just 1.12 sq mi (2.9 sq km) and its population is around 9,400, it gives employment to almost 1 million people. 75% of these jobs are in the business and financial sectors. The "real" city is actually Greater London which includes surrounding towns and has a population of 8.9 million people.
Around 15 million people live in London. While the city proper is a little over 8.9 million, London's urban agglomeration is close to the 15-million mark. This makes the British capital not only the U.K.'s largest city but also Europe's second-largest city (after Moscow).
London is multilingual. The capital's 15+ million people speak more than 300 languages. This means that if English is not your first language, there's a good chance you'll find someone who speaks your native tongue. After English, the most used languages are Mandarin, Cantonese, Bengali, Punjabi, and Gujarati.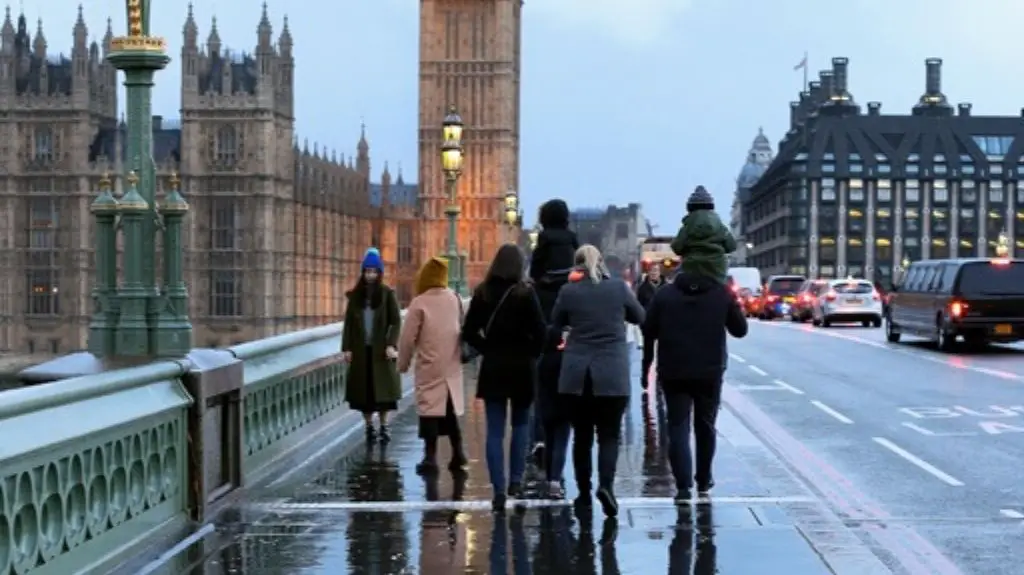 Rainy London isn't that rainy. The U.K. capital is known worldwide for being a city that gets a ton of rain. And while that's true, London actually sees

less

precipitation than Rome, Paris, Istanbul, Barcelona, NYC, Miami, and Sydney – both in terms of volume and number of rainy days. Now, that's one of the most surprising facts about London, isn't it?
London is home to some of the best football (soccer in the U.S.) teams on the planet. These include English Premier League's finest like Arsenal, Chelsea, Crystal Palace, and Tottenham. Visiting a football match is an experience in itself. Make sure you book tickets in advance, though, as stadiums get pretty packed.
The city is fox heaven. The cosmopolitan capital of the U.K. is home to 10,000+ foxes. But even that number doesn't make London the city with the highest concentration of city foxes. Bournemouth gets that title. Don't worry about them, though. The risk from feral dogs is much greater than from foxes. In general, foxes will back off when they see humans.
Sherlock Holmes was an honorary resident of London. In the famous stories of Sir Arthur Conan Doyle, Sherlock Holmes occupied an apartment on Baker Street. If you find yourself near that area, go for a photo op at 221b Baker Street. At the actual address today, you'll find the amazing Sherlock Holmes Museum.
By April 2020, London had 56 billionaires. That puts the British capital in fifth place in the world after New York City, Hong Kong, Moscow, and Beijing. An even more interesting fact is that 26% of the global 2,095 billionaires live in the top 10 cities. The total net worth of the wealthiest Londoners is $212.7 billion. The richest resident is Sir Leonard Blavatnik, an Odesa-born British-American investor and philanthropist. His net worth at the end of June 2020 was $26.9 billion. Half the countries in the world have smaller GDPs! Mind-blowing, right?
Scary Facts About London Which Will Make Your Hair Curl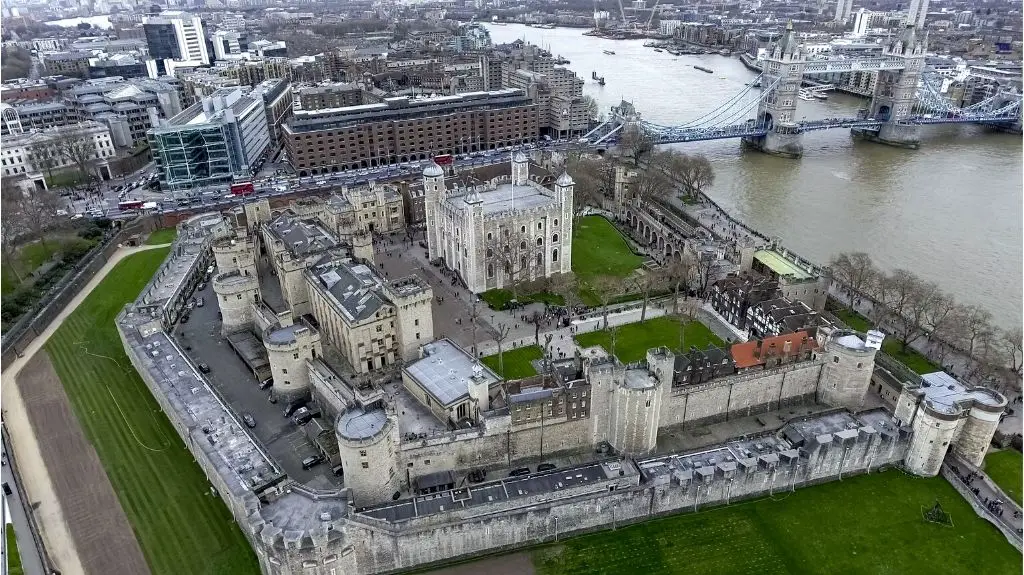 Several of these scary facts about London's past might even gross you out. If you wish to skip them, we'll totally understand. However, these practices are no longer in use, so you have nothing to worry about when you decide to visit London.
The Tower of London was a notorious prison from the 16th to the 20th century. During the reign of Henry VIII, locals did horrifying tortures to inmates, using medieval devices. The Deputy Führer to Adolf Hitler, Rudolf Hess, was one of the "most famous" inmates at the end of World War II. The last official prisoners – The Kray Twins – were released from the tower in 1952.
Aldgate Station is London's "deadliest". One of our most disturbing facts about London is about Aldgate Station near Tower Bridge. A plague pit beneath the station holds the remains of over 1,000 bodies. In recent years, another gruesome event took place in a train approaching Aldgate Station. On July 7, 2005, one of the four suicide bombers in the terrorist attacks throughout London detonated a deadly device, killing seven passengers.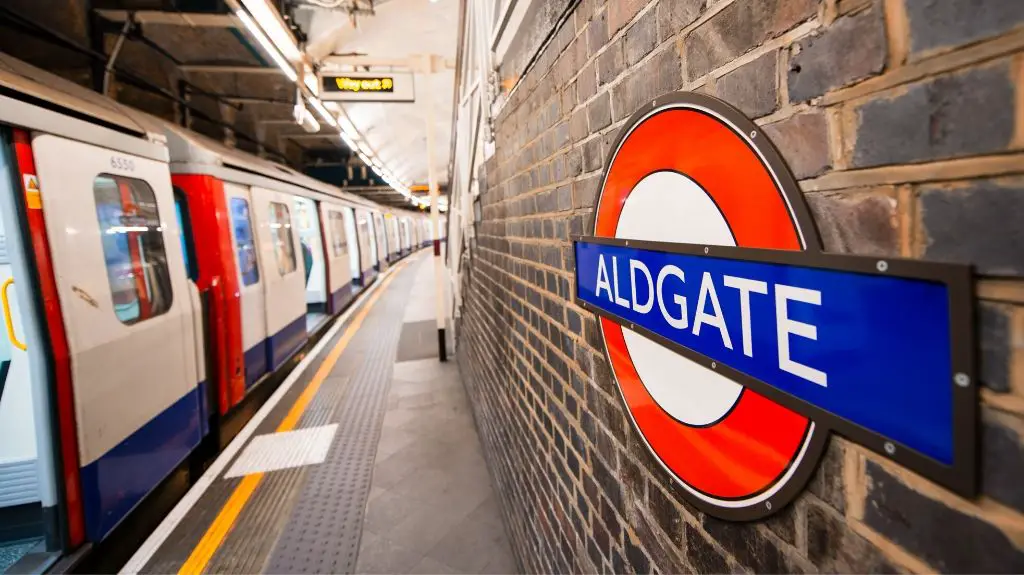 Buying drugs was legal at the beginning of the 20th century. Up until 1916, you could legally stock up on heroin and cocaine over the counter in stores like Harrods.
London Zoo had some scary practices. You usually relate zoos to a fun day with your partner or your kids, right? While this is the case today, in the early 18th century, things were fairly different. How different, though? Well, you could enter the zoo for free if you brought a cat or a dog to feed the lions. That different.
All venomous animals in the zoo were killed during the Second World War. Locals did that to stop the animals from escaping into London and killing people in case the zoo was hit by a German bomb.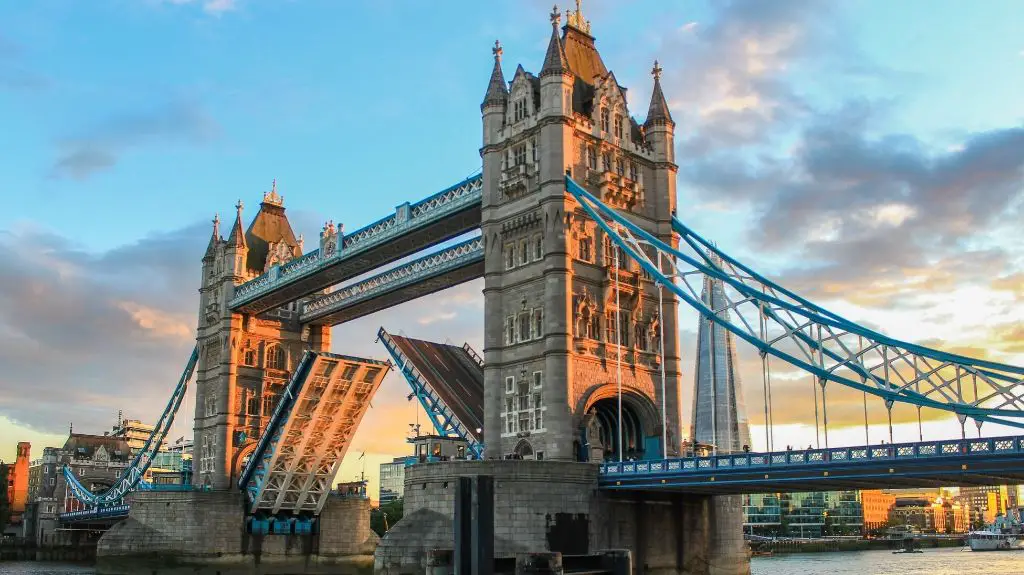 A heroic act saved the people on a bus crossing the Tower Bridge. In 1952, Albert Gunter was driving a bus on the Tower Bridge when the structure began to rise. Albert had little time to think, so he speeded up the bus, jumped over a 10-ft. (3.3-m) gap, and successfully landed on the other side of the Tower Bridge. His reward for saving everybody on the bus, including himself? Taking the rest of the day off.
The Great Fire of London destroyed 80% of the city in four days. Just after the Great Plague killed hundreds of thousands of Londoners, the city experienced its most catastrophic fire. In 96 hours, the Great Fire demolished 80+ churches and 13,000+ houses, leaving 100,000+ people homeless. Despite that four-fifths of the city were gone, only six people lost their lives.
Surprising Facts About the Landmarks of London That Will Flabbergast You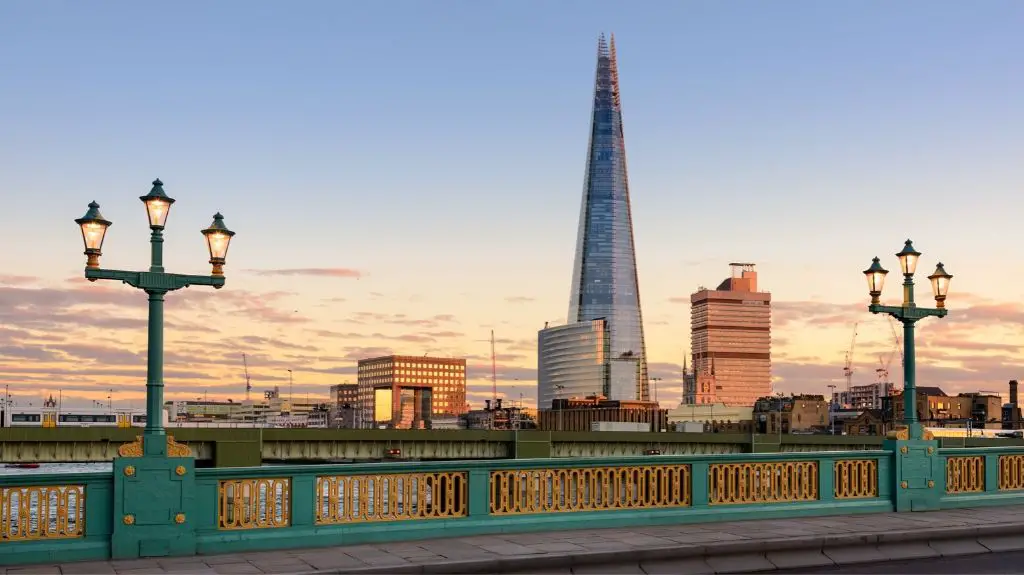 London's countless attractions are a great reason to visit the British capital. Some of them hide dirty secrets. Others amaze with their architectural beauty. These facts about the landmarks of London will astonish you.
The tallest building in the U.K. is in London. In fact, it used to be the EU's highest building until the country exited the Union in 2020. We're talking about The Shard, which was erected in 2012, and has a height of 1,016 ft. (309.6 m). The jaw-dropping skyscraper prides itself on 95 floors, out of which the 72nd is the highest habitable. The Shard offers the most astonishing vista of London. The building is constructed with 11,000+ glass panels, hence its name.
There are 170+ museums in London. And many of them are free of charge! You can discover the city's multifaceted culture and history in world-famous museums like The British Museum, Tate Modern, the Imperial War Museum, and the Wallace Collection, to name just a few. If you want to save a few bucks, check out these free things to do in London. Note: despite that most museums are free, if you liked your visit, consider leaving a tip.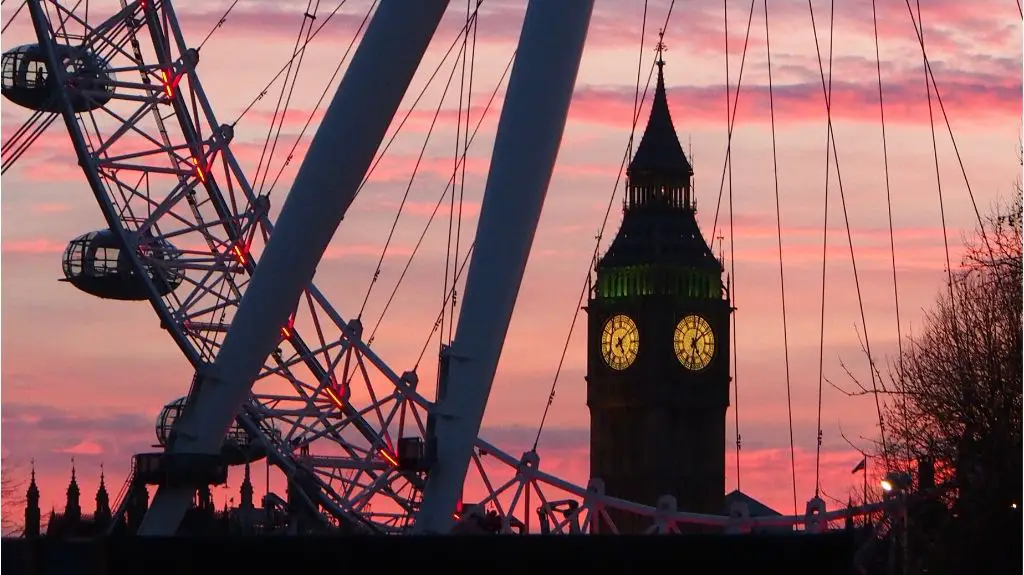 The London Eye is Europe's tallest Ferris wheel. Standing on the River Thames with a height of 443 ft. (135 m), the iconic landmark offers stupendous views. On a clear day, you can see up to 25 mi (40 km) from the top. The London Eye consists of 32 capsules that can hold up to 800 people. Peculiarly enough, for superstitious reasons, the capsules are numbered from 1 to 33, missing #13.
Before the London Eye, there was another Ferris wheel. It bore the name The Great Wheel, and opened in 1895 for the Empire of India Exhibition. Its height of 308 ft. (94m) attracted more than 2.5 million visitors. Sadly, it worked only until 1907 when locals decided to demolish it.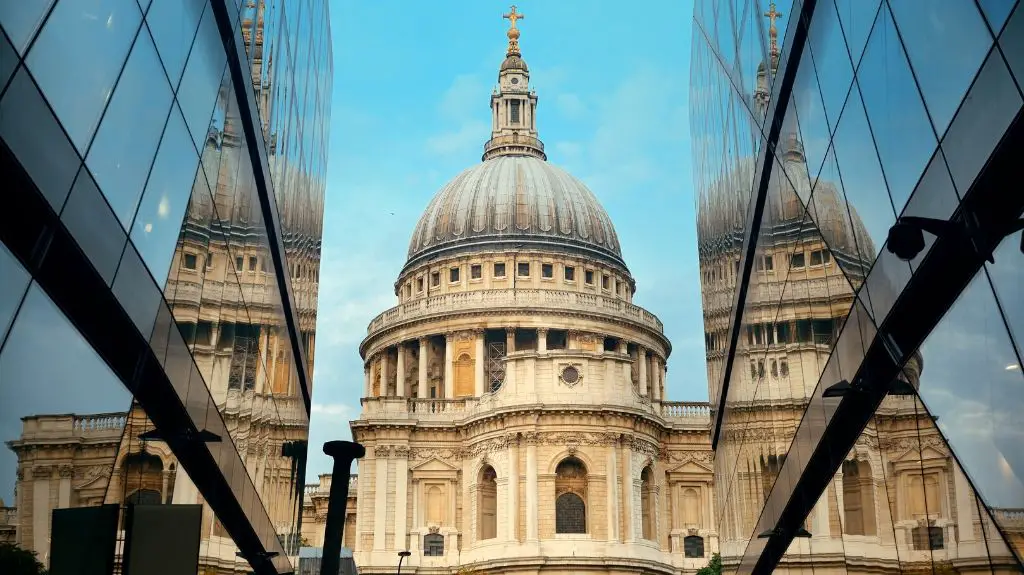 Pineapple cathedral, anyone? St. Paul's Cathedral is one of London's most distinctive landmarks. Its gorgeous dome is visible from afar. But did you know that the first proposal for the design of the cathedral's dome was a gigantic pineapple? It turned out that the designer – Sir Christopher Wren – regarded pineapples as symbols of peace, hospitality, and prosperity. So, he thought a St. Pineapple Cathedral would be an excellent symbol for the city. Sadly, no one else did.
The Big Ben is not Big Ben in reality. This is probably one of the most fun facts about London landmarks. Millions of tourists and many locals refer to the tower and clock as Big Ben. However, its actual name is Elizabeth Tower. What about Big Ben? Well, that's the bell that's inside the tower. Peculiar, isn't it?
When you've had enough of gigantic monuments, visit London's smallest statue. Head to the corner of Philpot Lane and Eastcheap, where the tiny monument has been standing since 1862. It depicts two tiny mice that are munching on cheese. They're dedicated to two men who fell to their death during an argument over a missing cheese sandwich, which they blamed on each other. It turned out mice were the real culprits.
Interesting Facts About the Iconic Transportation System of London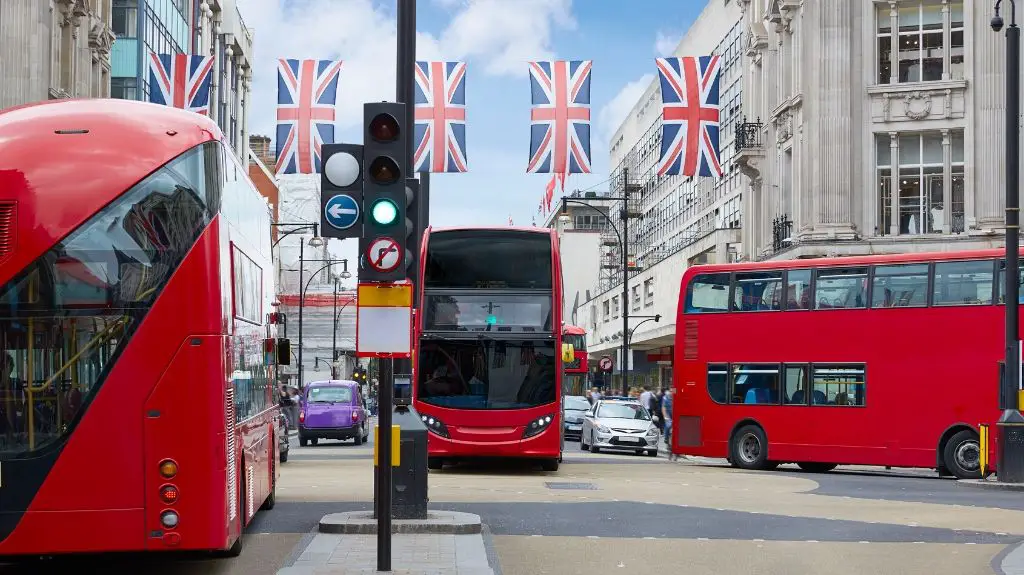 We couldn't create a list of facts about London without including some details about its iconic transportation system. When you think of the fact that London has the oldest subway in the world, you'll understand why this section turned out to be the longest.
3 million people ride the London Underground, but only 3 babies have ever been born there. These are some crazily tiny odds we're talking about. US talk show host, Jerry Springer, was the most famous person who cried for the first time on the London Tube. He came to birth on February 13, 1944, at Highgate Station. His mother was hiding in the tube from a Luftwaffe bombing raid.
The London Underground is rather Overground. More than half of the city's 11 lines whose length is 250 mi (402 km) run above the ground. The Metropolitan line, for instance, is a sub-surface. So, now, the question is, "Should we really call it the Underground or the Overground?"
Red wasn't always the color of the iconic London buses. A red bus is one of the first things your mind comes up with when you think of London, right? However, the symbolic vehicles weren't always red. At some point, each one had a different color, depicting its route. To stand out, one company decided to paint their buses in red. This was in 1907. Since then, all London buses have been red.
Missing driving on the right? There's one road in London where you can do it. In fact, you'll get a fine if you don't. On the small street that leads from The Savoy to the Strand and back, you have to drive on the right side of the street. Why? No one knows for certain, but there are several theories, none of which is really worth mentioning. But that's definitely one of the most fun facts about London.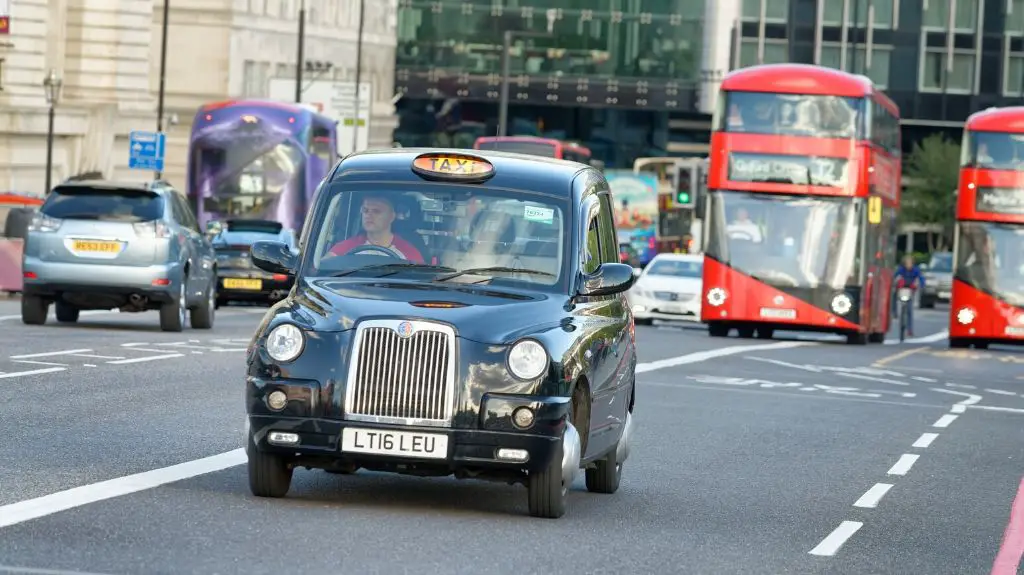 Black Cab drivers must learn by heart every street and landmark in London. To become a driver of London's iconic black cabs, one has to go through a rigorous test. It's ominously known as The Knowledge and involves memorizing 320 basic routes, over 25,000 streets within these routes, as well as nearly 20,000 landmarks. If you want to become a black cab driver, you'll need anywhere between 2 and 4 years to learn everything by heart. What's more, you'll have to be able to take quick decisions as to which is the fastest route from one spot to another. Their high fares now make much more sense, don't they?
Steam trains used to run through the London underground system. Because London has the world's oldest underground system, when it began working in 1863, the first trains were steam-powered. The electric trains took over 27 years later – in 1890. Insider Tip: Visit the Museum Depot – London Transport Museum – to see what steam trains looked like back in the day.
5 underground stations bear the name of famous London pubs. Next time you're near Elephant & Castle, Manor House, Royal Oak, Swiss Cottage, or The Angel, look for a nearby pub. It'll have the same name as the station. And no, the stations are named after the pubs, not the other way around. One thing is certain, though, Londoners adore their pubs.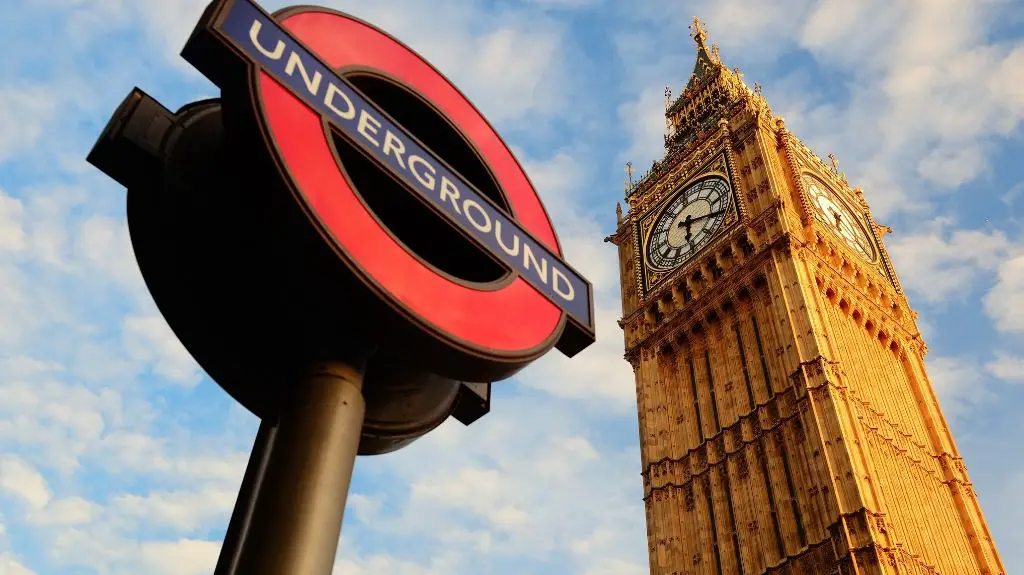 100.36 million people traveled through London's Waterloo tube station. This happened in 2016 and made it the busiest London tube station. In 2017, King's Cross St Pancras took the first place and has been leading ever since. Both Waterloo and King's Cross are major railway stations that serve as termini for different local and international routes, and many underground lines interchange there.
1.384 billion passengers rode the London Underground in 2018. While this number is absolutely crazy, it only makes London the 12th busiest metro system worldwide. The 23 lines of the Beijing subway carried 3.8484 billion in 2018. This is almost three times as much as London's. Now, this is mind-blowing.
Weird Facts About Traditions That Are Still a Thing in London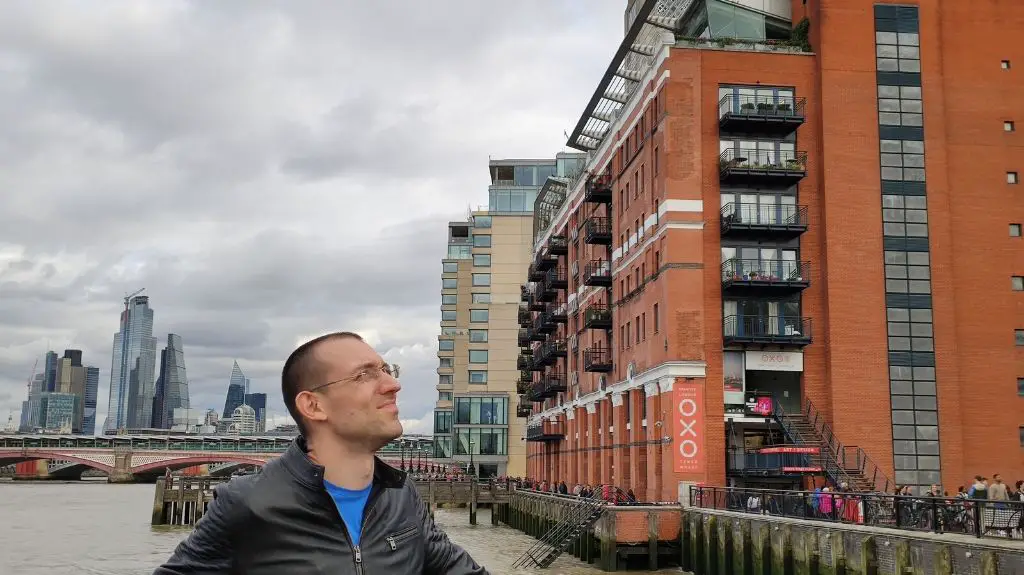 The following facts about London are extremely hard to believe. Yet, they're absolutely true. Let's see what weird traditions are still alive in the British capital today!
The Queen needs permission to enter London. Queen Elizabeth II is one of the most famous people worldwide. But that fame doesn't grant her free access to the city of London. Every time she decides to visit, the Lord Mayor should grant her access. This bizarre fact stems from medieval times and a law, specifying that the citizens of London still retain their old privilege to ban the Sovereign from visiting their city.
Flying a kite in London is illegal. 17+ million people may visit the capital each year, but if any of them (and even locals) decide to fly a kite, a fine is guaranteed. The "crazy" law (Town Police Clauses Act) dates back to 1847, and remains a reality today. So, if you wanted to test your kite flying skills on the banks of the Thames, you can't. Sorry.
Sheriffs still roam the streets of London. The capital of the U.K. has had sheriffs since the 7th century. Of course, nowadays, they don't march around the city in their spurs, protecting it from evildoers. The modern London sheriffs support the Lord Mayor and follow certain instructions by the High Court of Justice. Their jurisdiction is only within the City of London, or the so-called Square Mile.
Traffic speed hasn't changed for a century. Locals claim traffic in Central London moves at the same speed as horse-drawn carriages 100 years ago. We can't vouch for the latter, but driving in the central parts of the city indeed looks quite slow. So, if you're in a hurry, use the tube.
The Tower of London is home to at least six ravens. And they are there for superstitious reasons. The tradition dates back to the reign of Charles II when he ordered six ravens to reside in The Tower of London at all times to protect it. This tradition still remains today. For additional security, every raven has clipped wings. What's even more ridiculous? The authorities even keep a few spares if any escape. Currently, the names of the ravens are Jubilee, Gripp, Erin, Rocky, Harris, Merlina, and Poppy.
Historical Facts About London Which Will Astonish You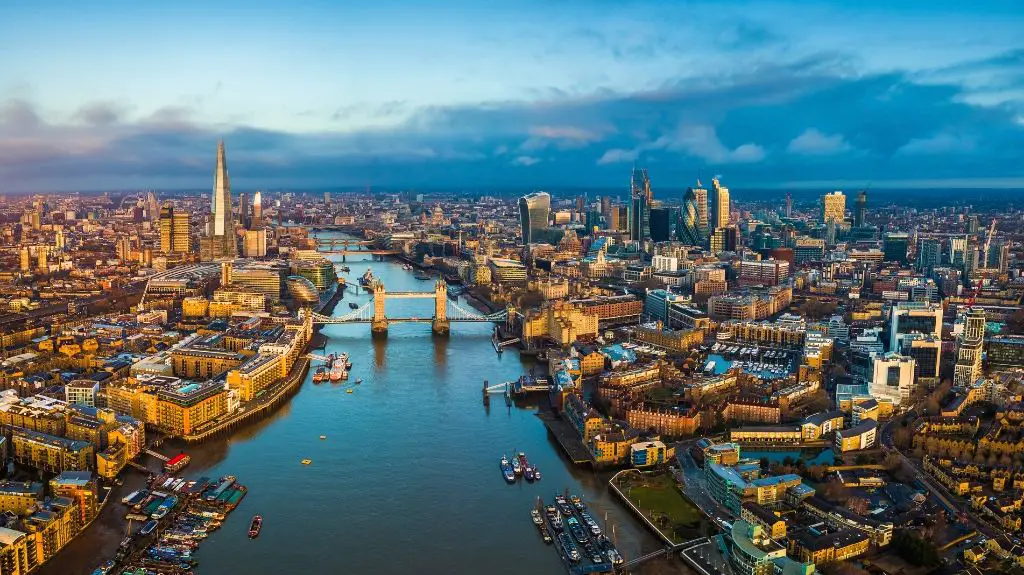 In this section, you'll find the most interesting historical facts about London. Each of them is mind-boggling, but we'll let you decide which one is the craziest.
Romans founded the nowadays gigantic metropolis in 50 AD. Throughout its long-standing history, London had various names, such as Londonium, Ludenberg, and Ludenwic. The origins of the name stem from the ancient Celtic word Londinous meaning "to be bold".
20+ underground rivers flow under London's streets. Pick a random street in the city center and start digging. Chances are you'll discover one of the 20+ lost rivers. As London expanded over time, the city's builders had to find room for the booming population of the metropolis. That's why they slowly began burying the city's marshlands, feeding into the Thames, under the streets and houses of London. Note: When you're at Brentford and Romford underground stations, notice a few spots where rivers make it up to the surface.
Banks in the City had to be pretty close to each other. Up until 1980, all banks in the City of London needed to be located within a 10-minute stroll from the Bank of England. Why? Because when the Bank of England's Governor had to call an emergency meeting, everybody should be there within 30 minutes. Imagine hundreds of bank clerks rushing in the rain. Funny picture, eh?
London has a secret underground mail railway. Deep down below the city's streets, a peculiar network of tunnels crisscrosses the British capital. Opened in 1927, the underground line served for delivering U.K. mail. During WWII, the network was a safe and secure way to communicate when transport above ground was in constant danger of German bombing. Since September 2017, the tunnels have been open to the public. Which means you can ride the secret underground mail train. This is among the most unusual London facts.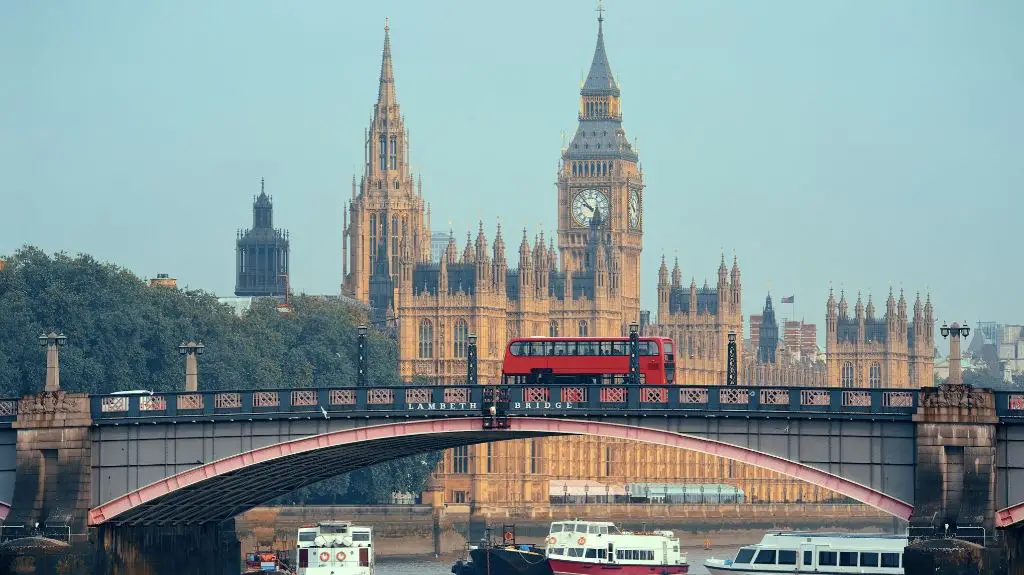 London was the functioning capital of six countries in World War II. Governments that were hurt by the Nazi regime during the Second World War used London as a residence. This made the city the capital of six European countries simultaneously. The list included the governments of Belgium, France, Norway, Poland, the Netherlands, and the United Kingdom.
The Trafalgar Square Christmas Tree is a special gift from Norway. As we mentioned, the Norwegian King and his government fled their country during WWII. London became their home and the center of Norway's resistance between 1940 and 1945. Two years after the war ended, the thankful Norwegians started a fun tradition. Every year, they send a pine tree to London. The lighting ceremony has happened on the first Thursday of December ever since.
Crazy Facts About the Delectable Foods and Drinks of London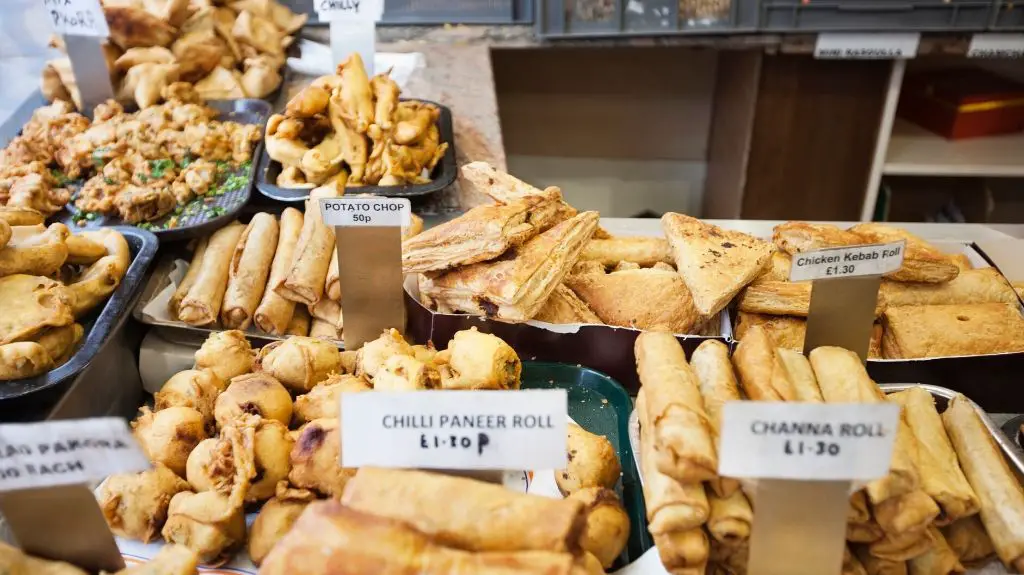 London is one of the best cities to eat your heart out in. Don't believe us? These staggering food facts will prove it.
London beats both Delhi and Mumbai for Indian dishes. Despite that every restaurant in Mumbai and New Delhi is technically an Indian restaurant, London outclasses them both in terms of excellent eateries. The British capital boasts 10,000+ traditional curry houses. If you want to visit a different one each day, you'll need 27 years and five months.
Cereal fans, rejoice! If you're one of those people who can't start their day without a good cereal meal, then you're in for a delicious treat. London has its own Cereal Café, whose name is actually Cereal Killer Café. It serves 100+ cereal varieties from various spots across the globe. There are vegetarian, gluten-free, kosher, and dairy-free options. The peanut butter and marshmallow flavors are to die for!
Wealthy locals would spend thousands on this fruit in the 17th century. In the 1700s, a new celebrity guest was "the spirit of the party" of rich Londoners. And it was in the form of a fruit – a pineapple. The newly-discovered fruit was exchanged for thousands of pounds just for locals to show off.
Londoners were crazy about ice cream in the 19th century. In fact, the craze was SO big locals dug ice wells in the city. To fill them up, they started importing ice. First, that was from the United States, and later on – from Norway.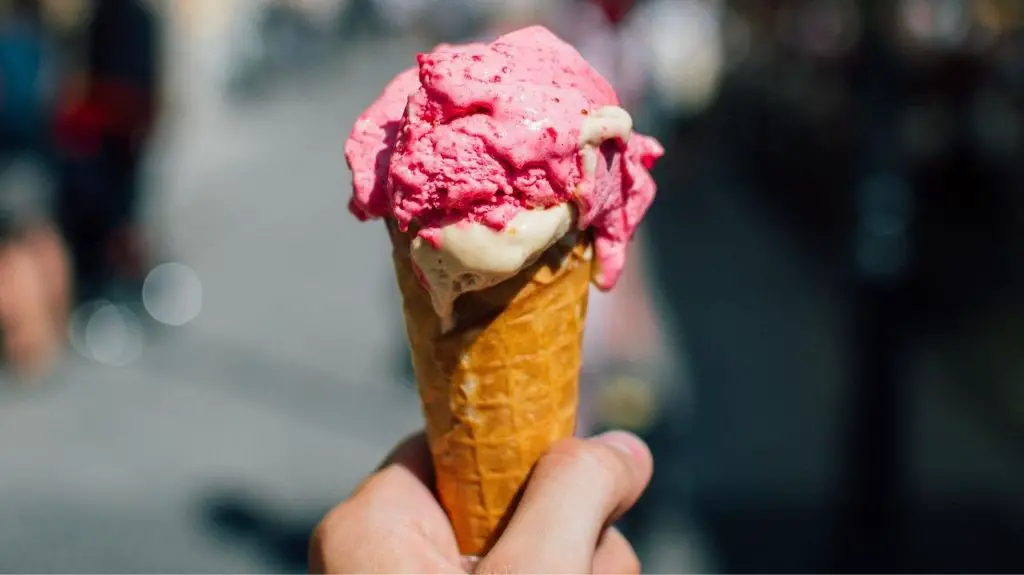 A beer tsunami wave killed eight people. For some, swimming in beer might be a dream come true. However, the city's beer flood is one of the most peculiar facts about London. The accident originates in 1814 in the Meaux & Company Brewery. A vat of beer exploded, unleashing a gigantic wave that poured down from Tottenham Court Road to other streets, drowning eight people.
Londoners used to be even crazier about gin than they are now. If you think locals are passionate about their gin today, try visiting the city in the 18th century. The Gin Craze is one of the least-known fun facts about London. The period that lasted from 1720 to 1751 saw the average gin consumption at 2 pints (20 oz.) per week. What's even crazier – this was for every Londoner, including kids.
55 Facts About London – Fun, Weird, Unexpected, and Even Scary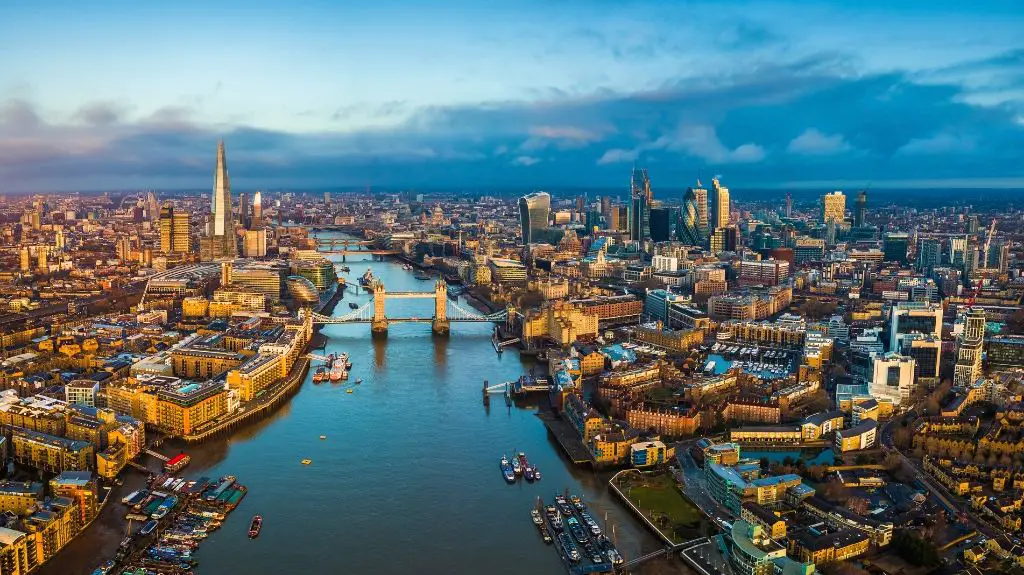 Well, there you have it – 55 facts about London. We can safely say there's so much to do and see in the British capital that you won't regret going there for a second.
In fact, with this list and our 44 London travel tips, we bet you have all the inspiration and preparation you need for visiting.
Start Planning Your Trip to London with Our BEST Recommendations:
Top Tours in London
Best Accommodations in London
Easiest Transportation Options in London
Now, before we let you share this article with all your friends, we'd like to know:
How many of these facts about London did you already know?
Which one is your favorite?