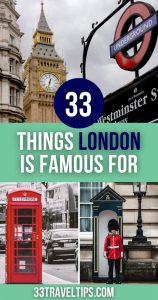 London is famous for Big Ben, Buckingham Palace, British Museum, and Tower Bridge. London is also known for its rich history, double-decker buses, red phone booths, world-class museums and galleries, gigantic lush parks, financial districts, and cosmopolitan vibes.
In this article, you'll explore 33 cool things London is famous for.
From contemporary galleries to delectable local dishes, and from the rich cultural heritage to the most bizarre facts, we're sure you'll find an answer to the question, "What is London known for?"
Let's dive straight in!
Start Planning Your Trip to London with Our BEST Recommendations:
⭐ Top Tours in London ⭐
📍 Westminster to Greenwich Cruise – the best way to admire the most famous sights of London is on a boat trip on the River Thames.
📍 Warner Bros. Studio Tour – a must-see for any fan! Go behind the scenes of the Harry Potter film sets and explore the magical props, costumes, and decors.
⭐ Best Accommodations in London ⭐
🏨 St Martins Lane – our top recommendation is this affordable, central 5* gem.
🏨 Number Sixteen Firmdale Hotels – an ultra-chic stay in the Chelsea area.
⭐ Easiest Transportation Options in London ⭐
🚍 The London Pass – enjoy big discounts, free travel, and entrances to top museums.
🚍 Discover Cars – compare and find the best rates for car rentals.
Note: This article contains affiliate links. In case you purchase something through one of these links, we may receive a small commission at no extra cost for you. Thank you for helping us keep creating the free content on this website!
The Top Attractions London Is Known For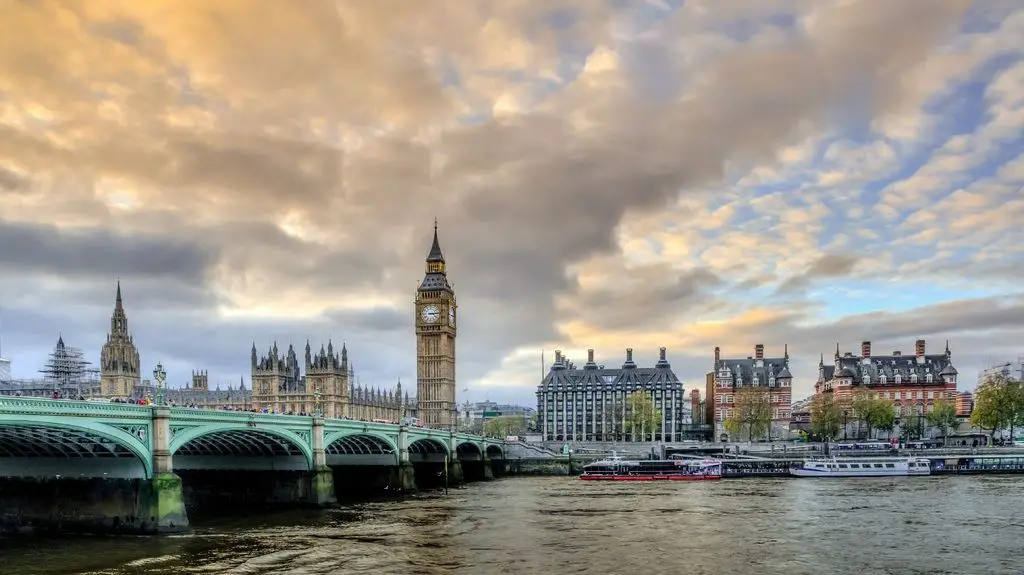 The British capital houses dozens of popular landmarks and historical buildings. Each of them narrates a story of the city's abundant past. In this section, you'll discover the top attractions London is famous for.
The Big Ben. This is the nickname for the Great Bell of the mesmerizing clock on the north side of the Palace of Westminster. However, a crazy London fact is that the name most often refers to the whole clock tower. The neo-Gothic-style building was completed in 1859. At the time, the clock was the biggest and most accurate four-faced chiming and striking clock in the world.
Buckingham Palace. This magnificent edifice is the administrative headquarters of the monarch of the U.K. It also acts as the Queen's residence in London. Buckingham Palace has 775 rooms, and the garden is the largest private garden in the city. You can visit the state rooms on select days in summer and winter. Join this unforgettable guided tour to experience the changing of the guards and explore the palace.
St. Paul's Cathedral. The cathedral is one of the most iconic sights in London. With its 365 ft. (111 m), St. Paul's Cathedral was the tallest building in the British capital from 1710 to 1963. After the Liverpool Cathedral, St. Paul's is the second-biggest church edifice in the United Kingdom. Get your discounted entrance tickets here.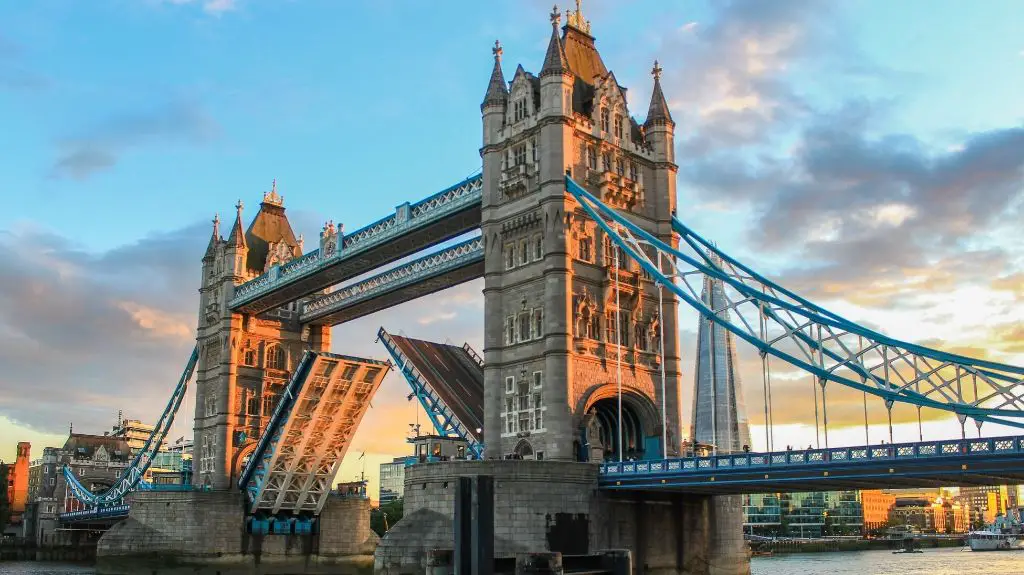 Tower Bridge. This symbolic bridge consists of two 213 ft. (65 m) tower bridges. Two horizontal walkways connect them at the upper level. A central pair of bascules can open to allow shipping. More than 40,000 vehicles cross the 19th-century bridge every day.
Westminster Abbey. The Gothic abbey church is one of London's most prominent religious temples. It serves as the traditional coronation place and a burial site for English and British monarchs. Founded in 960, Westminster Abbey has witnessed 16 royal weddings and hides the remains of over 3,300 persons. The latter includes 16 monarchs, 8 prime ministers, actors, scientists, military leaders, and poets laureate.
The Shard. A symbol of contemporary London, the Shard is the tallest building in the U.K. Standing 1,016 ft. (309.6 m) high, it offers mind-blowing vistas of the city and the gorgeous meanders of the River Thames. Peculiarly, the State of Qatar owns 95% of the tower. Get your ticket via this link and admire the sprawling city from the 72nd floor.
The Lush Parks That Make London Famous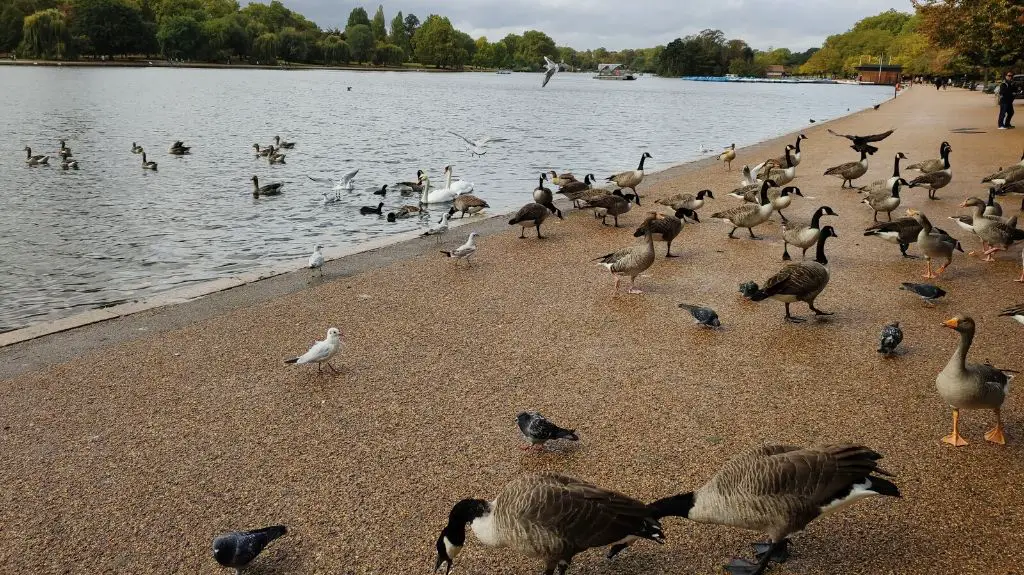 One of the best free things to do in London is visiting the city's gorgeous parks. In this section of things that represent London, you'll find the numerous parks that welcome locals and visitors alike. Let's take a look!
Hyde Park. London's most famous park is huge and central. More than 4,000 trees and tons of activities attract visitors. You can relax, ride a bicycle, take a stroll, row a boat, or go swimming in the Serpentine Lido. Don't miss the meadow, the rose gardens, the lake with geese, and the memorial fountain of Diana, Princess of Wales.
Green Park. In 1826, the former hunting grounds turned into a public park. Green Park's famous stripy deckchairs provide great relaxation after a few hours of exploring London's attractions. The park is in the shape of a peaceful triangle of grasslands and mature trees, and it's one of London's eight royal parks.
St. James's Park. You'll be surrounded by three palaces when you saunter around St. James's Park: St. James's Palace, Buckingham Palace, and Clarence House. The tree-lined Mall and the Horse Guards Parade also call this park home. Visit the lake at 2:30 PM when they feed the pelicans.
Greenwich Park. The oldest royal park offers splendid views over the City of London and the River Thames. You can still spot a small herd of deer still roaming the formal hunting grounds. In Greenwich Park, you'll also find Queen Elizabeth's Oak, the Prime Meridian Line, and the Royal Observatory.
World-Class Museums London Is Known For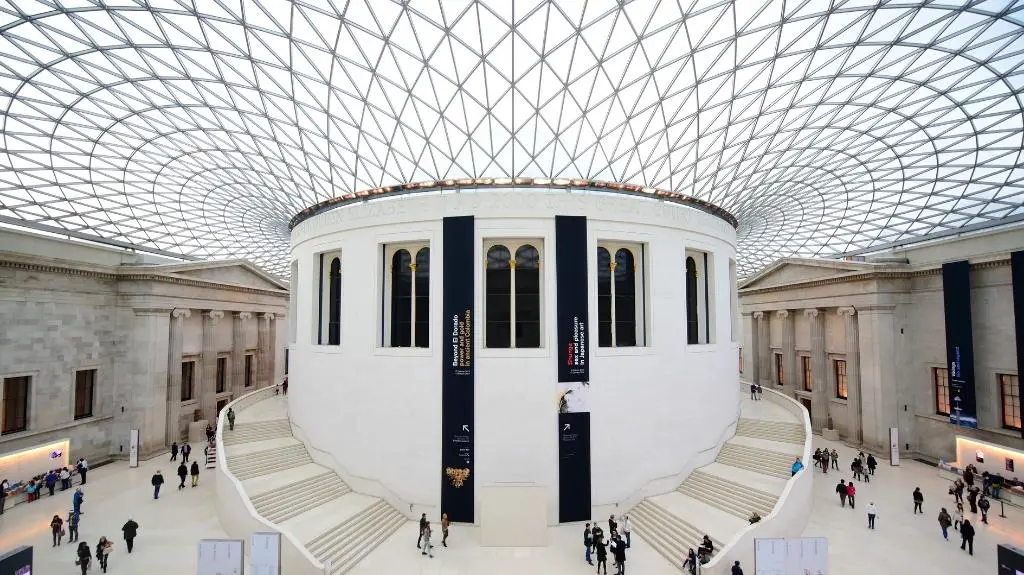 Along with Paris and New York, London is one of the best cities worldwide for culture aficionados. In this section, we'll tell you about the top-notch museums and galleries London is famous for.
British Museum. The astonishing collection of approximately 8,000,000 ancient artifacts will walk you around two million years of history across six continents. British Museum is older than the U.S.A., and it has its own Tube station. In fact, it's the oldest, national public museum in the world, which opened its doors in 1759. Entry is free, but if you'd like to get a guided tour, we recommend this one.
Tate Modern. A power station is home to one of London's most famous galleries where outstanding paintings share rooms with stunning photographs and performance art. Entry is free of charge, but some exhibitions are paid. Book in advance to guarantee your spot.
Tate Britain. This national gallery will give you a chance to explore exquisite samples of the finest British art – from the 1500s until today. Entry is free for everyone, with a charge for some exhibitions. We recommend advance booking.
Museum of London. The collection at the Museum of London will allow you to get lost in the city's evolution from prehistoric times to today. You'll find the museum in the City of London as a part of a complex of buildings, erected between the 1960s and 70s to redevelop a bomb-damaged area of the district. More than 1 million objects from London's rich history await your art-discerning eyes.
Science Museum. With a collection of over 15,000 scientific objects, Science Museum will play with your senses thanks to its interactive displays. The first jet engine, the oldest steam locomotive, and Apollo 10's command module are just a small selection of the fascinating constructions that you'll admire inside.
Natural History Museum. Explore a large exhibition with a broad range of specimens from different periods of natural history. Marvel at the blood-curdling skeletons of gigantic dinosaurs and an enormous blue whale in the Natural History Museum. Discover the collection on your own or join a 2.5-hour private guided tour.
The Most Popular Markets in London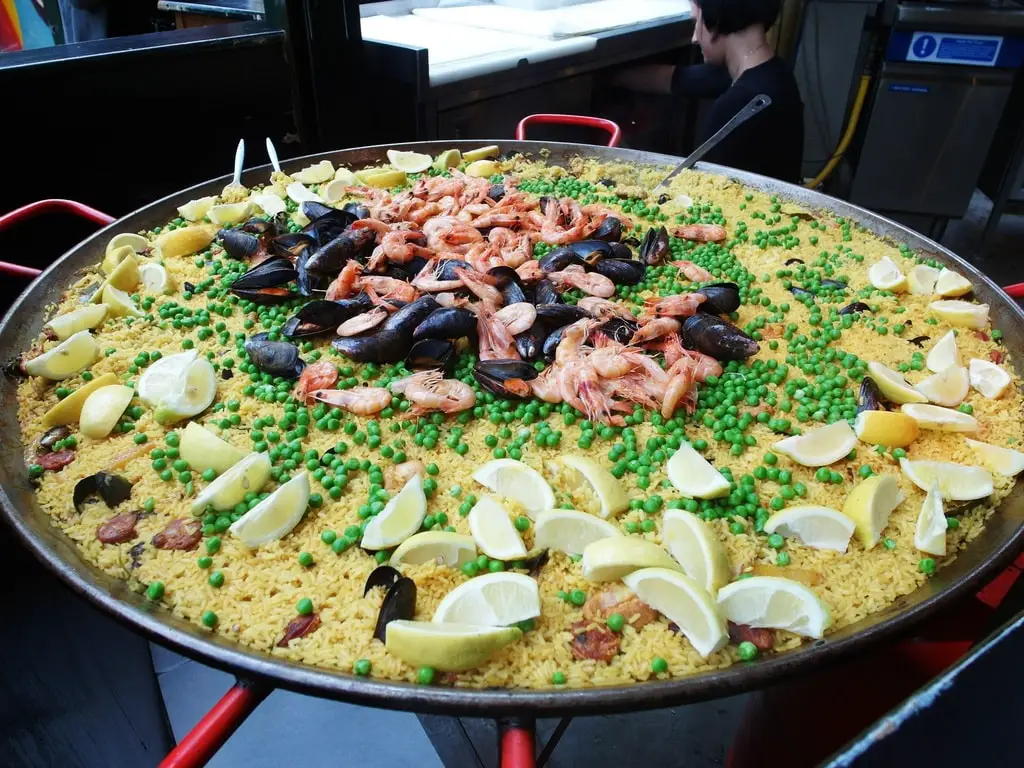 Visiting markets is another fantastic way to get to know the city's unique atmosphere. Stroll between the stands in some of the coolest markets London is famous for.
Borough Market. Near London Bridge, you'll find Borough Market. It has existed there since 1014. This heaven for foodies will seduce your taste buds with fish, top-quality meats, fresh fruits and veggies, and scrumptious baked pastries. Fill your belly at one of the many street food stalls from Monday to Saturday.
Columbia Road Flower Market. You can explore this weekly Sunday flower market on the cobbled street off the main drag of Shoreditch. Vendors sell herbs, bulbs, shrubs, bedding plants, as well as buckets of cut flowers. Visit the market at 8:00 AM for the best selection, or a bit before 3:00 PM for the best deals. Cute cafés will fuel your energy when you grow tired of going around the stands.
Camden Market. Every year, more than 250,000 visitors frequent the three markets that comprise Camden Market. They stretch from Camden Town tube to the Regent's Canal. Besides shopping, you can also taste street delicacies and soak in the charismatic, grungy vibe of the neighborhood. Camden Lock Market is for arts and crafts. Stables Market is for fetish clothes and quirky furniture. Camden High Street is for trinkets and souvenir T-shirts.
Greenwich Market. You'll find the market in the historic Greenwich District, which is a UNESCO World Heritage Site. Over 120 stalls sell everything from clothes, jewelry, and art to gifts, antiques, crafts, and second-hand furniture. When you've had enough of bargain hunting, grab a beer and sit in the nearby park to people-watch.
Broadway Market. Every Saturday, vintage clothes, fresh flowers, organic groceries, quirky handmade gifts, as well as coffee and books, all fight for your attention at Broadway Market. The lively crowd there consists of artsy students, hipsters, and creative types from East End. Don't miss to sample the irresistible Yorkshire Burrito.
Foods and Drinks London Is Popular For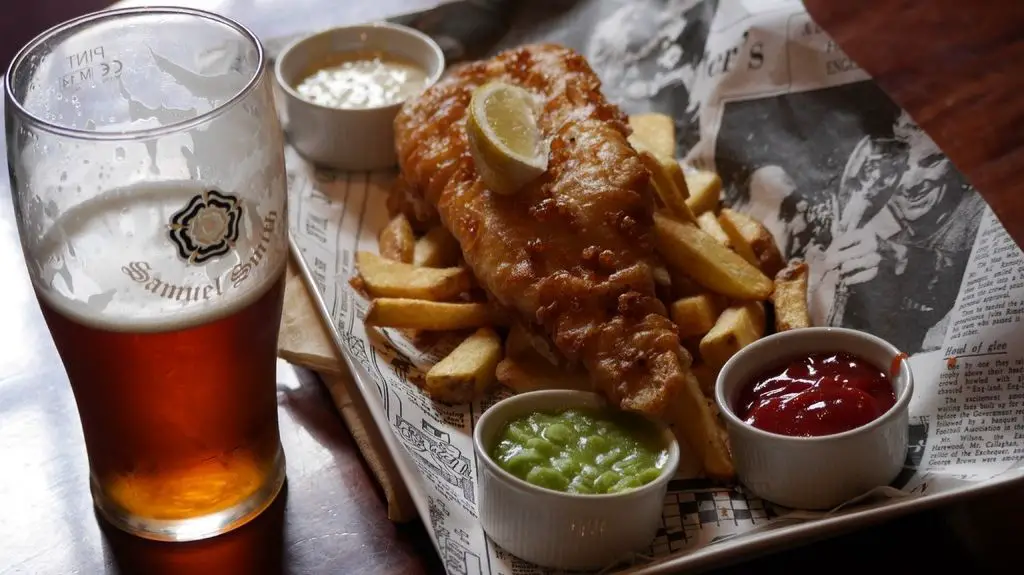 To reward you for reading thus far, let's dive straight into the most mouthwatering section of this article – the foods and drinks London is known for. Get yourself a napkin as you might end up salivating!
Fish and chips. This emblematic hot dish combines fried fish in crispy batter with chips. Nobody knows who created this culinary fusion, but the two components have been introduced from separate immigrant cultures. The original recipe often includes mushy peas on the side.
The English breakfast. Typically, the full English breakfast includes bacon, eggs, sausages, baked beans, black pudding, mushrooms, tomatoes, toast, and a drink – either tea or coffee. You'll find this dish served everywhere in London.
Shepherd's pie. Also known as cottage pie, Shepherd's pie consists of cooked minced meat topped with mashed potatoes. The meat pie dish has many variations, but the main ingredients are red meat and onions in sauce or gravy, with a topping of mashed potato.
Curry. While curry might have Indian origins, peculiarly, it's become Britain's national dish. In London, nothing tops this spicy dish that comes in numerous variations. It's as much of an import to the British capital as the spices that make its taste so irresistible.
Beer. Among the things that represent London best is its delectable beer. Every bar in the city serves beer, and it is incredibly diverse. Before you go and order a few glasses of this heavenly drink, don't forget that the U.K. pint is larger than the U.S. pint.
Afternoon tea. English afternoon tea – or just afternoon tea – is a traditional blend of teas from China, India, Sri Lanka, and Africa. Such blends are usually lighter than breakfast blends. Their purpose is to complement, not mask the flavor of the afternoon tea meal. Book this gastronomic extravaganza here.
London gin. London dry gin emerged in the British capital in the 19th century. Before that, gin had been sweet, but the new spirit didn't require any sweetening to disguise the taste. Today, London gin doesn't need to originate from London. But it needs to be made by distilling natural botanicals like juniper.
The Peculiar Facts London Is Famous For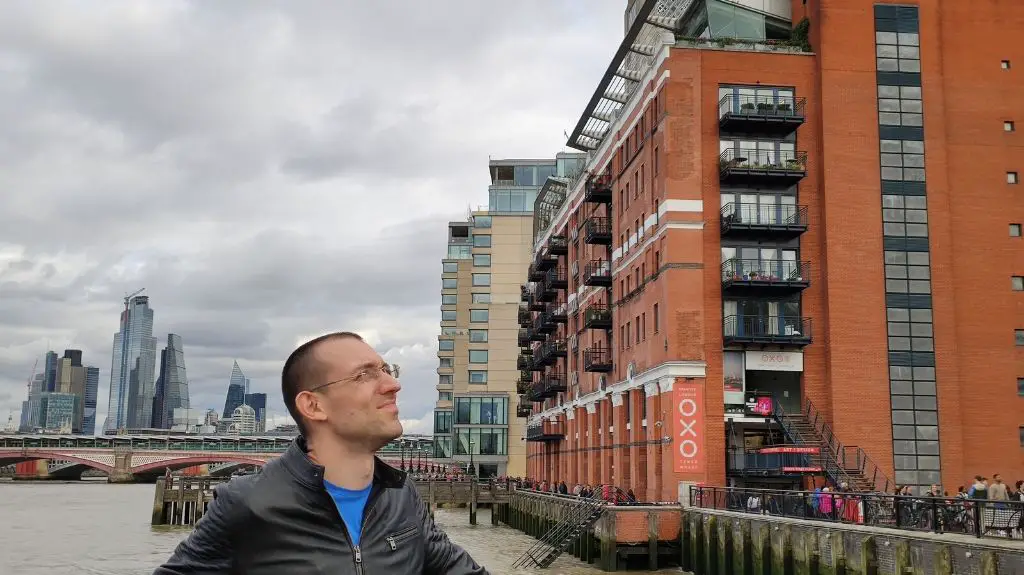 London's rich history abounds with peculiarities. In this section, you'll discover the most bizarre facts London is known for.
London is a forest. Don't let the concrete jungle and skyscrapers in downtown London fool you. The British capital is full of verdant parks and greenery. In fact, the number of trees per square mile is so high the United Nations classified the city as a forest. What's even more interesting – there's a special person who takes care of the trees and green spaces in London, the Forestry Conservator.
London is the smallest city in the U.K. This is among the most peculiar facts about London. When you think of the British capital, that's actually the City of London. Interestingly, even though it's just 1.12 sq. mi. (2.9 sq. km) and has a population of about 9,400, the City employs more than 1 million people. The "real" city is Greater London which includes the surrounding towns. Its population is close to 9 million.
The city is fox heaven. One of the craziest facts about London is that it's home to 10,000+ foxes. But even that number doesn't make the British capital the city with the largest concentration of city foxes. Bournemouth gets that title. Don't worry about foxes, though. In general, they'll back off when they see humans.
London beats both Delhi and Mumbai for Indian restaurants. Technically every restaurant in Mumbai and Delhi is an Indian restaurant. Despite that, London outperforms both cities as it boasts more than 10,000 curry houses. If you eat at a different one every day, you'll need 27 years and five months to cover them all.
Over 20 underground rivers flow under the streets of London. As London expanded, the city's builders had to find room for its booming population. That's why they buried the city's marshlands, feeding into the Thames, under the streets and houses of London. At Brentford and Romford underground stations, you can notice a few spots where rivers make it up to the surface.
Did You Already Know a Few of the Things London Is Famous For?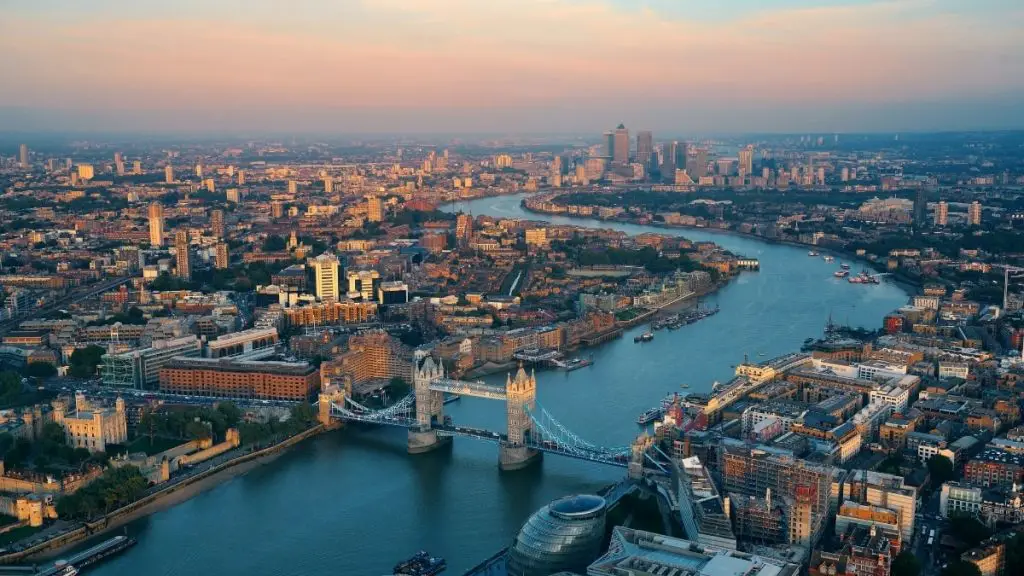 This brings us to the end of our list of 33 cool things London is known for.
The British capital is one of the most cosmopolitan cities in the world. As such, it offers heaps of modern art, hip culture, historical attractions, peculiar facts, must-try foods, and lush parks. All of these make London worth a trip.
To help you have a fantastic trip, we've also prepared 44 London travel tips, so you can discover the city easily.
Start Planning Your Trip to London with Our BEST Recommendations:
⭐ Top Tours in London ⭐
📍 Westminster to Greenwich Cruise – the best way to admire the most famous sights of London is on a boat trip on the River Thames.
📍 Warner Bros. Studio Tour – a must-see for any fan! Go behind the scenes of the Harry Potter film sets and explore the magical props, costumes, and decors.
⭐ Best Accommodations in London ⭐
🏨 St Martins Lane – our top recommendation is this affordable, central 5* gem.
🏨 Number Sixteen Firmdale Hotels – an ultra-chic stay in the Chelsea area.
⭐ Easiest Transportation Options in London ⭐
🚍 The London Pass – enjoy big discounts, free travel, and entrances to top museums.
🚍 Discover Cars – compare and find the best rates for car rentals.
Now, we'd like to know:
What's the first thing that springs to your mind when you think of London?
Share it with us in the comments below.