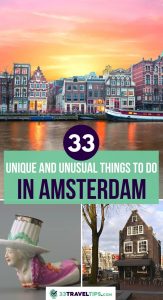 More than 20 million people visit Amsterdam each year.
From tulip chasers to weekend tourists, and from gourmet lovers to true Dutch worshippers, the city can surprise even travelers who've already roamed its streets.
There is always a different experience or a new weird location waiting to be discovered.
To compile a list of all the unusual things to do in Amsterdam would be impossible, as even the city's main landmarks are rather bizarre. Still, we did our best to enlist 33 must-see quirky attractions and locations that you need to include on your itinerary.  
Feeling adventurous?
Let's explore!
Note: This article contains affiliate links. In case you purchase something through one of these links, we may receive a small commission at no extra cost for you. Thank you for helping us keep creating the free content on this website!
Amsterdam's Unique and Quirky Attractions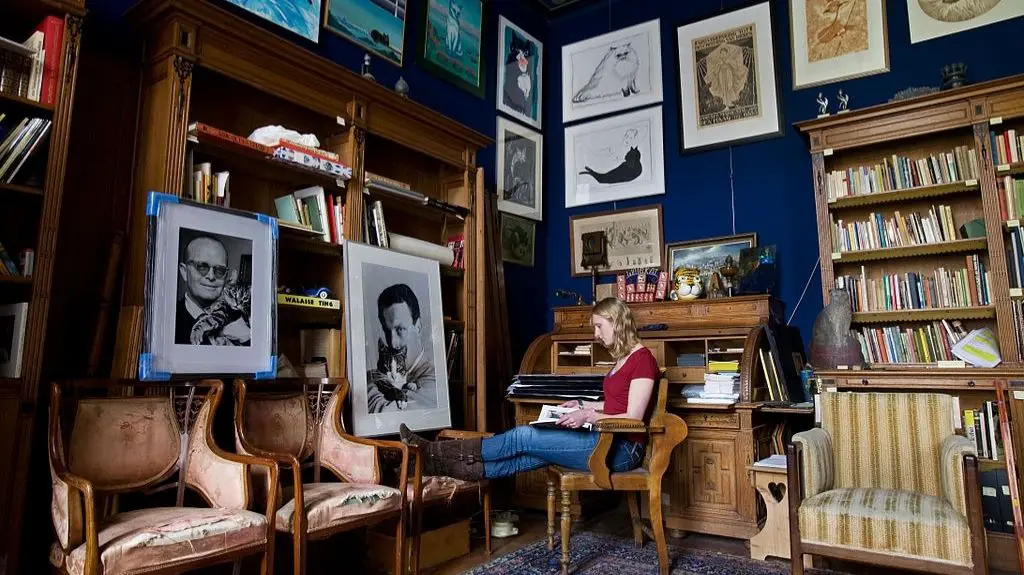 From cat-related art to microbes, and from the oldest Chinatown in Europe to the former executions center, these unique and quirky attractions are some of the most unusual things to do in Amsterdam.
De Poezenboot. You can hardly expect to find an establishment such as the Cat Boat in one of the city's canals. Founded in the mid-60s, this cat sanctuary is meant to shelter stray cats. Today, it is a popular charity. Even if you are not interested in adopting a feline, you can leave a small donation while enjoying the company of around 50 cats.  
Kattenkabinet. Talking about cats, here's a place that's equally weird and wonderful. The Kattenkabinet (Cat Cabinet) is a museum dedicated to cat-related art. Situated in a magnificent 1667 building, it is home to curious pieces of art, such as paintings and sculptures. Considered to be weird and even tacky by some, if you love felines, you should see the Cat Cabinet.
Oudemanhuispoort Bookmarkt. The secondhand book and art market is an ancient passage full of hidden treasures. It is also a feast for every bookworm's eyes. Even Vincent Van Gough reportedly loved this market, so you might also want to check it out.
Micropia. Zoos can't be more radical than this one. Well, Micropia is not a zoo in its traditional meaning, as you are not able to pet an animal there. The reason? It is home to microbes and bacteria! Visitors can see the patterns created by the tiny creatures that are everywhere around us. The "zoo" features big screen microscopes and a microbiology lab.
Mark Bischof's Studio. Artist and musician Mark Bischof is a master of making mind-blowing kinetic installations. His amazing work is extremely curious to see. The quirky machines and unusual contraptions will surely play with your imagination. Bischof's creations feature flawless movement and tricky mechanisms that will grab your attention.
Westertoren. This 1638 tower is not just a beautiful landmark. With its 130 ft. (40m), Westertoren is the tallest tower in central Amsterdam. Don't hesitate to climb all the way to the top. You will be rewarded with breathtaking views of the city. Keep in mind that the tower is open to visitors only during summer.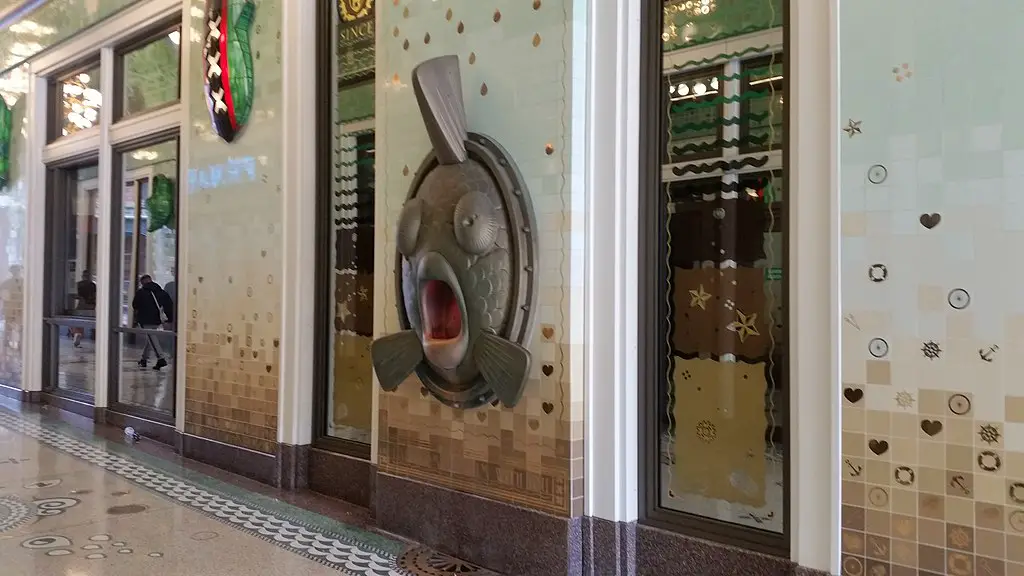 The Beurspassage. Connecting Nieuwendijk Street and Damrak Avenue, this is one of the most enchanting paths you will ever walk. The Beurspassage is among Amsterdam's recently opened attractions. Its exceptional beauty comes from features like gold chandeliers and fine Italian mosaics.
The Little Woodcutter. An anonymous artist created the charming statue over 30 years ago. Situated across the Leidsekade, the Little Woodcutter is installed on a tree branch. The tree kept growing around it and became a part of the ever-evolving art piece. The statue is located almost two feet high, which is why most people miss it.
The Westerstraat Tiny Houses. The Jordaan neighborhood in Amsterdam is home to an extraordinary set of tiny houses on the north side of Westerstraat. The house numbers on that side of the street jump from 54 to 70 due to a former courtyard that is now closed. An advertising agency decided to add these detailed miniatures as a fun answer to the riddle with the missing address numbers.
De Waag. Behold, Amsterdam's former executions center. The place is kind of creepy, but it's also curious to see. The so-called "Weigh House" was built in 1488 as a city gate, but it became a weighing house for miscellaneous goods in the 17th century. It later turned into a dissections and executions center. Today, the place is a bio-hacking center. Exploring De Waag is definitely one of the most unusual things to do in Amsterdam.
Chinatown. Believe it or not, Amsterdam features a Chinatown that also happens to be the oldest in Europe. Chinese sailors settled in the area more than a century ago. Located near the infamous De Walletjes red-light district, Chinatown is one of the city's most vibrant neighborhoods full of unique restaurants, shops, and saloons.
The City Hall Urinal. Quite an attention-grabbing name for a landmark, right? You can use this 1926 urinal for its original purpose, but the curious fact about this site is its National Monument status. The City Hall Urinal boasts a surprisingly pleasing design, considering it was not intended to become a landmark at all.
The IJ Brewery. This brewery is a great alternative to the popular Heineken Experience. It was an active beer-brewing spot between 1985 and 2013. After moving the production facilities out, the windmill and the bathhouse were open for visitors to explore. Apart from enjoying the premises, you can also taste a beer of your choice.
The Curious Museums You Need to Visit in Amsterdam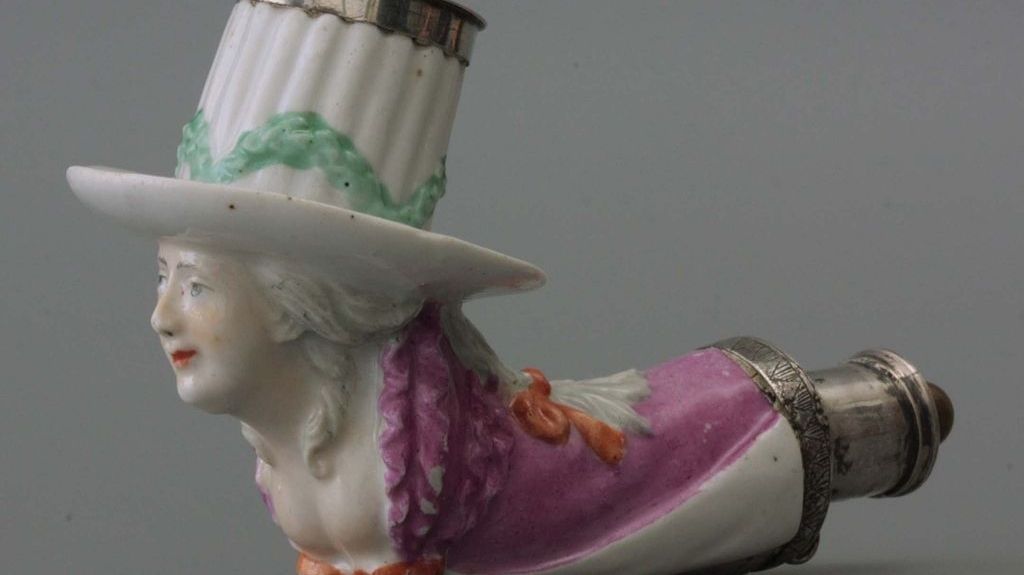 Whether you choose to check out thousands of smoking devices or create your own fluorescent art, you won't have a dull moment in these curious museums. Discover some of the most unusual things to do in Amsterdam.
Museum Vrolik. This is undeniably one of the most unusual places to visit in Amsterdam. It is full of medical curiosities. More than 10,000 units are exhibited here, some of which date back to the 17th century. Yes, it might be an odd place, but where else can you see real Cyclopean babies?
Electric Ladyland.  Jimi Hendrix recorded an album with the same name, and you can bet that this museum has the Love Generation vibe as well. Electric Ladyland is Amsterdam's amazing fluorescent light museum. Inside, you can discover peculiar items such as fluorescent minerals and UV light-sensitive rocks. But the coolest thing you can do is create your own glowing art. 
Pijpencabinet. Amsterdam Pipe Museum is home to an enormous smoking collection gathered from every corner of the world. In the surprisingly small museum, you'll find more than 20,000 units. Once a private collection, the current exposition of the Pijpencabinet includes pipes that belonged to famous politicians and actors, as well as pre-Columbian-era and opium-smoking devices.
The Hash, Marijuana, and Hemp Museum. You'd expect to find such a place in Amsterdam, right? The place was established back in 1985 and has numerous tools on display that were used to create rope, clothing, and paper from hemp. Of course, there are also curious and weird smoking devices, some of which are ancient. Would you be surprised to find a cannabis garden in there, too? There is one, no kidding.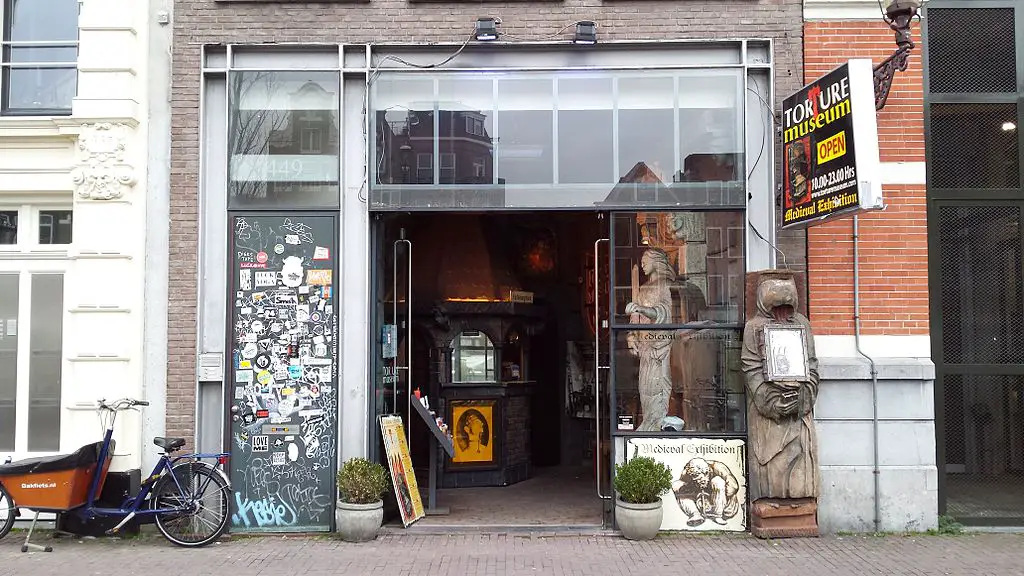 Amsterdam Torture Museum. Now, this is the kind of place that could give you goosebumps! It's among the most wanky and unusual things to do in Amsterdam. The relatively cramped space is full of prints explaining the gruesome means of torture used centuries ago. You'll also find curious devices, such as a hanging cage and a genuine Inquisition chair. 
Tassen Museum of Bags and Purses. This is the home of the biggest handbag collection on the globe. The oldest units on display served a peculiar purpose: men carried Bibles in them. Other curious items include a handbag Margaret Thatcher used to carry around, as well as one of Madonna's Versace purses.
The Totalitarian Art Gallery. Located in the vibrant Jordaan neighborhood, this unique shop is hidden among the numerous upscale galleries and boutiques. The great variety of eclectic items and antiques inside is only an appetizer, as the shop's basement holds an incredibly large collection of artifacts from the bygone era of Totalitarianism.
Amsterdam Cheese Museum. This brilliant combination of a cheese shop and a museum is captivating. Apart from feasting on rich sample platters, you will have the chance to see a silver cheese cutter with 200 diamonds attached to its surface. The slicer is supposedly the world's most expensive cheese knife. It is worth a whopping $28,000, making this one of the craziest facts about Amsterdam.  
Museum Tot Zover. The Dutch Funeral Museum is obviously not for the faint of heart, but dark humor fans would be delighted. Understandably, the exhibitions are related to the way Dutch people accept the inevitable. Art and photography installations are set up to represent the connection between life and death.
Moco Museum. This is where you can find street art, pop art, and all the modern art you can imagine. To give you an idea of the place's diversity: Banksy art rubs shoulders with Andy Warhol's work. It is an exciting and unconventional place you will be glad you visited.
The Must-visit Locations in Amsterdam for Foodies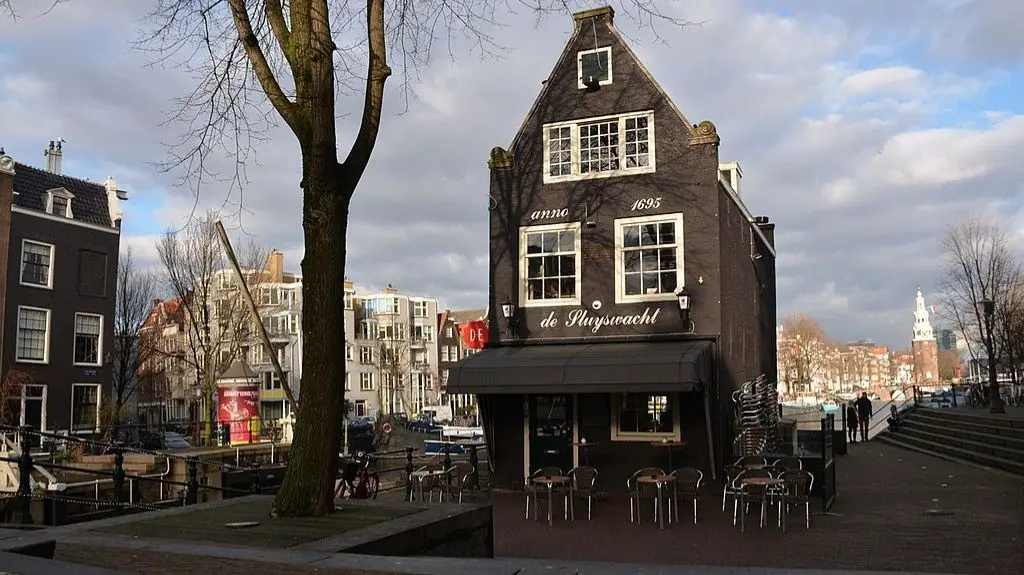 Amsterdam is home to some peculiar locations for foodies. Find these unusual spots below.
Hotel Buiten. Don't be fooled by the name. This is not a hotel but a beach with natural sand kissed by Lake Sloterplas. There is also a café that offers all the good stuff: organic beer, homemade cakes, and a variety of treats that will make you stay for at least a couple of hours. You can enjoy a nap in a hammock, too.
Café de Sluyswacht. You will recognize the weird wooden building immediately after you lay your eyes on it. Once a simple cottage, the 300-year-old structure is a cozy place to enjoy a delicious cup of coffee or a glass of wit bier. Café de Sluyswacht offers traditional pub dishes and even vegan meals, too.
Kokopelli's Headshop. The shop is one of the most eclectic locations in Amsterdam. Well, it's not exactly a place to buy food or beverages, but you'll still love it. You can try all kinds of organic hallucinogens, shrooms, and truffles. There are also aphrodisiacs, teas, vitamins, herbs, and different art pieces available for purchase.
De Frietsteeg. Some people insist that this is where they serve the best fritjes (fries) in the whole city. It's a bold statement, considering the love for French fries people have here. At De Frietsteeg, you'll get a paper cone full of lightly salted fries topped with one of the 20 delicious sauces available. We'll leave it to you to decide whether they're the best in Amsterdam.
Bierfabriek. If your life's goal is to find the best beer and chicken combo, this is where to accomplish it. Mouth-watering chicken and crunchy fries are served alongside the house beer. The beer tap table is the best accommodation choice here.
De Pindakaaswinkel. There you have it: the first all-peanut butter store on the planet. De Pindakaaswinkel will become a memory to cherish for a long time. Freshly-ground peanut butter is blended with all kinds of goodies, including coffee, white chocolate, sea salt, and much, much more. Yum!
Mama Kelly. We are sure you've never seen a restaurant that is even remotely similar to this place. The whole interior is consumed by a slightly ridiculous and flashy pink-and-gold theme. The refined menu only offers lobster and chicken dishes, as well as vegan cuisine.
Ctaste. Much like Mama Kelly, this place is one-of-a-kind but for entirely different reasons. The staff members are mostly visually impaired and you will be accommodated in complete darkness. But wait, there's more: the three-course meal is a surprise. As you can imagine, dining in Ctaste is a crazy new experience for everyone who would dare to try it.
In't Aepjen. This is more than just a bar – it is an important part of Amsterdam's history. Its name literally means In the Monkeys, and for a good reason. Centuries ago, sailors used to pay their tabs with their monkeys. The tavern opened back in 1519 inside one of the only two surviving wooden buildings after the devastating 1452 fire.
Café Papeneiland. Pie lovers will be delighted to visit this welcoming and cozy place. Apart from the yummy food they serve here, the eatery has a secret. It used to be the gate to a tunnel allowing Catholics to visit some of the hidden churches established during the Dutch Protestant Reformation.
33 Cool and Unusual Things to Do in Amsterdam – the Melting Pot of Cultures
Amsterdam boasts fantastic infrastructure, eye-catching bridges and canals, and a host of landmarks.
Deciding what to do, especially if you're spending just one day in Amsterdam, can prove challenging. That's because the city teems with landmarks and quirky places to explore.
But with these 33 cool and unusual things to do in Amsterdam, as well as our Amsterdam travel tips, we believe you'll be able to explore the Dutch capital in the best way possible.
Just don't forget to take it slowly – you can always return if you liked your stay.
Now, we're curious:
What would be the first unusual thing you'd do in the Dutch capital?
Let us know in the comment section below.