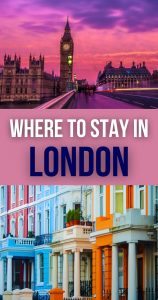 Chic, classy, and cosmopolitan.
The capital of the U.K. packs a powerful punch of lush parks, world-class museums, state-of-the-art galleries, and extravagant neighborhoods.
With so much to do, choosing where to stay in London could prove a bit tricky.
That's why we picked the 11 best areas to stay in London for your next trip.
No matter whether you're traveling with kids, you're a party animal, or you like getting lost in a maze of streets with friends – we got you all covered.
Let's discover, shall we?
Note: This article contains affiliate links. In case you purchase something through one of these links, we may receive a small commission at no extra cost for you. Thank you for helping us keep creating the free content on this website!
1. Covent Garden – the Best Area to Stay in London for Shopping and Entertainment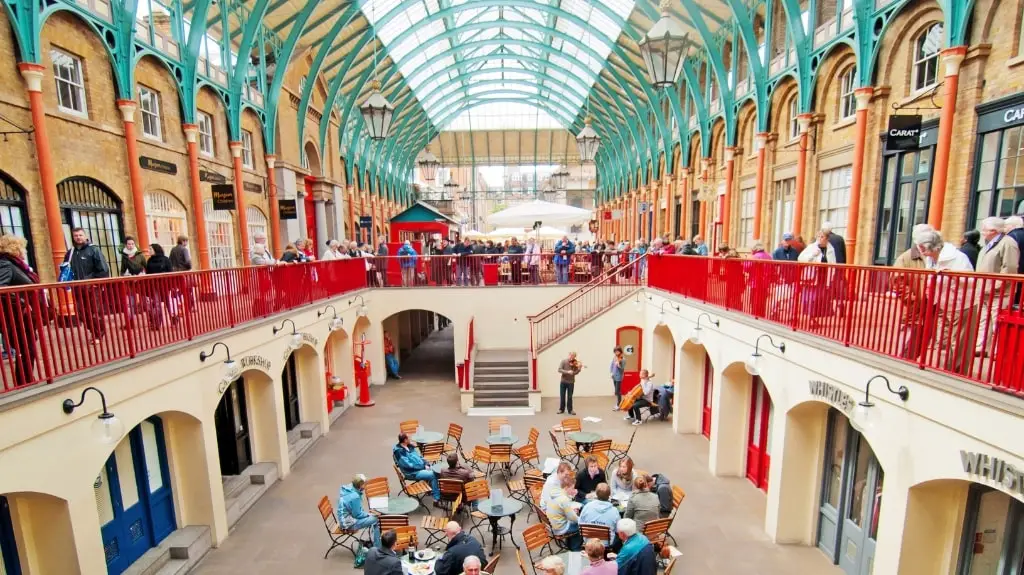 Covent Garden takes the very heart of London's Theatreland where shows and musicals entertain trendy crowds. Besides entertainment, it's a major shopping hub, and it's home to fashion boutiques and craft stalls.
Landmarks in the neighborhood include:
The London Film Museum, dedicated to the British movie industry.
The Royal Opera House, renowned for its outstanding opera and ballet performances.
The London Transport Museum, displaying vintage vehicles
And the imposing St Paul's Cathedral, which dates back to the 17th century.
The coolest spots of Covent Garden are its cobbled, car-free piazza and the restored 19th-century market.
The neighborhood is home to high-end, al fresco restaurants that serve various European cuisines. When you want to down a pint or two, visit one of Covent Garden's many bars, pubs, and cafés.
Our recommendations: Located in the very heart of London, St Martins Lane offers gorgeous, innovative design and the largest hotel gym in Europe. If you want to be just a few feet away from the main theaters, choose STAYNCO apartment. It provides you with every amenity for a pleasant stay.
2. Chelsea – the Best London Area for a Luxury Stay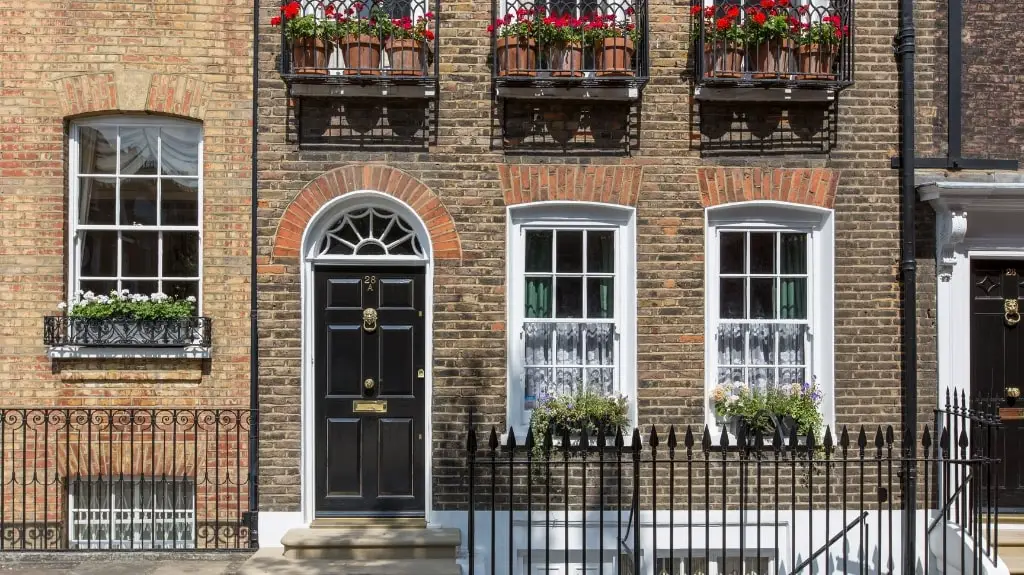 Chelsea is a wealthy area popular for the fashionable stores and top-notch restaurants that line the busy King's Road. Located southwest of Westminster, it lies on the north bank of the Thames River.
One of the most interesting facts about London is that the neighborhood houses one of the largest communities of Americans living outside the U.S. More than 6% of Chelsea residents have been born in the States.
Attractions include the National Army Museum, the Saatchi Gallery, the Chelsea Physic Garden, and the Royal Hospital Chelsea. The last one is famous for the retired soldiers in scarlet coats better known as "The Chelsea Pensioners" who run guided tours.
For the ultimate dining seduction, you can visit the Michelin 3-starred Gordon Ramsay Restaurant on Royal Hospital Road.
Our recommendations: If you're seeking an ultra-chic stay, Number Sixteen Firmdale Hotels and Egerton House will both live up to your luxury expectations.
3. The City – the Best Area to Stay in London for History and Skyscrapers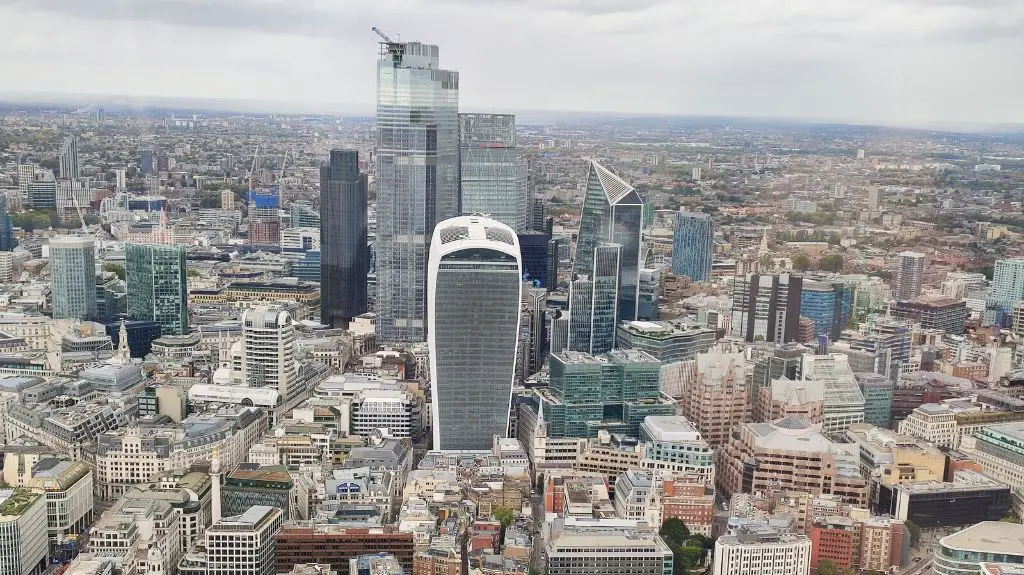 Sprinkled with London's symbolic highrisers, The City's financial heart boasts a 2,000-year-old history.
This is the exact location where Romans originally incepted Londinium circa 47 AD. No other part of the British capital packs such artillery of must-check-out attractions into such a tiny space.
Next to skyscrapers, Roman ruins, the Tower of London, and St. Paul's Cathedral, you can also find London's best small museums in Holborn.
On weekdays, The City is crammed with bankers, lawyers, and other business people. But on the weekends, it's spookily quiet.
The wealthy crowd that works here visits the area's smart bars and restaurants, while tourists spend time in the Museum of London or marvel at performances at the gigantic Barbican arts center.
Our recommendations: The rooftop bar of DoubleTree by Hilton will leave you speechless with its sweeping views of London's skyline. As will the 55-inch flat-screen TVs and elegant rooms. For a little more inexpensive yet luxurious stay, opt for Dorsett City London. The on-site restaurant serves high-end Chinese food.
4. Bloomsbury – the Best Neighborhood to Stay in London for Solo Travelers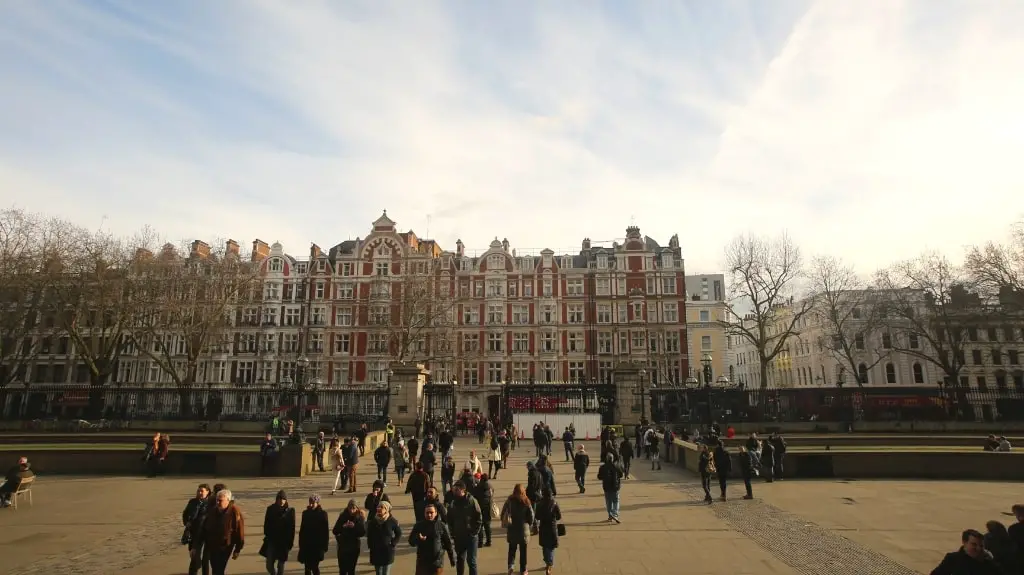 Bloomsbury is not very central, which gives it a laid-back vibe. However, that doesn't make it any less popular.
Its old-school atmosphere with plenty of posh bookstores, enchanting libraries, cozy cafés, and world-famous museums will make you fall in love with it.
Don't miss the elegant Georgian townhouses that line leafy Bedford and Russell squares. Charles Dickens Museum is another must-visit spot. You'll find it in the author's former home at 48-49 Doughty Street.
Harry Potter movie fan? You'll love to hear that many parts of the movie have been filmed in Bloomsbury.
One of the best free things to do in London is visiting the city's signature cultural institution – British Museum. It showcases 2 million years of human art, history, and culture.
Note: The collection consists of the whopping 8 million works. So, plan your visit accordingly.
Our recommendations: Just 328 ft. (100 m) away from the British Museum, the 4* Radisson Blu Edwardian Bloomsbury Street Hotel will pamper you with a modern gym, fancy restaurant, and high-speed WiFi. If you want to be in the heart of the theater district and like luxury bedding and fluffy bathrobes, book your stay in The Bloomsbury Hotel.
5. Waterloo – the Best Area to Stay in London for Easy Access to Landmarks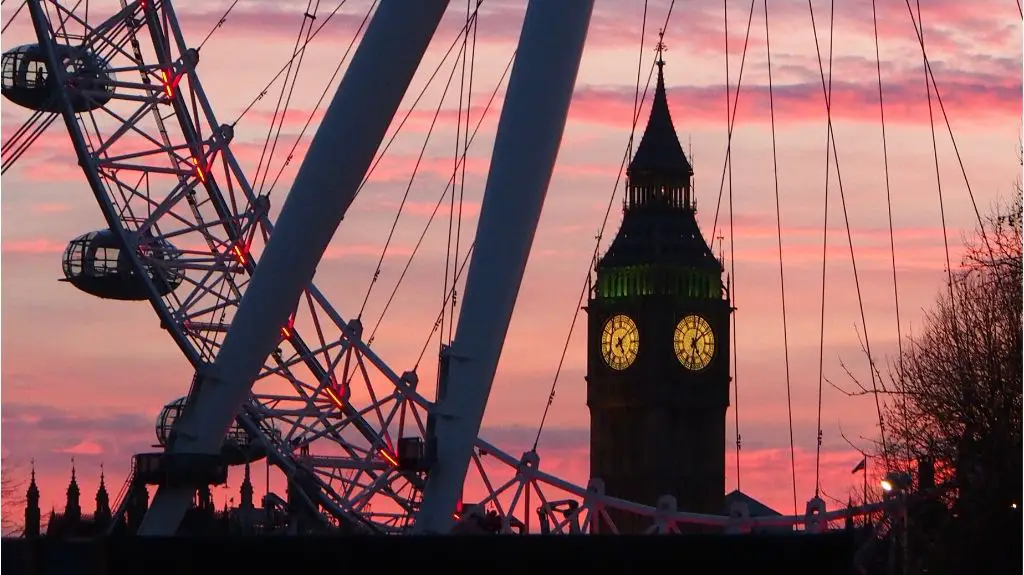 Besides housing the city's busiest train station, Waterloo is also home to many of the landmarks London is famous for.
You can find the London Eye Ferris wheel, The Old Vic theater, the Sea Life Aquarium, and the Lower Marsh Market in this area. The Old Vic stages both classic and modern plays.
If you prefer concerts and workshops, head to the South Bank Centre at the riverside.
Cross the river, and you'll explore Big Ben, Westminster Abbey, and the Houses of Parliament. Buckingham Palace is a short walk away, too.
If you don't have a lot of time in London, Waterloo is a fantastic location to cover a lot of ground in just a few days.
When you grow tired of discovering sights, quench your thirst (and hunger) at some of the modern eateries, stylish pubs, and trendy wine bars that dot the neighborhood.
Our recommendations: With heart-stopping views of Big Ben, the London Eye, and River Thames, the historic 5-star London Marriott Hotel County Hall features a relaxing sauna and a huge swimming pool. Choose Novotel London Waterloo for its spacious rooms, queen-size beds, and stunning views of London's breathtaking skyline.
6. Soho – the Best London Area for Dining, Nightlife, and Shopping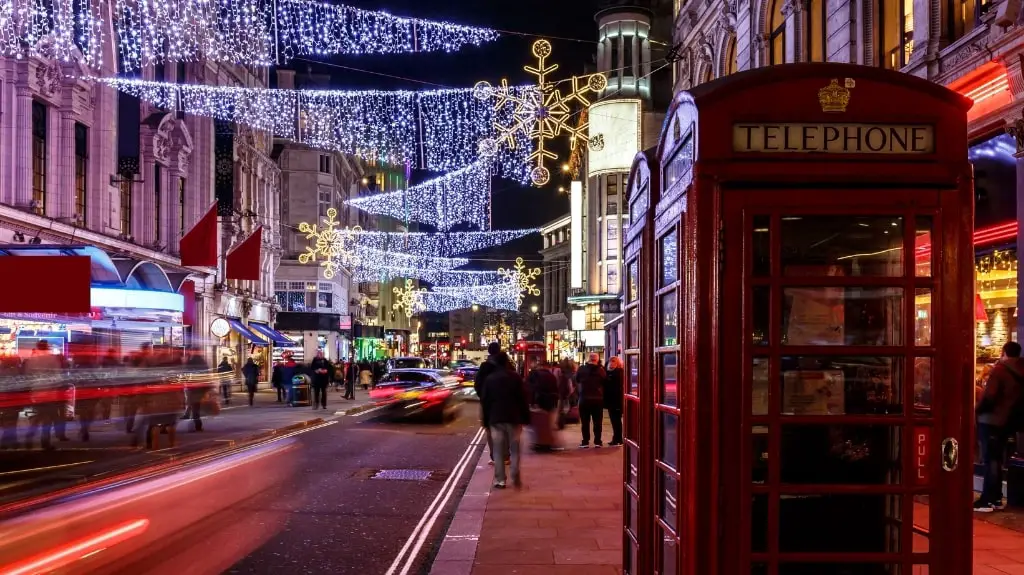 Energetic Soho pulsates in the West End district of London. Jazz music, rock venues, cultural activities, and endless shopping options await you in this glitzy neighborhood.
Historically, it used to be a fashionable district for London's aristocracy. But since the 19th century, it has been one of the capital's entertainment spots.
If you want to fine-dine and party until the wee hours, then Soho is one of the best areas to stay in London during your visit.
Beak, Dean, Frith, and Old Compton streets are the epicenter of everyday activity.
If you enjoy plays, theater, or musicals, go to Shaftesbury Avenue. Shoppers rub shoulders on Oxford, Regent, and Carnaby streets, as well as the symbolic Liberty department store.
Ronnie Scott's Jazz Club will live up to your wildest live jazz dreams, while the popular Roxy Bar attracts crowds who are seeking a more inexpensive night out.
Our recommendations: The Piccadilly London West End will spoil you with a great location, boutique bedrooms, and a 5-star fitness center. Only 2 minutes away from the world-famous Oxford Street, The Resident Soho features elegant rooms with LED TVs and laptop safes.
7. Notting Hill – the Best Area to Stay in London for Couples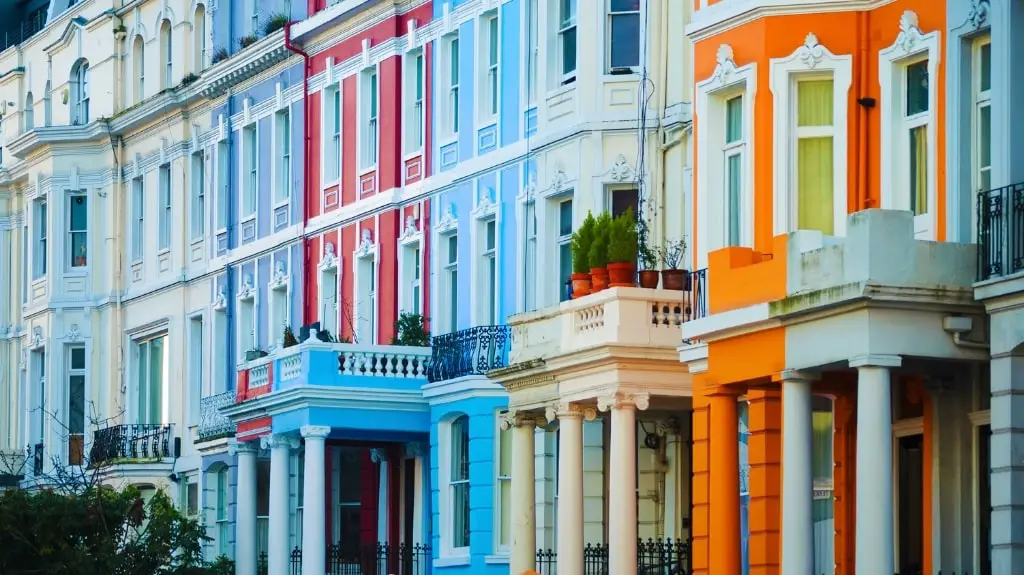 If you think Notting Hill looks beautiful on photos, you'll be spellbound when you visit in person. Besides the fantastically colored buildings lining up several streets in the area, it's an upbeat place full of things to do.
If you like celebrations, don't miss the Notting Hill Carnival because it's one of the biggest parades globally.
The Portobello Road Market is a must-visit spot. You'll find anything from posh bars and retro restaurants to vintage clothing shops and artisan perfumeries. Antique stores, buskers, and gin-tasting events are part of life in this iconic London neighborhood, too.
The old-fashioned theme of Notting Hill is what makes the area such a romantic spot and the best area to stay in London for couples and newlyweds.
If you wanna go on Instagram shots galore, this is the place!
Our recommendations: Fancy staying at a typical townhouse? Ravna Gora offers a unique British experience with traditional décor and chic city living. For a more luxurious stay, choose The Laslett, which spreads over five Victorian mansions. Books, curated artwork, and plenty of craft beers await you there.
8. Brixton – the Best Place to Stay in London for Backpackers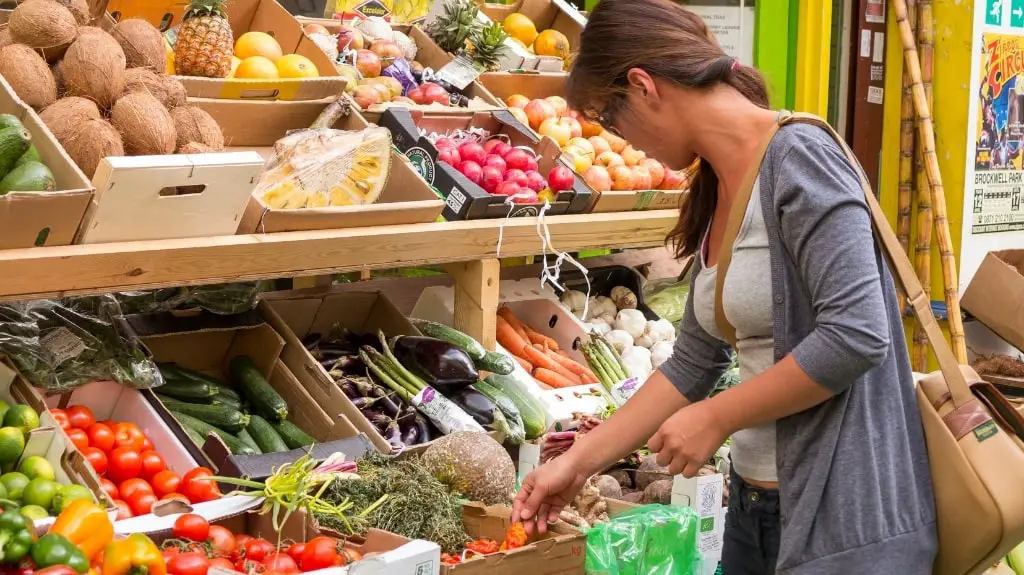 Live music? Check. Laid-back area? Check. Tons of culture, vibrant nightlife, international city vibe? Check, check, check.
Brixton is one of the best London neighborhoods for tourists, especially backpackers. The chill atmosphere shouldn't fool you, though. It packs a powerful punch of history.
Brixton lives and breathes creativity, and its vibrancy is infectious. The foodie culture is ever-growing, reflecting the area's Caribbean roots.
If you love rock music, check out O2 Academy Brixton. Visit Hootananny for cutting-edge sounds. Whatever you choose, know that there are plenty of beer options to help get you in a party mood.
When you want to satiate your hunger, head to the Brixton Market and Village – a popular hub with 100+ food traders offering lip-smacking meals.
Brixton isn't close to London's landmarks and tourist spots. So we suggest you pick accommodation close to the tube stations.
Our recommendations: Apartments are your best choice in this area. We highly recommend TruStay Apartments Brixton and this Airy Spacious 1-Bed apt with Garden. Both are fully equipped for your most comfortable stay.
9. Holborn – the Best London Neighborhood for First-Timers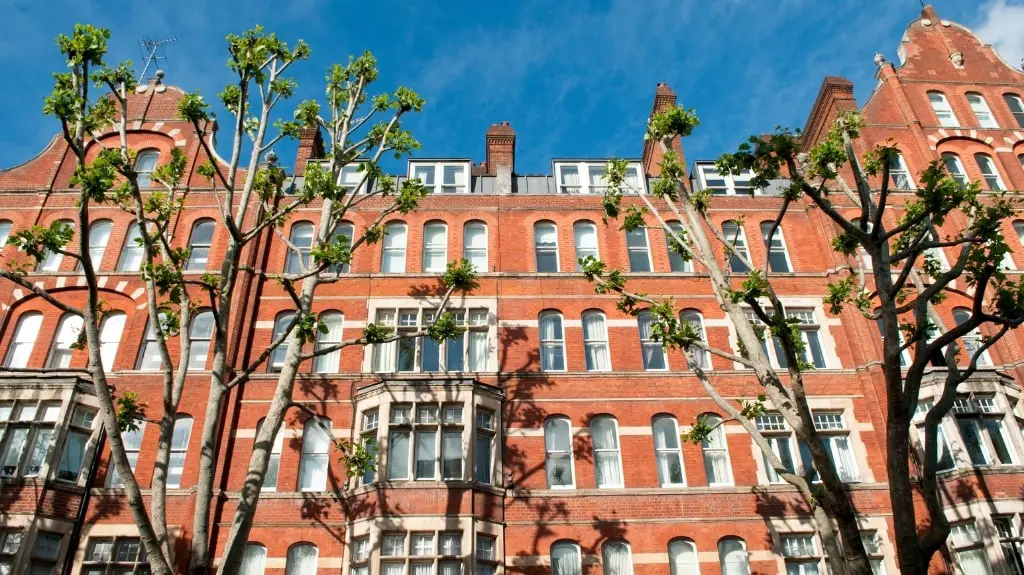 Holborn is by far the best neighborhood to stay in London for first-time visitors. Why? Because you get the full spectrum feel of what the British capital is all about.
Many locals consider Holborn the heart of the British capital. It doesn't get more central than this area.
The neighborhood provides a true city experience with tons of signature things to do in London.
As the capital's historic law district, it's a lively mix of legal offices and buildings, including the magnificent Royal Courts of Justice and the nearby Inns of Court.
If you like architectural drawings, visit Sir John Soane's Museum. If jewelry shopping is your thing, head to the high-end diamond boutiques at Hatton Garden.
When you've had enough of law, jewelry, and architecture, stop at one of the many casual cafés and gastropubs in the area. This is your spot to tease your palate with traditional London meals.
Stroll down Charlotte Street if you want to admire the old, classic properties the city is famous for.
Exploring Holborn as a first-time visitor to London is exciting as you'll never run out of options to dine, drink, or party.
Our recommendations: Just 2 minutes away from the Royal Opera House, The Waldorf Hilton offers a fitness center, a chandelier-lit restaurant, and elegant rooms. If you'd like to splurge a bit more, overnight at L'oscar London. The design is out of this planet, and its location is perfect for exploring the city.
10. South Kensington – the Best Location to Stay in London for Families and Museum Lovers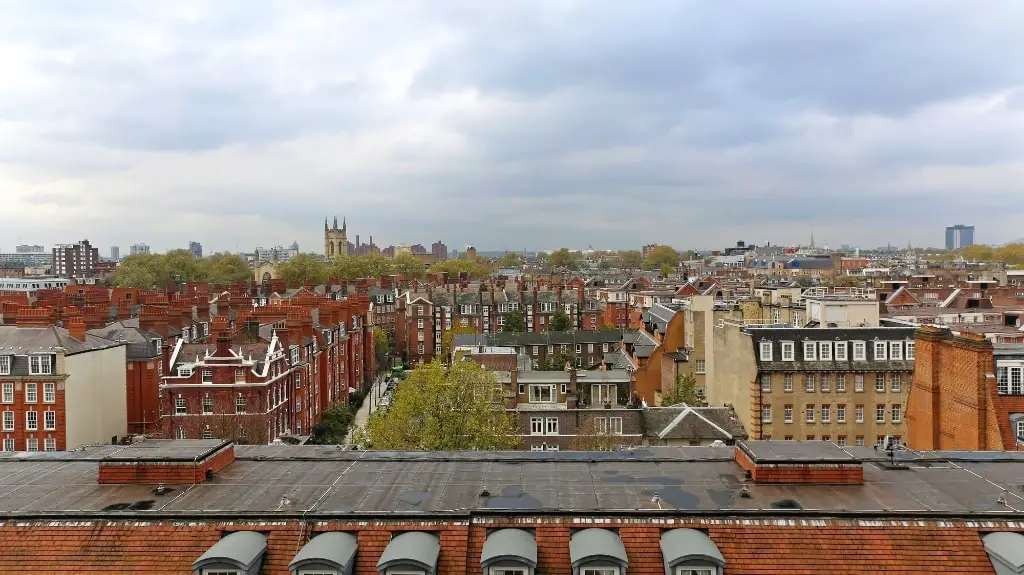 Upmarket South Kensington is an elegant, affluent area to stay in London for families. It is home to countless museums, including cultural heavyweights, such as:
The Victoria and Albert Museum, displaying art, design, and sculpture from early to modern times.
The Natural History Museum where you'll admire collections of fossils and gemstones.
The Science Museum, which offers an IMAX cinema and a children-focused interactive gallery.
The dining scene in South Kensington offers an eclectic combo of Japanese and European restaurants, next to simple chain eateries.
Most activities you can do here are centered around kids, so the area is perfect for families.
If you're traveling solo or with friends, there are plenty of "adult" things to do here, too. One of those things is admiring the red-brick buildings that line the streets and showcase the elegance and character of South Kensington.
Around Christmas, you'll have a chance to go skating at the ice rink in the Natural History Museum.
Our recommendations: A luxurious spa, a resistance pool, and a top-notch fitness club await you in Milestone Hotel Kensington. A series of museums, Hyde Park, and the Kensington Gardens are a stone's throw away from the elegant The Bailey's Hotel London.
11. Camden Town – the Best Area to Stay in London for Groups of Friends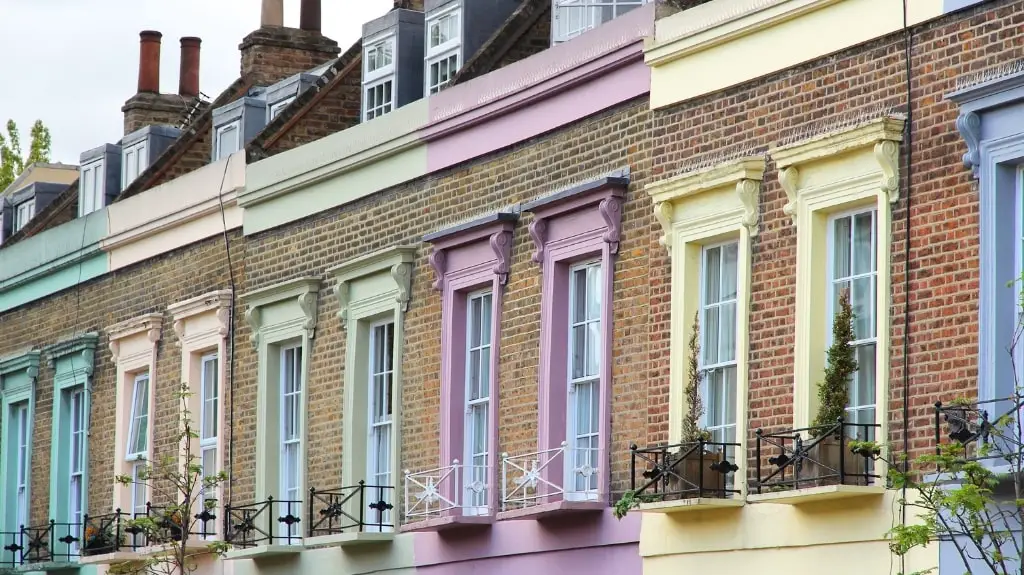 Often shortened to Camden, Camden Town is famous for its market and buzzing nightlife.
Cafés bustle during the daytime. Come night, bar crawls to different pubs and clubs become the norm, not the exception. Major stars and musicians play at the Roundhouse and Jazz Café.
Camden is a haven of counter-culture where punks, tourists, and teenagers abound. But don't let the alternative culture deceive you. The area is full of history and university campuses, including the city of Farringdon which houses classic parliament buildings and statues.
Camden is also home to Regent's Park, the London Zoo, and Primrose Hill. Either location is great for a chilled day after adventuring the night before.
Love haggling? Camden Town is the best neighborhood to stay in London to hunt bargains in many of the area's markets. You'll find everything from vintage clothes to mouthwatering meals.
Our recommendations: Apartments are a better choice if you're traveling with friends. Camden Town Apartment! has two bedrooms, a flat-screen TV, and a fully-equipped kitchen. It's close to the pulsating heart of this area – Camden Market.
Now You Know Where to Stay in London Next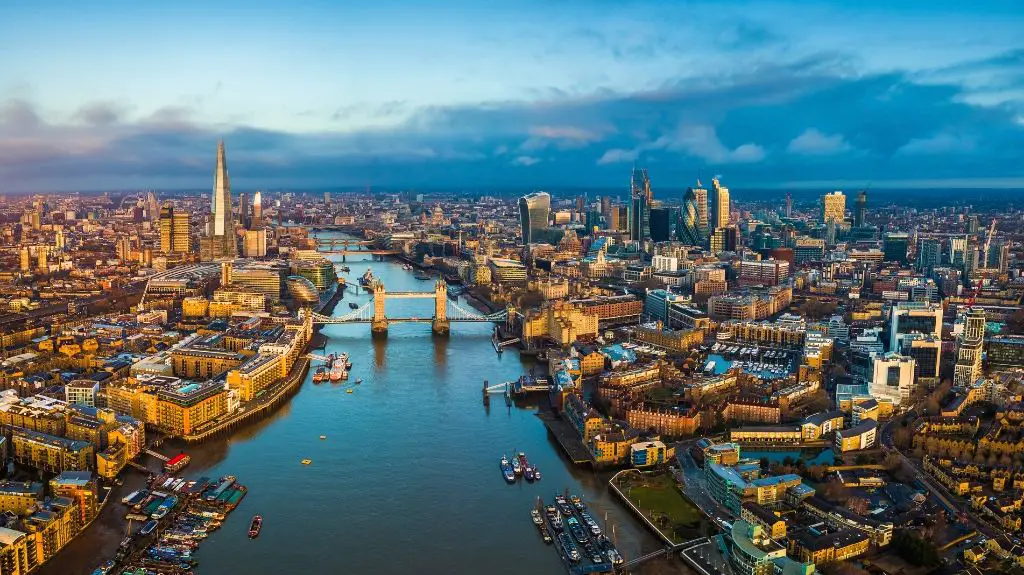 There you have it – the 11 best areas to stay in London on your trip to the cosmopolitan capital of the United Kingdom.
Whether you like soaking in art and history, downing pints with locals, or strolling by the River Thames while admiring London's best landmarks…
We're sure you'll find the right lodging for you.
And if you need inspiration on what to see and do during your visit, check out our London travel guide.
Now, let us know by commenting below:
Which area would you stay in next time you travel to London?