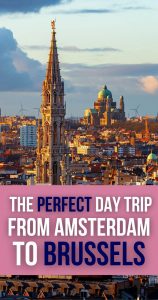 Are you thinking of going to Amsterdam for your next vacation?
While there, how about a quick day tour to Brussels, the gorgeous Belgian capital?
Yes, this is absolutely possible. You can do a day trip from Amsterdam to Brussels and see the best of both cities.
If you prepare well and arrive early in the Capital of Europe, you'll have enough time to discover the top attractions in the city.
In this comprehensive guide, you'll find our expert tips and ideas on how to plan your trip to the Belgian capital, so you can cover a lot of ground.
Let's dive right in.
Note: This article contains affiliate links. In case you purchase something through one of these links, we may receive a small commission at no extra cost for you. Thank you for helping us keep creating the free content on this website!
How to Get from Amsterdam to Brussels
You can reach Brussels from Amsterdam in several ways. We've enlisted each one below:
| | | |
| --- | --- | --- |
| Mode of Transport | Duration | Book via |
| Train | From 1 hour 57 minutes (in each direction) | Omio |
| Car | From 2 hours 40 minutes (in each direction) | Discover Cars |
| Bus | From 2 hours 45 minutes (in each direction) | Omio |
| Airplane | From 45 minutes plus transfers (in each direction) | Omio |
| Tour | Approximately 12 hours | Get Your Guide |
By Train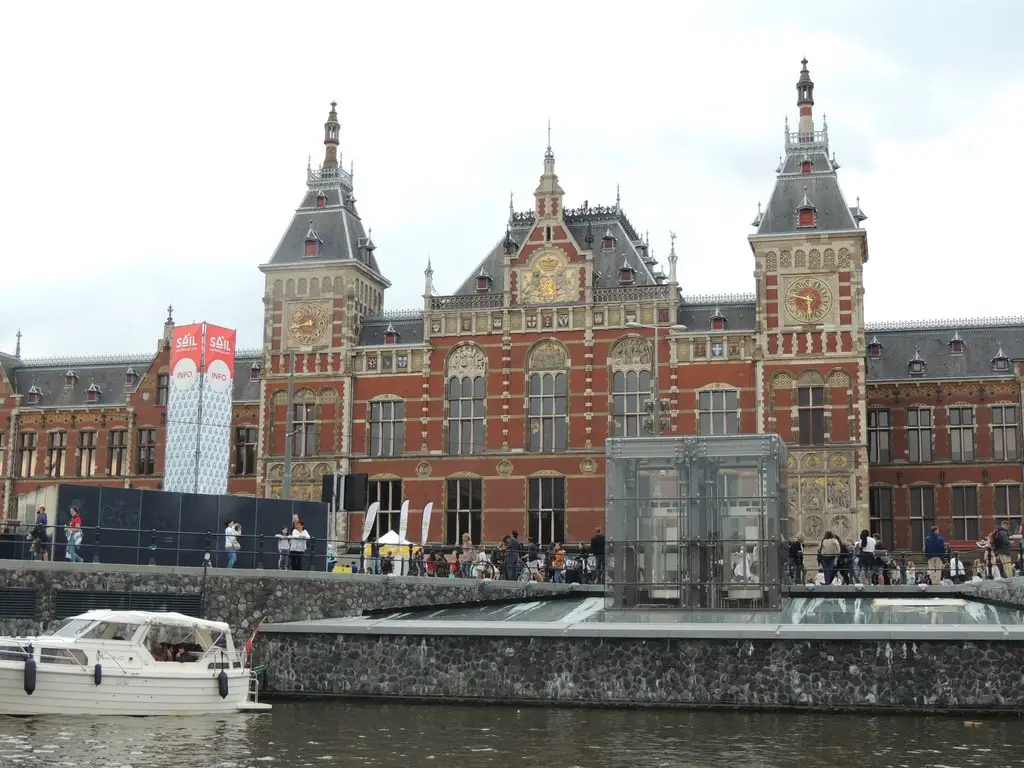 Our recommended way to travel from Amsterdam to Brussels on a day trip is by train.
Trains run from Amsterdam-Centraal to Brussels Midi/Zuid Station. Here's what you should know:
The approximate duration of the ride is between 1:57 and 2:49 hours, depending on the type of train you choose.
More than 50 trains run daily in both directions, every day of the week, even on Sundays.
The first train from Amsterdam to Brussels leaves at 6:15 AM Monday through Friday, and at 6:28 AM on Saturday and Sunday. The last one is at 9:28 PM on all days.
The first train from Brussels to Amsterdam is at 5:45 AM Monday through Friday, and at 5:44 AM on Saturday and Sunday. The last one leaves at 9:22 PM Monday through Friday, and at 8:56 PM during the weekend.
Purchase your tickets beforehand to secure the lowest prices. Weekend prices are usually cheaper.
Important: Make sure to arrive at the station at least 20 minutes before your train's departure, so you have enough time to find your platform and board on time.
Tip: You can also visit Brussels easily on a day tour by train from these gorgeous European capitals:
By Car
The fastest route from Amsterdam to Brussels is via A27 and E19.
It takes about 2:40 hours, which is about as fast or even faster than flying when you calculate waiting times. The distance is 130.5 mi (210 km).
That's why driving is one of the best ways of transportation for a day trip from Amsterdam to Brussels. And we recommend it more than flying.
By Bus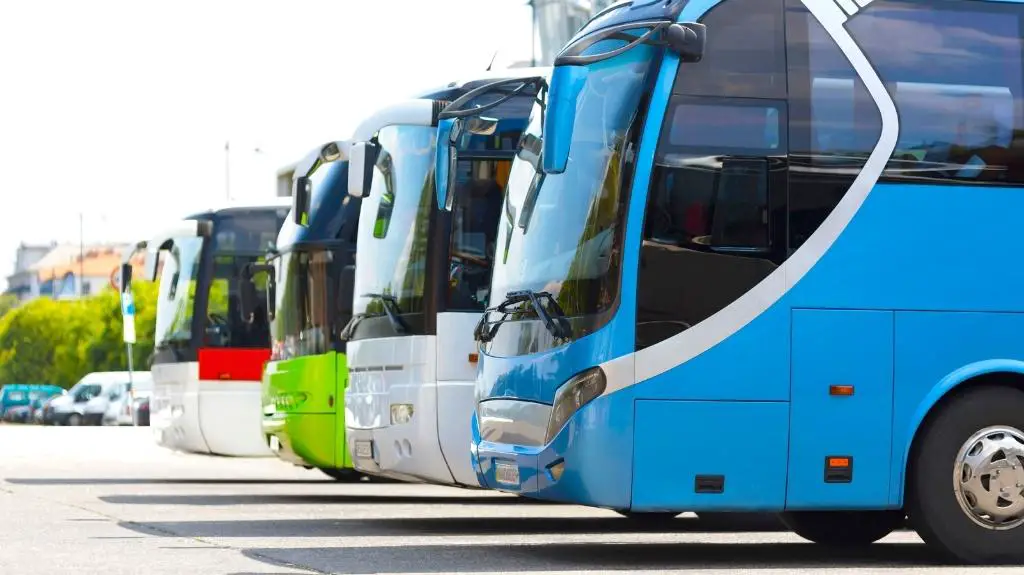 All buses from Amsterdam to Brussels are direct and take between 2:45 and 4:10 hours.
Some of them leave as early as 4:00 AM. This makes them a great way to arrive in Brussels in the morning and have enough time to sightsee.
Flixbus and BlaBlaCar Bus are the two companies that operate the Amsterdam to Brussels buses. Both depart from Amsterdam's Sloterdijk station but arrive at either Rue de France or Bruxelles Gare du Nord bus stations.
You can get tickets as late as 1 day prior to your trip. However, by booking early, you can benefit from serious discounts.
If you want to save money and have enough time to check Belgium's gorgeous capital, get your bus ticket here.
By Plane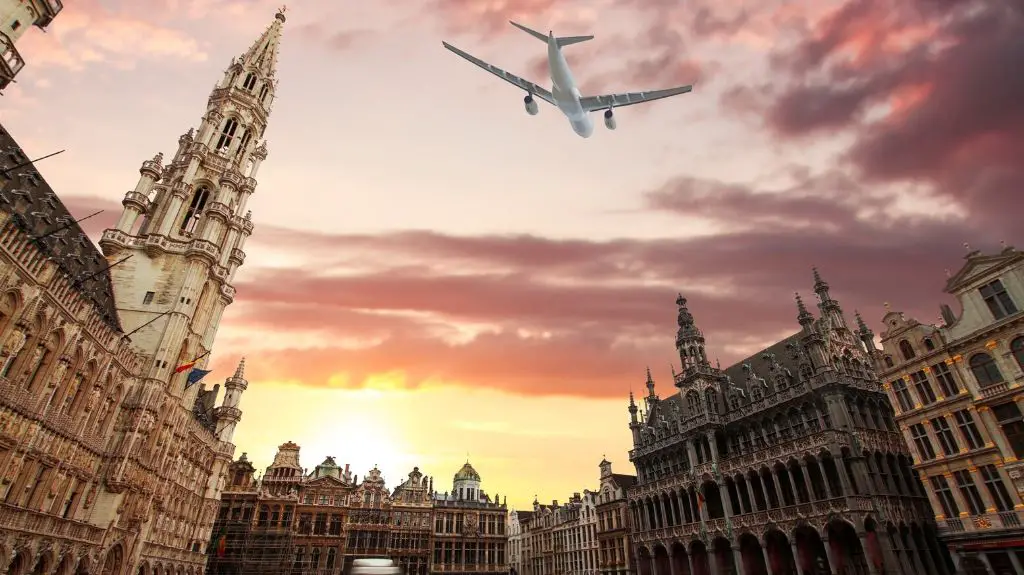 If you decide to spread your travel wings and fly from Amsterdam to Brussels, here's what you should bear in mind:
KLM is the only company that flies from Amsterdam to Brussels and from Brussels to Amsterdam. The flight duration is 45-50 minutes.
The Dutch carrier flies from Amsterdam to Brussels four times per day – twice in the morning, once in the afternoon, and once in the evening.
KLM flies from Brussels to Amsterdam four times per day, too.
The airplanes land at Brussels Zaventem Airport. Getting from the airport to the city center takes between 25 and 45 minutes depending on the time of the day.
Don't forget to add waiting times at both airports to the total trip duration, even if you fly with a carry-on only. Additionally, calculate all transfers into the overall journey.
By Tour
If you prefer to have your whole day trip from Amsterdam to Brussels planned for you, the easiest way to do it is to join a tour.
The tour includes a scenic ride in a comfortable bus, a guided walking tour of Brussels' main attractions, and a chocolate tasting.
After you've learned about the Belgian chocolate-making traditions, you'll have free time to explore on your own.
The duration of the tour is approximately 12 hours.
If that sounds like the right type of adventure for you, book your spot via this link.
What to Do on a Full-day Trip from Amsterdam to Brussels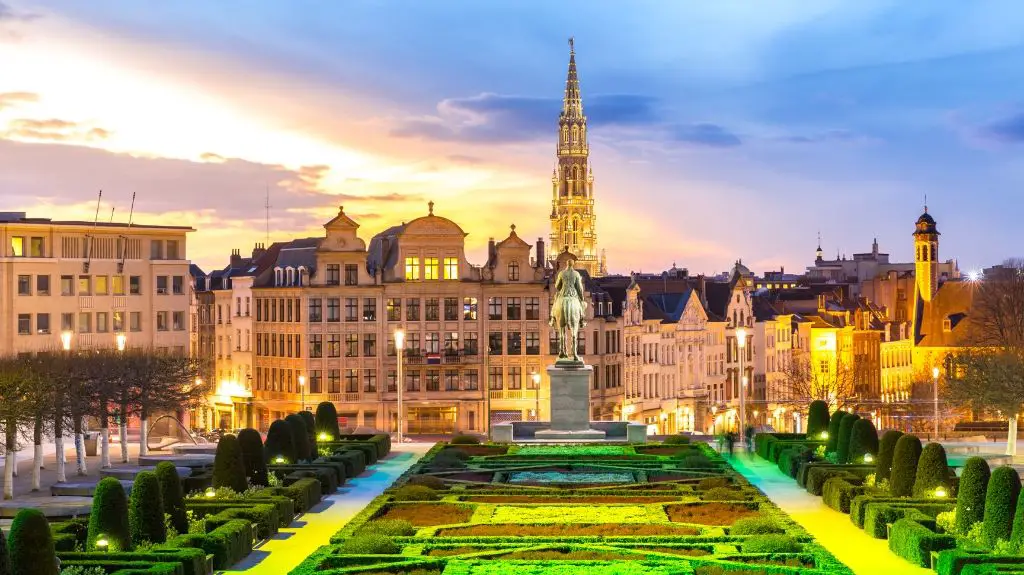 Now that we got the basic information out of the way, let's explore the exciting things!
The population of Brussels is 1.3 million, but 10x more people visited it in 2019.
The city owes the crowds of tourists to a mixture of striking landmarks, world-class food and beer, and numerous EU institutions. The concentration of European organizations makes the city the unofficial Capital of Europe.
There are tons of things to do and see in Brussels. In the next sections, you'll discover the best spots for your day trip.
Note: It's possible to check every single place listed below. However, you'll have to spend just a few minutes on each. For this reason, we highly suggest you pick only what matches your interests. In the end, if you like Brussels on a day trip from Amsterdam, you can always revisit. For this case, we've prepared for you an itinerary for 2 days in Brussels.
The Royal Palace of Brussels – The Imposing Brilliance of the Belgian Capital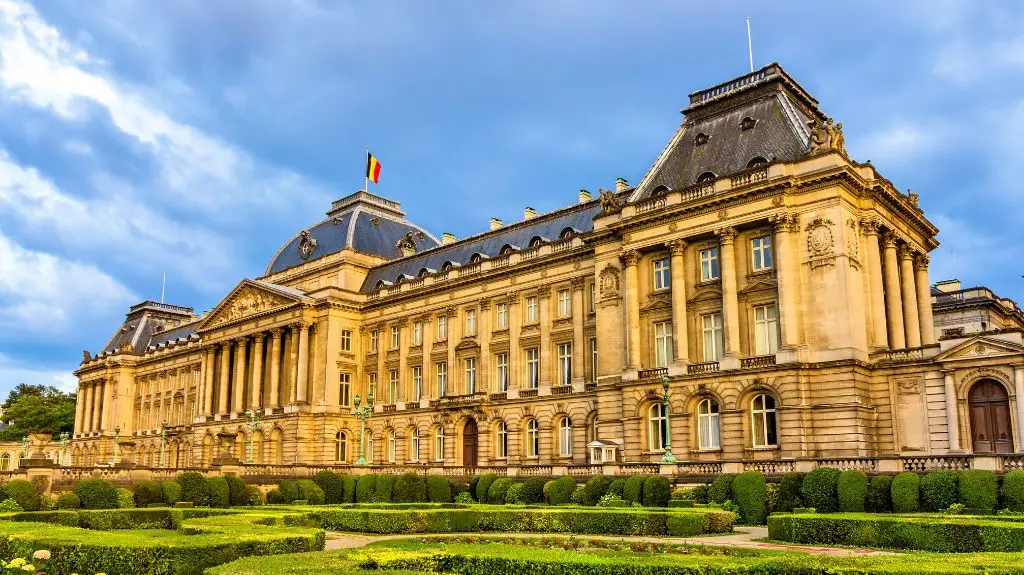 The Royal Palace of Brussels is the official palace for Belgium's King and Queen.
Strangely enough, it's not a royal residence anymore. These days, the noble family lives in the Royal Palace of Laeken, which you can find at the outskirts of the capital.
The Royal Palace of Brussels is the king's administrative residence. Here, he welcomes diplomatic delegations and other foreign or domestic guests.
Since 1965, the palace has been opening its doors to the public every summer. This happens after the national holiday of Belgium on July 21. The palace remains open until the end of August.
If you'd like to admire the Palace on your day trip from Amsterdam to Brussels, you have to arrive between July 21 and August 25.
Address: 16 Rue Brederode, 1000 Brussels
St Michael and St Gudula Cathedral – A Great Example of Brabantine Gothic Architecture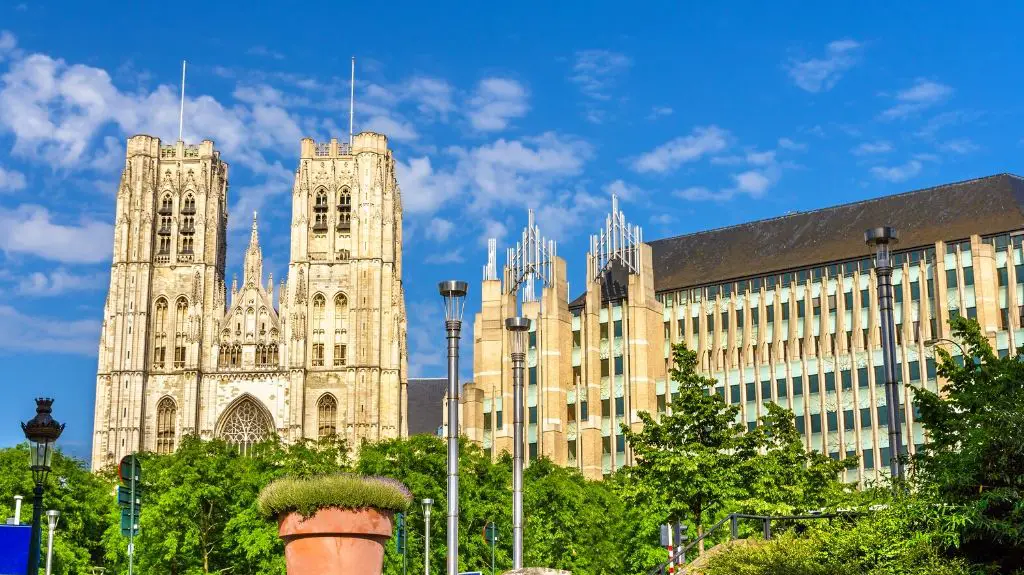 Like exploring outstanding religious temples? Then you should check St Michael and St Gudula Cathedral.
The Roman Catholic church is dedicated to the Saints Michael and Gudula who are patrons of Brussels. The edifice is one of the greatest examples of the Brabantine Gothic style of architecture.
Construction of the church began way back in the 11th century. By the 16th century, most of it was complete. Curiously, it got a cathedral status in 1962.
When you step inside, look at the stained-glass windows. They date to the 16th, 17th, and 19th centuries. Many of them represent scenes of the Legend of the Miraculous Sacrament.
Address: Place Sainte-Gudule, 1000 Brussels
Grand Place – The Majestic Heart of Brussels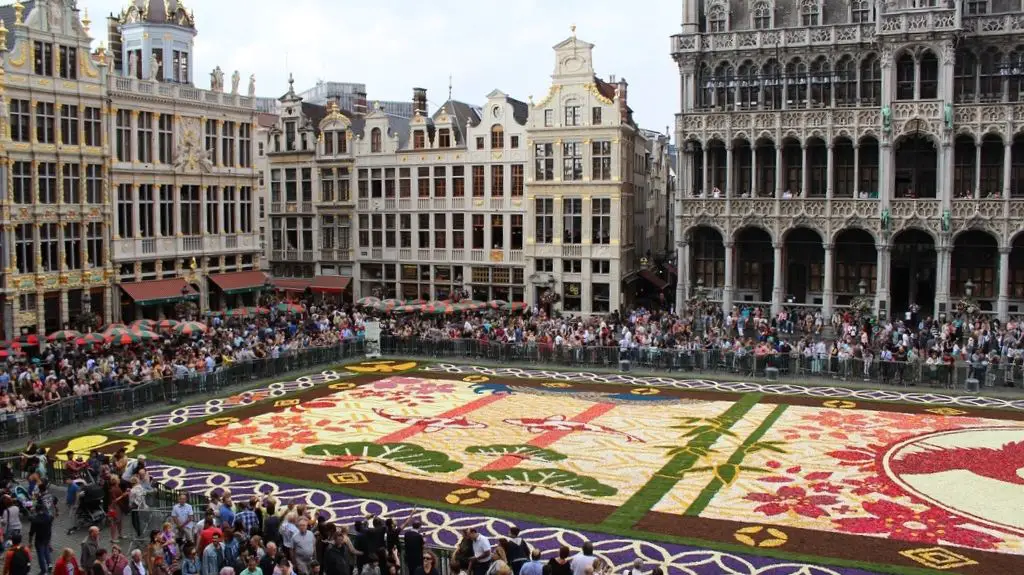 Grand Place (Grote Markt) is the very core of the Belgian capital. The majestic square is a must-visit spot on your day trip from Amsterdam to Brussels.
The place measures 223 x 360 ft. (68 x 110 m) or about the size of a football pitch. This makes it perfect for hosting various events. If you're lucky, you can catch the most astounding one – the Flower Carpet. More than 500,000 plants and flowers, including bark, grass, dahlias, and begonias, form the humongous carpet.
Imposing guildhalls and other majestic edifices flank the square from all sides. All these make Grand Place one of the most beautiful spots in the world. It's no wonder UNESCO added the square to its World Heritage List in 1998.
When you're there, check the Town Hall and La Maison du Roi (the King's House). The latter hosts the Brussels City Museum.
Tip: We believe the best way to experience the atmosphere of Grote Markt is by indulging in a cold Belgian beer while sitting in one of the historical cafés that dot the square.
Manneken Pis – Brussels' Most Bizarre Landmark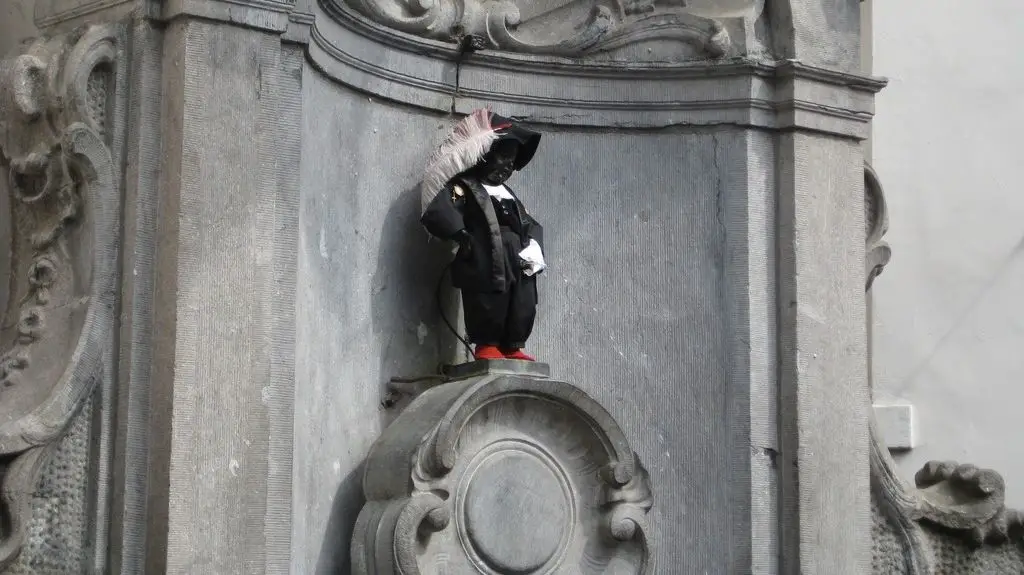 Just three minutes on foot from Grand Place, you can discover the weirdest attraction of Brussels – Manneken Pis.
The 24-inch bronze fountain sculpture depicts a naked little boy who is peeing into the basin of the fountain. Jérôme Duquesnoy the Elder designed the sculpture at the beginning of the 15th century.
The current urinating boy is a replica. If you're curious to see the original, you can do that in the Brussels City Museum.
Manneken Pis might seem like a bizarre attraction, but it's Brussels' best-known symbol. It embodies the locals' sense of humor and their independent minds.
Do you know what's the most peculiar fact about this landmark?
Manneken Pis has his own dresser who changes his outfits several times a week. The little boy's wardrobe counts more than 1,000 costumes. You can check most of them in the City Museum opposite the Town Hall on Grand Place.
Tip: Visiting Manneken Pis is a typical thing to do in Brussels. But if you want to do something that's not, check out Jeanneke Pis – the urinating girl. It's just south of Grand Place, on 10-12 Impasse de la Fidélité/Getrouwheidsgang ("Fidelity Alley"). And it's among the most unusual things to do in Brussels.
Address: The intersection of Rue de l'Étuve/Stoofstraat and Rue du Chêne/Eikstraat.
Atomium – the Mind-Blowing Symbol of Brussels and Belgium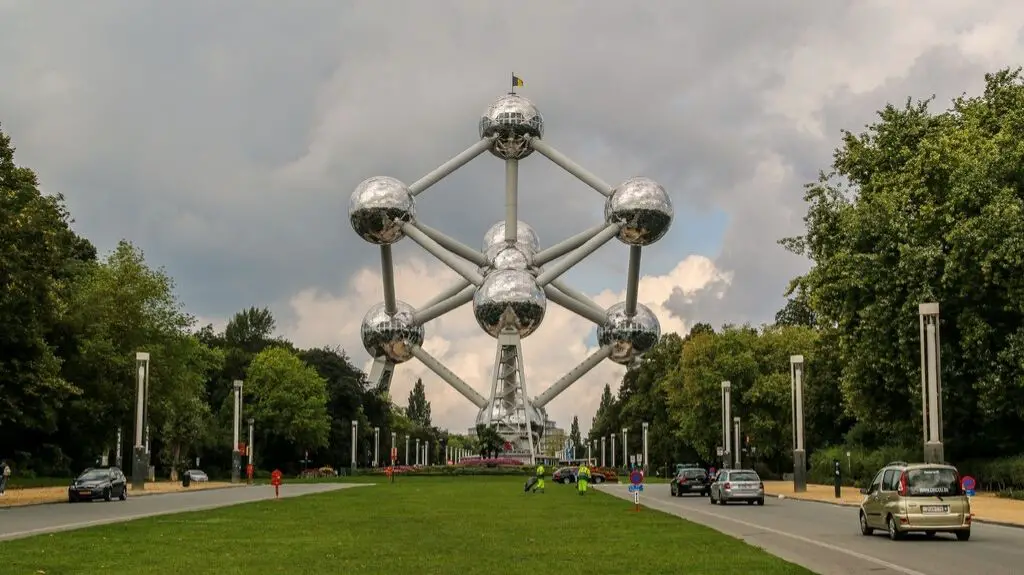 The modern symbol of the Belgian capital, and the whole country, is the Atomium.
Several of the coolest facts about Brussels are about this futuristic structure.
The local government built it in 1958 for the Brussels World Fair. It served as both an emblem and a flagship building.
Interestingly, the plan was to dismantle it after the Fair. Its one-of-a-kind design and colossal structure skyrocketed its popularity, and authorities decided to keep it.
Today, the magnificent edifice is not only a key part of the city's landscape. It has also become one of the most innovative and eye-catching buildings in the world.
As the name suggests, the Atomium represents an atom that has been magnified 65 billion times!
The breathtaking structure unveils one of the best panoramas over Brussels. Many locals use it as a background for wedding and romantic photoshoots. It's also in the Guinness Book of World Records for the most stairs climbed by a bike in a minute.
No wonder 600,000+ people visit the Atomium each year. So, we advise you to book your tickets in advance to avoid queueing at the ticket offices.
Address: Square de l'Atomium, 1020 Brussels
Mini Europe – Spectacular Miniatures of Europe's Most Popular Landmarks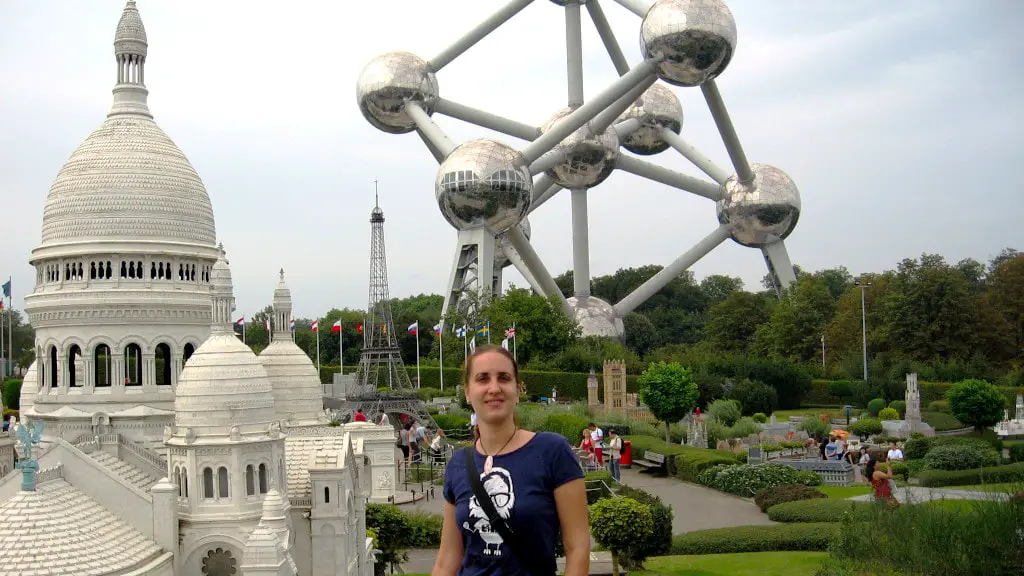 When you finish admiring the Atomium, we suggest you stop by the Mini Europe Park nearby.
In Mini Europe, you can marvel at reproductions of European monuments that have been minified 25 times.
Inside the park, you'll find 350 buildings from almost 80 cities. The most famous on the list include the Acropolis, Big Ben, the Eiffel Tower, and the Grand Place.
Mini Europe is the only spot in the world where you can "travel" through Europe in an hour. 😊
Live-action models, including trains, mills, cable cars, and an erupting Mount Vesuvius, will make your visit truly unforgettable.
The park opened its doors in 1989 and receives around 350,000 visitors each year. Grab your online tickets from this link.
Note: Tickets are for specific entry hours, so please have that in mind when booking.
Address: 1 Avenue du Football, 1020 Brussels
Park du Cinquantenaire – Mesmerizing Greenery in the Heart of the European Quarter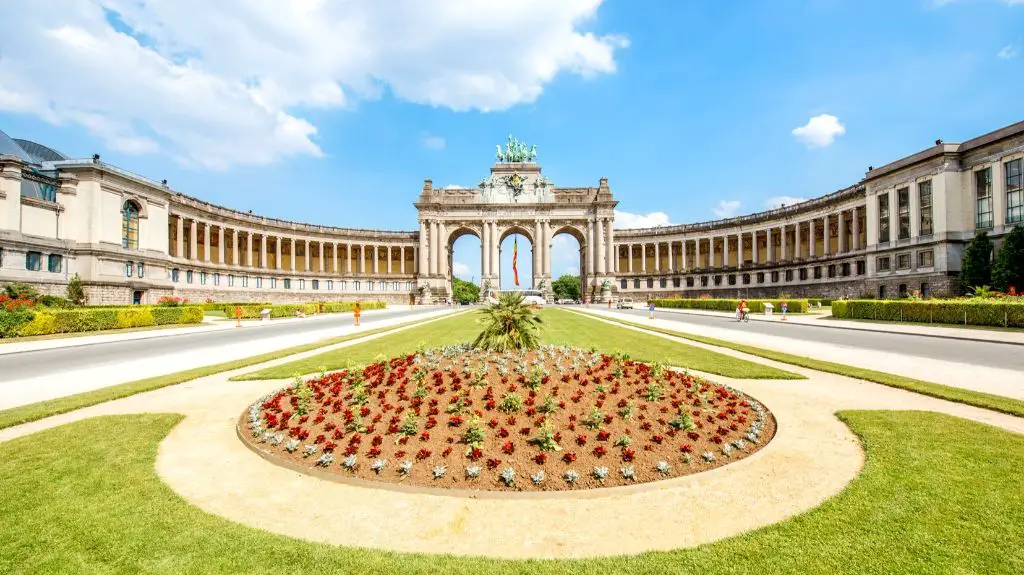 In French, Cinquantenaire means "fiftieth". The creation of Park du Cinquantenaire was commissioned by the Belgian government for the 1880 National Exhibition.
It commemorated the 50th anniversary of the Belgian Revolution. Most of the buildings in the park date back to that exhibition.
Local authorities erected the edifices using only iron, stone, and glass. These were the symbols of the economic and industrial power of Belgium in that period.
In the northern part of the complex, you'll find the Royal Military Museum. The southern part houses two museums. These are the Art & History Museum and the AutoWorld vintage car museum.
Address: Avenue de la Joyeuse Entrée 21A, 1000 Brussels
Brussels' European Quarter – Where the EU Creates Its Politics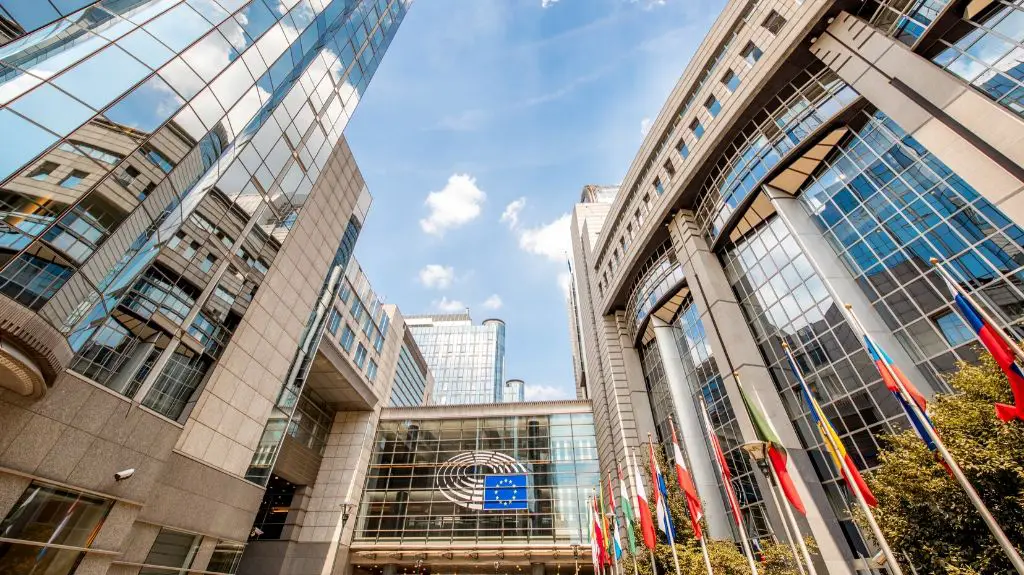 Would you like to rub shoulders with EU politicians? Then you should head to the European Quarter.
Svet worked in Brussels for a while in 2010, and the modern architecture of this area constantly amazed him.
In the neighborhood, you can see the headquarters of many EU institutions. The list includes:
The European Parliament
The European Commission
The Committee of the Regions
The Council of the European Union
The European Economic and Social Committee
Besides those, you can also find numerous other buildings whose modern looks hypnotize locals and tourists alike.
However, the European Quarter is not just a bunch of EU institutions. In the area, you can visit interesting museums, relax by lakes and green spaces, go on a shopping spree, or sip Belgian beer at vibrant squares.
In fact, the quarter is home to four main squares – Place Jourdan, Place du Luxembourg, Place Jean Rey, and Rond-point Schuman. Each of them is worth visiting. All this makes the European Quarter one of the best areas to stay in Brussels.
Food Tips for Your Day Trip from Amsterdam to Brussels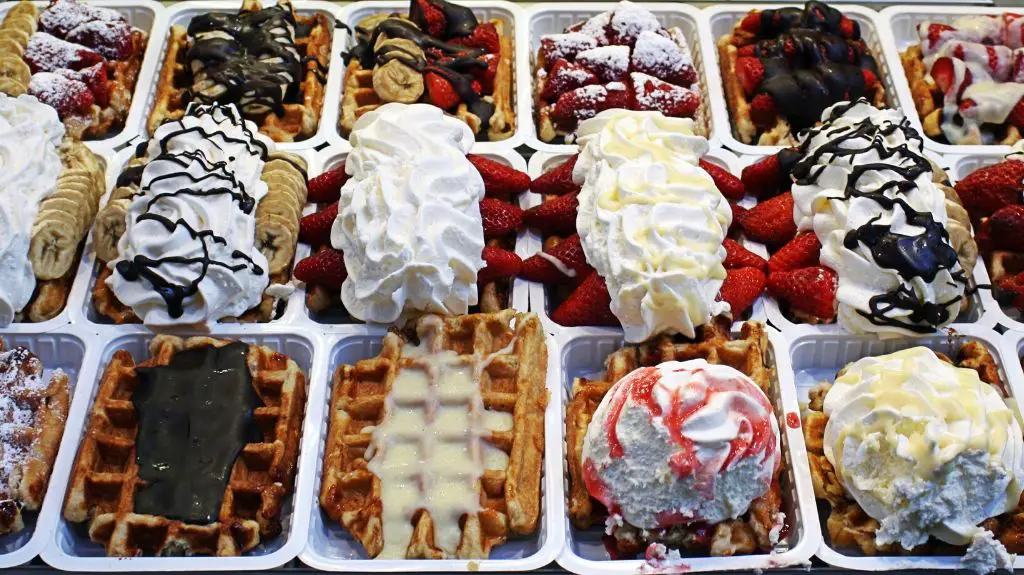 If we were you, we'd prepare a couple of sandwiches, add a few proteins bars, and stock on water. That's how you can maximize your time in Brussels and explore as many places as possible.
But if you want to take it easy, visit a few attractions, and tease your taste buds with a delectable dish in between, here are our food tips for Brussels.
Belgian cuisine is truly mouthwatering. If you'd like to try the best traditional Belgian foods, find the most famous below:
Moules-frites / Mosselen met friet. Belgium's national dish translates as mussels with fries. If you adore mussels, there's no better spot to taste them than Belgium. Local chefs prepare them cooked or steamed and accompany them with copious amounts of celery and onions. They come with finger-licking fries, too.
Carbonade flamande / Stoofvlees. This is Svet's favorite stew by far. And it might become yours, too. The magic behind it? The beef simmers in dark Belgian beer for 4 hours until it becomes as tender as the night. Restaurants serve it with bread or fries and mustard. Along with mussels, the carbonade is another national dish.
Cheese. Belgian cheese-making traditions go back to the Middle Ages. In fact, numerous cheese companies carry the name of the abbeys where they were founded. Many of these abbeys (Chimay, Maredsous, Westmalle, etc.) manufacture both cheese and beer. And for a good reason. Belgians love to pair their strong beers with a good cheese.
Chocolate. Belgium is home to over 2,000 small and large chocolatiers. Today, the country produces the whopping 172,000 tons of chocolate every year. If you're a chocolate celebrant, you can't go wrong with Belgian chocolate. We highly recommend to try the following brands on your day trip from Amsterdam to Brussels: Côte d'or, Neuhaus, Guylian, and Leonidas.
Gaufres / Wafels. Svet believes Belgian waffles are the best in the world. Thankfully, it's easy to verify that as you can find them everywhere in Brussels – in small shops, supermarkets, and even in ice-cream vans. The most delicious ones are the Brussels waffle and the Liège waffle (Gaufre de Liège).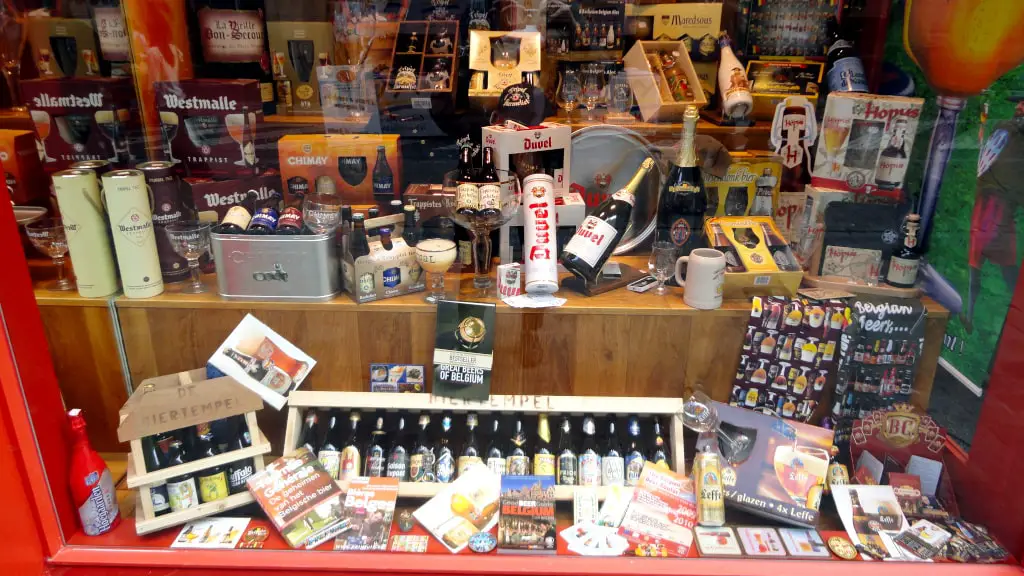 Belgian dishes don't attract you? Then you can save some time by having a quick snack at kebab houses, waffle shops, or Asian restaurants.
No matter what food you decide to taste, you must try Belgian beer. On a territory slightly bigger than Hawaii, Belgium packs an amazingly rich variety of beers.
In fact, it prides itself on more distinct beer types per capita than any other country in the world!
You can go the safe route and get the world-famous Stella Artois.
Or you can go for something palate-teasing, like kriek (sour cherry beer).
Want something stronger? Our suggestions are Duvel, Kwak, Orval, Chimay, Rochefort, and Westmalle.
Visa, Currency, and Language Tips for Brussels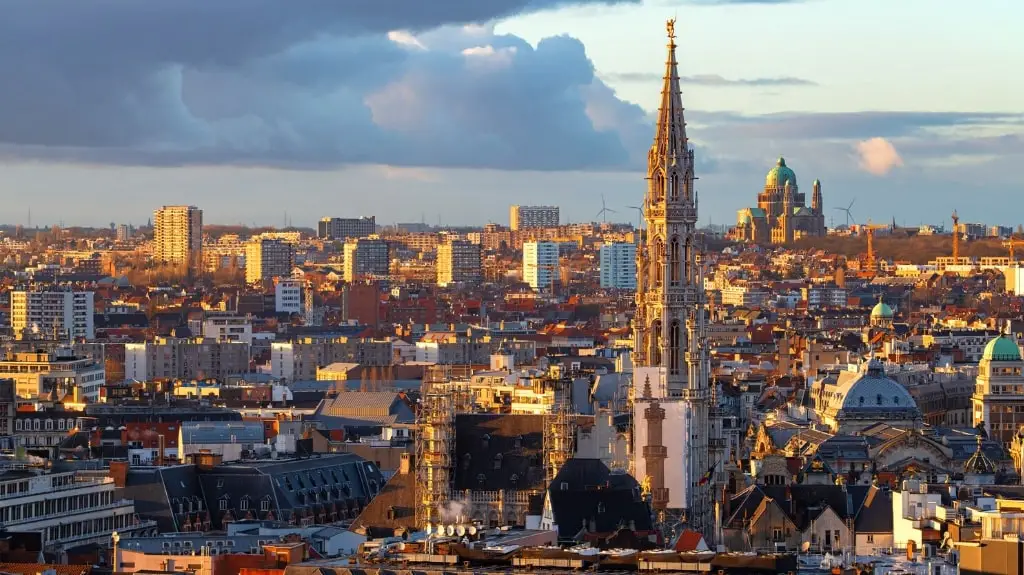 Belgium is not only one of the European Union's founding members. It also belongs to the Schengen Area.
These two facts about Belgium mean one thing. If you're a holder of a U.S. passport, and it expires in more than 6 months, you don't have to get a visa to visit the country for up to 3 months (90 days).
For the entire list of visa requirements, visit the official website of the European Union.
Next to being a Schengen and an EU member state, Belgium is also a member of the Eurozone. Which means its currency is the euro.
You can find ATM machines and banks to withdraw cash virtually everywhere in Brussels. But if you're not a fan of the good ol' banknotes, don't worry. Card payments are an option almost everywhere.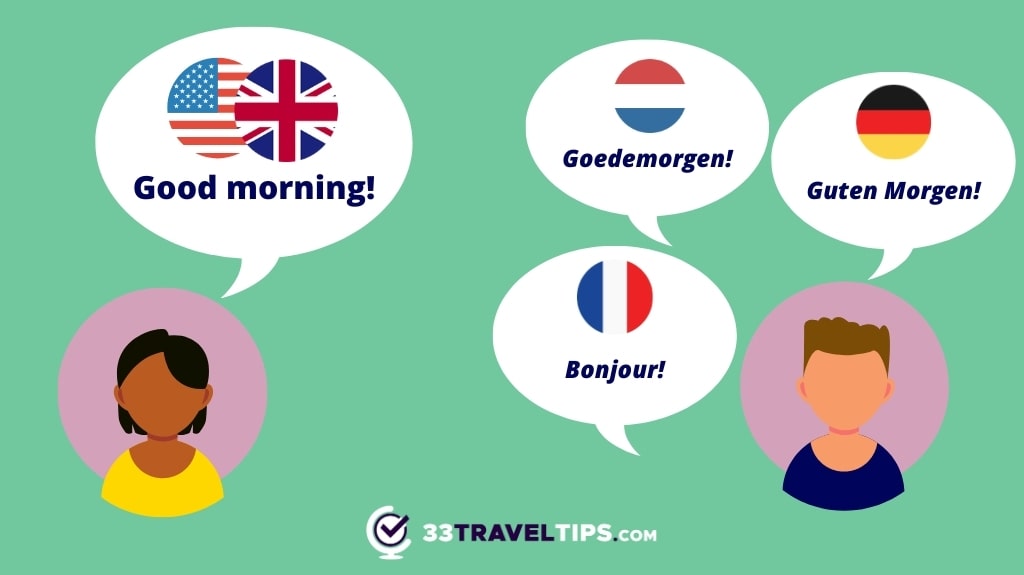 When it comes to languages, Belgium has three official ones – Dutch, French, and German. In Brussels, the majority of people speak either French or Flemish Dutch. However, almost everyone understands English.
If you'd like to impress locals and show your admiration for their culture, here's a handy table with five basic words and phrases for each language:
| English | French | Dutch | German |
| --- | --- | --- | --- |
| Good morning | Bonjour | Goedemorgen | Guten Morgen |
| Goodbye | Au revoir | Tot ziens | Aufwiedersehen |
| Thank you / Thank you very much | Merci / Merci beaucoup | Dank u wel / Hartelijk bedankt | Danke / Vielen Dank |
| Excuse me / I'm sorry | Excusez-moi / Je suis désolé(e) | Sorry | Entschuldigung / Tut mir leid |
| Yes / No | Oui / Non | Ja / Nee | Ja / Nein |
A Day Trip from Amsterdam to Brussels – Lush Parks, Magnificent Squares, and Royal Magnificence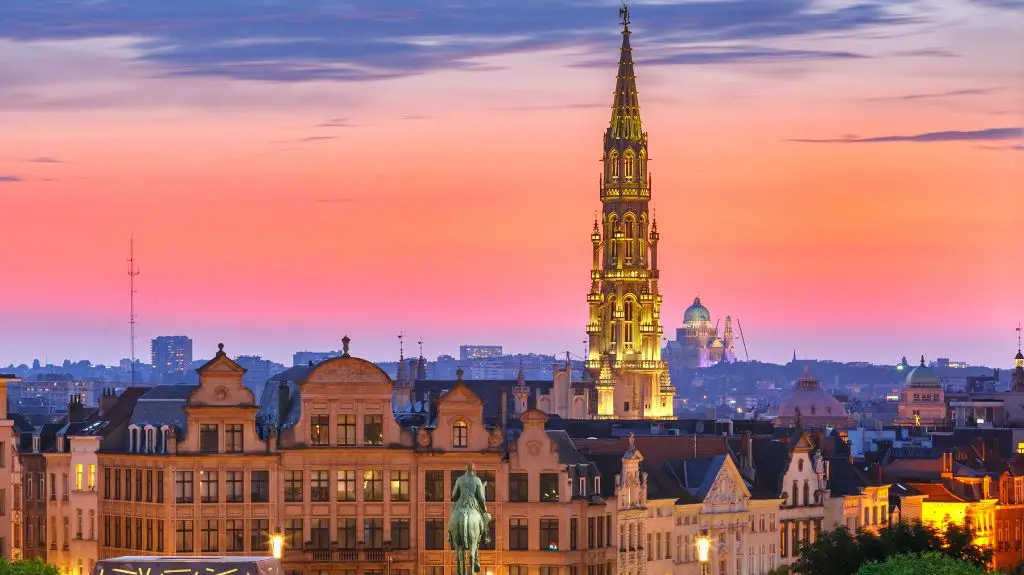 Brussels takes one of the top spots when it comes to cosmopolitan European capitals.
Its regal splendor, verdant parks, mouthwatering food, and peculiar squares will leave you speechless.
The city offers many things to do and see. A day trip from Amsterdam to Brussels will barely be enough to cover the basics, but you'll be able to experience the city's vivacious vibe.
Besides, with some advance planning, and this thorough guide, we're sure you'll maximize your time. So, no more wondering whether to visit Brussels or Amsterdam when you can explore them both.
Now, we'd love to know:
Have you been to Brussels before?
If not, what would be the first thing you'd do there?