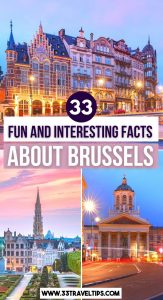 The Capital of Europe.
138 restaurants per square mile.
The largest chocolate selling point in the world.
These are just three of the 33 fun and interesting facts about Brussels we've prepared for you in this guide.
The Belgian capital is cool, colorful, and cosmopolitan at every corner.
Prepare your best travel-thirsty shoes and let's dive right in!
Start Planning Your Trip to Belgium with Our BEST Recommendations:
Top Tours in Belgium
Best Accommodations in Belgium
Easiest Transportation Options in Belgium
Note: This article contains affiliate links. In case you purchase something through one of these links, we may receive a small commission at no extra cost for you. Thank you for helping us keep creating the free content on this website!
Scrumptious Food Facts About Brussels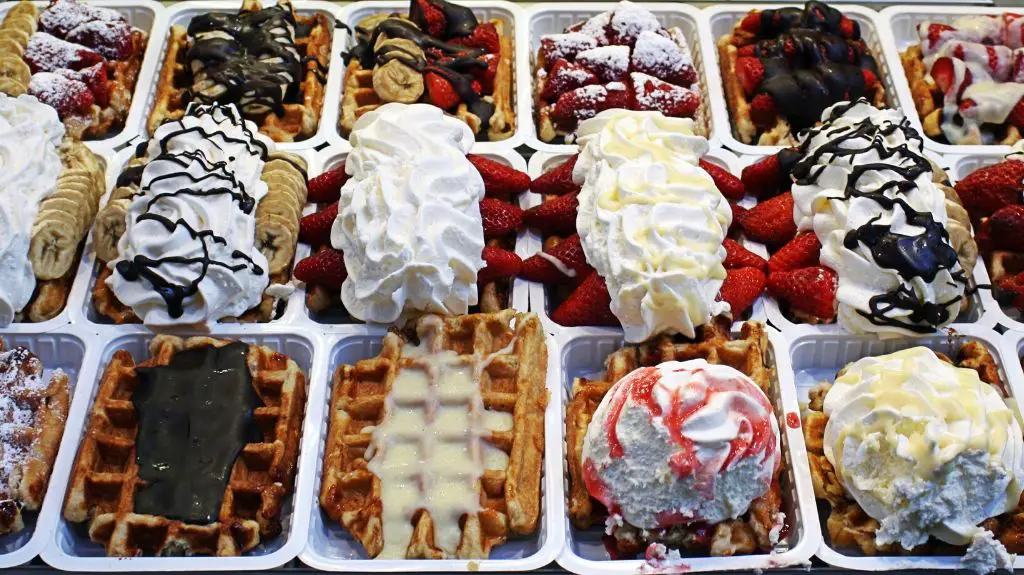 Let's start with the most delicious section of the guide – the decadently irresistible food facts about Brussels.
Warning: Generating copious amounts of saliva is highly possible. Proceed at your own risk.
Two types of Belgian waffles exist, and one of them is called after Brussels. The other is the Liège waffle. The Brussels Waffle is bigger than other waffles, has right-angled corners, is crunchier on the outside and lighter on the inside. The Liège waffle doesn't have right-angled corners, and it's sweeter and doughier than the Brussels Waffle. You can find both types in almost any supermarket.
The largest chocolate selling point worldwide is near Brussels. The international airport of the Belgian capital is the world's biggest chocolate selling spot. Belgians love their chocolate, but it seems international visitors do, too. If you haven't tried Belgian chocolate before, you can't go wrong with Leonidas, Neuhaus, Côte d'Or, Godiva, and Belvas.
Brussels is home to 800+ beer brands. But if you think that number is impressive, here's another. The tiny country of Belgium produces more than 2,200 beer brands. This means you can spend over 6 (SIX!) years drinking beer in Belgium and never have the same beer brand twice!
You can taste 2,000+ beers in the Delirium Café in Brussels. The place holds a Guinness World Record for most beers offered in a bar. The number is 2004, and the café obtained the record in precisely 2004. You can indulge in beers from 100+ countries. Pay special attention to the ceiling when inside. 😉
There's a French fry museum. And it's not in France. That's not surprising because French fries actually originate from Belgium, and Brussels in particular. So, if you worship fries, we suggest you visit the museum. Get your tickets from their official website. Peculiarly, there's a French fry museum in Bruges, too.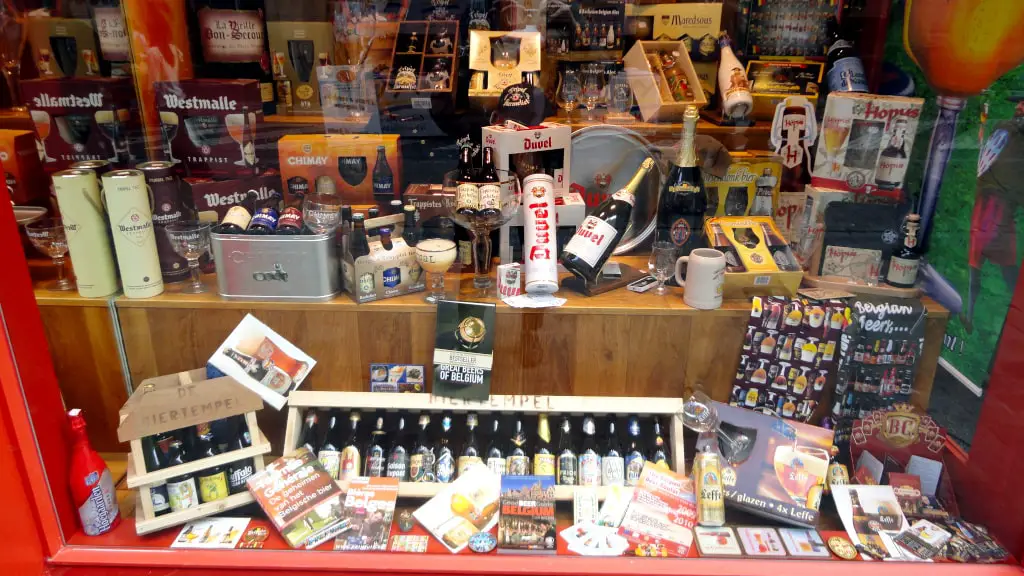 Tease your palate in the gourmet Tram Experience restaurant. The tram is fully decked out to provide you the gourmand experience of your life while crisscrossing the streets of Brussels. Get a beer or a glass of wine, and enjoy the hedonistic six- or seven-course meal the owners have prepared for you.
Brussels boasts 138 restaurants per square mile. Given that the city is 62 square miles, this amounts to 8,550+ restaurants. One thing is for sure – you won't be hungry in the Belgian capital. The range is quite impressive as well. Cheap bites, vegan and vegetarian options, fine-dining spots, seafood, street food… You name it, Brussels has it! Our recommendation for local dishes includes Carbonnade Flamande (Flemish beef and beer stew) and Moules Frites (mussels with fries).
America's most hated vegetable originates from Brussels. Belgium has been cultivating Brussels sprouts in the last 500+ years. The strong-flavored vegetable is quite the treat. You either love it or hate it. Peculiarly, most kids fall in the "I-can't-eat-this" camp. What's your relation with Brussels sprouts?
Mind-Blowing Facts About Brussels' Population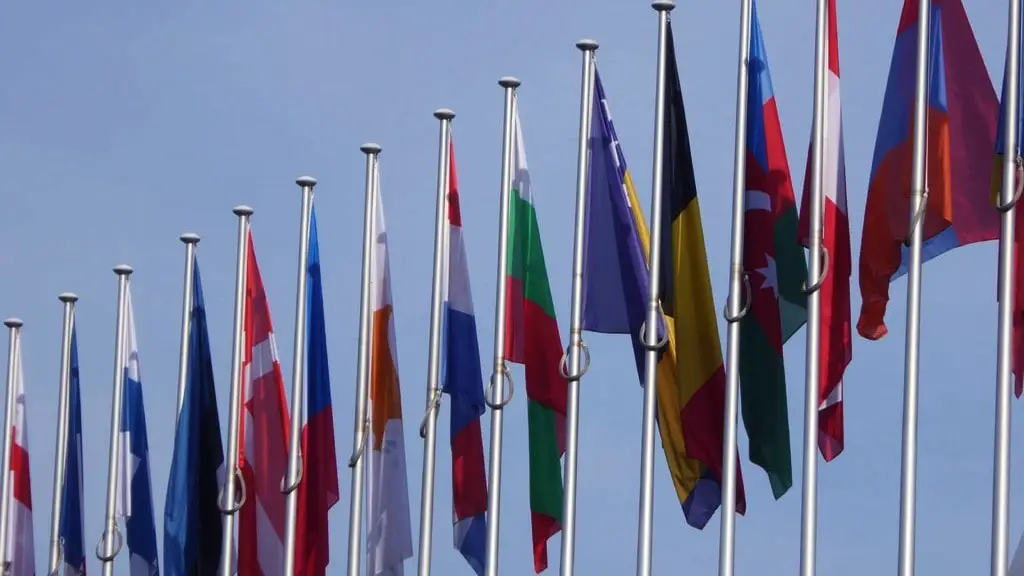 In this section, you'll find out some of the most mind-blowing facts about the people of Brussels. Wanna impress your friends? Send them a link to this post.
Brussels has two official languages. Locals speak either French or Flemish Dutch. French is predominant because most governmental, non-governmental, and international organizations in Brussels use it as their official language. However, you'll be able to get along with English almost anywhere in the capital. That's due to the city's international presence.
The city is second in the world in terms of international presence. Brussels houses more than 120 global governmental organizations, 180+ embassies, and over 1,400 non-governmental organizations. The only city in the world that has more diplomatic missions is New York.
Locals speak 110+ languages. There might be just two official languages, but due to the multicultural nature of Brussels' population, there are more than 110 spoken languages. That seems like a lot, but it's negligible to New York's 800 languages.
1/3 of the population is international. Similar to Amsterdam, Brussels houses 180+ nationalities. Non-Belgians amount to 32% of the total population of the capital. This makes Brussels one of the most international cities worldwide. The average age of the city is 37.5, which is much younger than the rest of the country.
20,000+ individual lobbyists operate in Brussels and its surroundings. What's even more shocking is their combined annual budget. According to some estimates, it's more than €1.2 billion($1.42 billion).
Fascinating Urban Facts About the Belgian Capital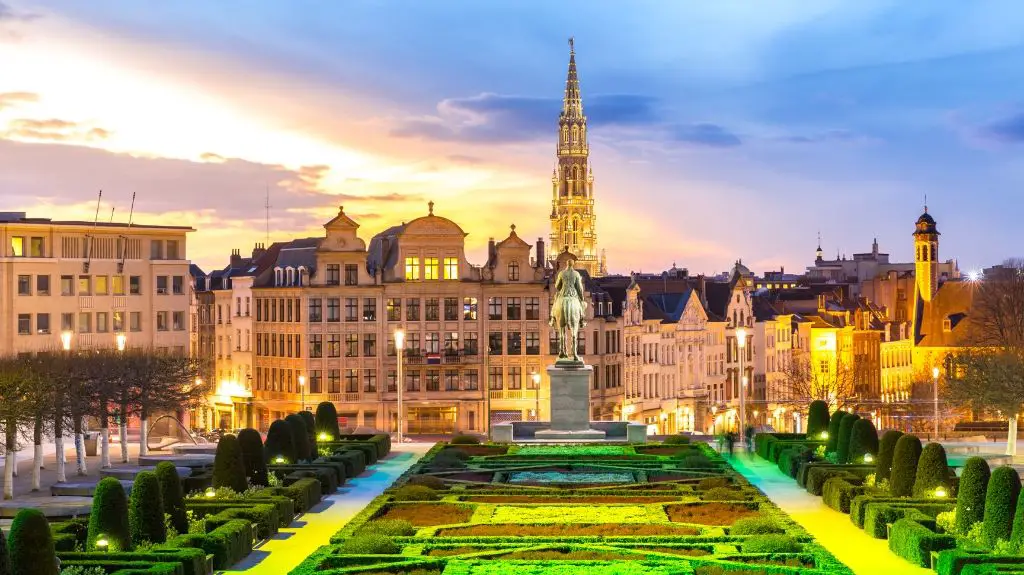 Want to learn some peculiar urban facts about Brussels? We've prepared six facts you can cram in your mind and beat your friends next time at quiz night.
Brussels and Antwerp are Europe's most congested cities. Let this be your warning if you plan on visiting by car. Commuters to Belgium's two largest cities spend 80+ hours per year on average in abhorrent traffic jams. We sincerely hope at least some of them put that time to good use.
Almost 20% of Belgium's population lives in Brussels. In January 2020, the city's urban agglomeration amounted to 1,830,557 people. That's close to 20% of the entire population of Belgium. This fact makes Brussels not only the capital but also its largest city.
Brussels is quite small in size. The city is only 62 sq. mi (161 sq. km). That might explain the crazy traffic jams. But it also makes Brussels' center easily walkable. Check our guide on how to spend 2 days in Brussels to see how you can cover a lot of ground on foot.
Brussels is almost at an equal distance from several major European capitals. You'll reach the city in approximately 2 hours from Paris, London, and Amsterdam if you take the high-speed train. That's probably one of the reasons the European Union chose Brussels to host the majority of its institutions (more on this below).
Brussels welcomed 4.2 million tourists in 2019. That might seem lower than Amsterdam, but it's a steady increase compared to previous years. Especially after the catastrophic blow of the three terrorist attacks in Brussels and Zaventem (Brussels Airport) in 2016. But don't worry. According to the Economist, Brussels is the 24th safest city in the world before cities like Madrid, Barcelona, and Rome.
If you're a culture vulture or a music fan, the Belgian capital will definitely entertain you with its many festivals. Get lost in art fairs like Art Brussels or BRAFA, enjoy some cinephile scenes with BIFF or Offscreen Film Festival, or soothe your soul with the smooth sound of the Brussels Jazz Festival.
Interesting Historical Facts About Brussels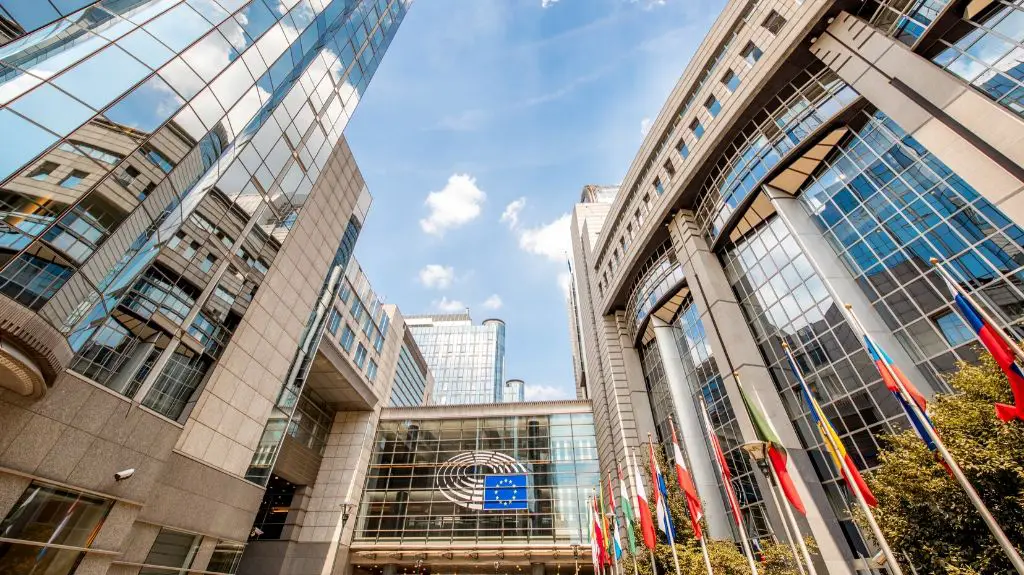 In this section of our guide, you'll discover the most interesting historical facts about Brussels. Don't forget to share some of them with your friends.
Brussels is not only the capital of Belgium. It's the Capital of Europe. The city is known as the unofficial Capital of Europe due to the amassment of EU institutions. Brussels is home to the European Parliament, the European Commission, the Council of the EU, and a dozen other organizations. At any point in time, the city hosts 40,000+ diplomats.
Once, the Capital of Europe was a tiny rural settlement. Over the years, the city became an important region on the Old Continent. After the Second World War, it turned into a key center for international politics, home to a host of global institutions, and headquarters of major political and economic organizations like the EU, NATO, and Benelux.
You can find the world's largest courthouse in Brussels. The Palais de Justice (Justice Palace) measures 490 by 520 ft. (150 by 160 m), with a total surface area of 280,000 sq. ft. (26,000 sq. m). By size, it's several times bigger than St. Peter's Basilica in the Vatican. In fact, at the time of its construction – at the end of the 19th century – it was the world's largest building.
Would you like to shop under the oldest shopping arcades? That's possible in Brussels' Galeries Royales Saint-Hubert. The arcades date back to 1847 and they're still one of the most visited places in the Belgian capital today. In the gallery, you'll find high-end stores, posh cafés, and exquisite restaurants.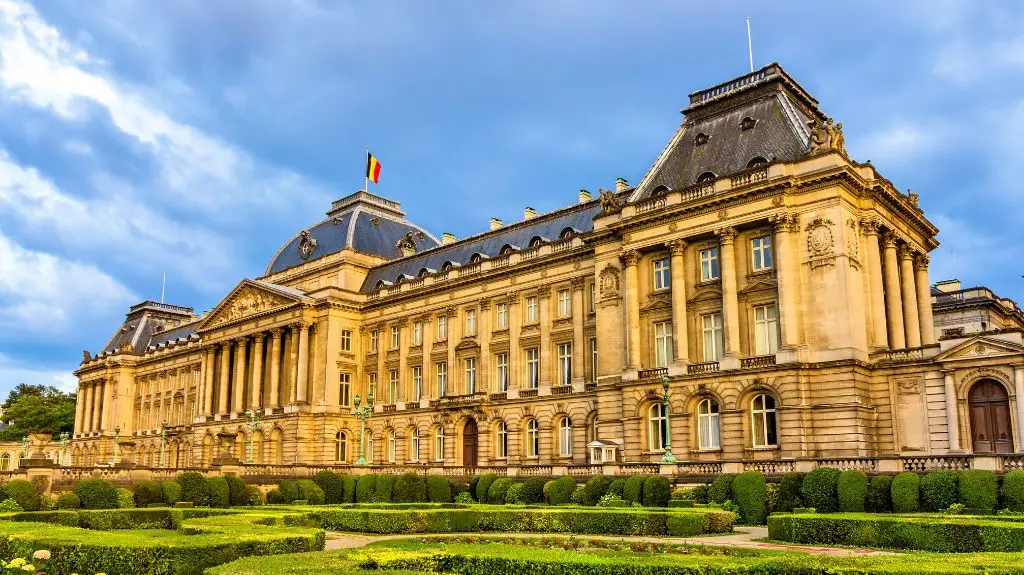 The Royal Palace of Brussels takes after the neoclassical style of London's Buckingham Palace. However, the façade of the former is 50% longer. If you'd like to pay the Royal Palace of Brussels a visit, know that it opens its doors to the public only in summer. This happens between the end of July and the end of August. Entrance is free, except for Mondays.
Brussels is the birthplace of Audrey Hepburn. The famous actress and fashion icon known for her mesmerizing elegance was born on May 4th, 1929. Today, you can find a plaque outside Hepburn's house at 48 Rue Keyenveld. The actress spent her childhood traveling between Belgium, the Netherlands, and the United Kingdom.
Many writers, inventors, and scientists called Brussels home. Notable figures include the Brontë sisters, Victor Hugo, and Karl Marx. Later on, these people left an enormous impact on the world with their groundbreaking works and ideas. Maybe there's something special in the air of the Belgian capital?
Crazy Facts about Brussels' Unusual Landmarks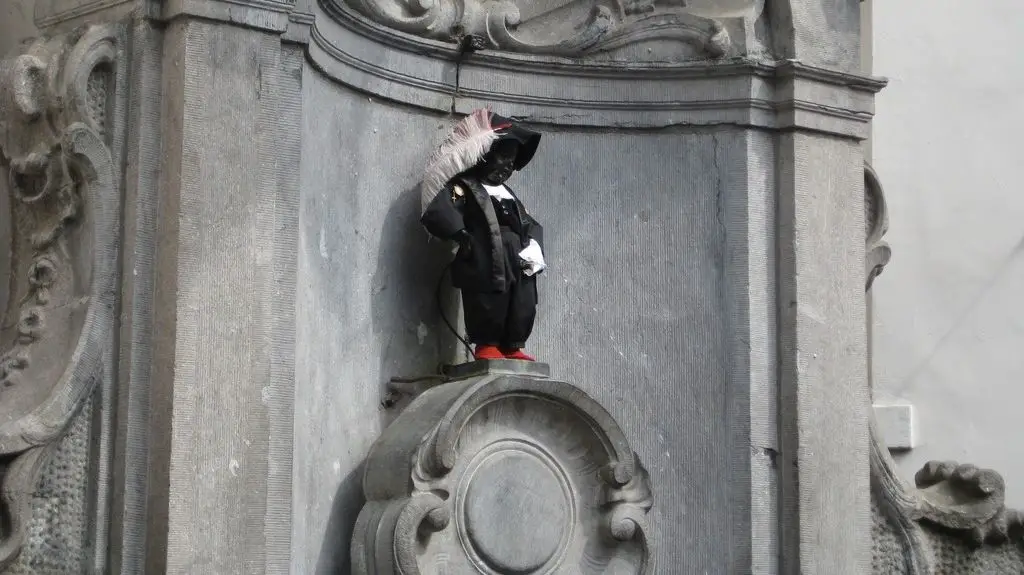 Are you ready for some unbelievable facts about landmarks and buildings in Brussels? Let's check them out below:
Nemo 33 was the world's deepest indoor swimming pool. In 2014, the Y-40, which opened in Padua, Italy, took the lead. Regardless, Nemo 33 is a fantastic playground for scuba divers in Brussels. The pool's depth is 115 ft. (35 m) and has several simulated underwater caves. It contains 0.74 million gallons (2.7 million liters) of highly-filtered, non-chlorinated spring water. The temperature is maintained at the pleasant 86 °F (30 °C).
The symbol of Brussels (and Belgium) is a tiny urinating boy. It measures 2 ft. (61 cm) and goes by the name of Manneken Pis. The little boy attracts throngs of tourists because of another fact. He has a personal dresser who clothes him in 1,000+ costumes.
The Atomium building entered the Guinness Book of World Records in 2016. One of the most significant symbols of Brussels – the Atomium – was awarded a world record for the most stair steps ever climbed by a bike in one minute. The crazy feat happened on May 22nd, 2016.
Brussels is home to one UNESCO World Heritage Site. That's the Grand Place of Brussels. However, Brussels is home to two other sites that are in the tentative World Heritage list. For a site to be accepted on the World Heritage list, it has to be in the tentative list first. The two sites in the tentative list are unsurprisingly the Galeries Royales Saint-Hubert and the Palace of Justice.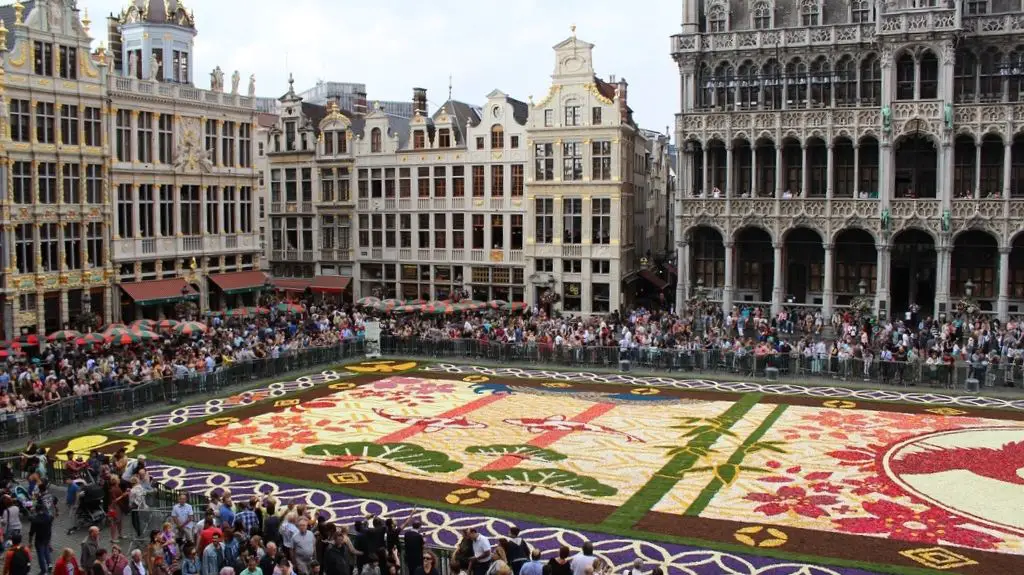 Unusual museums await you in the Belgian capital. Fencing Museum? In Brussels. Underwear Museum? Also in Brussels. Erotics and Mythology Museum, Sewers Museum, Police Museum? Yep. You can find all these quirky and unusual museums in Brussels.
There are "normal" museums, too. If you're more of a traditionalist museum person, don't worry. Brussels is home to 80+ different museums. From the Musical Instruments Museum (MIM) and the Royal Museums of Fine Arts, through the Musée Magritte Museum and the Comics Art Museum, to the Atomium and Autoworld… the Belgian capital will live up even to your wildest museum desires.
Brussels is a comic lover's paradise. One of the best ways to discover Brussels is following the Comic Strip Route. Did you know that Gaston, Spirou, Tin Tin, Lucky Luke, and The Smurfs are all Belgian? Brussels decided to pay tribute to its comic heroes with 50+ colorful mural paintings. You'll find the comic books' characters in the city center where they adorn walls, museums, and building façades. Wanna kill two travel birds with one stone? Pay special attention to the walls of the buildings while you're on your way to Manneken Pis from Grand Place. If that's not cool enough, there's a Comics Art Museum, too. Since 2015, you can find a permanent exhibition on the museum's second floor. To stock up on comics, go to the third floor.
33 Facts about Brussels – Crazy, Funny, and Mind-Blowing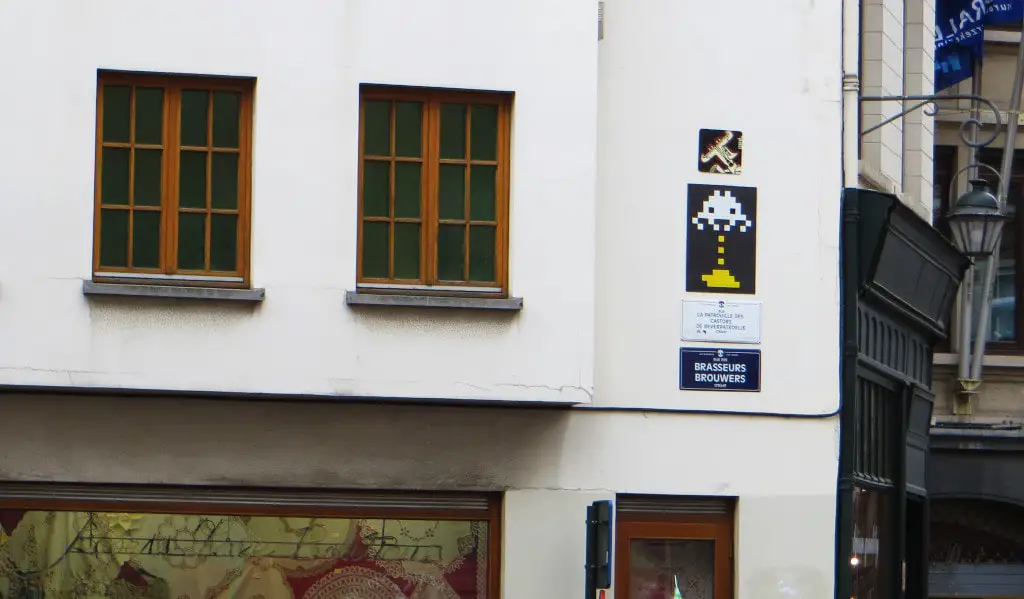 These 33 facts about Brussels are almost as fascinating as the city itself.
One thing is for sure, though. You won't be bored exploring the Capital of Europe.
When you grow tired of trotting, remember that you can stop for world-class beer and fries at every corner.
Start Planning Your Trip to Belgium with Our BEST Recommendations:
Top Tours in Belgium
Best Accommodations in Belgium
Easiest Transportation Options in Belgium
Now, we're curious.
Which is your favorite fact about Brussels?
Let us know in the comments below.