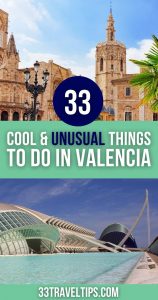 Looking to do a few non-touristy activities in Valencia, Spain? Then, you're in for a cool treat.
On this list, you'll discover 33 unusual things to do in Valencia.
From peculiar museums to downright weird events, and from delectable local delicacies to stomach-wrenching foods, you won't find a regular experience in this article.
Feeling brave?
Let's dive right in!
Start Planning Your Trip to Valencia with Our BEST Recommendations:
⭐ Top Tours in Valencia ⭐
📍 Tuk-Tuk Tour Around the City – discover Valencia in an entertaining and comfy way.
📍 Wine & Tapas in a Historic Building – a guided walk through the Old Town and delectable wines and tapas in an 11th-century building.
⭐ Best Accommodations in Valencia ⭐
🏨 Caro Hotel – the best luxurious experience in the heart of Valencia's Old Town.
🏨 Amazinn Places EVIapartments – funky, modern apartments with great amenities.
⭐ Easiest Transportation Options in Valencia ⭐
🚍 Valencia Tourist Card – enjoy discounts, free travel, and entrances to museums.
🚍 Discover Cars – compare and find the best rates for car rentals.
Note: This article contains affiliate links. In case you purchase something through one of these links, we may receive a small commission at no extra cost for you. Thank you for helping us keep creating the free content on this website!
Visit the Strangest Museums in Valencia
Odd has a new meaning when it comes to non-touristy things to do in Valencia. This section will show you the strangest museums in the Spanish city.
Museo del Arroz. Rice fan? Don't miss this quirky museum that sits near the port of Valencia. Museo Del Arroz is completely dedicated to rice. Inside, you'll explore the history and various mechanics that encompass the processing of ailment, as well as its central role in the cuisine of Valencia. Museo del Arroz displays many old yet restructured machinery that was used to process rice in the past.
Alquería El Machistre. This ethnographic museum also focuses on gastronomy, a typical drink in particular. Horchata is a refreshing Valencian drink beverage from tiger nut (Chufa). In Alquería El Machistre, you'll discover the instruments and techniques for producing horchata, as well as the various ways of cultivating tiger nuts. The gorgeous yet calm location, along with the strange museum, make Alquería El Machistre one of the coolest and most unusual things to do in Valencia.
Casa Judía. Built in 1930, Casa Judía (the Jewish House) mesmerizes with its incredible Valencian Art Deco style. Take a moment to explore the spectacular façade as it combines various colors and elements of Arabic, Egyptian, Hindu, Hebrew, and other architectural styles. You'll find the Star of David right in the lintel of the building's entrance.
L'Iber. Valencia is home to many quirky museums, but L'Iber might be the most unusual of all. L'Iber Museo de Los Soldaditos de Plomo is the world's biggest museum of historical miniatures. Open only on weekends, it has several exhibition rooms that display nearly 100,000 pieces. The miniatures tell the history of Valencia and Spain, from the prehistoric and ancient eras until today.
Valencia Science Museum. Even if you're not a science enthusiast, the Museu de les Ciències Príncipe Felipe, part of the City of Arts and Sciences, will draw your attention. Inside the futuristic building, you can marvel at anything from explosions to breakthrough technologies. Check the City of Arts and Sciences' website to catch some of the fun events it organizes.
L'Almoina. L'Almoina is one of the best yet least popular museums in Valencia. When you walk inside the lobby, turn to the wall. There, you can marvel at a scale relief model of the remains of Valentia Edetanorum, the ancient Roman city of Valencia. Romans founded the city in 138. The museum walks you through Valencia's history, including the same paths Romans, Moors, and Visigoths once marched.
Museo Taurino. Bullfighting is a BIG thing in Spain, and that's why Museo Taurino is dedicated to it. The collection displays instruments from the 18th, 19th, and 20th centuries and walks you around the history and features of this truly unique Spanish tradition. The museum is adjacent to Plaza del Toro (Bulls' Square) – bullfighting arena that's still functioning today. One of our best Valencia travel tips is to visit the square as well.
Discover Valencia's Quirkiest Attractions and Activities
Valencia teems with quirky landmarks. From one-of-a-kind parks to peculiar towers, and from animal houses to floral bridges, let's explore the strangest attractions in the city.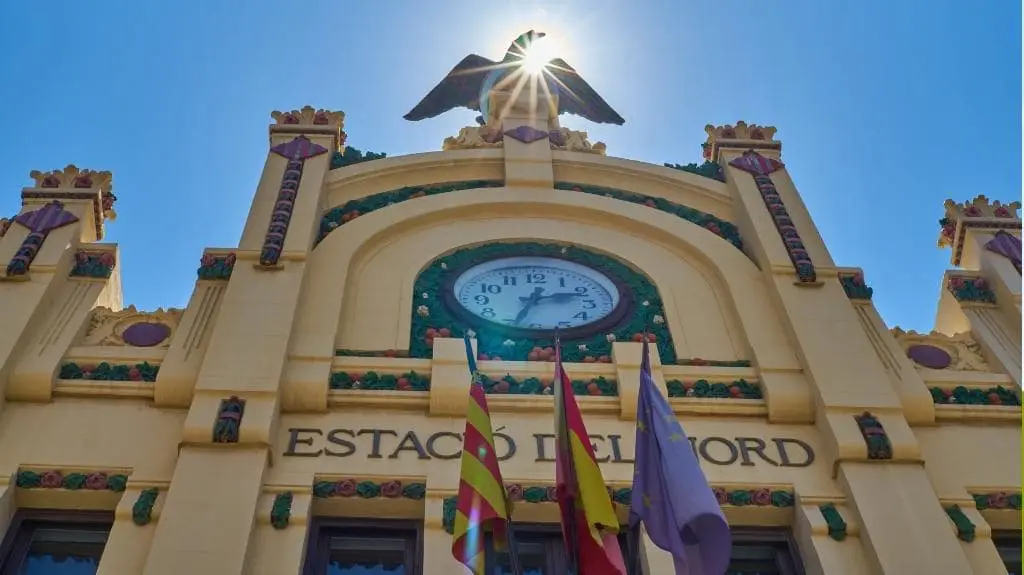 Feast your eyes at Estacio del Nord. Valencia's central railway station is one of the most unnoticed spots in the city. Built in Valencia Art Nouveau style, the detailed façade will capture your eyes. Heading inside isn't a bad idea either. The interior of Estacio del Nord will reward you with heart-stopping decorations of colorful tiles, mosaics, and stained-glass windows. If you're traveling from Barcelona to Valencia, your train will arrive at Estacio del Nord.
Explore Centre del Carme. Looking to spend a few hours getting to know the city better?  Head down to Centre del Carme. What used to be an old monastery is now a cultural center in the El Carmen district of Valencia. By visiting this unusual attraction, you get to enjoy both the beauty of the old monastery and the various exhibitions and activities. Plus, it's one of the free things to do in Valencia.
Find the House of Cats. Another quirky spot in the El Carmen area is the peculiar Casa de los Gatos (House of Cats). The small "house" is fixed in a blue wall, which you'll find at the northern end of the Old Town. Just a few feet high, Casa de los Gatos is a mini version of a classical Valencian house.  A woman residing in the building constructed the House of Cats for the stray felines of the neighborhood.
Discover Valencia from a hot air balloon. There's no better way to see the miles of lush market gardens and the jaw-dropping dramatic ranges that surround Valencia than a hot air balloon ride. Several companies offer the experience, including flying over the magnificent Sierra de Mariola mountains. If you love sunrises, choose the dawn option.
Get yourself in a lively adventure at Puente de las Flores. Valencia doesn't lack color, but Puente de las Flores (the Flowers Bridge) adds another meaning to it. The bridge crosses the popular Turia Gardens and houses a vivacious carpet of flowers. It changes several times a year along with the seasons and festivities.
Get lost in El Carmen's gorgeous street art. The art murals that line the walls of the carefree El Carmen neighborhood are some of Valencia's most striking features. Some murals are often overpainted, but others become a long-term part of the district's charisma. Don't miss the street art in Plaça del Tossal and in the open space around Carrer d'En Gordo, where abandoned, crumbling buildings are adorned with the masterpieces of local street artists.
Admire the Almirante Arab Baths. Nothing speaks better of Valencia's Moorish past than the old Arab Bathhouse. In the early 14th century, there were a dozen bathhouses in the city, but today, only one remains. A peculiar fact about Valencia is that the Arab Baths were in active use until the mid-20th century. In 1986, they underwent a complete transformation. Today, they serve as Christian bathrooms following the model of Muslim baths, with hot, warm, and cold rooms.
Marvel at La Estrecha. Measuring only 42 in (107 cm) wide, La Estrecha is one of Europe's narrowest buildings. The house is slightly larger than its front door. Despite the tiny façade, the upper floors have been connected to the adjacent buildings to create normal-sized apartments. Today, the entrance is part of La Estrecha tapas bar where you can view historic photos of the building.
Experience the magical Las Fallas. For two weeks in March, gunpowder scent and the smell of frying churros fill the streets. Las Fallas will spellbind you with its firework displays and its fantastical figures that reach more than 30 ft. (9 m) high. Feeling the vibe of the festival is not among the most unusual things to do in Valencia. But it's truly one of the most unforgettable. Recently, Las Fallas gained international credit by receiving the UNESCO World Heritage Site award.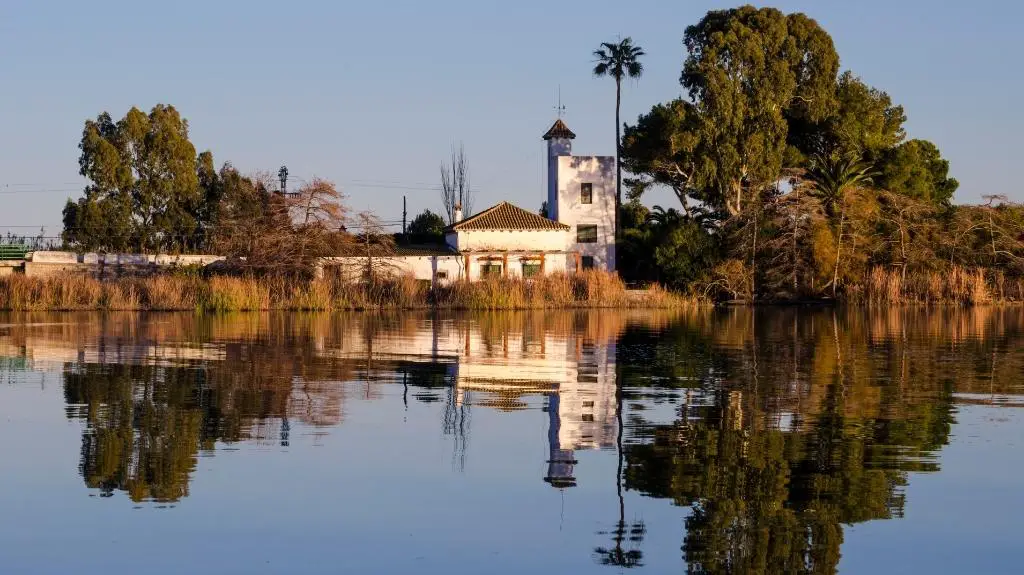 Taste the original paella at Albufera Natural Park. The birthplace of paella is in the Albufera Natural Park, which is 16 mi (25.5 km) away from Valencia. Albufera and the small village of El Palmar are perfect for a half-day trip from the city. During the tour, you can explore the rice fields, take a boat ride on the largest lake in Spain, and sample a delectable paella in one of the many restaurants in the village. We recommend this tour.
Explore the Mercado de Tapineria. This is not your typical market. Instead, Mercado de Tapineria is a creative spot with exhibitions, live music, and workshops. What's more, the market changes every week. You can spend your time shopping, eating, drinking, or just peoplewatching. Two gourmet spaces and two tiny public squares will keep you busy for a few hours.
Witness the 1,000-year-old Water Court. Tribunal de las Aguas (The Water Court) is the oldest law institution in Europe still in existence. Its task? To settle issues in regard to one of the largest irrigation systems in the Valencian region. The Water Court consists of eight farmers that meet right outside the main entrance of Valencia Cathedral. Note: It's not a show. It's a real functioning court, and locals must respect its decisions.
Verify the Holy Grail. One of the most unusual things do to in Valencia is actually seeing the Holy Grail up close. The truth is, countless contenders for the "Holy Grail" title exist across the globe – from stone cups to golden chalices. You can find the Holy Chalice vessel (Santo Cáliz), an agate cup, in the Gothic Cathedral of Valencia. Most sources believe this is the actual Holy Grail Jesus used during the Last Supper.
Marvel at Valencia's "dragon". Valencia's Old Town is home to Colegio del Patriarca, a former Roman Catholic school. When you enter the building, you'll spot one of the quirkiest decorations in a religious temple – a stuffed alligator known as The Dragon of the Patriarch. Legend says in the 13th century, a scary dragon hid in the bed of the Turia River, attacking foolish passers-by with insatiable voracity.
Stroll the colorful streets of El Cabanyal. El Carmen and La Seu are both great for getting lost. But exploring the underrated neighborhood of El Cabanyal is one of the most non touristy things to do in Valencia. Just right by La Malvarrosa beach, El Cabanyal is the old fishermen's quarter of Valencia. Inside the neighborhood, you'll explore colorful façades, houses decorated with traditional Spanish tiles, and a fantastic mix of various architectural styles.
Feel like a Lilliputian at Parque Gulliver. In Gulliver's Travels, the fearful Lilliputians tie down the titular character by climbing over him to subdue the giant. You can relive this famous literary scene at Parque Gulliver in Valencia. This surreally large playground looks like a giant Gulliver figure. The structure contains many slides and stairs hidden in and around the massive body, and in the concrete folds of his clothes.
Sightsee an oasis of verdure at Espai Verd. Want to check an activity off the list with the most unusual things to do in Valencia? Head to Espai Verd. Literally meaning "Green Space", its name is absolutely fitting. Greenery takes most of the courtyard area of the unique building and pours out over the external walls. Shrubs and trees poke above balconies as if trying to break free from the concrete. Go nuts on the photos.
Experience the daily pyrotechnic during La Mascletá. A part of the famous "Las Fallas", the wild La Mascletá celebration takes place every day in the first three weeks of March. So, if you're strolling the streets of Valencia in springtime, and you hear the booming sound of firecrackers, don't hit the deck. That's just La Mascletá.
Explore Valencia's Most Unexpected Spots for Eating and Drinking Out
In a cosmopolitan city like Valencia, you can discover tons of peculiar places to eat or drink your heart out. However, this list consists of some of the wildest things you've ever tasted.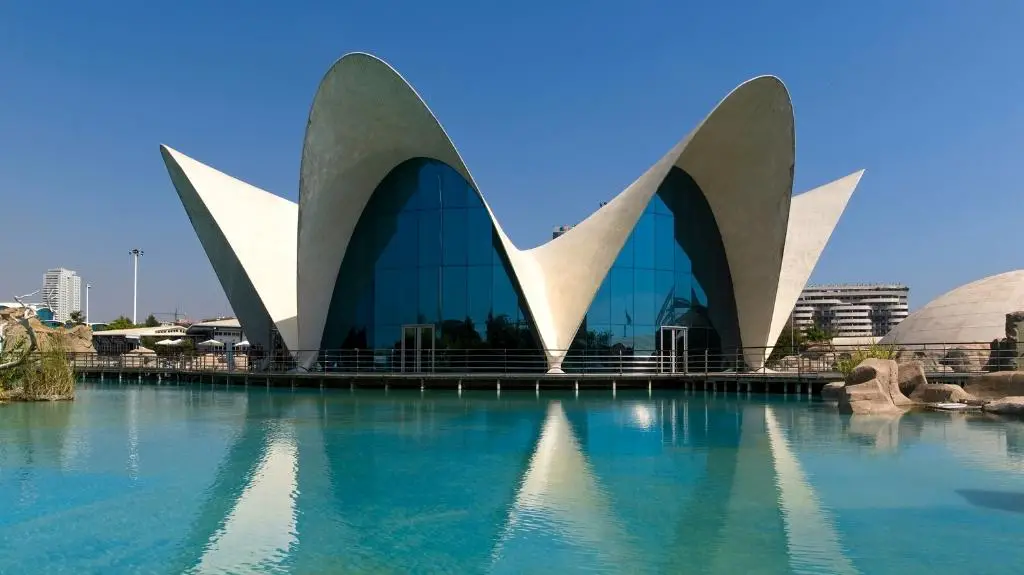 Fancy a lunch underwater? The aquarium at the City of Arts and Sciences offers tons of cool things to do. But probably the most unusual one is grabbing a bite at its "underwater" restaurant. While stuffing your face with gourmet delicacies, you'll have sharks, stingrays, and tropical fish frowning upon you while watching you eat some of their "brothers and sisters".
Eat in a bookshop. Would you rather have books than sea creatures keep you company while dining? Then instead of the aquarium, go to the cozy Ubik Café in the vivacious Ruzafa neighborhood. Valencia offers no better place for book lovers. And what's better than enjoying your favorite genre while having a healthy meal and a refreshing drink?
Pump your night vibes at El Carmen. The crazy side of Valencia comes out at night in the hipster El Carmen district. The young, alternative crowds flock to the crazy Frankenstein rock bar or the eclectic Bigornia where you'll dance to everything from hip-hop to electronic music. Just go easy on the cocktails, will you?
Try snails – a local delicacy. Along with chicken and rabbit, snails are among the original ingredients of the traditional paella Valenciana. So if you want to test your palate and try the real deal, make sure to ask the waiter to add snails to your paella.
Fancy tomato fights? Visit La Tomatina. If you ever wanted to smash tomatoes in other people's faces – without getting beaten for that – head to the small town of Buñol. Just 24 mi (39 km) west of Valencia, Buñol hosts the largest tomato fight in the world. It happens at the end of August each year. Personally, we don't approve of the insane waste of fruit, but La Tomatina is definitely one of the craziest and most unusual things to do in Valencia.
Taste unique ice cream flavors. Speaking of tomatoes, how about tomato-flavored ice cream? Among the unusual tastes that you'll find at Heladeria Llinares, there are also smoked salmon, Asturian bean stew, and tortilla de patatas (Spanish potato omelet). If you're a true gastronomic aficionado, don't miss putting your palate to the ultimate ice cream test at Heladeria Llinares.
Fancy a gourmet extravaganza? Visit Riff. If your budget allows it, we highly recommend visiting the Michelin-star holder RiFF restaurant. The chef is German-born but considers himself Valencian, so expect a gourmet tour around minimalist-inspired looks with a Mediterranean flavor and excellent wine pairings.
Café Berlin offers more than food and coffee. The venue is popular among travelers visiting the birthplace of paella not only because of its delicious food and coffee. Café Berlin also attracts visitors with its famous language exchange. If you're a polyglot, and you don't mind flexing your language "muscles" by chatting with strangers over a fragrant cup of Joe, head to Café Berlin.
The Most Unusual Things to Do in Valencia – Strange, Quirky, and Unexpected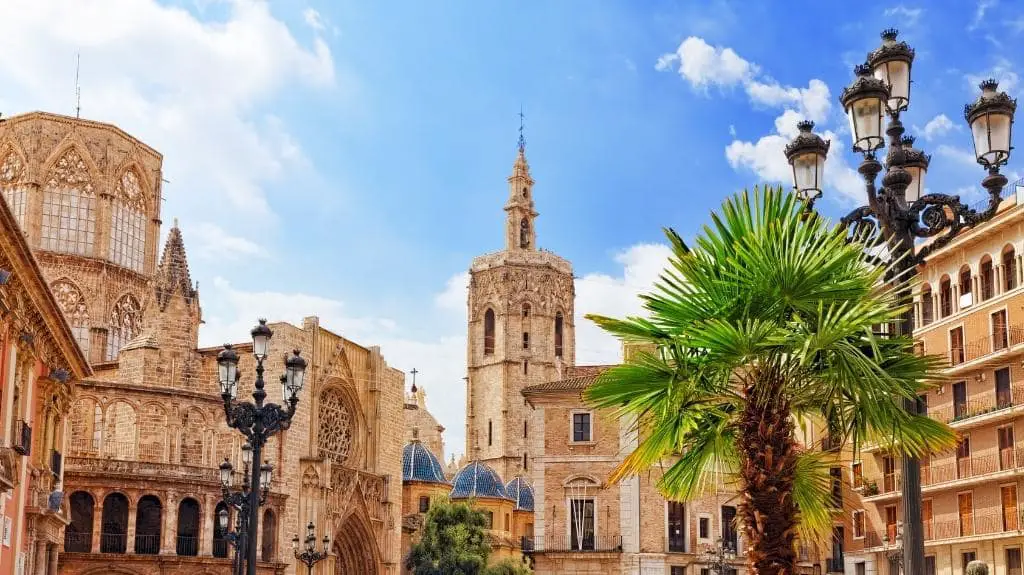 Your trip to the birthplace of paella won't be complete if you don't include at least a few weird activities on your itinerary. The city's quirky side is what makes Valencia worth visiting.
With a whopping 33 unusual things to do in Valencia, this list gives you plenty of juicy ideas. Stock up on sunscreen, bring your best camera, and plan at least 3 days in the city as there's a lot to cover.
Start Planning Your Trip to Valencia with Our BEST Recommendations:
⭐ Top Tours in Valencia ⭐
📍 Tuk-Tuk Tour Around the City – discover Valencia in an entertaining and comfy way.
📍 Wine & Tapas in a Historic Building – a guided walk through the Old Town and delectable wines and tapas in an 11th-century building.
⭐ Best Accommodations in Valencia ⭐
🏨 Caro Hotel – the best luxurious experience in the heart of Valencia's Old Town.
🏨 Amazinn Places EVIapartments – funky, modern apartments with great amenities.
⭐ Easiest Transportation Options in Valencia ⭐
🚍 Valencia Tourist Card – enjoy discounts, free travel, and entrances to museums.
🚍 Discover Cars – compare and find the best rates for car rentals.
Now, we're curious:
Which non-touristy thing will you do first in Valencia?