Barcelona and Valencia – Spain's biggest port cities – are within a few hours from each other by bus, car, plane, or train.
Since it takes between 3 and 5 hours to get from Barcelona to Valencia, you'll need more than a day trip if you want to explore both locations properly.
In this guide, we'll show you how to travel from Barcelona to Valencia and share the best ways to do so.
Let's jump right in.
Note: This article contains affiliate links. In case you purchase something through one of these links, we may receive a small commission at no extra cost for you. Thank you for helping us keep creating the free content on this website!
Transportation Options Between Barcelona and Valencia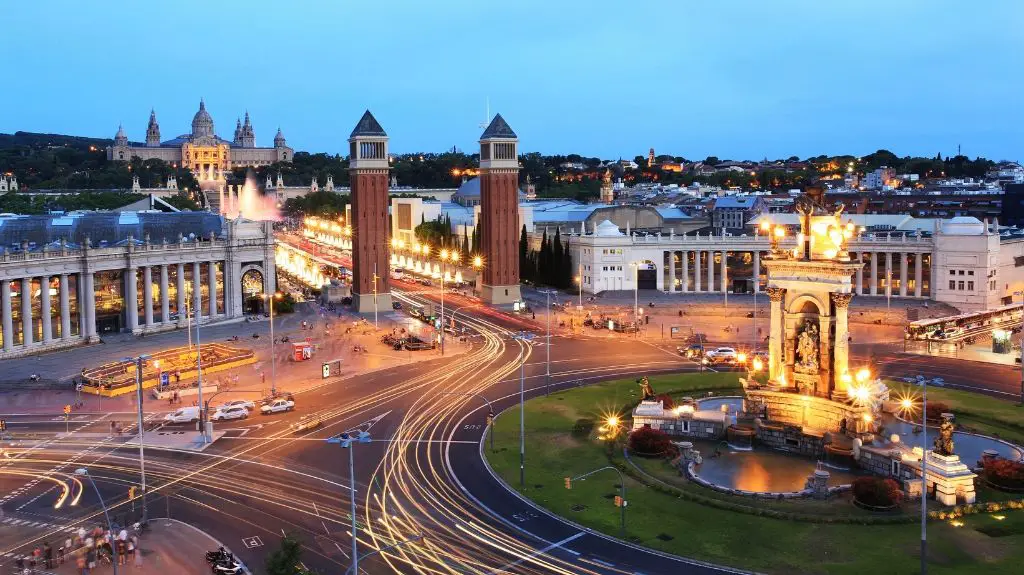 You can use four different modes of transportation to get from Barcelona to Valencia. In the next sections, you'll discover detailed information about each one, including costs and travel time.
| | | |
| --- | --- | --- |
| Transportation Mode | Time | Approximate Cost |
| Train | 2:40 h | From $20.00 |
| Bus | 4:00 h | From $6.50 |
| Car | 3:35 h | From $40.00 |
| Plane | 0:55 h flying, 5:00 h commuting | From $25.00 |
Getting from Barcelona to Valencia by Train
Do you love comfort, high-speeds, and jaw-dropping views of the Mediterranean? Then, your best way for traveling from Barcelona to Valencia is by train.
The train ride meanders along the coast for most of the trip, with heart-stopping vistas of the sea from the left-side windows.
Get your tickets either from Renfe, Spain's national rail service, or from RailEurope.
If you decide to get tickets from Renfe's website, we've prepared a short table to make things easier for you:
| | | | | |
| --- | --- | --- | --- | --- |
| Train Name | Travel Time | Departs from | Arrives at | Price |
| EUROMED | 2:40 h | Barcelona-Sants | Joaquín Sorolla | From $40 |
| TORRE ORO | 3:07 h | Barcelona-Sants | Valencia – Estació del Nord | From $42 |
| Intercity | 3:30 h | Barcelona-Sants | Valencia – Estació del Nord | From $42 |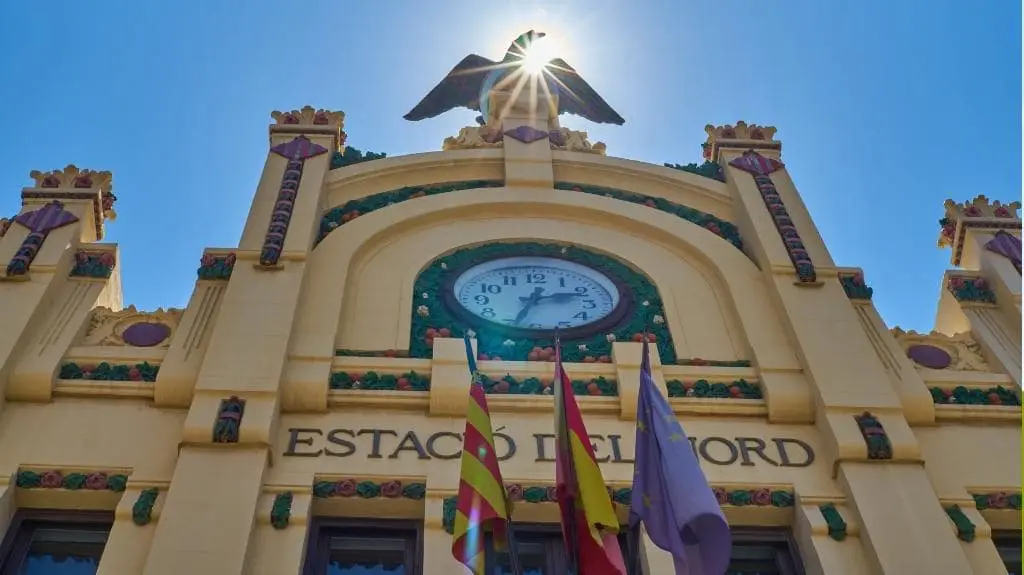 RailEurope has a convenience fee and might not have all the train options. But it's easier to use for international travelers.
The price varies for each train and its departure time from Barcelona. As a general rule of thumb, train tickets become more expensive as the travel date gets closer. So, it's always a good idea to reserve your seats in advance.
All trains depart from Barcelona Sants. The EUROMED train arrives at the newer Joaquín Sorolla station, while the TORRE ORO and Intercity stop at Valencia's primary train station – Valencia – Estació del Nord.
If you get the EUROMED train, it's worth visiting Valencia – Estació del Nord later to marvel at its striking Art Nouveau architecture.
How to Travel from Barcelona to Valencia by Bus
Traveling from Barcelona to Valencia by bus is much more affordable than train and plane, especially if you're making last-minute plans.
However, it's neither the fastest nor the most comfortable option. The good news, the two cities are close enough that the bus trip isn't crazy long. Plus, tickets can be as cheap as $6.50 (€5.70).
Bear in mind that prices can shoot up as demand increases. This means that same-day trips or a ride during the holidays – especially during Las Fallas in March, Valencia's biggest festival – can be quite costly.
Still, the bus is almost always the most affordable option out of all.
Currently, there are 9 buses that travel from Barcelona to Valencia daily. The first one leaves at 1:00 AM. The last one departs at 10:00 PM. For checking schedules and buying your tickets, we recommend Alsa – Spain's biggest bus company.
Choosing which bus to take can be a bit confusing, so we've prepared a short table for you:
| | | |
| --- | --- | --- |
| Departing from | Arriving at | Travel Time |
| Barcelona Airport – El Prat T1 | Valencia – Estació del Nord | 4:05-4:15 h |
| Nord Station | Valencia – Estació del Nord | 4:30-4:40 h |
All buses from Barcelona to Valencia arrive at the main bus station of Valencia – Estació del Nord. From there, you're only a 30-minute walk from the center or 15 minutes on the subway.
Getting from Barcelona to Valencia by Car
Seeking the most flexibility to your itinerary and you don't mind splurging a bit more? Then renting a car is the best option to travel from Barcelona to Valencia.
The 217-mi (354-km) drive along the AP-7 motorway takes around 3:35 hours. Add a few extra hours if you want to stop by the coast and admire the jaw-dropping Mediterranean scenery.
The AP-7 is a toll road. So, if you want to avoid the fees and won't mind driving an hour or two longer, you can take the winding inland roads across Spain.
If you choose that option, we suggest a quick stop in Tarragona. The port town is perfect for a day trip from Barcelona. Standing just 60 mi (97 km) away from the Catalan capital, Tarragona is home to the oldest Roman ruins in Spain, which are a UNESCO World Heritage Site.
Travel from Barcelona to Valencia by Plane
Currently, only Vueling operates direct flights between Barcelona and Valencia. The company is Spain's low-cost airline, which means you can score some great deals.
The flight time is 55 minutes, which in theory makes it the fastest way to travel from the Catalan capital to the birthplace of paella.
However, if you factor in travel times to and from the airports, checking in, passing through security, and waiting at the gate, flying might turn into the slowest way to travel from Barcelona to Valencia.
Since there are just a couple of daily direct flights, we recommend this option as a last resort.
The bus, car, and train each take less time, are more scenic, and are more environmentally friendly.
From Barcelona to Valencia by Rideshare
This might be one of your cheapest options but also the riskiest. Why? Because during COVID-19, you might want to avoid riding with strangers.
Also, buses, trains, and planes get disinfected regularly, while random people on rideshare websites are unlikely to be spending time disinfecting their cars after every trip they do.
That's why we don't recommend this option during the pandemic. Feel free to use it at your own risk.
The most popular website to check your rideshare options in Spain and travel from Barcelona to Valencia is blabla car.
What to Do and See in Valencia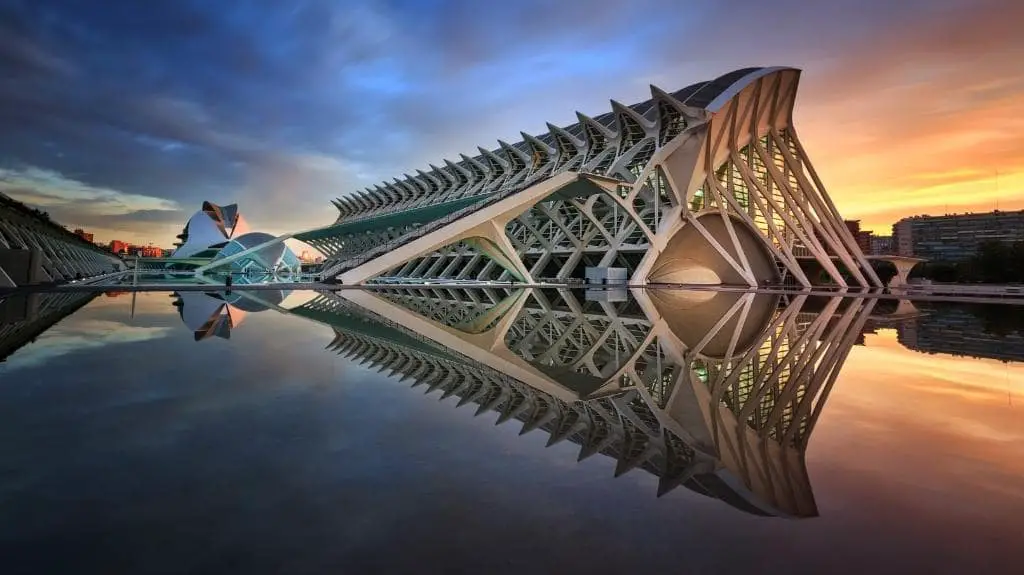 The Mediterranean city has one of Europe's largest historic centers. That's where you'll find most of Valencia's attractions – in the area in and around the Old Town.
The imposing 13th-century Valencia Cathedral, the Central Marketplace, and the grandiose La Lonja de la Seda make Valencia worth visiting. The latter is a 15th-century silk exchange, as well as a UNESCO World Heritage Site.
Venture southeast of the city center, and you'll admire the most iconic landmark of Valencia – the humongous City of Arts and Sciences.
The mind-bending, ultra-modern complex features a botanical garden, a museum, an oceanarium, a planetarium, and a theater. Even if you're not interested in exploring them, spend some time admiring the astonishing exterior of the buildings.
When you've had enough sightseeing, head to soak up some Vitamin D and sprinkle some seawater at one of Valencia's gorgeous beaches.
And to replenish your energy after all this, try Valencia's most famous dish – paella. Wash it down with an ice-cold beer or with agua de Valencia – a powerful cocktail of gin, cava, vodka, and orange juice.
Interesting Facts About Valencia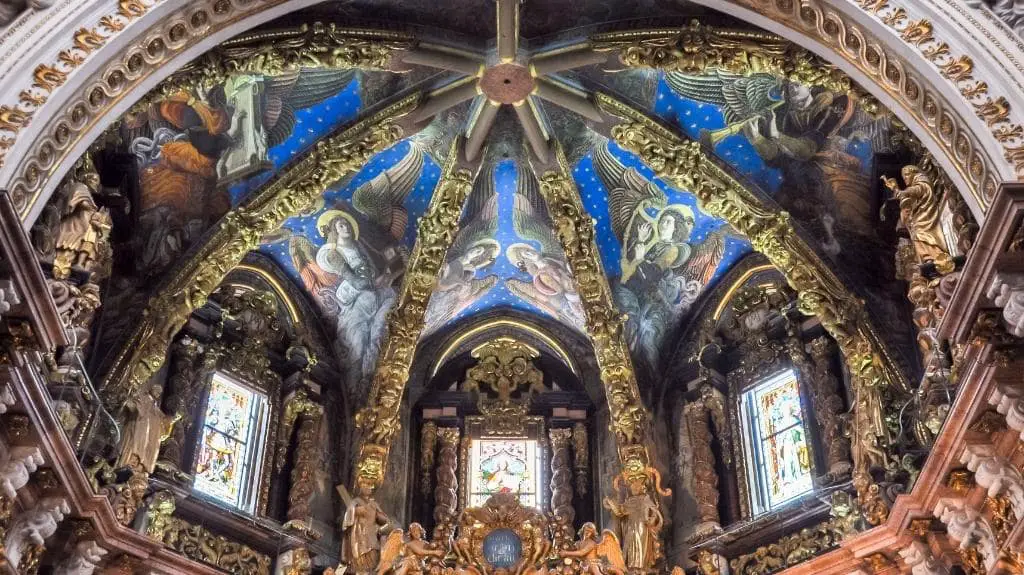 Would you like to discover a few fun facts about Valencia before your trip? Then, check the list we've prepared for you:
Valencia is the third-largest city in Spain. Only Madrid and Barcelona are bigger than Valencia. However, the Mislata district in the city is Spain's most densely populated area. You won't probably visit the neighborhood, but you might pass through it if you take the subway from the airport.
The Port of Valencia is Europe's busiest port on the Mediterranean. Also known as Valenciaport, the harbor is the fifth-busiest seaport in Europe and the busiest on the Mediterranean Sea. It also generates 51% of Spain's GDP and employs around half of the country's working population.
Paella was born in Valencia. Spain's national dish, paella, traces its origins to a freshwater lagoon near Valencia. The original recipe incorporates chicken, snails, and rabbit. Locals never add peas, chorizo, or red peppers to a true paella Valenciana.
The city is home to the Holy Grail. Locals believe that the Holy Grail – the cup Jesus used during the Last Supper – is kept in a chapel somewhere in the Valencia Cathedral. Why didn't anyone tell Indiana Jones this peculiar fact when he was searching for the Holy Grail during the Last Crusade?
The largest market in Europe is in Valencia. Europe's biggest market with fresh produce calls Valencia home. Mercado Central was also the first worldwide market that offered home delivery and accepted online orders.
Travel Tips About Valencia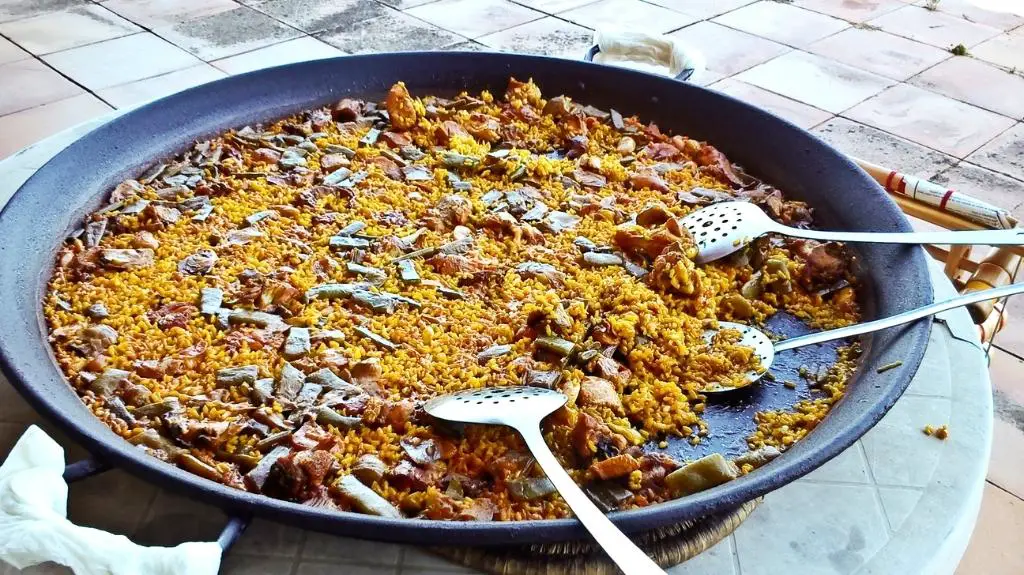 This section will give you a short summary of our best Valencia travel tips. Let's take a look:
Plan 2+ days. We highly recommend spending at least two full days in Valencia. In this way, you'll be able to check out several of the city's attractions, walk on the F1 Circuit, and even have time to lie on the beach for a few hours.
Bring sunscreen and a hat in summer. Valencia is warm all year round, but during the summer season – from May to October – the sun is scorching. We recommend you bring plenty of sunscreen and a hat to protect yourself from the dangerous sunrays.
Don't miss the delectable paella. Spain's most famous dish – paella – originates in Valencia. Three main paella versions exist – chicken, seafood, and veggie. Each one will be a regal treat to your palate, so we highly recommend you taste them.
Have time for just one thing? Visit the City of Arts and Sciences. If you just have a few hours in Valencia, we highly recommend you explore the City of Arts and Sciences (Ciudad de las Artes y las Ciencias). The futuristic constructions by the Spanish genius architect, Santiago Calatrava, will spellbind you.
Check out the F1 circuit. For five years, between 2008 and 2012, Valencia hosted the Formula 1 European Grand Prix. The Valencia Street Circuit uses the roads skirting the city's harbor and port area – including a 460-ft. (140-m)-long swing bridge. The circuit's length is 3.367 mi (5.419km) and includes 25 turns.
How Will You Go from Barcelona to Valencia?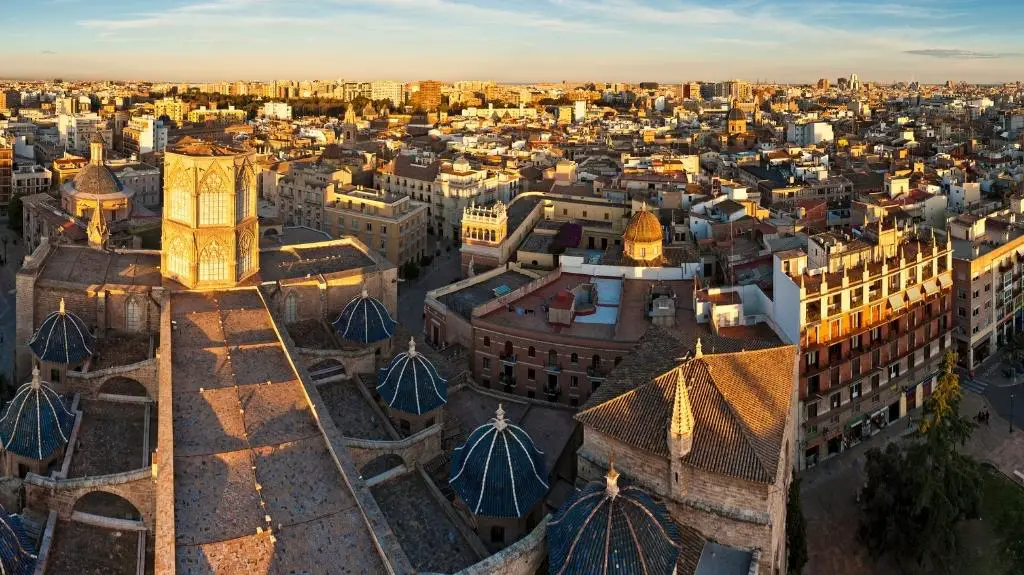 There you have it – the best ways to get from Barcelona to Valencia.
Take the train if you like comfort and speed.
Ride the bus if you want to save a few bucks.
Hop on the plane if you don't mind security check-ins.
Rent a car if you'd like to explore the countryside and the coast.
And if you're feeling adventurous, rideshare might be your best bet.
Whichever option you choose to get from Barcelona to Valencia – just don't forget to enjoy yourself and have fun.
To make the best of your stay in the birthplace of paella, check our Valencia travel tips.
Now, we're curious:
Which option would you choose to travel from Barcelona to Valencia?