Andorra is known for its vast natural parks, mind-blowing ski slopes, and high-end, duty-free shopping. Andorra is also famous for having the highest capital in Europe, being the only co-principality in the world, and the only country with Catalan as its official language.
As you can see, Andorra might be small, but it's extremely interesting.
It prides itself on one of the most unique cultures and histories in Europe.
In this article, you'll discover 33 peculiar facts about Andorra.
From its jaw-dropping natural parks to its unique economic activities, and from mind-blowing numbers to crazy historical facts, we're sure you'll find at least a few that will make you smile or wow in awe.
To get the full picture of what awaits in the mountainous country, read until the end to explore the craziest facts about Andorra.
Get comfortable and let's dive in!
Start Planning Your Trip to Andorra with Our BEST Recommendations:
⭐ Top Tours in Andorra ⭐
📍 3 Countries in 1 Day – the best day trip from Barcelona to Andorra.
📍 Andorra Helicopter Tour – the most exhilarating aerial views of Andorra.
⭐ Best Accommodations in Andorra ⭐
🏨 Andorra Park Hotel – spoil yourself with a lux spa stay in the capital's center.
🏨 Grand Plaza Hotel & Wellness – relaxing spa and delectable gourmet offers.
⭐ Easiest Transportation Options in Andorra ⭐
🚍 Omio – check out the available buses and trains to and from Andorra la Vella.
🚍 Discover Cars – compare and find the best rates for car rentals in any destination.
Note: This article contains affiliate links. In case you purchase something through one of these links, we may receive a small commission at no extra cost for you. Thank you for helping us keep creating the free content on this website!
Surprising Facts About Andorra You Might Not Believe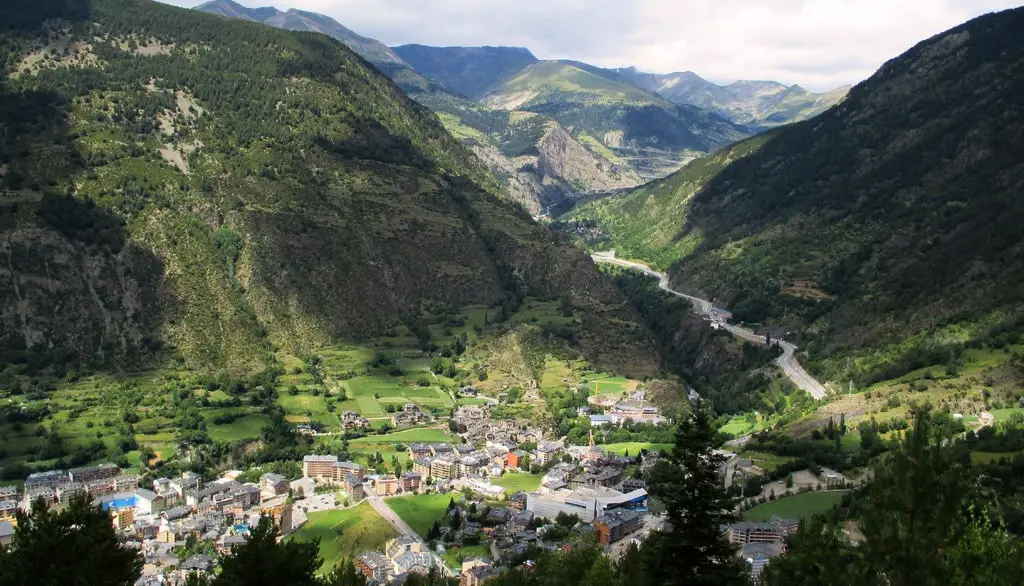 In the section below, we'll share with you some of the most amazing facts about Andorra as a country. Let's take a look:
Andorra doesn't have an airport. One of the craziest facts about Andorra is that it's among the few countries in the world which don't have an airport. And since it doesn't have a coastline, you can reach Andorra only by land from France or Spain. If you want to explore the tiny principality, the best way to do so is on a day trip from Barcelona to Andorra. The nearest international airports are in Barcelona, Spain and Toulouse, France.
Andorra is microscopic. It's the 16th smallest country globally by area, the 11th smallest by population. In terms of land, Andorra is just 181 sq. mi (468 sq. km). This makes it 3.3x smaller than London or 1.66x tinier than New York. Despite the country's proportions, most buildings are located at the bottom of the valleys because so much of Andorra's land is mountains.
You can get from one end of the country to the opposite in less than an hour. To drive across Andorra, you'll only need to cover 25 mi (40 km). The ride takes around 50-60 minutes because it meanders around the craggy mountaintops. This makes it incredibly scenic.
Andorra is the only co-principality in the world. A principality is a state that's ruled by a prince. An example of a principality is Monaco. However, Andorra is not a principality but a co-principality. Why? Because two princes rule the country together. The following might be the craziest fact about Andorra: neither of them was born in the tiny country! One of them is the French president. The other one is the Bishop of Urgell, Spain. Currently, they are Emmanuel Macron and Joan Enric Vives Sicília.
Andorra is the only country in the world, which has Catalan as its official language. Catalan is spoken in several regions of Spain, in a few spots in France, and on the island of Sardinia. But the only country that uses Catalan as its official language is Andorra.
Andorra is extremely mountainous. The country is in the heart of the Pyrenees and consists of a bunch of mountain valleys whose streams join forces to form the Valira River. The highest peak is 9,652 ft. (2,942 m) tall, while the average elevation of Andorra is 6,549 ft. (1,996 m). More than 65 peaks are over 6,560 ft. (2,000 m) high.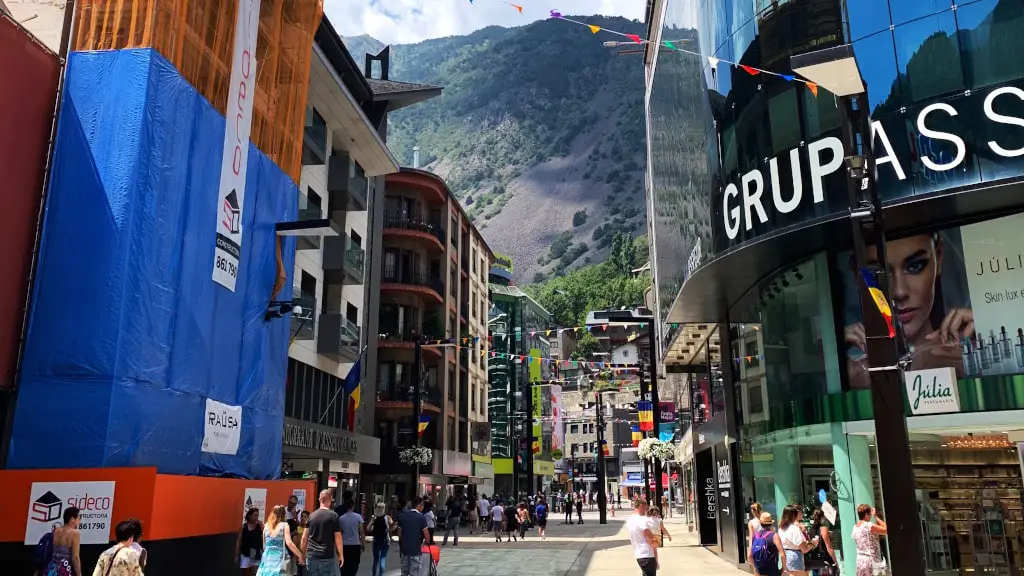 Andorra is a heaven for retail trade. Due to the low or nonexistent taxes and the lack of customs duties, the country turned into an important international center of retail trade. Every year, it attracts millions of shoppers from Europe and beyond. Ever wanted to go nuts on shopping? Well, that's one of the best things to do in Andorra.
Andorra produces a lot of tobacco. The farming space in Andorra might be small, but most of it is filled with tobacco fields. Nowadays, due to its tax haven status, you can buy cigarettes much cheaper than in neighboring France and Spain. One of the most peculiar facts about Andorra is that it was one of the last countries in the world to ban smoking indoors. This happened in 2014.
Andorra's capital is the highest in Europe. Andorra la Vella has an elevation of 3,356 ft. (1,023) m, which makes it the highest on the European continent. The second- and third-highest capitals in Europe are respectively Madrid, Spain, and Sofia, Bulgaria.
Andorra's flag is extremely similar to the flags of three other countries. Andorra, Chad, Moldova, and Romania use the same color combination. Each of their flags has three vertical strips of blue, yellow, and red in that sequence. Andorra and Moldova have their national crest on the flags, and that's the only way to tell them apart.
The country receives the most tourists per capita in the world. This is one of most surprising facts about Andorra. Over 10 million tourists visit the tiny 77,000-people country every year. Most of them are either French or Spanish citizens. They travel to Andorra for duty-free shopping or to visit the country's magnificent resorts. Another mind-blowing Andorra fact is that tourism comprises 80% of the total GDP!
Only 1/3 of the people who live in the country are Andorran. More than two-thirds of the population of Andorra don't actually possess Andorran nationality. Most are Spanish, French, or Portuguese citizens. One of the biggest groups is the Spanish, who account for around 43% of the entire population.
Nine percent of Andorra has a UNESCO World Heritage status. The largest natural park in Andorra – the Madriu-Perafita-Claror Valley – became a UNESCO World Heritage Site in 2004. The park takes up 9% of the country and consists of glaciers, rocky mountains, wooded valleys, and green pastures.
Historical Facts About Andorra That Will Blow Your Mind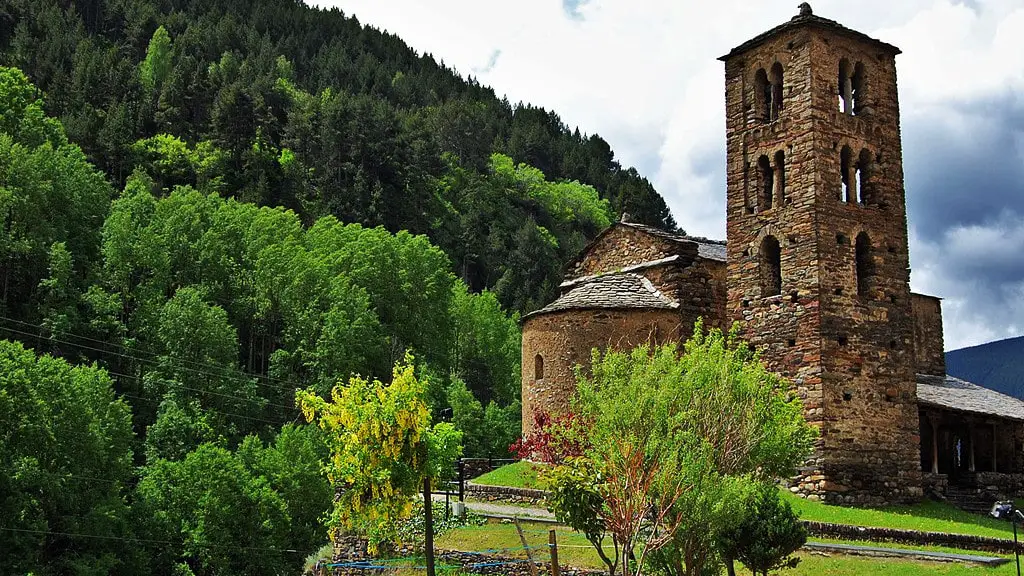 In this section, you'll find the most interesting historical facts about Andorra. #20 will shatter your mind into tiny pieces.
Andorra was neutral in World War II. During the Second World War, Andorra decided to take no sides. After Germany invaded France, the German army placed an outpost on the French side of the border with Andorra. But it never positioned troops inside the country.
The country has never won an Olympic medal. Even though Andorra has participated in every Olympic game since 1976, it has never secured an Olympic medal. Despite the country's hundreds of miles of ski slopes, the Andorran skiers have never won a medal. Compare that to Liechtenstein, which is an even smaller European country but has received 10 medals in Alpine skiing alone.
Andorra never had its own currency. Since June 2011, Andorra has been using the Euro. Before that, it mostly used the Spanish Peseta. From time to time, it also used the French Franc. But it never had its own currency.
Andorra is not part of EFTA, the Eurozone, or the European Union. Andorra might be currently using the Euro, but it's technically not a part of the Eurozone. Neither it is a member of the European Union nor the European Free Trade Association (EFTA). That's a crazy Andorran fact for sure.
Andorra joined the United Nations very late. Despite that the United Nations (UN) was established soon after the end of the Second World War, Andorra joined the UN in 1993. The country waited 48 years because it didn't want to violate its neutrality during the Cold War. In 1993, Andorra also joined the Council of Europe.
The country did a great job of preserving its architectural heritage. If you're a history buff, this fact definitely makes Andorra worth visiting. Over the past few decades, authorities erected modern homes and structures. At the same time, they preserved Andorra's unique old edifices. For example, Andorra takes great pride in having one of the oldest parliament buildings in Europe. It was built in the 15th century. Today, members of the parliament vote in another building, but you can check the old one with this fantastic tour.
A Russian adventurer claimed ownership of Andorra in the 20th century. In July 1934, Boris Skossyreff claimed to be Andorra's sovereign and even received the support of the country's General Council. During the same month, he also declared war on the Bishop of Urgell, one of Andorra's co-princes. The bishop arrested Skossyreff and expelled him from Spain, ending a crazy saga in the country's history.
Interesting Facts About Andorra That Might Make You Jealous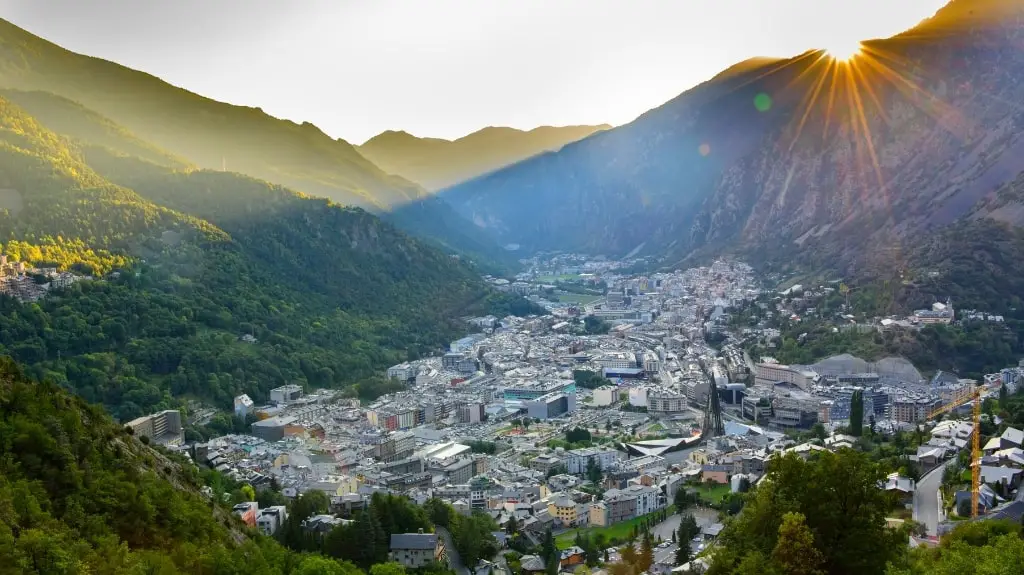 In this section, you'll explore some of the most interesting facts about Andorra. Some of them might even make you envious.
Andorra has one of the highest life expectancies worldwide. Andorrans live to a very old age. Men's average life expectancy is close to 81, while females live to 83 on average. Most of the top 10 countries with a high life expectancy are tiny ones like Iceland, Monaco, San Marino, and Singapore.
Andorra is home to some of the happiest people on the planet. Ecology is one of the reasons for that. The air is incredibly fresh in Andorra, and that's not just due to the mountains that surround the principality. There's practically zero pollution because there are no factories. The population is so small that the country doesn't need industrialization.
Andorra is one of the safest places on Earth. Locals say that if you leave your bag on a bench and come for it the next day, it'll be waiting for you. The crime rates are among the lowest in the world. Of course, we're not saying you should try to verify whether your bag would get stolen or not. We're just saying that Andorra is very safe to travel.
Andorra has one of the lowest taxes on food and alcohol. The tax on food is just 1%, while the alcohol tax is 4.5%. In neighboring Spain, most taxes start from 20%. That's why many Spanish and French citizens visit Andorra just to stock their fridges by buying fish, meat, groceries, and alcohol.
There are more than 3,000 stores in Andorra. For a population of just 77,000, that's one store per every 25 people. And the best thing? You can buy well-known brands for 20%, 30%, or even 60% cheaper. Don't be surprised by the hordes of Europeans who are visiting the principality to satiate their shopping desires.
The largest spa in Europe is in Andorra. With its 18 floors, the Caldea Spa Complex is not only the country's tallest building. It's also the largest thermal spa complex on the Old Continent. Over 400,000 people visit Caldea each year to relax in its mineral indoor and outdoor jacuzzis, swimming pools, and hydrotherapy sections.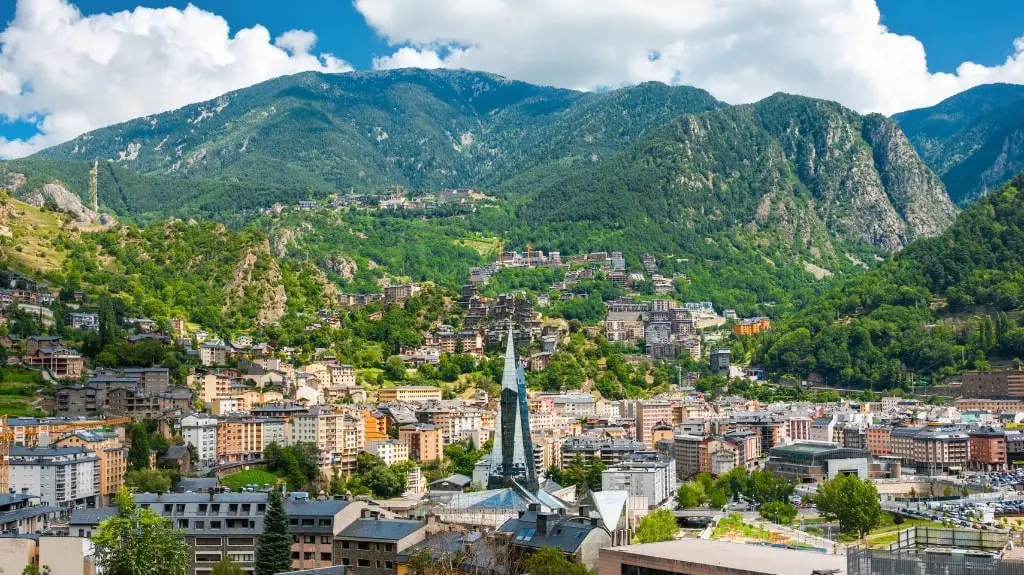 Snow covers the mountains all year round, yet the sun shines most of the time. Due to the unique location of Andorra, most of its peaks are always covered by a white blanket. Yet the sun almost never ceases to shine over the tiny principality. That's one of the weirdest facts about Andorra.
Andorra has a lot of ski trails. The total length of all ski pistes in Andorra is 130.5 mi (210 km). There are 112 slopes and 66 lifts. Add to that cafés, restaurants, and spa centers, and you'll be in for a spectacular winter treat when you visit Andorra to satisfy your ski cravings.
A private club can organize a vacation for rich tourists. The Grandvalira Mountain Club has a concept to love and favor the client. The interesting thing is, you don't even have to be a member to get into this club. You just need to buy a VIP service that costs €500 (~$570) per day. The most important element that's included in this package is a personal assistant. He/she helps with equipment, entertainment options, restaurant reservations, babysitting children, and even bringing food to the slopes.
Winter activities in Andorra cost a pretty penny, but you can do a lot of free things. For example, in Andorra la Vella, you can marvel at a peculiar monument by Salvador Dalí. Or if you love selfies, you'll be delighted to hear that the country offers dozens of selfie stands. You'll find them next to the most drop-dead gorgeous spots in the country.
You can stay for free in Andorra. One of the coolest facts about Andorra is its so-called mountain havens. There, you can spend the night free of charge. Before you rush to find one, though, we have to warn you – they're located in hard-to-reach places, and serve in case you get lost. Also, they only work in the summer.
The world's longest alpine slide, Tobotronc, is in Andorra. Tobotronc is a trolley railway. The route is 3.3 mi (5.3 km) long, the height difference is over 1,310 ft. (400 m), and your speed can go up to 25 mi (40km) per hour. The slide combines adrenaline with the jaw-dropping natural beauty of the surrounding scenery. You can enjoy this heart-pumping activity at the NaturLand park by booking your ticket here.
In Andorra, you can do a dog-sleigh ride. Dog-sleigh riding is one of the oldest and most extreme winter activities. In fact, the first form of transport in Andorra was dogs. They delivered mail and goods, and they transported people. They're a special breed for winter conditions – a mix of northern and hunting dogs.
Which Andorran Fact Did You Like the Most?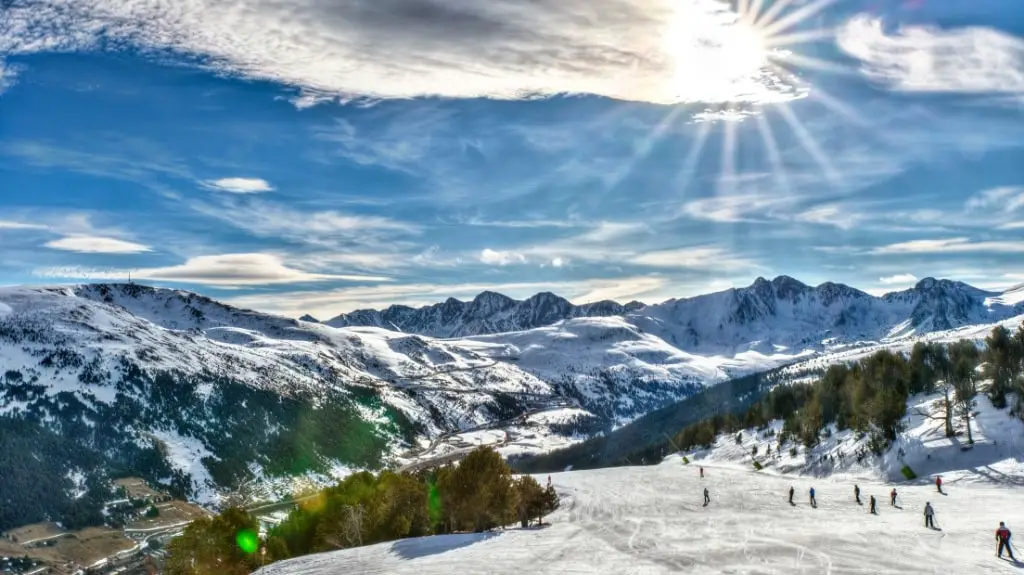 There you have it – the 33 most interesting facts about Andorra.
Now, you can beat all your friends on trivia night by knowing a ton about one of the smallest countries in the world.
Despite its tiny size, Andorra packs a powerful punch of facts that usually leave people in awe.
Start Planning Your Trip to Andorra with Our BEST Recommendations:
⭐ Top Tours in Andorra ⭐
📍 3 Countries in 1 Day – the best day trip from Barcelona to Andorra.
📍 Andorra Helicopter Tour – the most exhilarating aerial views of Andorra.
⭐ Best Accommodations in Andorra ⭐
🏨 Andorra Park Hotel – spoil yourself with a lux spa stay in the capital's center.
🏨 Grand Plaza Hotel & Wellness – relaxing spa and delectable gourmet offers.
⭐ Easiest Transportation Options in Andorra ⭐
🚍 Omio – check out the available buses and trains to and from Andorra la Vella.
🚍 Discover Cars – compare and find the best rates for car rentals in any destination.
Now, we'd love to hear from you:
What was your favorite fact about Andorra?
Share with us in the comment section below.