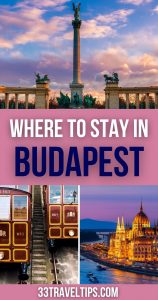 Festive, vibrant, and affordable.
The Capital of Spas, Budapest, is a colorful city frequented by 4.6 million people each year. They visit the Hungarian capital to chill at the thermal baths, marvel at the mighty Danube River, suck in the Bohemian vibe, and enjoy the city's unmatched nightlife.
With its 23 districts, finding where to stay in Budapest could prove a bit challenging. To make your life easier, we've prepared this guide with the 11 best areas to stay in Budapest.
Let's discover the city's most diverse neighborhoods, shall we?
Note: This article contains affiliate links. In case you purchase something through one of these links, we may receive a small commission at no extra cost for you. Thank you for helping us keep creating the free content on this website!
1. District I: Várkerület (Castle District) – the Best Area to Stay in Budapest for Sightseeing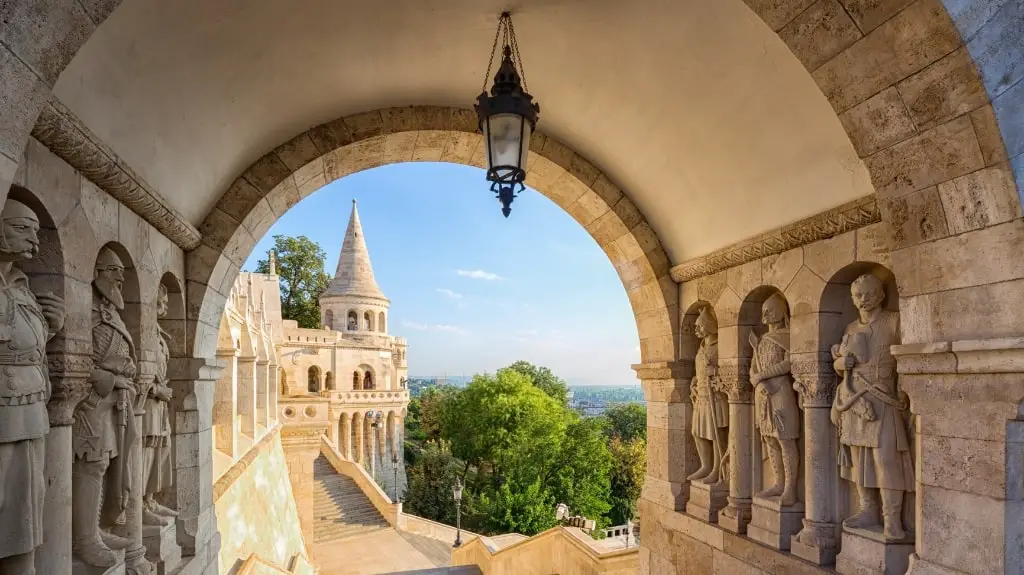 Note: Similar to Paris and Vienna, the districts in Budapest not only have names but also numbers. In this guide, you'll find both. For your convenience, we've also included a short summary of each district, so you can choose the best one that fits your needs.
District I, also known as Castle District, is Budapest's historic heartland. It's home to the former Royal Palace and over the last several centuries, it has been a site of many epic battles.
Nowadays, your only battle is to avoid the crowds of tourists that gather to admire the views from the stunning castle walls, explore the avant-garde Matthias Church, and discover the gorgeous National Gallery.
Arrive in the morning or evening to enjoy undisturbed walks around the cobblestone alleys of the neighborhood.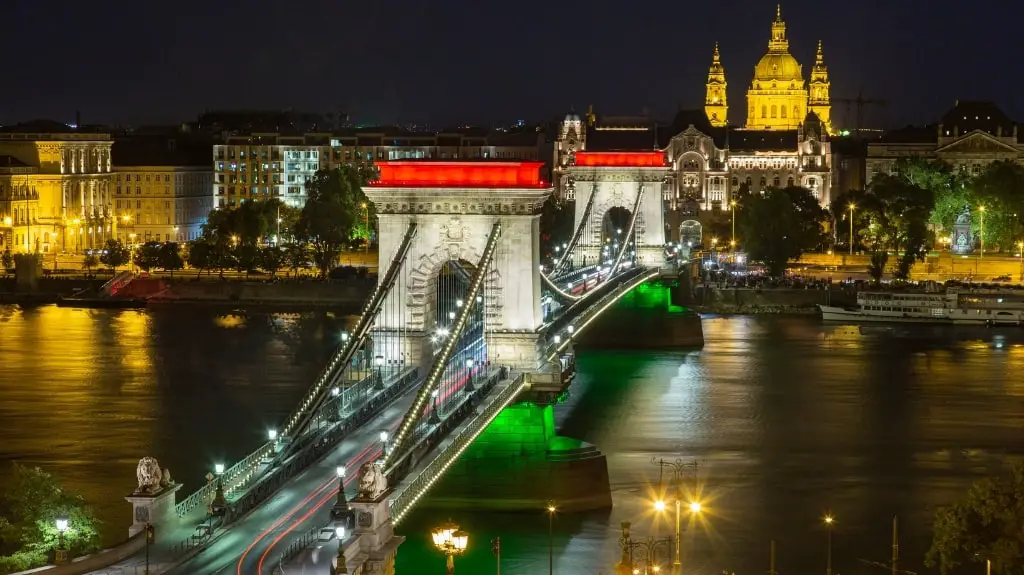 District I is the best place to stay in Budapest for anyone who wants to be close to the city's main landmarks, which include:
The Buda Castle – a fine example of Baroque architecture dating back to 1265.
The Fisherman's Bastion (Halászbástya) – one of Budapest's most popular monuments that offers stupendous vistas over the city.
Matthias Church – originally erected in Romanesque style in 1015, the current building epitomizes late Gothic style. Two Hungarian kings were crowned there.
Széchenyi Chain Bridge – the 1,230 ft. (375 m) bridge links the city's western and eastern part, Buda and Pest.
Head to Rudas Thermal Baths which are usually open until 4:00 AM on Friday and Saturday. If soaking in hot water is not your thing, fine dine in one of the area's many excellent eateries.
Our recommendations: Within 10 minutes from Buda Castle, Széchenyi Chain Bridge, and Matthias Church, Monastery Boutique Hotel Budapest offers luxury, unique lodging in a former cloister. For an adult-only experience, go for Hotel Clark Budapest. A sauna, a rich buffet breakfast, and tons of amenities will make your stay truly pleasant.
2. District II: Rózsadomb and Víziváros – the Best Area to Stay in Budapest for Flora, Fauna, and Luxury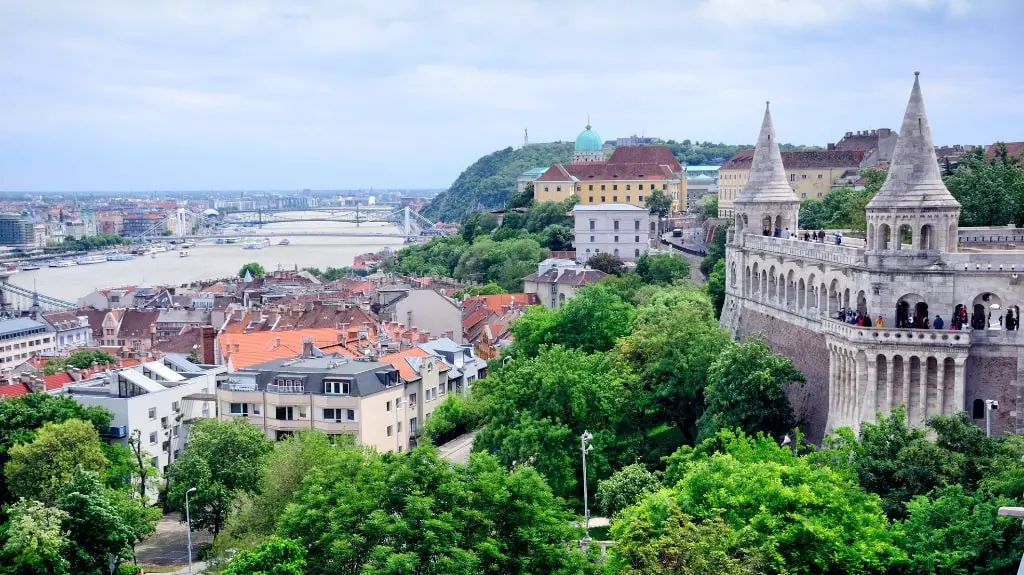 If you're seeking a getaway from the city's hustle and bustle, stay in District II. Tons of nature, quiet streets, and a charming waterside area await you there.
Visitors often overlook it, but the neighborhood is best for you if you'd like to experience the city away from the tourist traps.
Enjoy a chill day at Veli Bej Bath or Lukács Thermal Bath, and saunter around the gorgeous gardens of the Tomb of Gül Baba.
After dipping your skin in the hot mineral waters of the City of Spas, how about:
Heading to the Millenáris Park Cultural Complex – where several peculiar exhibitions, including the Invisible Exhibition, await you.
Exploring Fény Street Market Hall – where eclectic food stalls will satiate all your hunger cravings.
Discovering Pál Valley Cave and Szemlő Hill Cave – where a jaw-dropping world of stalactite formations will spellbind you.
The restaurants in District II are on the high-end with fashionable designs, and offer wines from the major wine-producing regions of Hungary.
Our recommendations: For a fancy stay, we recommend Grand Jules – Boat Hotel and OnRiver Hotels – MS Cézanne. Both are unique ship hotels that offer all kinds of amenities and a buffet breakfast.
3. District III: Óbuda-Békásmegyer – the Best Neighborhood in Budapest for Families
Óbuda has a village vibe with old architecture. After all, the name Óbuda means "Old Buda" in Hungarian.
The major landmarks in District III include:
The Roman Ruins at Aquincum – great for families due to its history lessons and wide-open spaces.
The Aquincum Museum – where you can marvel at displays of jewels, metal tools, glassware, and wall paintings dating back to Roman times.
The Children's Train – children run the train under adult supervision. It's super fun for kids.
Római Part (Roman Beach) – this riverside beach stretches for 3.1 mi (5 km) along the Danube.
Margaret Island – just in the center of the Danube, this island is full of parks and medieval ruins. There's an outdoor swimming pool, too, making it great for kids.
The neighborhood is hilly, which also makes it perfect for hiking, mountain cycling, and sledding (in winter). Wherever you walk, hike, or bike, expect heart-stopping panoramas of the Danube and Pest.
Restaurants in District III are a good bang for your buck, with plenty of wine bars.
Our recommendations: If you're seeking a cozy, relaxed stay outside of the city bustle, choose Panorama Buda. As a guest, you'll have access to a private pool, a garden, free WiFi, barbecue facilities, and free parking. Facing Margaret Island, the magnificent Aquincum Hotel Budapest will pamper you with air-conditioned rooms, free wired and WiFi access, and bathrobes in each room. There's a modern spa center, too.
4. District V: Belváros-Lipótváros – the Best Area in Budapest for First-Timers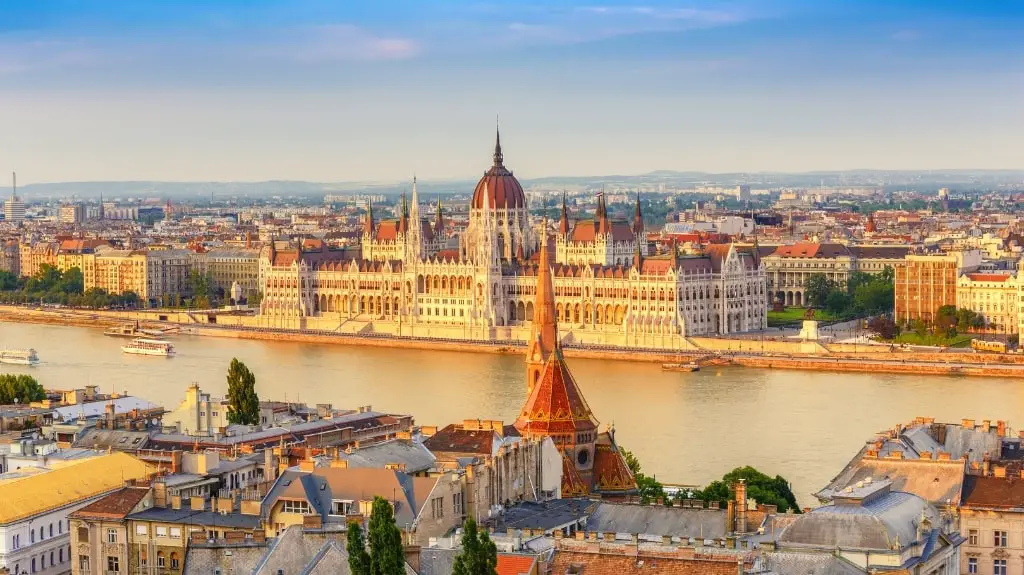 Belváros-Lipótváros, also known as Downtown or District V, is for you if it's your first time in Budapest. Why? Because that's where you'll discover the city's main attractions.
The 5th District combines daytime elegance with nighttime decadence in a vibrant fusion. In Downtown, you'll spoil yourself with culture and history, fine dining, high-quality wines, and mind-boggling views of the Danube.
The gigantic neo-Gothic behemoth of the Hungarian Parliament is in this area. And so is the city's banking quarter. The parliament is the third-largest national assembly worldwide, which is one of the most interesting facts about Budapest.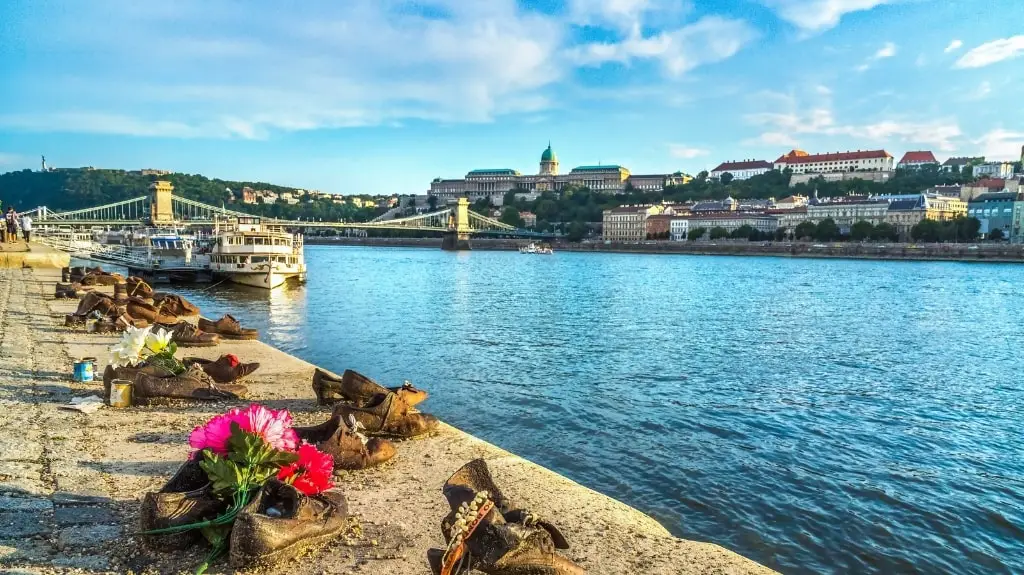 Other attractions in District V include:
Váci Street – ideal for pedestrians and home to many high-end boutiques for world-class shopping.
Vörösmarty Square – attracting lively crowds with its gorgeous fountain flanked by stone lions.
St. Stephen's Basilica – inside its reliquary, you'll find the right hand of Stephen, the first king of Hungary.
Shoes on the Danube Bank – a memorial to the Jews killed on the riverbank during the Second World War.
For the ultimate food seduction, visit the Hold Street Market and Café Gerbeaud that offers mouthwatering, homemade pastries.
Our recommendations: If you wanted to stay in a hip hotel that feels like a gallery, overnight at Bohem Art Hotel. Free WiFi, air conditioning, a flat-screen TV, and a mini-bar are all at your disposal at this lodging that's just a minute away from the Danube. Sleek interior, great location, luxurious furniture, and an on-site restaurant that serves Hungarian and international dishes are a few of the reasons why we recommend the 4-star Eurostars Budapest Center.
5. District VI: Terézváros – Where to Stay in Budapest on a Budget
Terézváros (Theresa Town in English) is District VI in Budapest. In the area, you can explore a UNESCO World Heritage Site – Andrássy Avenue. The wide, elegant street links the center with City Park and Heroes' Square.
The avenue also houses the lavish Budapest State Opera House and the blood-curdling House of Terror. The latter is one of the most horrifying museums in the world.
If you don't dig operas or museums, sip your daily coffee or beer in one of the cafés and bars on Liszt Ferenc Square.
When you have caffeine coursing through your veins and your energy is back again, we recommend visiting the Nyugati Railway Terminal. It's one of Hungary's oldest train stations, and it's famous for its mighty iron-and-glass façade.
Another reason to choose District VI for your stay in Budapest is that it's the never-sleeping part of the city due to its vivacious nightlife.
Our recommendations: For modern lodging, stay at the Kodaly Apartments. The accommodation is within a short walking distance from Heroes' Square and Andrássy Avenue. The apartments offer free WiFi, air conditioning, and fully-equipped kitchens. The 3-star T62 Hotel is another place in Budapest we recommend due to its fantastic location, amenities, and hearty buffet breakfast.
6. District VII: Erzsébetváros – the Best Area to Stay in Budapest for Nightlife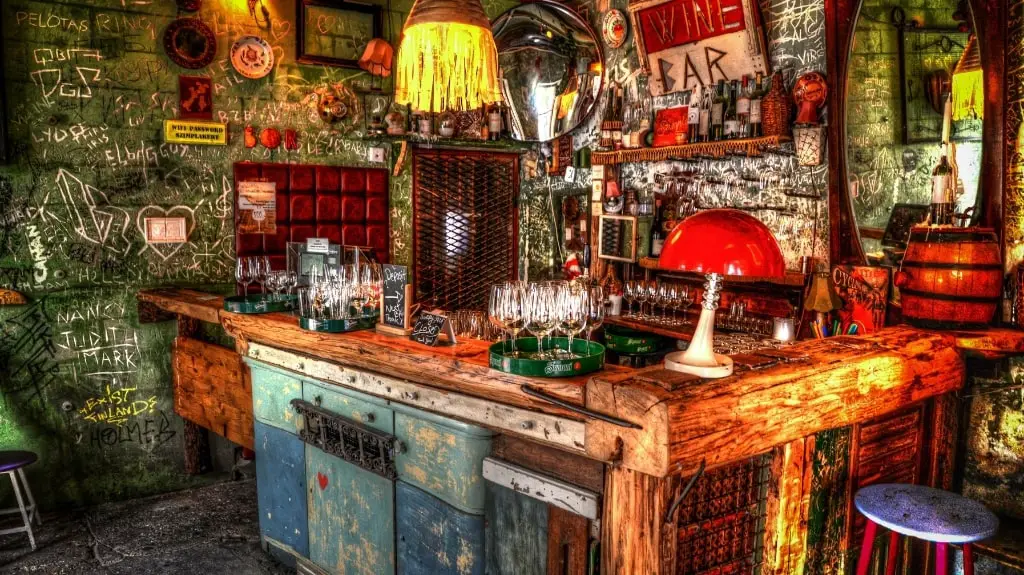 Erzsébetváros (Elizabeth Town in English) is District VII in the Hungarian capital. It contains Budapest's Jewish Quarter where you'll have a chance to discover the world's second-biggest synagogue. The architectural marvel with Moorish minarets can seat up to 3,000 people.
Different craftsmen – from tailors to jewelry makers – still work in the neighborhood. However, Elizabeth Town has been increasingly becoming popular as one of the best Budapest areas for vibrant nightlife.
A lively assortment of bars and restaurants has taken over the area of Gozsdu udvar that once hosted artisan workshops. Once home to the Jewish ghetto, the streets of the Jewish Quarter today are full of cafés, boutiques, and the typical ruin bars.
District VII teems with food and drink options, but we particularly recommend Dobrumba and Kőleves Vendéglő that offer various Middle Eastern cuisines.
Dob Street is home to the Rubik's Cube. The famous toy was invented by Hungarian professor Ernő Rubik in this area.
For the perfect night ending, hit Szimpla Kert – one of the most famous pubs in the world.
Our recommendations: If you want to truly spoil yourself, book a stay in Corinthia Budapest. This ultra-luxurious accommodation lies inside a legendary, 19th-century building. The Royal Spa and modern amenities will take care of your perfect stay. For more affordable lodging, we recommend Roombach Hotel Budapest Center for its superb location near bars, restaurants, and a subway station, as well as plenty of amenities.
7. District VIII: Józsefváros (Palace District) – the Best Neighborhood to Stay in Budapest for History and Local Vibes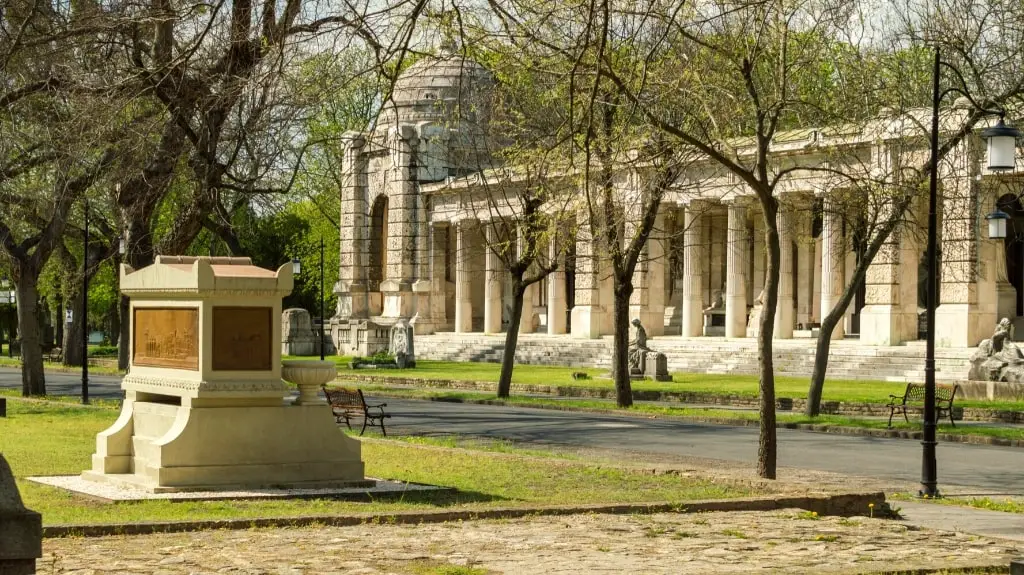 The Palace District of Budapest is best for experiencing the city's local vibe. District VIII is also known as Józsefváros (Joseph Town in English). There, you'll discover Hungary's largest museum. Just the frescoed interior of the National Museum is worth the ticket alone.
Other landmarks in the area include:
The Kerepesi Cemetery – one of the oldest and almost completely preserved graveyards in Hungary and a resting place of the country's most famous folks.
The various 19th-century palaces along Józsefváros. That's where Joseph Town's nickname, "The Palace District", came from.
MÜSZI – a cultural center with a bar, which you'll find in a department store dating back to communist times.
Szabó Ervin Library – set within the neo-Baroque Wenckheim Palace.
Despite the district's sophisticated elegance, it's a hip, up-and-coming neighborhood teeming with cafés and restaurants.
Our recommendations: The 4-star Hotel Nemzeti Budapest will pamper you with modern rooms set in a historical building. Many shopping centers and restaurants are within close vicinity of the hotel. If you prefer apartments, we recommend Budapest Style Residence Corvin for its lush garden, fantastic restaurant, fast WiFi, and free parking.
8. District IX: Ferencváros – the Best Area to Stay in Budapest for Food Escapades
Ferencváros doesn't boast the lively nightlife of the Jewish Quarter. Nor can it showcase tons of palaces like Józsefváros. But thanks to the large number of international students at Corvinus University, it's among the most diverse areas to stay in Budapest.
District IX's diversity starts with the neighborhood's vibrant food scene. The Great Market Hall is a fantastic fusion of beautiful architecture and juicy fruits, seasonal veggies, and traditional Hungarian foods.
Don't leave the market before tasting the many types of salami, smoked paprika cold cuts, and the mouth-watering lángos. The last one is a deep-fried flatbread often topped with either grated cheese or sour cream.
Ráday Street is very close to the market halls. There, you'll find numerous bars and restaurants, including Costes, the first Michelin-star restaurant in Budapest.
Corvinus University is almost adjacent to the market. The towering Renaissance Revival edifice used to be a customs house. This explains the building's strategic location to the market.
If you're into jazz, drop by the Budapest Music Center. When you check that off your list, it's time for a relaxing stroll along the Danube's riverbank. On the way, visit the National Theater or the Zwack Museum. The latter produces Hungary's famous Unicum – an herb-based liquor.
Finish your trip at the Dandár Thermal Bath that's just next to Zwack.
Our recommendations: Just five minutes from the Great Market Hall and featuring a sauna, a terrace, and an on-site bar, The Three Corners Lifestyle Hotel is one of the best places to stay in Budapest. As an alternative, you can overnight in the New Loft Style Appartman. Just three minutes away from the Hungarian National Museum, this new lodging has 3 bedrooms, flat-screen TV with satellite channels, and a fully-fitted kitchen.
9. District XI: Újbuda – the Best Place to Stay in Budapest for Cool Vibes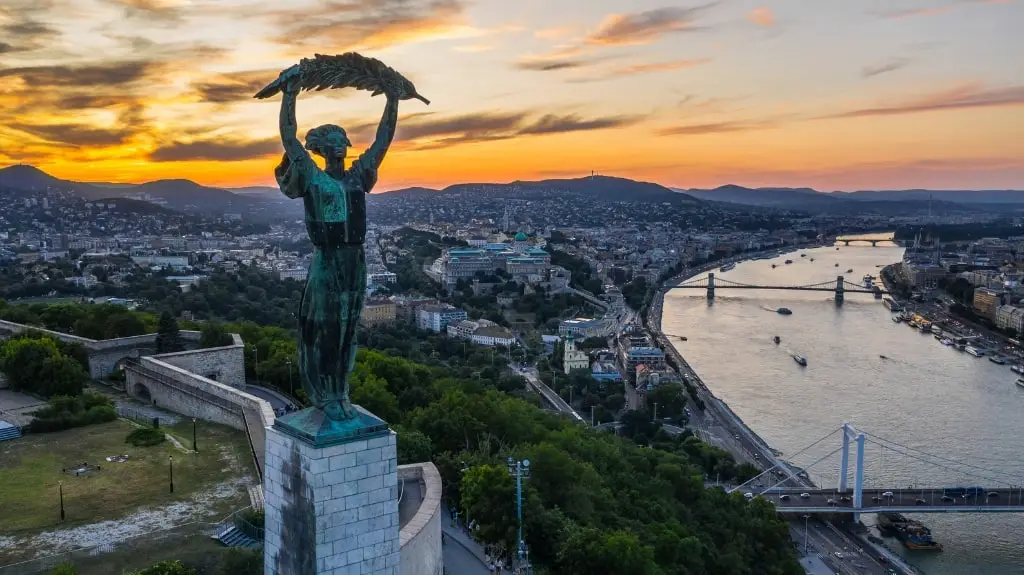 The hip District XI: Újbuda is the coolest neighborhood in all of Buda. It's also the city's most populous area.
Over the last 10 years, bars, cafés, and art galleries have mushroomed on and around Bartók Béla Boulevard in District 11. It's the perfect combo of energetic Pest and the green, more relaxed Buda.
The best way to visit Bartók Béla Boulevard from Pest is via Liberty Bridge. We recommend hiking all the way up to the Liberty Statue, which offers heart-stopping vistas of the river and the neighborhood. The trek takes about 30 minutes.
While in the bar area, don't miss Kelet Café – functioning as both an art gallery and a book exchange – and BÉLA – serving craft beers and cocktails with a modern twist.
Three galleries are worth your art-craving attention:
Contemporary Architecture Center – the often-changing temporary exhibits might entertain you.
Godot Gallery – prepare for funny, politically-charged artworks.
Faur Zsófi Gallery – where a list of young experimental artists awaits you.
End your visit by dancing the night away at A38, a trendy nightclub that's set onboard a Soviet boat.
Our recommendations: The magnificent, Art-Nouveau Danubius Hotel Gellért shares the building with the world-famous Gellért Spa. The restaurant not only boasts fantastic views of the Danube. It also offers chef-d'œuvres from Hungarian cuisine. Just a couple of minutes from the Gellért Thermal Bath is the Five Season's Apartment. The spacious, greatly decorated apartments come with fully-equipped kitchens and flat-screen TVs.
10. District XIII: Újlipótváros – the Best Budapest Area for a Calm Stay
The West Village of Budapest, as local sometimes call it, District XIII isn't a very popular area for tourists. That's because it lacks landmarks.
But this luxurious residential neighborhood offers a lively fusion of hip bars and restaurants, a unique housing stock, and a vibrant commercial street.
Újlipótváros is calm, green, and very close to the city center. It's the ideal escape from the city's hustle and bustle, which makes it great for families with children.
The area's artery is Pozsonyi Road, where you can get lost in an ocean of bars, restaurants, bookstores, and art galleries.
A few must-stops in District XIII include:
Láng Téka Könyvesbolt – a bookstore that specializes in the works of Jewish writers from around the globe.
The Budapest Jazz Club – live acts from international artists and a fantastic Steinway piano are there to entertain you until the wee hours.
The Comedy Theater (Vígszínház) – one of the city's oldest theaters still in operation.
The Budapest Pinball Museum (Flippermúzeum) – discover a collection of 140+ vintage arcade games and interactive pinball machines, dating from 1947.
Our recommendations: The Pannónia Luxury Apartman is just 15 minutes on foot from the Hungarian Parliament building. You'll have a restaurant, a shared lounge and kitchen, free WiFi, and a flat-screen TV all at your disposal. Wanna sleep on a boat? Then book your stay at Boat Hotel Fortuna. This unique, fully-equipped accommodation provides epic views of Margaret Island and the city.
11. District XIV: Zugló – the Best Neighborhood to Stay in Budapest for Greenery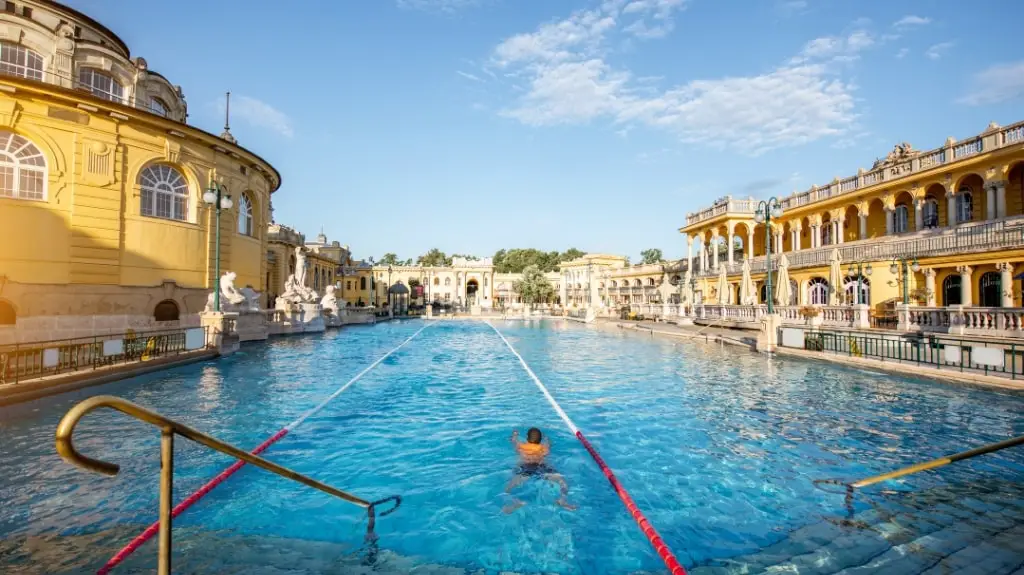 District XIV is Budapest's biggest green neighborhood. Due to the recent developments, leafy Zugló is teeming with gorgeous residential houses.
The mixture of modest houses and Art Nouveau villas makes this area a fantastic place to explore even if you're not staying there.
The area's landmarks include:
The City Park – its main entrance is Heroes' Square, one of Budapest's UNESCO World Heritage Sites.
Budapest Zoo & Botanical Garden – Hungary's oldest zoo park and one of the oldest in the world. It boasts close to 1,100 animal species.
Széchenyi Baths – the largest medicinal bath in Europe. It dates from 1913 and was erected in neo-Baroque style.
Millennium Monument – a towering, historic statue that features the Seven Chieftains of the Magyars and other important national leaders.
Quench your hunger at Gundel, a traditional Hungarian restaurant, or Wang Mester Konyhája, a higher-end Chinese spot. Alternatively, you can head to Bosnyák Square Market where locals do their shopping. Tip: You'll find a lángos stall in the rear of the market.
Our recommendations: Boasting superb garden views, Palma Villa in City Park Budapest is just a few minutes away from a subway station. The apartment has a terrace and a children's playground. Alternatively, Hotel Veritas offers air-conditioned rooms, satellite TV, a safety box, and a hearty buffet breakfast.
Where Would You Stay in Budapest Next?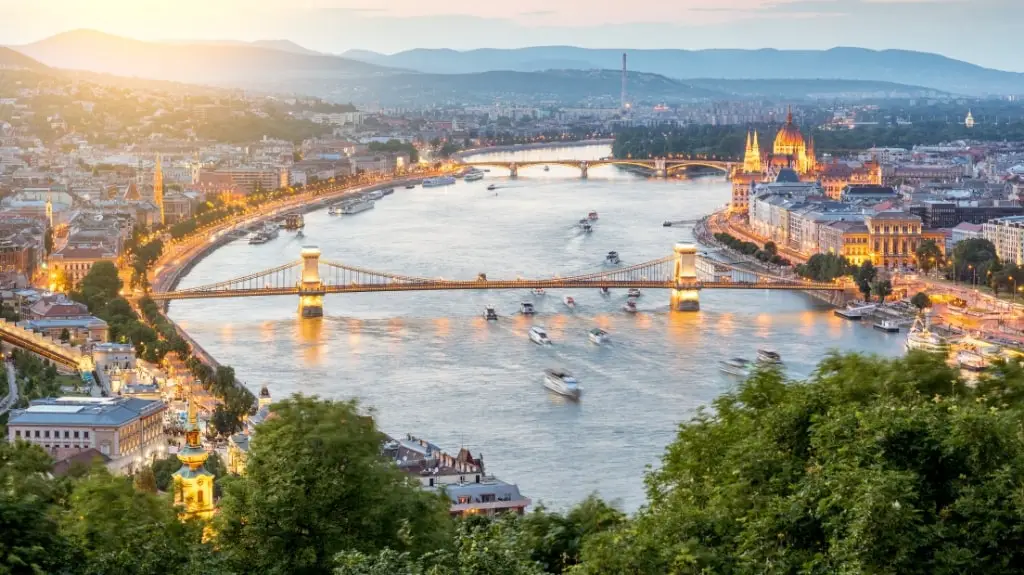 There you have it – the 11 best areas to stay in Budapest.
Regardless of whether you're traveling with kids, exploring the city alone, or you want to party with friends, we're sure our guide will help you find the right lodging for you.
To get the most out of your trip, check our Budapest travel tips, too.
Now, we're curious:
Which Budapest area did you choose for your next trip to the City of Spas?
Let us know by leaving a comment below.