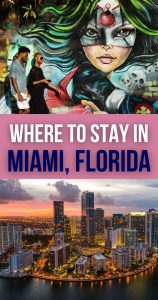 Wondering where to stay in Miami?
The Sunshine City packs a powerful punch of glitzy nightlife, high-end shopping experiences, world-class Art Deco architecture, and long stretches of gorgeous sand.
With its fantastic tropical climate, the city attracts millions of tourists every year. Which makes choosing an accommodation somewhat challenging. We're here to help!
In this guide, you'll find the 11 best areas to stay in Miami for first-timers and regular visitors alike.
Let's explore, shall we?
Note: This article contains affiliate links. In case you purchase something through one of these links, we may receive a small commission at no extra cost for you. Thank you for helping us keep creating the free content on this website!
1. Miami Beach: The Best Area to Stay in Miami for Nightlife and Beach Fun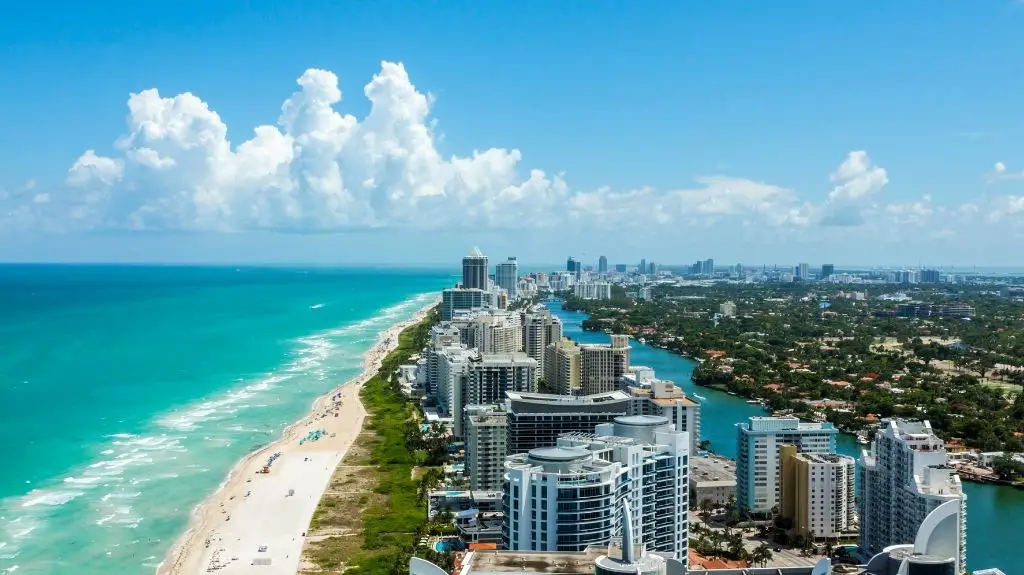 Pure white sands, handsome ripped men, female models rollerblading, and old American muscle cars. Miami Beach is the Miami you've seen in movies.
And then, there's South Beach or SoBe – the city's most popular district thanks to a fantastic blend of clubs, beaches, wealthy crowds, and Art Deco buildings. Well, SoBe is part of Miami Beach. It lies on a barrier island between the gorgeous Biscayne Bay and the Atlantic Ocean.
23rd Street divides the two beaches. In the north, you'll find Miami Beach. In the south, you'll have fun in South Beach.
So, what's the difference?
SoBe is where you stay at to flash cash and party like it's the last day on earth. However, if you'd like to get more bang for your buck and dive into a more authentic experience, Miami Beach is the best area to stay in Miami.
Either way, don't be surprised if you rub elbows with your favorite actors while sightseeing. The area teems with celebrities all year round and is one of the top reasons to visit Miami.
Our recommendations: The majestic, 5-star Fontainebleau Miami Beach can pamper even the most fastidious travelers. Alternatively, the 4-star, beachfront resort Loews Miami Beach Hotel will enchant you with its full-service spa, outdoor pool, and six restaurants.
2. Little Havana: The Best Area to Stay in Miami for a Little Taste of Cuba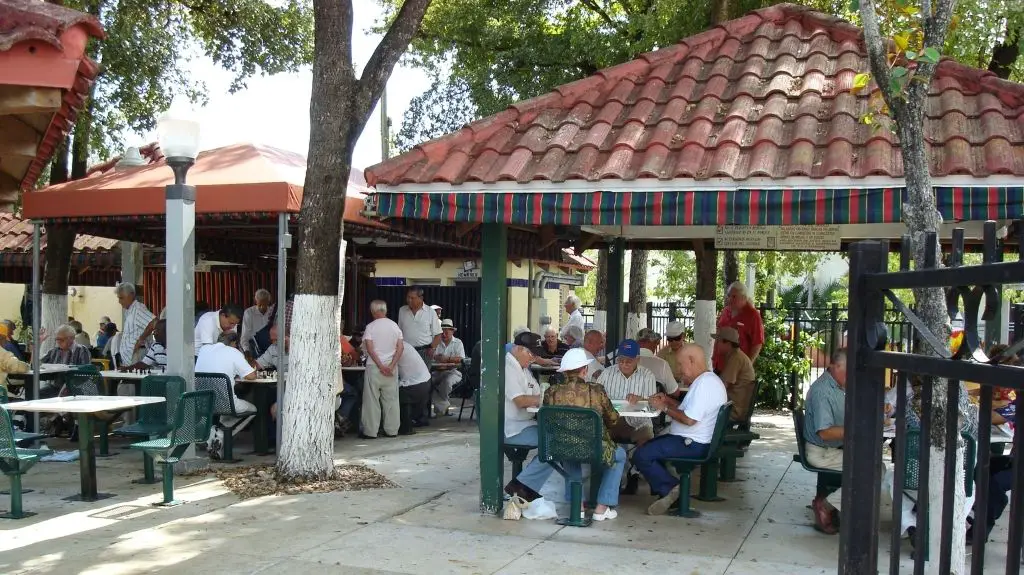 If you're seeking a one-of-a-kind experience, Little Havana is your best bet. From the sounds of dominos clacking to the plumes of cigar smoke coming out of dimly-lit bars, this Cuban neighborhood is where Miami's heart beats the loudest.
The area traces its history back to the 1950s and 1960s. Hundreds of thousands of Cubans immigrated to Miami by boat, plane, or rickety rafts, seeking solace from the dire Cuban Revolution.
They settled in the district around Calle Ocho (8th Street) and brought the art, sounds, cuisine, and culture of the Caribbean island. Ever since then, Little Havana is an embodiment of everything Cuba. Exploring this vibrant neighborhood is one of the top free things to do in Miami.
Nowadays, Hispanics comprise more than 69.4% of the whole population of Miami-Dade County. So, it's no surprise Spanish is an official language in the Sunshine City. This is one of the most interesting facts about Miami.
Our recommendations: The Selina Miami River is fantastic for families with its outdoor swimming pool, bar, and garden. If you prefer an apartment with a barbecue and a garden, then the Wild Rose is your place to stay in Miami.
3. Wynwood: The Best Neighborhood to Stay in Miami for Art Lovers and Hipsters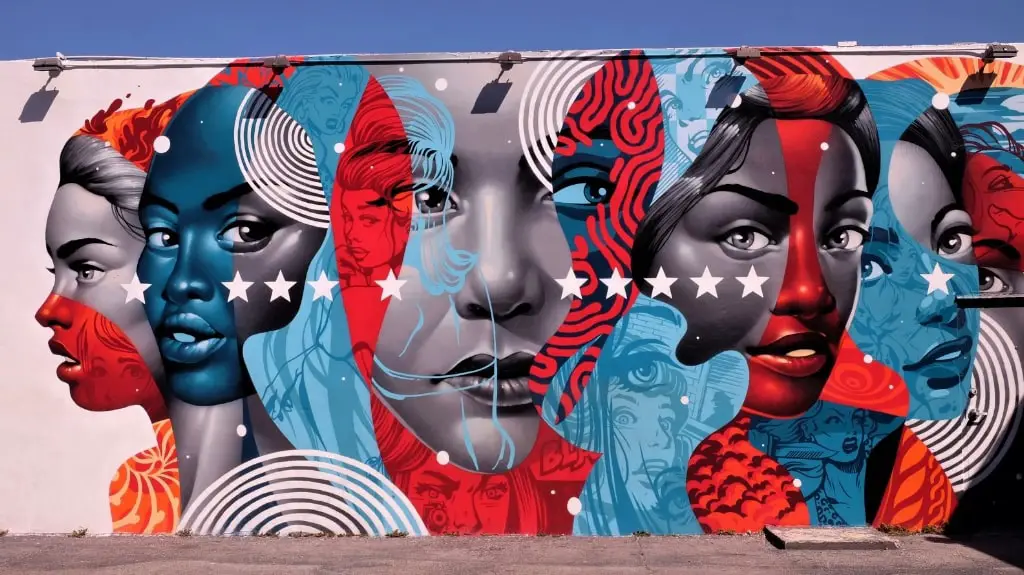 Once full of auto stores and dilapidated warehouses, this former industrial area now shows Miami's artsy, creative side. Today, Wynwood welcomes young and cool folks who can easily switch between bars, modern galleries, restaurants, and artisanal coffee shops.
Miami's iconic Design District awaits to quench your architecture-thirsty senses with its countless museums and 200+ picture-perfect murals. Make sure to visit the Wynwood Walls where locals exhibit new paintings every year.
When you grow tired of art and the scorching sun, find shelter in some of the neighborhood's great eateries.
Asian food lovers shouldn't miss KYU.
Multicourse menu tastings happen at Alter.
And Zak the Baker is your place for a quick yet scrumptious bite.
When your stomach and senses are full, take a stroll through the farmers' markets and breweries that serve lip-smacking craft beers.
Our recommendations: With their perfect locations and fantastic equipment, AC Hotel Miami Wynwood and 2BR answer the question "Where to stay in Miami?" in the best way possible.
4. Miami Downtown: The Best Neighborhood for Skyline and Landmarks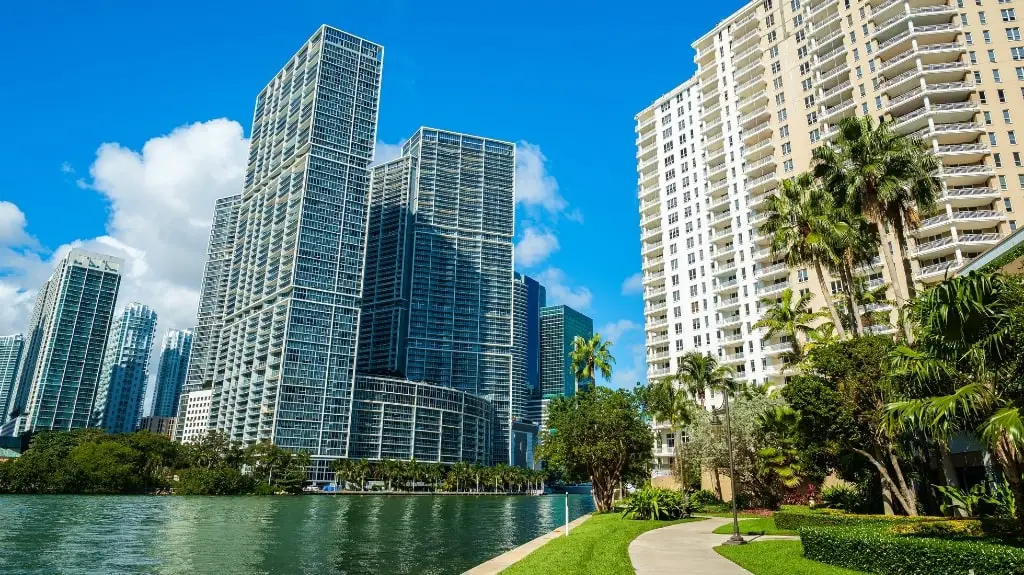 Some 15 years ago, Miami's Downtown was a mixture of modest high-risers, tacky discount stores, and unpretentious pawnshops.
Nowadays, it is one of the things Miami is best known for. The commercial heart of the Sunshine City boasts the third highest skyline in the United States after New York and Chicago.
Besides the heart-stopping skyscrapers that flirt with trendy bars and high-end museums, there's another benefit of staying in the area. Downtown's magnificent waterfront location offers jaw-dropping views over the glittering Biscayne Bay and the Port of Miami.
During the day, business people marching in suits occupy the streets. After office hours, Downtown turns into a true spectacle of color. Don't miss the area around Biscayne Bay where countless social and cultural events occur daily.
The neighborhood is home to the American Airlines Arena where lively Miami Heat basketball games happen. In Downtown, you'll also find the Florida Grand Opera and the Miami City Ballet. When you grow tired of all the buzz and flashy skyscrapers, satiate your hunger in one of the many swanky restaurants in the area.
Our recommendations: The 5-star EAST Miami and the 4-star Hilton Miami Downtown both provide you with great locations, sweeping views of the city, and pampering facilities like rooftop pools.
5. Brickell: The Best Area to Stay in Miami for Gourmet Escapades and High-End Shopping
Just south of Downtown, Brickell's population 3x-ed in size from 2000 to 2016. And the boom is showing no signs of stopping soon. So, why all the buzz?
Brickell once housed a blend of ordinary office buildings. Today, the landscape is domineered by gigantic skyscrapers, luxurious condos, and ultra-modern shopping centers. In between, you'll find fancy rooftop bars, peculiar bistros, and small yet fashionable boutiques.
All these attract cosmopolitan crowds. In fact, many folks say the area looks more like New York City than Miami. It's not hard to see why they think so. The quick-paced way of living, walking distances to everything, and the cool atmosphere all emulate the Big Apple's vibe.
Combine this with the sweeping views of the Biscayne Bay and the Miami River, and you'll see why many choose this area when wondering where to stay in Miami.
Our recommendations: JW Marriott Miami and Mandarin Oriental Miami both offer fantastic facilities, as well as splendid views of the city's skyline and the glamorous Biscayne Bay.
6. Key Biscayne: The Best Miami Neighborhood for Family Adventures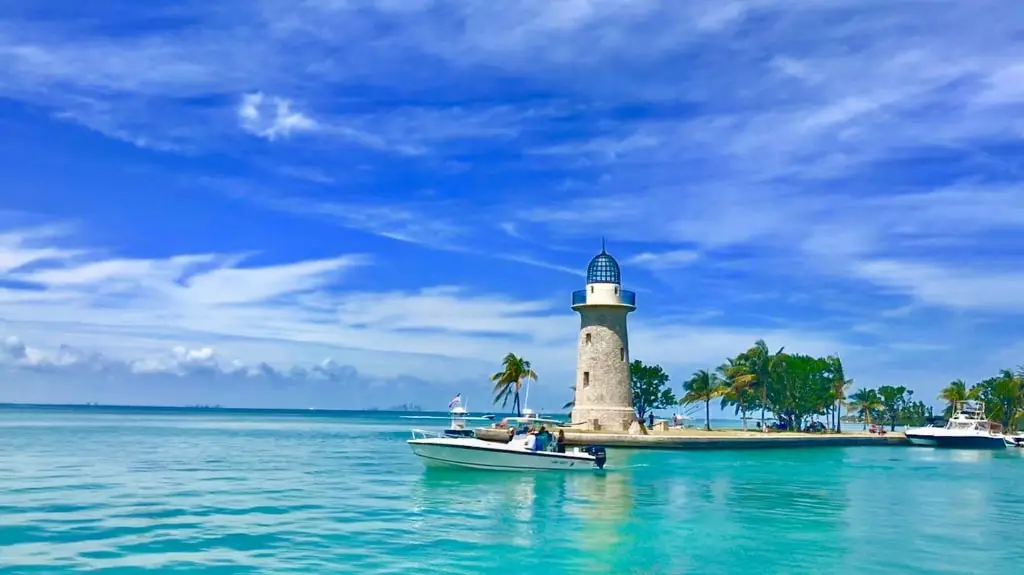 A gorgeous bridge links Miami Beach to Key Biscayne, which sits seven miles offshore. The latter is a fascinating island that prides itself on two state parks. You'll love staying in the area, especially if you're a nature lover, a sports fan, or an expert golfer.
The family-friendly Crandon Park sits at the northern side of Key Biscayne. It offers countless water and sports activities, including kiteboarding, kayaking, stand-up paddle boarding, biking, golf, tennis, and beach volleyball.
Take a spin or two at the carousel at the Family Amusement Center, or skate at the outdoor roller rink. If you're traveling with children, you'll love to hear there's a lively playground there as well.
At the southern end of the island, you'll discover Bill Baggs Cape Florida State Park. Climb the 100+ steps to the top of the Cape Florida Lighthouse to be rewarded with sweeping vistas of the jetty, the beach, the nearby forests, and the shimmering ocean. Alternatively, stroll or cycle through the nature trails around the park.
Our recommendations: The 5-star Ritz-Carlton Key Biscayne, Miami will pamper you with its luxurious spa center after a long day of activities. If you're more of a condo fan, we highly recommend the ultra-modern Beach Haus Key Biscayne Contemporary Apartments.
7. Coral Gables: The Best Area to Stay in Miami for Cultural Attractions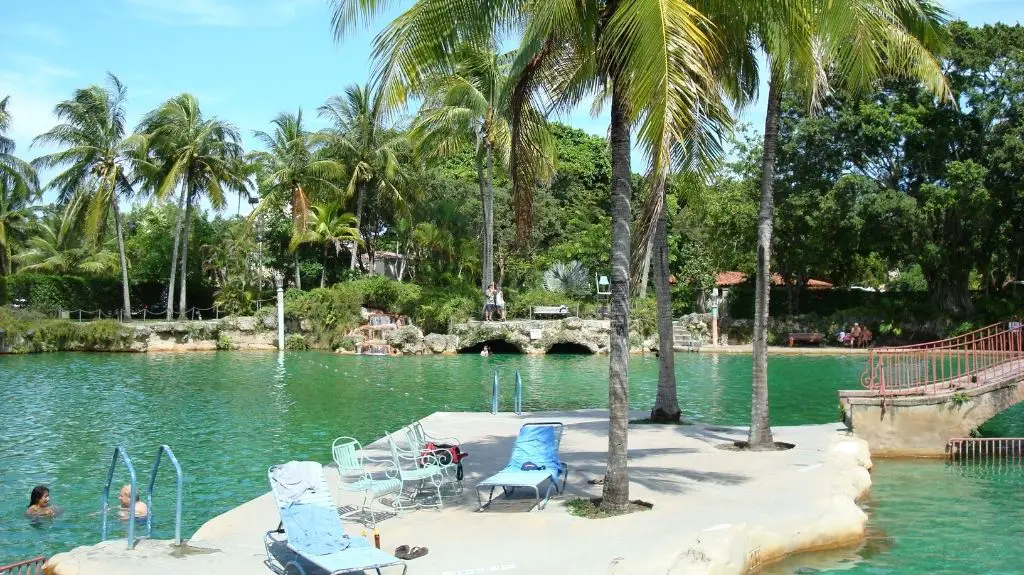 Coral Gables is picturesque everywhere you go. Scenic, historic, and cultural landmarks blend in a vibrant fusion.
Take the Old Cutler Trail for leisurely strolls or biking sessions while admiring the stately mansions along the way. The majestic trees on both sides of the road create a protective canopy from the sizzling sun rays.
A must-stop on the trail is the Fairchild Tropical Botanic Garden. It awaits you with its cooling breezes, clucking stream, amazing blooms, and a fairy-tale butterfly garden.
Art Deco fans should check out the Miracle Theater. The gorgeous venue offers a broad range of concerts, musicals, classic movies, children's and stand-up comedy shows. If you prefer exhibition halls, the Coral Gables Museum will live up to your liking. The exterior is equally impressive – it's built from white coral stone.
Don't miss the best natural attraction of the area – the Venetian Pool. Once a rock quarry, nowadays, the pool's chlorine-free waters come from artesian wells. The swimming complex spoils visitors with a grotto, a bridge, an island for diving, and drop-dead gorgeous waterfalls.
And if you ever feel the shopping bug (that happens often in Miami), take a walk along the Miracle Mile. Salons, bookstores, bridal shops, and high-end boutiques await you there.
Our recommendations: Once acting as a World War II hospital, the Biltmore Hotel is probably the most peculiar hotel in all of Miami. The historic resort offers all kinds of amenities, including 10 lit tennis courts, a huge outdoor swimming pool with cabanas, and an 18-hole golf course.
8. Coconut Grove: The Best Miami Neighborhood for a Quiet and Laid-Back Stay
The Grove – as locals call it – is a calm, laid-back neighborhood facing the shimmering water of Biscayne Bay. The fact that it's just about five miles from Downtown and ideal for water sports make it one of the best areas to stay in Miami.
If you're a nature lover, you'll absolutely love the vast green spaces in Coconut Grove that offer exciting bike paths and jogging trails.
If you prefer outdoor activities, head to Peacock Park where you can engage in soccer, kickball, softball, or basketball games. Foosball and ping-pong tables are just around the corner in the Recreation Building.
Like doing yoga while the gentle sun caresses your skin? Well, if that's the case, don't miss the free sessions on Tuesday and Thursday from to 6 PM to 7 PM. Not a yoga fan? Stroll the boardwalk while enjoying the cooling breeze and marveling at the sailboats.
Half mile from Peacock Park, you'll find CocoWalk, the outdoor mall of Coconut Grove. Bars, cafés, boutiques, restaurants, and department stores are all at your disposal there.
When you grow tired of shopping, head to the mesmerizing Vizcaya Museum and Gardens. The 34-room mansion showcases the extensive art collection of its first owner – James Deering.
Our recommendations: If you'd like to be just a few minutes away from the main shopping and dining area, stay at The Mutiny Luxury Suites Hotel. For the most stunning views over Biscayne Bay, choose The Ritz-Carlton Coconut Grove, Miami.
9. North Miami Beach: The Best Miami Area to Stay in on a Budget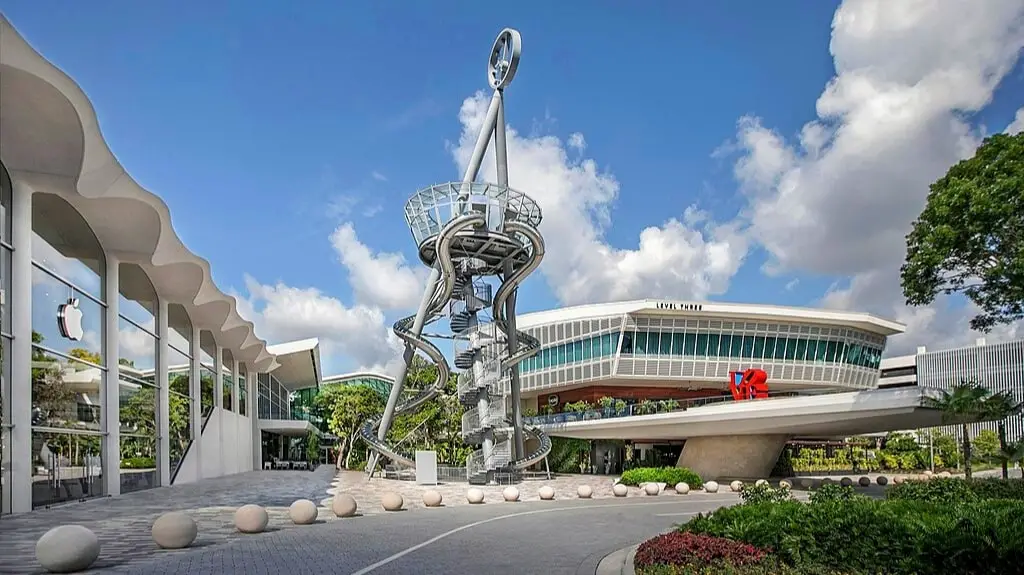 Locals call this quiet neighborhood NoBe, and you'll find it at a 30-minute drive north of the city. Families and vacationing couples prefer this area to stay in Miami.
If you're into water sports, Oleta River State Park offers canoes, kayaks, and paddleboards for rent. Hugging Biscayne Bay, the park also provides countless park trails for biking or walking sessions.
Traveling with kids? They'll fall in love with the Enchanted Forest Elaine Gordon Park. It consists of a playground, pony rides, a nature center, and a magnificent butterfly garden. The scenic oasis of subtropical plants and native wildlife is the perfect getaway from the heat and humidity.
If you're a shopaholic, you're in for a giant dose of retail therapy. Florida's biggest shopping center – Aventura Mall – is in North Miami Beach. Three levels of luxury boutiques, department stores, tempting confectioners, superb restaurants, and a movie theater with 24 screens await you.
Don't miss a chance to have some breathtaking fun at the Slide Tower. The 93-ft. (28-m) installation is at the mall's entrance and consists of two slides. Visitors 4.2 ft. (1.27 m) and taller can glide down the tube for free.
Our recommendations: The Miami Beach HomeStay has every amenity you can think of for a fantastic stay. It's located just a minute drive away from Biscayne Boulevard.
10. Bal Harbour: The Best Miami Area to Stay in for Relaxed Beach Experiences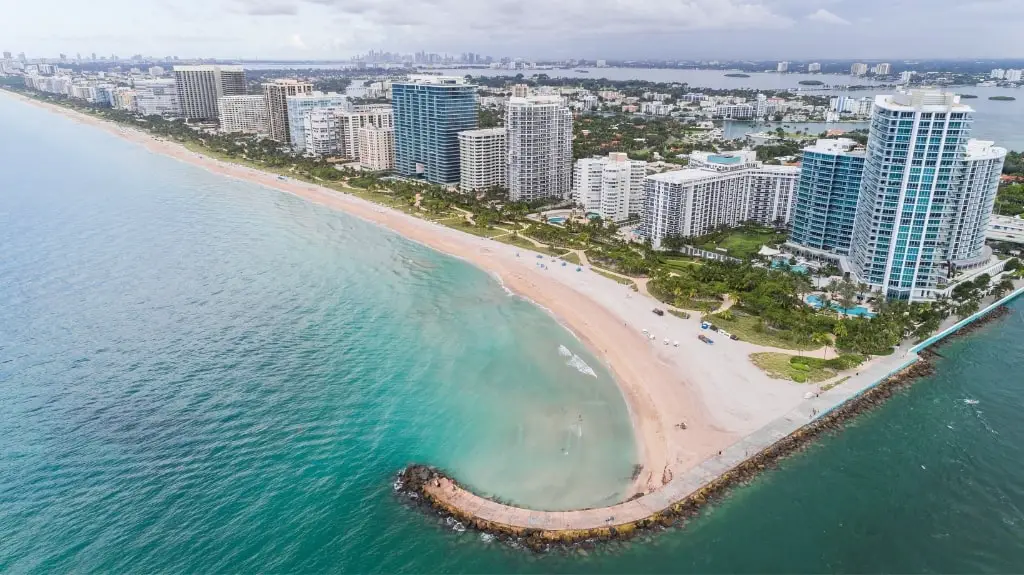 Bal Harbour lies north of Miami Beach and embraces the Atlantic coast for around a mile. The neighborhood is your best place to stay in Miami if you'd like to have a private and peaceful beach experience. Why? Because only residents and hotel guests have access to the untouched sands.
You'll discover the waterfront at 102nd Street through the Beach Path. Note: to pass via the locked gates, you'll need a district-issued key card.
Bal Harbour welcomes high-end crowds at its shopping area where over 100 designer stores and world-class boutiques await to spoil you. The indoor landscaping consists of lush plants, gigantic palms, playful fountains, and enticing fishponds. Stylish cafés and sophisticated restaurants provide an outstanding dining experience.
If you like fast-food chains, unfortunately, Bal Harbour doesn't offer any. But if you appreciate art, don't miss the Art Museum Miami.
Our recommendations: For the ultimate royal stay, choose either The Ritz-Carlton Bal Harbour Miami or The St Regis Bal Harbour Resort. Both establishments will mercilessly mollycoddle you with their excellent spa centers, top-notch restaurants, and sweeping views of the bay.
11. Little Haiti: The Best Area to Stay in Miami for Caribbean Adventures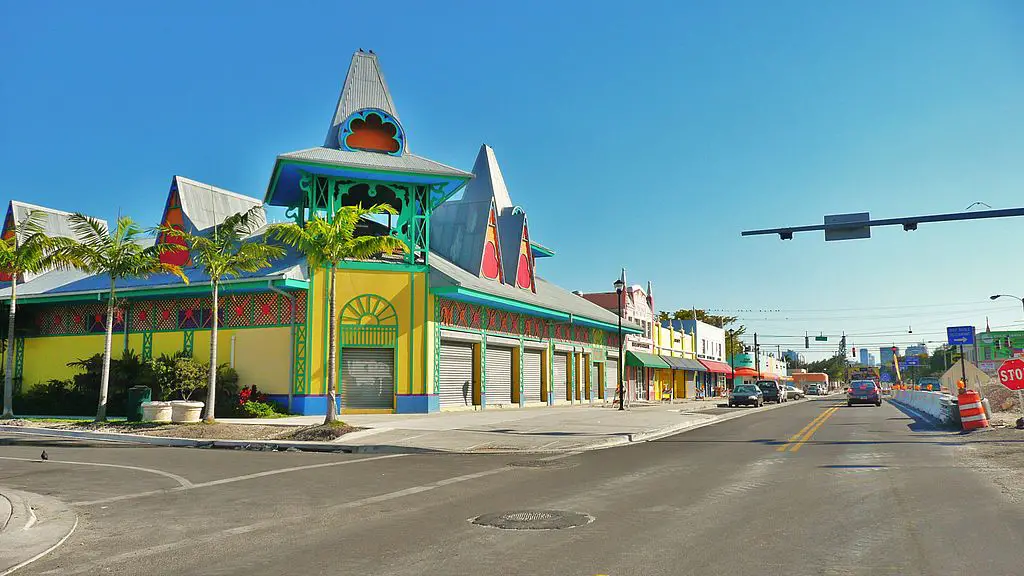 Little Haiti will captivate you with its fruit stands, lively street murals, and creative international eateries. Small, indie galleries and exhibition halls contribute to the district's booming art scene. The Little Haiti Cultural Complex displays art, dance, and theater.
Find out why they call the area Lemon City by exploring the huge, covered Caribbean Marketplace, which sells various produce and intricate handiworks. Discover the main attractions of the area around Northeast 2nd Avenue.
Home to hordes of Haitian and Caribbean immigrants, Little Haiti evolved into an eclectic beacon of arts and culture. Stop at one of the kitsch bars, record stores, or authentic restaurants for the ultimate Caribbean experience.
If you love districts steeped in history, then the best area to stay in Miami for you would be Little Haiti. The neighborhood is safe and well-placed between the bustling Downtown, the artsy Wynwood, and the Upper Eastside areas.
Our recommendations: The spacious, vibrant one-bedroom apartment with Caribbean flair called A Suite Retreat invites you to relax in its cozy garden and living area.
Now You Know Where to Stay in Miami Next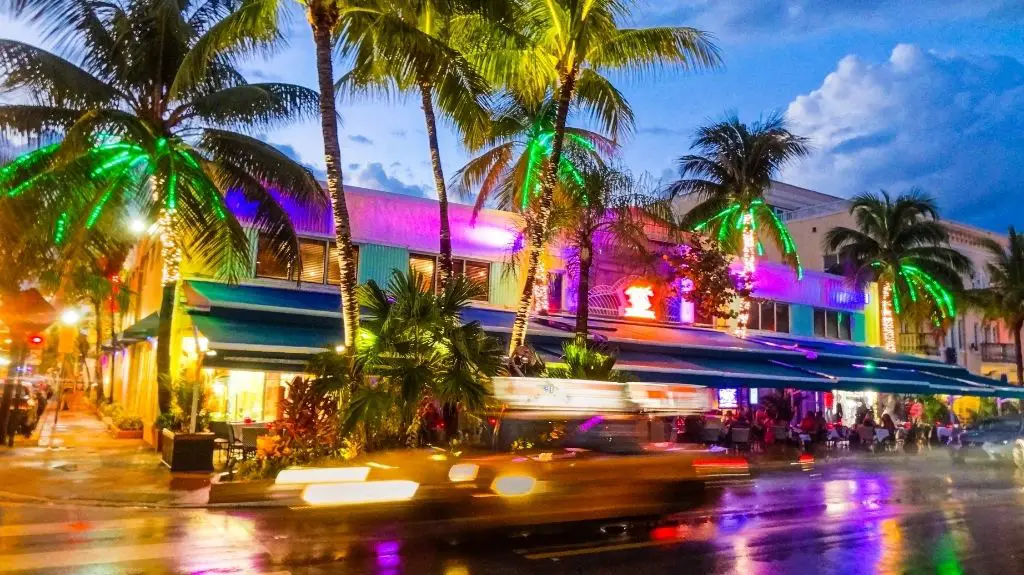 If you've been wondering, "Ah, it's my first time in Miami, where to stay?", then we hope our guide with the 11 best areas to stay in Miami has answered that question.
No matter whether you want to party until the wee hours, enjoy a private beach experience, or immerse yourself in art, design, and culture, the Sunshine City has it all.
Together with our 3 days in Miami itinerary, you have the perfect combo for your ultimate stay.
Before you book your accommodation, we'd love to hear from you in the comments below:
Where would you stay next time you travel to Miami?