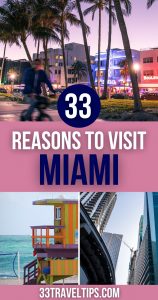 If you've been wondering whether to travel to the Sunshine City, here's what you need to know:
Miami is worth visiting for its superb beaches, jaw-dropping skyline, top-notch hotels, and the gorgeous Everglades National Park. Architecture lovers will enjoy its Art Deco buildings, sun fans – its warm weather, shopaholics – the numerous malls, and party beasts – the city's non-stop nightlife.
In this article, you'll find 33 reasons to visit Miami.
From its peculiar neighborhoods to the strong Cuban and Hispanic influence, and from the must-try foods to the iconic beverages, there's something for everyone in the Magic City.
Let's hop in, shall we?
Note: This article contains affiliate links. In case you purchase something through one of these links, we may receive a small commission at no extra cost for you. Thank you for helping us keep creating the free content on this website!
Go to Miami for the Stunning Beaches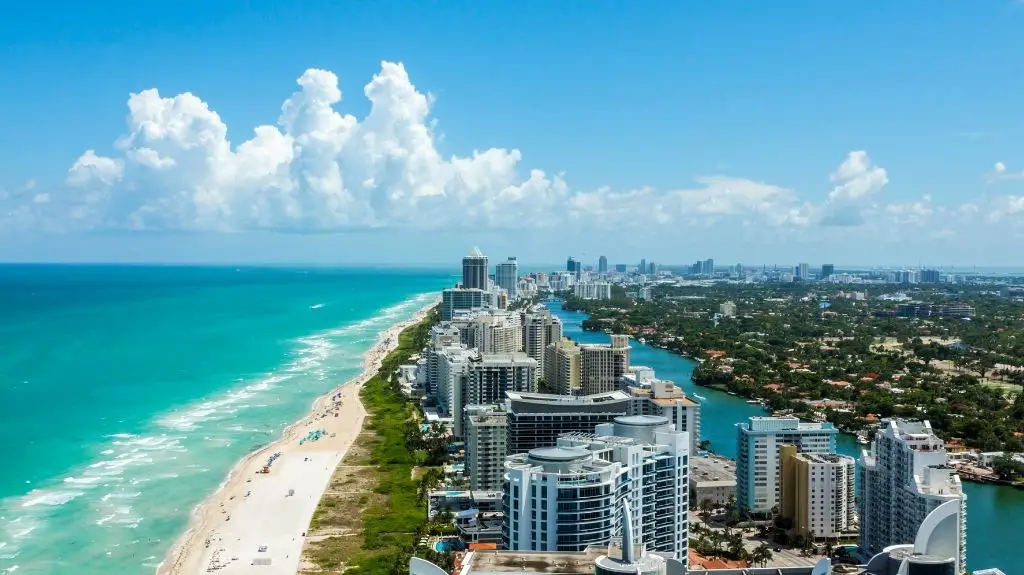 One of the things Miami is known for is its shimmering coastline. In the section below, you'll discover the beaches that make the city worth visiting.
Visit Miami for the Fascinating Museums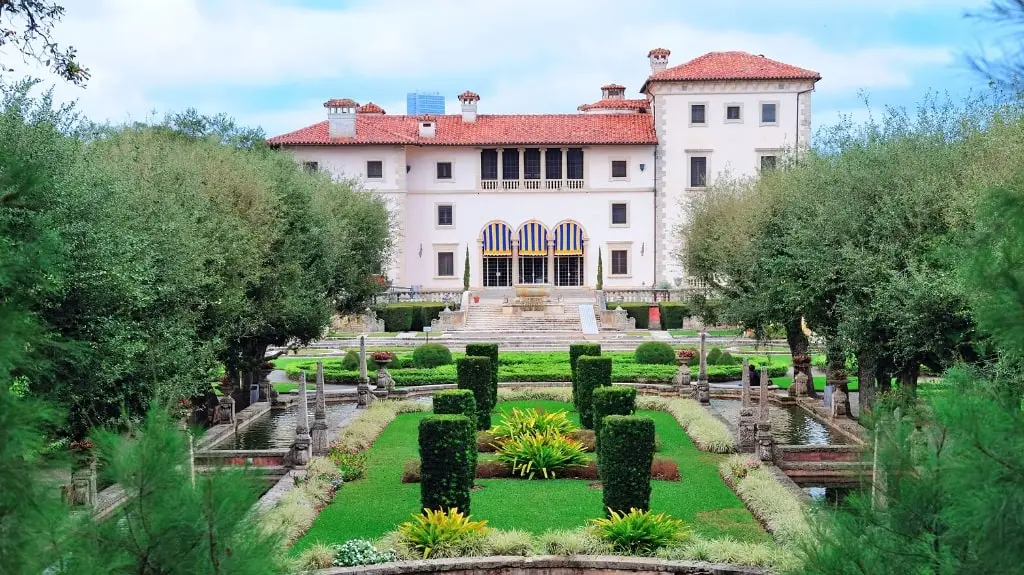 Beaches aren't the only thing that makes Miami special. Museums and galleries are other reasons to visit Miami. Let's take a look at a few next.
Miami Children's Museum. The highly interactive museum invites you with hands-on exhibits, a music studio, a cruise ship, and a sensory room that's great for kids. The most striking feature of Miami Children's Museum is the ocean wall, where your little ones can scan their name on a moving, colored fish. Want to identify the hidden talent of your kiddos? Bring them to the exhibition rooms where they can immerse themselves in various creative activities.
Vizcaya Museum and Gardens. Enjoy a step back in time at this magnificent 20th-century villa, originally built as a winter residence. Inside Vizcaya Museum, you'll find ornate architectural details, indigenous flora, impressive sculptures, and stunning rooms. Admire the stupefying views of Miami Bay from the grand mansion's balconies. Book your tickets in advance via this link.
Rubell Museum. An incredible display of modern art awaits you at Rubell Museum – one of the biggest exhibition rooms in the world. Established in a transformed DEA warehouse, the museum prides itself on over 7,200 masterpieces from an impressive lineup of 1,000+ artists. Rubell Museum showcases the work of both emerging and established creators, making it a must-visit for admirers of contemporary art. 
The Institute of Contemporary Art, Miami. ICA Miami is a modern museum in Wynwood – Miami's vibrant Design District. The institute is the perfect place to explore the latest artistic innovations of the modern world. The entrance is free all year round. To ensure a safe and convenient visit, you can pre-book your ticket in advance here.
HistoryMiami Museum. Marvel at the 12,000 years of Florida's multicultural history at the second-oldest museum in the state. HistoryMiami Museum includes a comprehensive collection of 37,000 three-dimensional artifacts, spanning from prehistoric discoveries to 20th-century Afro-Cuban folk art.
Pérez Art Museum Miami (PAMM). Established in 1984 as the Center for the Fine Arts, the Pérez Art Museum Miami boasts a gigantic collection of more than 2,000 works. The exhibition covers contemporary art from the 20th and 21st centuries. Note that the museum is closed on Tuesday and Wednesday. Grab your tickets here.
Museum of Graffiti. The only art museum in Wynwood is also the world's first museum dedicated to graffiti. The Museum of Graffiti walks you around the history of tagging – from its inception in the 1970s New York City to its dominance as a respected form of international art. Don't miss the chance to entertain yourself and your kids with the ongoing programs in this peculiar museum. Tickets are available via this link.
Explore Miami to Learn All About Its Curious Facts
Cool nicknames. Impressive skyline. Tons of Spanish-speaking folks. These are all facts that make Miami worth visiting. Let's take a look at them below.
Miami is home to the third-tallest skyline in the United States. With its towering skyscrapers, the Miami Downtown panorama is a sight to behold. According to Architecture and Design Almanac, Miami takes the third place in the United States and 19th spot in the world for its impressive skyline. From the iconic Freedom Tower to the sleek and modern buildings that line the central area, Miami's high risers are a testament to the majesty of the city. 
Spanish is the primary spoken language. Since the majority of the business community is from different Hispanic regions, more than 60% of the city's population speaks Spanish. Although English is Miami's official language, this lingo barrier can be challenging for people to do business in the city.
Miami has various nicknames. The most popular is The Sunshine City due to the copious number of sunny days. Another nickname is The Magic City for its rapid growth and development. Some other monikers include The Capital of Latin America for being the largest city with a Cuban American majority, The Cruise Capital of the World and The Gateway to the Americas because Miami is the biggest port on the East Coast of the U.S. 
Miami is a globally renowned city for its sports diversity. Only a few cities worldwide can offer more sports than the Sunshine City. The sports scene in Miami caters to both professionals and non-professionals. You can practice:
Water-based pastimes, such as boating, fishing, windsurfing, free diving, kayaking, sailing regattas, scuba diving, snorkeling, swimming, and water skiing.
Non-aquatic sports like baseball, basketball, tennis, bowling, college football games, horse and greyhound racing tracks, as well as shuffleboard.
Miami is a divers' paradise. Scuba divers from all over the world flock to Miami for its dream weather, stunning coral reef, and crystal-clear waters. But what sets the city apart is the Florida Reef and the abundance of shipwrecks. They gave Miami the moniker The Wreckreational Diving Capital of the World. You can explore over 50 sunken ships during your diving adventures in Miami.
Miami is home to the first Burger King (BK) restaurant. The fast-food eatery opened its doors in 1954. The Whopper, a staple on BK's menu, was born in 1957 when the chain first introduced it at an original price of 37 cents. Peculiarly, the Magic City also hosts the headquarters of BK.
America's cleanest city? Yes. Although Miami is a sprawling metropolis, it received the "America's Cleanest City" award by Forbes in 2008. The Sunshine City won the title because of its massive green spaces, clean drinking water, spotless streets, citywide recycling programs, and great air quality all year round.
Go to Miami for the Delectable Local Cuisine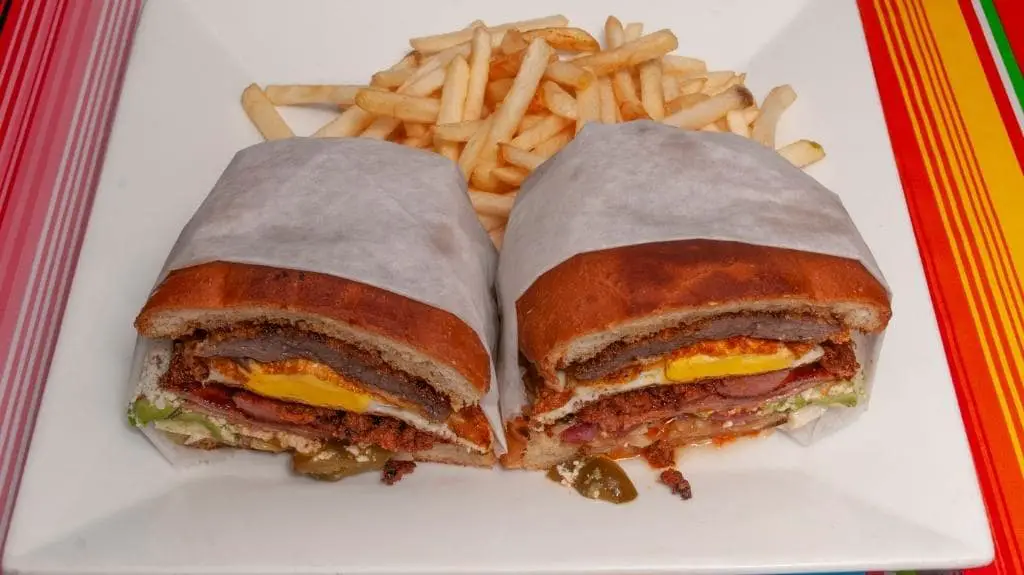 Finger-licking dishes from Latin and South America dominate the culinary scene of the Sunshine City. Find all the foods that make Miami worth visiting in the section below.
Cuban sandwiches. To experience the true flavor of the Magic City, nibble on a Cuban sandwich. The delicacy features freshly-made Cuban bread, succulent roasted pork, baked ham, yellow mustard, and crisp pickles, all finished off with a layer of melted Swiss cheese.
Key Lime Pie. With roots in Key West, you can find this mouthwatering dessert all over Miami. The quintessential Key Lime Pie should not only be tart and sweet. It also needs to have a satisfying crunch and creaminess. Just one bite is enough to give you a truly decadent foodgasm.
Arepa. The origin of this heavenly treat stems from Venezuela. Packed with fresh vegetables, rich cheeses, tender meats, or a tantalizing blend of all three, an arepa will satisfy all your gastronomical yearnings. Flavorful black beans, fried plantains, melty shredded cheese, and braised beef nestled inside a soft maize bread is a must-try combo.
Frita Cubana. For a unique Cuban twist on the American hamburger, try a frita. Locally served on Cuban bread with match stick potatoes and a secret sauce, it's a burger experience you won't want to miss.
Stone crabs. Peculiarly, the only part of the crab that people harvest is its claws. Over the following two years, the claws regenerate, which makes stone crabs a renewable food. To taste the real Miami, complement your stone crabs with mayo, coleslaw, and hash brown potatoes. The plate goes well with a beer chilled to perfection.
Chicken 'N' Watermelon 'N' Waffles. This quirky combo is a best-seller in many Miami restaurants. A delectable sight on brunch menus, the fried chicken buddies up to a savory and sweet cheddar-cheese waffle, and a refreshing and spicy watermelon, all topped off with a bourbon-maple syrup and a zesty honey-hot sauce. If you're in the mood for something different, give it a try.
Visit Miami for Its Party-Igniting Beverages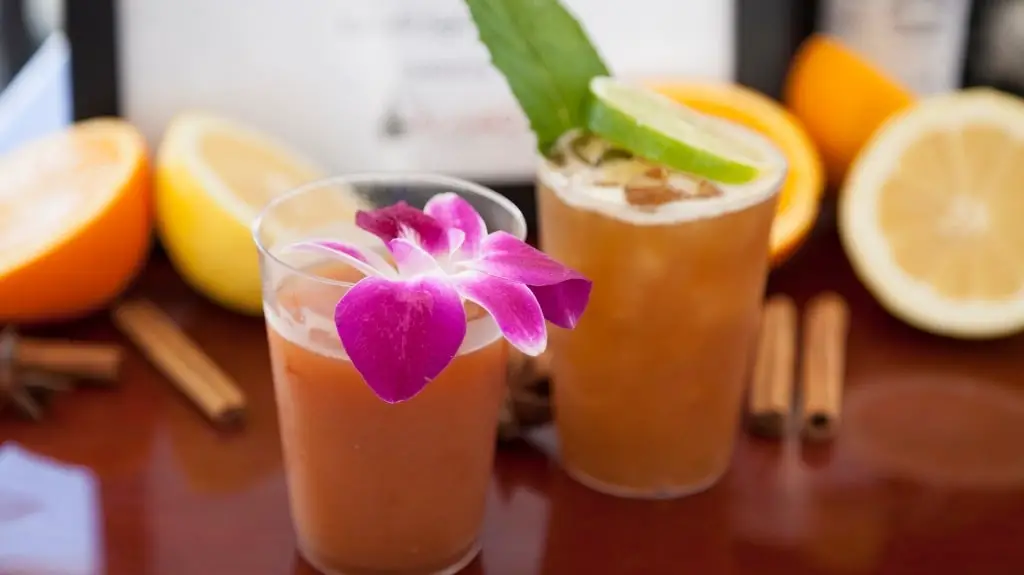 After the foods that make Miami special, let's see what accompanies them best. In this section, we'll show you the staple drinks that make Miami worth visiting.
Miami Vice. If you're looking for a beach-perfect cocktail, Miami Vice is your go-to. Sipping a blend of strawberry daiquiri and piña colada while lounging in the sun is the epitome of pure delight. While the beverage is often served frozen, the original recipe calls for crushed ice. You can find this classic Miami cocktail at any beachfront bar.
Mojito. Miami's love for Cuban-influenced drinks is evident in the popularity of the mojito. The iconic cocktail is a harmonious blend of aromatic rum, fresh mint, juicy lime, cane sugar, and sparkling water. The light Cuban highball is a great choice for the everlasting summers of Miami.
Rum Runner. Islamorada, one of the Florida Keys, is where our next Miami beverage comes from. Combining light and dark rums, orange and pineapple juices, banana and blackberry liqueurs, and a splash of grenadine, the Rum Runner packs a powerful punch. So, be sure to take it easy.
Jupina. This sweet pineapple soda has been a beloved staple for Miamians ever since it made its way from Cuba to the States. Jupina, short for "jugo de piña" (pineapple juice), is a drink you can find in every corner store or Cuban restaurant in the city.
Cafecito. The aroma of a rich and robust Cuban espresso permeates the air within a 500-foot radius. Known for its intense strength, cafecito is the driving force behind the energy of the Magic City. However, novice drinkers should exercise caution when trying it for the first time as its potency can lead to heart palpitations.
Café con leche. If you don't drink coffee regularly, café con leche could be a more suitable choice than cafecito. Translated as "coffee with milk", café con leche is a shot of strong coffee (espresso or cafecito) inside a glass of warm milk. It's a popular breakfast drink for locals who often use it to dip their Cuban toasts in.
Why Is Miami Worth Visiting: Now, the Answer Is Clear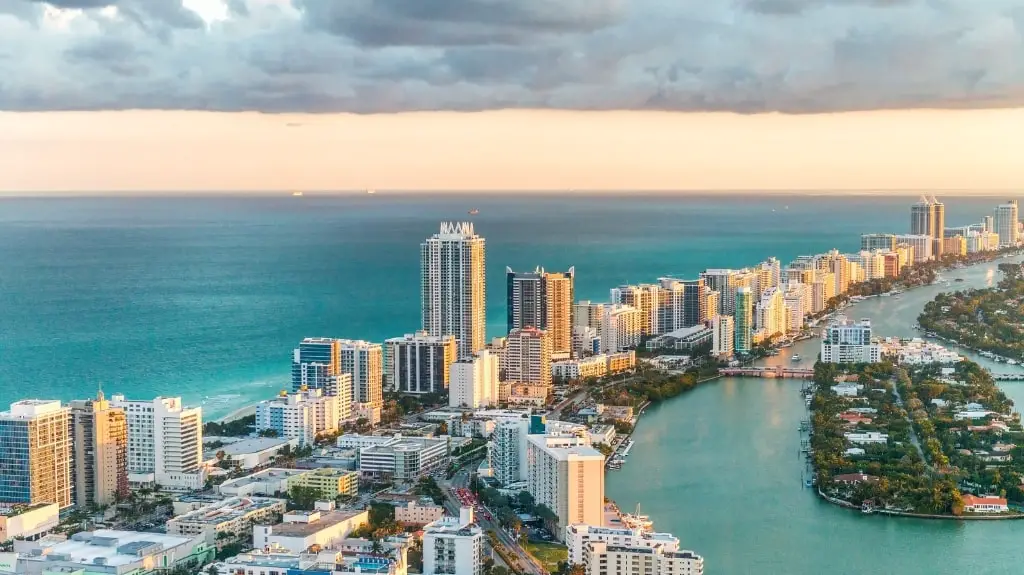 There you have them – 33 top reasons to visit Miami.
The Sunshine City abounds with cool districts, word-class beaches, contemporary art, delectable dishes, and fascinating facts.
Among our best travel tips is to spend at least 3 days in Miami as there's a lot to cover.
Now, we'd like to know:
Do you think Miami is fun to visit?
Share your thoughts in the comment section below.