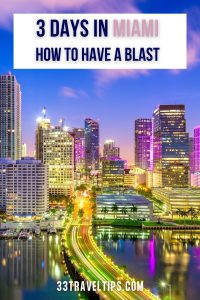 Fantastic beaches.
Buzzing nightlife.
Warm weather all year round.
But are 3 days in Miami enough?
The Sunshine City offers a lot. 3 days in Miami is enough time to get a good taste of the city's vibe. You can go to the beach, explore the Art Deco architecture, and experience the culinary scene. You'll also have time to visit the Vizcaya Museum and Gardens, go shopping, and enjoy the nightlife.
While longer stays will allow you to see more, 3 days is a great starting point for exploring Miami.
To help you plan your getaway to one of Florida's gems in the best way possible, we've prepared this 3-day itinerary for Miami.
It will show you what to do, where to stay, what's the best time to visit Miami, how to travel around the city, and ultimately – how to have a blast.
If you're ready to explore, let's roll!
Note: This article contains affiliate links. In case you purchase something through one of these links, we may receive a small commission at no extra cost for you. Thank you for helping us keep creating the free content on this website!
What's the Best Time to Visit Miami?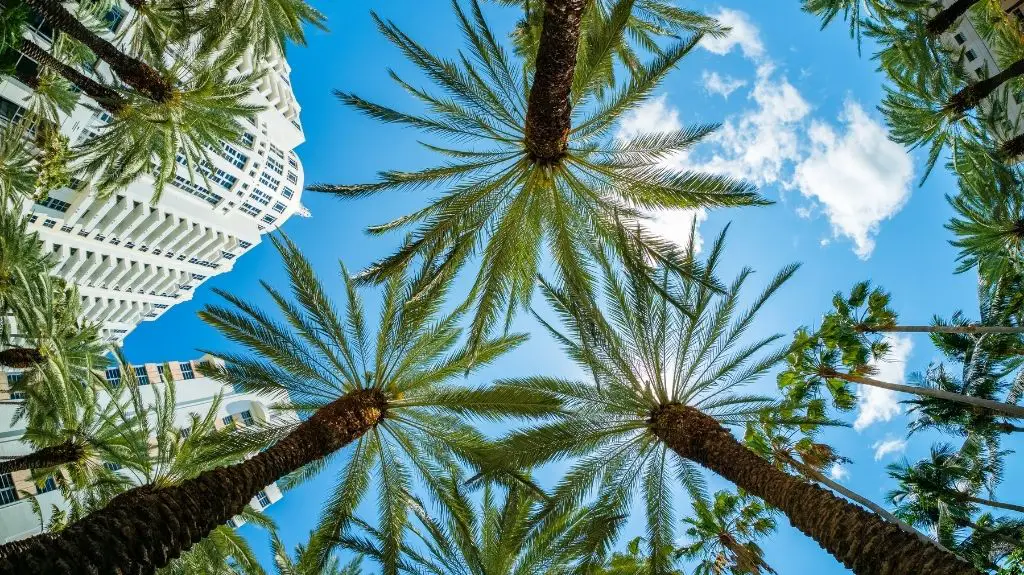 Before we share all the insider secrets with you, we need to tell you when is the best time to travel to Miami.
If you prefer mild temperatures, opt for the winter season – December-March. In January, the mercury in the thermometers averages 70˚F (21˚C). In addition, rain is a rare occurrence in winter. All these are conditions for a dry and pleasant stay.
Don't mind heat and humidity? Then June-October is your go-to period. During summer, temperatures are high, humidity is at its peak, and the sunrays are at their most generous. However, that's also the hurricane season, so take that in mind when booking your stay.
What to Do in Miami in 3 Days?
Now that the basics are out of the way, we can dive into the juicy stuff. In this section, you'll discover our battle-tested suggestions on how to spend 3 days in Miami.
Day 1 – South Beach, Wynwood, and Shopping
Hit South Beach – Miami's Energetic Heart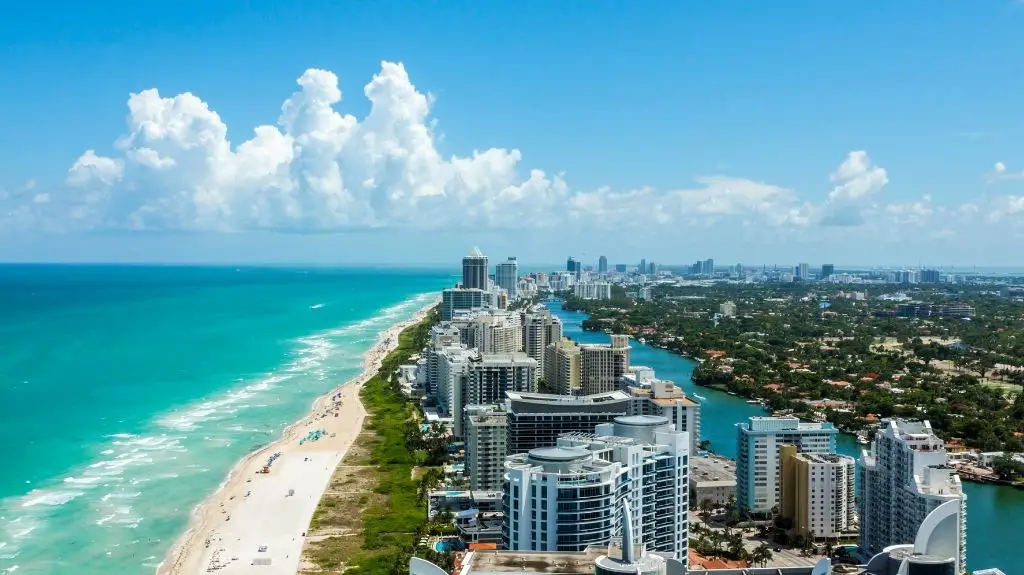 Visiting the Sunshine City and not dipping your toes in the Atlantic Ocean is like going to a steak house and ordering a milkshake. That's why we suggest you quench your Vitamin D thirst with a visit to South Beach.
The iconic beach is one of the things Miami is most famous for. It welcomes a ton of celebrities, so don't be surprised if you bump into your favorite actors on your stroll. And if that doesn't happen, hop on a boat tour that takes you around their homes.
After you've had your dose of sand and famous people, you can move on to the city's Design District – Wynwood – which is very close to South Beach.
Admire Wynwood's State-of-the-art Architecture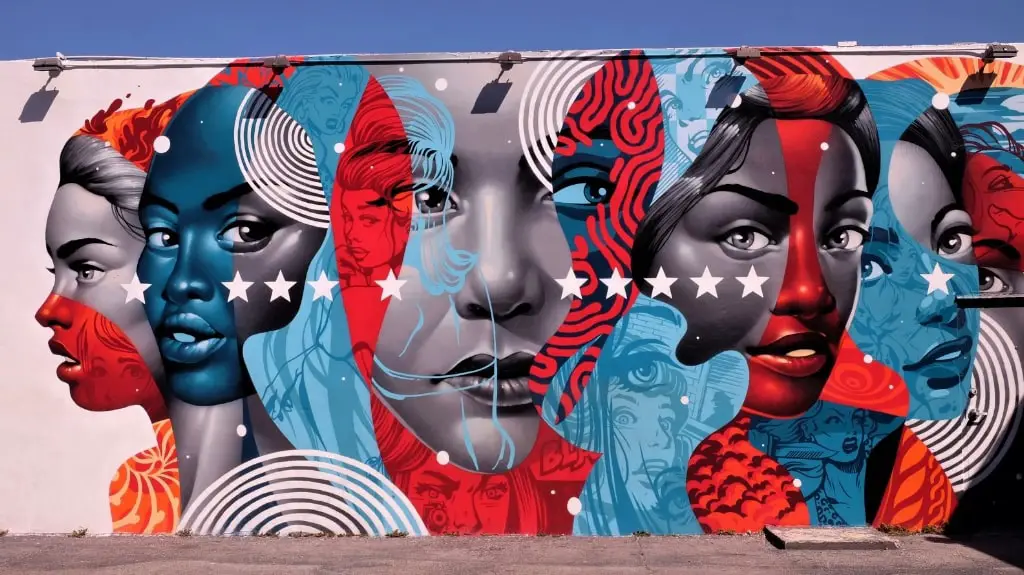 Jaw-dropping creations await your architecture-hungry senses in Wynwood – Miami's iconic Design District.
Plan at least a few hours there as you'll be exploring gigantic art galleries, colorful museums, and miles of picture-perfect murals.
Speaking of murals, you can't afford to not take a look at the Wynwood Walls. Why? Because every single year, they exhibit new paintings making exploring them one of the best free things to do in Miami.
By the time you've finished with your tour around the district, you might be hungry. Don't leave Wynwood yet because it's one of the best spots to eat your heart out in Miami.
We recommend KYU for Asian food, Alter for multicourse tasting menus, and Zak the Baker if you're seeking a quick yet delicious bite.
Hide Under a Canopy of Majestic Palm Trees in Lummus Park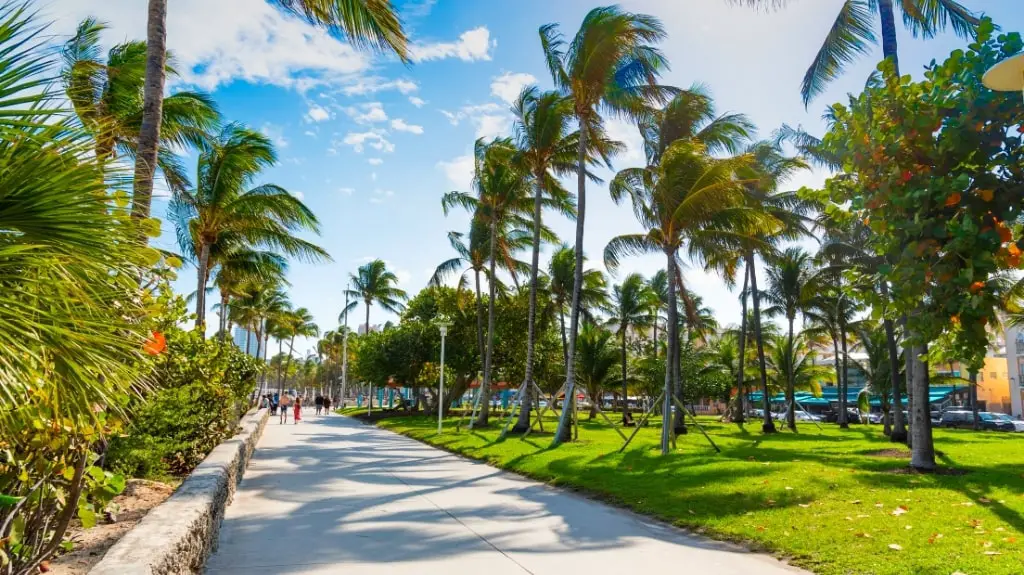 As the day progresses, you might crave some rest in the shade. Head to Lummus Park to escape the mid-day heat.
Ocean Drive on one side.
The Atlantic Ocean on the other.
And 10 blocks of urban oasis in between.
Lummus Park is a meeting place for walkers, runners, and cyclists who come here either for a morning coffee or for a jaw-dropping sunset while doing their sweaty workout.
You'll find changing facilities in the park in case you feel the sunbathing urge again. If not, two outdoor gyms, plus plenty of bikes and skates to rent, will satisfy those who want to clock in some training.
Picnics and yoga sessions under the palm trees are an option, too.
Satiate Your Shopping Desires on the Española Way and Lincoln Road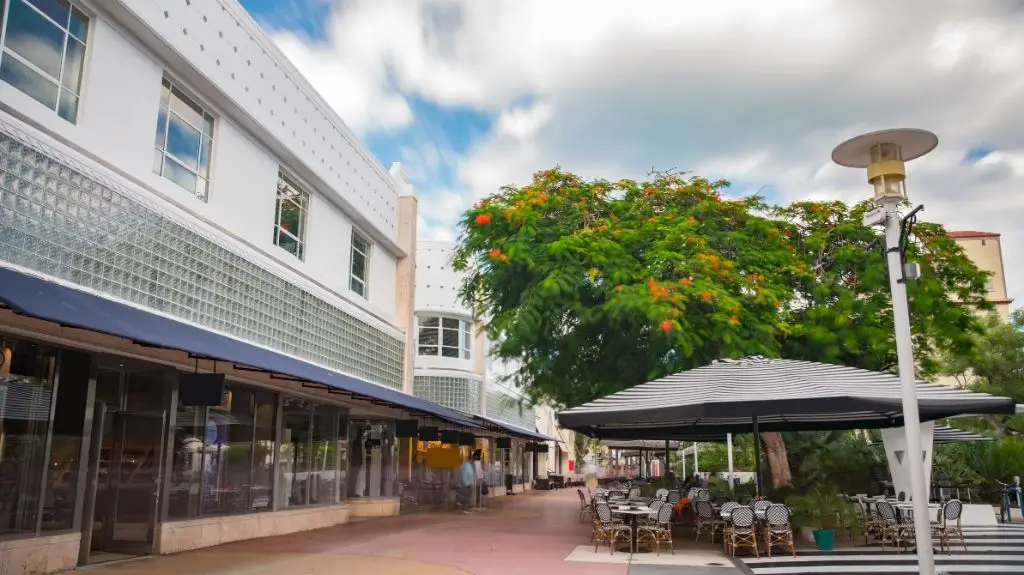 While you're at South Beach, you might as well go on a shopping spree. There's no better place to do that than Lincoln Road and Española Way.
Both streets offer endless options. From tiny boutiques with vintage merchandise to premium brand stores, we're sure you'll find something to bring home.
Once you're done with shopping, consider a quick peek at the windows of Oolite Arts and Britto Central. You won't regret it.
Day 2 – The Little Havana, Vizcaya Museum and Gardens, and Coconut Grove
It's time for day 2 of your three days in Miami getaway. The following suggestions will walk you around a world of culture, peculiar customs, European art, and early settlers.
Take it Slowly in the Little Havana Neighborhood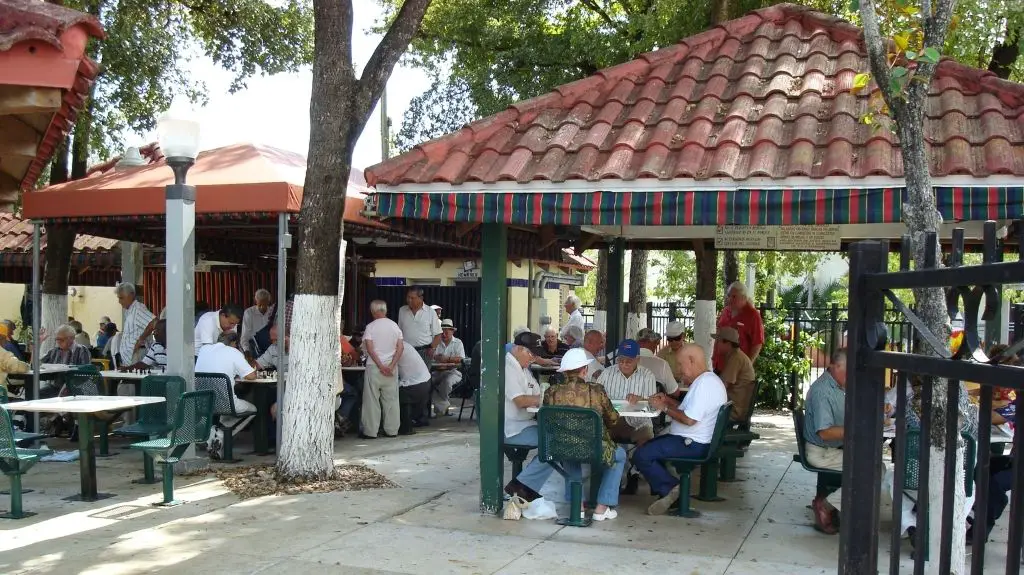 An interesting fact about Miami is that its population is predominantly Hispanic. The close proximity to Cuba explains the origin of the majority of this ethnic group.
So, it's no wonder there's a whole district dedicated to Cubans – the Little Havana.
The neighborhood offers a ton of things you can't do anywhere else in the United States. They include:
Testing your luck at a game of dominos
Seeing how many words you remember from Spanish class
Tasting delicious Cuban food and coffee
Or even observing how locals roll the unique Cuban cigars
One of the greatest things about Little Havana is the fact that most public buses and tours stop there.
If you want to truly experience the beauty of this authentic neighborhood, consider booking accommodation there. That's the best way to suck in the district's unique charm.
And when you get hungry, we highly recommend joining a food tour.
Not only you'll stuff your pretty face with mouthwatering dishes. You'll also leave the district knowing a lot about its peculiar history.
Explore the Lavish Villa at Vizcaya Museum and Gardens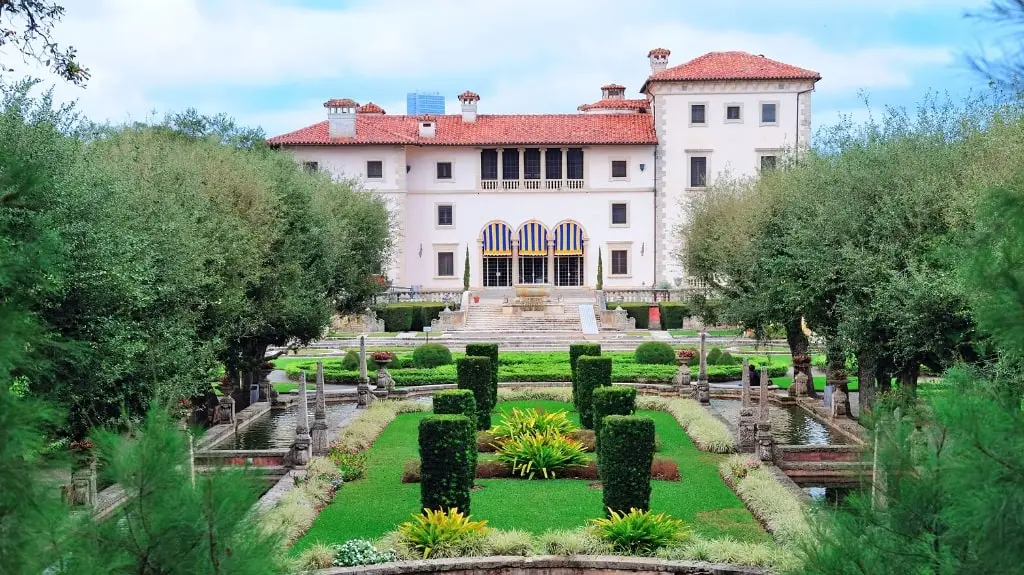 By the time you finish exploring Little Havana, the sun might already be scorching. A great idea to find some solace from the heat is to take a stroll in the gardens of a luxurious villa built as a winter residence.
The magnificent Vizcaya Museum and Gardens take its gorgeous charm from Tuscan and Veneto Italian Renaissance models. Inside the estate, you'll find a museum with breathtaking rooms, lush gardens, and native woodland landscape.
Plus, the bay views of Miami, visible from the mansion, are to die for!
Miami Metrorail and Vizcaya Station serve the location.
Tour Coconut Grove – Miami's Oldest Continually Inhabited Neighborhood
If you'd like to dig deeper into Miami's history, we suggest you head to Coconut Grove. In fact, that's exactly where Vizcaya is located. So, you'll be just continuing your tour around Miami's oldest district.
Coconut Grove owes its foundation to early Bahamian settlers who established it back in 1873.
But if you want another – even more peculiar – detail about the neighborhood, here it is:
There's a rumor that the late Michael Jackson shot his world-famous video Thriller in the graveyard of Coconut Grove. While we can't vouch for this rumor's veracity, visiting the cemetery is definitely an interesting story to tell your friends.
If neither of the above tickles your fancy, you can just walk around the district and suck in every inch of its lush verdure. And if you're a yacht lover – the waterfront is dotted with numerous marinas and sail clubs.
Go Crazy in Aventura Mall – Miami's Largest Mall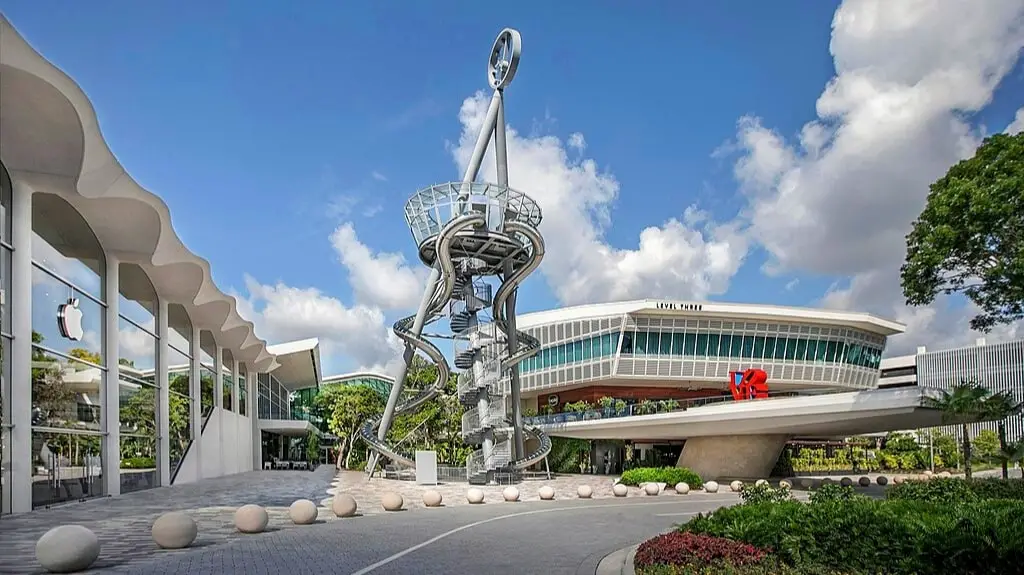 The largest shopping center in Miami and South Florida – Aventura Mall – has a ton of goodies for you. More than 300 stores offer merchandise to both mid-range and luxury shoppers.
The elegant, 3-story mall also features an interactive playground, many eating options, and a movie theater.
Aventura Mall is among the top shopping centers in the United States, and you'll find it on 19501 Biscayne Boulevard – at an equal distance from both Miami and Fort Lauderdale.
In 2020, it earned the TripAdvisor Travelers' Choice award for consistently getting great reviews from visitors.
Day 3 – Downtown Miami, Bayside Marketplace, and Coral Gables
On your third day in Miami, you can take it a bit more leisurely. For that reason, we've prepared a lighter program for exploring and shopping.
Get Lost in a Maze of Skyscrapers and Malls in Downtown Miami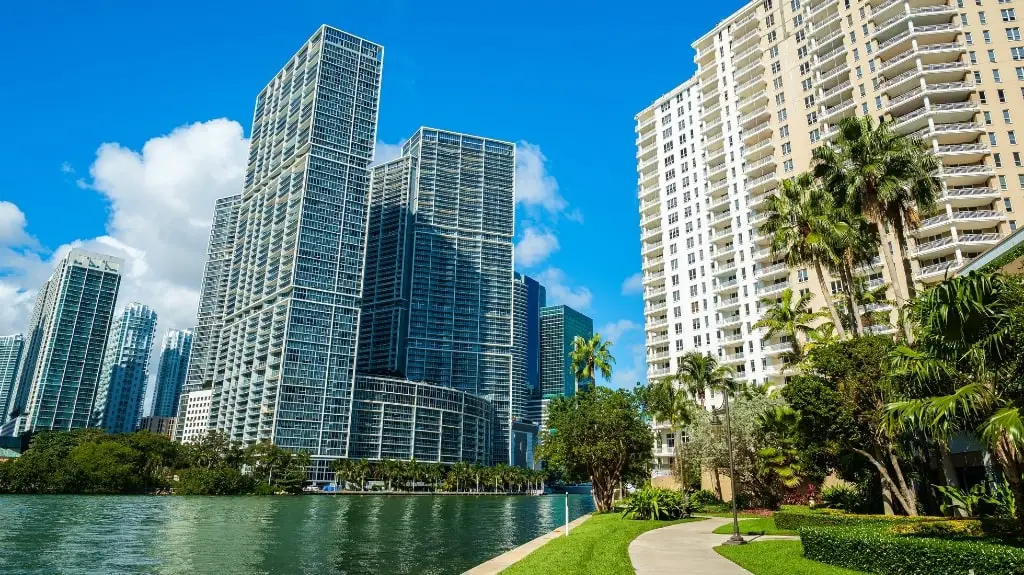 Downtown Miami is domineered by dozens of artsy skyscrapers and ultra-modern residential buildings.
Locals and visitors do business here. But that's also where many social and cultural events happen on a daily basis.
The urban area is also a fantastic shopping spot with tons of open-air malls, including the famous Bayside Marketplace (check the next section).
Downtown Miami is also home to the American Airlines Arena – where animated Miami Heat basketball games happen. In the area, you'll also find the Adrienne Arsht Center, which hosts Florida Grand Opera and the Miami City Ballet.
Spend a Few Dollars in Bayside Marketplace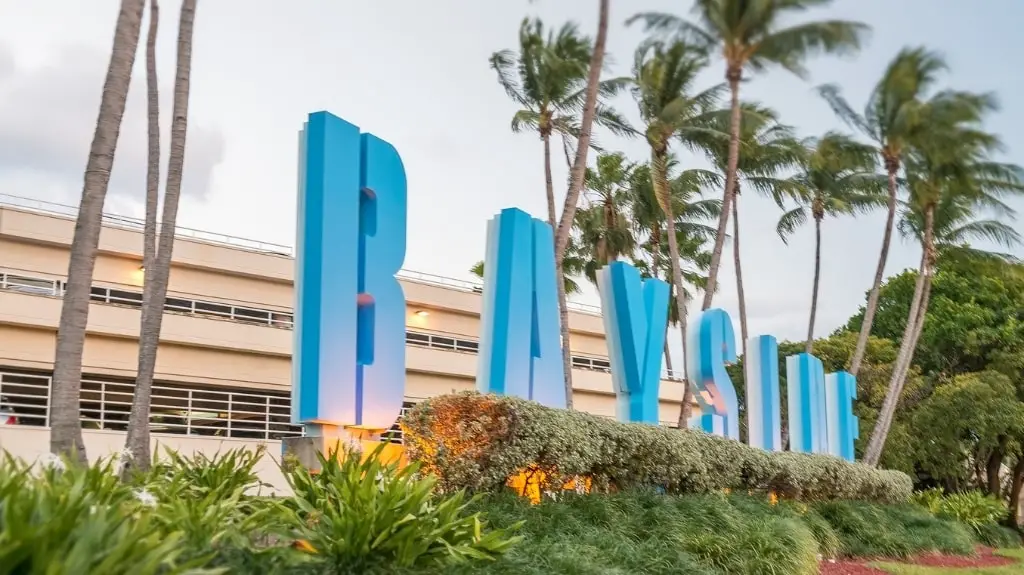 While you're Downtown, we highly recommend discovering Miami's #1 most-visited attraction – Bayside Marketplace. It tops the list of landmarks not only for its great location on the Biscayne Bay but also for its exclusive atmosphere.
The two-story, open-air mall is different from your typical shopping center. There, you'll have a chance to buy your favorite brands while enjoying live music and marveling at the picturesque backdrop of the marina, the waterfront, and Miami's jaw-dropping skyline.
50 carts and kiosks, as well as 140+ inline spaces, await you in Bayside Marketplace. When you're done with shopping, let's head out of Downtown and relax in a truly unique, natural setting.
Splash in the Venetian Pool in Coral Gables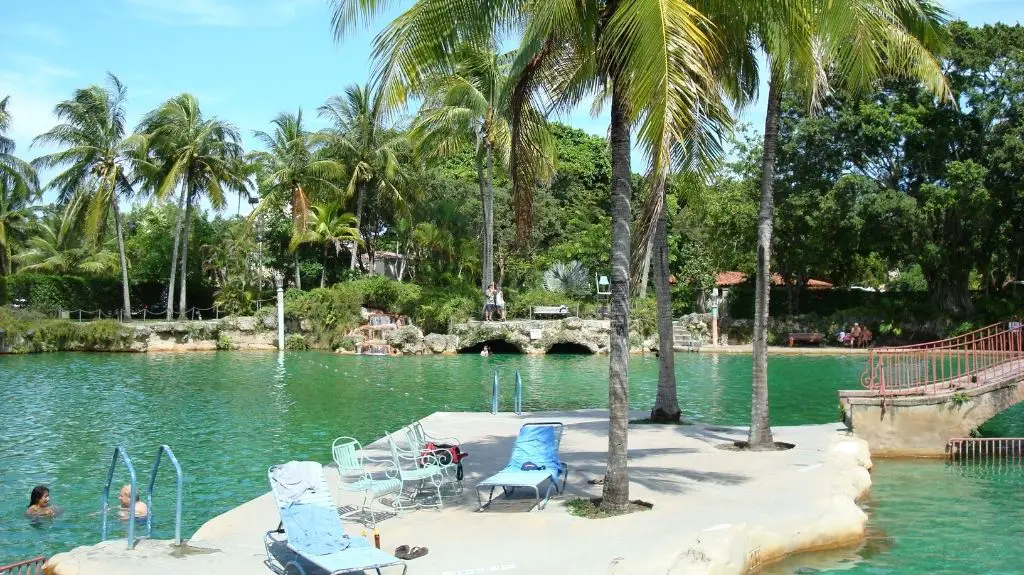 One of the most authentic things you can experience during your 3 days in Miami is splashing in a natural pool. The Venetian is almost 100 years old, carved in a coral rock quarry, and boasting fantastic caves and waterslides.
The pool opened in 1924. Today, its gigantic volume of 820,000 gallons gets spring water from an underground aquifer.
During spring and summer, authorities fill and drain the pool every single day!
Two scenic waterfalls add further beauty to the place's charm. When you grow tired of the sun and the water, just find a shade under one of the palms or lounge in the signature loggias and porticos.
Bear in mind the Venetian Pool sells only a few dozen tickets per day, so book your visit in advance.
Where to Stay in Miami
With close to 6 million people in its metropolitan area, Miami offers an overwhelming range of accommodation spots. In this section, we'll give you our recommendations for the best areas to stay in Miami.
South Beach – Party Animals Sleep Here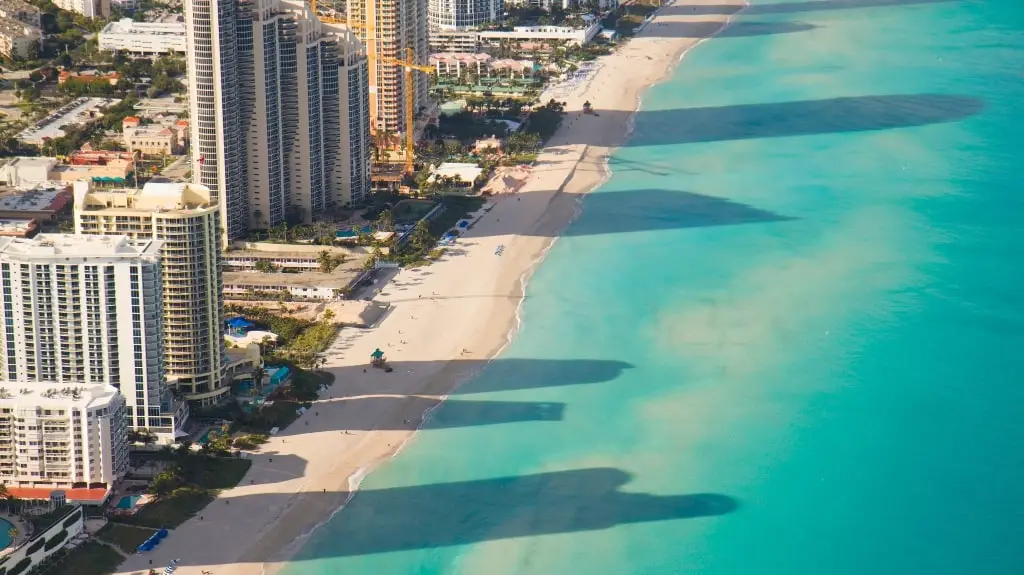 Locally known as SoBe, the area buzzes with party clubs, gourmet restaurants, and hotels accommodating models and A-list celebrities.
Because of the upscale level of visitors and tourists, hotel lodging in South Beach can be pricey. If your budget is tight, but you still want to stay in South Beach, you can opt-in for an Airbnb rental.
Bear in mind that the area is generally noisy. So, if you want to get enough sleep, you might be better off in one of the areas below.
Wynwood – Art Lovers Choose This District
If you're an art worshiper, consider sleeping in Wynwood.
Just north of Downtown Miami, the modern Art District welcomes you with charming, dollar-friendly lodging, including suites, studios, house rentals, and hotel apartments.
Downtown Miami – Stay Here if You Dig High-rise Buildings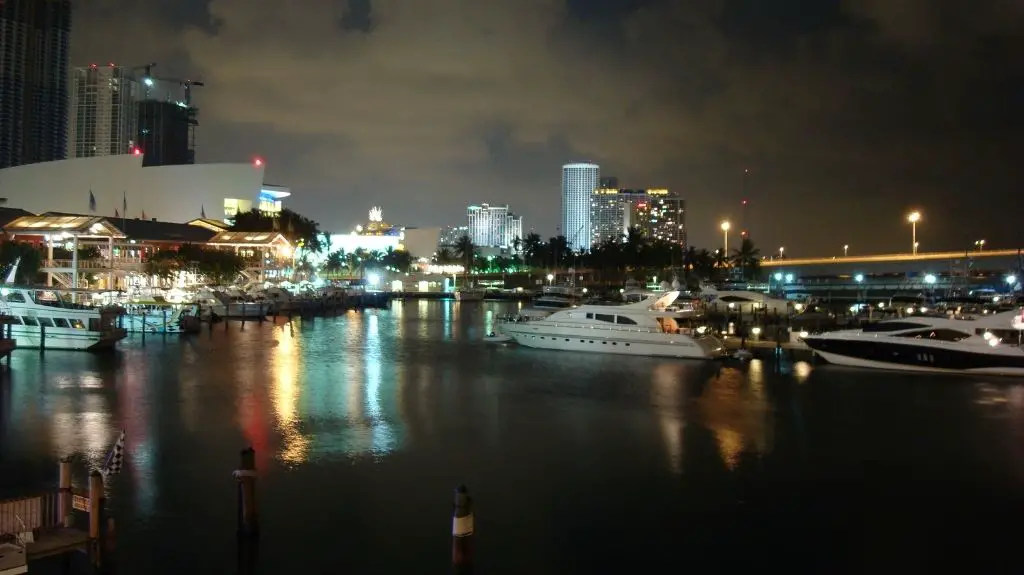 Love skyscrapers? Well, Miami has the third-best skyline in the United States.
And the best way to experience it is to get accommodation in Downtown Miami.
Hotels predominate the scenery, and you'll find anything from budget-friendly to luxurious.
The Little Havana – Accommodations That Suit Any Budget
Staying in the epicenter of this district is the best way to get to know this charming Cuban district.
You can find accommodation that suits any budget. Just try to avoid the area east of 17th Avenue where gangs flock late at night.
Coral Gables – Satisfy Your Boutique Cravings Here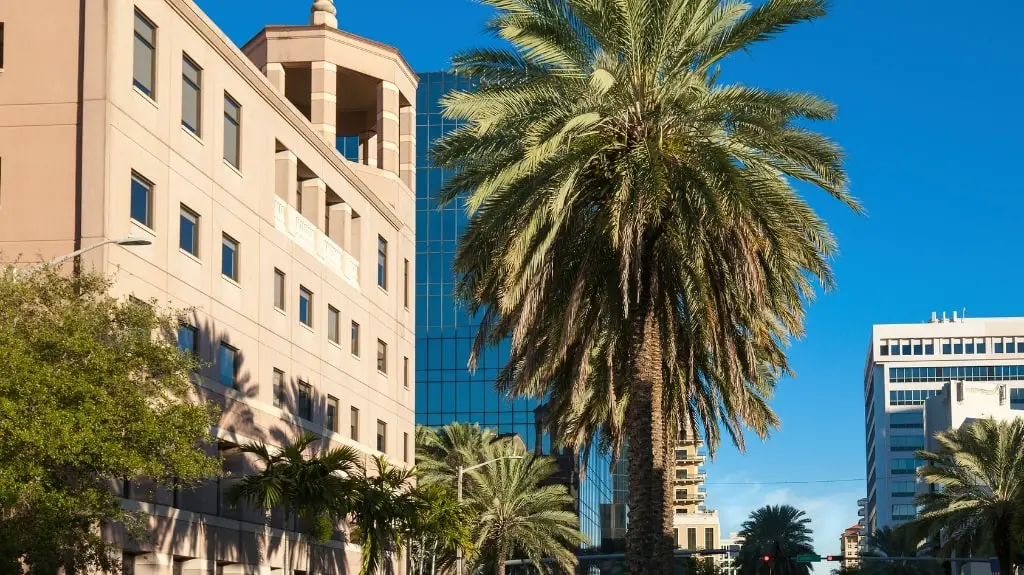 From reasonable rates to top-notch accommodation, you'll find everything in Coral Gables.
If you crave a boutique-type experience, the district packs a lot of historic hotels and luxury lodgings.
But if you don't want to splurge, there's a host of house rentals that won't break the bank.
Coconut Grove – Book a Spot Here If You're Looking for a Quiet Stay
Seeking a quiet and laid-back neighborhood? Then, booking accommodation in Coconut Grove is a great idea.
The lodging options in this green district can suit any budget as most hotels are 3- or 4-star.
3 Days in Miami – A Journey Through Parks, Beaches, Shopping Centers, and Authentic Districts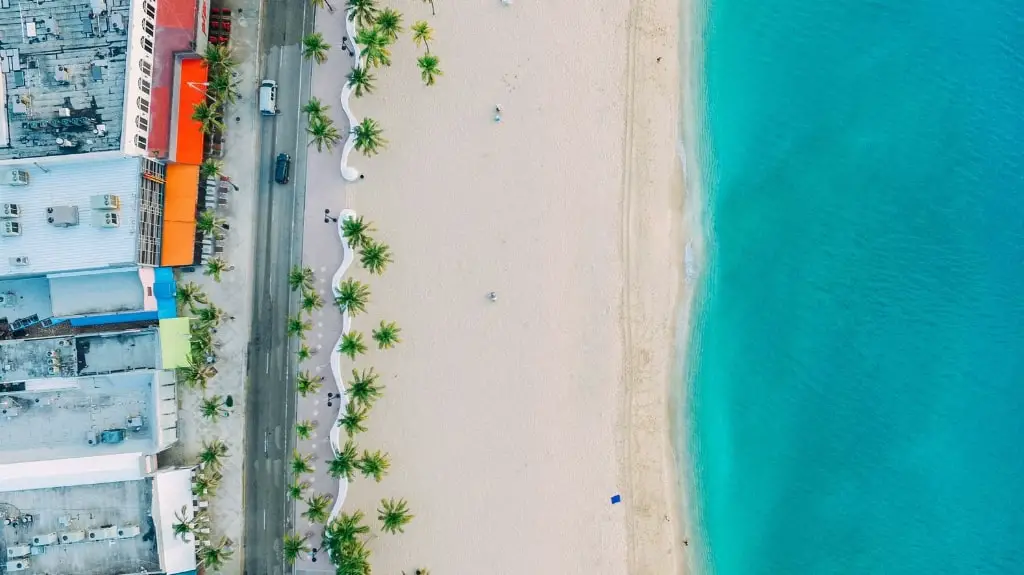 From stunning, world-class beaches to lush, verdant parks, and from neck-bending skyline to authentic districts with unadulterated charm – Miami has it all.
Add in the city's unmatched nightlife and its gorgeous weather all year round, and you'll see that even 3 days in Miami are not enough to cover everything.
However, we're confident that with this itinerary, you'll be able to make the most out of your Miami getaway. Plus, you can always come back for more.
Now, we're curious:
What would be the first thing you'd do when you visit Miami?