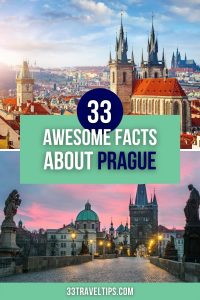 Gothic charm, Baroque-style architecture, and an eclectic mix of culture and history.
All these describe Golden Prague – the enchanting Czech capital.
But did you know locals consume the most beer in the world?
Or that Charles IV built the world-famous Charles Bridge following a mathematical sequence and astrological signs?
Or maybe that Prague Castle is one of the largest in the world?
In this guide, you'll find 33 fun and interesting facts about Prague.
Ready to explore? Let's jump right in!
Start Planning Your Trip to Prague with Our BEST Recommendations:
⭐ Top Tours in Prague ⭐
📍 Prague City Highlights – Prague's best attractions on foot, by bus, and by boat.
📍 Bernard Beer Spa – soak in a bubbling tub of the famous Bernard beer while sipping unlimited quantities of the world-class beverage.
⭐ Best Accommodations in Prague ⭐
🏨 Bishop's House – amazing design hotel in a renovated historic building.
🏨 Golden Well – romantic luxury boutique hotel with Renaissance opulence.
⭐ Easiest Transportation Options in Prague ⭐
🚍 Omio – check out the available buses and trains to and from Prague.
🚍 Discover Cars – compare and find the best rates for car rentals in any destination.
Note: This article contains affiliate links. In case you purchase something through one of these links, we may receive a small commission at no extra cost for you. Thank you for helping us keep creating the free content on this website!
Deliciously Cool Food Facts About Prague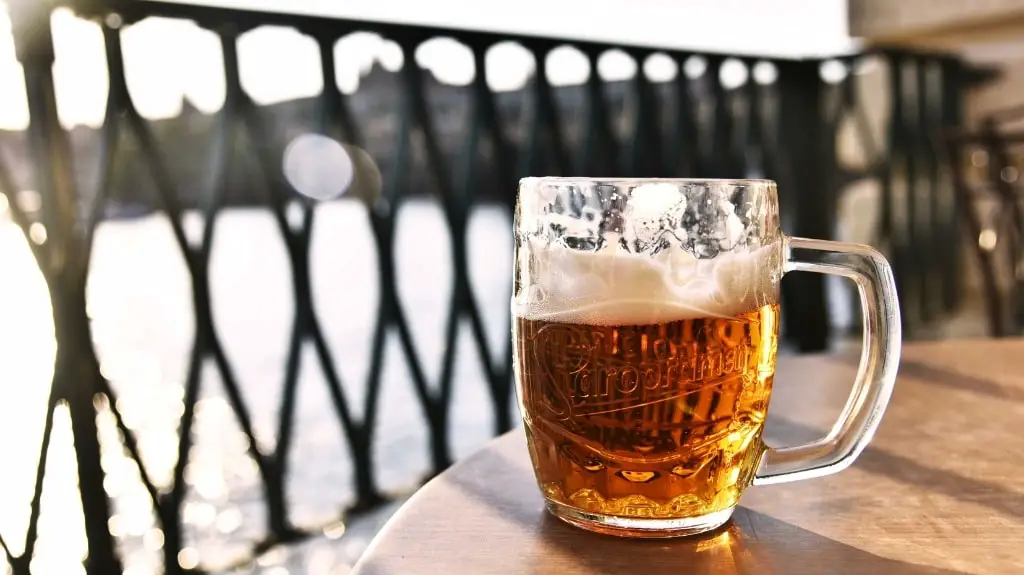 Let's kick this guide off with the most delectable section – facts about food and drinks in Prague. The city's culinary scene is one of the best reasons to visit Prague. Get a napkin as you'll generate huge amounts of saliva while reading.
Czechs are the world champions of beer consumption per capita. What's even more interesting is that they beat the Austrians (second in the world) by almost 2x – 188.6 liters (398.6 U.S. pints) for the Czech Republic vs 107.8 (227.8 U.S. pints) for Austria. This means only one thing – if you're a beer fan, you'll love pub crawling in Prague. Czechs have been leading the rankings for 28 consecutive years – since 1993.
Beer and spa? It's possible in Prague. You read that right. In the Czech capital, you can soak in beer while drinking unlimited amounts of it (from a separate keg, of course). Beer's high hop oil content helps to open up your pores and aids in easing stress, stimulating metabolism, and boosting immunity. That's certainly one of the craziest facts about Prague. By the way, you can bathe in beer in Budapest as well.
The first café in Prague dates back to the 16th century. Golden Snake opened its doors in 1714 on Karlova Street. It's almost as old as Le Procope in Paris, which was the first in the world and has been welcoming visitors since 1686.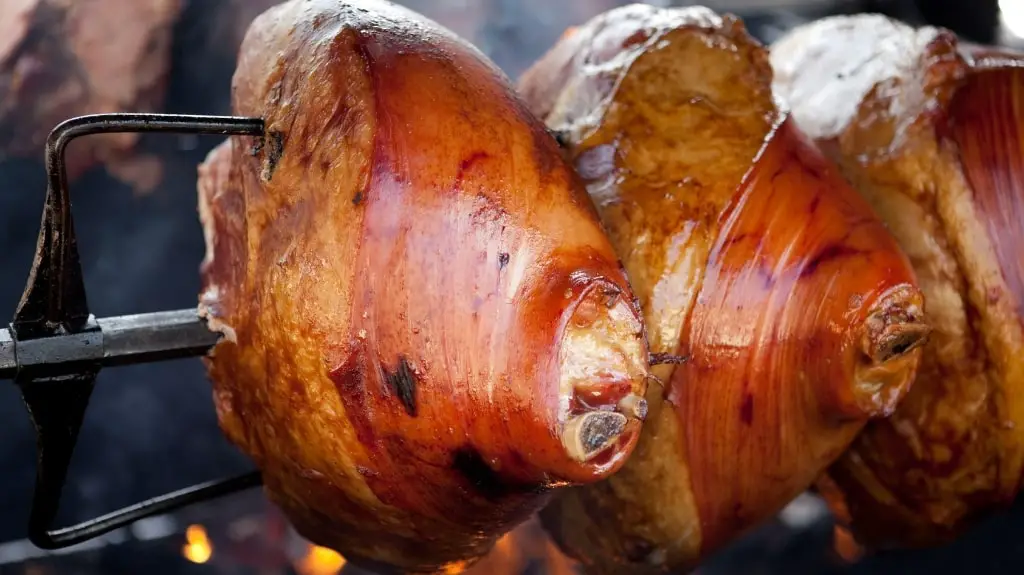 The city has many of its own culinary delicacies. Prague is famous for its delectable cuisine. The most popular dishes include Prague-fried eggs, Prague Cake, Beef Brisket in Prague Manner. We shouldn't forget the world-famous Prague Ham (Pražská šunka), which is first cured in brine, then stewed, and finally smoked to perfection.
Prague's pork knuckle is finger-licking good. Locals are truly obsessed with this traditional Czech delicacy. And you might get addicted, too, especially if you like ham hock. The best spots to taste this foodgasmic dish include Pivovar U Tří růží, Mlejnice, and Pork's.
Prague was the first post-communist city to have a Michelin-star restaurant. Allegro was a top-notch restaurant in Prague's Four Seasons Hotel. In 2008, it was the first restaurant from the former communist bloc to get the prestigious Michelin star. Sadly, today, the restaurant is closed.
The first "co-working space" in Prague was Café Louvre. Opened in 1902, this elegant café was the capital's largest at the time – it could accommodate up to 700 guests. But there's one other peculiar bit about it. Café Louvre also served as an office. Visitors used the place's telephone and writing room.
Prague Facts That Are Hard to Believe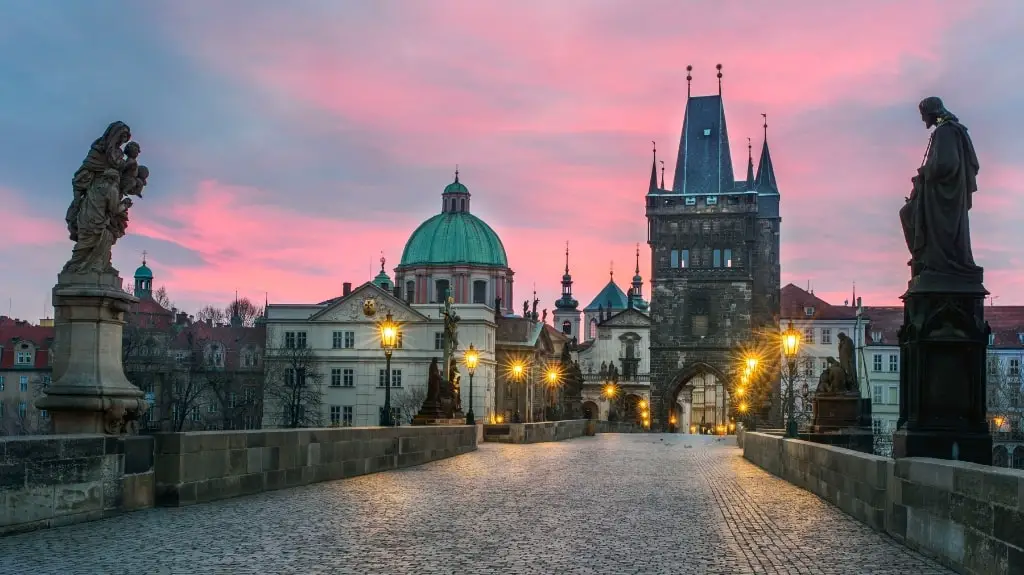 The capital of Czechia teems with surprising facts. In this section of our guide, you'll find the craziest, most unbelievable facts about Prague.
The official inauguration of Charles Bridge was at 5:31 am on July 9th, 1357. King Charles IV was a very superstitious man who believed in astrology and numerology. That's why he erected the bridge following a palindrome – a numerical sequence you can read the same way from both ends – 1-3-5-7-9-7-5-3-1 (year, day, month, time). Crazy Prague fact, isn't it?
Prague's narrowest street is just 20 in (50 cm) wide. Because of its tiny size, there are traffic lights on both sides. They help to prevent people from meeting in the middle and wondering how to pass each other. The street's name is Vinárna Čertovka, and you can try getting in near Lužického semináře street. In the past, there were many streets like this one – serving as fire access route to the Vltava River. Today, this is the only one remaining.
Urban legend says Hitler didn't want to destroy Prague's Jewish quarter. In fact, his initial plan was to settle in the capital and turn the Josehof Quarter into a museum, preserving the memory of "the extinguished race". Hitler didn't demolish Prague's Jewish Quarter during World War II because he wanted to retire there. This must be one of the weirdest facts about Prague.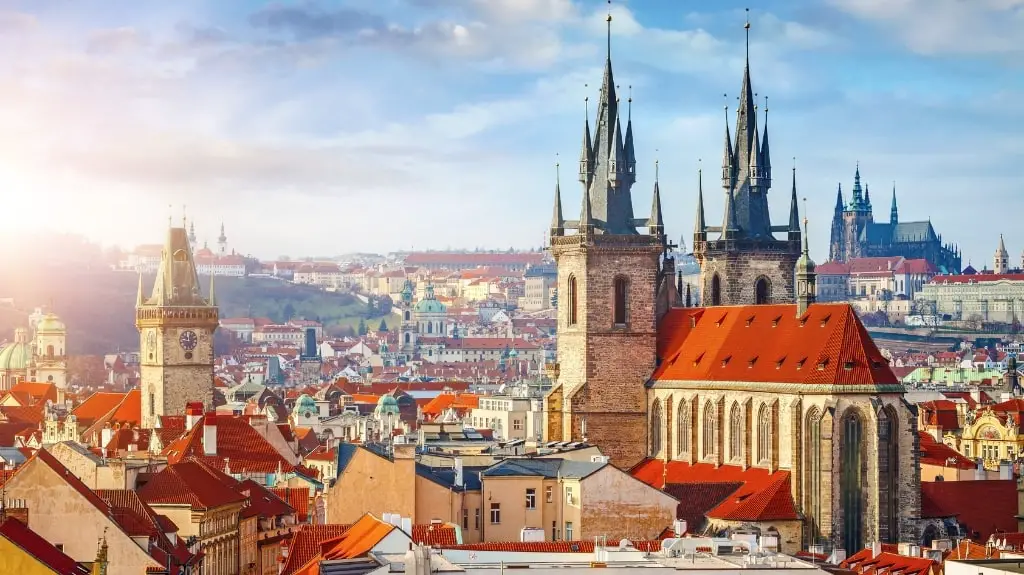 Prague bears the nickname "The City of a Hundred Spires". It got this moniker because of the 120+ spires and towers you can find across the city. And these are just the large ones. Many enthusiasts tried to count all spires and towers that dot the city. The total number they ended up with is between 500 and 1,000, excluding the small spires on residential buildings. This fact about Prague makes the Czech capital extremely camera-friendly.
The "Man Hanging Out" ("Zavěšený muž") is not real. Many visitors to Prague have mistaken this unusual sculpture for a real man who's trying to commit suicide. The sculpture portrays the Austrian neurologist Sigmund Freud, and you can find it in the Old Town. Freud had many fears, including a phobia of his own death. The striking thing about the sculpture is that it looks very realistic. The resemblance with a real person has freaked out many tourists.
Prague's Astronomical Clock Tower hides a crazy legend. According to it, Old Town councilors blinded Hanus Carolinum, the genius who created the world-famous clock tower. They did that because they feared Carolinum might create a similar clock tower in another city, making Prague's less unique. This must be one of the most brutal yet interesting facts about Prague.
The legend might not be true, but there's a replica of the Clock Tower. If you go to Seoul, South Korea, and visit its Hongdae district, you'll be up for a nice visual treat. Why? Because you'll marvel at an exact replica of Prague's Astronomical Clock Tower. We guess blinding Carolinum wasn't enough, eh?
Cool Facts About Prague's Gorgeous Landmarks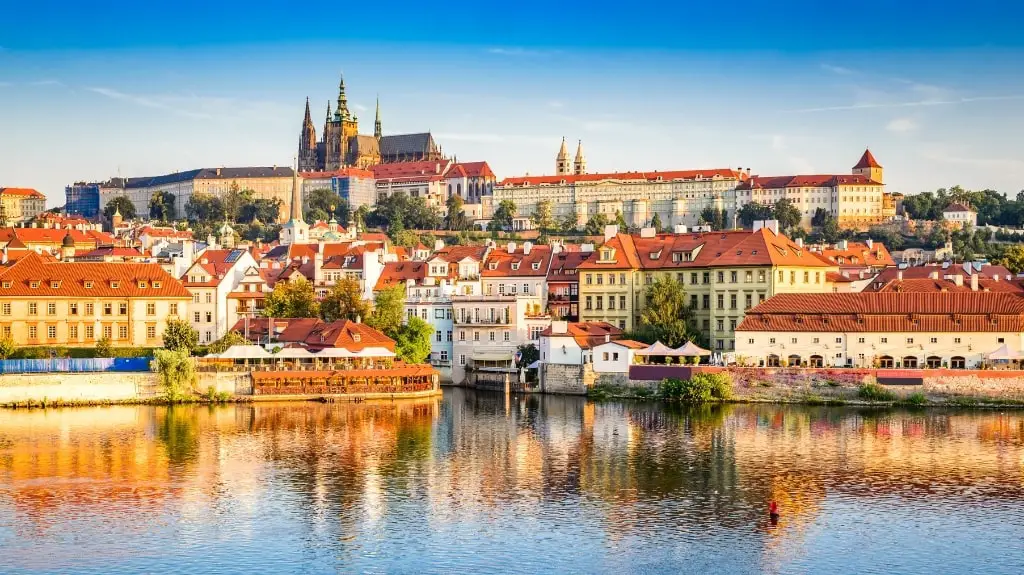 The capital of the Czech Republic teems with mesmerizing attractions. Many of them reveal peculiar stories. Find all of them in this section with surprising facts about Prague's landmarks.
Tip: If you can't decide between Prague vs Budapest or Prague vs Vienna for your next city escape, check our detailed comparisons.
The Prague Castle is the third-largest in the world. Despite that the Guinness Book of Records places Pražský hrad at the top spot, by land area, it's the third-biggest in the world. The Malbork Castle in Poland (first) and the Mehrangarh Fort in India (second) are larger. The Prague Castle occupies an area of 718,609 sq. ft. (66,761 sq. m). It's among Prague's most popular tourist landmarks with close to 2 million visitors per year.
The city once hosted the largest town square in Europe. In medieval times, Charles Square was the biggest town square on the Old Continent. Today, it still remains as one of the world's largest. In the past, it went by the name Cattle Market. Charles Square sounds way posher now, doesn't it?
A Prague landmark offers jaw-dropping views of the city. Resembling the Eiffel Tower in Paris, only 5x shorter, the Petřín Lookout Tower provides you with a fantastic vantage point. Plus, its location on Petřín Hill makes its 197 ft. (60 m) appear much taller than it is. If you're feeling adventurous, climb all 299 stairs to the top for a heart-stopping panorama of Prague.
Europe's oldest active synagogue is in the Czech capital. The Old-New Synagogue, often called Altneuschul, was one of Prague's first Gothic buildings. It's not only the oldest active synagogue in Europe but also the oldest surviving medieval synagogue with a twin-nave design.
A drop-dead beautiful urban woodland awaits you just out of the city. Prague has a ton of lush parks within its city limits. But if you venture out to Divoká Šárka, an urban woodland will spellbind you. The area offers a stunning valley where you can hike, swim, or even do a session of golf.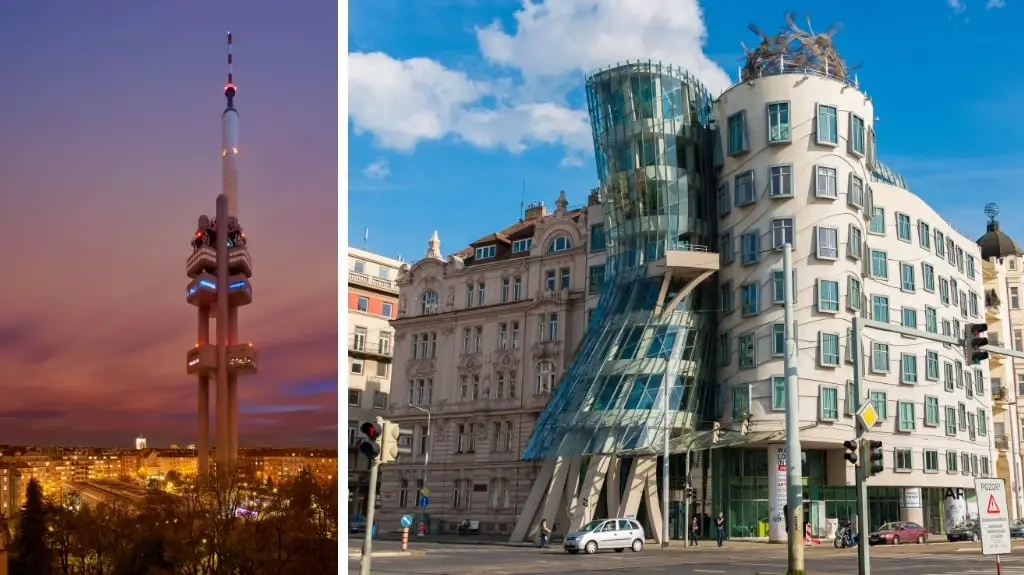 Prague has a Dancing House. Its original name was Fred and Ginger – after the dancers Fred Astaire and Ginger Rogers – because it looks like a pair of dancers. The building's non-traditional design was quite controversial at the time it was erected – 1992. That's because the deconstructivist structure has nothing to do with the Gothic, Baroque, and Art Nouveau buildings that surround it. The best bit about it? Two of the floors of the Dancing House host 21 luxurious rooms you can rent!
In Prague, you can stay at a "Soviet" hotel with a jaw-dropping panorama. The Žižkov TV Tower is a rather unattractive Soviet-era building that adds a repulsive appeal to Prague's otherwise gorgeous skyline. The humongous tower looks like it's about to torpedo into outer space. It might not look amazing from the outside, but if you go to the top, the sweeping views of the city will make up for it. Or you can just book a stay at the One Room Hotel and enjoy Prague from 230 ft. (70 m) high. (You can find more ideas about where to stay in Prague in our article.)
Numerous famous people lived or performed in Prague. Beethoven had two public piano concerts in Prague. Mozart performed at least a few of his operas in the city. Franz Liszt lived in the Czech capital for six years and put on many concerts there. Many other popular Czech composers performed in Prague, too, including Antonín Dvořák, Bedřich Smetana, and Leoš Janáček.
In Prague, you can find a graffiti wall dedicated to John Lennon. Once, it was a typical wall. Since the 1980s, though, local graffiti artists filled the Lennon Wall with lyrics from The Beatles, love poems, and designs relating to various local and global causes. Discover this cool landmark at Velkopřevorské náměstí, just across the French Embassy.
Lots of ghosts haunt the famous Charles Bridge. Prague's most famous bridge – Karlův most – connects the Old Town to Mala Strana over the mighty Vltava River. Erected back in the 1300s, the bridge is supposedly haunted by ghosts whose heads ended up on nearby spikes. Locals claim they've seen them walking across the river.
Fun Facts About the City of Prague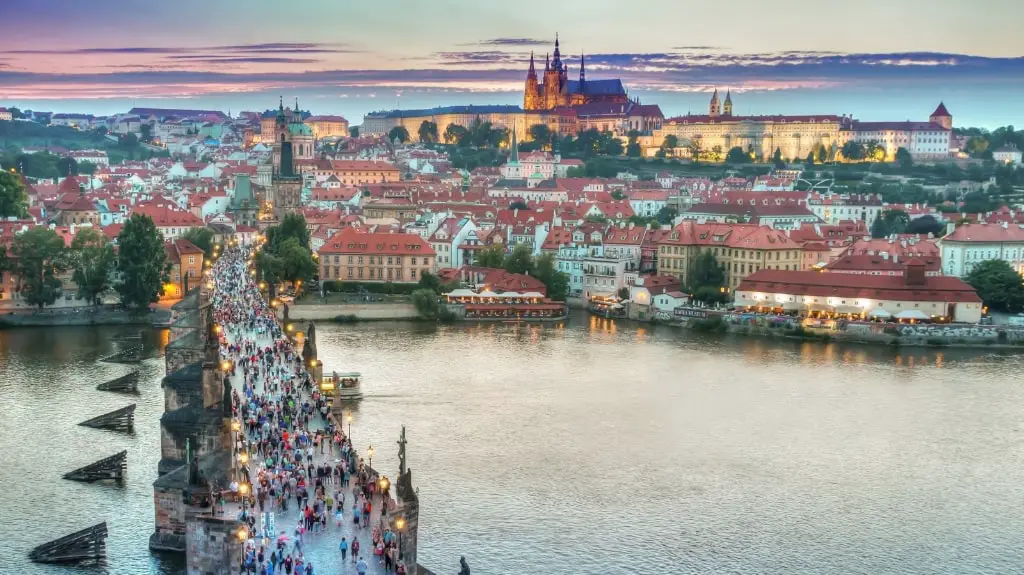 Would you like to discover some really cool facts about the city of Prague? Well, we've prepared several in this section. Let's take a look, shall we?
Prague is by far the biggest city in Czechia. Other large cities are not coming even close. Prague's 1.44 million residents are almost 4x more than those of the second-largest city Brno whose population is just over 380,000.
8+ million tourists visit Prague each year. Out of them, over 7 million are foreigners. Germans represent the biggest tourist group, followed by Slovaks, Poles, Russians, Americans, and Chinese. The whole country welcomes over 20 million international visitors every year.
The largest club in Central Europe is in Prague. The city is not only famed for its mouthwatering beers and finger-licking food. The capital of Czechia is one of Europe's best cities to dance the night away. And there's no better place to do so than Karlovy Lázně. Five stories of bars, dancefloors, various themes (an ice bar among them), and music to match anyone's liking make it not only the largest but also the most fun club in Prague.
The city houses one of the world's oldest and most prestigious universities. Charles University is not only one of Czechia's most prestigious academic institutions. It's also its oldest one. Emperor Charles IV – the greatest ruler of the Bohemian Kingdom – founded it in 1348. It's ranked as the 210th best university in the world according to U.S. News.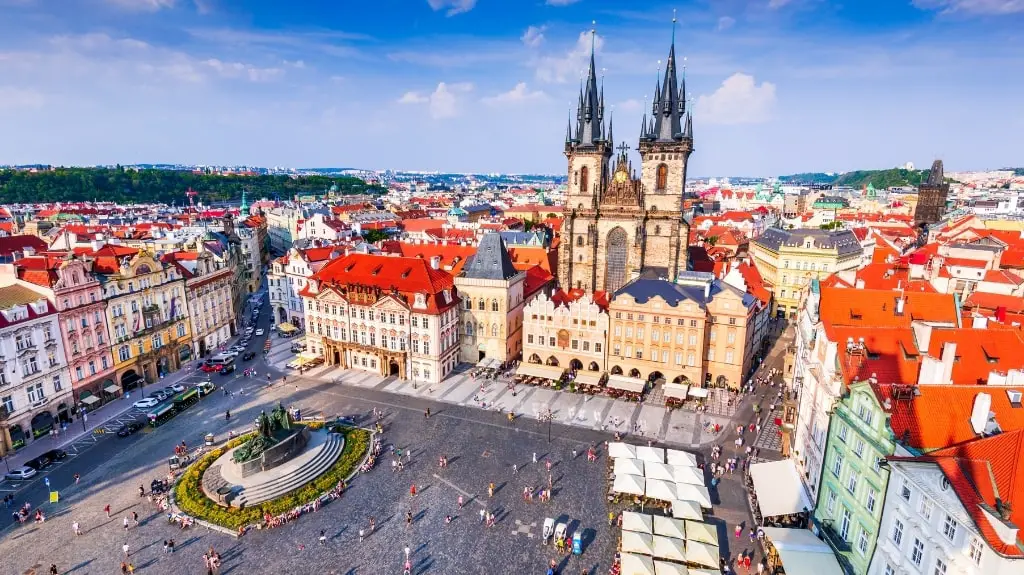 Prague is home to one UNESCO World Heritage Site. However, the site is not just one spot but the whole historic center of Prague. In the maze of its cobble-stoned streets, you can find architectural miracles and magnificent monuments erected between the 11th and 18th centuries. They include the St. Vitus Cathedral, the Hradčany Castle, the Charles Bridge, and many other gorgeous churches and palaces that Emperor Charles IV built in the 14th century.
It's home to 10 major museums, as well as galleries, theaters, and cinemas. If you're a culture vulture, you'll have the time of your life in Prague. Museum aficionados shouldn't miss the following ones:
Kafka Museum
Apple Museum
Museum of Communism
Jewish Museum in Prague
Museum of Decorative Art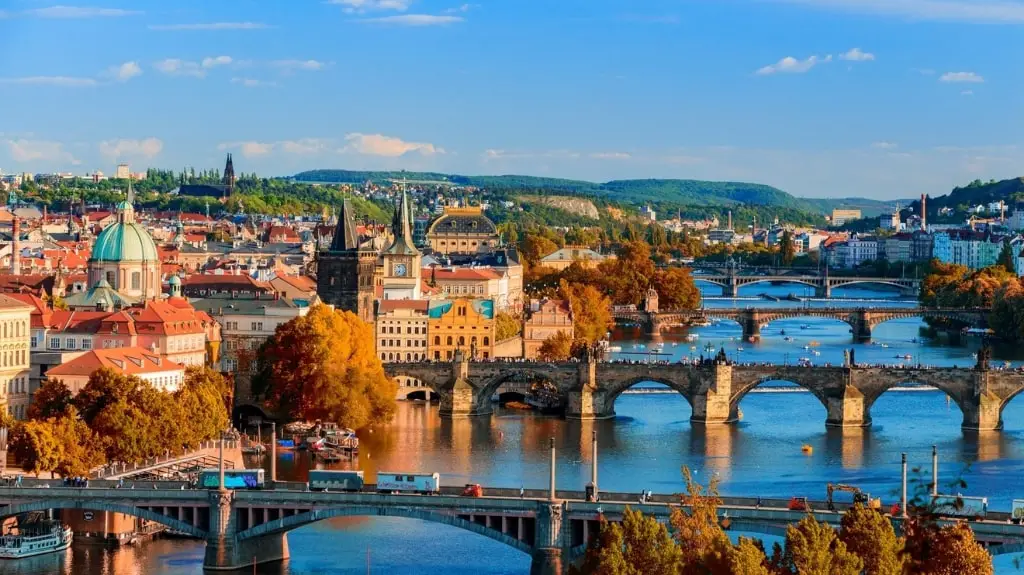 Prague occupies the banks of the country's longest river. The Czech capital won't have the same alluding charm without the majestic Vltava River that dissects its center. With its 267.4 mi (430.3 km) in length, it's the longest river in the Czech Republic. For that reason, one of its nicknames is the Czech National River.
18 bridges straddle the Vltava River. They make for a perfect background for your shots. However, if you think this number of bridges is high, we'll surprise you. The city with the most bridges in the world is Hamburg, and it has a whopping 2,200+ bridges. Unbelievable, isn't it?
Prague ranks as an Alpha-global city. A global city – also known as an alpha city, world city, or power city – is a city deeply involved in global trade. The classification also reflects the city's financial power and infrastructure. Two Alpha++ cities top this ranking, and they're London and New York.
Which Are Your Favorite Prague Facts?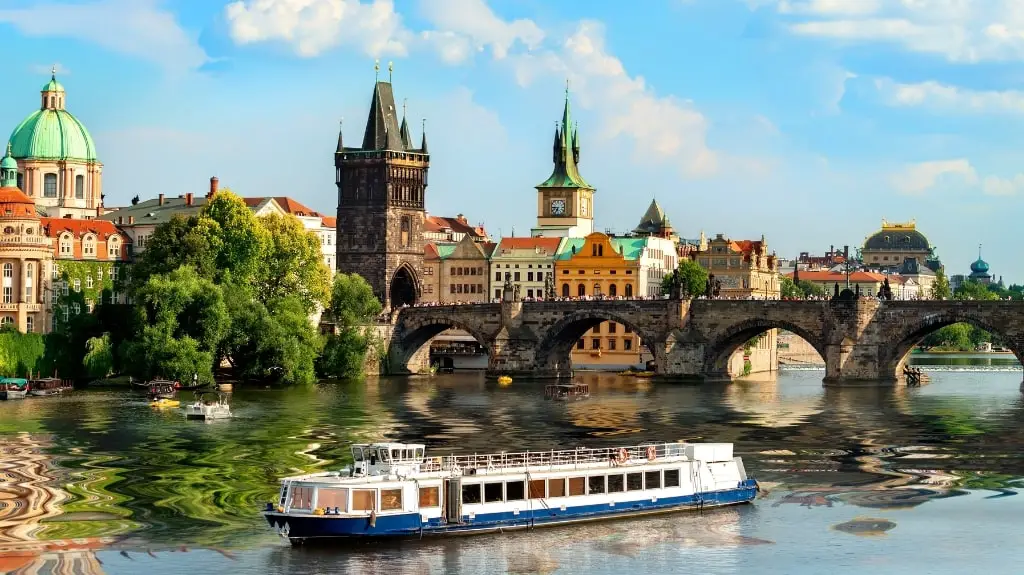 If you weren't already infatuated with the Czech capital before you read our guide, we bet these 33 facts about Prague have made you fall in love with it.
We mean, who can say NO to medieval castles, majestic river meanders, world-class beer, and heart-stopping Renaissance architecture?
If you'd like to prepare for your visit to the capital of the Czech Republic in the best way, don't skip our Prague travel tips.
Start Planning Your Trip to Prague with Our BEST Recommendations:
⭐ Top Tours in Prague ⭐
📍 Prague City Highlights – Prague's best attractions on foot, by bus, and by boat.
📍 Bernard Beer Spa – soak in a bubbling tub of the famous Bernard beer while sipping unlimited quantities of the world-class beverage.
⭐ Best Accommodations in Prague ⭐
🏨 Bishop's House – amazing design hotel in a renovated historic building.
🏨 Golden Well – romantic luxury boutique hotel with Renaissance opulence.
⭐ Easiest Transportation Options in Prague ⭐
🚍 Omio – check out the available buses and trains to and from Prague.
🚍 Discover Cars – compare and find the best rates for car rentals in any destination.
Now, we'd love to know:
Which are your favorite facts about Prague?