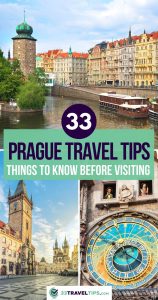 The Golden City enchants visitors from all over the world.
Located in the heart of Europe on the banks of the magnificent Vltava River, Prague will seduce you with its history, architecture, and beverages. The Czech capital offers visitors unique activities you can't find anywhere else.
The following 33 Prague travel tips will help you prepare for your visit to this fascinating city.
In this article, you'll discover how to stay safe, what unique transportation to ride, and what not to miss tasting.
Using the navigation below, let's get lost in the charming streets of Prague!
Start Planning Your Trip to Prague with Our BEST Recommendations:
Top Tours in Prague
Best Accommodations in Prague
Easiest Transportation Options in Prague
Note: This article contains affiliate links. In case you purchase something through one of these links, we may receive a small commission at no extra cost for you. Thank you for helping us keep creating the free content on this website!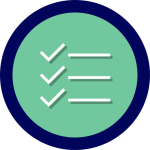 Preparation – Things to Know Before You Visit Prague
Although generally safe and easy to navigate, there are a few things you need to know before traveling to Prague, Czech Republic. Make sure you take special note of the last travel tip in this section.
Do you need a visa to travel to Prague? Czechia is a member of the European Union and the Schengen Area. As such, it lets U.S. citizens with a passport valid for at least 6 months to explore the country for a maximum of 90 days without a visa. Check out the complete list of visa requirements on the official website of the European Union.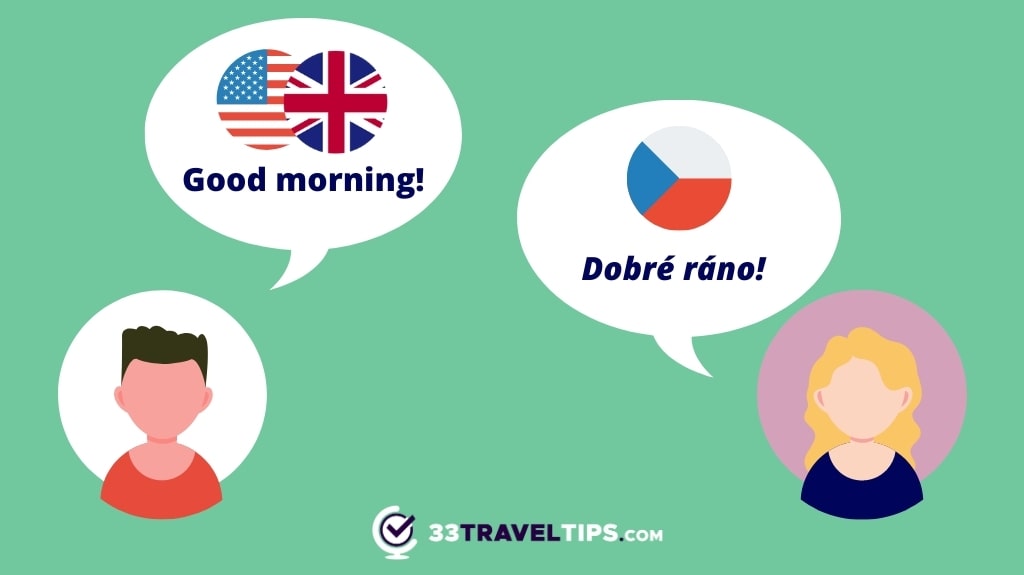 Czech is the official language of the Czech Republic. Historically also known as Bohemian, it is a West Slavic language, like Slovak. 10+ million people speak it natively. In Prague, you'll get along with English easily. Many of the signs and menus are written in multiple languages. However, if you want to impress locals, here are several common phrases for you:
| | |
| --- | --- |
| Good morning! | Dobré ráno! |
| Goodbye! | Ahoj! |
| Thank you! | Děkuji! |
| Excuse me? / I'm sorry! | Promiňte? / Omlouvám se! |
| Yes / No | Ano / Ne |
Note: Similar to the Italian ciao, ahoj means both hi and see you.
Is Prague safe to visit? As in most popular destinations, tourist spots in Prague are plagued by pickpockets and beggars. Be careful with your belongings. Prague's Old Town is crowded all-year-round, so make sure you keep your pockets and bags secure from everyone around you. Another place to be extra cautious is the subway, especially in heavy traffic.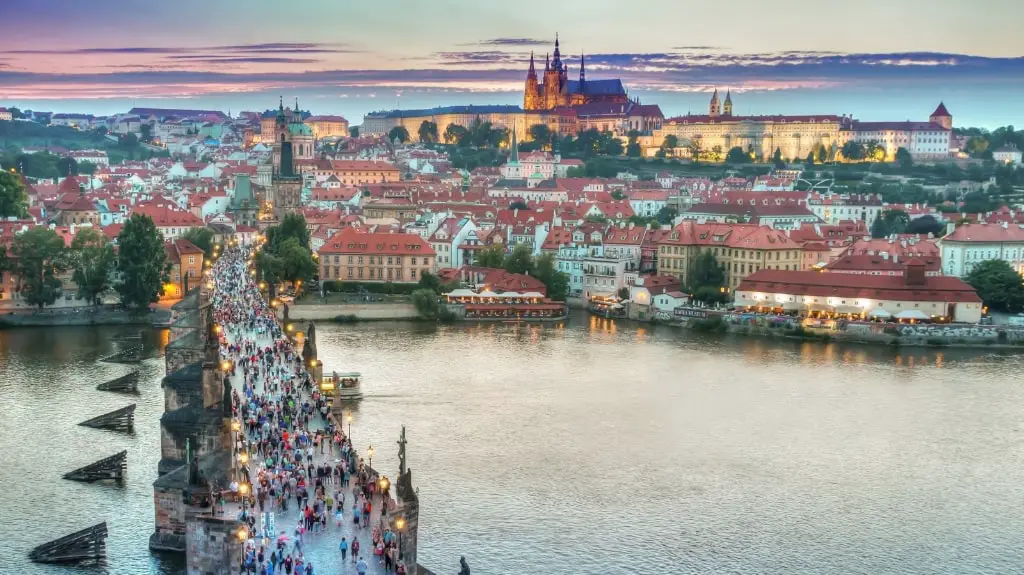 Beware of these scams when in Prague. Pickpockets are the most common crimes against tourists but make sure you avoid falling for these scams as well:
Scams in restaurants. Always check the prices in the menu and the items on the bill before paying. Sometimes, waiters might try to add some "extras" to your check – foods or drinks, sauces, or bread you didn't order. In other situations, they might write different prices than the ones on the menu you ordered from. Several years ago, a waiter tried to scam Naddya and her travel companion with the latter. They loudly refused to pay and demanded their bill to be recalculated with the prices from the menu they saw before ordering. Note: Čertovka is one of the most notorious restaurants near the Charles Bridge which you should avoid despite the fantastic views it provides.
Taxi scams. Drivers might try to overcharge you by using a rigged meter, higher rates, or taking a longer route. Our advice is to use Prague's excellent public transportation instead.  
Money exchange scams. If you can avoid it, don't exchange money at kiosks. The rate is often unfavorable to travelers. Don't be tempted to pay in USD either. You'll always pay more than in the local currency. It is best to withdraw cash from an ATM or use the exchange office at a bank.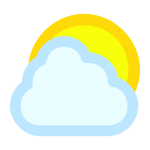 Weather – When Is the Best Time to Visit Prague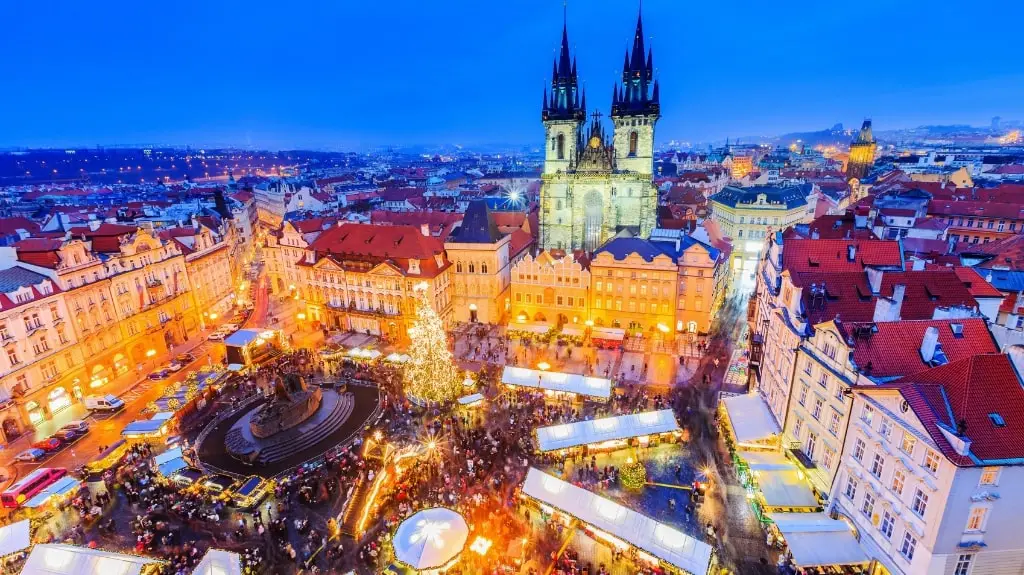 The moderate climate of the Czech Republic offers four distinctive seasons. In Prague, it's often windy due to the city's location on the banks of the Vltava River.
Summers are warm and winters are freezing. The most rain falls in spring and autumn. The Christmas holidays and the summer vacations bring the most visitors.
You'll find that the best time to visit Prague is after the winter holidays, in late spring, and in early autumn. But don't worry. You'll have enough awesome activities and escapes from the crowds in all seasons.
Winter in Prague is freezing cold but fairy-tale wonderful. Expect snow, wind, and subzero temperatures. You can best escape the icy weather at the Christmas Markets, which Prague is famous for. Keep yourself warm with mulled wine, hearty meats, and lip-smacking sweets. If you're in need of indoor activities – museums, churches, castles, and pubs offer countless hideouts from the cold. And if the temperatures don't bother you, go ice skating in the very heart of the Old Town.
In spring, you'll share Prague with fewer tourists and enjoy warmer weather. It's also the time of the Prague Spring International Music Festival. The city's largest festival celebrates music, freedom, and cultural diversity. It honors the Prague Spring protests from 1968. For over 3 weeks, the classical performances of almost 100 orchestras from around the world enchant visitors and locals in the Czech capital. Other notable events in spring are the Prague Czech Beer Festival in May and the Night of Churches in June.
Summer brings hordes of tourists to Prague. To avoid the crowds, you can rent a pedal boat and conquer the Vltava River. The riverside pedestrian area called Náplavka is where you can join tons of summer activities. Watersports, concerts, screenings, markets, and festivals will enchant you, especially in the breezy evenings. Countless parks and islands also provide a summer escape from the high temperatures and packs of tourists in Prague.
Autumn is the best season to discover that Golden Prague fully deserves its name. The colors in the city are magnificently vibrant and make the capital even more photogenic than in other seasons. But here's another secret. One of the reasons Czechs are looking forward to autumn is called burčák. The traditional young Moravian wine is served cold. Especially fun is the Burčák Festival in September, where you can try a vast assortment of wines under the accompaniment of live music. To make fall even more enchanting, the second half of September is reserved for the Saint Wencelas Fair. The saint is the patron of brewers and winemakers, so you can imagine the festivities offer a fair celebration of his memory.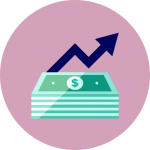 Money-Saving Travel Tips: How to Stretch Your Bucks in Prague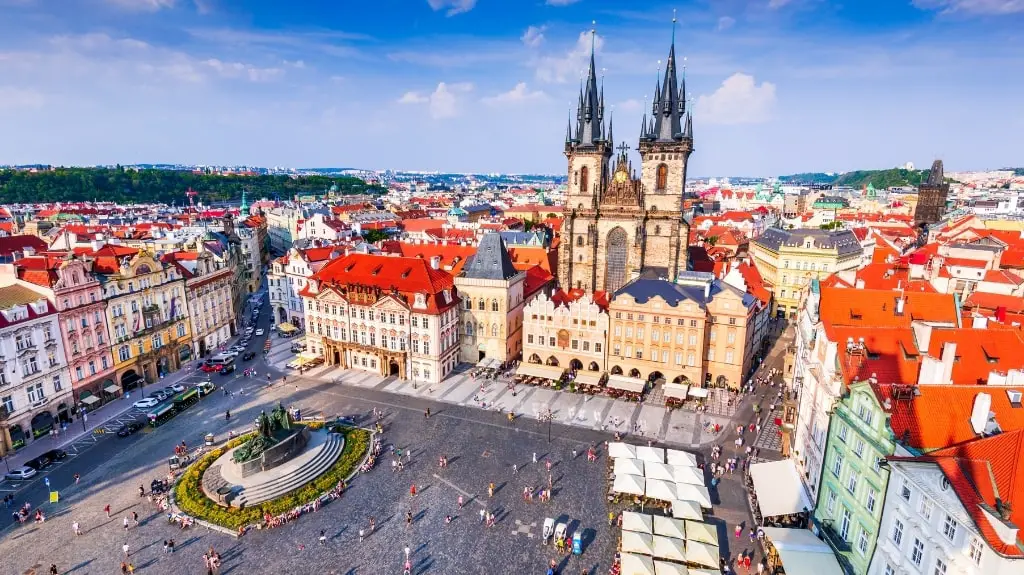 Prague might not be as expensive as West European capitals, but it receives its fair share of tourist crowds. And, logically, where tourism booms, prices rise. That's why we've prepared several simple but invaluable budget travel tips for your Prague visit.
Don't get tempted to pay in dollars or euros. We know it's much easier to hand out a currency you're familiar with. However, the exchange rate won't be in your favor. Spend a few moments to research the local currency and its value. Despite being an EU member, the Czech Republic still doesn't use the Euro. The national currency remains the Czech koruna. Hence, one of the best travel resources we can advise you to use is a currency converter.
Prague is very walkable. You can reach Prague Castle on one end of the city center from Vyšehrad at the opposite end in under an hour. However, if you don't want to use your feet everywhere, hop the public transportation. It is both comfortable and affordable (more on that below).
You can safely drink tap water in Prague. Fill up your bottle from the tap or drink directly from the public fountains. There's no need to pay every time you get thirsty in the Czech capital. Besides, beer is cheaper than bottled water in Prague anyway!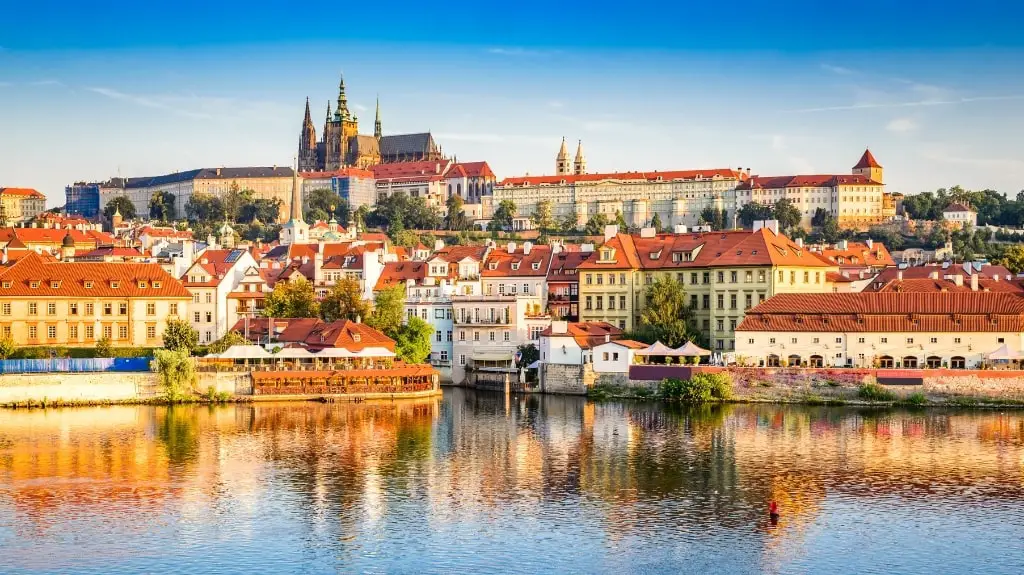 Do you tip in Prague? Tipping in the Czech Republic is not mandatory. You can either round the bill or leave approximately 10% on top of it. In Prague and other tourist destinations, it is expected for visitors to tip, whereas in the countryside tipping is less often the case.
You can do many free activities in Prague. Exploring the streets of the Old Town, the grounds of the Prague Castle, and Vyšehrad is free of charge. Watching artists paint at the Charles Bridge or admiring the bridge itself – as well as all other beautiful constructions crossing the Vltava River – is also free. Observing the figurines of the apostles' parade as the Prague Astronomical Clock strikes comes at no cost as well.
Avoid eateries around tourist attractions. This Prague travel tip has to be obvious, but sometimes your belly might not want to listen. The worst isn't even the exorbitant prices but the disappointing quality of the served food. The rule of thumb is the closer you are to an attraction, the worse the service and the higher the cost would be. Take a moment to look at reviews online before entering a pub or a restaurant.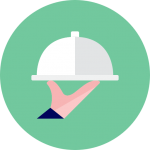 Food & Drinks in Prague: What You Shouldn't Miss Tasting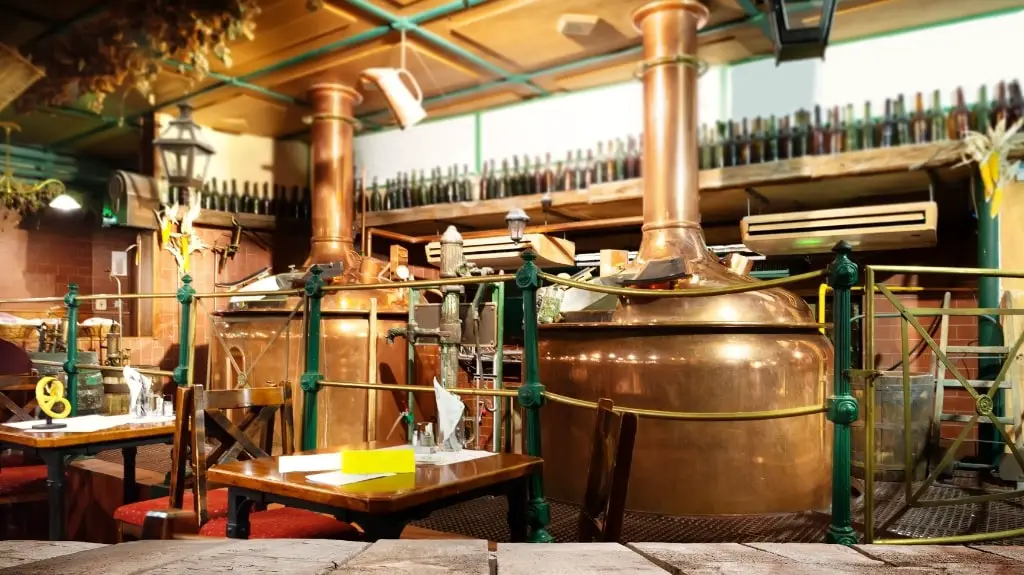 The Czech capital offers countless culinary explosions. From juicy meat delicacies to tasty beers, here are our Prague travel tips about the dishes and drinks you should try.
For a quick bite, try the Czech hot dog. You'll find párek v rohlíku (literally sausage in a roll) at many street food carts. The boiled sausage is served in a bun with a hole inside. Top it with mustard or ketchup, and eat it on the go.
Taste the deep-fried cheese. Smažený sýr is a breaded and fried thick slice of cheese. The most commonly used sorts are the Dutch hard cheese Edam, the Czech soft cheese Hermelín, and the Czech blue cheese Niva. Using such a wide variety of cheeses ensures a different food experience every time you order this snack.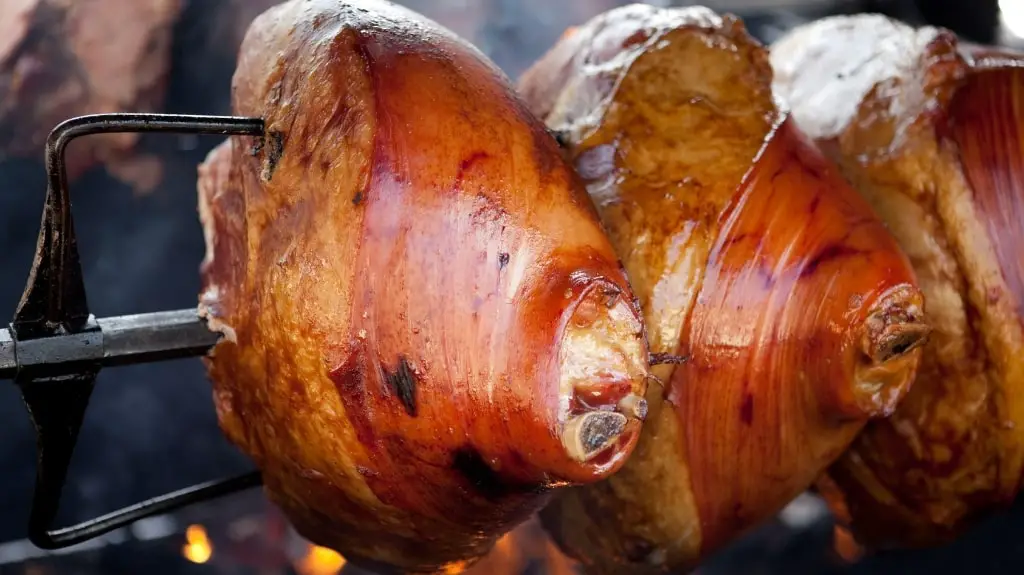 Prague ham is a world-famous traditional delicacy. Pražská šunka is a brine-cured, stewed, and mildly smoked ham. Restaurants traditionally serve slices of ham with a side of boiled potatoes. Warning: The prices of most street vendors are per 100 grams (3.5 oz), not per serving. Thus, you might end up paying more for street food than for a three-course meal in a luxury restaurant.
Roast pork with dumplings and sauerkraut is your best choice on a cold day. The hearty vepřo-knedlo-zelo is probably the most typical Czech dish. You'll find it in virtually every restaurant and pub. Consume it with a dark beer and leave your stomach enough time to digest this deliciousness.
Meat lovers should order the pork knuckle. This dish – vepřové koleno in Czech – dates back to the 11th century. The slow-roasted pork meat is marinated in beer for 12 to 24 hours. The result is a piece of juicy meat, falling off the bone, coated with golden, crispy skin. You will need several delectable beers to wash down this meat extravaganza.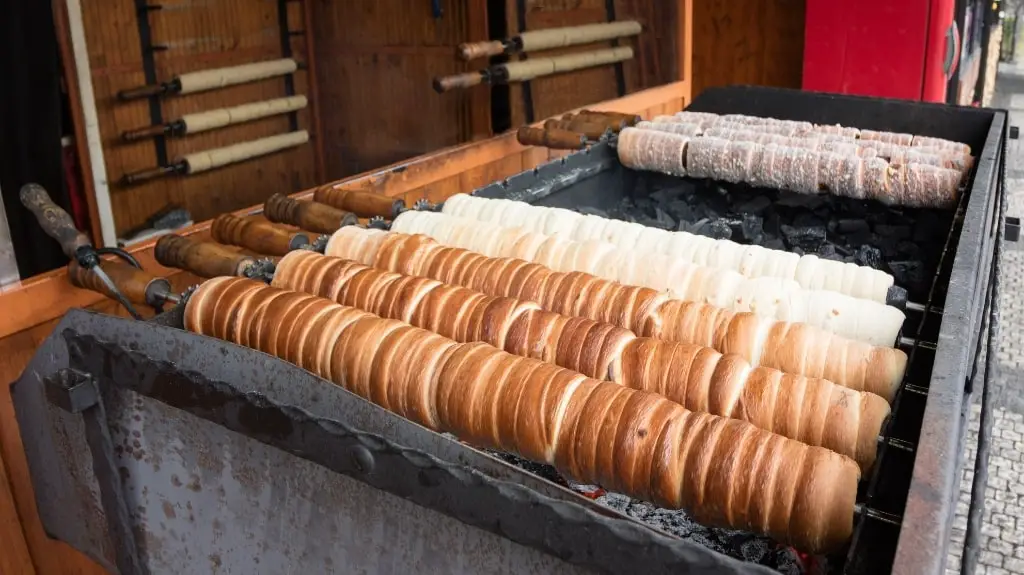 Chimney cake is the most popular dessert in Prague. Trdelník actually originates from neighboring Slovakia. However, you'll find more stalls selling it in Prague than in Bratislava. This scrumptious treat is a pastry, wrapped around a stick and roasted over an open flame. It is served warm and topped with sugar, nuts, or cinnamon.
Prague is a heaven for beer aficionados. One of the coolest facts about Prague is that Czechs are the

largest beer consumers per capita in the world

. No wonder the Pilsner Urquell is the original lager beer. All others derive from its recipe. The best-known Czech beer has been brewed in Plzeň (56 mi / 90 km from Prague) since 1842. You should also try the dark beer (tmavé), the half-dark/half-lager (řezané pivo), and the wheat beer (pšeničné pivo). If you're thirsty for a non-traditional pivo, try the craft beers. Pale ales, fruit beers, coffee beers, and chocolate beers will seduce you in fancy bars and microbreweries.
In Prague, beer comes to your table before you even order it. In traditional pubs, waiters bring 0.5-liter glasses of their most popular brew directly to your table. You also get a small note where the waiter marks how many you've had. And if drinking at the pub is too boring for you, summer gardens, beer bikes, and beer museums will also serve you the heavenly elixir.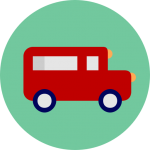 Traveling in Prague: How to Get There and Getting Around the City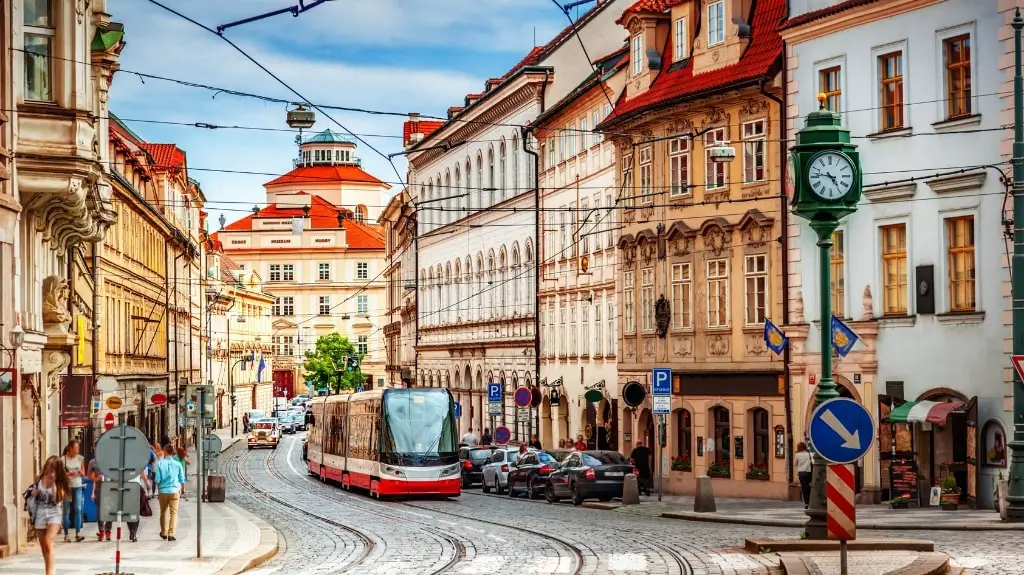 Prague's transportation system is not only modern and comfortable, but it also offers some unique travel modes. With the following tips, you'll have no problem navigating the Czech capital as if you've lived there your whole life.
The transfer from Prague International Airport (PRG) to the city only takes minutes. By car, taxi, or shuttle, it's less than 20 min. By bus, you'll travel 40 min to the Florenc Central Bus Station (ÚAN Florenc) just outside the Old Town. The ticket currently costs €2.60 ($3.20).
Prague is easily reachable from neighboring countries. If you're visiting Austria, Slovakia, or Germany, for example, consider adding Prague to your itinerary. All these countries are members of the EU and the Schengen zone. So, traveling between them is a breeze. Ticket prices vary from €6.00 ($7.40) all the way up to €90.00 ($111.00). Here are some of the trip durations:
From Dresden to Prague, the journey is 2:30 h by train.
From Berlin to Prague, it is 4:20 h by train.
From Bratislava to Prague, you'll travel approximately 4:00 h by bus.
From Vienna to Prague, you'll arrive in about 4:00 h by train or bus.
The best way to explore the city is on foot. We always recommend this way of transportation for submersing yourself in the atmosphere of historic cities like Prague. This means one thing: bring your sturdiest shoes. You'll need to cross bridges, climb fortresses, and get lost in a labyrinth of cobblestone streets. Also, grab our handy Travel Checklist and always know what to put in your bag and what to prepare for your trip.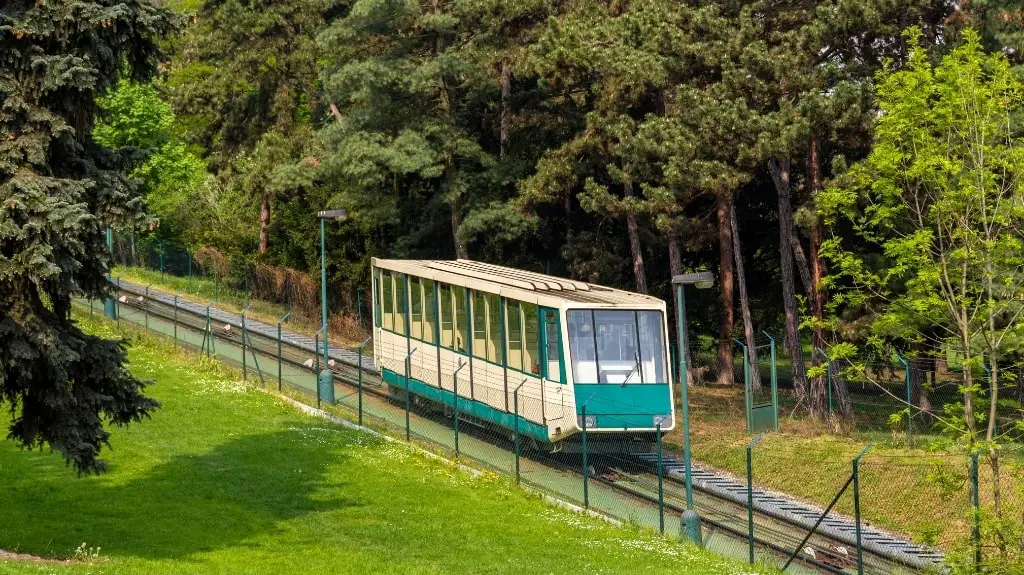 The public transportation system is vast, convenient, and easy to navigate. It consists of three metro lines, one funicular, trams, buses, and night buses. You can buy your ticket in advance online, via text, from a vending machine, or from the vehicle operator. Here are the current prices:
A 30-min single ticket costs 24 CZK ($1.15).
A 90-min one will set you back 32 CZK ($1.50).
A 24-hour pass is 110 CZK ($5.20).
A 72-hour one costs 310 CZK ($14.65).
You can ride a historic funicular for the price of a single ticket. The Funicular to Petřín has been operating since 1891. Enjoy the magnificent view of Prague Castle and the city's skyline. Near the lookout tower, you'll also find the Maze, a mirrored hall, and Štefánik Observatory, which opened in 1930.
Rent a historic tram to explore Prague. A unique way to see the Czech capital is onboard a historic tram. You and your fellow travelers can hire one of seven trams with different capacities (from 24 to 60 passengers). The price for a 60-min sightseeing tour is quite affordable at 4,000 – 7,700 CZK ($189 – $364) per vehicle.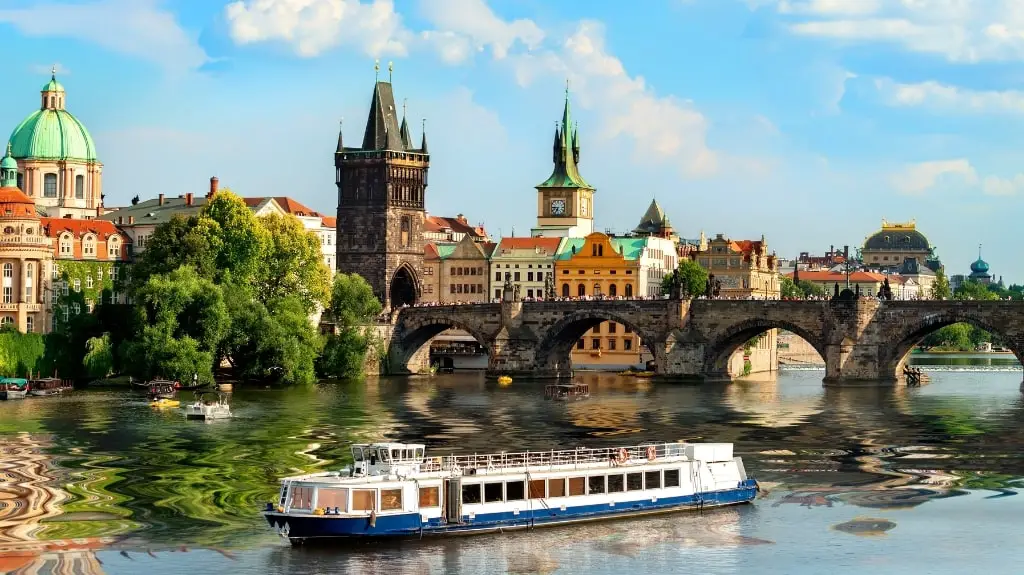 Go on a river cruise and learn the history of Prague. Another cool way to get acquainted with Prague's past is by joining a cruise. The 45-min boat tour will take you through the waterways of Old Prague. Afterward, you can visit the Charles Bridge Museum right next to the dock to learn all you need to know about the city's history. The museum entrance fee is included in your cruise price, which starts from €14.00 ($17.30).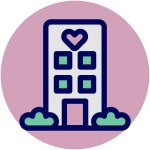 Where to Stay in Prague: Best Neighborhoods and Accommodations
Whether you're looking for a place to match your budget or for an extravagant experience, these Prague travel tips on where to stay in the Czech capital will end your search.
Note: You can find the 11 best areas to stay in Prague in our separate guide.
Book your accommodation near a subway station or a tram stop. That way, even if you stay far from all the attractions, you can easily reach them. Besides, prices drop significantly the further away from the Old Town you book.
Avoid staying in the Old Town. Even if you want to be close to most landmarks, better fight the urge to book accommodation in the historic center of Prague, Staré Město. The rooms are often small and overpriced, plus the street noise will disturb your sleep.
Choose from these lovely neighborhoods for an affordable and enjoyable stay:
Malá Strana. The area is located on the opposite side of the Vltava River from the Old Town. Malá Strana provides a much quieter atmosphere still close to the main attractions in the heart of Prague.
Nové Město. The New Town is adjacent to the Old Town. Despite the name, it hosts many historical buildings. If you want to stay in the center of Prague, but in a more budget-friendly location, Nové Město is the right district for you.
Vinohrady. The coolest Prague neighborhood used to be a vineyard in the 14th century. You'll need to ride the tram for a few stops to reach the Old Town from there, but you'll enjoy a much more relaxing surrounding.
Žižkov. This neighborhood is mainly a residential area. However, it is vibrant and alive which attracts younger crowds. It also offers budget-friendly accommodations.
Smíchov. The business and nightlife hub hosts office buildings and creative spaces in former factories. If you stay in this area, you'll be just a few tram stops away from all the main attractions of Prague.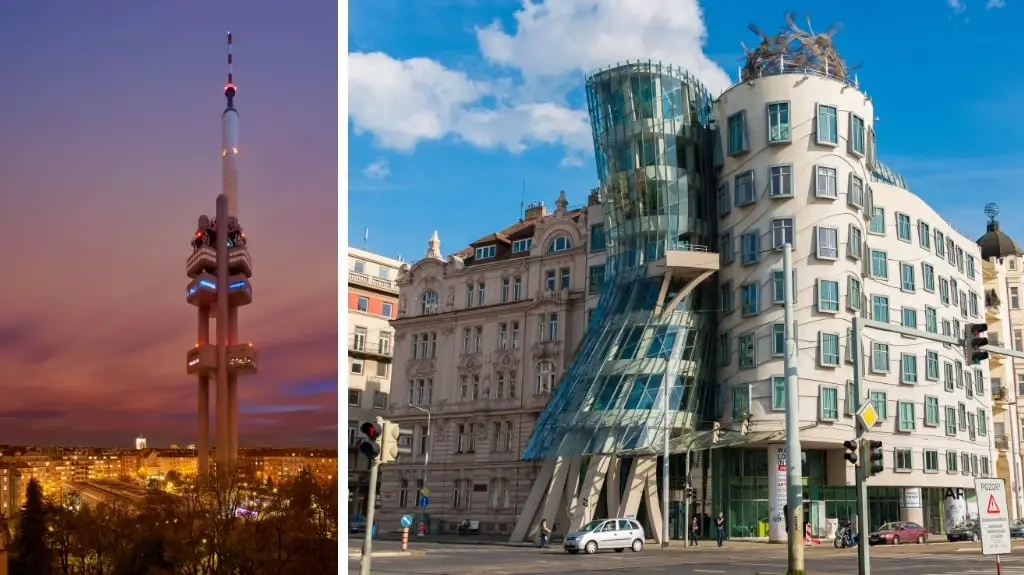 Looking for quirky accommodations in Prague? Check out these unique hotels:
Dancing House Hotel. Among the Baroque, Gothic, and Art-Nouveau buildings, the local architect Vlado Milunić and the world-famous Frank Gehry erected the most popular modern building in Prague. Fred and Ginger, the building's nickname, is a deconstructivist structure. Two floors offer 21 luxury rooms, where an unparalleled experience awaits you.
Boats in the Vltava River. Along with all the comforts and amenities of a usual hotel, the houseboats offer the best river views in town. Plus, no noisy neighbors will disturb your sleep.
Monastery Hotel. The romantic and cozy accommodation will seduce you with astonishing views of Prague Castle and the Old Town. It resides in the peaceful garden of the Strahov Monastery. The historic landmark was founded in 1143. Its library, hosted in the Theological and in the Philosophical Halls, is more than 800 years old.
Three Storks Hotel. You'll find this luxurious boutique hotel in Malá Strana just beneath the magnificent Prague Castle. The design of the hotel respects the history of the 14th-century historical building. It creates a perfect harmony between a preserved Renaissance interior and a modern atmosphere.
One Room Hotel. In this unusual hotel, you can enjoy Prague from 230 ft. (70 m) high. In 2013, a luxury one-room hotel opened in the Žižkov TV Tower. Inside, you'll find a large bed and a free-standing bathtub from where you can view the city at your feet. Another peculiarity of the building is the ten fiberglass sculptures by the Czech artist David Černý, which crawl up and down the tower's pillars.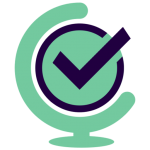 Which Are Your Favorite Prague Travel Tips?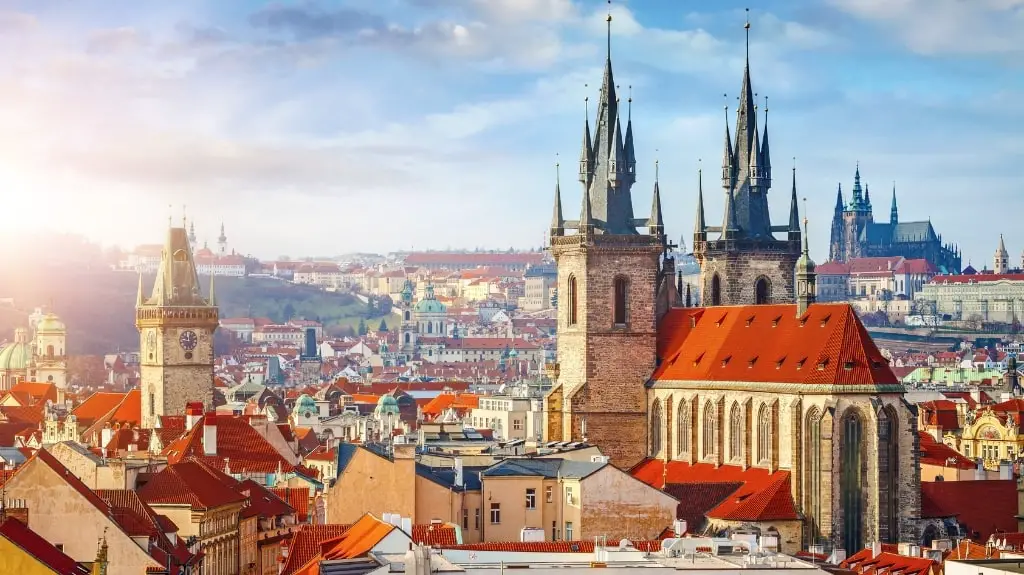 There you have it, all the things you need to know before traveling to Prague, Czech Republic.
The Golden City offers quirky accommodations, unusual transport modes, delectable beverages, and awesome activities for every season and budget.
And with these Prague travel tips, you'll navigate the Czech capital as if you've lived there your whole life.
Start Planning Your Trip to Prague with Our BEST Recommendations:
Top Tours in Prague
Best Accommodations in Prague
Easiest Transportation Options in Prague
Now, it's your turn:
Have you visited Prague before?
Which travel tips were most helpful?