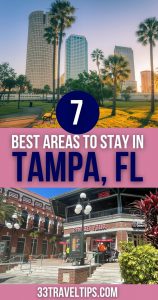 Tampa packs a diverse culture, a booming restaurant scene, and well-preserved history. Yet the city is still among the most underrated vacation destinations in Florida.
With this guide, we'd like to change that. Inside, you'll discover the 7 best areas to stay in Tampa, Florida.
The city might not be as funky as Miami, but it offers several landmarks you can't find anywhere else.
From wildlife sanctuaries to cigar-producing factories, and from top-notch eateries to the longest sidewalk on the planet, let's see where to stay in Tampa.
Note: This article contains affiliate links. In case you purchase something through one of these links, we may receive a small commission at no extra cost for you. Thank you for helping us keep creating the free content on this website!
1. Ybor City: The Best Area to Stay in Tampa for Nightlife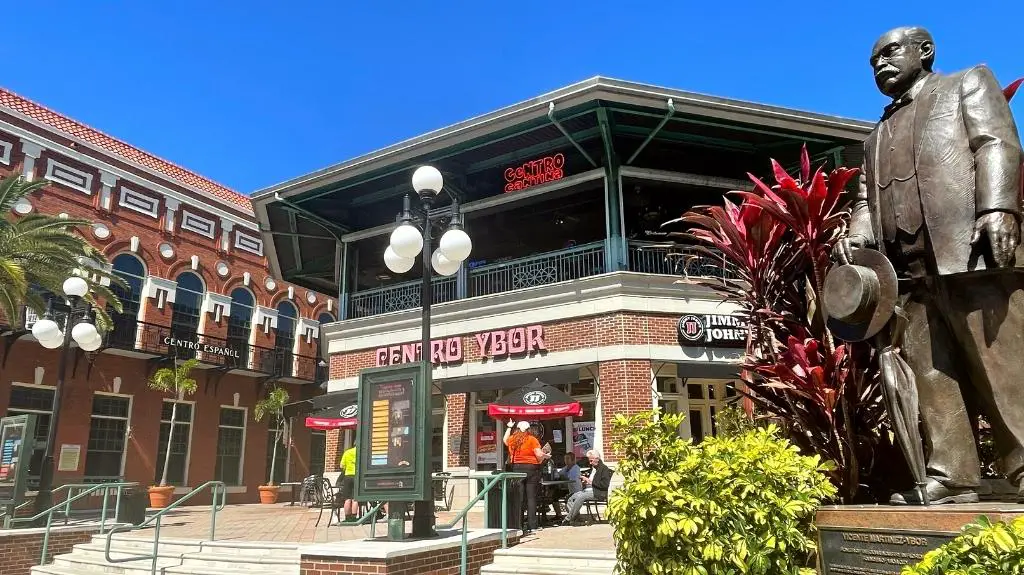 Seeking a pulsating nightlife area in Tampa? Then you should book your accommodation in Ybor City.
The cool neighborhood is a National Historic Landmark. A hundred years ago, the district was teeming with cigar factories. That's what earned Tampa a few monikers, including Cigar City and the Cigar Capital of the World.
Nightlife in Ybor City explodes around the famous 7th Avenue. One of the best ways to explore the area is barhopping, which gives you a chance to mingle with locals and tourists.
The quarter used to be one of the largest immigration hubs in Florida. You can trace its history in the Ybor City Museum.
One of the coolest landmarks Tampa is known for is Columbia Restaurant. It's the oldest restaurant in Florida and the largest Spanish restaurant on a global scale.
If you're an art aficionado, you'll love Ybor City's galleries. Centennial Park hosts numerous festivals and other fun events. Don't miss the Ybor City Saturday Market. As the name suggests, it happens every Saturday.
Our recommendations: If you like outdoor pools, Hampton Inn & Suites Tampa Ybor City is a fantastic spot to stay at. The hotel is bright and spacious, and offers a top-notch gym and business center. If a guesthouse is more to your liking, we recommend this Entire House 2-2 Near Ybor City. Free private parking, an iPod docking station, a microwave, and free toiletries are just a few of the amenities you'll enjoy when you stay there. The house is just 4.1 mi (6.6 km) away from the world-famous Busch Gardens theme park.
2. Downtown Tampa: The Best Neighborhood for First-Time Visitors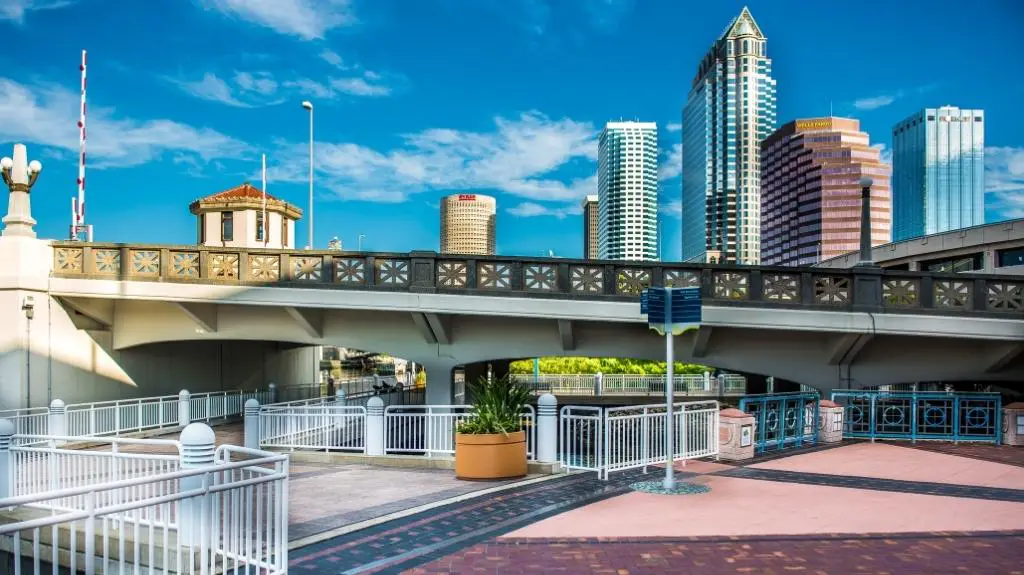 Heading to the Cigar City for the first time? We recommend you stay in Downtown Tampa.
The upbeat area is within a walking distance of almost every attraction. Start with the gorgeous Tampa Riverwalk, one of the best free things to do in Tampa, which is ideal for cycling, walking, and marveling at street art performers.
Here's a list of the other attractions in Downtown Tampa:
The Florida Aquarium. As the largest aquarium in the state, at the Florida Aquarium, you can admire a broad range of fish and ocean life. Starfish, anemones, and the land-dwelling lemurs are among the most eye-catching exhibits. These Florida Aquarium tickets let you skip the lines and explore everything inside. The admission also gives access to the Splash Pad, three touch pools, and shows at the futuristic 4-D Theater.
Tampa Museum of Art. This contemporary gallery showcases modern and classical art pieces, as well as antiquities from Roman, Greek, and Etruscan times. In 2010, the museum won an award for design. Entrance tickets are available via this link.
Tampa Theatre. The luxury movie palace represents various architectural styles like Byzantine, Italian Renaissance, and Greek Revival. Tampa Theatre hosts performances, special concerts, as well as classic and foreign movies. Browse their website for current events.
Glazer Children's Museum. If you're traveling to Tampa with kids, don't miss Glazer Children's Museum. Inside, your children can slide down a fire pole, try their skills at design and carpentry, or learn how to save money.
Great restaurants and cool bars that serve craft beers and cocktails also dot the area.
Our recommendations: JW Marriott Tampa Water Street combines a wonderful location with one of the best views of the bay. The food is superb, the conference rooms are spacious, and the panorama from the outdoor swimming pool is to die for. A hot tub, a rooftop, heated outdoor pool, and 24-hour gym will pamper your stay at Hilton Tampa Downtown. The marble bathroom further accentuates the hotel's luxury.
3. Channel District: The Best Area in Tampa for a Quiet Relaxation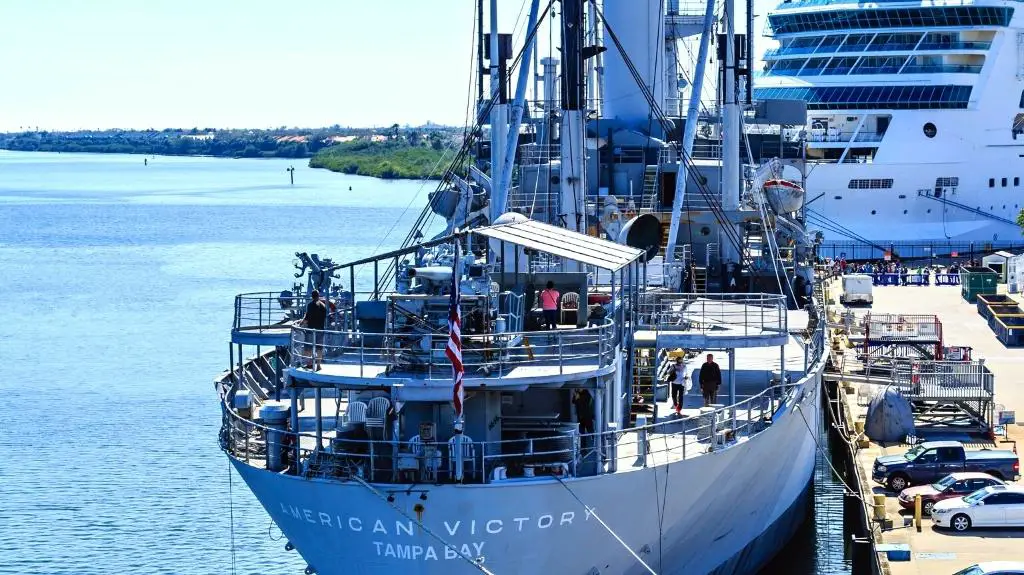 The Channel District is close to Downtown Tampa, yet a bit out of the craze. This makes it the perfect relaxing spot. Don't let that fool you, though. The neighborhood teems with bars, shops, and restaurants. Mid- and high-risers, as well as upscale condos, dot the Channel District.
The area is home to the Amalie Arena, where Tampa Bay Lightning plays its ice hockey games and competes in the NHL. The Arena often hosts concerts and various other venues as well.
Port Tampa Bay, which is the starting point for cruise lines, is also within Channel District. The largest port in Florida supports more than 80,000 jobs.
Another attraction that's worth visiting in the district is the American Victory Museum. The American Victory Ship is one of four World War II ships that are still operational in the U.S. The museum offers educational tours, hosts various events, and even provides cruises a few times a year.
Our recommendations: Less than 10 minutes on foot from Downtown Tampa, the 3* Hampton Inn Tampa is a great bang for your buck. Highlights of this hotel include extremely comfortable beds and a rooftop pool with sweeping views of Tampa. Home2 Suites by Hilton Tampa will seduce you with its gym, shared lounge, and great pool. A buffet breakfast will charge your energy to explore Tampa.
4. Hyde Park: The Best Tampa Neighborhood for Romantic Stays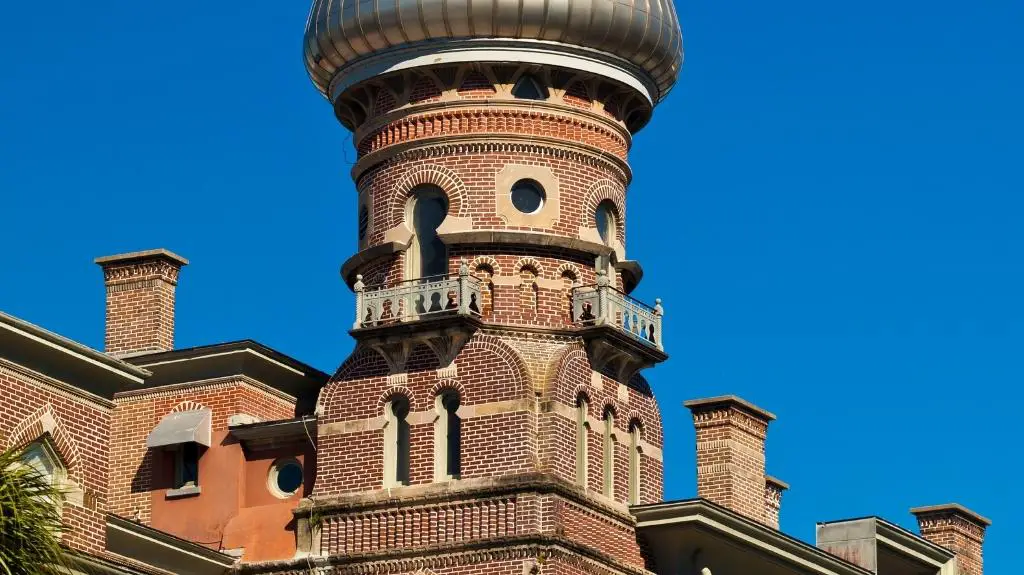 The leafy Hyde Park area attracts young crowds, making it perfect for hanging out or just chilling.
Posh bars and cozy restaurants dot the neighborhood, inviting party lovers to spend the night drinking or dancing.
Hyde Park doesn't teem with attractions. But sauntering around to take in local brick-and-stone architecture is time well spent.
The shopping hotspot in the district is Hyde Park Village, where theaters, cinemas, and fashion stores will keep you busy and entertained. Walk down Bayshore Boulevard, and you might catch a dolphin or a manatee.
One of the few landmarks in the area is Henry B. Plant Museum. Formerly a hotel, this historic attraction will seduce you with its jaw-dropping spires. As a passionate gardener, Henry Plant – a famous railroad magnate – hired a landshaft architect to design the grounds. Today, they are stunning tropical gardens. The rest of the building houses the University of Tampa.
Our recommendations: The 4-star Epicurean Hotel will pamper you with its full-service spa, outdoor pool, and two on-site restaurants. This boutique hotel offers numerous amenities and boasts a fitness center, concierge services, and a business center. Alternatively, you can stay at the luxurious The Westin Tampa Waterside. The waterfront hotel overlooks the harbor, and each of its rooms comes with a cozy armchair, a safe, and a work desk.
5. Tampa Bay Harbor: The Best Area for Beach Activities and Sea Views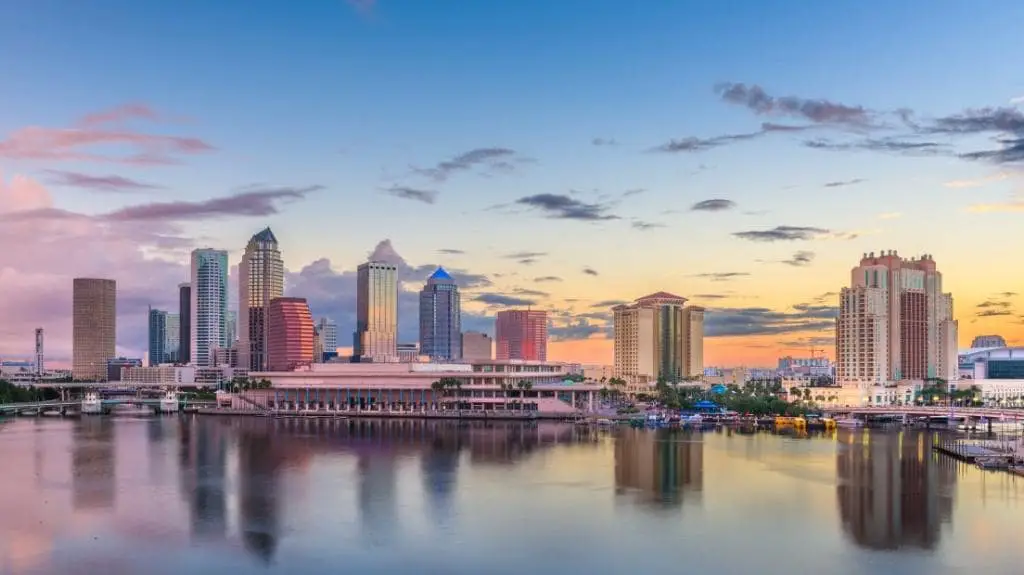 Tampa Bay Harbor is a paradise for beach enthusiasts. The area is close to Tampa Airport, which makes it a great choice for quick layovers, early departures, or late-night arrivals.
Tampa Bay Harbor boasts many local beaches that are worth their salt. This includes Ben T Davis Beach, which offers outdoor showers, great sunset spots, and gourmet restaurants. East Tampa Beach is a cool spot away from Clearwater's crowds. Davis Islands Beach is quiet and romantic, and provides you with a great view of Downtown Tampa's skyline.
The beaches of Clearwater and St. Petersburg are reasonably close, so it's worth checking them out as well.
When you get tired of lazing on the beach, you have a few options. You can kill some time with afternoon shopping in the areas around Bay Street and International Plaza. Or you can visit some of the rooftop beach bars that will seduce you with gigantic terraces, fancy cocktails, and good music.
If you're looking where to stay in Tampa on a higher budget, you'll be delighted to discover the neighborhood's luxury hotels.
Our recommendations: Two outdoor pools, three restaurants, and a 24/7 gym will spoil you at the majestic Grand Hyatt Tampa Bay. Coffee-making facilities, iPod docking stations, flat-screen TVs, massages, and hot tubs are other highlights of this high-end lodging. Want a front-row seat at the beach? Book your stay in The Westin Tampa Bay. The private beach also offers complimentary Wi-Fi access, while rooms come with work desks and gigantic TV sets. On site, you'll also find a Starbucks coffee shop and AQUA, a great seafood restaurant.
6. North Tampa: The Best Area for Non-Beach Family Fun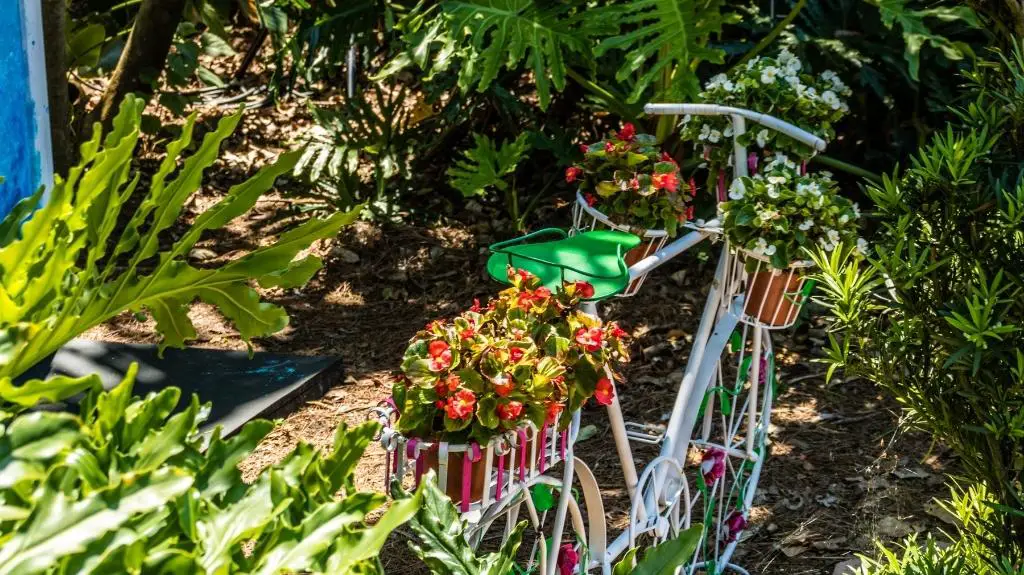 North Tampa might not be close to the beach, but its vicinity to various top attractions makes it great for families who love outdoor activities. In this area, you'll discover Busch Gardens, Tampa's most famous theme park, and Adventure Island, the most extensive water park in the city.
Busch Gardens is a 335-acre, adventure and entertainment park. Inside, you can find exhilarating rides, dynamic performances, live music, and exotic animals in their natural habitat. Water rides, African-themed safaris, children's rides, and heart-stopping roller coasters await you in Busch Gardens.
Across the street from Busch Gardens, you can step into Adventure Island. 30 acres of water rides, a lazy river, dining options, and kid-friendly rides will keep you busy.
Plan at least a full day at Busch Gardens and half a day at Adventure Island. Other highlights of North Tampa include the Museum of Science and Industry, Big Cat Rescue, and the Tampa Zoo at Lowry Park.
Our recommendations: The 3-star Hampton Inn & Suites by Hilton is just 18 minutes on foot from Busch Gardens. Free private parking, a fitness center, and a shared lounge are some of the amenities of this hotel. Another lodging that's close to Busch Gardens is the Hyatt Place Tampa Busch Gardens. A la carte restaurant, a heated outdoor pool, a work desk, luggage storage, and ironing facilities are all at your disposal at this hotel.
7. Tampa Heights: The Best Neighborhood for Budget Travelers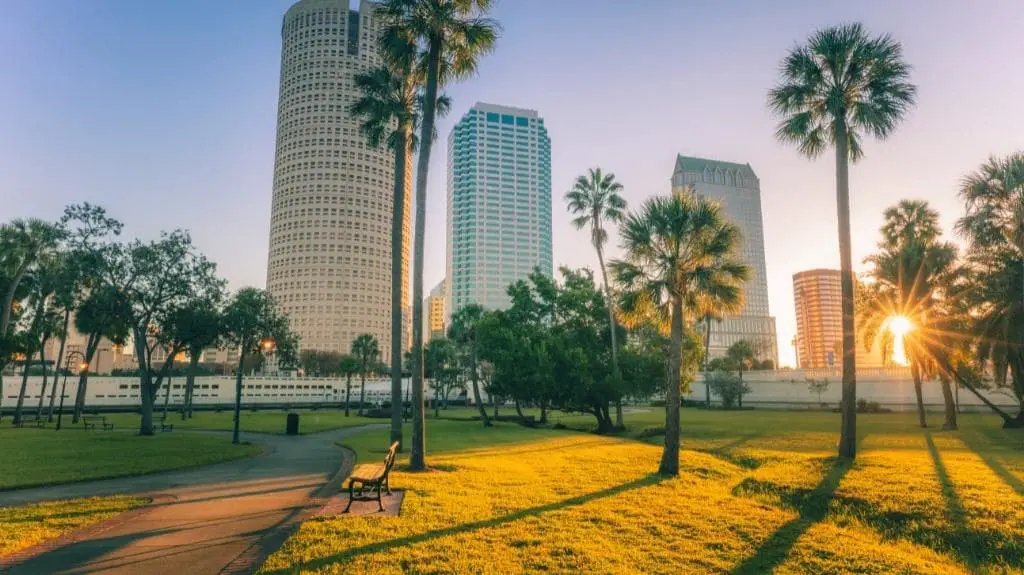 Tampa Heights is one of the city's oldest quarters, which sits between North Tampa and downtown. The area is close to Ybor City's exploding scene of cool bars, posh clubs, and funky restaurants.
Tampa Heights is known for its great location and the variety of wallet-friendly hotels, modern apartments, and fascinating vacation rentals. This will help you balance some of the other high costs of spending time in Tampa.
If you're traveling to Cigar City on a budget, establishing your base in Tampa Heights is the way to go. The area teems with green spaces for relaxing strolls, including play areas, picnic locations, and the riverside Water Works Park.
Don't miss exploring the Heights Public Market where indie vendors seduce visitors with pizza, ramen, coffee, and cocktails. One of the coolest facts about Tampa is that the public market sits in the repurposed warehouse Armature Works.
Craft beers, stone-baked pizzas, and homemade burgers are the food highlights of the neighborhood.
Our recommendations: Grand Oaks Bungalow is a great bang for your buck. The vacation home boasts three bedrooms, a fully-equipped kitchen, and a flat-screen TV. Complimentary WiFi, towels and bed linen, and free private parking make this lodging your go-to in Tampa Heights.
Now You Know Where to Stay in Tampa on Your Next Florida Vacation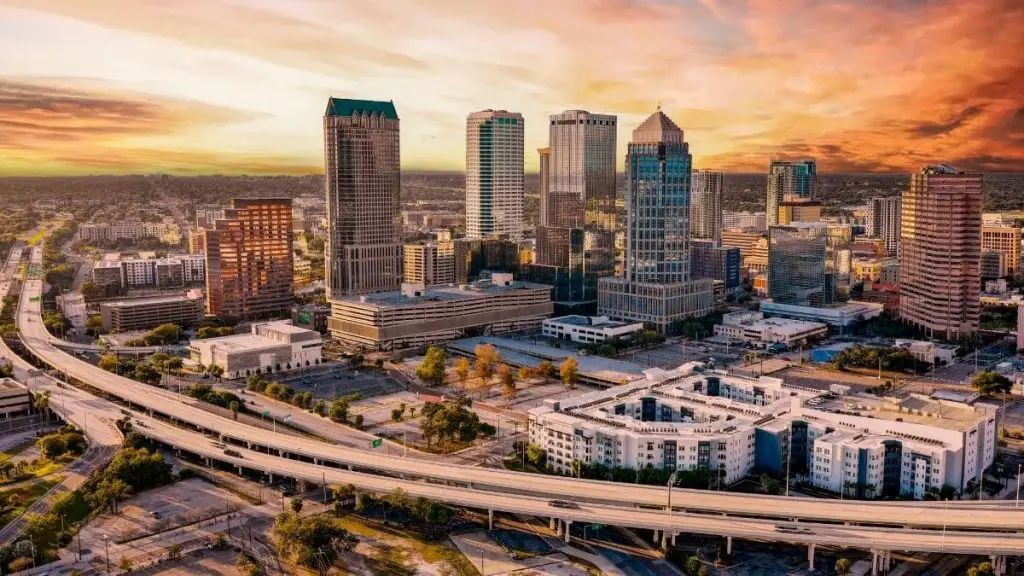 This wraps up our list of the 7 best areas to stay in Tampa.
No matter whether you'd like to explore world-class museums, walk around old cigar factories, laze at first-class beaches, or pump your adrenaline to the max with blood-curdling roller coasters, we bet you'll find the best Tampa accommodations for your needs.
Before we wish you a pleasant stay, we want to ask you:
Which area in Tampa you'd pick on your visit to Cigar City?
Share your thoughts in the comments below.