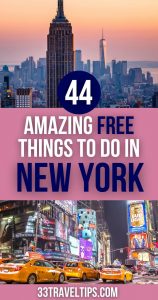 New York City is one of the most expensive cities in the world. But that doesn't mean you can't find many free events, activities, and attractions.
In fact, you can benefit from a ton of amazing free things to do in New York!
If this doesn't nudge you to pack your suitcase and book a flight, we know this guide will.
On this list, you'll discover lots of ideas on what to do in the largest U.S. city without spending any cash.
From museum visits through peculiar parks to ferry rides, we're sure you'll have a blast in Gotham City.
Let's explore!
Note: This article contains affiliate links. In case you purchase something through one of these links, we may receive a small commission at no extra cost for you. Thank you for helping us keep creating the free content on this website!
Free Museums in New York City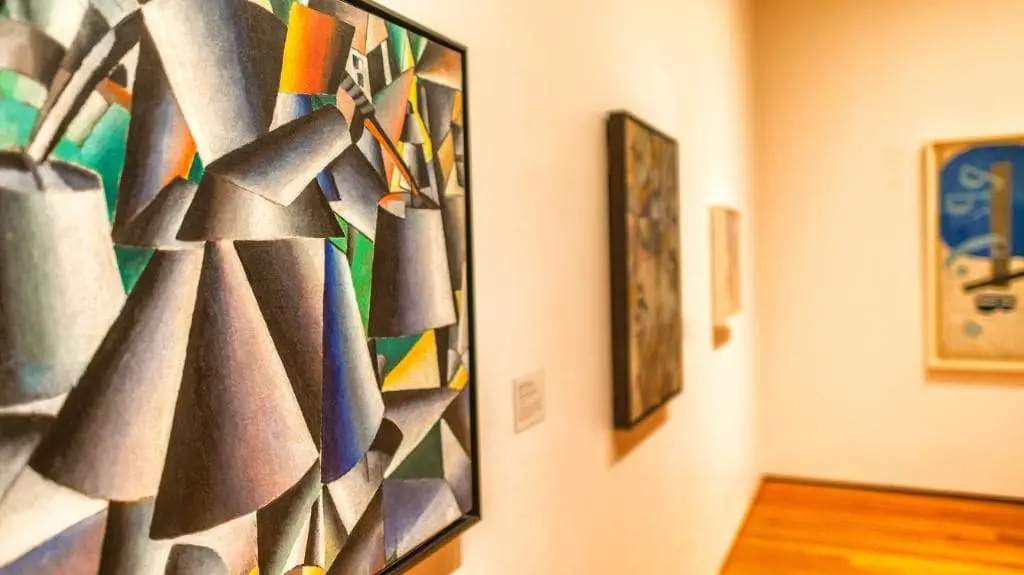 This section enlists a few types of New York City museums. Some are free of charge all the time. Some are free on particular days. And others – on particular occasions.
As always, don't forget to check their official websites for the latest information. With that said, let's take a look at the free museums in New York.
Museum of Modern Art (MoMA). This contemporary art museum ignites minds, fuels creativity, and offers inspiration. Since the establishment of its permanent collection in 1952, MoMA turned into the home for some of the most prominent works of film, sculpture, multi-media, and avant-garde painting art in the world. Admission to MoMA is free every Friday from 4:00 PM to 8:00 PM.
Harbor Defense Museum. NYC's Harbor Defense Museum has one mission: to collect, preserve, exhibit, as well as interpret historic materials about Fort Hamilton and New York's seacoast defense. It's the only military museum in the Big Apple, welcomes groups of all sizes, and works Tuesday to Friday from 10:00 AM to 4:00 PM. Admission is always free.
The Bronx Museum of the Arts. The museum specializes in modern art, including artworks from the peculiar Bronx neighborhood. You can easily access it via subway, and in the area, you'll find a diverse set of parks and restaurants. Opening times are Wednesday-Sunday from 1:00 PM to 6:00 PM. Reserve your free tickets in advance from this link.
Hamilton Grange. Alexander Hamilton was a revolutionary war soldier, a merchant's clerk, and the first Secretary Treasury of the United States. The Hamilton Grange memorializes his life. He built the house on a country estate in the upper side of Manhattan. The Grange is a testament to early American architecture. Admission is free, but commercial filming and photography are subject to a paid permit.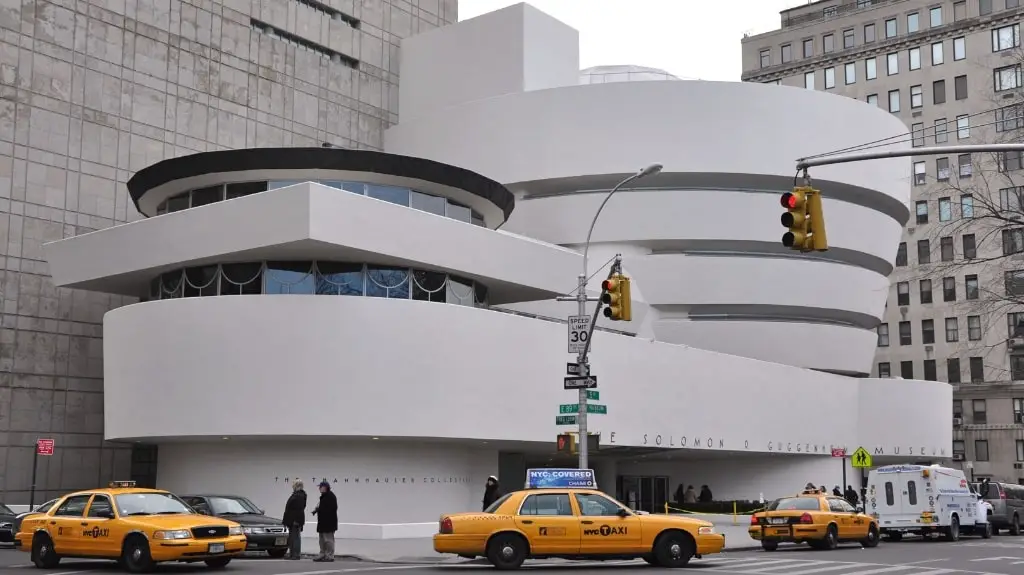 MoMA PS1. As one of the biggest art institutions in the U.S., MoMA PS1 is entirely dedicated to modern, thought-provoking designs. The museum actively pursues new genres, upcoming artists, and inspiring new work by recognized professionals. Admission to MoMA PS1 is free for all residents of New York City, but make sure to reserve your timed tickets beforehand.
National Museum of the American Indian (NMAI). This expansive museum displays one of the largest exhibitions of Native American artifacts, including media, archives, objects, and photos. They cover the entire Western hemisphere – from the Arctic Circle to Tierra del Fuego. NMAI hosts special venues and public programs. The opening hours are Monday-Friday from 10:00 AM to 5:00 PM. Entrance is free, and you don't need a ticket to enter.
Queens County Farm Museum. Would you like to visit a working farm in the Big Apple? Then, you should head to the Queens County Farm Museum. On 47+ acres, you'll discover greenhouses, an orchard and an herb garden, farm machinery, historic farm buildings, as well as pigs, goats, and other domesticated animals. The farm is open to the public free of charge, excluding special ticketed admission days and group tours.
Guggenheim Museum. Like museums and UNESCO World Heritage Sites? Then, you shouldn't miss the Guggenheim Museum. The collection consists of Impressionist, Post-Impressionist, early Modern, and contemporary art. Since April 2021, the museum offers free admission on select Saturdays. The schedule varies, so make sure to check Guggenheim's official website.
Free Galleries in New York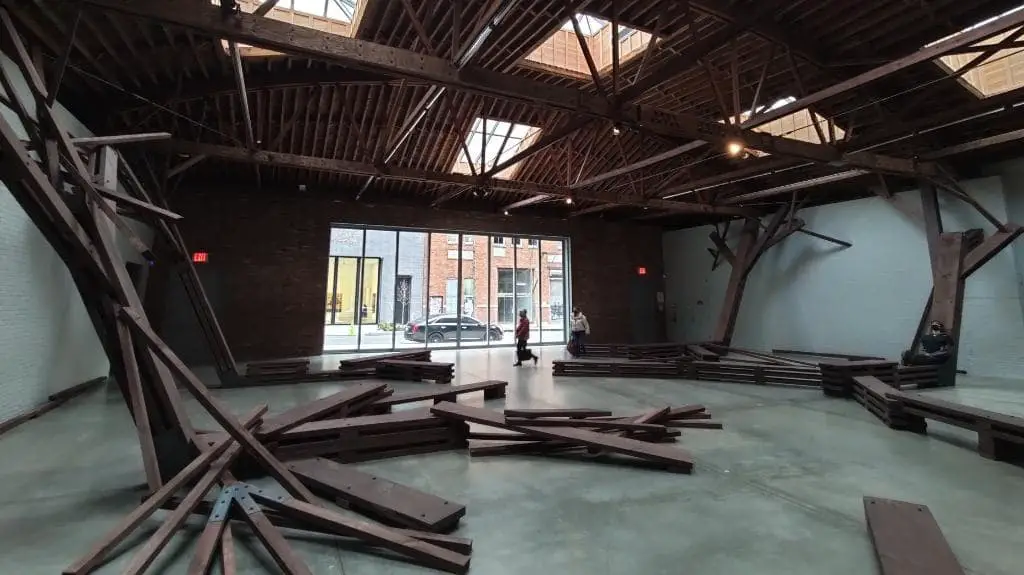 The Big Apple teems with art installations and galleries. Many of them are located in the Chelsea neighborhood. In this section, you'll find the best free galleries in New York City.
David Zwirner. In this acclaimed Chelsea gallery, you can marvel at the works of various American and European modern artists. David Zwirner is open from Tuesday to Saturday 10:00 AM to 6:00 PM, and is free to explore.
Japan Society. If you dig Japanese art, the Japan Society Gallery is a must-visit on your trip to New York. Artworks range from classical Buddhist sculptures to contemporary 21st-century paintings. Facilities include a library, an art gallery, language center, conference rooms, and a 260-seat theater. Admission is free on Fridays from 6:00 PM to 9:00 PM.
Dia Chelsea. In the U.S., there are several Dia galleries. Each of them is magical on its own. But the one in Chelsea is a true spectacle for all your senses. Inside, you'll find a mind-blowing sound space. Wooden installations and a gigantic bell magnify the sound, which makes it perfect for relaxation and chilling. The gallery underwent a major renovation from 2019 to 2021. Entrance is free at all times.
Pace Gallery. This leading international gallery represents some of the most influential modern artists and estates from the past century. Inside, you can marvel at creations by the Abstract Impressionist, Light, and Space movements. 
Free Activities to Do in New York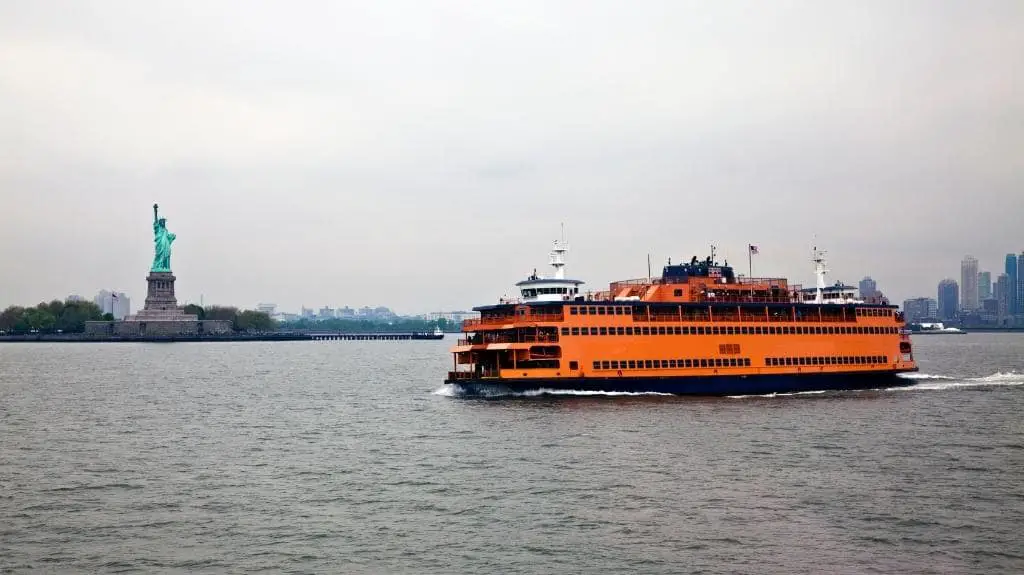 From taking a ferry to Staten Island through checking out the jaw-dropping St. Patrick's Cathedral to admiring the symbolic The Plaza, this section will show you the most amazing free activities to do in New York. Let's discover!
Walk the High Line. This is Svet's favorite free activity in New York. The High Line is a 1.45-mi-long (2.33-km) elevated linear park and rail trail. Authorities created it above the streets of West Manhattan on top of an old railroad line. The park stretches from the Meatpacking District to West 34th Street. It's perfect in any season.
Take the Staten Island Ferry. Running between Manhattan and Staten Island, the Staten Island Ferry is a free shuttle. If you're in New York on a budget, this ferry ride will provide you with the perfect opportunity to admire the Statue of Liberty and Lower Manhattan's skyline for free. Heart-stopping vistas at no cost? Definitely a must on your trip to New York!
Walk the Brooklyn Bridge. Strolling the gorgeous, wooden Brooklyn Bridge should be high on your list of free things to do in New York. The air is fresh, the views are one of a kind, and the walk isn't too long to make you tired. Just don't forget to put a hat on as it can be very windy.
Tour St. Patrick's Cathedral. Just a minute away from the Rockefeller Center, St. Patrick's Cathedral is another landmark to add to your travel radar. The exterior will baffle you for sure. But the true beauty of the cathedral lies inside. Trust us on this and venture in to marvel at its jaw-dropping interior. Admissions are free.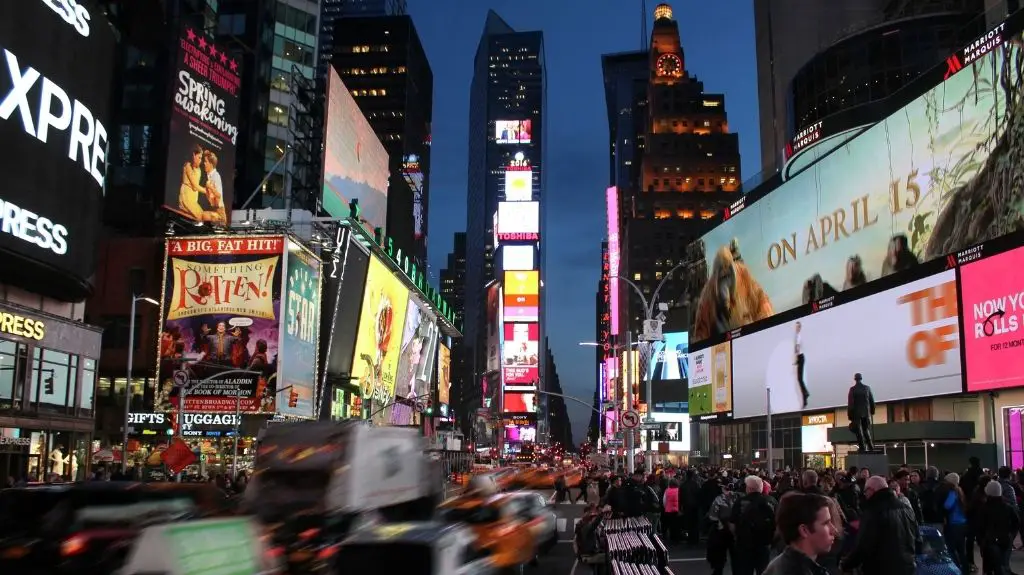 Explore the New York Public Library. If you love books and historic buildings, then the New York Public Library will check off both affiliations. Standing on 5th Avenue, the library is an architectural gem that's worth spending at least 30 minutes in. Entrance is free of charge every day.
Marvel at Grand Central Terminal. Most American movies shot in New York feature one of its most symbolic buildings – Grand Central. The terminal's chandeliers are almost as impressive as those in the Sheikh Zayed Mosque in Abu Dhabi. Don't miss the most iconic feature of the train station – the clock tower in the heart of the terminal.
Shop until you drop at Macy's. Well, that is if you want to spend any money. But wandering the world-famous Macy's store on 34th Street is free of charge. More than 7 floors await you in one of NYC's oldest department stores. If you're in town for Christmas, don't miss admiring the festive window displays at Macy's.
Get lost at Times Square. Besides the numerous advertisements from the skyscrapers around Times Square, this landmark is famous for another reason. In the area, there are countless theaters. And here's an insider tip Svet got from a local. Avoid visiting Times Square after 9:00 PM. That's when most of the Broadway shows end and the square gets chock-full of people, leaving the theaters.
Admire the iconic Plaza Hotel. A night at The Plaza might be quite expensive, but stepping inside to admire its opulent lobby is free of charge. The hotel became famous as the set for the movie Home Alone 2. So, if you're a fan, don't miss a chance to re-trace Kevin's footsteps.
Cool New York City Neighborhoods to Roam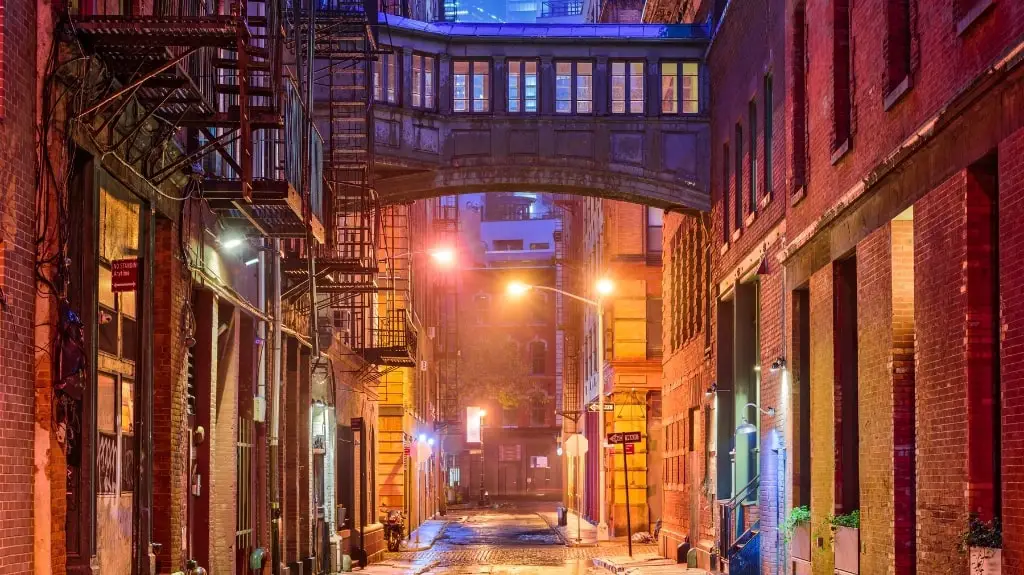 We believe the best way to discover NYC is on foot. In that way, you get to feel the true charm of the Big Apple. The cool districts below are also among the best areas to stay in New York.
Stroll the lush parks. Pass by mind-bending skyscrapers. Marvel at the typical New York brick architecture. Do some window-shopping on 5th Avenue. And saunter by the banks of the East and Hudson Rivers (just beware of the strong wind).
This section of our list of free things to do in New York presents the greatest neighborhoods to explore during your visit. We suggest you get there and leave your map/phone in your pocket. Then, simply meander the streets and enjoy the cool atmosphere.
Tribeca. Like movies? The Tribeca Film Festival happens in the neighborhood every spring. Want to see the historical side of NYC? Old industrial buildings and trendy boutiques line cobblestoned streets. Weekends in Tribeca are usually quiet, although Hudson River Park and Washington Square Park draw families with children.
East Village. Seeking nightlife adventures? This is where the nocturnal fun happens in NYC. Hip restaurants and posh cocktail places share the streets with music venues, performance spots, and old-school bars. If you visit during the day, you'll notice a more chilled crowd that frequents tattoo parlors, vintage shops, and high-class boutiques.
Chinatown. A must on your trip to the Big Apple is a stroll through Chinatown. Some argue it's home to the largest community outside of Asia. Others believe the Chinatown in San Francisco is bigger. Either way, the Chinatown in NYC encompasses around 40 blocks. So, you'll regret not exploring its peculiar street stalls, quirky stores, and unmatched atmosphere. Tip: Don't miss Doyer Street!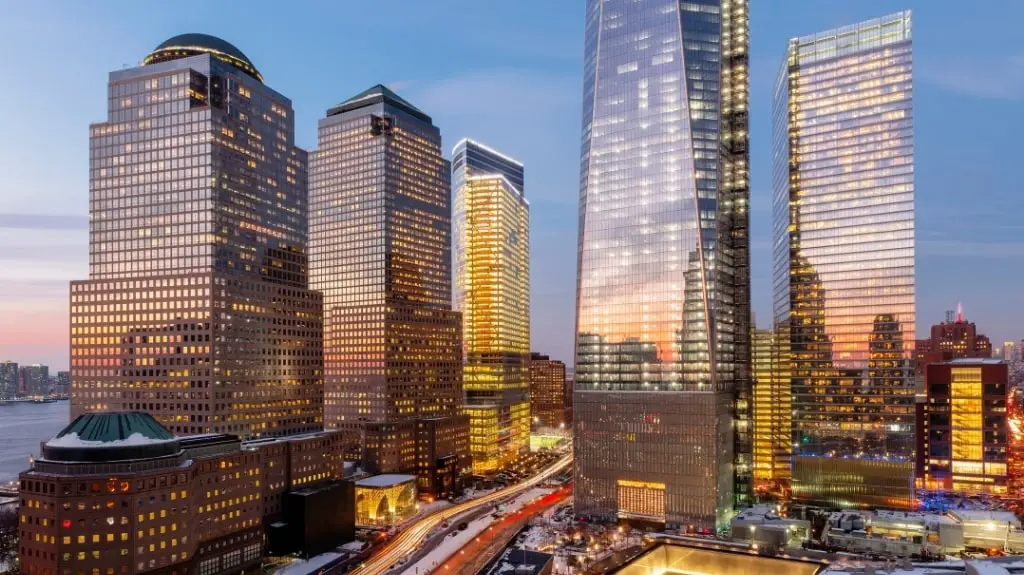 The Financial District. As a scene of countless Hollywood blockbusters, the Financial District in Lower Manhattan is a cool neighborhood to roam. The area teems with high-risers, so you'll find yourself always looking up. The New York Stock Exchange, 24/7 banks, and other financial institutions give occupation to thousands of well-dressed professionals. From here, you can also catch a ferry to the Statue of Liberty or to Staten Island. The latter is free of charge.
Chelsea. According to Svet, Chelsea is one of the coolest neighborhoods in New York. What really impressed him was the typical brick architecture of the buildings. Some of the streets in Chelsea have a European appeal, too. A must-check is the High Line.
Upper West Side. Posh restaurants, world-class shopping, and high-end residential buildings characterize Upper West Side. Old-fashioned hotels take turns with performing-art institutions like the New York City Ballet and the Lincoln Center. This is where you'll also find the American Museum of Natural History. Despite being adjacent to Central Park, the side streets of Upper West Side can be very quiet.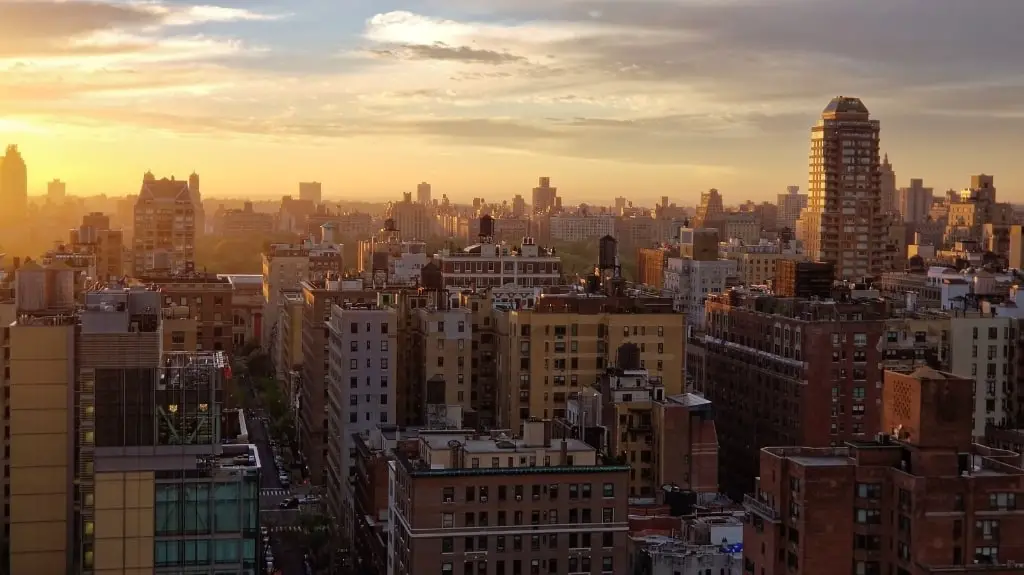 Upper East Side. If you want to see where the "elite" of Manhattan lives, this is the place to be. The area is known for its fancy eateries, rich residents, and designer stores along Madison Avenue. The eclectic mix of chic high-risers and classic brownstones make Upper East Side particularly gorgeous. The Guggenheim Museum, El Museo del Barrio, and the Metropolitan Museum of Art are all in this neighborhood.
Soho. If you love shopping, you won't get bored in Soho. The area teems with designer boutiques, trendy chain stores, and top-notch art galleries. When walking, you'll notice Soho's typical cobblestoned streets and sophisticated cast-iron façades. During the day, you can find vendors selling everything from original artwork to various kinds of jewelry.
Harlem. If you want a break from the craze of Lower and Middle Manhattan, head to Harlem. Its African-American heritage, intimate jazz clubs, and fancy eateries make the neighborhood truly unique. The nightlife booms with energy coming from trendy restaurants, hip bars, and stylish clubs. Don't miss the symbolic Apollo Theater on 125th Street.
The Best Green Spaces in New York
When in New York City, prepare for a lot of parks. But if you think Central Park is the largest, you're wrong. Two other parks are much bigger. Isn't this one of the craziest facts about New York you've ever heard?
Either way, Central Park is a must – especially if you like squirrels.
Not a squirrel fan? Don't worry. This section will show you the best parks and gardens in New York that are free to visit. Let's start:
Central Park. The world's most famous park sits in the heart of Manhattan. Often referred to as "The Green Lungs of New York", Central Park gets over 40 million guests each year. Peculiarly, it's almost 4x smaller than Pelham Bay Park in the Bronx. You shouldn't miss The Bethesda Fountain, the Bow Bridge, and the Strawberry Fields which commemorate John Lennon.
Bryant Park. Just a few minutes on foot from Times Square, Bryan Park is a gorgeous green space to stroll or just bask in the sun. If you're traveling to NYC in wintertime, Bryant Park will be full of Christmas stalls selling everything from mulled wine to holiday cookies.
Battery Park. If you're heading to the Statue of Liberty, the Staten Island Ferry, or Wall Street, don't miss Battery Park. Located in the Financial District of Manhattan, the picturesque area is ideal for a quick stroll. Take in the views of the heart-pumping Manhattan coastline, snap shots of the towering New York skyline above, or simply ponder in the distance to the nearby Ellis Island and the Statue of Liberty.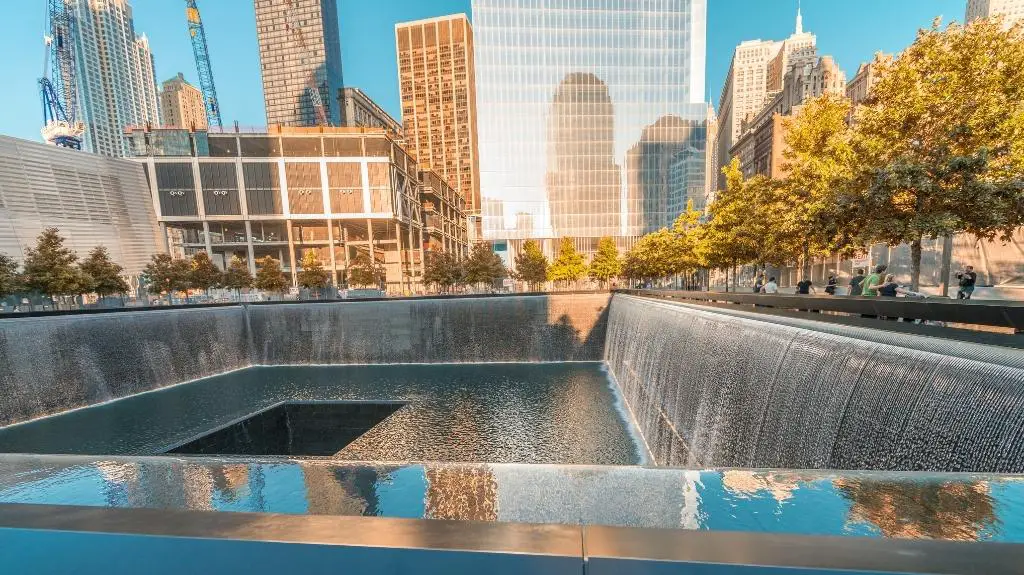 Memorial Plaza – 9/11 Memorial. The 9/11 Memorial Museum requires an entrance fee, but exploring the Memorial Plaza next to it is free of charge. The 8-acre park is a thought-provoking sanctuary. It consists of a grove with nearly 400 oak trees and the largest artificial waterfalls in the U.S. Set within the footprints of the original Twin Towers, each pool is around one acre in size.
Riverside Park. If you're craving a long relaxing walk by the river, there's no better place than Riverside Park. You'll hardly meet anywhere there, yet it's no less spectacular than the other parks listed above. Elms, rocky outcrops, and multiple playgrounds will keep you company along the way.
Hudson River Park. The park provides an oasis for New Yorkers and visitors. Hudson River Park runs 4 mi (6.4 km) along Manhattan's west side and attracts 17 million people annually. Here, you can walk, run, row, play, dance, relax, and chat with friends, family, and nature. Pops of seasonal color and blossom offer a fantastic contrast to the brick, steel, glass, and concrete across the highway.
Theodore Roosevelt Park. This gorgeous park houses one of NYC's most famous museums – the AmericanMuseum of Natural History. Theodore Roosevelt Park is rated one of the top five small parks in the Big Apple. Its name honors the youngest man to serve as a U.S. President.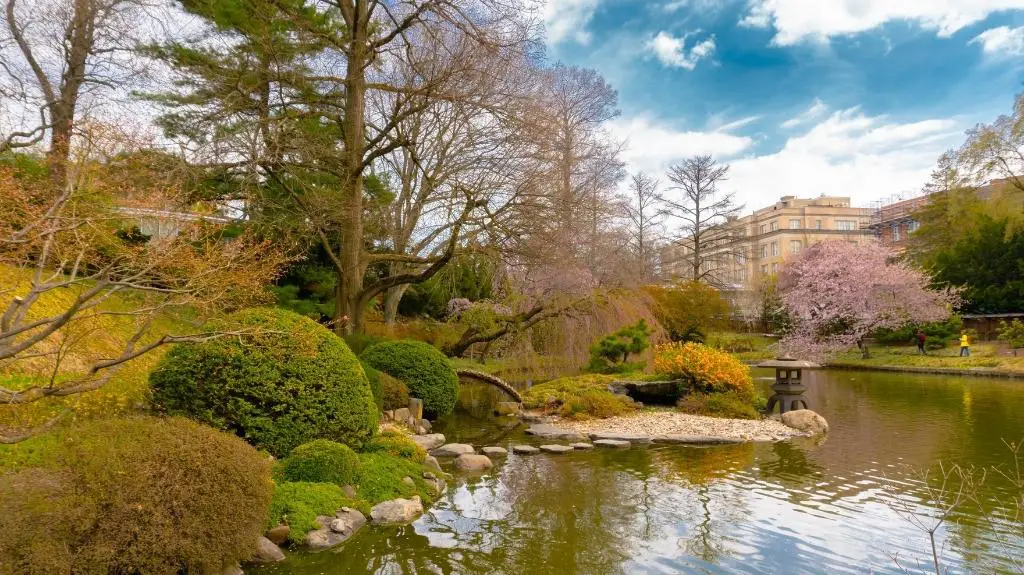 Washington Square Park. Located in the Greenwich Village of Lower Manhattan, Washington Square is a meeting place, a center for cultural activities, and a great spot for coffee, street food, and funky jazz music. The highlights of the park are the large fountain and the statue of Giuseppe Garibaldi.
Queens Botanical Garden. Covering almost 40 acres, the Queens Botanical Garden is an expansive landscape with a broad collection of plants. Many of the small gardens onsite showcase florae of particular importance to a certain world culture. The garden is free of charge from November till March.
Brooklyn Botanic Garden. The 52-acre garden is home to more than 14,000 plants that attract over 1 million guests every year. The Brooklyn Botanic Garden has a "pay what you wish" policy from December till February. This means you can visit for free and leave a tip when leaving (if you decide to do so, of course).
The Best Markets in New York City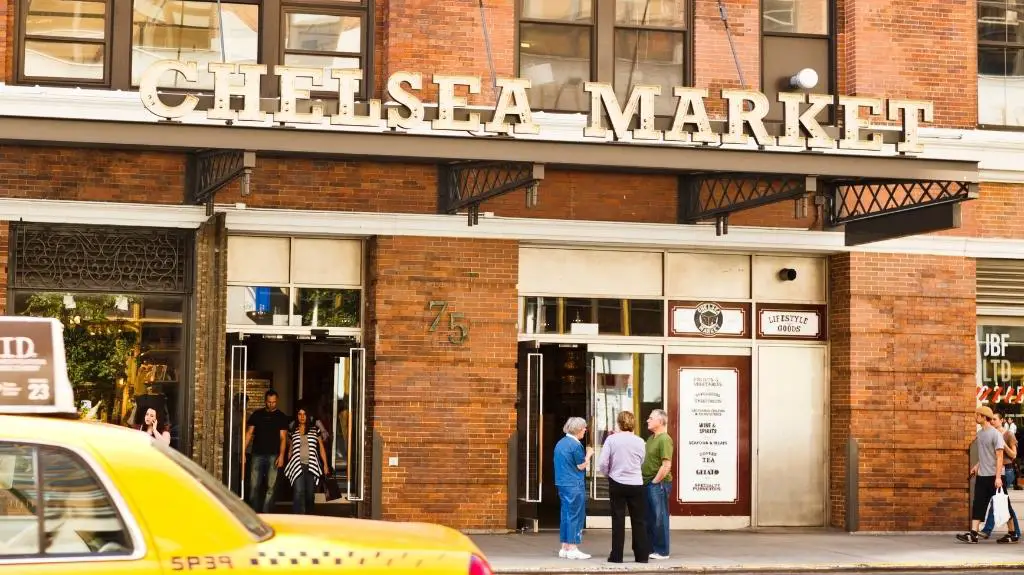 Getting lost in New York's markets is another way to feel the city's unique vibe. From antiques and vintage deals to artisanal jewelry and mouthwatering food, let's explore what the best markets in the Big Apple offer.
Chelsea Flea Market. Under the shadow of the St. Sava Cathedral, Chelsea Flea is a spot where both shoppers and dealers hunt for bargains and hidden treasures. Over 135 vendors offer Art Deco and modern items from the mid-20th century. Art, décor, antiques, and vintage clothes are all waiting for you at Chelsea Flea Market.
Grand Bazaar. The Grand Bazaar happens every Sunday all-year round in the Upper West Side of Manhattan. Here, you'll discover local artists, antique and vintage dealers, designers, jewelry makers, and all kind of furniture. When you grow tired of haggling, you can replenish your energy with mouthwatering artisanal bites.
Union Square Greenmarket. You can roam this famous market every Wednesday, Friday, and Saturday. Located close to Union Square, the area around Greenmarket is lively and upbeat. This is a producer-only market, which is important because you'll know exactly who grows your food.
Essex Street Market. Essex Street Market is NYC's most historic public market. It has been around since 1888. The market offers one of the freshest, most delectable, and most diverse foodgasms in the Big Apple. There, you'll find classic New York foods, as well as original new treats.
Must-See Free Things to Do in New York City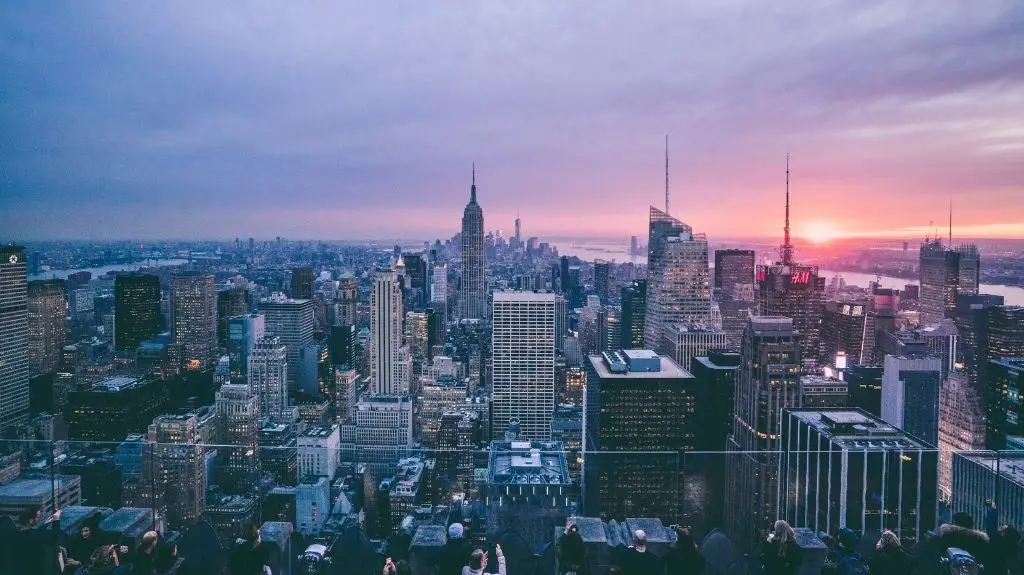 And there you have it – 44 amazing free things to do in New York.
Now, we fully understand that no traveler can possibly check all of them out. So, below, you'll discover our top 8 choices for free things to do in New York for first-time visitors:
The High Line
Staten Island Ferry
The Brooklyn Bridge
Times Square
Central Park
Union Square Greenmarket
Chelsea
Chinatown
Now, we're curious:
What would be the first free thing you'll do when in New York?
Share with us in the comments below.