Tampa might not be as funky as Miami, but it packs a powerful punch of rich history, diverse culture, and international cuisines.
The Florida city also happens to be close to many cool towns, parks, islands, and other landmarks. All of them make for great Tampa day trips.
Whether you want to soak up in the sun, swim with manatees, or explore world-class paintings, this guide will show you the 11 best day trips from Tampa.
Buckle up and let's discover!
Note: This article contains affiliate links. In case you purchase something through one of these links, we may receive a small commission at no extra cost for you. Thank you for helping us keep creating the free content on this website!
1. Day Trip from Tampa to St. Petersburg
St. Pete, as locals call it, is a great town with chill vibes and an exploding culinary scene. The must-visit restaurants are in the new St. Petersburg Pier area, which opened in 2020.
Besides eateries, in the area, you can visit a discovery center, a splash pad, children's playgrounds, a fishing area, and a gorgeous beach.
Downtown St. Pete offers tons of fun for culture vultures who will enjoy the numerous murals, museums, and art centers.
For example, the Salvador Dalí Museum in St. Petersburg houses the world's biggest collection of Dali's artworks. So, if you're a fan of surrealist art, don't miss this peculiar museum. Although Dali held his first solo exhibition in Barcelona, in the St. Pete's museum, you can marvel at the artist's most famous masterpieces – The Hallucinogenic Toreador and The Discovery of America by Christopher Columbus.
After your art escapades, head to Sunken Gardens – a century-old botanical garden that's located in a non-active sinkhole. The gardens are home to flamingos and hundreds of plants.
Not interested in art or vegetation? How about a relaxed day at St. Pete Beach or Fort De Soto Park? Both beaches are on the Gulf of Mexico and offer fantastic conditions for lazing in the sun and bird watching.
If you love dolphins, we highly recommend booking this private dolphin-watching cruise.
2. Day Trip from Tampa to Clearwater Beach
Clearwater Beach prides itself on white sandy beaches that stretch for miles. In the area, at your disposal, you'll have rentable cabanas and umbrellas, restaurants, volleyball nets, water activities, and beach shops.
The award-winning beach is fantastic for chilling out in the sun. When you grow weary of collecting Vitamin D, you can head to the Clearwater Marine Aquarium. It acts as a rescue and rehabilitation facility for sick and injured animals.
The aquarium allows you to discover more about sharks, dolphins, stingrays, pelicans, sea turtles, and other local ocean species.
In 2022, the Clearwater Marine Aquarium is celebrating its 50th anniversary, so U.S. veterans get a discounted Appreciation Admission throughout the entire year.
Explore the diverse marine wildlife and learn more about the ecosystem of Clearwater Beach by booking your tour to the aquarium via this website.
3. Tampa Day Trip to Sarasota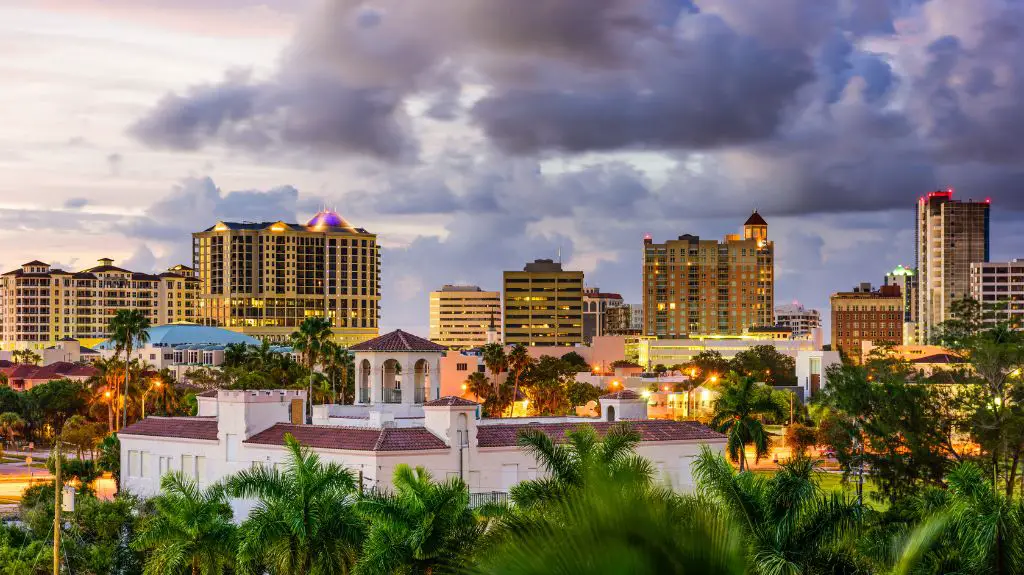 Sarasota might be a small town, but it teems with attractions and things to do. This makes it a great destination for a fun day trip from Tampa.
In Sarasota, you can explore the world-famous Ringling Museum of Art which displays old masters and contemporary art.
Lido Beach and Siesta Key Beach offer visitors miles of fine sand and shallow waters that are great for kids and adults alike.
After a few hours of soaking in the sun, head to the Sarasota Jungle Gardens. 10 acres of botanical gardens and bird exhibits await you in the area. The Jungle Gardens also offer animal shows, flamingo feedings, and exciting trails to discover.
If you're a plant worshipper, another mustn't miss is the Marie Selby Botanical Gardens. Inside, you can marvel at art exhibits, tropical gardens, and more than 20,000 plants.
If you'd like to explore Sarasota's diverse history, rich culture, and colorful neighborhoods, hop on this fantastic 90-minute sightseeing trolley tour.
4. Day Trip from Tampa to Crystal River
Crystal River goes by the name of "Manatee Capital of the World". That's no wonder because Crystal River is the only spot in the U.S. where you can legally swim with manatees.
To be able to do that, you'll have to book a tour.
The rules about not engaging with the beautiful creatures are very strict. For example, it's illegal to touch a manatee. But since they're curious animals, if they bump into your body, you won't get into legal trouble.
If the idea of swimming with manatees doesn't appeal to you, don't worry. Head to the Three Sisters Springs, where you can observe the animals outside of the water.
Another wonderful water activity is snorkeling in the Crystal River to catch scallops. Their season runs from the beginning of July to the end of September.
5. Tampa Day Trip to Ocala National Forest
More than 600 lakes, springs, and rivers, as well as 387,000 acres of scrub wood, await you in the Ocala National Forest. Ocala is not only the world's largest sand pine forest. It's also the southernmost forest in the continental United States.
You can visit the general forest 24 hours a day. Recreation spots have specific opening hours.
You can cycle, fish, hike, swim, and even dive in select springs in Ocala. The forest is one of Florida's remaining wild places. Expect to see deer, various migratory birds, river otters, opossums, the Florida Scrub-Jay bird, and even flying squirrels.
Don't miss Lake Kerr and the gigantic Lake George.
You can also benefit from 100 mi (160 km) of paved roads that slice through dense forests. This fact makes the Ocala National Forest ideal for scenic driving.
If you love buggy adventures and don't mind getting a bit muddy, we recommend you explore the trails in Ocala with this adrenaline-rising tour.
6. Day Trip from Tampa to Walt Disney World Resort Orlando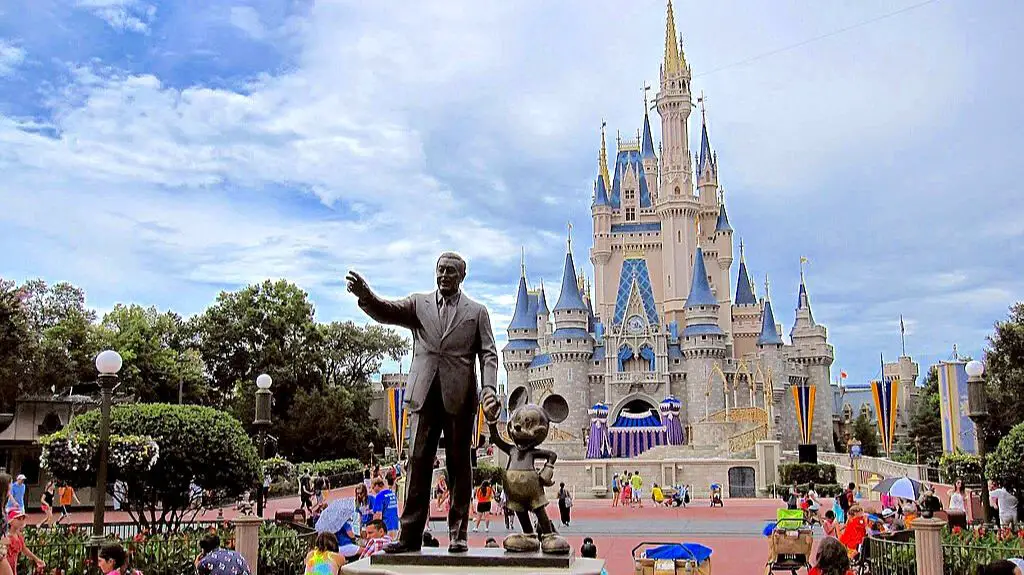 Heading to the magical world of the Walt Disney Resort in Orlando is one of the best Florida day trips from Tampa you can do.
Whether you're traveling alone, with your partner, or with your whole family, the Walt Disney World Resort will entertain you in a great way.
Since you'll have a ton of ground to cover, we recommend you choose one Disney park and explore it all rather than spending a little time in each.
Disney World in Orlando offers you four theme parks: EPCOT, Magic Kingdom, Animal Kingdom, and Hollywood Studios.
EPCOT gives you the chance to visit exquisite destinations around the globe with spine-chilling 4D adventures. Don't miss a chance to try delicious international food at World Showcase.
First-time visitor? Pick Magic Kingdom for its thrill rides and shows that feature favorite Disney characters.
At Animal Kingdom, you can encounter wild animals, experience exotic jungle trails, and pump your adrenaline with high-speed thrill rides. Engaging animal shows and lip-smacking meals will further seduce you here.
A 3D immersive experience with your favorite Toy Story and Star Wars characters awaits you at Hollywood Studios. At the droid depot, you can build your own droid.
At Disney World, you'll also have access to two water parks, two night-time entertainment districts, a state-of-the-art sports complex, numerous Disney Resort Hotels, and dining and shopping spots.
The distance from Tampa to the park is around 1:30 hours by car, but with an early start, you can make the most of your time.
Note: The Walt Disney World Resort tends to get quite crowded, so we recommend booking your tickets in advance. Use this link to do that.
7. Day Trip from Tampa to Hillsborough River State Park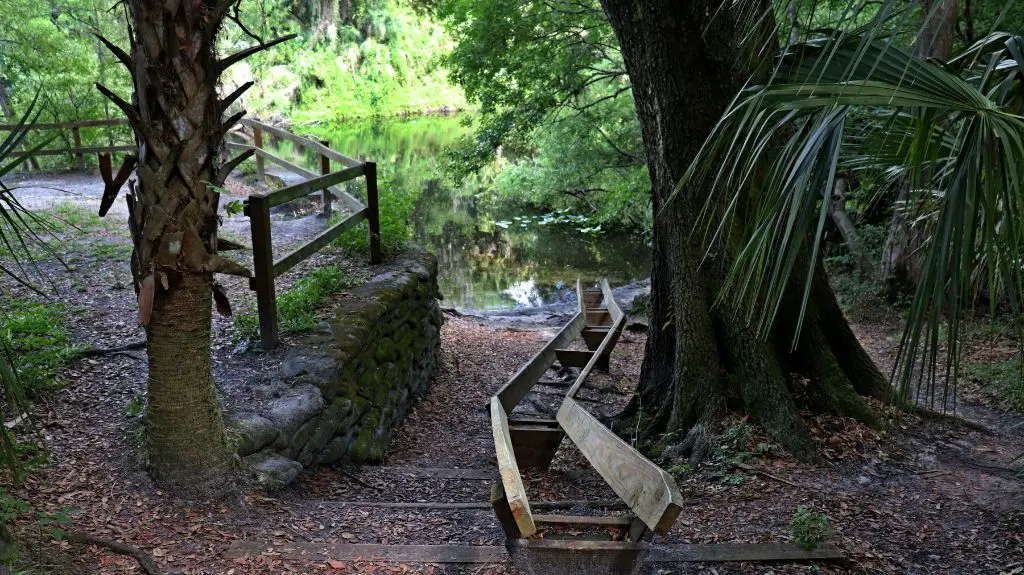 Opened in 1938 and standing at around 9 mi (14.5 km) northeast of Tampa, Hillsborough River State Park is one of the oldest state parks in Florida.
Since the mid-20th century, the park has been offering visitors fishing and kayaking opportunities.
If water sports aren't your thing, you can saunter along the river rapids, explore historic buildings, engage in camping activities, picnic with your friends, or admire the jaw-dropping landscape.
Hillsborough River State Park features over 7 mi (11.2 km) of trails, including a cycling trail and several nature trails. At your disposal, you also have an outdoor swimming pool, but it's closed for maintenance until summer 2023.
The park's opening hours are from 8:00 AM until sunset, every day of the year. You'll have to pay a small fee of $6 per vehicle (for up to eight people). See all applicable fees here.
8. Day Trip from Tampa to Weeki Wachee Springs State Park
Another great outdoor idea for a Tampa day trip is the Weeki Wachee Springs State Park. This is the only spot in the world where you can see live "mermaids" perform in a natural spring.
And while the iconic mermaid-themed show is definitely the park's most popular attraction, Weeki Wachee Springs offers so much more.
You can swim or kayak around the spring, discover freshwater caves and grottos, explore Florida's wildlife, do a river boat cruise, and even pump your adrenaline to the max in the water area of the park.
The park is open 365 days a year to dazzle your entire family. Note that during the busy summer months, the Weeki Wachee Springs State Park often reaches capacity. That's why we highly recommend you plan your visit in advance via their official website.
Getting to Weeki Wachee Springs takes around an hour by car or 2:30 hours by bus.
9. Day Trip from Tampa to Bok Tower Gardens
Bok Tower Gardens in Lake Wales provide for a fantastic escapade from Tampa's hustle and bustle. The area consists of 200 acres (0.8 sq. km.) of blooming plants, such as azaleas during spring and magnolias during summer.
The marvelous plant carpet will enchant you even if you're not a big fan of gardens. The cherry on top of these lush gardens is the Singing Tower.
The 150-ft (45.7-m) tower rises in the heart of the Bok Tower Gardens and emits captivating music. The tower's interior is not accessible to the public, but you can spot a musician inside who conducts the Singing Tower's 60 bells into a magical melody.
Since its opening in 1929, the gardens have welcomed more than 23 million visitors. That's why we suggest you go early to explore the greenery undisturbed.
Other activities you can do in Bok Tower Gardens include bird watching, hiking the trails, and exploring the wildlife.
Getting to Bok Tower Gardens from Tampa takes 1:15 hours by car.
10. Tampa Day Trip to LEGOLAND
If you're traveling to Tampa with kids, a trip to LEGOLAND is a great idea for a day full of fun and excitement.
LEGOLAND Florida Resort teems with mind-blowing LEGO creations, exciting rides, and tons of entertainment. At your disposal, you have a theme park, a water park, and a Peppa Big theme park.
LEGOLAND offers annual and seasonal events that add even more fun to your visit. Every year, they have new attractions opening, so keep your eyes on those, too.
To get from Tampa to LEGOLAND, it takes just an hour of driving east. Enjoy the ultimate adventure for LEGO fans by reserving your tickets in advance from this link.
11. Day Trip from Tampa to Anna Maria Island
If you'd like to admire the beauty of Florida's Gulf Coast, don't miss a chance to visit Anna Maria Island.
Just an hour by car south of Downtown Tampa, the barrier island is packed with shimmering beaches. We recommend checking out Cortez Beach, Coquina Beach, Bradenton Beach, and Manatee Public Beach.
Anna Maria Island offers plenty of options for shopping and eating your heart out along Pine Avenue. However, if you're craving an adrenaline boost, no worries. You'll have the options to kayak with wild dolphins, canoe through alligators, and go scuba diving at a shipwreck site.
The Historical Society Museum on the island features a cottage that dates from the 1920s. The old-time feel of Anna Maria is further fueled by the strict regulations that govern the types of buildings and businesses allowed on the island.
Getting to Anna Maria Island from Tampa takes a little less than an hour by car.
Which Is Your Favorite Day Trip from Tampa?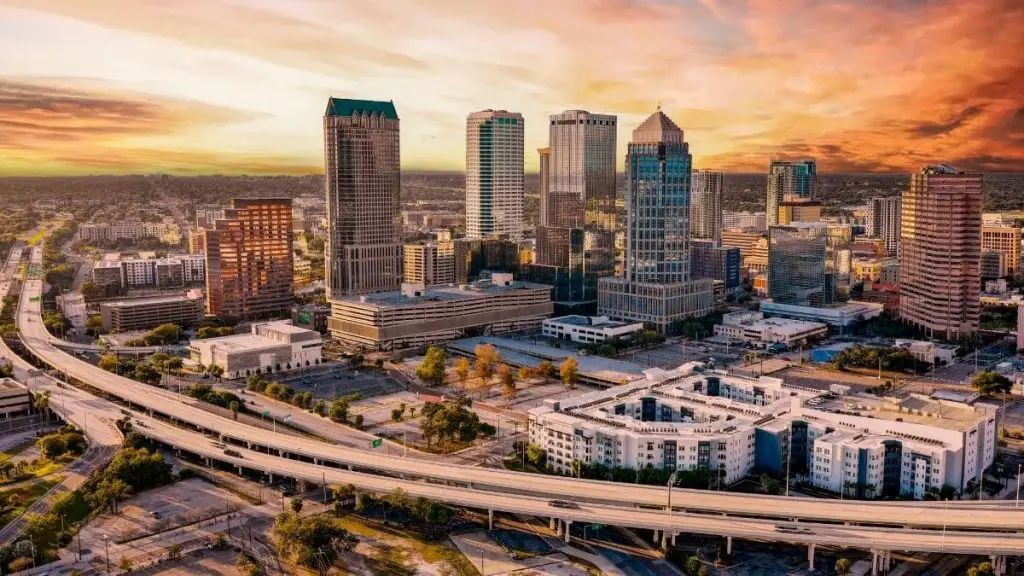 This wraps up our list with the 11 best Tampa day trips.
As you saw, with some planning, you can easily do an unforgettable day tour from the Big Guava.
Whether you want to explore wildlife, hop on a thrill ride, watch a live "mermaid" show, or just collect some sun rays, Tampa's vicinity is good for all that and more.
Now, we're curious:
Which will be the first day trip from Tampa you'll do?
Let us know by leaving a comment below.