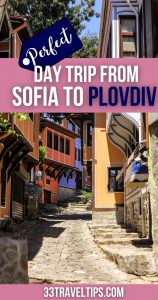 Are you visiting Bulgaria's capital on your next vacation?
Sofia is known for its lush parks, hot mineral springs, numerous museums, and ancient Roman history.
While there, we suggest you do a day trip to Plovdiv, Europe's oldest city.
That's right. You can do a day trip from Sofia to Plovdiv and discover the landmarks of both cities.
In this thorough guide, you'll find the most practical hacks and tricks on how to plan one of the coolest day trips from Sofia, so you can maximize your stay.
Put your virtual belts on, and let's jump in!
Note: This article contains affiliate links. In case you purchase something through one of these links, we may receive a small commission at no extra cost for you. Thank you for helping us keep creating the free content on this website!
How to Get from Sofia to Plovdiv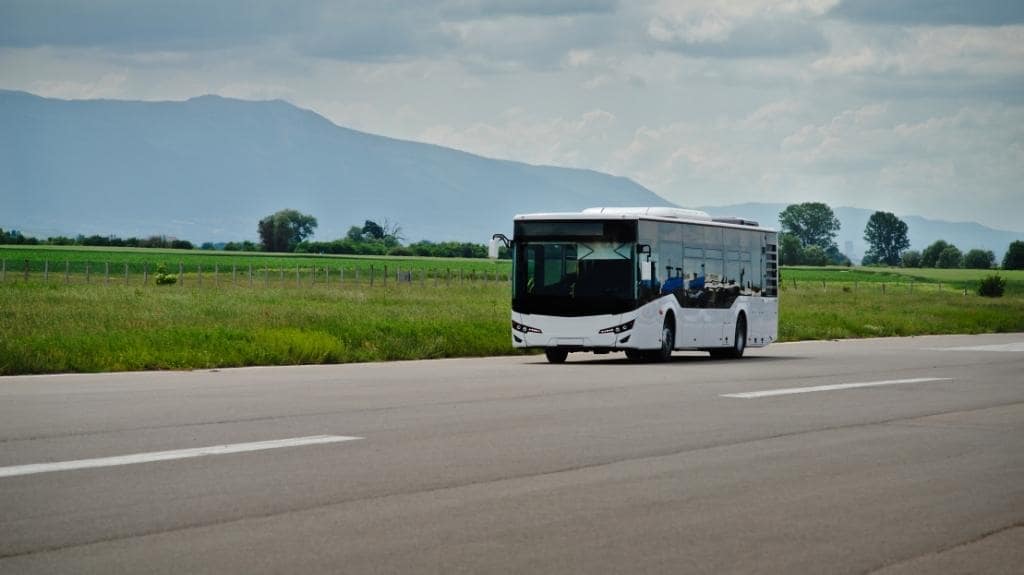 You can travel to Plovdiv from Sofia in a few ways. Let's take a look at each:
| | | |
| --- | --- | --- |
| Mode of Transport | Duration | Book via |
| Bus | From 1 hour 45 minutes (in each direction) | Omio |
| Car | From 1 hour 30 minutes (in each direction) | Discover Cars |
| Train | From 2 hour 34 minutes (in each direction) | BDZ |
| Tour | Approximately 12 hours (round trip) | Get Your Guide |
By Bus
Buses are the easiest mode of public transport for getting from Sofia to Plovdiv. Below, we've enlisted everything you should know about traveling by bus:
Direct buses from Sofia to Plovdiv take between 1:45 hours and 2:30 hours.
Over 10 buses per day travel in both directions every day of the week.
The first bus from Sofia to Plovdiv leaves at 6:15 AM and arrives at 8:45 AM. The last one leaves at 11:30 PM and arrives at 1:45 AM.
The first bus from Plovdiv to Sofia departs at 5:30 AM and arrives at 8:00 AM. The last one departs at 9:10 PM and arrives at 11:05 AM.
Buses from Sofia leave from the Central Bus Station and arrive at Plovdiv's South Station ("Yug").
To grab the best prices, reserve your bus tickets beforehand.
Important: Arrive at least 10 minutes before departure, so you have enough time to find your platform and get on the bus easily.
By Train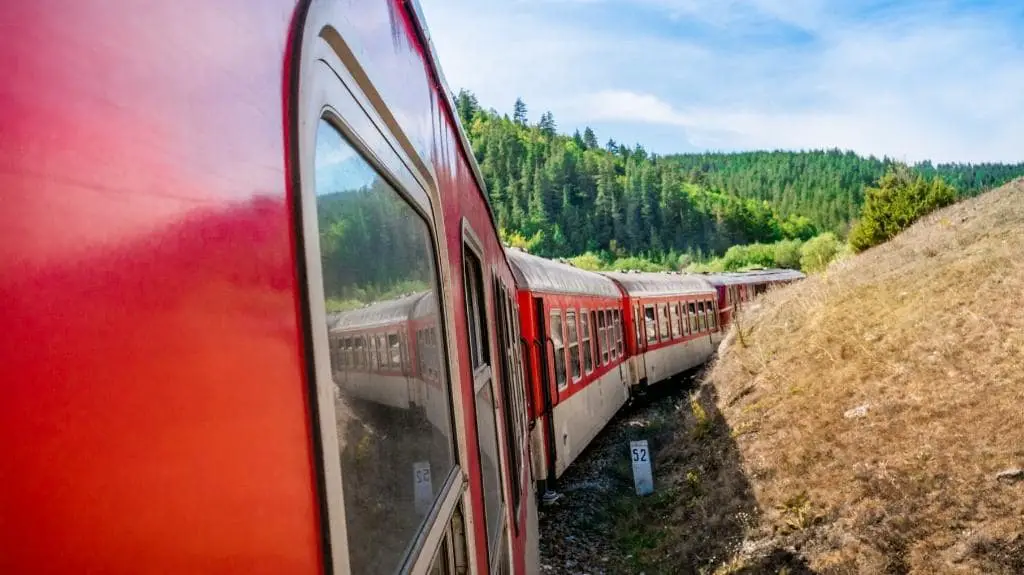 Trains in Bulgaria are typically slower than buses.
The train between Bulgaria's biggest cities departs from Sofia Central Railway Station and arrives at Plovdiv Central Railway Station.
In the list below, you'll find everything you should know about this transportation type:
Direct trains from Sofia to Plovdiv take between 2:34 hours and 3:45 hours.
More than 15 trains per day travel in both directions, every day of the week, including the weekend.
The first train from Sofia to Plovdiv departs at 6:35 AM and arrives at 9:09 AM – Monday through Sunday. The last one departs at 10:30 PM and arrives at 01:17 AM.
The first train from Plovdiv to Sofia leaves at 03:08 AM and arrives at 5:53 AM – every day of the week without exceptions. The last one leaves at 7:43 PM and arrives at 10:23 PM – Monday through Sunday.
To get the best price deals, buy your tickets in advance.
Important: It's advisable to be at the train station about 15 minutes before departure, so you have enough time to find your platform and board the train hassle-free.
By Car
The driving distance between the Bulgarian capital and Europe's oldest city is 82 mi (132 km).
It will take you around 1:30 hours to get from Sofia to Plovdiv by car.
This makes driving the fastest means of transportation.
To find the best rates on car rentals, we recommend checking Discover Cars.
By Tour
By far the easiest way to explore Plovdiv on a day trip from Sofia is by joining a tour.
Avoid the fixed bus schedules, and enjoy the luxury of an air-conditioned private vehicle.
The tour not only shows you the best landmarks of Plovdiv, including its Roman ruins. It also includes a visit to the drop-dead gorgeous, 11th-century Bachkovo Monastery.
The driver will pick you up and return you to your hotel in Sofia, so you don't need to wake up in the wee hours and find your way to the bus or train station.
If all this sounds good, grab this full-day tour from Sofia to Plovdiv by clicking here.
What to Do on a Day Trip from Sofia to Plovdiv
Now that the basics are out of the way, let's concentrate on the cool stuff!
Europe's oldest city offers a ton of things to do and see. In the section below, you'll learn all the spots you mustn't miss on your tour.
Note: It's possible to see each place we've recommended. But if you do that, you won't have enough time to devote to each landmark. For that reason, we suggest you pick only what interests you the most. At the end of the day, if you like Plovdiv on a day trip from Sofia, you can always revisit.
The Old Town – Centuries-Old Houses, Peculiar Museums, and Sweeping Vistas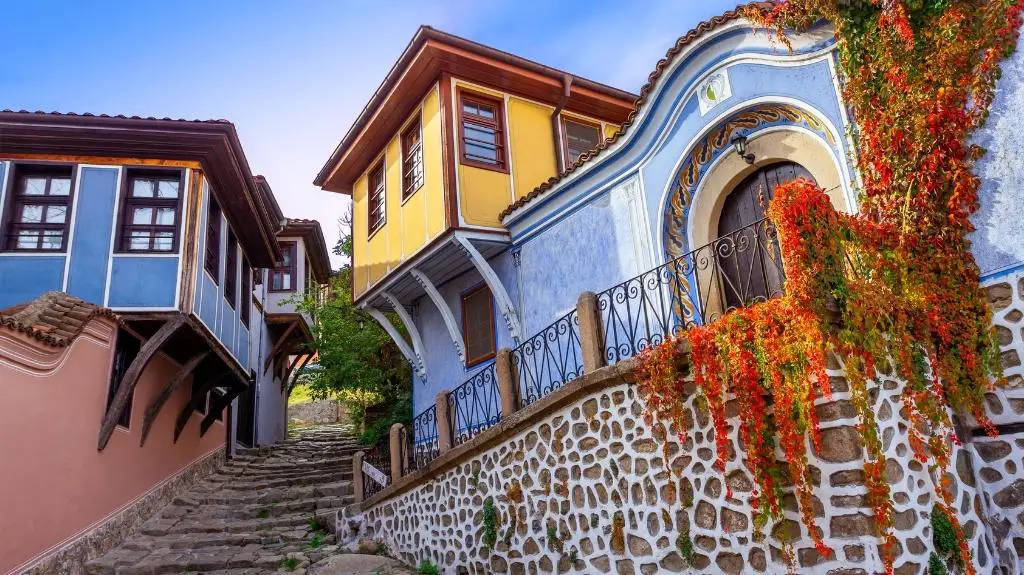 If you have time to visit just one thing in Plovdiv, we strongly recommend you go with the Old Town.
Within its limits, you can get lost in a maze of cobblestoned streets that wind around 18th– and 19th-century houses and museums.
Quirky bars and restaurants take turns with crafts shops and galleries that were constructed in the Bulgarian Revival architecture style.
Plovdiv's Old Town is also home to many other must-visit attractions, including:
The Ancient Theater
The Roman Stadium
The Odeon
Balabanov's House
UNESCO World Heritage lovers will appreciate the fact that the Old Town was included in the list in 2004.
One of the things Plovdiv is known for is its seven hills. Well, the Old Town occupies three of them, and the panoramas from the top are well worth the effort.
The Ancient Theater – Heart-Stopping Vistas of the City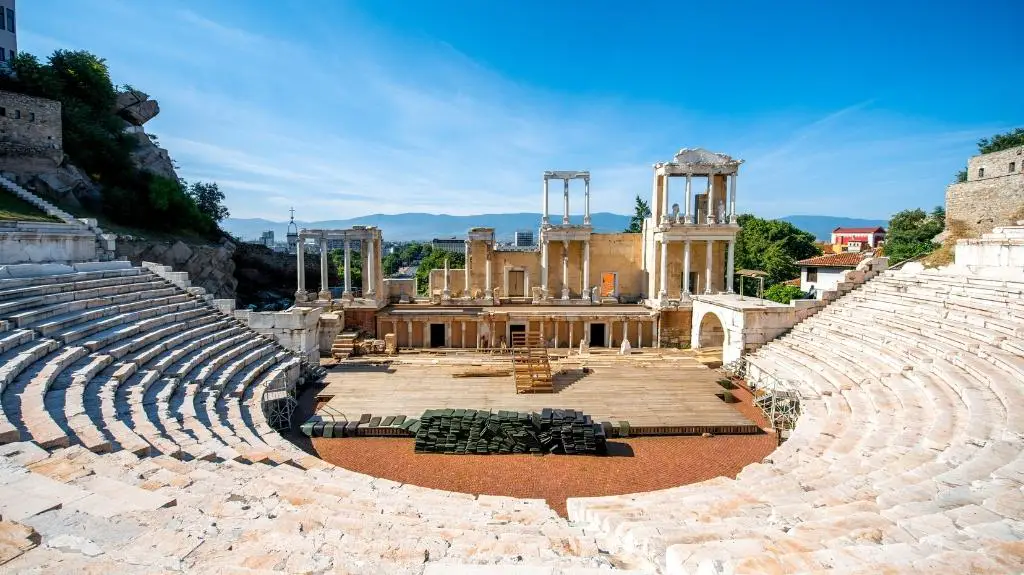 The Old Town of Plovdiv houses one of the city's most popular cultural attractions – the Ancient Roman theater. The building sits on the southern slope of the Three Hills and is one of the best-preserved ancient Roman theaters worldwide.
Historians believe the arena was constructed in the 1st century AD under the rule of Domitian. Today, the auditorium can host between 5,000 and 7,000 spectators.
The Ancient Theater of Philippopolis is a semi-circle that regularly hosts performances. Besides the staggering architecture, the Rhodope Mountains that are visible in the background add more beauty to the theater's brilliance.
Peculiarly, the theater was discovered very recently – in the early-1970s – during a landslide. If you decide to indulge in a performance, be careful when climbing the steps, as they're quite steep.
Kapana District – Bulgaria's First Creative Neighborhood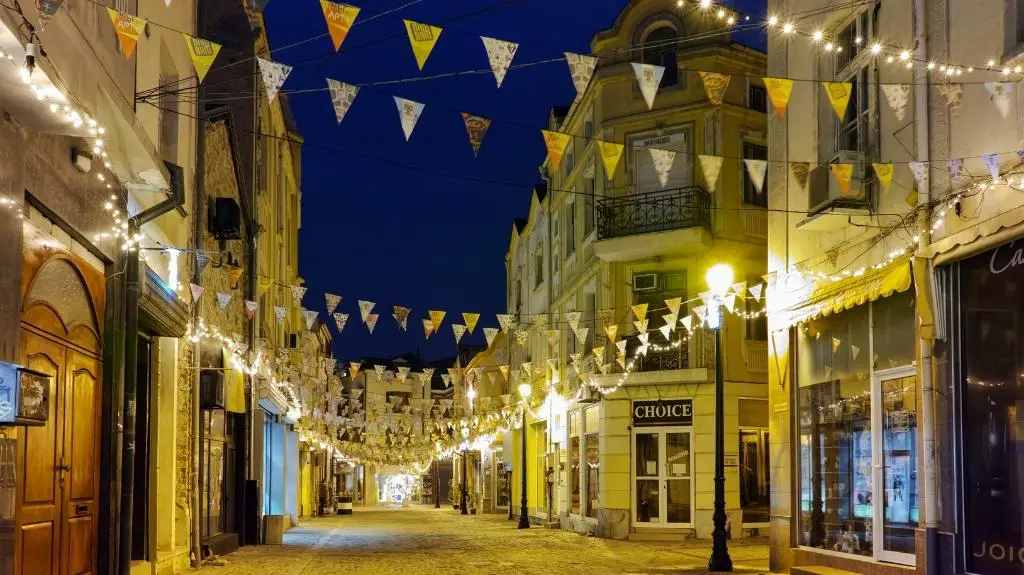 The first creative quarter in Plovdiv is also the first for the whole country.
The colorful Kapana District is the cultural heart of Bulgaria's second-biggest city. Cobblestoned streets lead to peculiar crafts shops, posh art galleries, and elegant refurbished buildings.
The popular Kapana Fest happens every year and entertains visitors with its artists, street performers, and the area's iconic decorations.
When you've had enough art and culture, stop at one of the countless gastropubs, bakeries, or eateries. They serve everything from local specialties to modern cuisine. If you like BBQ, don't miss the funky Pavaj restaurant.
Even just grabbing a beer and walking around the meandering streets is enough to teleport you into a world of magnetism and charm.
The Singing Fountains – A Vivacious Combination of Light and Colors
Plovdiv is hot from early May until late September. Thankfully, you can cool down very easily by visiting the Singing Fountains in the stunning Tsar Simeon Park.
Besides the water cascades' cooling effect, you can also observe the heart-pumping music and lights show. The vibrant performance takes place every Thursday, Friday, and Saturday evening between 9:30 PM and 10:00 PM.
Similar to Dubai's Fountain, the program of Plovdiv's Singing Fountains includes five musical compositions that change each week. Grab a beverage, arrive a bit earlier to save a good watching spot, and enjoy the spectacle.
In their vicinity, you can also find a children's splash fountain.
Small Basilica of Philippopolis – An Example of Architectural Genius
One of the most iconic attractions of Plovdiv is the Small Basilica of Philippopolis.
The year 1988 marked the discovery of the remnants of this early-Christian church. The basilica dates back to the 5th century AD and contains rich architectural decoration, including marble columns between the church's naves.
Colorful Roman mosaics with geometrical motifs cover the basilica's floors. On the south side of the church, you'll find a small chapel, while in the northern part, there's a baptistery.
The Small Basilica of Philippopolis is a fantastic example of the impressive skills of mosaic constructors from ancient Philippopolis.
After 26 years of restoration work, the basilica opened its doors in May 2014.
Plovdiv Aviation Museum – A Walk Through Bulgaria's Aviation History
Plovdiv is worth visiting for its dozens of museums. Among the most peculiar ones is the Plovdiv Aviation Museum.
Despite it opened to the public in 1991, the museum tells you the history and development of Bulgarian aviation during the world wars and after that. You can discover two different exhibitions – indoors and outdoors.
A must-see exhibit is the green military hydroplane Arado 196 A-3 "Shark" – the only remaining one in the world.
Note that the museum doesn't work on Monday and Tuesday, and it has different working times during the summer and winter months. Military veterans can enter for free. Regular folks can visit free of charge every last Wednesday of the month.
For more information on the working hours, prices, and guided tours, please consult the museum's official website.
Glavnata – The Longest Pedestrian Street in Europe
Plovdiv holds a few other records than being Europe's oldest settlement. Among them is the longest pedestrian street on the Old Continent.
Glavnata, which means "The Main Street", stretches from the ancient Roman Stadium all the way to the Trimontium Hotel.
On its length of 1.1 mi (1.8 km), you'll discover various shops, outdoor cafés, and restaurants serving delicious food. It's usually crowded, but that's what makes it fun to explore.
Glavnata is also home to a chain of fountains. And a flight of stairs on both sides will lead you to one of Plovdiv's famous hills.
Don't miss the Statue of Milyo the Crazy, which you'll find very close to the fountains. Legend has it that if you touch the statue, luck will be on your side.
Bachkovo Monastery – The Second-Largest Monastery in Bulgaria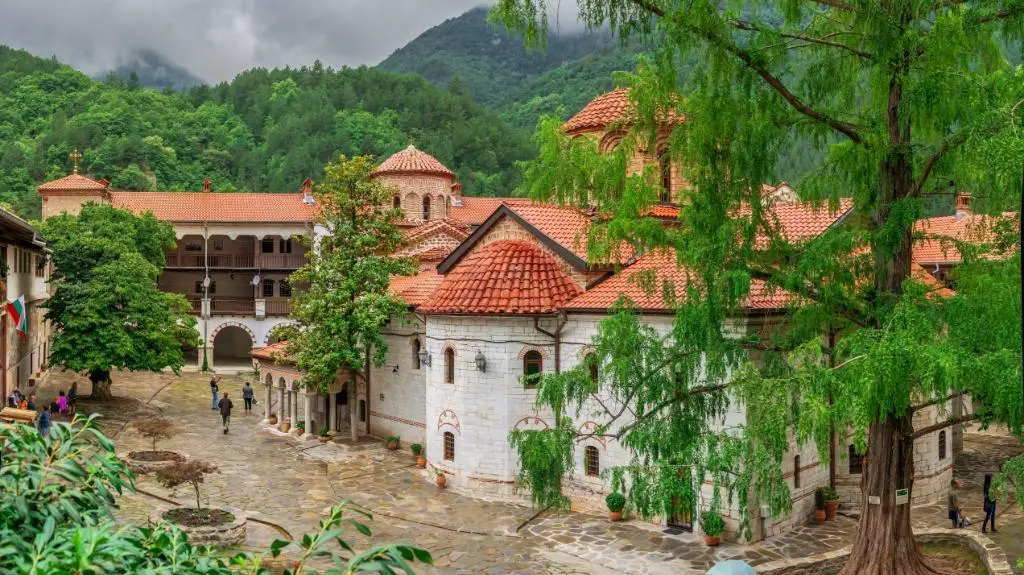 If you somehow manage to cover every spot above, we have another recommendation.
Sitting in the powerful embrace of the Rhodope Mountains, just 40 minutes away from Plovdiv is the gorgeous Bachkovo Monastery. Dating back to 1083, the second-biggest monastery after the Rila Monastery is an eclectic mixture of Bulgarian, Byzantine, and Georgian cultures.
We'll let you in on a well-kept secret. The monks prepare a special brandy from jujube berries. The majestic tree grows in the monastery's gardens. We haven't tried it yet, but our friends say it's worth the shot (pun intended).
The cloister is also the final resting place of two Bulgarian patriarchs – Euthymius and Cyril.
If you'd like to include the medieval monastery in your itinerary, we highly recommend booking this tour.
Food Tips for Your Day Trip from Sofia to Plovdiv
If we were doing a day tour from Sofia to Plovdiv, we'll pack some water, prepare a few sandwiches, and grab a couple of protein bars. In this way, you can maximize your time in Europe's oldest city.
But if you'd like to visit the city in the most leisurely way possible and enjoy a delectable lunch, here are several food tips to consider:
Try the Mavrud red wine. The small town of Asenovgrad in Plovdiv's vicinity is home to one of Bulgaria's most distinctive red wines – Mavrud. Just beware that the wine is large, winged, and relatively heavy. It goes well with cured meats and various cheese types.
If you're looking for a quick snack, crêperies, food trucks, and kebab spots are your go-to places. They'll save you valuable time to discover the city.
Plovdiv is worth visiting for its amazing restaurants. You can't go wrong with Aylykria, Hemingway, Jägerhof, Memory, Pavaj, Philippopolis, and Porky's BBQ.
Visa, Currency, and Language Tips for Plovdiv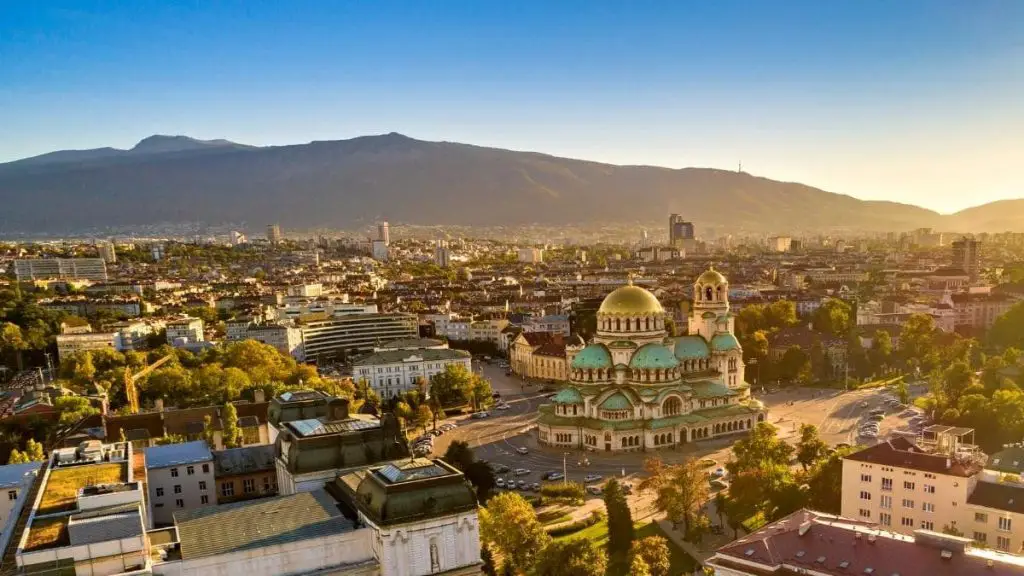 Bulgaria is part of the European Union (EU), but it doesn't belong to the Schengen area.
Nonetheless, if you have an American passport, expiring in over 6 months, you don't need a visa to visit Bulgaria for up to 90 days. Schengen Area and EU Member States can stay in the country for up to 3 months as well.
Please consult the official website of the Ministry of Foreign Affairs for a complete list of entry requirements.
Bulgaria's currency is the Lev (BGN), which is pegged to the euro at 1 EUR = 1.95 BGN. If you need cash, you won't face any difficulties as Plovdiv abounds with ATM machines.
However, if you like going cash-free, note that not all places accept credit cards.
The oldest city in Europe is international, so you should be fine getting around with English.
However, if you'd like to impress locals with your Bulgarian, find the most common words and phrases in the table below:
Good morning!
Dobro utro! (Добро утро!)
Goodbye!
Doh-veezh-dah-neh! (Довиждане!)
Thank you! /
Thank you very much!
Blah-goh-da-rya! (Благодаря!) /
Mnoh-goh blah-goh-da-rya! (Много благодаря!)
Excuse me! /
I'm sorry!
Eez-vee-neh-teh meh! (Извинете ме!)
Suh-zha-lya-vam (Съжалявам!)
Yes / No
Dah (Да) / Neh (Не)
A Day Trip from Sofia to Plovdiv – Roman Ruins, Singing Fountains, and Peculiar Museums
From ancient Roman architecture to the longest pedestrian street in Europe, and from mouthwatering red wine to world-class restaurants, Plovdiv overflows with things to do and see.
A day trip from Sofia to Plovdiv might not be enough to explore everything the oldest city in Europe offers. But you'll be able to feel its unique charm.
Plus, with some preparation, we bet you'll make the most of your time and discover both places.
Now, tell us:
Have you been to Plovdiv before?
If not, what's the first attraction you'll visit?