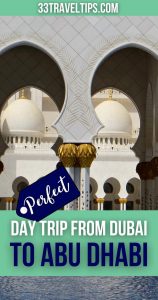 Spending a few days in the bustling Dubai?
You can combine your visit with a tour to the vivacious capital of the U.A.E. – Abu Dhabi.
Yes, that's perfectly possible. You can do a day trip from Dubai to Abu Dhabi and hit two travel birds with one Arabic stone!
If you prepare well and arrive early in the capital of the Emirates, you'll have enough time to visit most of the places on this list.
In this comprehensive guide, you'll discover our expert tips and ideas on how to do an Abu Dhabi full-day tour from Dubai. You'll also find information on how to go from Dubai to Ferrari World.
Let's jump right in!
Note: This article contains affiliate links. In case you purchase something through one of these links, we may receive a small commission at no extra cost for you. Thank you for helping us keep creating the free content on this website!
How to Get from Dubai to Abu Dhabi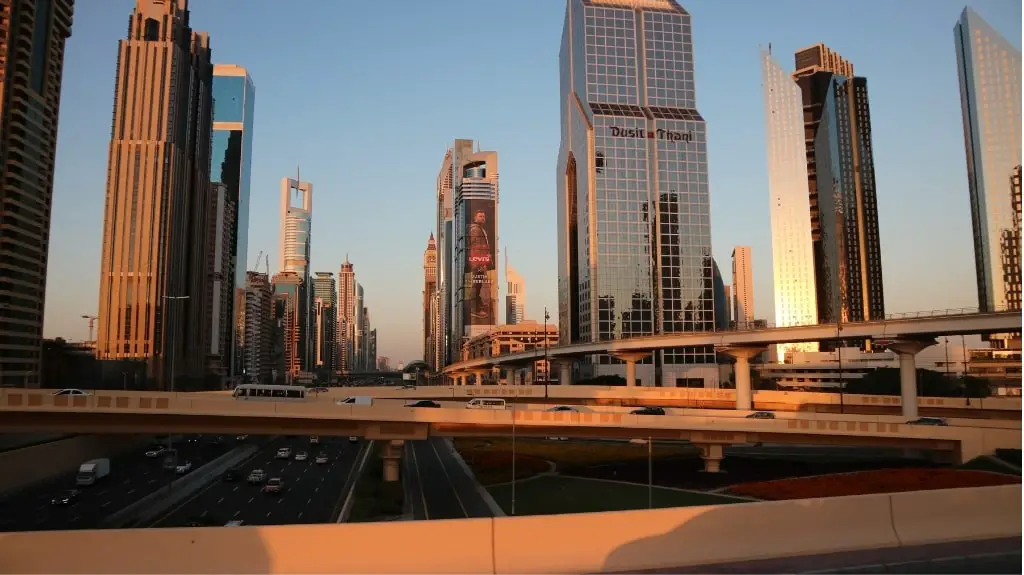 You can reach Abu Dhabi from Dubai by bus in about 1:35 hours, by car or taxi in 1:30 hours (depending on the traffic), or by joining a tour. If it's your first visit to the U.A.E., we recommend booking a tour for its convenience.
In this section, we'll share a thorough description of the different options for getting from Dubai to Abu Dhabi.
Traveling from Dubai to Abu Dhabi by Bus
For your day trip between the two cities, you can catch Bus E101 from Dubai's Ibn Battuta Bus Station to Abu Dhabi Central Station
The bus leaves every 30 minutes.
The trip duration is around 1:35 hours and the price – 25 AED ($6.80).
For more information and the current timetables, visit the RTA website.
Note: If you're visiting the U.A.E. for Expo 2020 Dubai, you can also catch a free shuttle from the Mobility Expo Rider Gate to Abu Dhabi Central Bus Station. Bus 313 leaves every 30 minutes and takes 1:35 hours to reach the Emirati capital.
Traveling from Dubai to Abu Dhabi by Taxi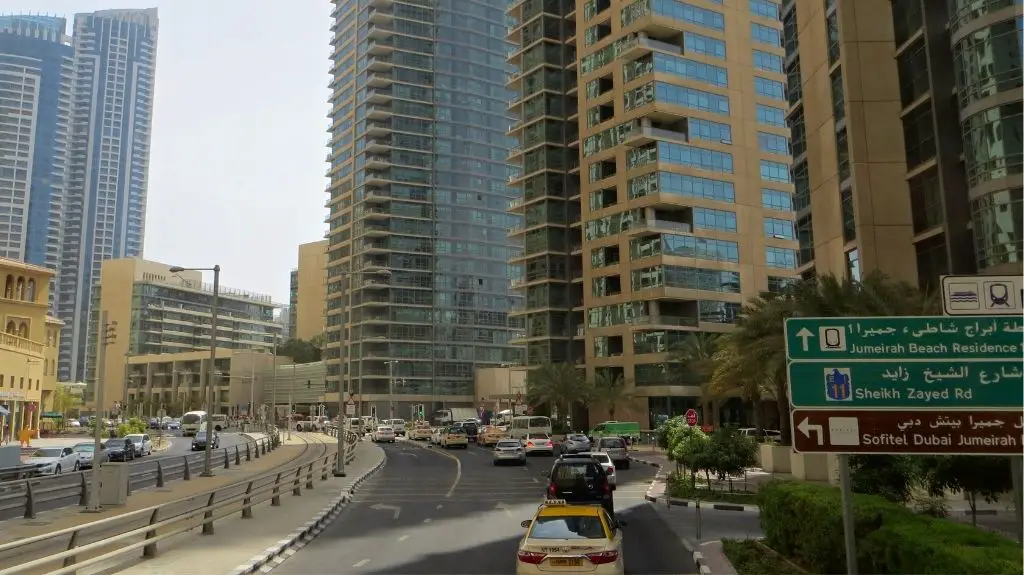 Taxi fares in the U.A.E. are relatively low, compared to other tourist destinations around the world.
However, the distance between Dubai and Abu Dhabi is approximately 90 mi (145 km). For that reason, expect to pay around 250 AED ($70), depending on your starting point in Dubai and your exact destination in Abu Dhabi.
The journey takes about 1:30 hours.
Make sure your taxi has a working meter. Have in mind that possible traffic jams can slow you down and increase the price.
Apart from taxis, you can also order Uber, Uber Black, Lyft, Careem, or a limousine service to take you from Dubai to Abu Dhabi. But we've found them to be more expensive than regular taxis.
Visiting Abu Dhabi from Dubai by Tour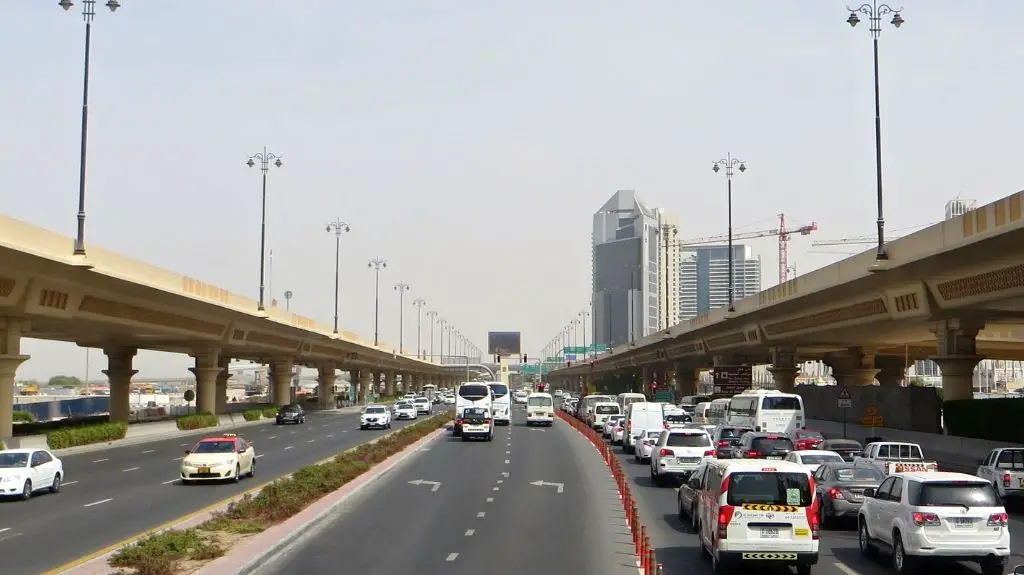 Tours from Dubai to Abu Dhabi are usually tailored to different tastes and crowds.
Since Abu Dhabi offers a ton of cool activities and places to see, select the one, which best matches your interests.
Here are our favorite options:
For city explorers: a premium sightseeing day trip from Dubai to Abu Dhabi with visits to the Sheikh Zayed Mosque, the Emirates Palace, Marina Mall, and more. Book it here.
For culture vultures: a full-day trip to Abu Dhabi from Dubai with a visit to the Sheikh Zayed Mosque and the Louvre. Book it here.
For race fans: a thrilling Dubai day tour to Abu Dhabi with Ferrari World admission and sightseeing. Book it here.
The price includes hotel pick-up and drop-off. Read carefully the descriptions to understand what's excluded and what items you should bring. You might need to purchase some of the entrance tickets extra.
What to Do on a Full-day Trip from Dubai to Abu Dhabi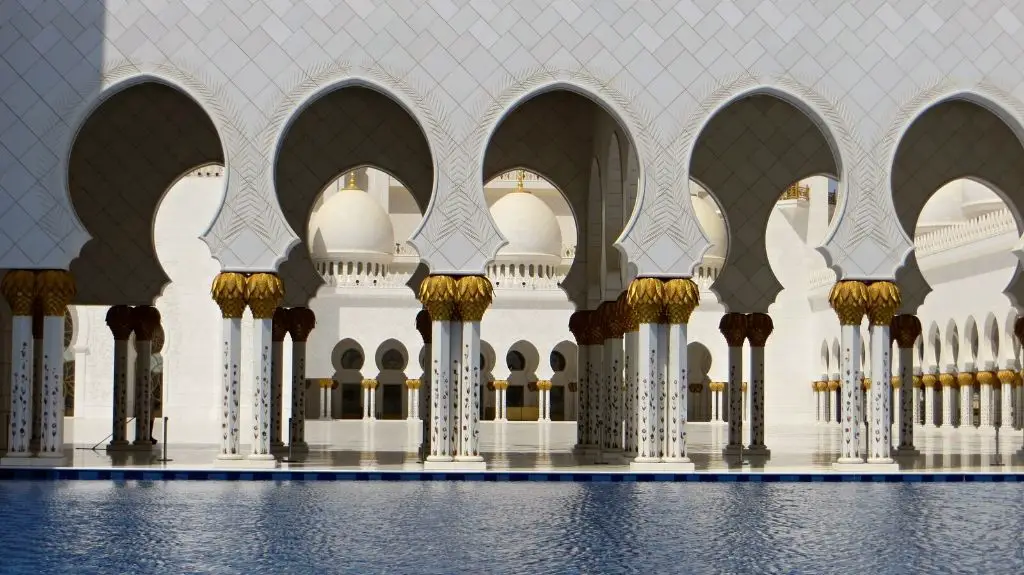 Now that you know the basics, let's dive into the exciting stuff!
The city of Abu Dhabi might be smaller than Dubai, but the Emirate of Abu Dhabi is the largest of the seven. It covers more than 80% of the total territory of the U.A.E.
This means there are a lot of things to do and see in Abu Dhabi. This section of our guide will show you the best spots for your day tour.
Note: It's next to impossible to visit every single landmark we've listed below. That's why we recommend you select only what fits your interests. In the end, if you like Abu Dhabi on a day trip from Dubai, you can always revisit.
Sheikh Zayed Grand Mosque – Marvel at Middle East Resplendence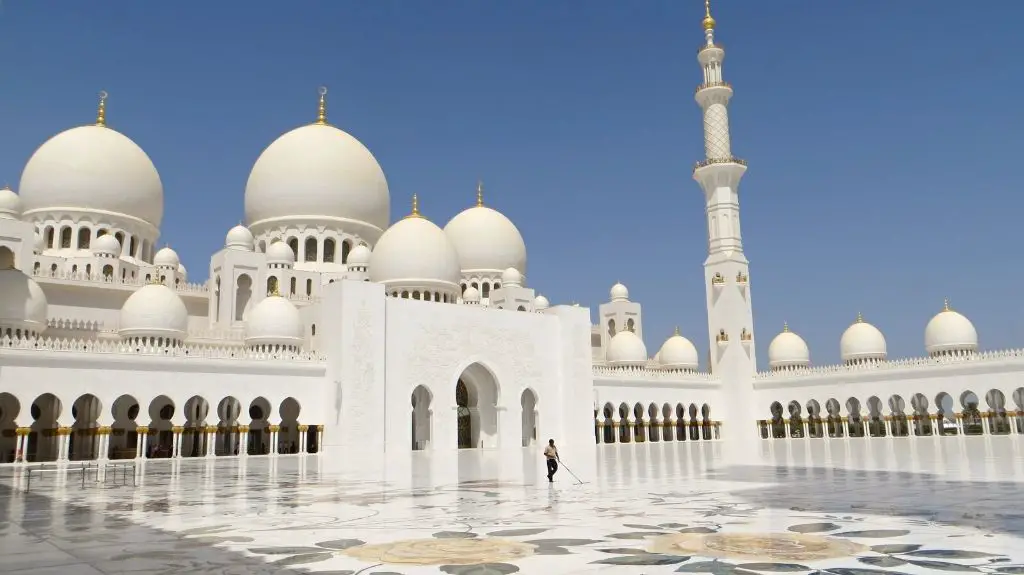 Abu Dhabi is most known for the Sheikh Zayed Grand Mosque. Named after the late President of the Emirates, the religious temple is the principal mosque in the country. Its beauty and splendor require a few hours to marvel at.
Sheikh Zayed is the largest mosque in the U.A.E. Over 1,000 pillars support the four 351 ft. (107 m) minarets and 82 domes.
The massive columns are covered with various precious stones – amethyst, jasper, lapis lazuli, mother-of-pearl, and red agate. They add great contrast to the geometric ceramic details that decorate the inside of the domes.
To make the exterior truly breathtaking, the builders used marble from various regions of the world, including China, India, Italy, and North Macedonia.
The interior of the mosque is no less spectacular. When you walk inside, you'll immediately notice two things:
The magnificent carpet whose wool came from New Zealand and Iran. Measuring over 60,000 sq. ft. (5,500 sq. m), it's the largest hand-knotted carpet in the world.
The opulent chandeliers made of brass, gold, steel, and Swarovski crystals. The biggest chandelier weighs the mind-blowing 12 tons, including 88 lbs (40 kg) of pure 24-carat galvanized gold.
Note that when visiting mosques in the U.A.E., much like any other Islamic country, you'll have to respect the dress code.
Check the opening times, how to dress properly, and other details about the mosque on this website.
Emirates Palace – Going Beyond 5-Star Luxury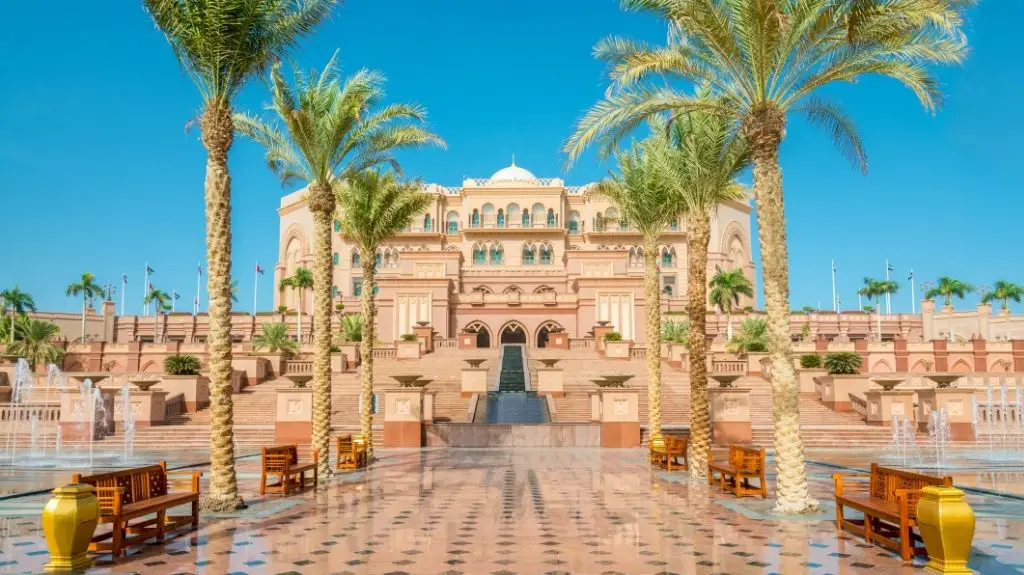 Luxury might be a severe understatement for the majestic Emirates Palace hotel in Abu Dhabi.
The palatial complex has 394 rooms, including 92 suites and 22 residential suites. Most of them are richly furnished in marble and gold.
The Emirates Palace prides itself on two spa facilities, a marina, a private beach, two helicopter landing pads, a ballroom for up to 2,500 people, and more than 40 meeting rooms. In the complex, you can also find various high-end stores and international restaurants.
In Le Café, you can pamper yourself by tasting the world-popular Palace Cappuccino – coffee sprinkled with 24-carat gold flakes. You'll have to pony up around $25 for that luxury. The price includes sweets, such as a special date and dark chocolate.
While the cappuccino might be ridiculously expensive, the good news is there's no fee to enter the Emirates Palace. This makes it one of the best free things to do in Abu Dhabi.
Heritage Village – Explore the Roots of the United Arab Emirates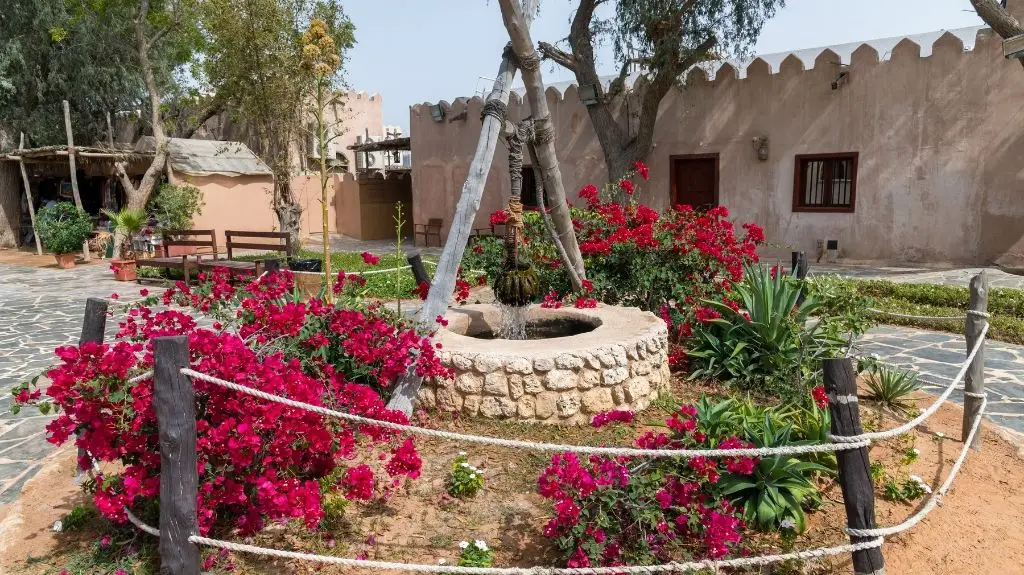 Since Emirates Palace is quite close to Heritage Village, we suggest this landmark as your next stop on your day trip from Dubai to Abu Dhabi.
The open-air museum lets you discover the past of the Arabic country, walking you around a traditional oasis village. It's similar to Dubai's Heritage Village, which is one of the best things to do in Dubai.
In Heritage Village, Abu Dhabi, you can experience the traditional aspects of the desert way of living and dive into a time capsule. Inside, you'll also be able to explore:
A mosque,
A traditional souk (market),
A historic encampment,
Various gift shops selling goods by local artisans.
Don't miss the village's small spice shop. It offers a variety of dried herbs, handmade soaps, and other souvenirs you can gift to friends and family.
Like the Emirates Palace, Heritage Village's entry is free of charge.
Ferrari World – Pump Your Adrenaline at the World's Largest Indoor Theme Park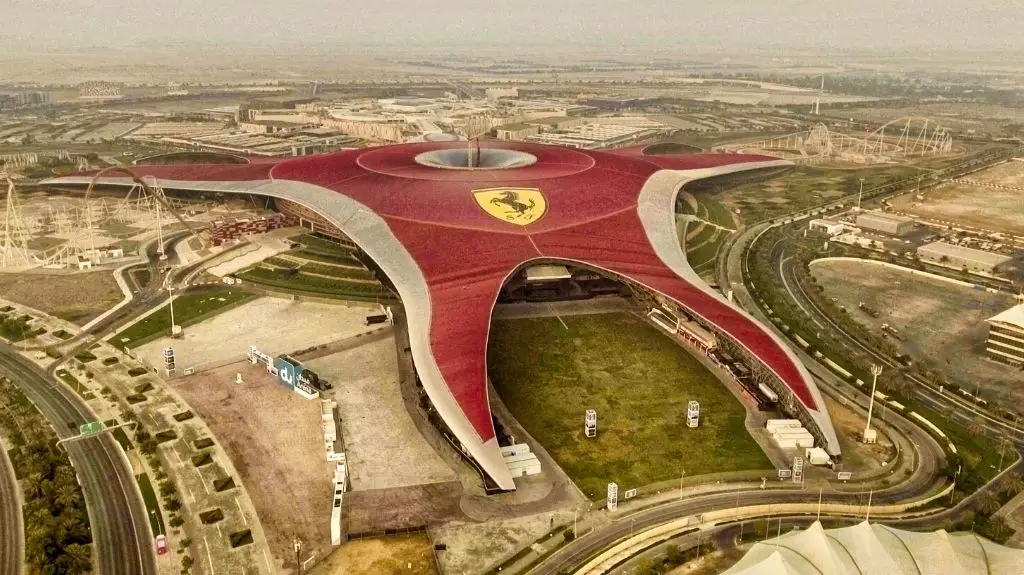 Ferrari World is only the biggest indoor theme park on the planet.
It's also home to the world's fastest roller coaster – Formula Rossa. Another record-breaking roller coaster is Flying Aces known for having the world's tallest non-inverting loop.
If you're not a huge fan of high adrenaline, many of the rides are great for families and children, too.
When you've had enough roller coaster fun, you can satiate your hunger at one of the many Italian restaurants. Or you can marvel at all the gorgeous Ferrari cars that are on display inside the park.
Plan to spend at least two hours as waiting lines for some of the roller coasters can be up to 30 minutes.
If Ferrari World sounds like a must on your day trip from Dubai to Abu Dhabi, we highly recommend this tour.
The Louvre Abu Dhabi – Discover World Masterpieces in a Futuristic Setting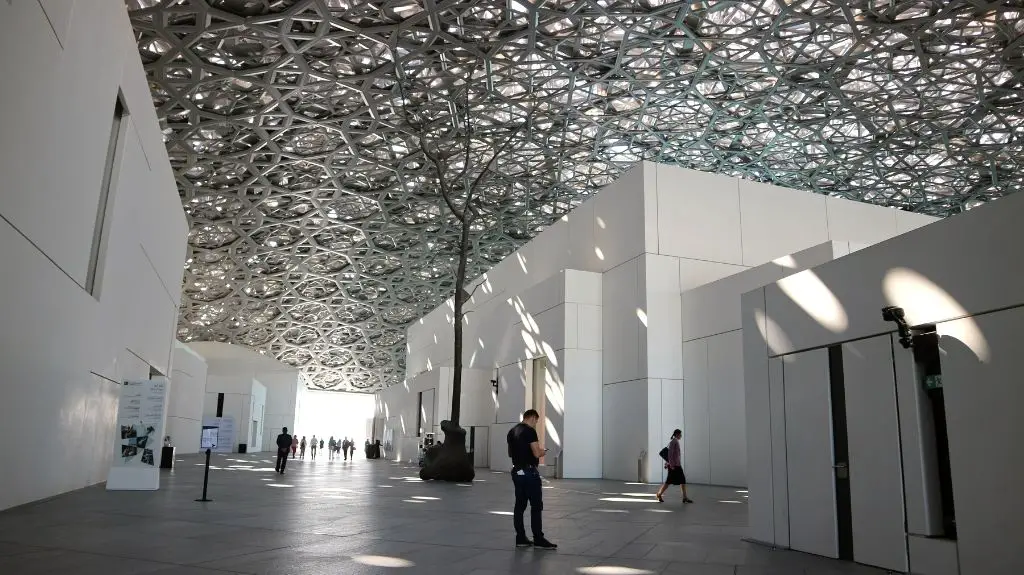 2017 marked the start of the cultural collaboration between France and the U.A.E. It has allowed over 2 million visitors to marvel at spectacular masterpieces at the Louvre, Abu Dhabi.
The futuristic art gallery is France's largest cultural project abroad. Currently, it is the most visited museum in the Arab world.
The spectacular structure features a floating dome, consisting of 7,850 aluminum stars, positioned in eight layers. Inside, timeless masterpieces await to spellbind you.
The items in the permanent collection are loans from the Louvre in Paris and other French museums. You can explore anything from ancient sarcophagi through Renaissance paintings to post-modernistic art installations.
To optimize your time in Abu Dhabi, we recommend buying your Louvre tickets in advance from this link.
Travel Tips for Visiting Abu Dhabi on a Day Trip from Dubai
Getting around Abu Dhabi is easy. We don't recommend walking outside in the Emirati capital for long periods. The temperatures in the desert city will melt your brain in all seasons, except in winter. Instead, use Abu Dhabi's convenient taxis, excellent public transportation network, or hop-on hop-off sightseeing buses.
Don't forget your sunscreen and sunglasses. Apart from the desert sun, you can go blind from its reflection in the white marble of the Sheikh Zayed Grand Mosque. Additionally, don't forget to drink plenty of water.
Know how to properly dress if visiting the Grand Mosque. Men won't be allowed in the temple wearing shorts or sleeveless shirts. Women will have to wear long, loose clothing, covering their arms, legs, and heads. Some tours will provide appropriate attire to put over your clothes, but don't rely solely on this.
Now You Know How to Plan the Best Day Trip from Dubai to Abu Dhabi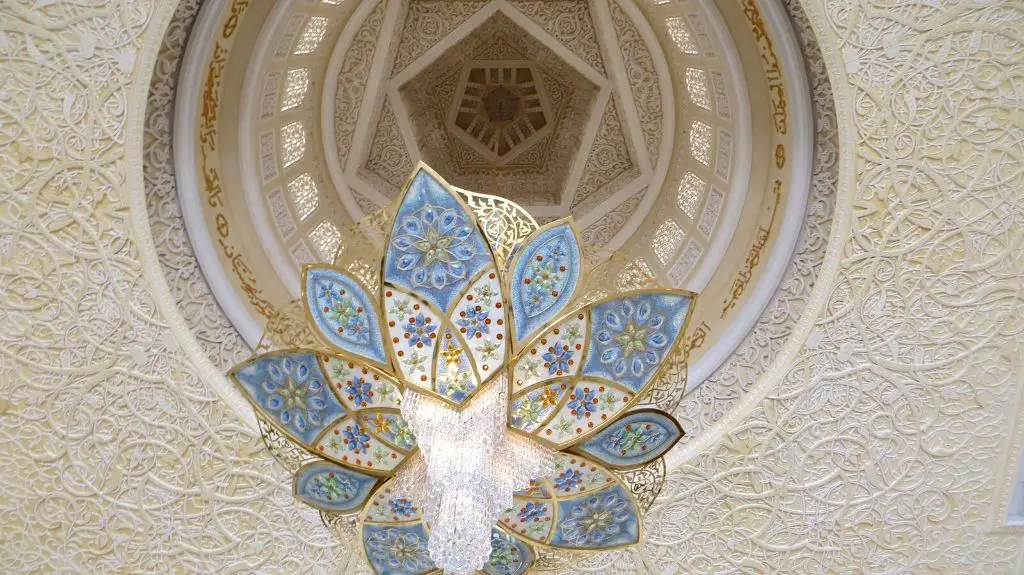 The capital of the United Arab Emirates – Abu Dhabi – is an invigorating oasis in the middle of the desert. Its high-end museums, opulent palaces, heart-pumping rollercoasters, and jaw-dropping temples will make your stay unforgettable.
The city has lots of things to do and see. A day tour from Dubai to Abu Dhabi won't be enough to explore everything, but you'll be able to feel the capital's unique vibe.
Plus, with some planning and this detailed guide, we believe you can maximize your time and discover both cities in one trip.
Now, please share:
Have you been to Abu Dhabi before?
If not, what would be the first attraction you'll visit?