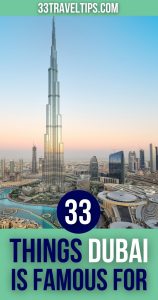 Dubai is famous for the record-breaking Burj Khalifa, Dubai Mall, and the Palm, its vibrant culture, turbulent history, modern infrastructure, huge aquariums, and indoor ski slopes. Dubai is also known for its ultra-fast cars, driverless subway, scorching summer heat, and fantastic beaches.
So, it's no wonder U.A.E's largest city attracts visitors all year round.
In this guide, you'll discover 33 incredible things Dubai is famous for.
From jaw-dropping skyscrapers to high-end shopping, and from glitzy nightlife to adrenaline-infused desert safaris, let's discover what makes Dubai special!
Start Planning Your Trip to Dubai with Our BEST Recommendations:
⭐ Top Tours in Dubai ⭐
📍 Burj Khalifa Dubai – see the city from the deck of the tallest building in the world.
📍 Dubai Helicopter Tour – experience the most exhilarating views of Dubai's skyline.
⭐ Best Accommodations in Dubai ⭐
🏨 Armani Hotel – spoil yourself with a luxurious stay inside Burj Khalifa.
🏨 Gevora Hotel – if you love sweeping vistas, stay at the highest hotel in Dubai.
⭐ Easiest Transportation Options in Dubai ⭐
🚍 Dubai Hop-on Hop-off Bus – the best way to explore the city at your own pace.
🚍 Discover Cars – compare and find the best rates for car rentals in any destination.
Note: This article contains affiliate links. In case you purchase something through one of these links, we may receive a small commission at no extra cost for you. Thank you for helping us keep creating the free content on this website!
The Stunning Landmarks Dubai Is Most Famous For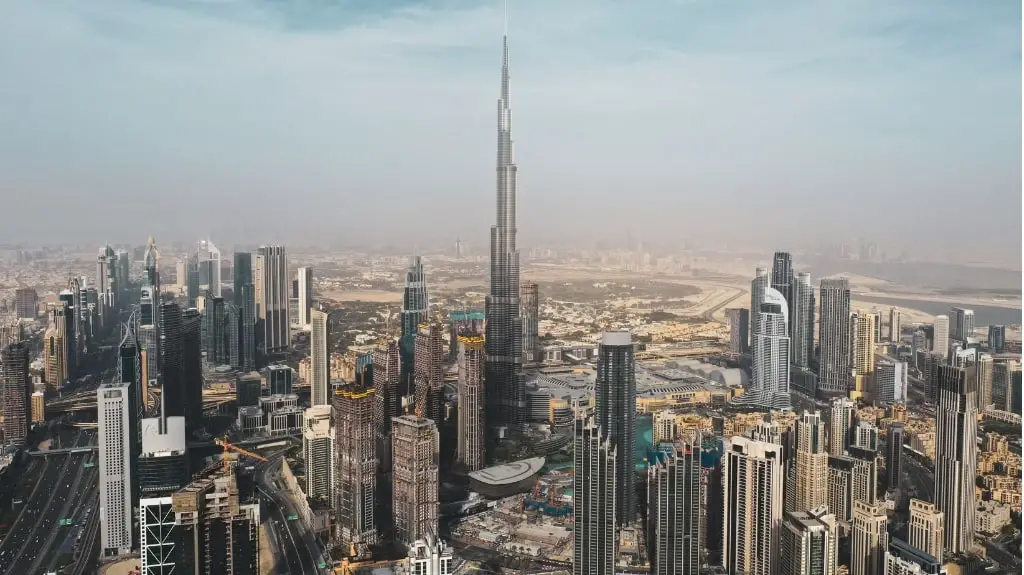 The City of Gold packs a powerful punch of mind-boggling attractions. In this section, you'll find the landmarks Dubai is best known for.
Burj Khalifa. This architectural marvel holds several world records. Burj Khalifa is the tallest skyscraper, the tallest freestanding building, and the structure with the most floors. It also hosts a luxury hotel, the highest observation tower worldwide, and thousands of offices. Plan at least 2 hours, so you can explore it slowly. It's best to arrive an hour before sunset to watch the sun melt on the horizon.
Burj Al Arab. Dubai's most luxurious hotel is a landmark on its own. With mind-bending design, Rolls-Royce and helicopter shuttles, and standing on its own island, Burj Al Arab is the epitome of luxury. For the ultimate seduction, book your stay here.
The Dubai Fountain. Similar to Bellagio in Las Vegas, the Dubai Fountain is an architectural miracle. Don't miss the music and light shows that happen every day at 12:30 PM and from 6:30 PM to 11:00 PM. Tip: Arrive early to secure a good observation spot.
Dubai Miracle Garden. It might sound crazy, but the world's largest natural flower garden is in Dubai. Home to 50 million flowers and 250 million plants, Dubai Miracle Garden occupies a whopping 780,000 sq. ft. (72,000 sq. m).
Dubai Aquarium & Underwater Zoo. Over 140 species, 400+ sharks and rays, and thousands of aquatic animals live in Dubai Aquarium & Underwater Zoo's 10-million-liter tank. You can engage in specialty dives, cage snorkeling, shark dives, and other exhilarating activities. Satiate your water sports cravings by grabbing your ticket here.
Palm Jumeirah. The manmade archipelago was created via land reclamation. Authorities dredged sand from Dubai's shallow coastal waters. You can visit The Palm by car or via a driverless, 3.4-mile (5.4-kilometre) long monorail, the first of its kind in the Middle East. On the tip of the archipelago, you'll find the stunning Atlantis Hotel.
The Markets and Shopping Opportunities Dubai Is Known For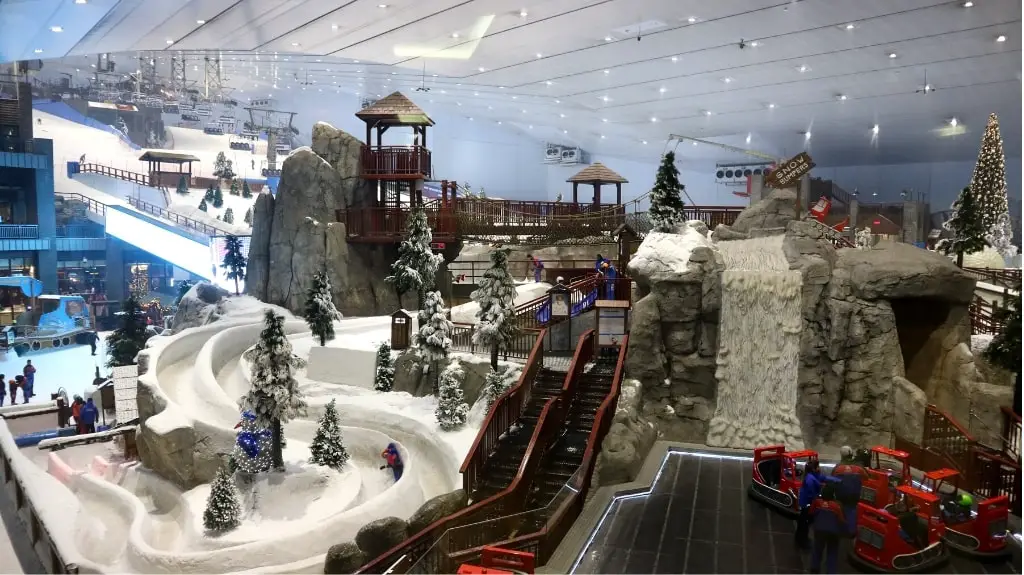 Dubai is a shopping spree mecca. 66 malls and 15 under construction await you in the City of Gold. Besides deals and shopping opportunities, the arcades also offer a ton of entertainment. Let's explore the shopping centers and souks Dubai is most popular for.
The Dubai Mall. The world's largest shopping mall houses over 1,200 stores. Besides that, it's also home to the Dubai Aquarium, an Olympic-size ice rink, one of the largest bookshops in the world, and tons of fast-food and high-end restaurants. Dubai Mall is also one of the best places to observe the world-famous shows of the Dubai Fountain.
Mall of the Emirates. This shopping center made Dubai famous for skiing in the desert. Yes, you read that right. In the Mall of the Emirates (MOE), there are ski slopes that are open all-year round. It's especially fun to ski when it's 100 degrees outside. Not a ski fan? No problem. 600+ stores await to satiate your shopping appetites in MOE.
Dubai Festival City Mall. As the name suggests, this shopping arcade is located in Dubai Festival City. The mall is popular for its spectacular light shows. Besides luxury brands and cozy restaurants, you'll also find the Sugar Factory. It features some of Dubai's most Insta-worthy desserts.
City Centre Deira. Despite being one of the oldest malls in Dubai, City Centre Deira still retains a loyal fanbase. Popular stores, an extensive food court, and a Magic Planet to entertain young visitors are some of the reasons to visit this city center. And here's another one – it hosts many discount shops. This places City Centre Deira among the best spots for affordable shopping in Dubai.
BurJuman Centre. Another one of the old Dubai favorites is the BurJuman Centre. Luxury shopping outlets, high street brands, Magic Planet, a VOX cinema, and plenty of restaurants serving international cuisine are there to entertain visitors. If you're wondering where to stay in Dubai, pick Bur Dubai to be close to BurJuman Centre.
Dubai Gold Souk. If you're a gold fan, you mustn't miss this bustling bazaar. Marked by a wooden arch, the Dubai Gold Souk features over 380 stores selling sparkling gold jewelry. You'll find the souk in the district of Deira.
The Delectable Foods Dubai Is Best Known For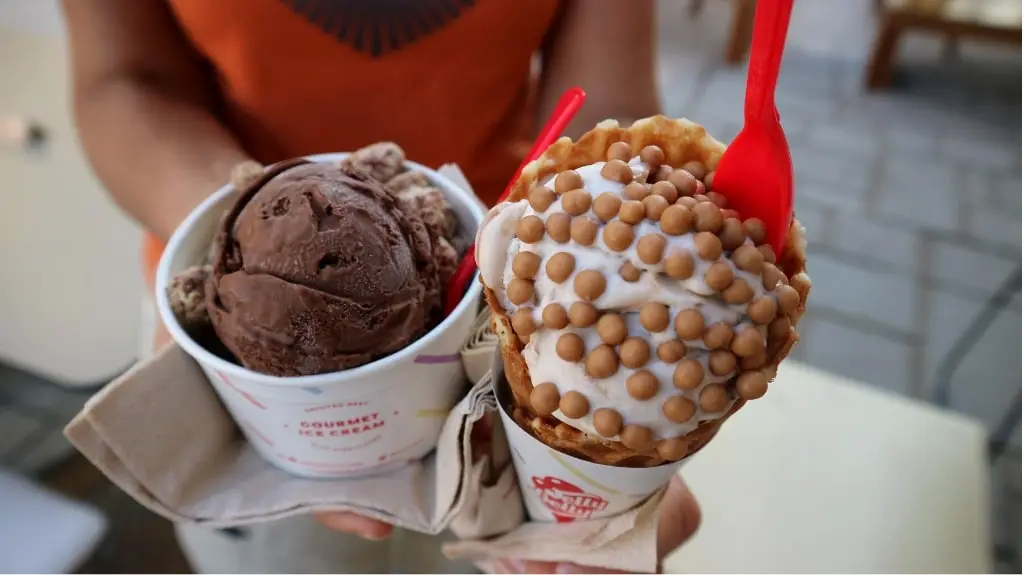 We hope you've had a meal as this section will be quite mouth-watering. Discover the foods and drinks Dubai is famous for.
Dates. U.A.E. is among the top date producers in the world. 96% of the fruits come from Dubai. As a traditional part of Emirati culture, dates are synonymous with the cultural heritage and practices of the City of Gold. Many dates have gourmet filling and ingredients to enhance their taste and flavor. Don't miss the chocolate-dipped dates. They're to die for.
Camel products. If you're feeling adventurous, you mustn't miss the decadent camel milk ice cream, camel meat burgers, and camel milk chocolate.
Baklava. Baklava is popular all over the Middle East, but that shouldn't stop you from trying it in Dubai. The Arabic baklava is smaller, drier, and quite different from the Turkish one. But it's just as (if not more) delicious.
Margoogat.An iconic Dubai dish, Margoogat is a meaty, tomato-based stew. Lamb or chicken meat join forces with baby marrow, potatoes, and herbs in this staple of Emirati cuisine.
Gahwa. U.A.E.'s welcome drink is Gahwa, or Arabic coffee. Served in every Emirate household, it's the first beverage you should try if you're looking to explore traditional drinks in Dubai.
Carob juice. One of the tastiest drinks you can try in traditional cafés and restaurants in Dubai is carob juice. Next to its excellent taste, it also comes with a host of vitamins and minerals.
The Rich History and Culture of Dubai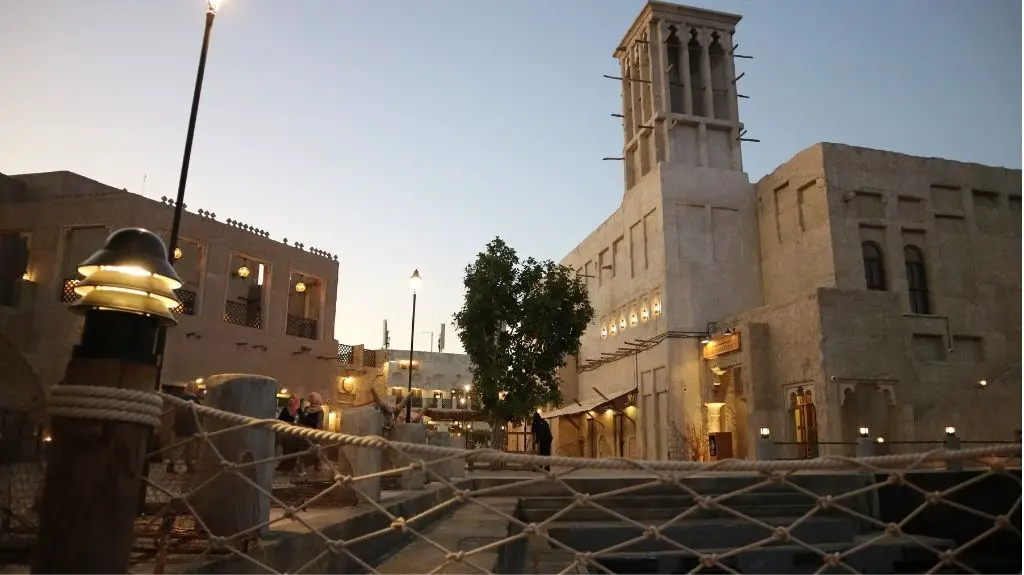 Dubai might flash its pompous high-rise muscles. But it is also famous for its history and culture. In this section, we'll dive into Dubai's historical side and see where you can explore it.
Dubai Creek. Historically, the creek split the city into two main areas – Bur Dubai and Deira. Members of the Bani Yas tribe first settled along the Bur Dubai creek area in the 19th century. They established the Al Maktoum dynasty. Fishing and pearl hunting happened along the shores of the creek in the early 20th century.
Dubai Old Town. Also known as Dubai's Old Quarter, the Old Town used to be a village of fishermen who resided around the creek. There, you'll discover various Dubai markets (souks) like the gold souk, the spice souk, and souvenir shops.
Dubai Museum. As the oldest existing building in Dubai, the Dubai Museum dates back to 1787. The cool thing about the museum is that it's located in the Al Fahidi Fort. In the air-conditioned restored building, you can explore the traditional way of life and the history of the Emirate of Dubai.
Coffee Museum. If you like coffee and museums, don't miss the Coffee Museum in Al Fahidi, Bur Dubai. A relaxing atmosphere and a mix of regional and oriental architecture will welcome you inside. Your taste buds will have a chance to try Arabic style, Ethiopian style, Japanese style, and many other types of coffee. Plus, entry is free!
House of Sheikh Saeed Al Maktoum. The former ruler of Dubai – Saeed bin Maktoum al Maktoum – resided in this house. You'll find the building in the Al Shindagha area, along the Dubai Creek.
Heritage Village. Also in the Al Shindagha neighborhood, you can explore Dubai's Heritage Village. It embraces the heritage events of the city and displays a live image of old traditional life in the United Arab Emirates.
Etihad Museum. Historically named the Union House, Etihad Museum collects, preserves, and showcases the heritage of the U.A.E. in the areas of cultural, military, political, social, and scientific history.
Dubai Pearl Museum. Thanks to the late Sultan Ali Al-Owais – poet, philanthropist, and pearl collector – Dubai Pearl Museum is home to one of the most exquisite pearl collections worldwide. Pearling was the basis on which most of the big merchant dynasties in the Gulf created their fortunes.
The Interesting Facts Dubai Is Famous For
In this section, you'll discover facts Dubai is famous for. If you crave more info, check our Dubai facts as well.
The city has over 2,000 mosques. Dubai is famous for its religious temples. But did you know the current number of mosques is 2,059, and it's constantly growing? The largest ones can accommodate several thousand people. Note: Emiratis are very tolerant to other religions. Dubai houses many temples where you can practice your non-Muslim beliefs.
Buying alcohol in Dubai is very difficult. If you'd like to purchase alcoholic drinks in the few places that sell them, you'll need a liquor license. The good news is, ordering a drink at a bar or restaurant doesn't require one. However, only establishments at chain hotels have permission to serve you.
Dubai's New Year celebrations break world records every year. Emiratis know how to welcome a new year with a bang. Among the records the city holds are:
The highest flame projection in a music concert.
The most flame projections launched at once in a music concert.
The longest-running fireworks show. It ran non-stop for 35 minutes. The authorities launched fireworks from 16 towers.
The tallest residential building is in Dubai. The Tallest Block is an area in Dubai Marina where super high-risers keep mushrooming every year. The finished structures scrape the rise anywhere from 600 ft. (183 m) to 1,693 ft. (516 m).
The tallest hotel is also in Dubai. Gevora Hotel stands at 1,169 ft. (356 m) high, granting it the title The Tallest Hotel Building in the World. Just one meter (3 ft.) shorter, JW Marriott Marquis is the tallest 5-star hotel in the world. If you fancy waking up to heart-stopping views of the city, check the 11 tallest hotels in Dubai.
Locals wear traditional Emirati clothes. Men wear kandura, an ankle-length white shirt from cotton or wool. Women dress in abaya, a loose over-garment robe. Men wear white to reflect the light. Women's clothes are black for two reasons. First, black is non-transparent. Second, women are believed to be men's shade.
Dubai is home to 30+ free-trade zones. Investors from abroad don't pay customs duty or tax concessions within them. Each zone represents a different industry. If you'd like to operate in a free-trade zone, your business has to be in the designated industry. Foreigners can own 100% of the companies registered in these zones.
Which of the Things Dubai is Famous for Did You Already Know?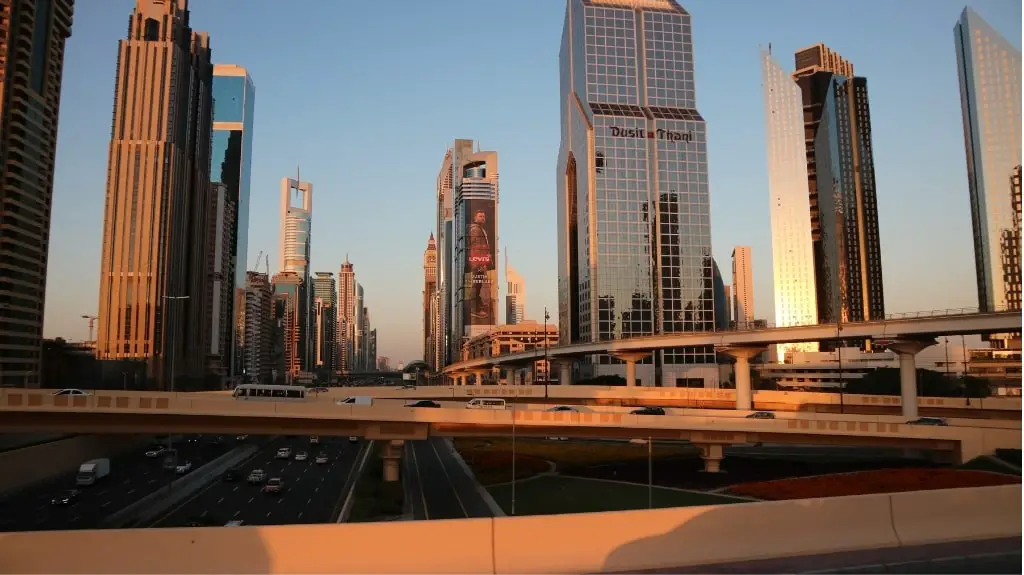 There you have it – 33 awesome things Dubai is famous for.
As you've seen, the City of Gold is much more than luxury shopping and imposing high-rise buildings. It abounds in history, culture, cuisine, and peculiar facts.
One of our best Dubai travel tips is to explore this fast-paced city slowly because it offers tons of things to do.
Start Planning Your Trip to Dubai with Our BEST Recommendations:
⭐ Top Tours in Dubai ⭐
📍 Burj Khalifa Dubai – see the city from the deck of the tallest building in the world.
📍 Dubai Helicopter Tour – experience the most exhilarating views of Dubai's skyline.
⭐ Best Accommodations in Dubai ⭐
🏨 Armani Hotel – spoil yourself with a luxurious stay inside Burj Khalifa.
🏨 Gevora Hotel – if you love sweeping vistas, stay at the highest hotel in Dubai.
⭐ Easiest Transportation Options in Dubai ⭐
🚍 Dubai Hop-on Hop-off Bus – the best way to explore the city at your own pace.
🚍 Discover Cars – compare and find the best rates for car rentals in any destination.
Now, we're curious:
What do you associate Dubai with?
Let us know by leaving a comment below.