Three decades.
That's how much time Dubai needed to turn from a trifling fishing and pearl-farming village into one of the world's most modern metropolises.
Today, its warm weather, glitzy skyline, record-breaking landmarks, and ultra-luxurious hotels attract tourists from all over the globe.
Stretching 25 mi (40km) along a flat, narrow, and dry land, the city teems with places to stay in all price ranges. The majority of lodging spots lean towards mid-level to high-end. However, you can find great deals with some insider advice.
That's why we created this guide with the 9 best areas to stay in Dubai. We want to show you the ins and outs and answer the question "Where to stay in Dubai?" in the best possible way.
For every district, you'll find a list of things to do, along with our recommendations for the best accommodation spots.
Let's explore, shall we?
Note: This article contains affiliate links. In case you purchase something through one of these links, we may receive a small commission at no extra cost for you. Thank you for helping us keep creating the free content on this website!
1. Dubai Marina – the Best Area in Dubai for Experiencing the Nightlife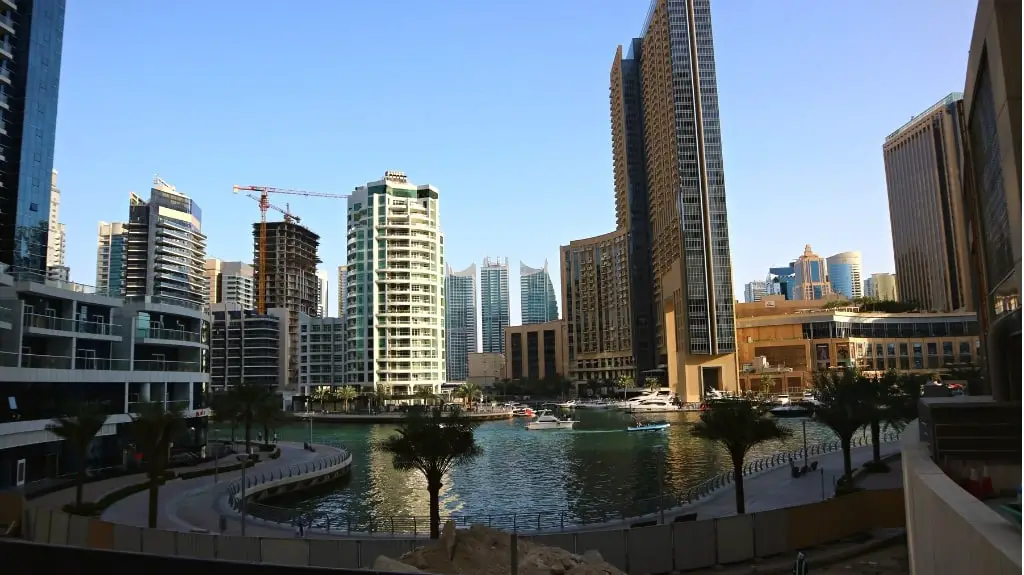 The otherworldly Dubai Marina includes hundreds of high-risers around a man-made harbor. You can explore some of the hippest bars, the best restaurants, and the flashiest nightclubs on the rooftops of the lofty skyscrapers.
Even if you can afford the exorbitantly expensive drinks, go easy on them as the city has zero tolerance against drink-driving and public inebriation.
The leisure complex fittingly-named The Beach in Dubai Marina offers al fresco dining and fine-sand beaches to gather some Vitamin D.
Besides indulging in gourmet dining and high-class spirits, the district has always something going on. Saunter along the Marina Walk, hop on a water taxi, or go zip-lining over the marina. Heart-pumping activities fan? You can go jet skiing, skydiving, or parasailing.
When you've had enough sun and sand, head to Dubai Marina Mall for some high-end shopping. Or just pick one of the smart cafés along the bay and yacht-watch.
Tip: Check also our comprehensive list of the best hotels to stay in Dubai Marina.
Our recommendations: Tamani Marina Hotel & Apartments offers great deals if you're traveling in groups of 4 or more. At your disposal, you'll have a sauna, hot tub, sun terrace, well-equipped gym, indoor and outdoor pools, and functional rooms fitted with soft carpets. Next to the Dubai Marina Mall, Address Dubai Marina is your go-to hotel if you're seeking ultimate luxury. An infinity pool on level 4 with outdoor dining offers heart-stopping vistas of the marina and the Arabian Gulf. Flat-screen TVs, iPod docking stations, free WiFi, wooden furniture, and warm colors will make your stay at Address unforgettable.
2. Jumeirah Beach Residence (JBR) – the Best Neighborhood in Dubai for Food Adventures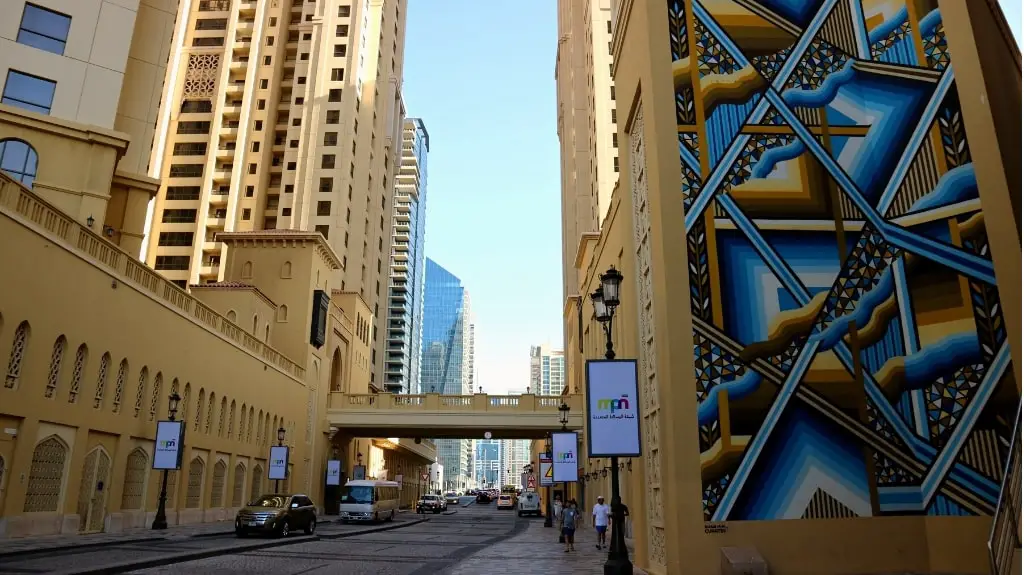 Note: Jumeirah Beach Residence (JBR) is part of Dubai Marina, but many locals consider it a separate area. That's why we decided to use it as such.
JBRhosts many of the most popular, award-winning restaurants in Dubai. You'll discover them in hotels and resorts where menus are long and prices are high, but the service is always top-notch.
Eating your heart out in JBR is easier than a walk in the Dubai Marina. Don't be misled by the plenty of Thai, Indian, and Japanese food options, though. The district also packs several Middle Eastern cuisine spots. Some of them hide in the reconstructed "oasis" where belly dance performers keep the adrenaline high.
If you dig fine dining with a beachside background, opt for one of the eateries along the main walkways of JBR and Dubai Marina.
The numerous bars and restaurants give the district a vibrant night vibe. During the day, you can engage in exhilarating water activities or find solace from the heat in one of the many luxury cinemas.
And if that isn't enough to keep you entertained, head to the newly opened Ain Dubai. The observation wheel on the man-made Bluewaters Island is the biggest in the world. You can bet the views of Dubai Marina and Palm Jumeirah from 820 ft. (250 m) high are exhilarating.
Our recommendations: Standing directly on JBR beach, Rixos Premium Dubai blends beach ambiance with a quiet pool and lively nightlife in a vibrant fusion. Spacious rooms, 48-inch flat-screen TVs, and floor-to-ceiling windows provide for the ultimate lodging. Sofitel Dubai Jumeirah Beach will spoil you with an outdoor pool, free WiFi, flat-screen TVs, Bose sound systems, a minibar, and a superb location on The Walk.
3. Downtown – the Best Area in Dubai to Explore the City's Malls and Landmarks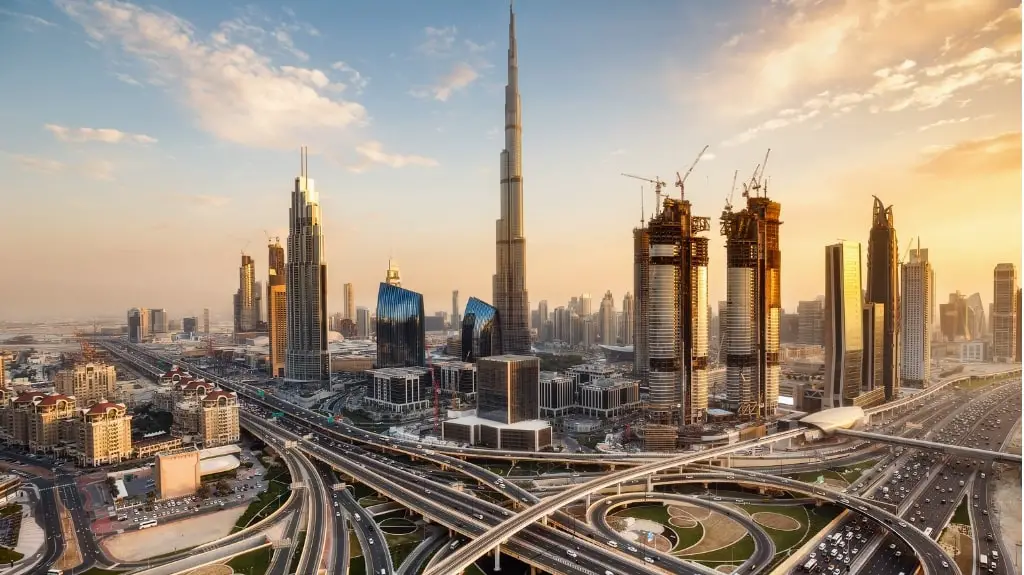 Locals, tourists, and even expats all love shopping. And they prefer the modern malls to the traditional souks and markets.
Downtown is home to the world's largest mall – the Dubai Mall. Besides the hottest luxury brands, the gigantic shopping center features an aquarium, an Olympic-size ice rink, cinemas, a vast food court, and a humongous bookstore.
If you're not a shopaholic, how about admiring some of the most iconic landmarks Dubai is famous for:
Burj Khalifa – its 2,717 ft. (828 m.) make it the tallest tower in the world. Don't miss its observation deck (highest in the world) – at the 124th and 125th floor – which reveals heart-stopping views.
The Dubai Fountain – sandwiched between the Dubai Mall and Burj Khalifa, the Dubai Fountain will enchant you with its music and light shows. They take place at noon and from 6:00 to 11:00 PM. One of our best Dubai travel tips is to arrive early, so you can find a good watching spot.
Dubai Opera – this architectural marvel features 2,000 seats and hosts a range of events and performances, including opera, ballet, theater, concerts, exhibitions, and conferences.
Most accommodation options here are tear-jerkingly expensive. However, due to the introduction of some arguably more affordable lodging spots, more people can afford to overnight in Downtown.
Tip: Find out the best hotels in Downtown Dubai in our extensive guide.
Our recommendations: Want to sleep inside Burj Khalifa? The 5-star Armani Hotel Dubai has a private entrance, deluxe spa, and direct access to Dubai Mall. Understated elegance awaits you inside where Japanese tatami and luxury fabrics will make your stay truly regal. The 3-star Rove Downtown is a much more wallet-friendly option. Nonetheless, its outdoor swimming pool and sundeck offer stunning views of Burj Khalifa. Rooms are spacious, and there's a 24-hour gym, a laundromat, late checkout at 2:00 PM, and free WiFi.
4. Bur Dubai – Best Neighborhood to Stay in Dubai for Culture and Museums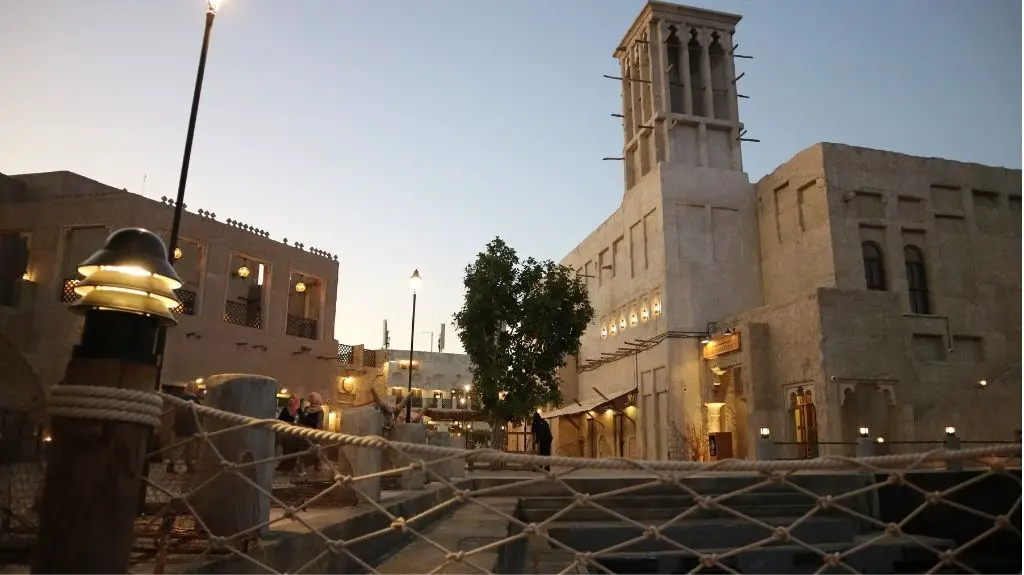 Bur Dubai is the heart of Dubai's Old Town. It's the longest inhabited part of the city.
The place is home to many mosques, dozens of traditional markets, and the captivating Dubai Museum. The museum is inside Al Fahidi Fort, a 230-year-old fort. Don't miss its courtyard, the towers, and the dhow (a traditional ship) outside the museum.
By staying in the area, you'll have a chance to experience the real soul of the city. Mostly Indian families live in Bur Dubai. For that reason, it's also home to U.A.E.'s only Hindu temple. Some of the most inexpensive Indian restaurants in town are also in this area.
Love exploring Islam architecture? Dubai's tallest minaret beautifies the Grand Mosque, while the Iranian Mosque catches the eyes with its fine blue tiles.
For a fusion of traditional-style buildings, funky eateries, and peculiar museums, take a stroll in Al Seef along the Dubai Creek or do a leisurely exploration of Al Fahidi Historical District.
Accommodation in Bur Dubai is as cheap as it can get in the City of Gold. So, if you're on a budget, choose lodging in this area. You can reach most other spots in the city easily via the metro's green line.
Our recommendations: A fitness center, an outdoor swimming pool, air conditioning, and free WiFi welcome you in Suha Creek Hotel Apartment. The rooms come with a flat-screen TV, a fully-equipped kitchen, and a private bathroom. Novotel Bur Dubai features family rooms, a fitness center, an outdoor swimming pool, and a restaurant. There's also a terrace with great views of the area.
5. Deira – Best Area to Stay in Dubai If You're on a Budget or on a Stopover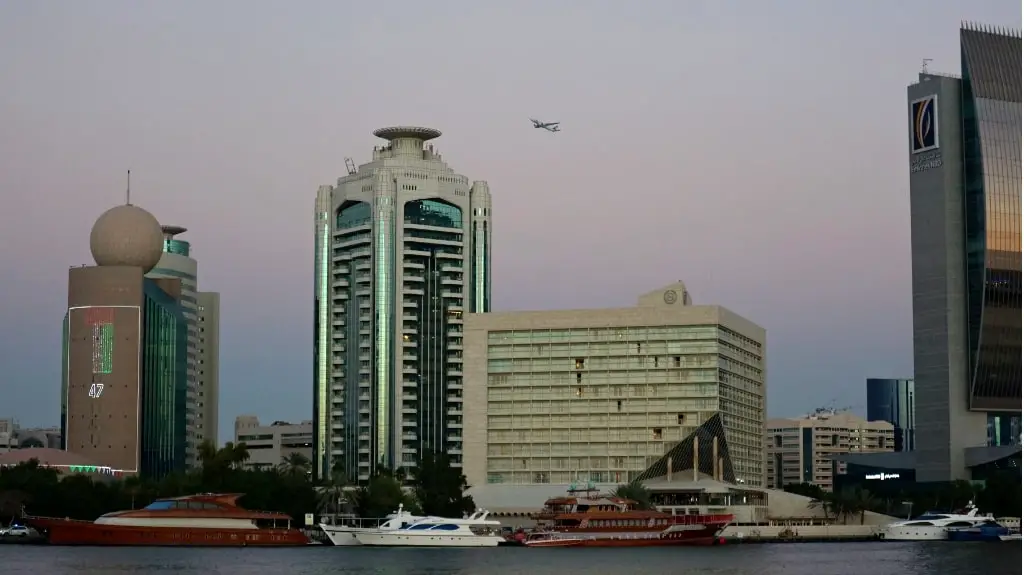 Another great option if you're on a tight budget is Deira. This convenient residential district stands close to Dubai Airport and not too far from the most popular landmarks.
Deira – like Bur Dubai – is also a historic area, but it's fairly more modern. The district is the first place where businesses set up in the city. But it doesn't feature office buildings only. It also hosts the largest traditional souk in Dubai.
Emiratis and resident workers from abroad populate Deira. The neighborhood teems with affordable accommodations, but there are several options on the luxury end as well.
Since Deira is almost adjacent to the airport, this makes it perfect for quick stays or a Dubai stopover.
If you prefer gold, spices, and traditional markets to modern shopping centers, Deira is where to stay in Dubai.
Our recommendations: The convenient location of Hyatt Place Dubai Al Rigga in the heart of Deira makes it a great choice for exploring the area. Two restaurants, free WiFi in all areas, and an outdoor pool will take care of your good stay. If you're on a tight budget, select Ibis Deira City Centre. Rooms have satellite TV, free WiFi, air conditioning, a work desk, and modern furnishings. The location is great, too – just in front of the City Center Mall.
6. Jumeirah – the Best Neighborhood in Dubai for Beach Fun and Refined Luxury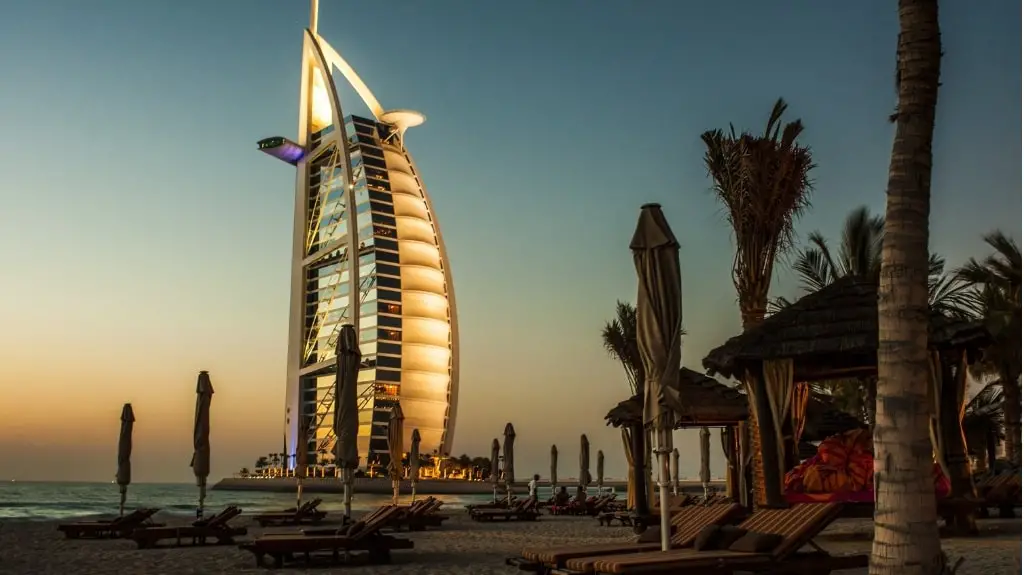 Stretching for miles along the seaside, Jumeirah is ideal if you're seeking splendid beaches with a pinch of luxury.
Life in Jumeirah is relaxed, with sandy beaches like Jumeirah Public Beach and Kite Beach (the best spot for taking photos with Burj Al Arab).
Don't miss the white-stone Jumeirah Mosque if you're looking for landmarks. If you prefer shopping extravaganza, you'll be in for a treat. The options vary from tiny, quirky malls with indie coffee houses that serve specialty brews to high-end centers offering international design brands.
In the area, you'll also find the Dubai Zoo, which houses monkeys, reptiles, and big cats. Not into animals? Visit La Mer right on the seafront. It will surprise you with a rich collection of trendy restaurants, boutique stores, and an adrenaline-raising waterpark.
Elegant villas take turns with sumptuous hotels such as the Burj Al Arab or the opulent Mandarin Oriental, making Jumeirah one of the best areas to stay in Dubai.
Our recommendations: The symbolic Burj Al Arab stands proud on its own island. Ultimate luxury seekers choose it for its nine signature restaurants, full-service spa, and terrace that has two swimming pools and 32 luxury cabanas. The views from one of the tallest hotels in Dubai are to die for, and the room amenities are unmatched. Directly on the beach, Mandarin Oriental Jumeira boasts five outdoor swimming pools, a fitness center, a luxury spa complex, and a shared lounge. All rooms are with coffee machines, and a buffet breakfast is available.
7. Palm Jumeirah – Best Area to Stay in Dubai for Bragging Rights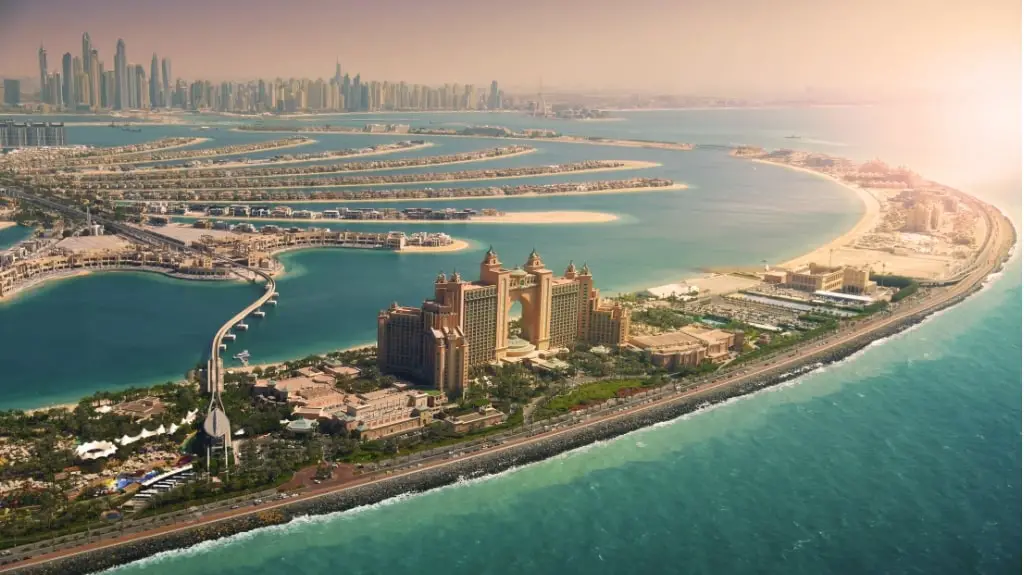 If your aim is to show off (hey, we're not judging), you should consider staying in Palm Jumeirah.
The gigantic man-made island is in the shape of a palm branch. The Palm (as they call it) is home to some of the ritziest hotels and the poshest properties in Dubai.
To further upgrade its bragging rights (and yours, too), the area recently showcased the world's biggest seawater, musical fountain. The Palm Fountain features 3,000+ LED lights and over 7,500 nozzles. It sprays water up to 344 ft. (105 m) in the air.
The waterfront is particularly magnificent at sunset. Beach clubs with world-class spas and breathtaking infinity pools during the day turn into vibrant nightclubs with live DJs at night.
You can best explore the Palm from the air. So why not jump on a helicopter and shoot your hotel from above? If you have fear of heights, visit The Pointe (ideal for dining and shopping). You'll find it on the "trunk" of the Palm.
You should stay in Palm Jumeirah if you're chasing luxury and you don't mind splurging. The area is a bit far from the city, but the first monorail in the Middle East connects it with the rest of Dubai.
Our recommendations: The world-famous 5-star Atlantis The Palm will spoil you with its sweeping vistas of the Arabian Gulf and its private sandy beach. Atlantis is at the tip of the palm and is one of Dubai's most iconic hotels. The elegant beach resort Waldorf Astoria Dubai Palm Jumeirah features a 656-ft. (200-m) private beach, Waldorf Astoria Spa, water sports activities, and two temperature-controlled swimming pools. The rooms are spacious and come with great design and the signature Waldorf Astoria beds.
8. Dubai Investment Park and Mina Jebel Ali – the Best Areas to Stay in Dubai for the World Expo
Over the years, Dubai has managed to collect an entire library of world records that have wowed the world. The upcoming Expo 2020 Dubai won't be an exception with not one or two but eight record-breaking achievements. Among the most noteworthy are:
The largest event in the Arab World – spanning the whopping 438 hectares, the site will welcome businesses and organizations from 200 entities.
The world's largest passenger lift – capable of carrying approx. 160 people at once.
The longest interactive water feature – 105 ft. (32 m).
It's safe to say Expo 2020 Dubai will be worth exploring. Here are two areas to stay in Dubai that we believe are the best to do so.
First, Dubai Investments Park (DIP), which is a business park area. Consisting of Dubai Investment Park 1 and 2, it's an industrial, commercial, and residential district.
The neighborhood doesn't offer a ton of things to do. But that's where the Dubai Exhibition Centre is, which will host Expo 2020 Dubai from 1 October 2021 until 31 March 2022.
The Dubai Investment Park has a subway station that's just a few minutes away from the Expo 2020 site. It's in the Green Community Village area of the district.
Second, Mina Jebel Ali is a business hub and a commercial port. It's home to several dive centers and a swanky golf resort. It's also in close vicinity to Dubai Exhibition Centre.
We highly suggest you book your accommodation in Dubai Investments Park or Mina Jebel Ali way in advance to secure the best location and the most wallet-friendly prices.
Our recommendations: Large rooms, free parking, a fitness center, and an outdoor swimming pool await you in Maisan Hotel. A fully-equipped kitchen, an outdoor pool, satellite, flat-screen TV, and free toiletries are the perks you'll get when you book your stay in Home Away Dubai Apartments – Tamcon – DIP.
9. Al Barsha – the Best Neighborhood in Dubai for Great Parks and Affordable Lodging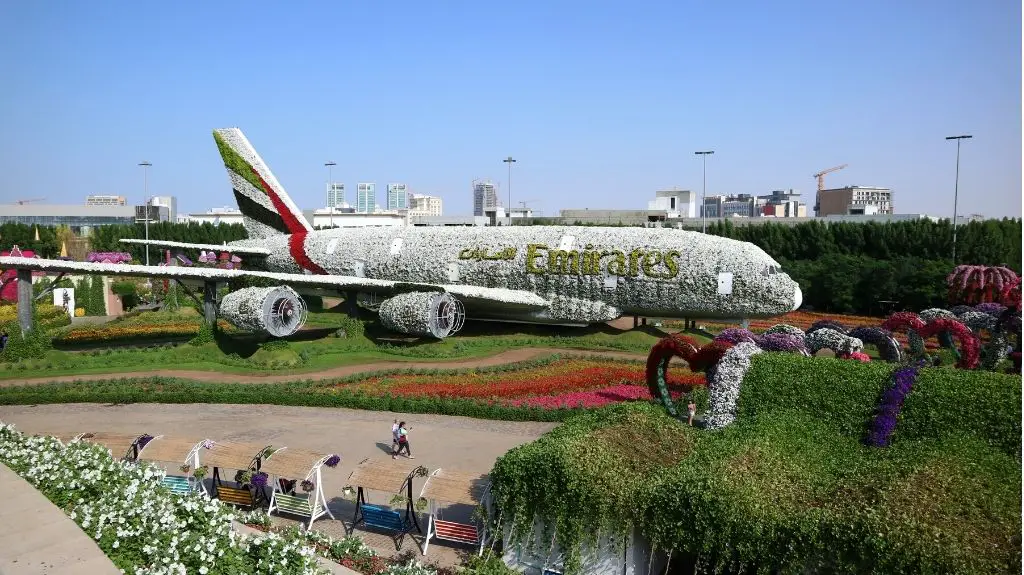 If you're still wondering where to stay in Dubai, Al Barsha is a great option. There, you won't break the bank, but you'll still be near the city's main attractions.
Dubai's second-largest mall calls Al Barsha home. The Mall of the Emirates is famous for its indoor ski slopes and penguins, as well as its 600+ stores.
The area's predominant population is expats. That's due to its great connection to the subway and proximity to both Downtown and Dubai Marina. However, it's significantly cheaper than its more luxurious neighbors.
Great local restaurants, as well as Indian and Pakistani eateries, dot Al Barsha.
In the area, you'll also discover the astonishing Dubai Miracle Garden (open only October to April) and the quiet Al Barsha Pond Park (popular for go-karting and picnics).
Our recommendations: Flora Al Barsha is very close to the Mall of the Emirates on Sheikh Zayed Road and to the Dubai Metro. Spacious rooms, king beds, and a 46″ Full HD Smart LED TV are all there to pamper your stay. For the ultimate luxury and convenience, choose Kempinski Hotel Mall of the Emirates. As its name suggests, it's adjacent to the mall. The hotel offers the Aspen Ski Chalets, the only rooms in Dubai with vistas of the ski slopes. Besides the snow park views, you'll also benefit from luxurious rooms, LCD TVs, and an outdoor pool.
Now You Know Where to Stay in Dubai on Your Next Journey to the Middle East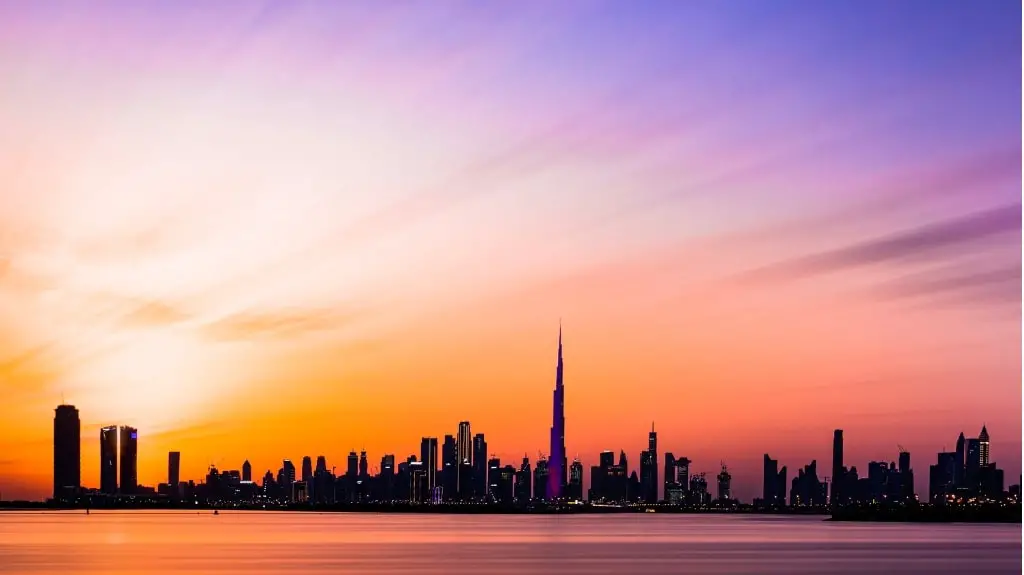 There you have it – the 9 best areas to stay in Dubai.
U.A.E.'s largest city offers something for every taste:
World-class malls, souks, and markets for shopaholics.
Heart-pumping activities like skydiving for adrenaline junkies.
Ultra-luxurious hotels and Michelin-star restaurants for hedonism seekers.
Now, we're curious:
Where would you stay in Dubai on your next Middle Eastern escapade?